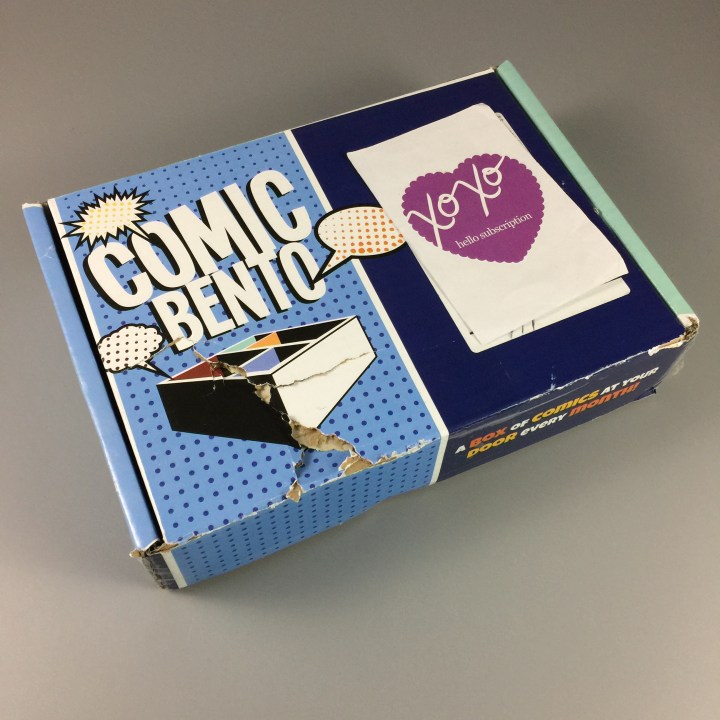 Comic Bento is a monthly comic book subscription service that delivers graphic novels and comics each month. This is a great value because every month, you'll receive at least $50 in books.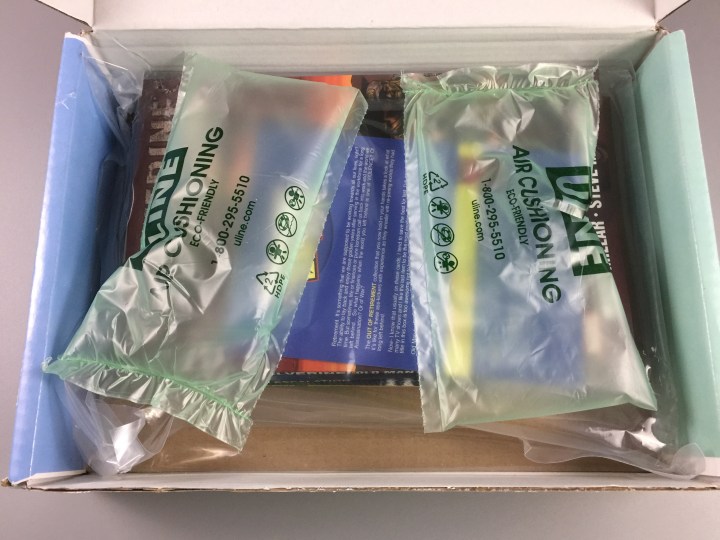 DEAL: Save 15% on any subscription with coupon code FRIEND15.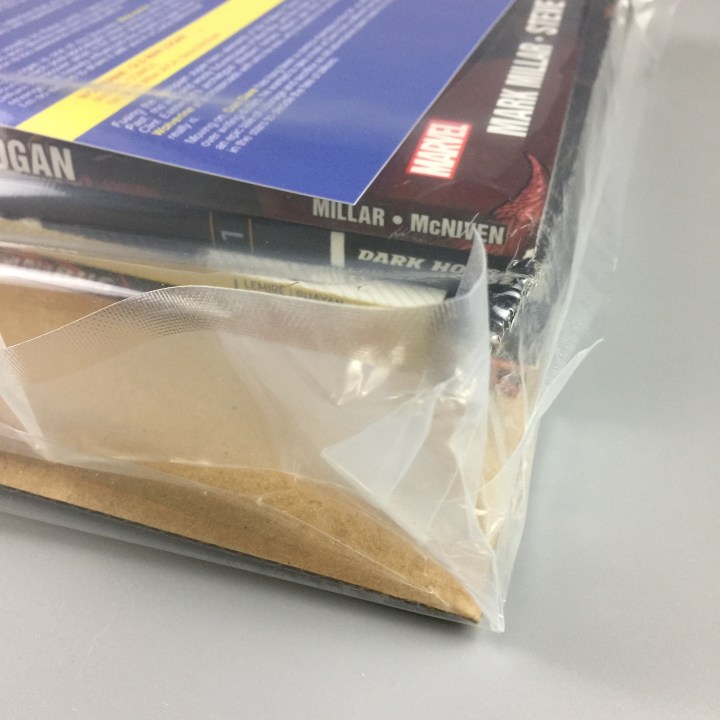 Special care is given to each box. To keep the books from jostling about, Comic Bento uses air cushioning and has all books packed together in plastic with cardboard to keep everything straight.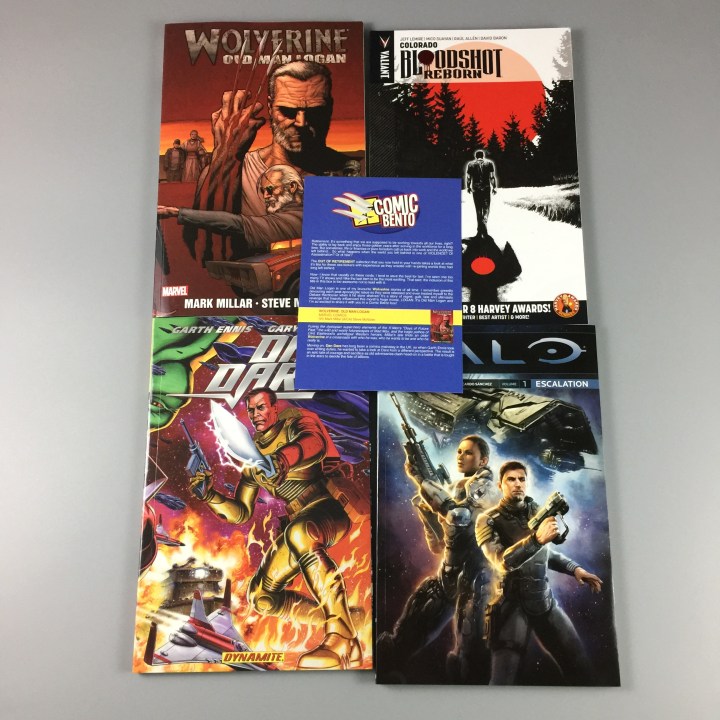 Four books from four different publishers. Comic Bento did well including some nice items to their offering this month.
Comic Bento includes a 2-sided card that gives you some insight into the books they sent. They also give some backstory as to why they chose the books within the subscription box. This month's theme is "OUT OF RETIREMENT."
Comic Bento is great at providing variety while sticking to their theme.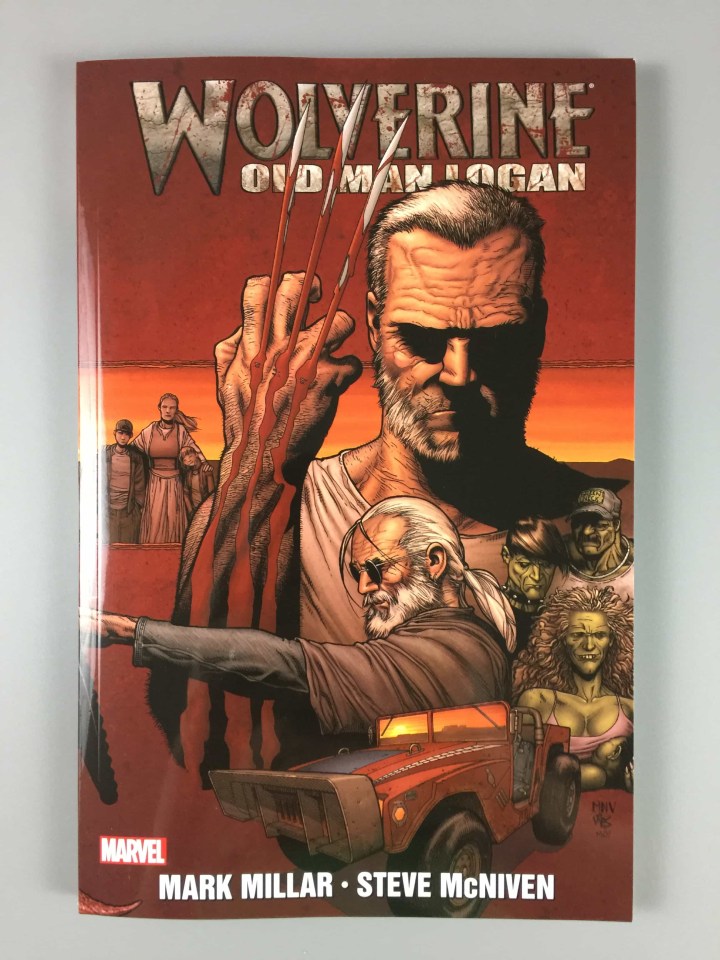 Wolverine: Old Man Logan – Marvel Comics – $29.99 cover price. The future is looking pretty bleak but at least the world still has Logan. I'm a huge fan of Steve McNiven so I'm super excited to have this book as a part of my collection.
MARK MILLAR and STEVE MCNIVEN–who last teamed for the monumental CIVIL WAR–bring us the most important WOLVERINE story of the 21st century. Nobody knows what happened on the night the heroes fell. All we know is that they disappeared and evil triumphed and the bad guys have been calling the shots ever since. What happened to Wolverine is the biggest mystery of all. For 50 years, no one has heard hide nor hair from him…and in his place stands an old man called Logan. A man concerned only about his family. A man pushed to the brink by the HULK GANG. A man forced to help an old friend–the blind archer, HAWKEYE–drive three thousand miles to secure his family's safety. Get ready for the ride of your life, Logan.COLLECTING:
Wolverine #66-72, Wolverine Giant-Size Old Man Logan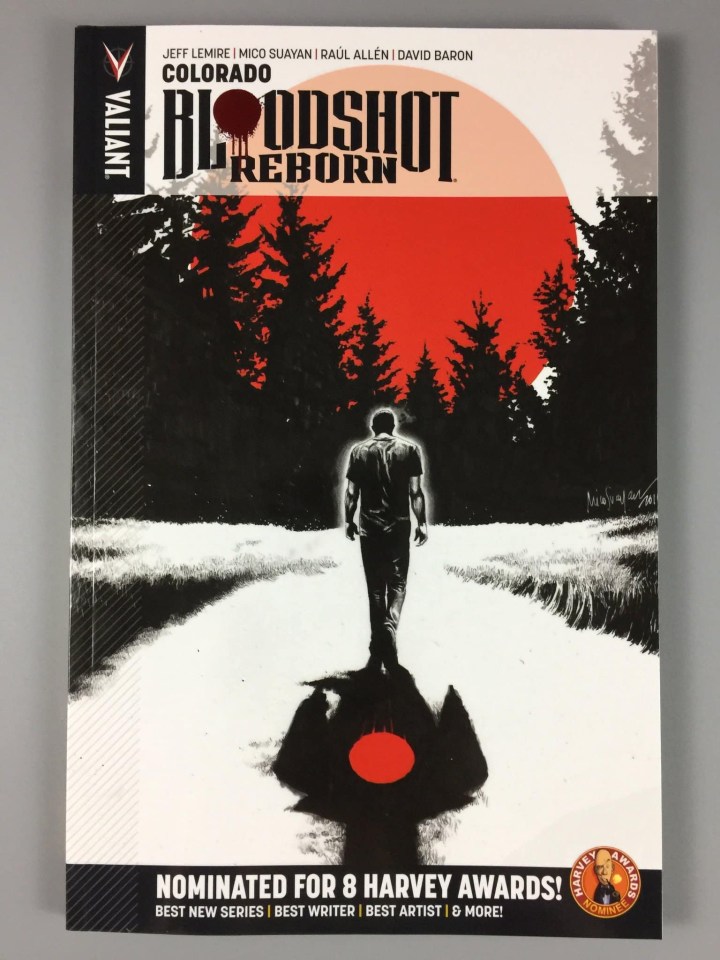 Bloodshot Reborn: Colorado – $9.99 cover price. Valiant Comics has been making comic books from quite some and this collection features one of their most prominent characters, Bloodshot. Jeff Lemire is the incredibly talented writer of this collection of comics.
Bloodshot's nanites made him a nearly unstoppable killing machine. His enhanced strength, speed, endurance, and healing made him the perfect weapon, and he served his masters at Project Rising Spirit — a private contractor trafficking in violence — very well. Now, Bloodshot is a shadow of his former self. He lives in self-imposed exile, reeling from the consequences of his past life and the recent events that nearly drove him mad. But when a rash of shootings by gunmen who appear to look just like Bloodshot begin, his guilt will send him on a mission to stop the killers, even if it means diving head-long into the violence that nearly destroyed him.
Start reading here as visionary creators Jeff Lemire and Mico Suayan kick-off a brand-new beginning for the cutting-edge commando called Bloodshot…and plunge him to his darkest, bloodiest, most mind-bending depths yet.
Collecting Bloodshot Reborn #1–5.
Dan Dare – Dynamite Entertainment – $19.99 cover price. Dan Dare is a character that has been around for 60+ years and now he gets the Garth Ennis treatment. Garth Ennis is one of my all-time favorite writers in all of comics.
Dan Dare has been an icon since 1950. Elaborate stories of his space travel and galactic battles defending people of the universe captivated post-War baby boomers. Dan Dare's adventures burst to the forefront of pop culture, selling nearly 1 million copies each week in the pages of the Eagle Comic. And now he's back!
Dan Dare was once a hero. He brokered peace with alien races, pushed the frontiers of space, and saved the planet from total annihilation… repeatedly. But now, his Space Fleet has disbanded, the United Nations has crumbled, his friends scattered to the solar winds. Britain is once again the world power, but Dare, disillusioned and disappointed by his once-precious home country, has quietly retired. But there's trouble mustering in Deep Space. The H.M.S. Achilles is picking up strange signals when, suddenly, an enormous fleet of hostile ships ambush the destroyer. Now, as the crew struggles to stay alive, they realize with horror that the hostiles have brought a weapon of unimaginable power. Dan Dare, the pilot of the future, has been called out of retirement.
This Dynamite tradepaperback edition will feature the entire Garth Ennis-scribed Dan Dare series along with a complete cover gallery.
Halo: Escalation – Dark Horse – $19.99 cover price. Halo is one of the most popular video games of all time and the stories now continues in comic book form.
Following the events of Halo 4, the UNSC Infinity is deployed to security detail for a peace summit between the Elites and Brutes. When the negotiations are ambushed by a mercenary fleet, Infinity is drawn into a plot which leads them to the discovery of a long-lost UNSC asset trapped behind enemy lines. This graphic novel collects the comics Halo: Escalation 1 through 6.
Comic Bento is such an awesome value! All four of these books were packaged so well together and arrived in spectacular condition. As stated earlier, there is a theme but there's also a ton of variety, and the theming of this box is pretty unique amongst comic subscriptions. The curator's notes really bring the theme together, and that made this box even more awesome!  I'm just wondering when they will start including DC Comics.
What did you think of this month's Comic Bento theme?