The Cate & Chloe VIP program is a jewelry subscription box delivered to your front door once a month. Each box contains on point and on trend Cate & Chloe pieces! Boxes are customizable and always come with extra goodies to keep VIPs extra happy. To ensure that you get pieces tailored to your style, Cate & Chloe has a VIP Style Quiz to gauge your tastes. Choose between 3 subscription options starting at $19.99 – The Starter Package (1 item), Double the Fun (2 items), and Full VIP Status (3 items). The cost per box drops with extended subscription terms, so the longer the subscription, the more you can save!
Quick look at the VIP Style Quiz. You choose your favorite metals, colors, and looks to help stylists choose pieces that suit your personal style.
DEAL: 35% OFF all one-month subscriptions (The Starter Package, Double the Fun, Full VIP Status). Use the exclusive code HELLOBEAUTYUVIP35.
What's in my box? Well, this contents card not only tells you what to expect but also gives a brief description of each item. The only thing missing is a price tag.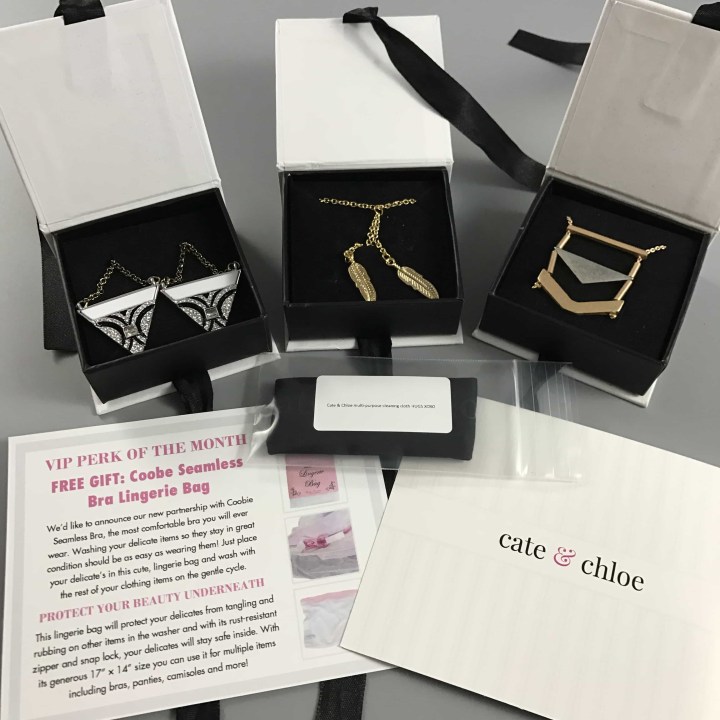 Everything revealed, except the VIP Perk because it's so great it needed to be displayed alone.
Harlow "Fearless" Two-Toned Necklace ($69.99)
Matte plating, empire gold and silver colorways, and unique geometrics – Harlow is the perfect complement to an earthly, effortless attire. While we love the seasonal versatility of this necklace, we suggest pairing with your 70's tribal-chic fall attire. This piece will instantly take a basic tee shirt/ankle boot combo from ordinary to magnificent.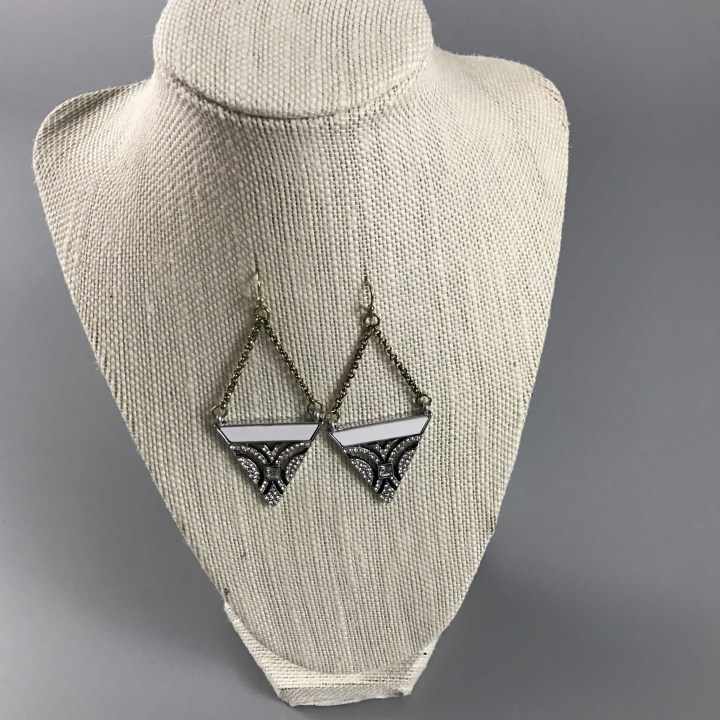 Lillian "Pure" Geometric Earrings ($54)
Lillian adds enough uniqueness and edge to any ensemble. It can be played up with any casual outfit and be a stand out statement for a fun night out!
Naomi "Free" 18k Gold Plated Feather Necklace ($59)
Young, wild & free. Little dainty touches of feathers go a long way by adding that special touch of shimmer and glimmer to your summer/fall wardrobe.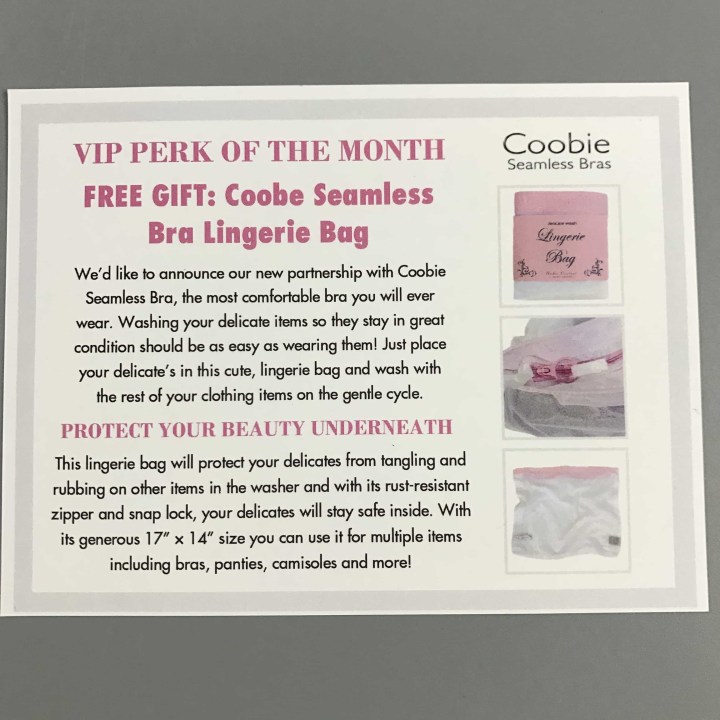 Details on the VIP Perk of the Month: Coobe Seamless Bra Lingerie Bag.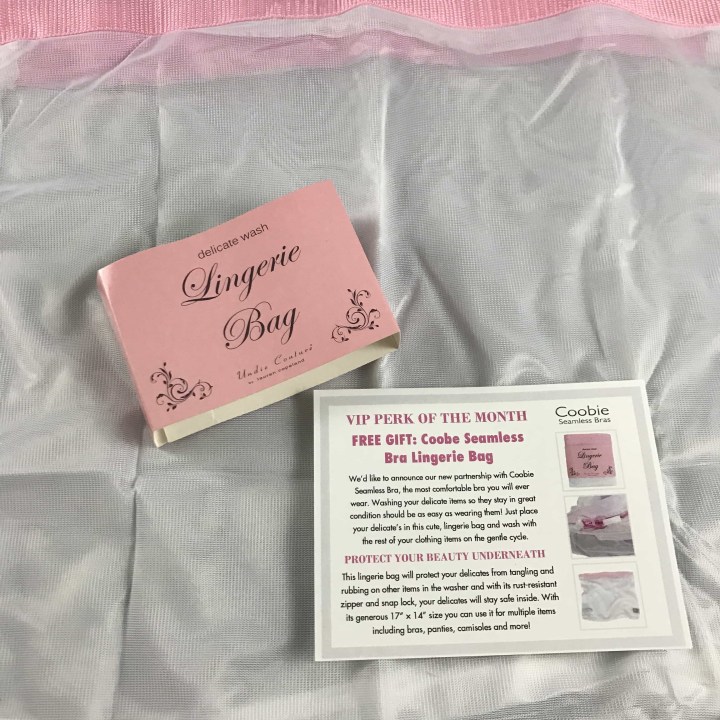 This bag is wonderful, it's large (17″ x 14″) and has a zip closure. I hate lingerie bags that have the drawstring which gets caught in the agitator of my washing machine and come open from time to time. I can't wait to test drive this one and see if the zipper is as rust proof as they claim.
To round out the box, I also got a multi-purpose cleaning cloth, which will help me keep my new beautiful jewelry clean and sparkling.
Cate & Chloe VIP is amazing! Beautiful pieces that are packaged to be damage free and in wonderful boxes that help me keep everything neat and organized. I loved the geometric theme of this month's box as it challenged me to go from sleek lines to something a bit more funky. My favorite piece is the Naomi "Free" Gold Plated Feather Necklace, to me it's a symbol of my free spirit and individuality. The best part of this box in my not so humble opinion are the VIP Perks, these are items that I wouldn't normally treat myself to but come in so handy. Whom ever is choosing my jewelry is doing a great job of taking me from my comfort zone slowly but surely, please keep up the great work!
Have you tried out Cate & Chloe VIP box? Let me know your thoughts!