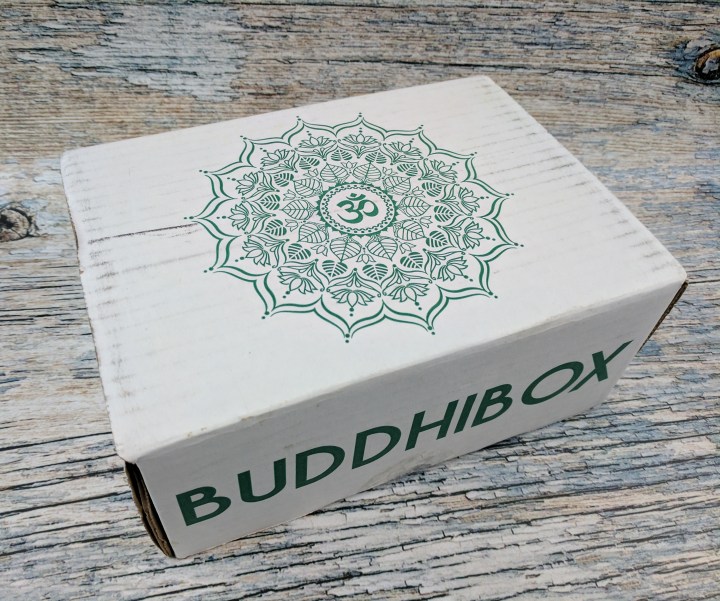 BuddhiBox is a monthly box meant to enhance yoga practice and encourage healthy living. BuddhiBox is $34.95/month for a curated mix of 4-6 samples and full-size products. This is a great box for anyone that is new to yoga or even those who are dedicated yogis. Each month, a portion of their sales goes to supporting an amazing cause. March's cause is International Rescue Committee. Donations to this organization help respond to the world's worst humanitarian crises and helps people whose lives and livelihoods are shattered by conflict and disaster to survive, recover, and gain control of their future.
DEAL: Get $5 off your first box Use coupon code hellosub.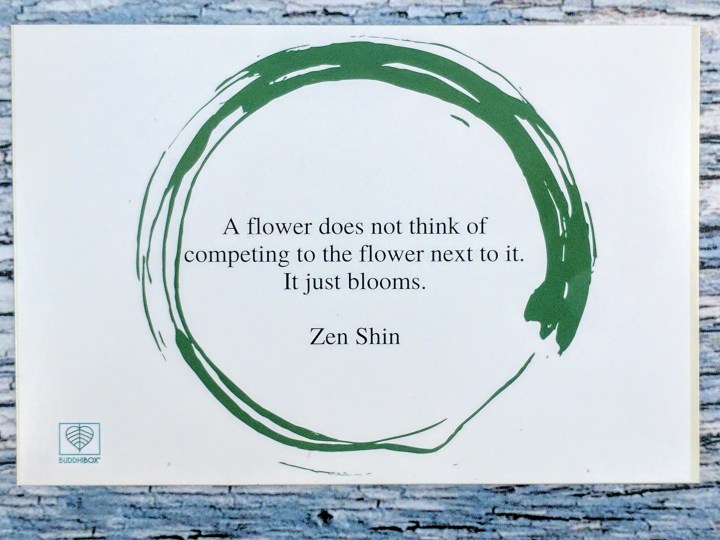 Every box comes with three cards: a quote card with a list of items on the backside, a Yoga Pose Card and a Recipe Card. the quote this month fits perfectly with the change of the season! (The quote is from the book Zen Shin Talks by Sensei Ogui.)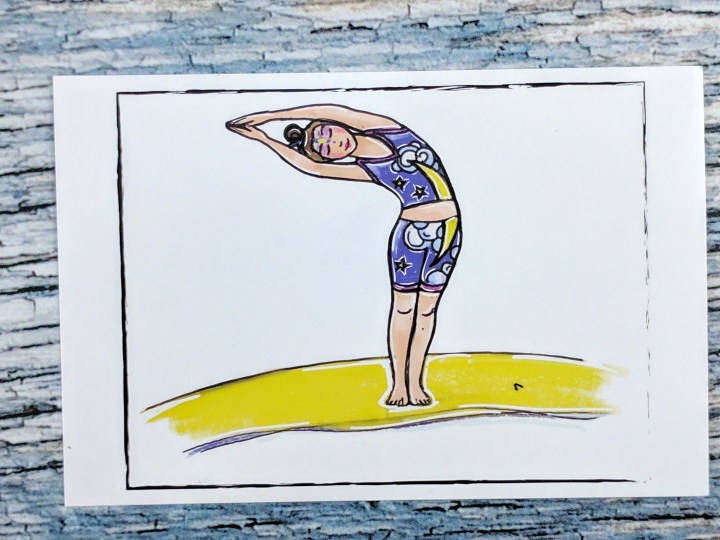 The Yoga Pose Card has an easier pose than usual, but it's a great one to stretch your body after a long day in front of the computer! This is a pose to open up the root and sacral chakras, and it's great to opens the intercostal muscle, obliques, and sides of the body. It improves core body strength, balance, stability, and concentration. It improves circulation and energizes the entire body. I love this pose as a quick morning stretch while waiting for my coffee.
On the reverse side of the Quote Card, all the items are described. Great fact: on the info card, the items are marked when they are vegan, cruelty-free and/or organic.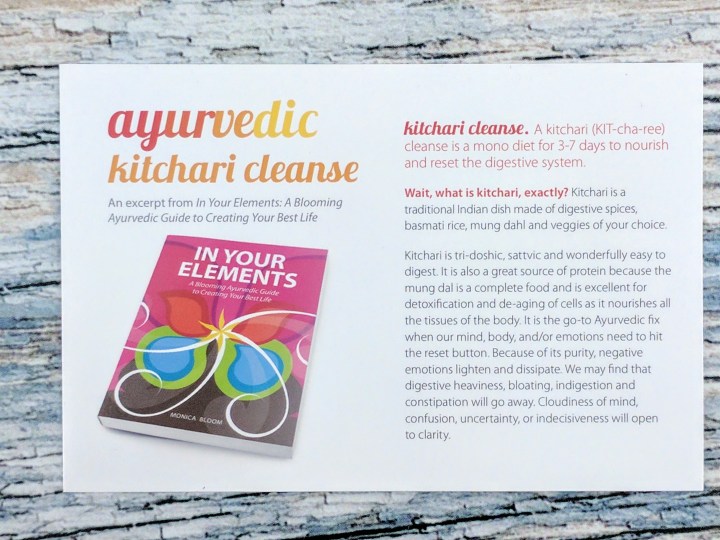 The Recipe this month is a Kitchari Cleanse. A mix of mung dahl, basmati rice, and nice spices, this can be served as a vegan/vegetarian side dish (just switch the ghee for something vegan). I will probably give it a try, it sounds delicious.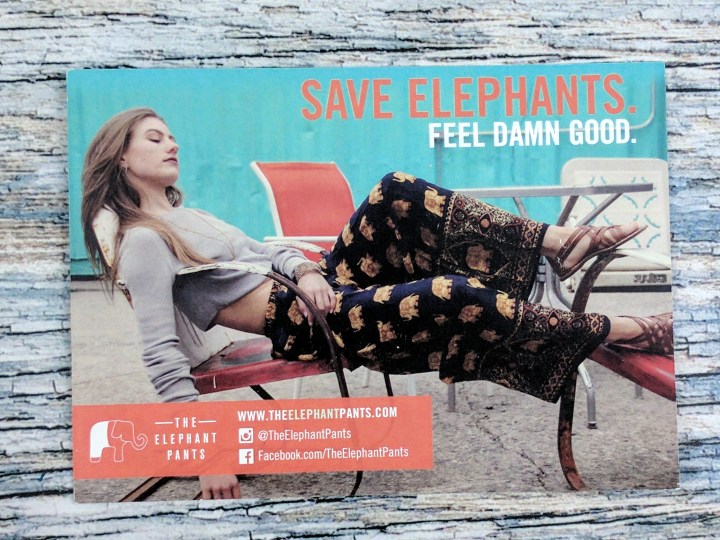 In this month's box, there was also this card for The Elephant Pants, a store who gives 10% to save the elephants. Their harem pants are so cute!
Fresh Feet Wipes – Peppermint Feet Wipes ($7). Perfect to clean your feet before hitting the mat, or after a day spent on your feet in not so comfortable shoes, they should be mandatory in a yoga classroom, especially if it's crowded and you know your feet will be close to the person behind you in the plank pose. Yes, I'm talking about you, Todd! (I really don't know his name.) I will keep them in my bag for when spring gets warm enough to be sandals season and I'm invited to places where I have to leave my sandals at the door. Basically, this is a must to keep with you!
Pranayums – Super Spices 7-day pack ($10). In Ayurveda traditions, some spices are used for health and wellness. A blend of organic turmeric, organic black pepper, cardamom, organic ginger, organic cinnamon and organic licorice root, these pack can be added to rice, water, smoothies, oatmeal and even coffee! I'm looking forward to adding them to my morning oatmeal (with homemade maple syrup) to spice it up! I love each and every single spice in these packs, but I've never tried this specific blend. That'll be interesting! Pranayums also offer a monthly subscription to their super spices pack, and their website offers some recipes to spice up your life! (And now, I have that song in my head.) [FYI – this sampler also appeared in the March 2016 box]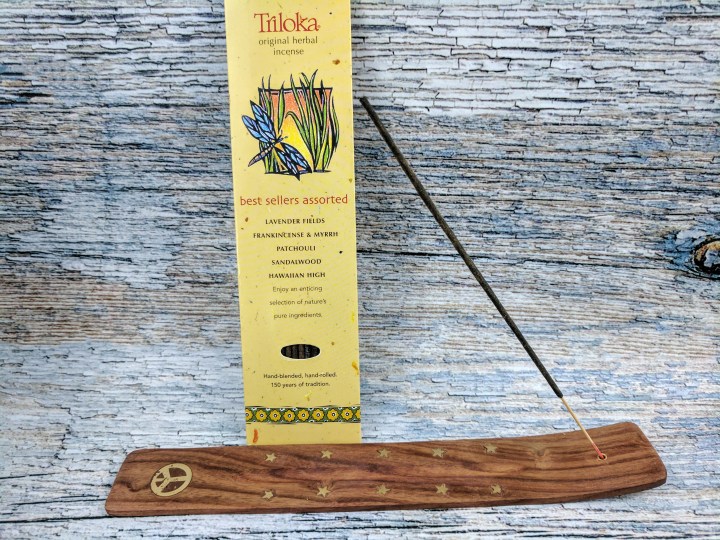 Trikola – Wooden Holder and Incense Set (12$) I'm so happy to get an incense holder with the incense set! The assortment had some delicious scents, you don't even need to burn them to get the room filled with lovely scents! My favourite is the Sandalwood, but they are all great! Triloka's incense is handmade in India by fair trade. Very nice for meditation, purification, and aromatherapy. Honestly, I just keep a stick out on my library shelves to give a scented boost to the room. (I need to slighly adjust the hole to get a better angle on the stick, I know.)
Vegan Leather Antler Pendant – Love ROWAN ($25). This pendant supports Antler for Orphans, a campaign created by Love ROWAN (Rural Orphans & Widows AIDS Network). It also helps Kenyan widows that made them, to provide for their family. This is a cute and light pendant, I just need to find a way to stretch the vegan leather to get it straight. It comes in a nice handmade little pouch that can be reused to carry small objects. I'll use it to carry my earphones (they always get tangled with my keys). [FYI – this necklace also appeared in the December 2015 box]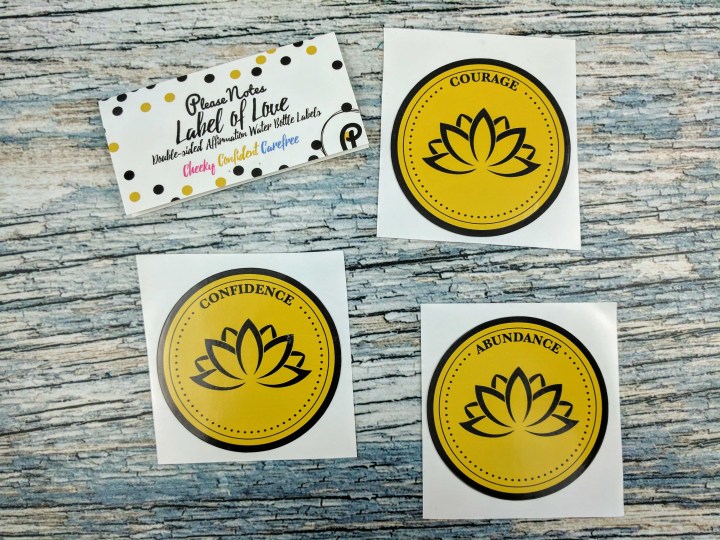 Please Notes – Labels of Love Mat Stickers ($15). I've received three different yellow coloured lotus stickers with Abundance, Courage, and Confidence. On the sticky side, there's an affirmation such as "I AM abundant in all areas of my life." I will probably not use them on my yoga mat, I'll find a nice see through water bottle to stick them on it so I can be reminded of what I am. There were different colours, symbols and affirmation stickers subscribers could have received.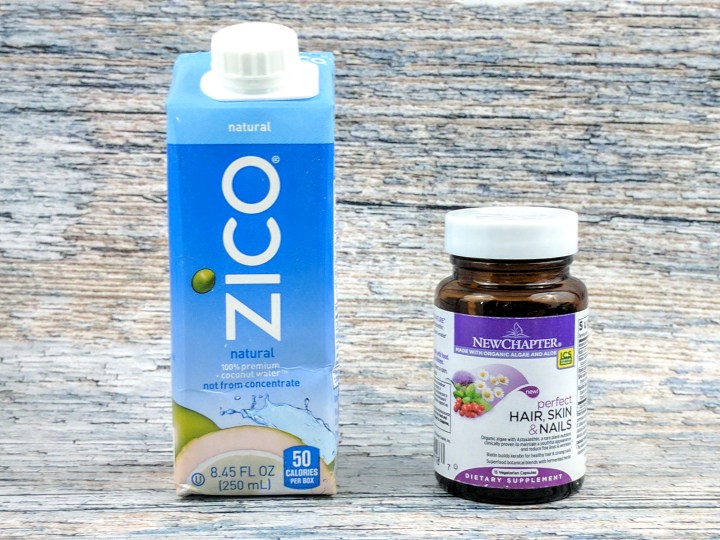 New Chapter – Perfect Hair, Skin, and Nails Supplement ($12). Combining organic algea with biotin, astaxanthin, and other fermented herbs, it should help in maintaining a youthful appearance and reduce fine lines & wrinkles as well as helping with stress, energy and digestion to maintain key areas tat can affect skin health. I don't know if it's true or not (I know next to nothing about supplements) but the bottle is good for two weeks worth of supplements, so I'll give it a try.
Bonus item!!! A bonus healthy snack to enjoy, because BuddhiBox loves us! Thank you, we love you too! I've received Zico Coconut Water. I love coconut water, it's the only kind of "water" my stomach can handle right before a morning yoga class.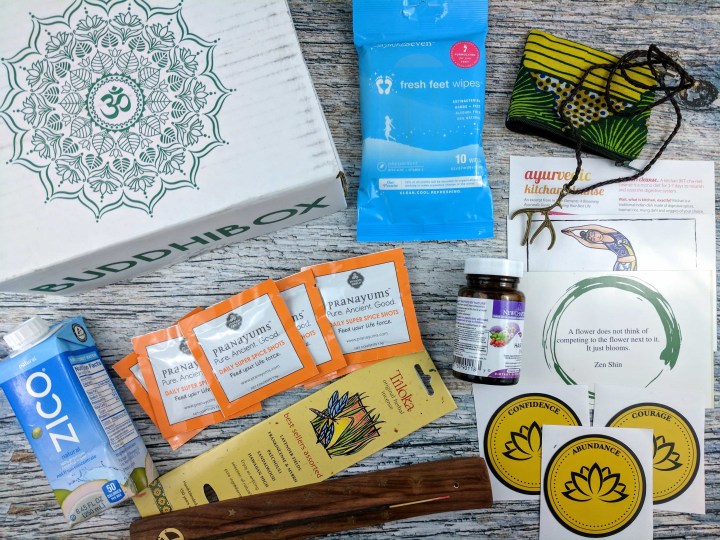 Every month, I think BuddhiBox can't get any better, and I'm always wrong! There is so much care in each and every box, it's always fun to open and go through it! The spices packet were great and the fresh feet wipes will get used in no time, the stickers are a nice addition, and the piece of jewelry this month is cute and for such a great cause! I also really like that BuddhiBox takes you a bit further with a recipe (that you can make over and over again) and with giving back to a great cause every month!
Editor's Note: Although there were a couple of repeat items in here, we don't think this is an issue for most subscribers!
What did you think of March's Buddhi Box?
Namasté!