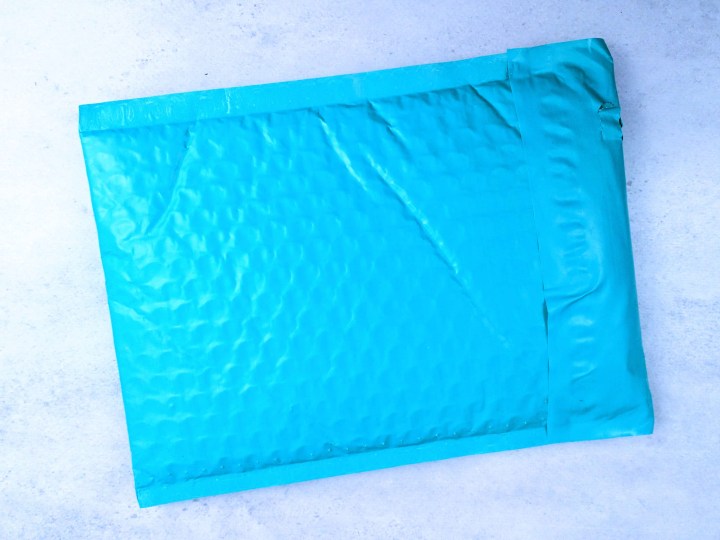 Bargain Bead Box is a monthly bead subscription service. Each month, you'll receive over $40 worth of top-quality jewelry supplies. It can be a mix of loose beads, bead strings, findings, and pendants. You can share your creation on their social media for a chance to win a $25 gift certificate for their sister store Bead Box Bargain. Boxes are $15.95 per month. Shipping is free in the US and $7.50 to Canada. Even if it's technically a subscription box, it comes in a teal bubble mailer, which is less expensive than a box so they can send more beads! And more beads is more fun!
Inside the bubble mailer, the beads come nicely packaged inside three bags and wrapped in tissue paper. Inside the bags, everything is in individual plastic bags.
Each month is curated around a different theme and all the beads and findings are coordinated. This month's theme is "Amethyst Aviary" and promises a lot of purples (and a genuine amethyst point pendant!), and a flock of feathered findings. So… Birds? BIRDS??? YESSSS, bring on the BIRDS!!! (Here comes the Crazy Bird Lady.) Antique Silver is the metal this month.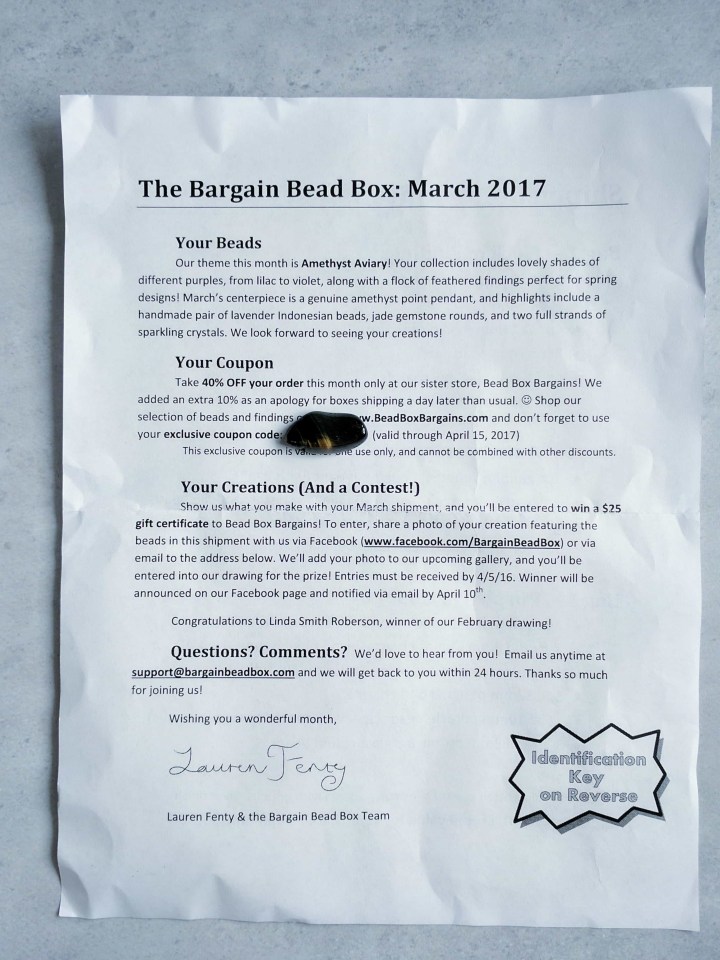 With the note, included in the package, you also get a discount for their sister store "Bead Box Bargains." You can share your creation on their social media or by email to have a chance to win a gift certificate to their sister store.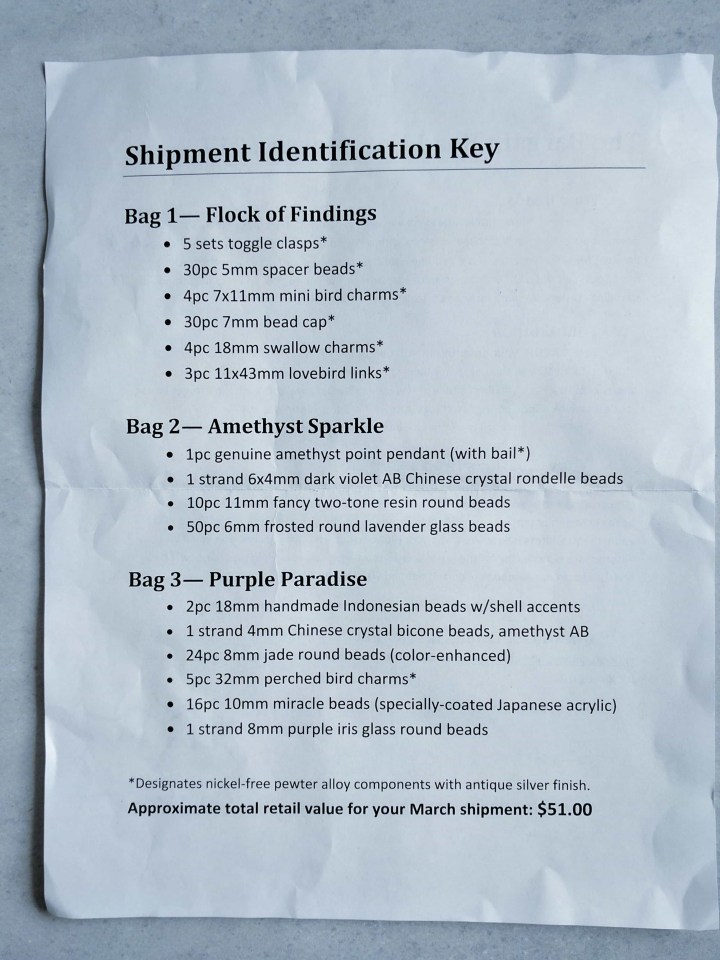 On the reverse of the letter, the content of the three bags are described.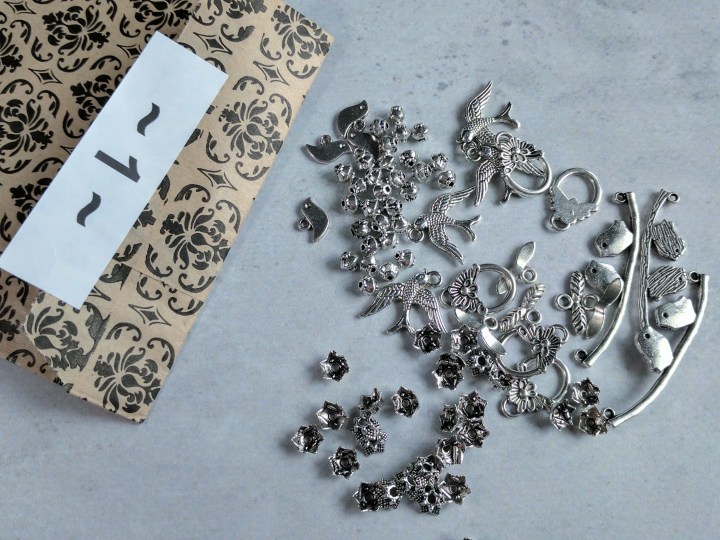 BAG 1: Flock of findings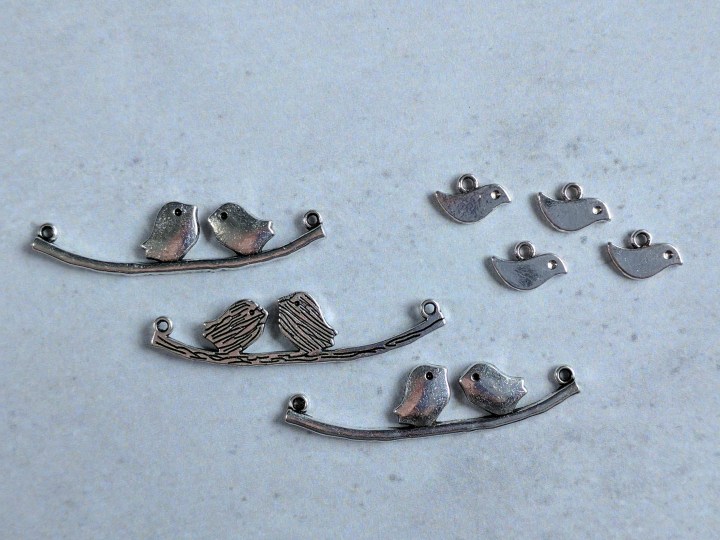 3pc 11x43mm lovebird links. BIRDS!!!!! They are adorable! They can be added to a length of chain, with a feather charm hanging from one side, or a feather link right beside it. I see it on a simple chain, to be layered with more chain (with birds please!)
4pc 7x11mm mini bird charms. BIRDS!!!!! I love love love these little birds. I received identical one, but in copper, in a previous box (April 2016) and they are adorable as earrings with a single bead above it.
4pc 18mm swallow charms. MORE BIRDS!!!! Great little charms for earrings, necklace, bracelet. Anything goes!
5 sets toggle clasps. Every month, we get some clasps to finish up our design. This month, I'm not exactly sure how to describe them. Floral? Bird-like? Leaves? Anyway, they go well with the rest of the box and feel very spring-like. Where's spring by the way?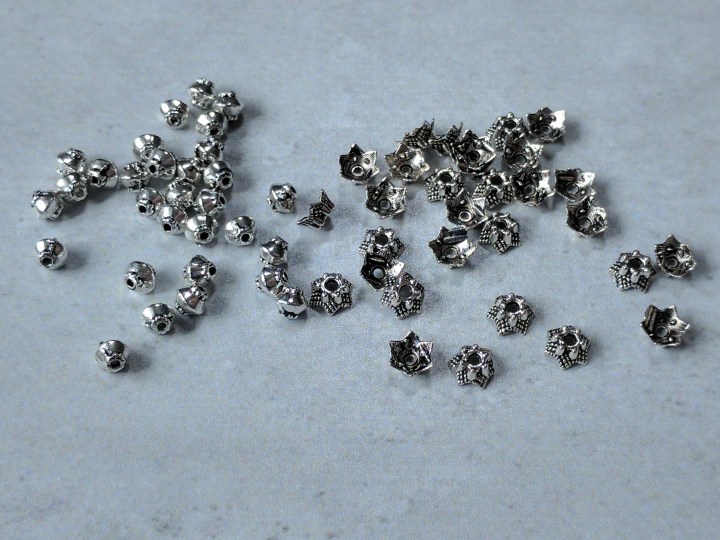 30pc 5mm spacer beads. Every month, we also get some kind of spacer beads and bead caps. I really like the ones we received this month.
30pc 7mm bead caps. Bead caps are great to get a finishing touch to a simple bead or to tone down on the sparks on a faceted bead.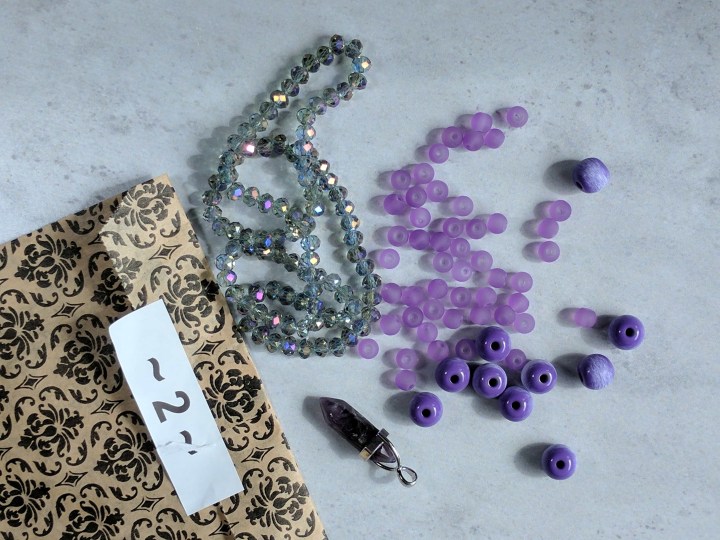 BAG 2: Amethyst Sparkle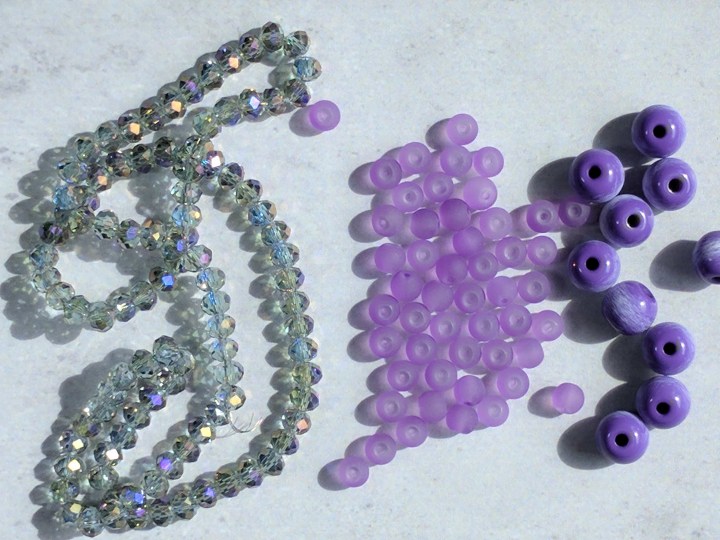 6x4mm dark violet AB Chinese crystal rondelle beads. I don't see the dark violet colour in these beads, besides in the AB coating, but I really like them. I had to use them, they are shiny, sparkly and the colour can go well with almost anything without being too colourful. Rondelles can be used in so many designs, on bracelet, necklace or earrings, and they look stunning with bead caps! I decided to not use bead caps in my design because I wanted to keep all the bling!
10pc 11mm fancy two-tone resin round beads. They are very light, perfect for heavy looking earrings, but I have a hard time with resin beads.
50pc 6mm frosted round lavender glass beads. Frosted beads are so nice! You can pair them with shiny beads or glass beads for a pop of colour without the design feeling too heavy.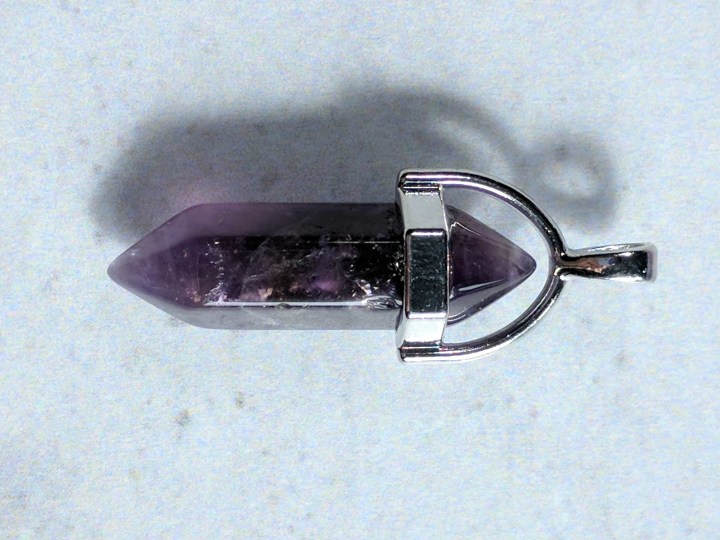 1pc genuine amethyst point pendant (with bail). A nice deep purple colour, these are usually just put on a simple chain.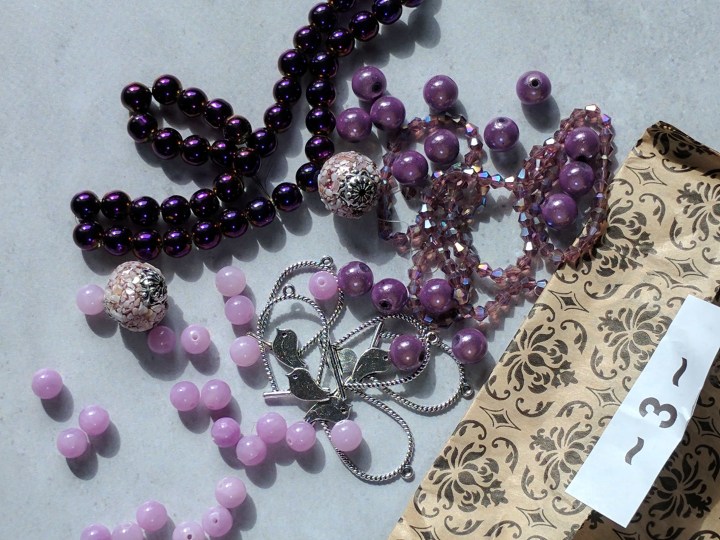 BAG 3: Purple Paradise
16pc 10mm miracle beads (specially-coated Japanese acrylic). They are magical because when you look at them, they look like you can see through the surface, or that the beads are concave, but the surface doesn't look like it's at the right spot. It's hard to describe, but the effect is pretty fun (and hard to catch on photo).
8mm purple iris glass round beads. They are so shiny, they look like they are made of metal!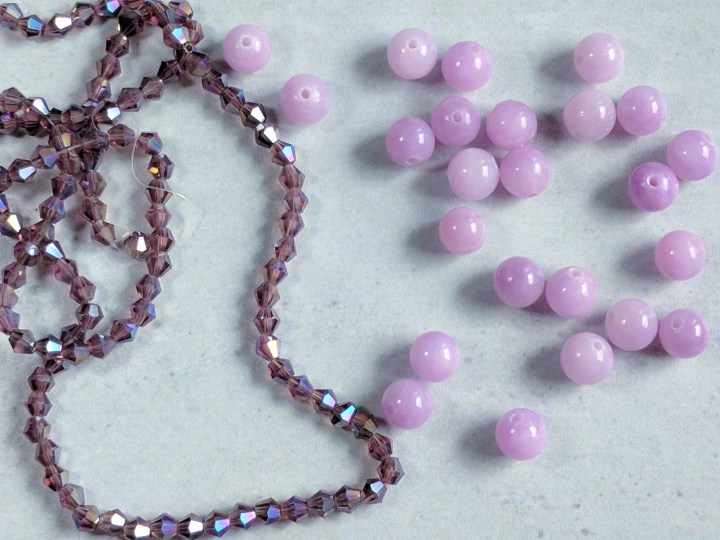 4mm Chinese crystal bicone beads, amethyst AB. Every month, we get some kind of Chinese crystal, and these bicones are quite popular. It's always fun to see which colour we'll receive! I like them to add a little bit of excitement to a metal heavy design, or in a tassel. They are also perfect for earrings.
24pc 8mm jade round beads (color-enhanced). Lately, we've received quite a lot of different colour of Jade in these boxes, but I'm not complaining. They are always so pretty! I will find any excuses to incorporate them on a design.
2pc 18mm handmade Indonesian beads w/shell accents. These are so unique and fun! Simple earrings, or as a necklace's focal, with a tassel underneath.
5pc 32mm perched bird charms. MORE BIRDS!!!!! Birds. I'm thinking of making a sun catcher with a bunch of agate slices, colourful beads and stuff, with these hanging from the middle. Or, you know, earrings.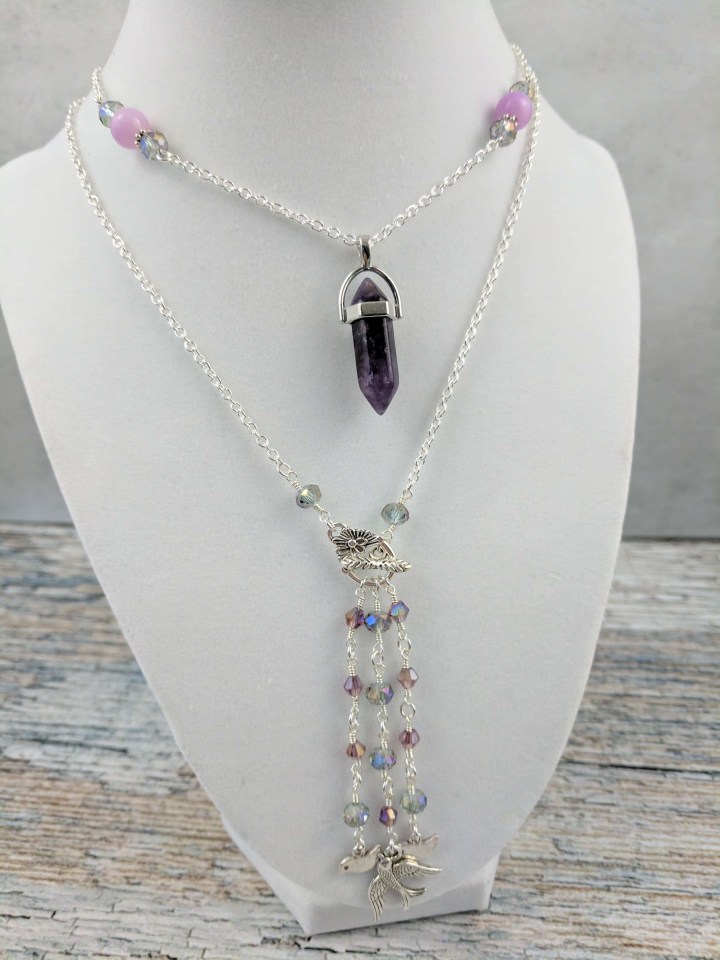 I made two necklaces this month, and I realised when I was setting them up for the picture that they could be layered! The first one uses jade beads with the lovely rondelles to frame the amethyst point. The second necklace is attached in the front with the toggle clasp (I needed to show it, it's too lovely), with a small little cascade and birds. Birds. BIRDS!!!!!
The Crazy Bird Lady in me loved the charms this month! The beader loved the colours and the theme! An other fun box from Bargain Bead Box!
What did you think of this month's Bargain Bead Box?