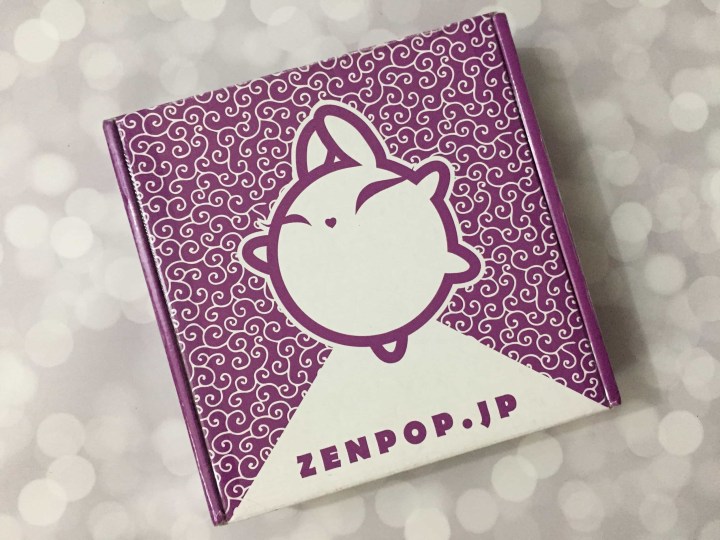 ZenPop Japanese Packs isn't your traditional subscription box – it's not a recurring subscription at all, but a box you can purchase each month from four variations – snacks, stationery, beauty, and ramen! All boxes are $35 and include free shipping. I had a lot of fun reviewing a stationery box a few months ago, and I also recently got to review their Beauty Box, so I'm excited to see the cute purple box at my door again!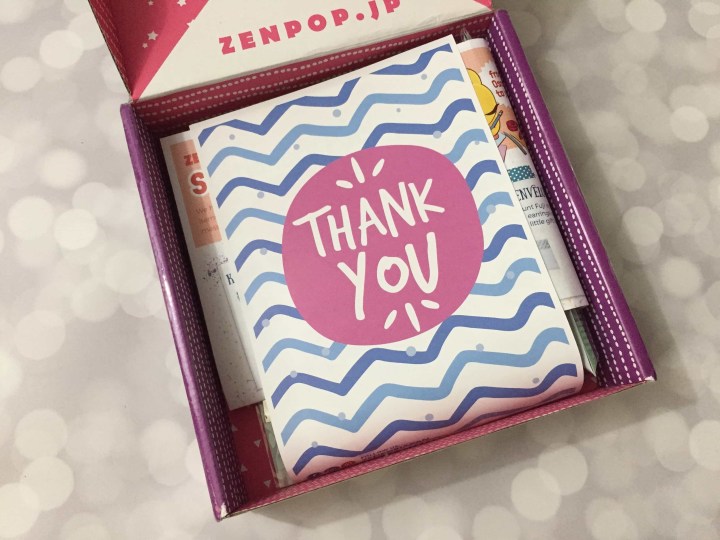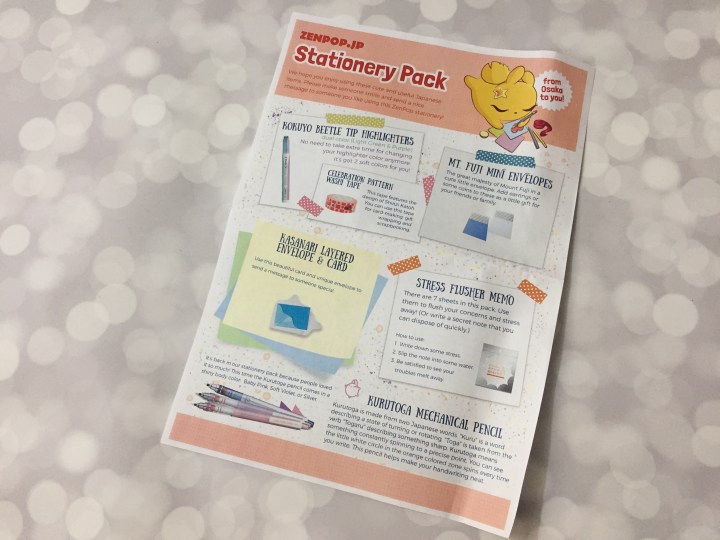 The information sheet is a standard size piece of paper; everything is described and it shows the variations that were sent as well! I love love love details in presentation like this, everything is so well done and organised as well as being clear and easy to read.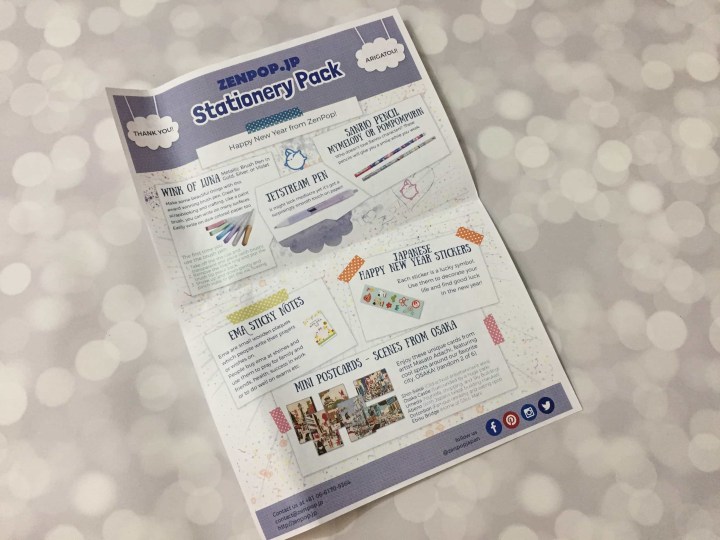 The reverse is just as detailed. I can't believe how much is in this box!
Stress Flusher Memo What a neat idea! Write down what's bothering you and then cover it with water (or safely flush it down your toilet) to watch your worries tear apart and disappear.
Mt Fuji Mini Envelopes These little envelopes are TINY! Depicting Fujiyama in blue and snow covered white, they are just big enough to tuck in a pair of earrings, a small necklace, or a small note.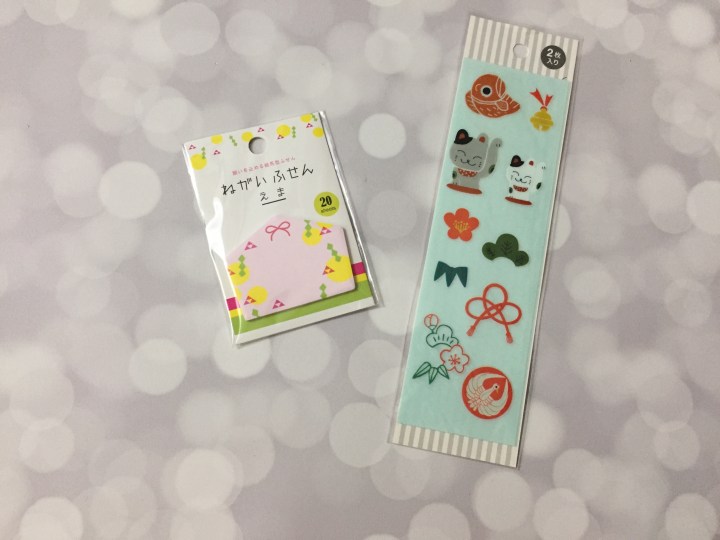 Ema Sticky Notes These are meant to look like the wooden tags people write their new years wishes on at shrines.
New Years Stickers Gorgeous stickers featuring New Years images like Maneki Neko (Fortune Cat), shrine bells, flowers, and goldfish!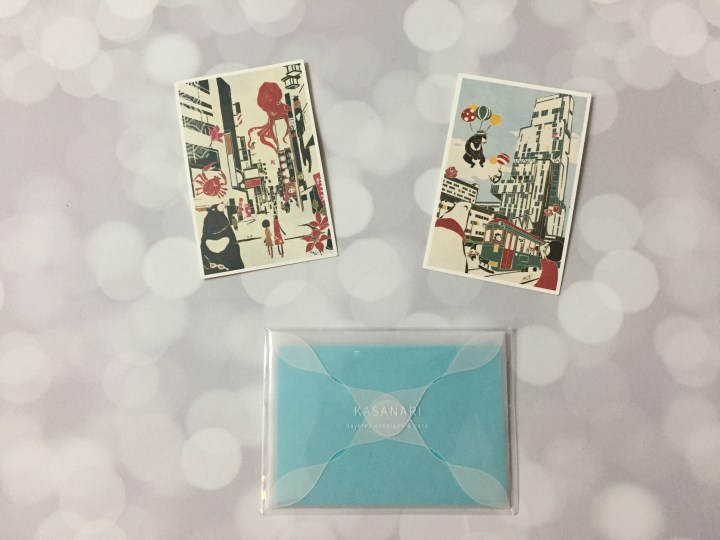 Mini Japan Postcards These tiny postcards have drawn scenes from Osaka on them. They are the perfect size to fit into the next item…
Kasanabi Layered Envelope I couldn't figure out how to unfold this… and then I was too nervous I wouldn't be able to put it back together! It's a clear plastic envelope with a notecard inside. I love how creative this is, it reminds me of the folded notes we would make back in school.
My Melody Pencil A standard pencil with adorable Sanrio's My Melody on it!
Uni Gel Pen I love Uni's pens, they write so smoothly even if they're a gel pen.
Uni Mechanical Pencil I don't normally write with pencil, so it's nice to have a collection of them for when I feel like sketching or doodling. (Or doing Sudoku!)
Wink of Luna Brush Pen This pen was sent out in gold, silver, and VIOLET. Shiny metallic purple would have been so cool, but I'm fine with silver! The crescent moon reminds me of Sailor Moon. Go figure.
Beetle Two-Toned Highlighter This highlighter includes two colors you can use independently based on how the pen is designed.
Shinzi Katoh Washi Tape Shinzi Katoh is a Japanese designer. I love the art and have a few items of my own, so I'm excited to see the washi – check out below for swatches of everything!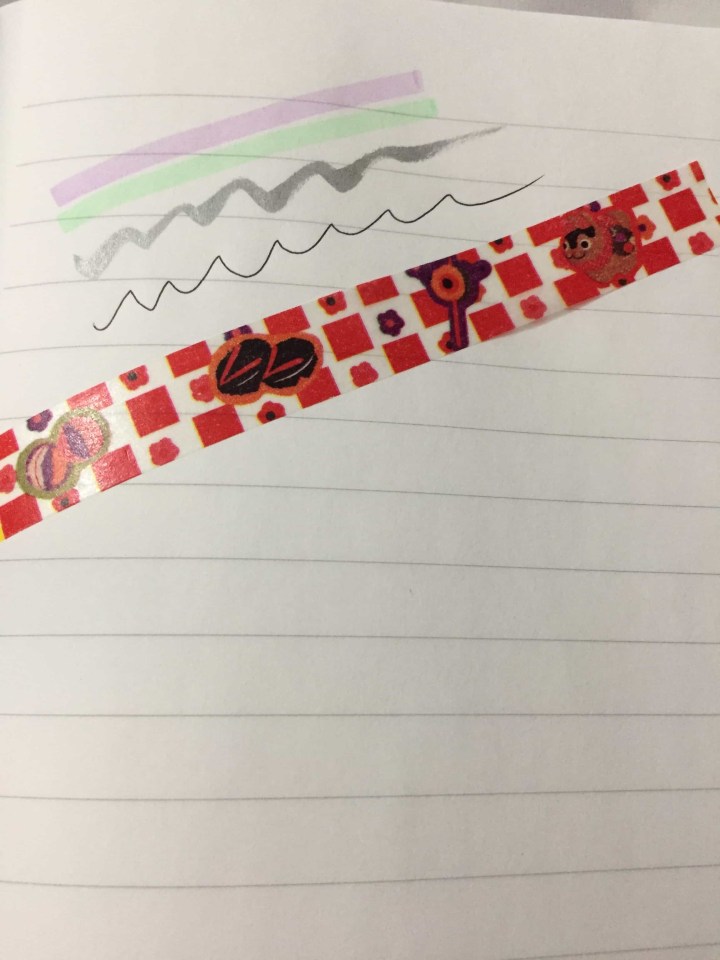 The New Years design features clothing items, snacks, animals, and so on. I love how it looks!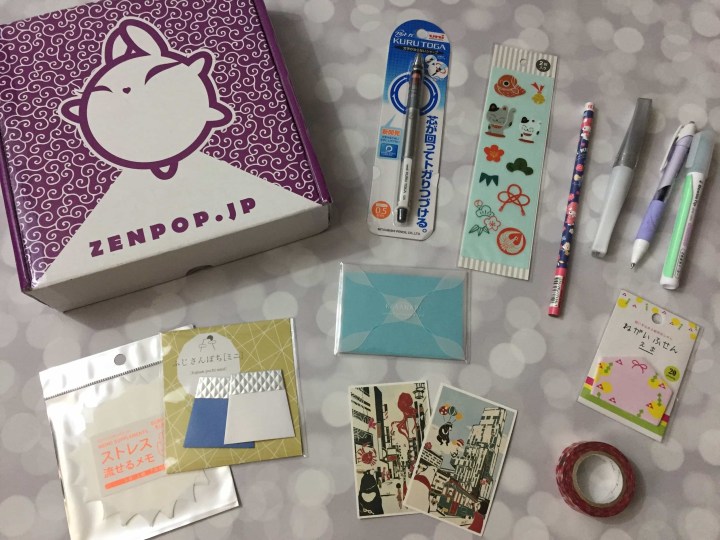 I'm so thrilled with my ZenPop Japanese Packs Stationery Box! The items chosen are so unique and creative, and I can't believe how much as included! I love how everything is practical and sensible but with that touch of cuteness and quirkiness that I associate with Japan. I think they manage to do a New Years theme well without making it too one note, and I am really happy with everything!