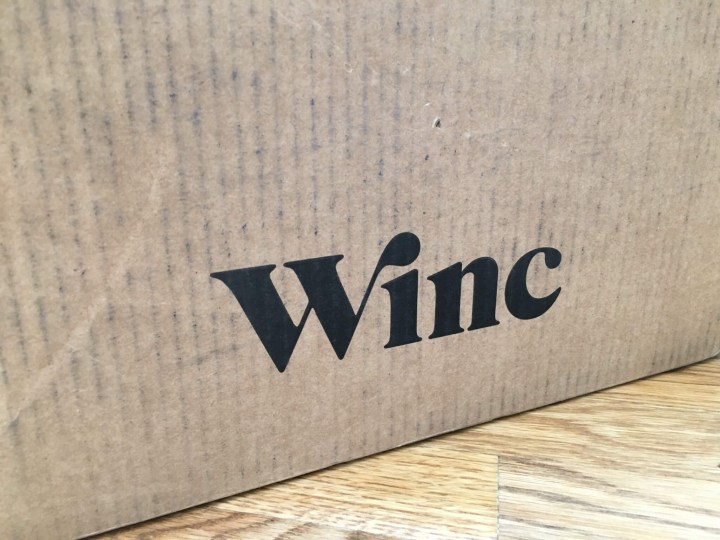 Winc (formerly Club W) is a wine subscription service that sends wine directly to you each month based on your personalized palate profile. A "global winery," Winc advertises that it has "direct relationships with vineyards and farmers to make exceptional small lot wines at prices impossible to achieve at retail."
If you're like me, you find yourself buying the same wines every time you go to the store – you've found those bottles you like, and it seems too risky and expensive to buy something else just to try it. Plus, those store employees are either clueless about wine or make YOU feel clueless about wine. Winc is the perfect solution! You fill out a quick survey about what tastes you like – black coffee, citrus, etc., and Winc makes a customized recommendation of 3 bottles that fits what you like. Then, for $6 flat shipping (or free if you pick a 4th bottle), it comes to your house!  What could be easier than that?
This month, I got my standard 4 bottle mix, but for our 2-year anniversary, I got two extra bottles!  Woohoo!  Keep in mind that someone 21+ will have to sign for your box.
February! It's snowing like mad in the NE, and a dam is about to burst in California. Here in the South, cherry trees are blooming a month early and the azaleas are definitely not going to make it until the Masters in April. It might be End Times, people, but at least we have wine to drink. I brought my box of bottles to girls' night for some weekday wine tasting.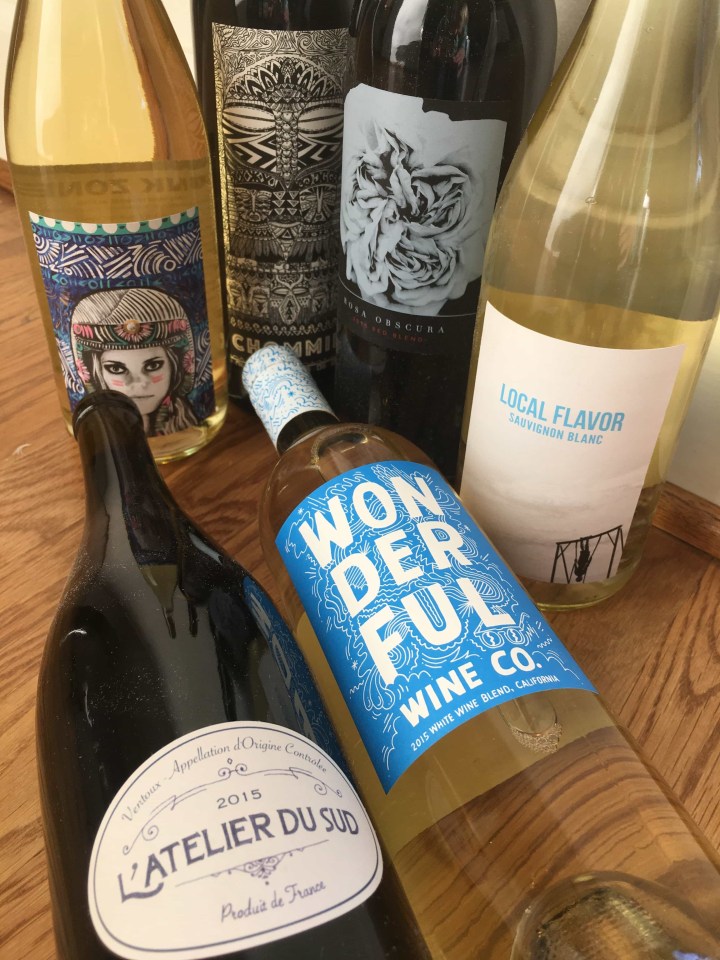 A few months ago, instead of the information/menu cards, Winc started sending a little magazine called the Winc Journal.  This month, instead of the Winc Journal, they sent the Winc List, which is apparently just the wine listings from the Winc Journal. Hmm, okay?
DEAL: You can use this link for $20 off your first order – no coupon code required! ($25 total for 3 bottles, but you can grab an extra bottle and get free shipping!)
Only 3 of my wines this month were in the directory of current wines in the back, which is weird, when the whole thing is just supposed to be the wine listings. I miss the information cards that Winc used to send.
On to the wine. We started light with the Wonderful Wine Co. White Blend.
This wine is a pretty lemon gold color in the glass. The nose is sweet and unbalanced, smelling strongly of Chenin Blanc, though the varietals used in the blend aren't listed. The body is very light. There is a bit of citrus when you first taste it, followed by a sweetish pear flavor that gets very round in the back of the mouth. The finish is long and harsh, tasting of alcohol. The alcohol burn made us all think of vodka when we drank this. And while I like a vodka cocktail as much as the next woman, it's not what I'm looking for in a wine. I guess you could drink this with… actually, no, don't drink it. There is too much good wine in the world to spend your money and liver cells on this.  Next!
The next wine was the Funk Zone White Blend.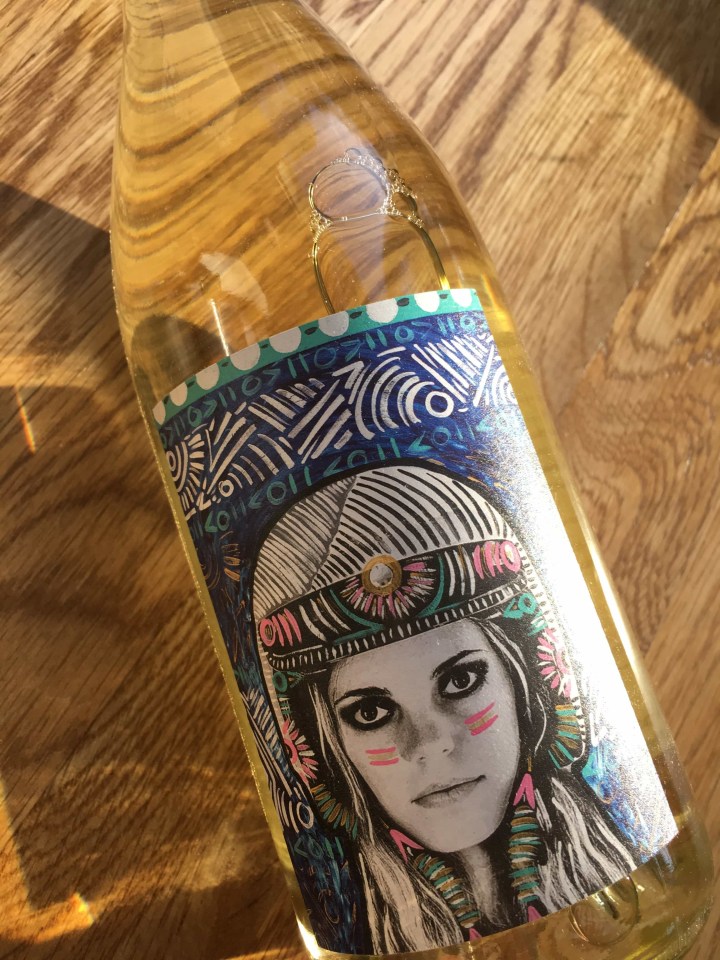 I'm a little uncomfortable with this label – is it cultural appropriation, or manga, or just a cute girl with a headdress? I did appreciate that this wine identified the varietals in the blend – about 50% Sauvignon Blanc and 25% each of Viogner and Gewertztraminer. The wine is a bright gold in the glass, rather like a California Chard. There is not a strong nose, but maybe a bit of peach/pear. The body is medium-light with a nice roundness to the mouthfeel. The wine is definitely dry in spite of its roundness. The first flavors are that of white flower and peach, with a bit of mineral undergirding it. The finish is a touch harsh, with a grapefruit bitterness to it, but not totally unpleasant. This is a decent food wine; it went well with our cheese and crackers, as the richness of the cheese moderated the bite of the wine. I think it would also go well with fried foods, and possibly even Chinese takeout. Overall, we thought this was decent. Drink it cold, of course.
Our last white was the Local Flavor Sauvignon Blanc.
I was a little concerned when the label of this wine talked about its (admirable, no doubt) charitable works, and not about the wine. But I took heart from the refreshing pale lemon color and medium-light body of the wine. It made me think about summer, which I appreciate in February. The nose has a bit of grass to it. The flavor is muted at first, and then it pops with a burst of that grassy/peach Sauvignon Blanc flavor. This one teeters on the edge of sweetness but lands just barely on the side of dry with a round and lingering finish. This wine is a decent crowd-pleasing choice for a big cocktail party or backyard barbecue. It would pair with first courses or passed apps, particularly seafood or spicy dips. We drank this cold, but I think it might benefit from being served a bit warmer to bring out the flavors at the beginning of the wine.
Our first red was the Rosa Obscura Red Blend.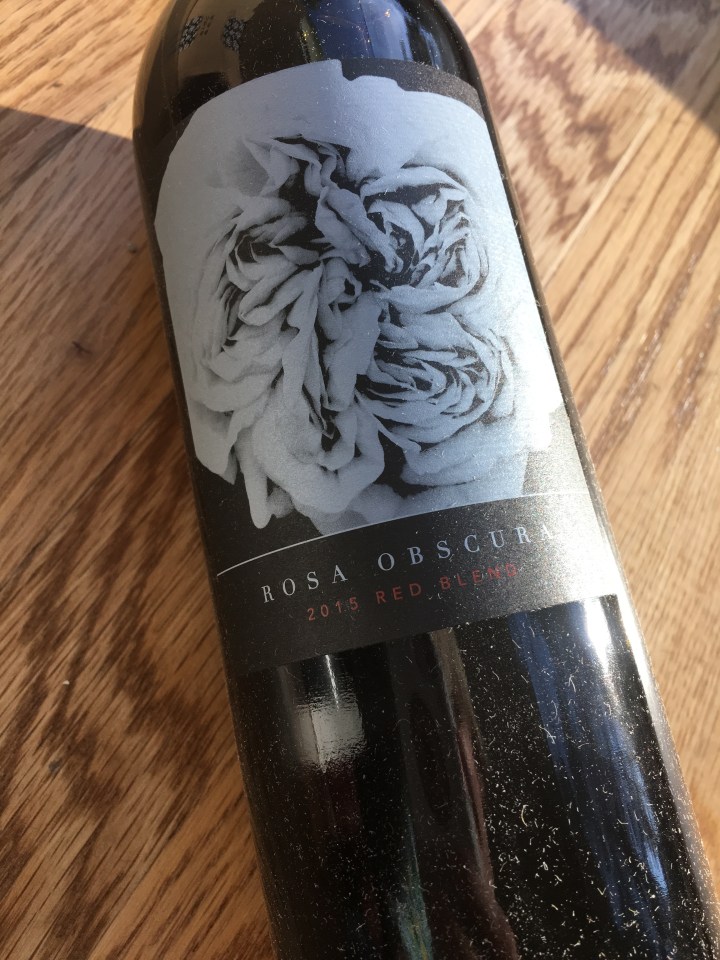 Another blend without identification of the varietals inside. I suppose this wine, at least, is honest about that. The wine was a gorgeous red violet in the glass with a strong nose of cheap merlot. Seriously, it set me back. The body is medium. And the flavor… well, the best way to describe this is as wine-flavored Koolaid. It was sweet, chocolate-berry with a cloying finish and an undercurrent of artificial oak. Really unpleasant. One friend, fond of sweet wines, thought this would be decent as a desert wine or along with coffee. Maybe you could try out that hot-chocolate-red-wine trend with this? That might actually be a decent idea. Gotta salvage this somehow. Next, again.
Our second red was the Chommie Cabernet Sauvignon.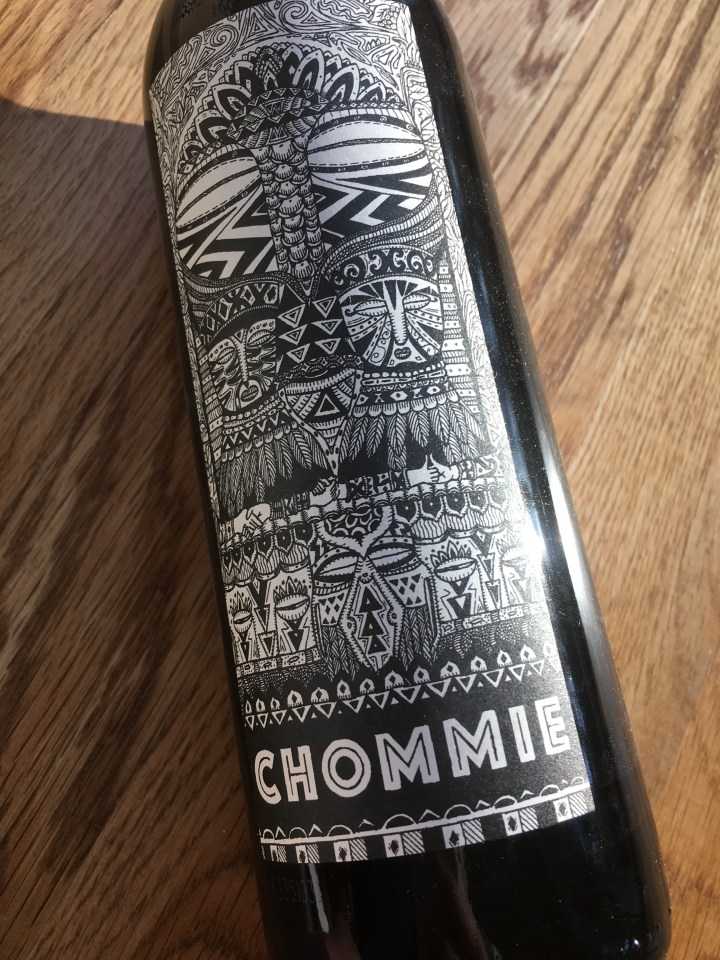 This Cab is from South Africa, which is fun; I'm not sure I've had a red from there. The nice thing about a subscription box is you get to try things you might otherwise have missed. This wine was a brownish-red in the glass with a spicy berry nose. It was definitely Cabernet, but I swear I detected a little Merlot in there. It has a medium body and a strong pipe tobacco flavor. The finish is just a touch sweetish, with a dried fruit flavor and more of that strong tobacco. The spice adds a bit of structure to the flavor to keep it from being too sweet. Overall, this was decent. It was like the "red" version of the Local Flavor in that you could serve this at a large cocktail party and not feel bad about it. It's not a giant Cab that would stand up well to food, so this is probably best served in a casual setting, like with apps or pizza. We served it off-chill, which was about right.
Our last wine was the L'Atelier du Sud from France.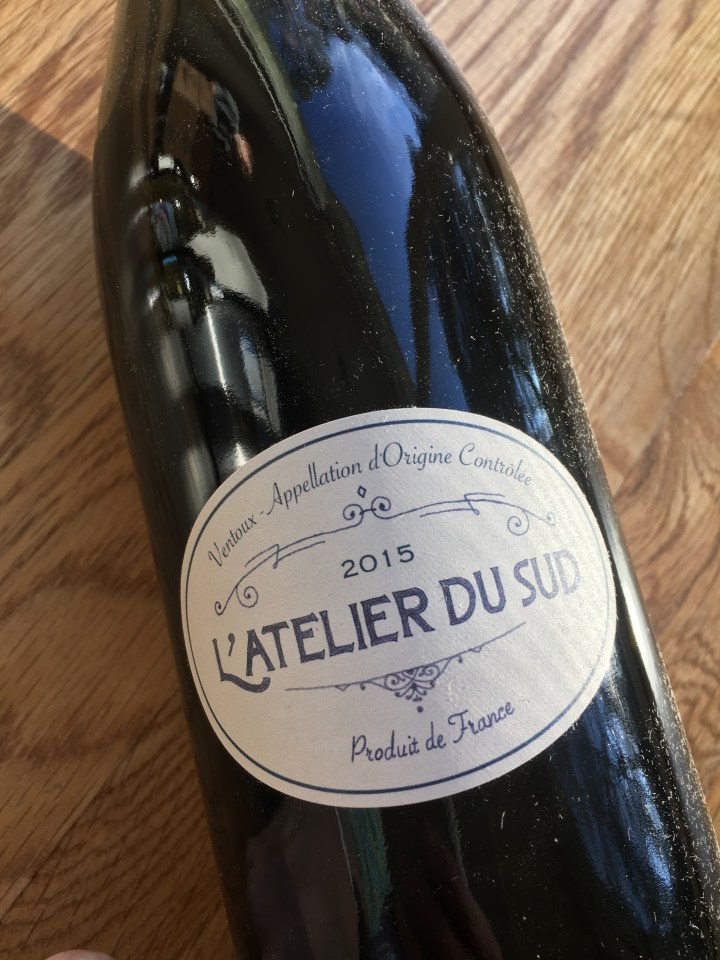 This is another red blend, a 60/40 Grenache/Syrah mix that is pretty common in France. The wine was bright violet in the glass with a dark berry nose. There is also a weird undercurrent of smell that, no lie, reminded us of Ikea.  Must be a woody/varnish component to it, which wasn't unpleasant. The body of this was medium-light, and the flavor was spicy blackberry with a meaty finish, like salami. The balance on this wine wasn't perfect, but it went really well with charcuterie, and we all thought it was the best of the night. This is a decent wine for that random Tuesday when you want to open something. We served it off-chill.
And that's it for our super-sized February. I don't know that it's the best mix we've had, but it's always fun to get a box of wine to try with friends. That's the point of wine, after all.  We can't wait to see what we get next month!
Do you subscribe to Winc? Which wines are your favorites? Tell us in the comments below!