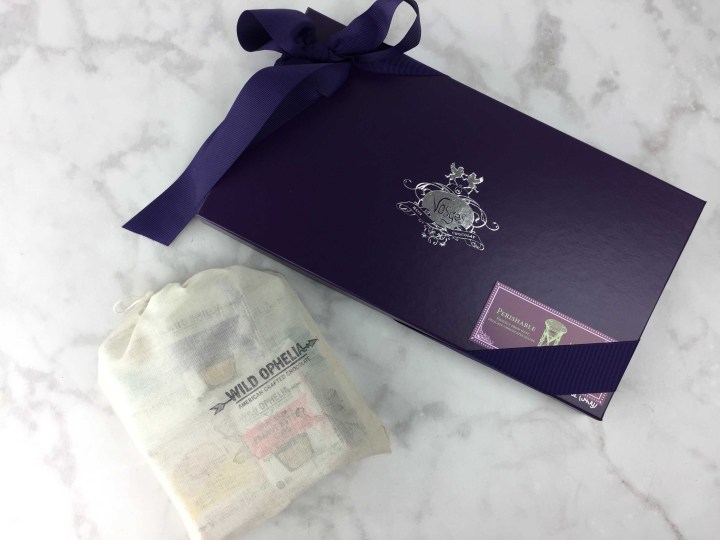 Vosges Chocolate is a luxury chocolate collection created by chocolatier Katrina Markoff.  They offer one-time gift boxes and subscription boxes, starting from $150 every 3 lunar cycles.
This is a review of the Wild Ophelia sample set and 32-pc Exotic Truffle Collection.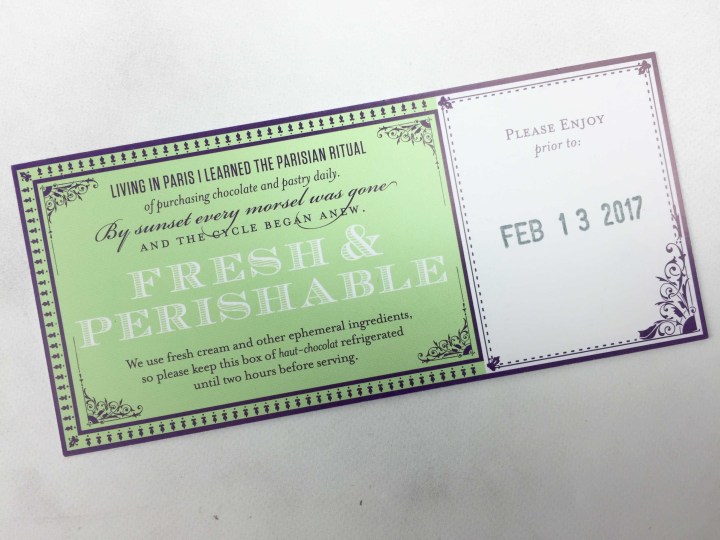 The chocolates have a 14-day expiry date because they incorporate perishable ingredients. I am not entirely sure that it sends the right message for mail order chocolate (that buying your chocolate and bread on the daily is the proper form).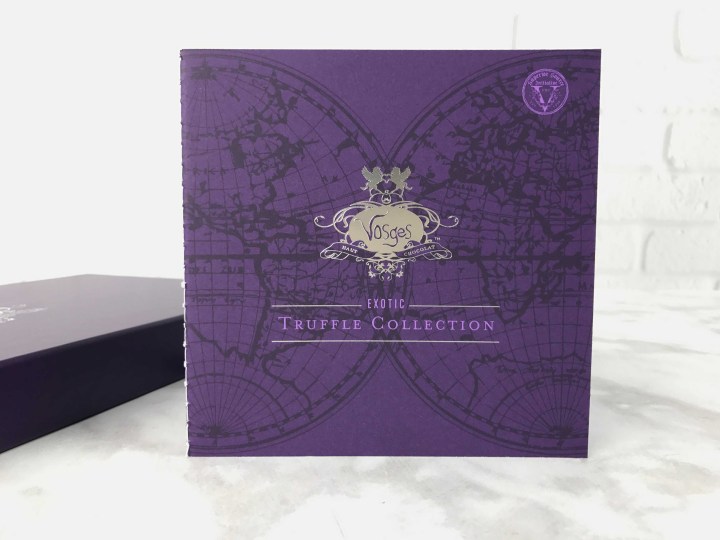 This booklet gives you an introduction about the Exotic Truffle Collection by Vosges.
Embark on a trip around the world with the Exotic Truffle Collection, our signature collection and best seller! This 32 piece truffle box includes truffles from our Groove, Italian, Aztec, and Exotic collections. Each purple box is hand-tied with a satin bow and includes an enclosure booklet describing the flavors and telling our unique truffle stories.
I thought this box would most showcase the unique flavors available from Vosges. The subscription starts out with a 9-piece exotic truffle set, which I think is an excellent way to go!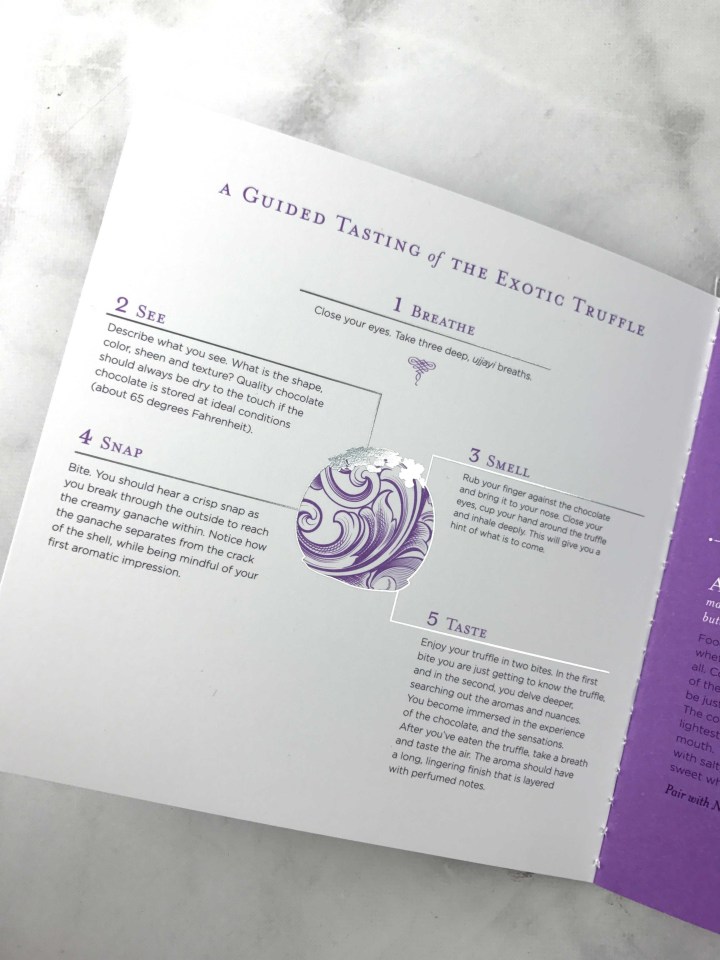 This page gives you a step-by-step tasting guide that is designed to get you to engage your senses. I don't entirely agree with the last step – these puppies are expensive and eating a truffle in two bites sort of destroys the savoring process for me. My 8 year old daughter on the other hand? She was all about this and totally followed each step. It was darling.
… while the next pages provide you a description of the truffles along with suggested pairings.
The pairings range from the oddly specific (yes, let me just pull this one from the pantry – mind you while I am in the middle of a truffle eating marathon to eat all of these in 10 days – of course, we have creme chantily and mescal to spike my cocoa!).

To the absolutely ludicrous. The funk & disco truffle was tops so I am not sure why you'd spread it on buttered toast, no matter how posh it is.
Most of the pairings were with alcohol and I would have no problem ordering one at a bar!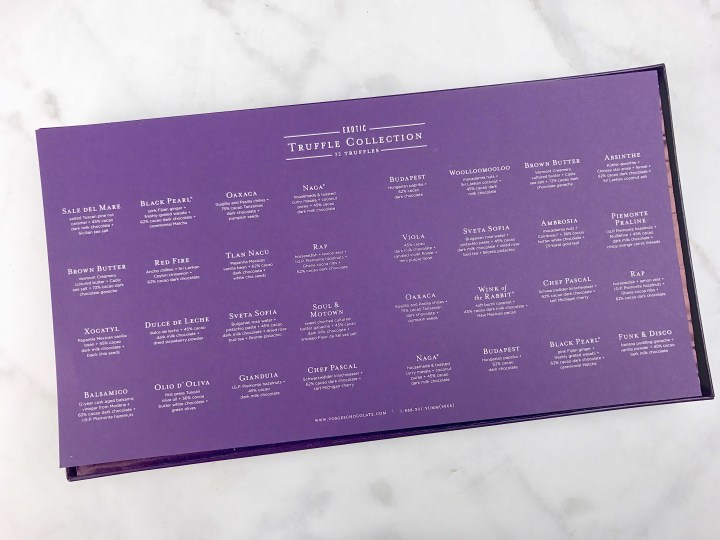 You know which truffle is which with this information card.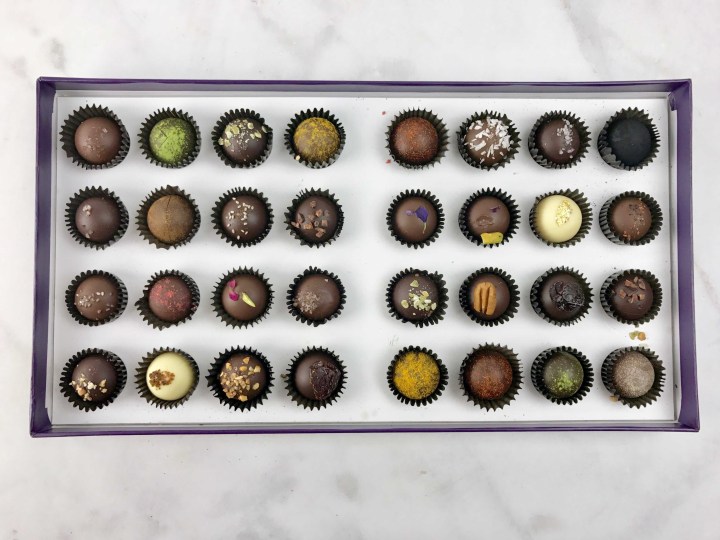 All the 32 truffles in the Exotic Truffle Collection! They are absolutely beautiful.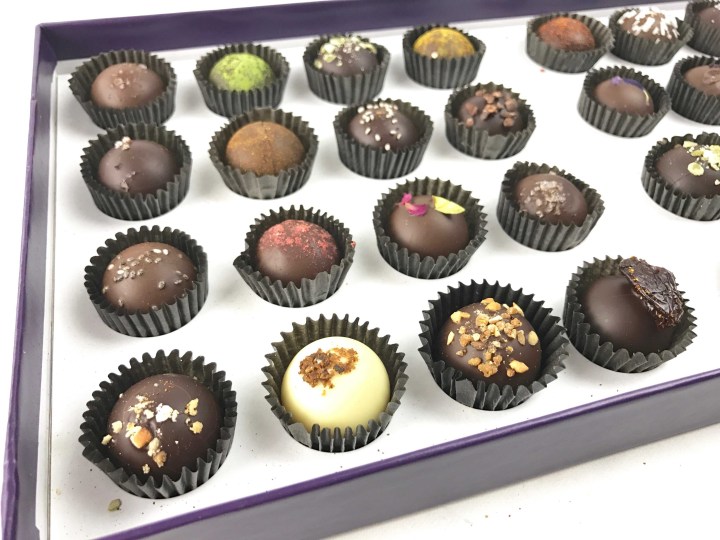 There are a handful of truffles with 2 each. Everything else is a single, so you'll have to share, make out after you taste it, or live with the fact that you didn't try it.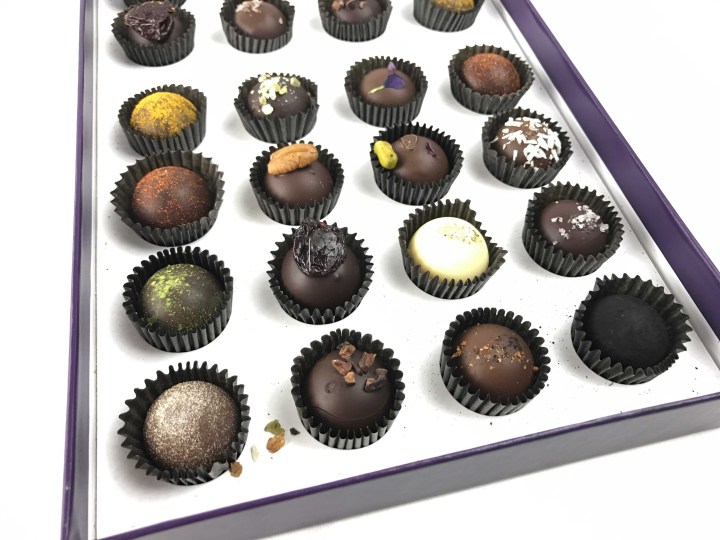 The ingredients range from the high-end standard to the adventurous to the sublime. Vosges are not just chocolate masters but also of flavor and the unique ingredients they incorporate.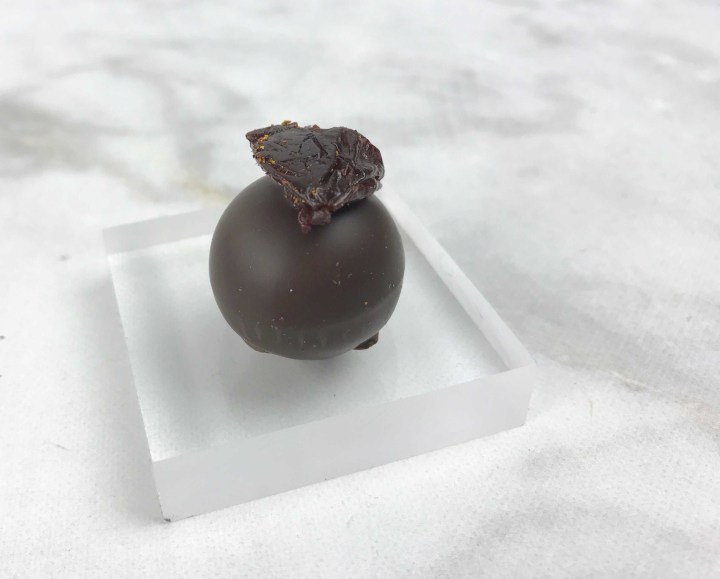 Chef Pascal Truffle: every truffle is beautifully composed, whether an artful inclusion on the top, or a dusting or sprinkling of smaller ingredients to add texture and contrast.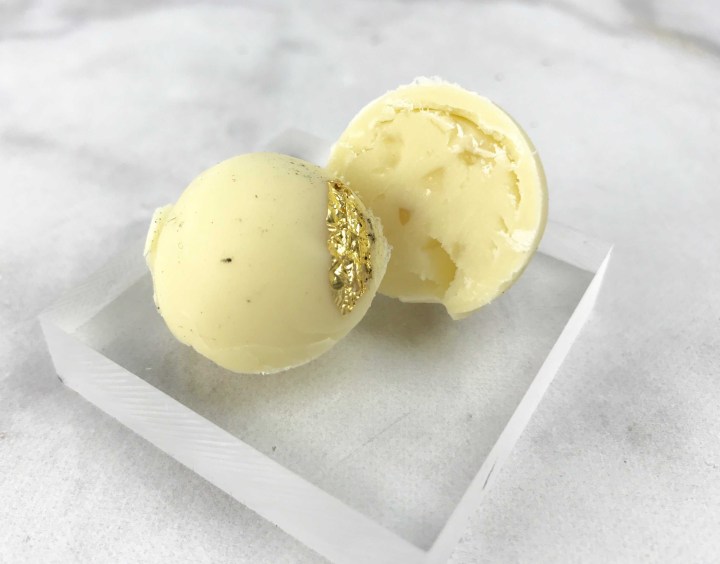 Ambrosia Truffle: the inside of each is a delightfully creamy ganache.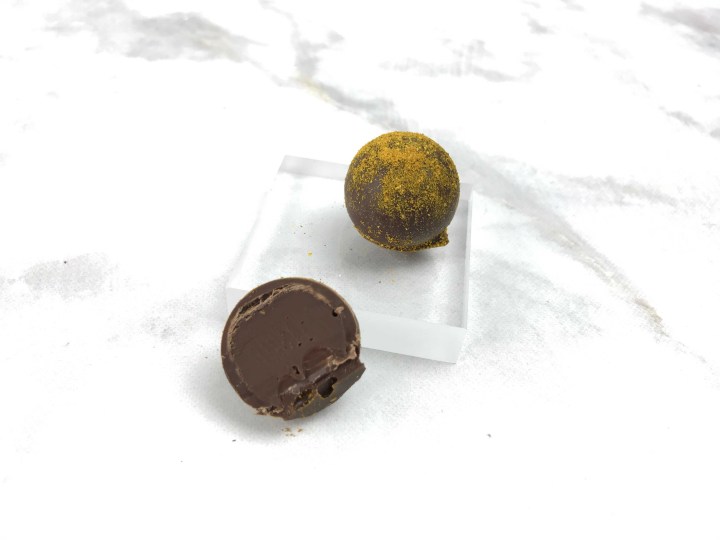 Naga Truffle: one of the more unique flavors – coconut curry! The truffles combine varying chocolate shells, flavored ganache, and decorations to achieve the intense flavor combos.
Here's the entire list of what's in this box.
(1) Oaxaca: guajillo y pasilla chillies + 75% cacao Tanzanian dark chocolate + pumpkin seeds
(2) Chef Pascal: Schwarzälder kirschwasser + 62% cacao dark chocolate + tart Michigan cherry classic combo!
(1) Gianduia: I.G.P. Piemonte hazelnuts + 45% cacao dark milk chocolate
(1) Ambrosia: macadamia nuts + Cointreau™ + 36% cocoa butter white chocolate + gold leaf
(1) Viola: 45% cacao dark milk chocolate + candied violet flower + mini purple floret
(1) Absinthe: Kübler absinthe + Chinese star anise + fennel + 62% cacao dark chocolate + Sri Lankan coconut ash
(2) Naga®: housemade and toasted curry masala + coconut puree + 45% cacao dark milk chocolate unique must try combo
(1) Wink of the Rabbit®:soft burnt caramel + 45% cacao dark milk chocolate + New Mexican pecan the smokiness of the caramel was surprising, but delicious, especially in contrast to the crisp pecan.
(2) Black Pearl®: pink Fijian ginger + freshly grated wasabi + 62% cacao dark chocolate + ceremonial Matcha
(2) Budapest: Kalocsa Hungarian paprika + 62% cacao dark chocolate
(1) Woolloomooloo: macadamia nut + Sri Lankan coconut + 45% cacao dark milk chocolate not as interesting as the name
(1) Red Fire: Ancho chillies + Sri Lankan Ceylon cinnamon + 62% cacao dark chocolate
(1) Tlan Nacu: Papantla Mexican vanilla bean + 62% cacao dark chocolate + white chia seeds
(1) Dulce de Leche: dulce de leche + 45% cacao dark milk chocolate + dried strawberry powder
(1) Xocatyl: Papantla Mexican vanilla bean + 45% cacao dark milk chocolate + black chia seeds the chia seems like a gimmick but adds wonderful contrast and texture
(2) Rap: horseradish + lemon zest + I.G.P. Piemonte hazelnuts + Ghana cocoa nibs + 62% cacao dark chocolate
(1) Soul & Motown: sweet churned cultured butter ganache + 45% cacao dark milk chocolate + smoked Fleur de Sel sea salt
(1) Funk & Disco: banana pudding ganache + vanilla powder + 45% cacao dark milk chocolate sublime must try combo
(1) Sale del Mare: salted Tuscan pine nut caramel + 45% cacao dark milk chocolate + Sicilian sea salt
(1) Olio d'Oliva: first press Tuscan olive oil + 36% cocoa butter white chocolate + green olives
(2) Sveta Sofia: Bulgarian rose water + pistachio paste + 45% cacao dark milk chocolate + dried rose bud tea + Bronte pistachio
(2) Brown Butter: Vermont Creamery cultured butter ganache + Cadiz sea salt + 72% cacao dark chocolate ganache a traditional dark shell with a creamy buttery inside, set off by grey sea salt. yum!
(2) Balsamico: 12-year cask aged balsamic vinegar from Modena + 62% cacao dark chocolate + I.G.P. Piemonte hazelnuts this is like a wine truffle without a winey taste. Unbelievably hard to describe but a must have!
(1) Piemonte Praline: I.G.P. Piemonte hazelnuts + feuilletine +45% cacao dark milk chocolate + crispy orange carrot threads
I admit that they will have to tolerate my basement stairs and hopefully last, because I cannot personally eat more than two and I cannot eat them every day. I think my husband is trying to be nice by not plowing through them. My 8 year old has helpfully annotated the included booklet with all the ones she wants to try, so it looks like I may have a tasting partner/truffle overload savior! Because V-Day is quickly approaching I'm posting the review without sampling each truffle. If you like artful chocolate you will like anything from Vosges – my girl says it's the best chocolate she's ever eaten!
Keep the quantities in mind when ordering! Most people will want a much smaller box than this one but there are so many options, including the subscription!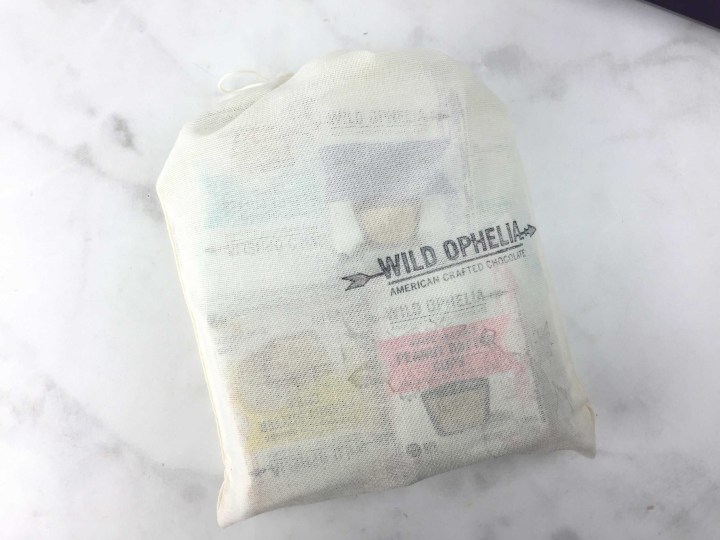 The Wild Ophelia Sample Set ($25) subscription box addicts will recognize this brand, which is impossible to find at retail but for whatever reason has shown up in boxes from time to time.
Meet our little sister! WILD OPHELIA® is a Fair Trade, non-GMO chocolate line that embodies the spirit and flavors of America. Ophelia is our maverick muse who is passionate about exceptional ingredients from farmers and artisans, fostering fellow female entrepreneurs, and living the American dream. Enjoy all five Chocolate Bar and all four Peanut Butter cup flavors.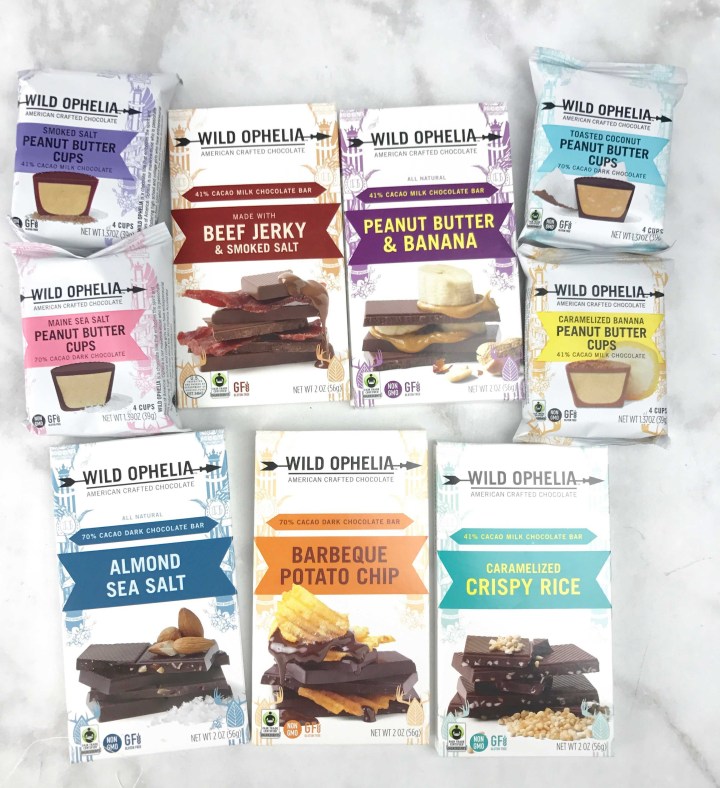 This collection comes with peanut butter cups (Smoked Salt, Maine Sea Salt, Toasted Coconut, and Caramelized Banana flavors) and chocolate bars (Beef Jerky & Smoked Salt, Peanut Butter & Banana, Almond Sea Salt, Barbeque Potato Chip, and Caramelized Crispy Rice flavors).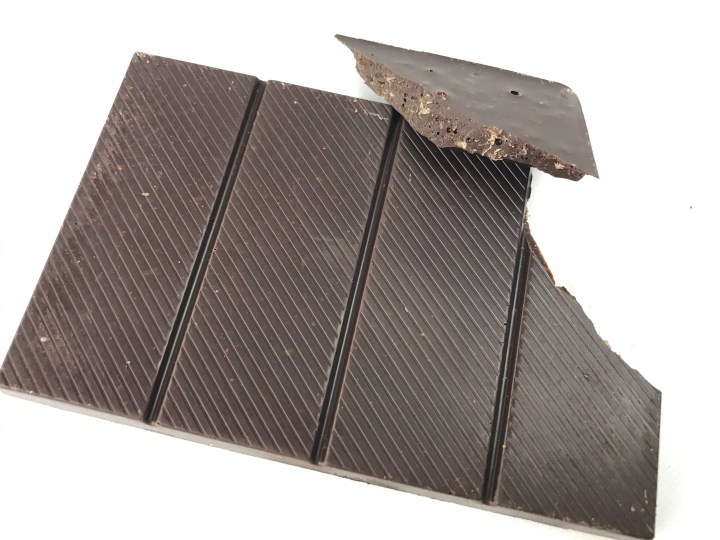 While the truffles are extraordinarily refined and rely on gourmet upscale flavors, these chocolates are more rustic (in comparison!) with big bold flavors that could also be called gourmet, in the sense that they are high quality and not run of the mill or mass produced. The textures aren't quite as fine but these would be considered fine, gourmet chocolates placed against anything else.
The BBQ potato chip bar (above) adeptly retains the crisp crunch of the chips but honestly, you can replicate this with a bag of chips and your fave, easily obtainable bar.
I was expecting to be totally in love with the banana peanut butter cups, but I wasn't crazy about the banana texture. Similarly, I thought the bacon in the bacon bar was a bit too nugget-y. I hope everyone will forgive me for tucking these goodies away for future chocolate emergencies because eating a bite more after the sampling I have done would be utter insanity.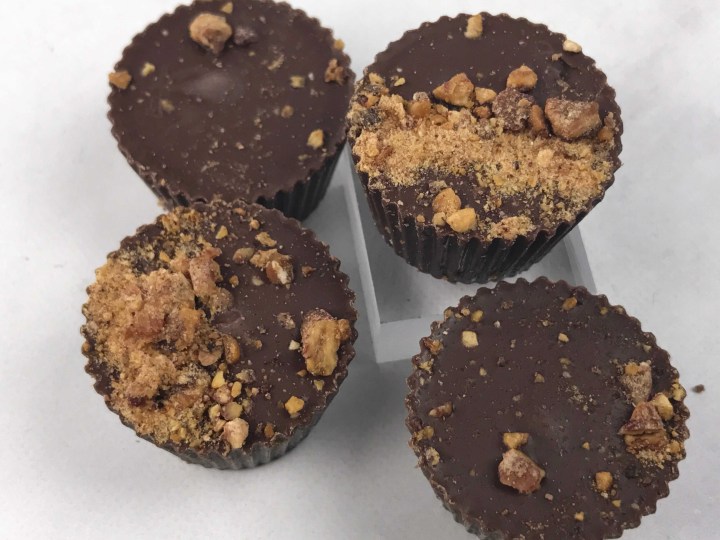 My verdict on these gifts are that they are incredibly delectable and you should gift yourself or your partner or whomever you wish but in moderation! The chocolates and most especially the truffles are so unbelievably rich that your capacity will be far less than you might imagine. This isn't a bad thing at all and speaks to the quality of these goodies.
If you're interested in the subscription, the 3-month cycle includes: Exotic Truffle Collection, 9 pieces; Caramel Marshmallows, 9 pieces, and the Library of Exotic Chocolate Bars, 6 bars.
Visit Vosges Chocolate Lunar Club to subscribe or find out more!