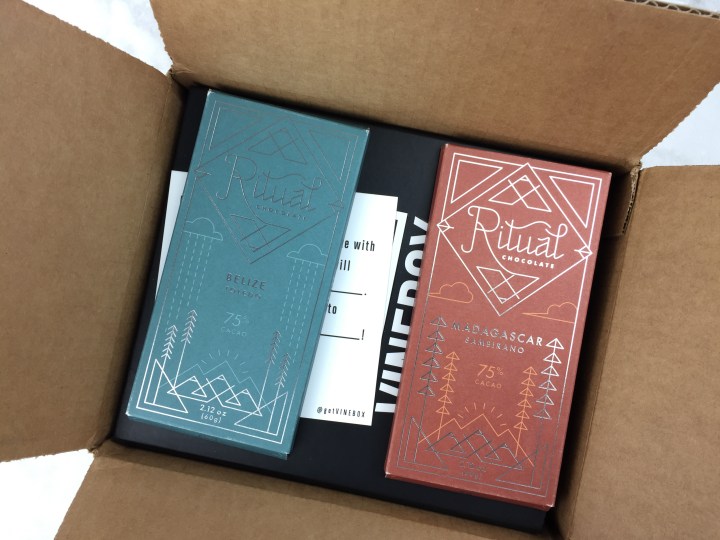 Vinebox has announced a new WINE + CHOCOLATE: An Exclusive Valentine's Day Pairing box! Available for $69 this limited-time collaboration between VINEBOX and Ritual Chocolate is available now – and the cut-off is February 10 for V-Day shipping.
DEAL: Just use code HELLO5 to save 5% on your purchase on anything at VINEBOX!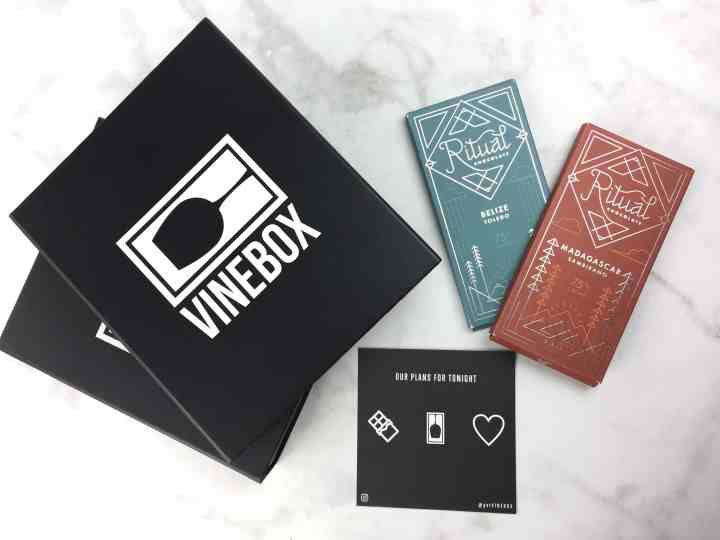 Included are two signature VINEBOXs + two single-origin small-batch bars. Perfection!
I love the card!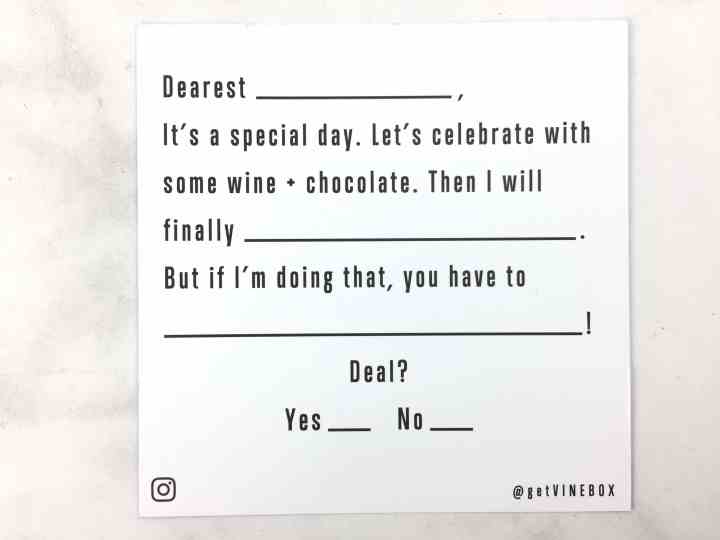 Fill in the blank! I thought this was hilarious and immediately sent photos of it to everyone. 
Two identical VINEBOXes are included – one for you and one for your sweet.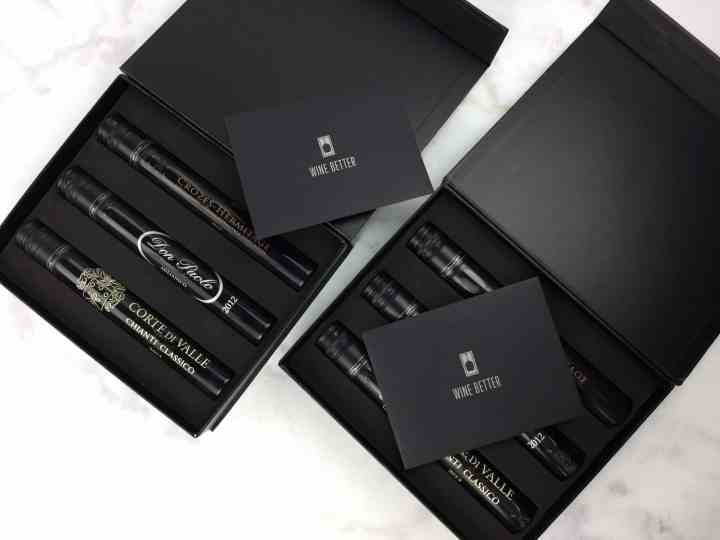 The included wines are perfectly paired with the chocolate that's in the box (don't worry, we'll get to it!). I love the magnetic flaps on these boxes. Everything is perfect and seductive.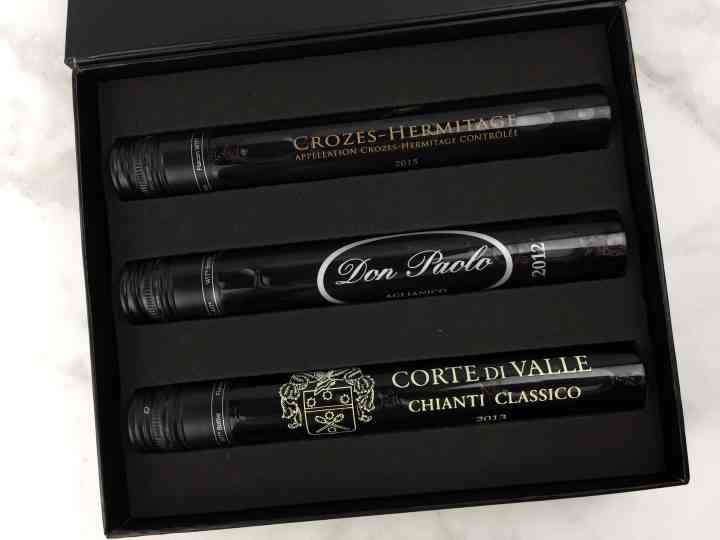 Each box contains 3 airlessly decanted vials of wine. Currently, this box ships to all states except Alabama, Alaska, Arkansas, Delaware, Hawaii, Kentucky, Mississippi, New Hampshire, Oklahoma, Pennsylvania, Rhode Island, South Dakota, Utah, and Vermont.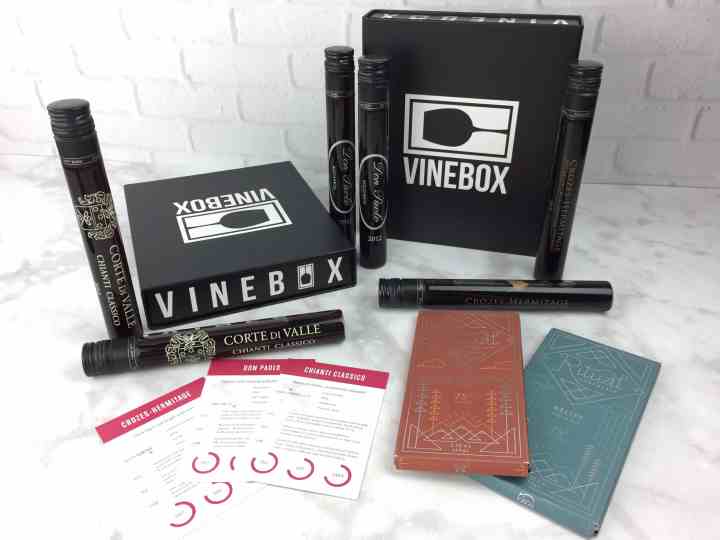 Everything is included for a delectable evening of wine & chocolate!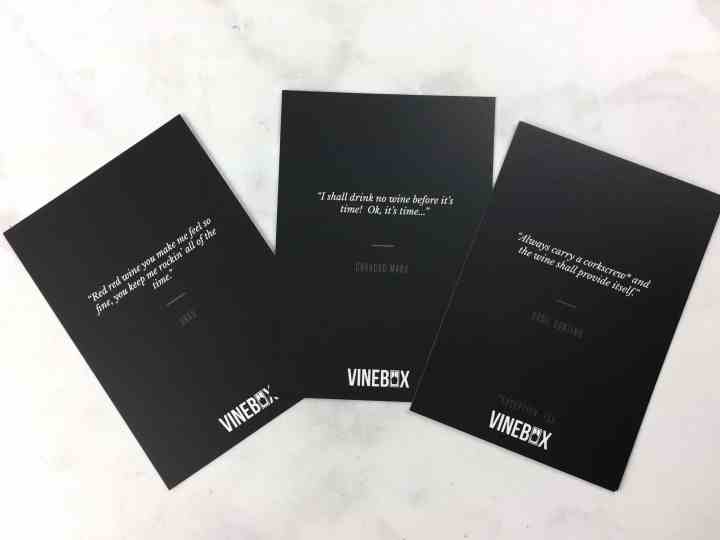 Tasting Cards are included – I like the quotes on the back.
The cards include the appellation, year, and other information plus the basic flavors pairing suggestions, and a fun fact. The wines are similar in basic fruit/body/tannin profiles, because they're designed to pair with chocolate.
No sharing is required – 3 individual bottles are included for each of you. The Vinebox technology is amazing! They pump in nitrogen to replace any air, keeping the wine in pristine condition for up to 3 years. Just in case you forget to drink it, which you won't, because it's delicious. I particularly love that the labels are screenprinted onto the custom bottles. It really elevates the experience.
100 mL of wine are in each bottle, about 3/4 of the typical pour. I think this is a good amount to drink all at once, or to have a small glass with dinner over 3 separate nights. In this case, you could have a complete tasting, or spread it out over multiple nights.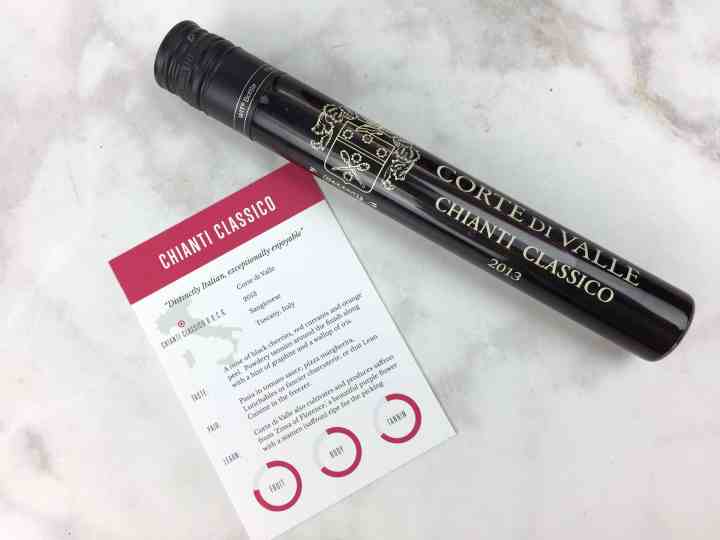 2013 Corte Di Valle Chianti Classico ($18) This is a great Chianti, rich and definitely cherry in character. I paired this with an Italian meal AND chocolate!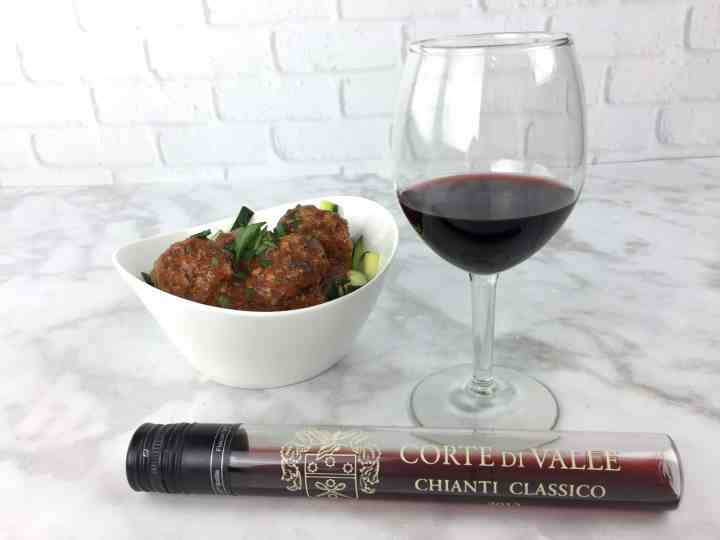 To me Italian is totally where it's at for a Valentine's Day dinner, and the card specifically suggested pasta in tomato sauce. It was so delicious – You could have the best Valentine's Day experience with a bottle of fancy sauce, a box of pasta, and this pairings box.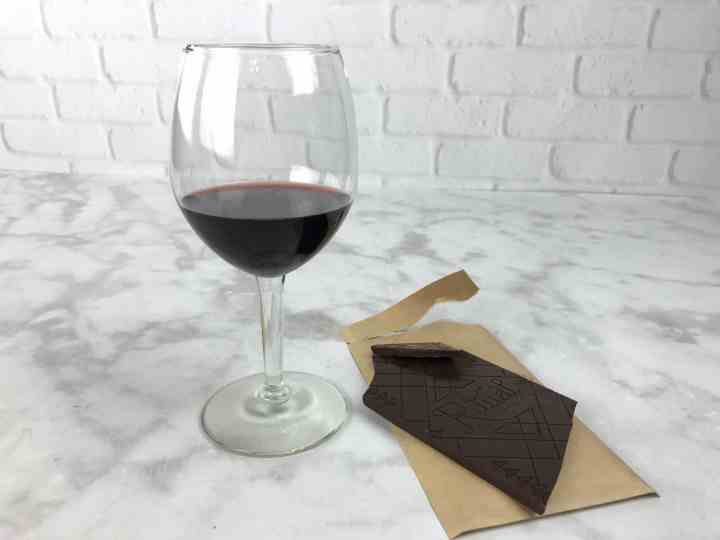 We liked this wine with the Belize chocolate (no cocoa butter in this one).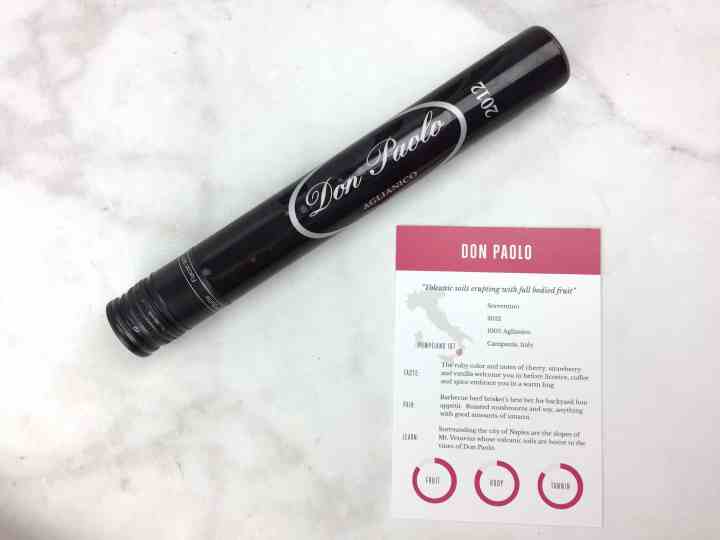 2012 Don Paolo Aglianico ($20) A southern Italian wine, it's fruity and acidic with a sharper character than the chianti, and the tannins show through. We loved this with the Madagascar!
By pairing this wine and the Madagascar, the essential characteristics of the chocolate were really enhanced, and it brought new flavor dimensions to each. Amazing.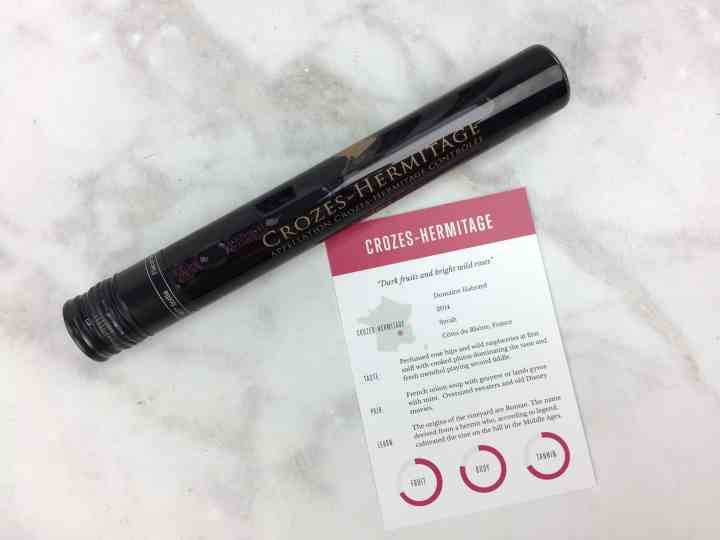 2014 Habrard Crozes-Hermitage ($18) This wine was delectable and romantic, because it tastes just a little bit like roses. It was softer than the previous wine, fruiter like plums and raspberries and cooked fruits, but less tannic.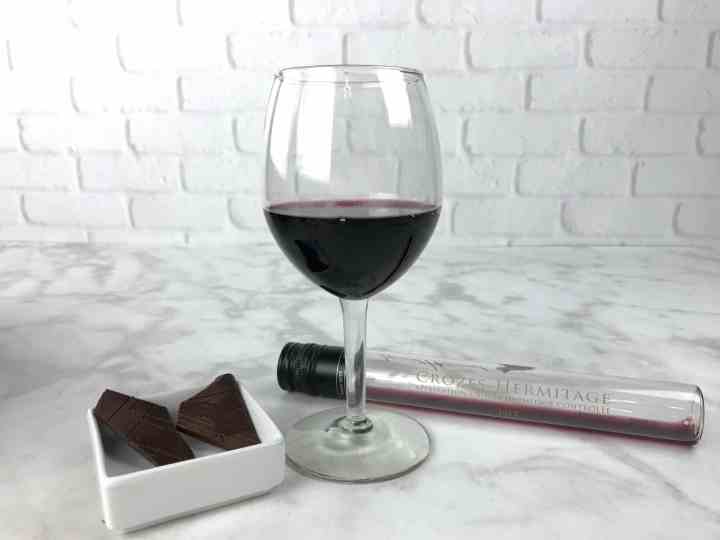 My husband and I both agreed that we liked both chocolates equally with this pour. I think the raspberry in the Madagascar bar really comes out with this one.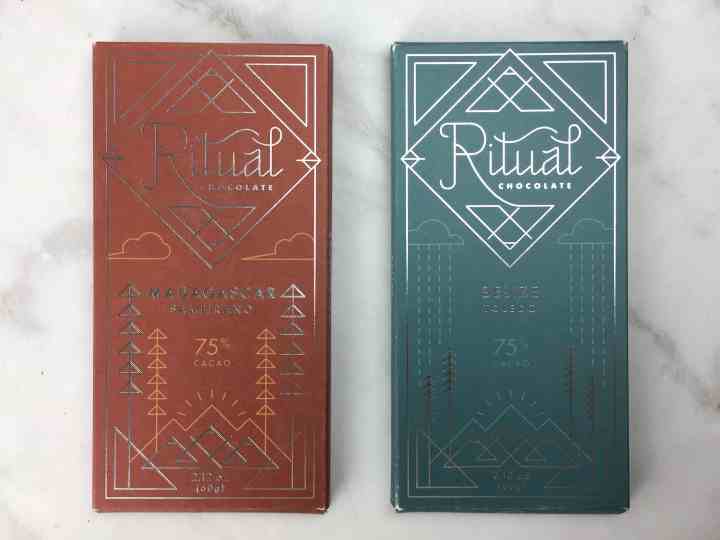 The packaging on these chocolates is gorgeous!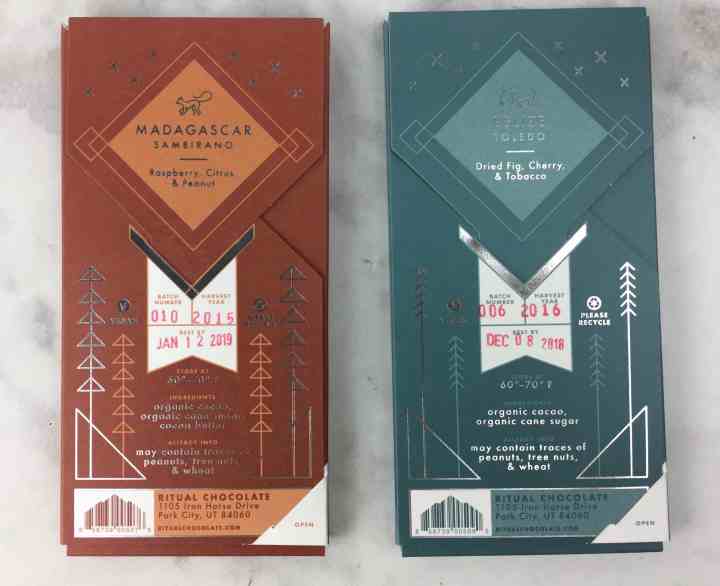 Ritual Chocolate Madagascar 75% ($8) Notes of raspberry, citrus, and peanut
Ritual Chocolate Belize 75% ($12) Notes of dried fig, cherry, and tobacco.
The cacao percentages in these bars is identical (75% – dark chocolate pairs best with reds!) but the single-origin beans are different, and the Madagascar includes cocoa butter.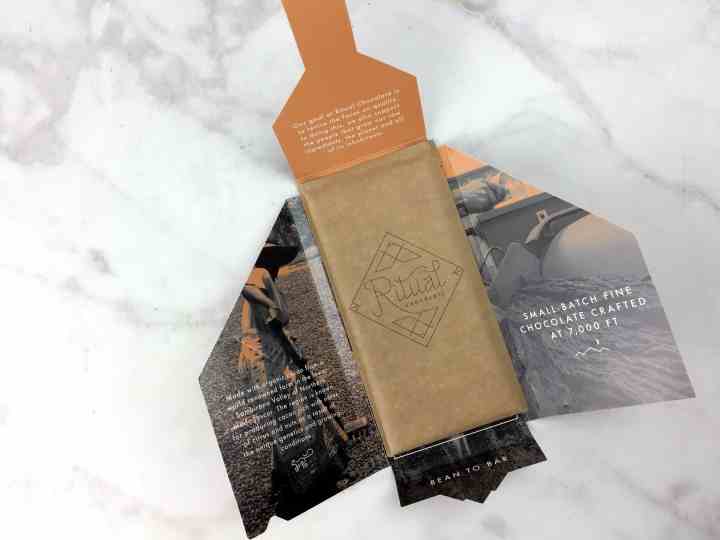 You can unfold the bar and discover more about the artisans with each flap! This chocolate is the perfect selection for a unique and fun Valentine's Day evening.  Plus the designs on the chocolate were super pretty and inviting.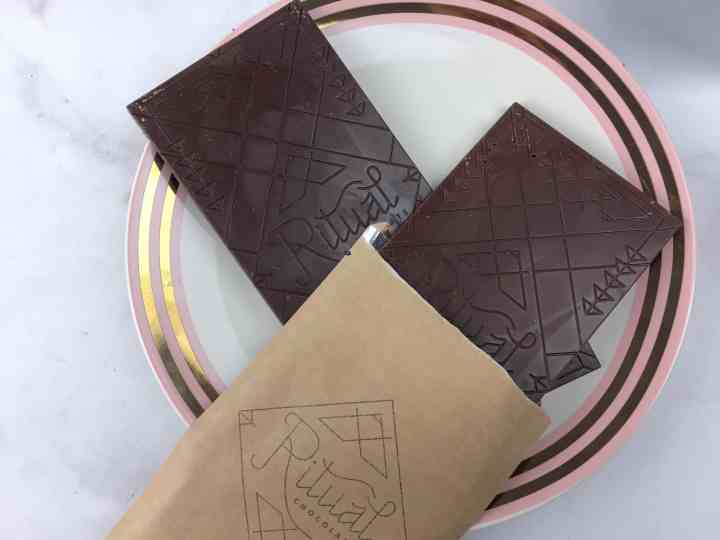 We were absolutely shocked at the peanut flavor of the Madagascar bar. I've never tasted any bar that had that particular profile (and I've sampled more than my fair share of single-origin chocolate).
I think pairing two items that deeply depend on terroir for their flavor characteristics is a fun, delightful experience and wine and chocolate are two Valentine's Day staples. My husband and I had a great evening sampling the bars and wines together after a good meal and would totally recommend this easy, curated experience for anyone's Valentine's Day night (whether with a spouse, partner, new love, or a bestie!).  This was probably the one of the best Valentine's date that I've ever had actually (especially as parents of small kids, this is also so much easier than attempting to go out!).
Are you getting a pairing?