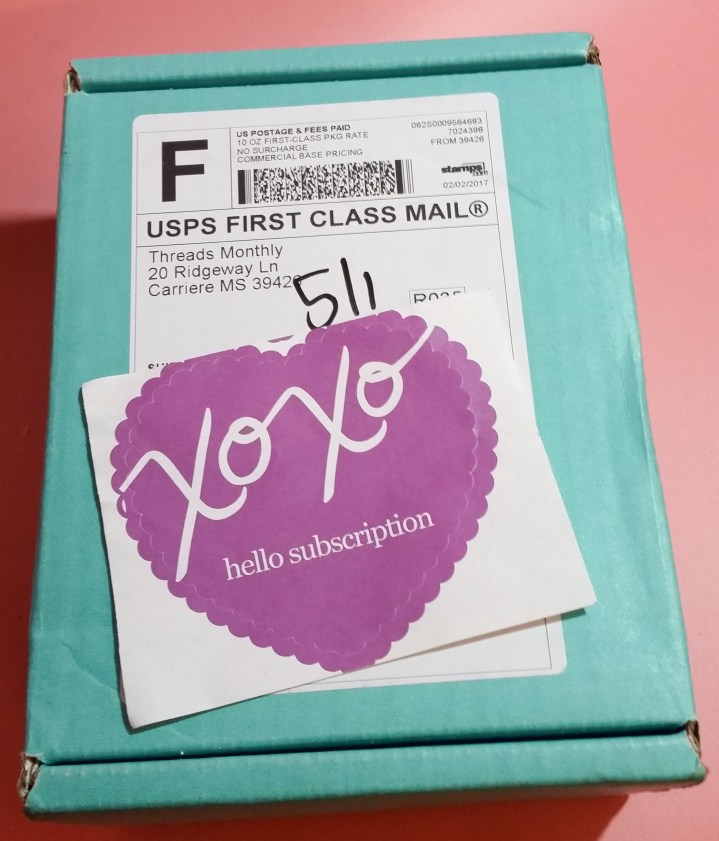 Threads Monthly is a subscription box for "women who love clothing and accessories." Each month promises one t-shirt, one or two pieces of jewelry, and a themed accessory, all for $20 a month.
I reviewed this box with the help of my budding fashionista daughters, aged 12 and almost 15. The box is aimed at women, but my girls wear adult clothes and the items in the package are perfect for tweens, teens, and grown-ups too. My girls love when the Threads Monthly box shows up in our mailbox!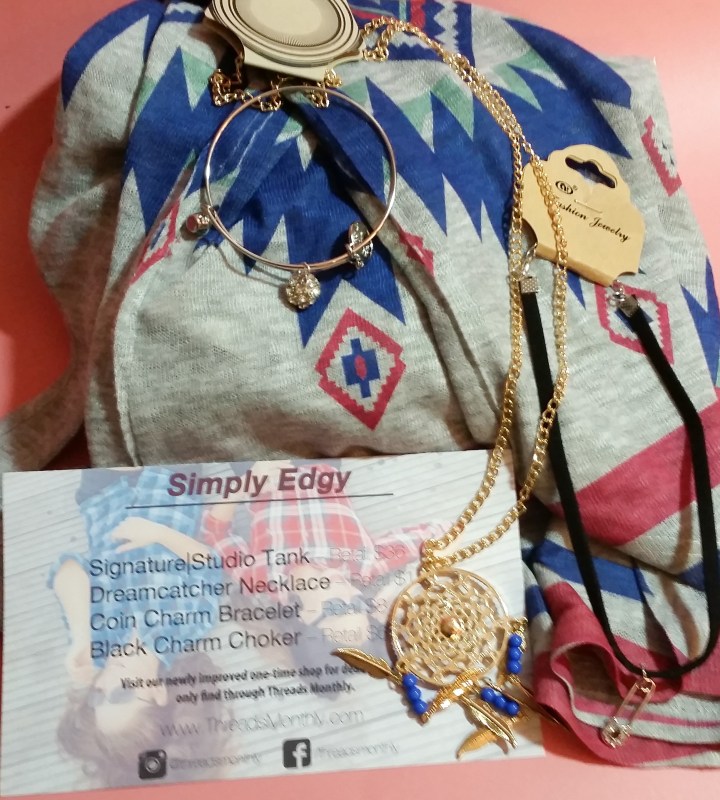 Here's a peek at everything in this month's box!
DEAL: Save 20% with coupon code HELLO.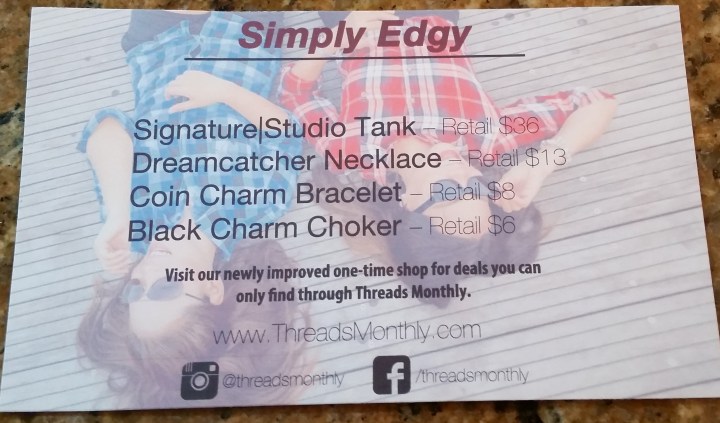 The information card lists the theme for the month – Simply Edgy!  So much fun!  It also lists all of the items, as well as the suggested retail price for each.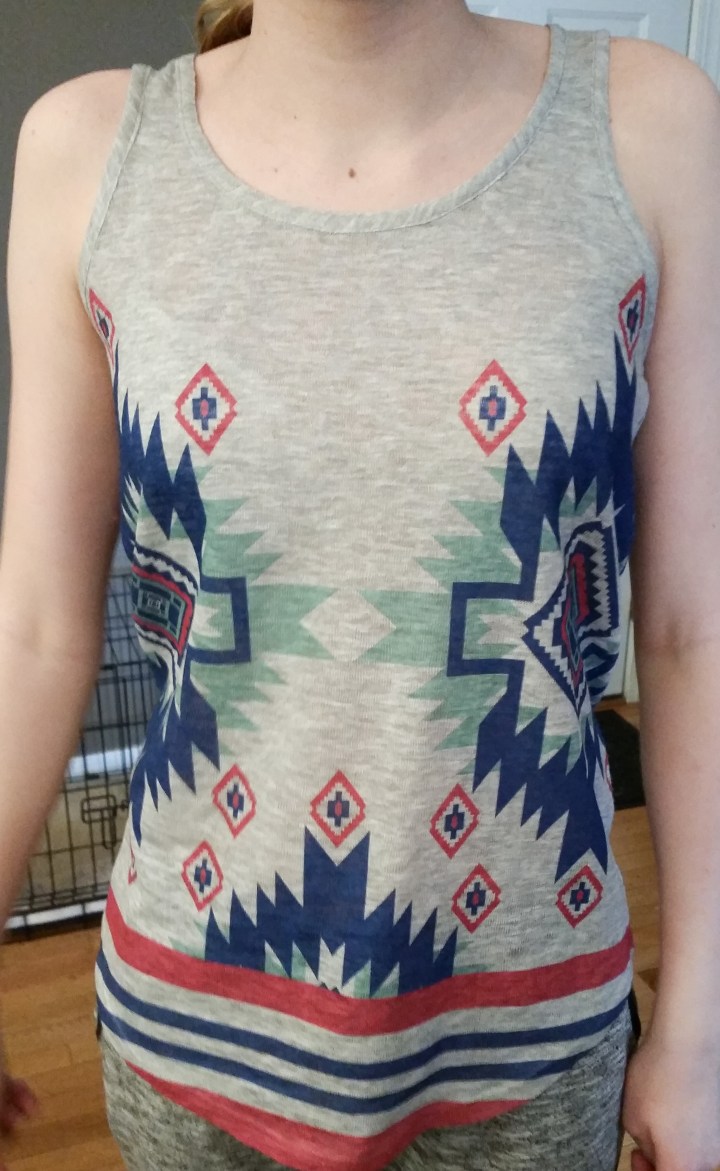 The Shirt ($36): This month's shirt is a Signature/Studio Tank. It has a great geometric, almost tribal print. The cut of the tank is super cute and it looks very comfortable.
My girls did wonder about a tank top in a winter-month box… but, as I reminded them, it will be summer sometime. Also, the material was a little thinner than my daughters prefer. Maybe with a bright colored cami or something under it, they will like it more.
Jewelry #1 – Dreamcatcher Necklace ($13): This pretty dreamcatcher pendant on an extra long chain goes perfectly with the geometric/tribal tank top.
Here's my daughter modeling the necklace with the tank (and a better view of the pendant).  So detailed & so pretty! Both girls loved this!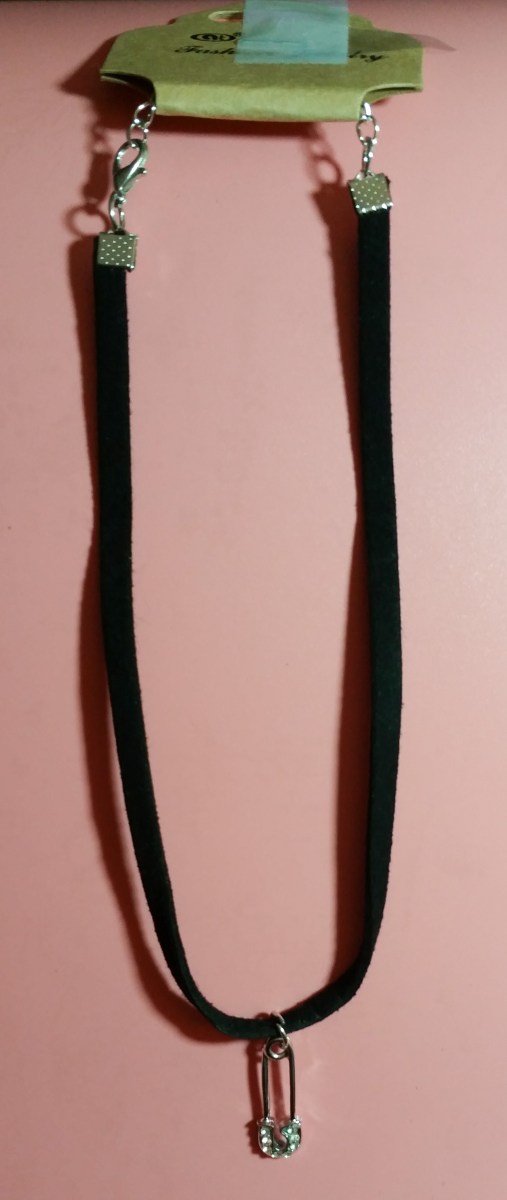 Jewelry #2 – Black Charm Choker ($6): Black velvet chokers with pendants are so trendy right now. My older daughter already has a couple, and she was thrilled to see this one. It has a sparkly safety pin shaped pendant. Super cute!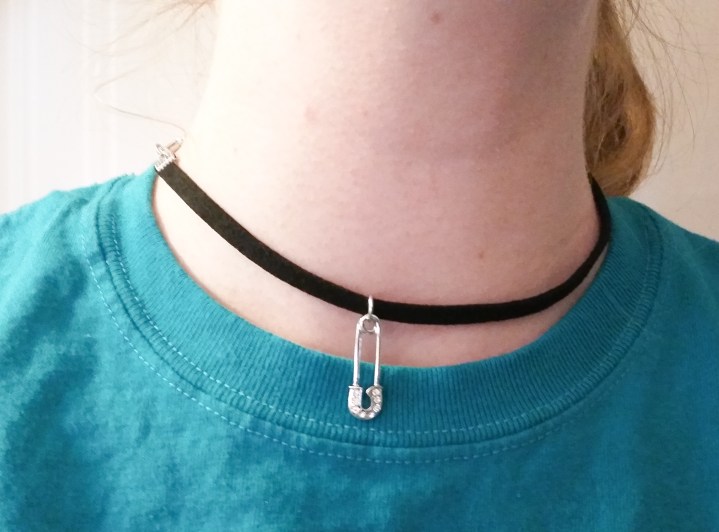 Here's my older daughter modeling the choker.
Jewelry #3 – Coin Charm Bracelet ($8): It's not super easy to tell from this picture – the bracelet is so sparkly that it didn't photograph well. This bracelet has a coin charm, a disco ball, and a sparkly "jewel" pendant, all on a simple bangle. It really is so sparkly!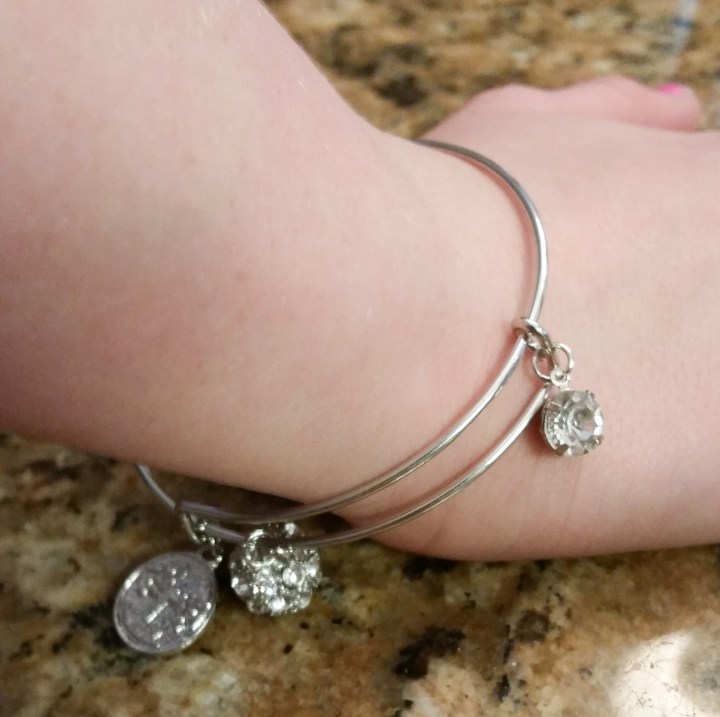 Here's a better photo of the bracelet, modeled by my younger daughter. It's super cute and all of us really liked it.
This month wasn't my daughters' favorite Threads Monthly – I think they were a little thrown by the tank. However, we've totally loved the variety of the Threads Monthly boxes we've gotten. Every month, there are at least a couple items we love – and usually, we love all of the items. We also love how some of the items are bold and flashy (like the dreamcatcher necklace), while other items are a little more understated (like the choker). Perfect accessories for all sorts of situations. Bottom line – this box is great for grownups, teens, and tweens that can wear adult sizes – adult S-XL are available, subject to inventory. Every month you're going to find something (if not many things) to love!
What did you think about Threads Monthly?