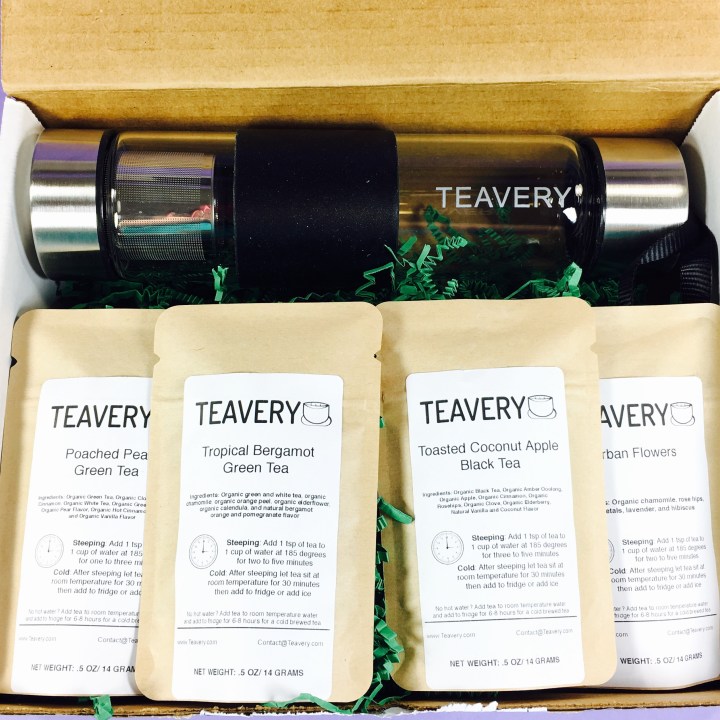 Teavery is a monthly tea subscription that sends 4 organic tea blends a month. Choose from 3 different plans: Tea Enthusiast is $14.95 for 2 ounces (30 cups), Tea Fanatic is $24.95 for 4 ounces (60 cups), and Tea Addict is $35.95 for 8 ounces (120 cups). I'm reviewing the Tea Enthusiast Box this month!
Every month, we blend four unique blends under different categories. Within your subscription box you can expect to receive one classic blend that we all know and love, one herbal blend to help you sleep at night, one fruity blend to excite your taste buds, and one surprise blend that will go with the month and season. We take the time to source the best teas and ingredients to deliver fresh and exciting bends to your doorstep.
DEAL: Get 10% off your first box and optional add on Teavery bottle. Use coupon code HELLO10.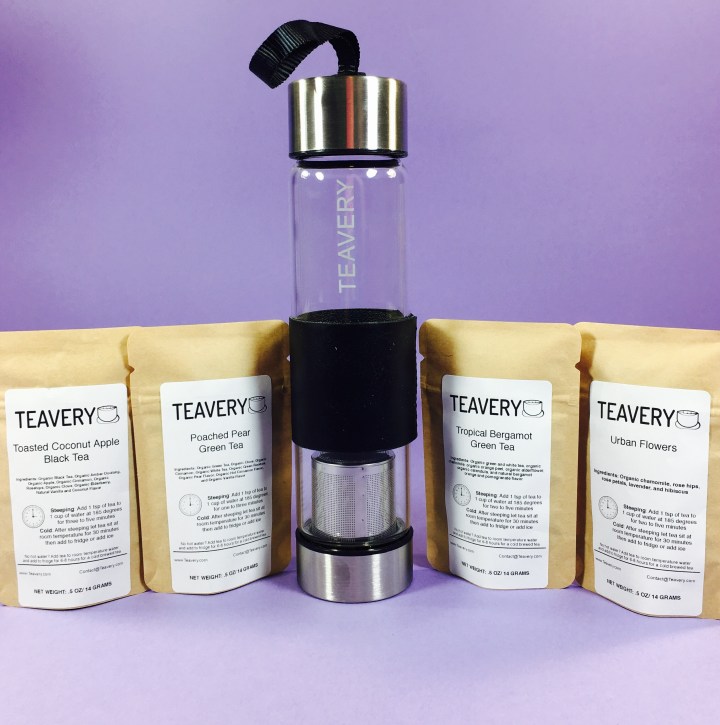 I received the four teas of the month plus a glass tea steeping bottle!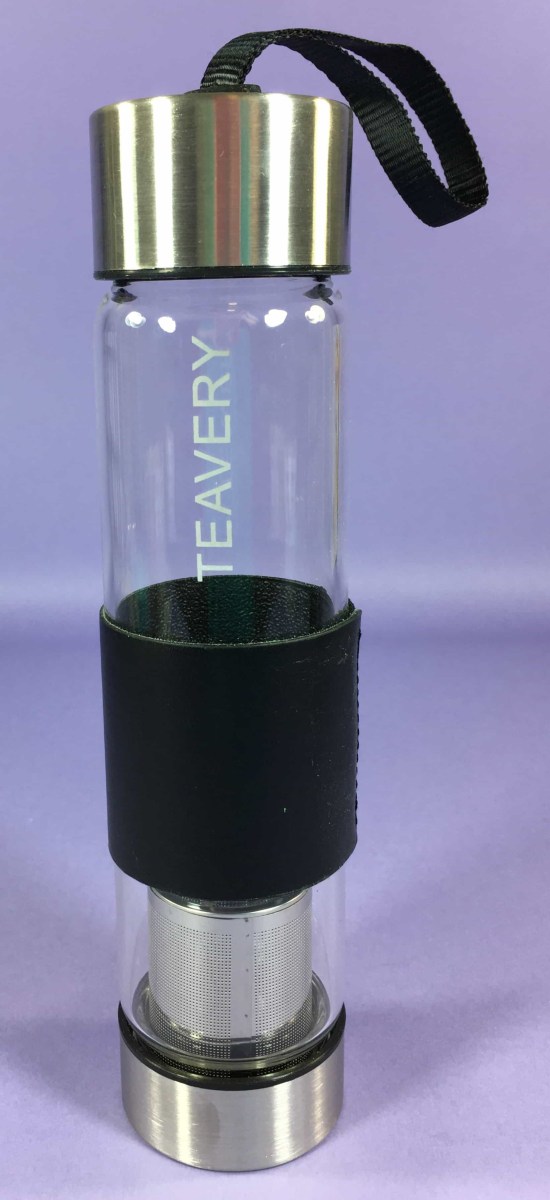 Teavery Glass Bottle with Stainless Steel Filter ($17.50) According to the Teavery website this bottle holds 16 ounces and can be used with hot or cold water, including water so hot you need a nylon sleeve to protect your hand.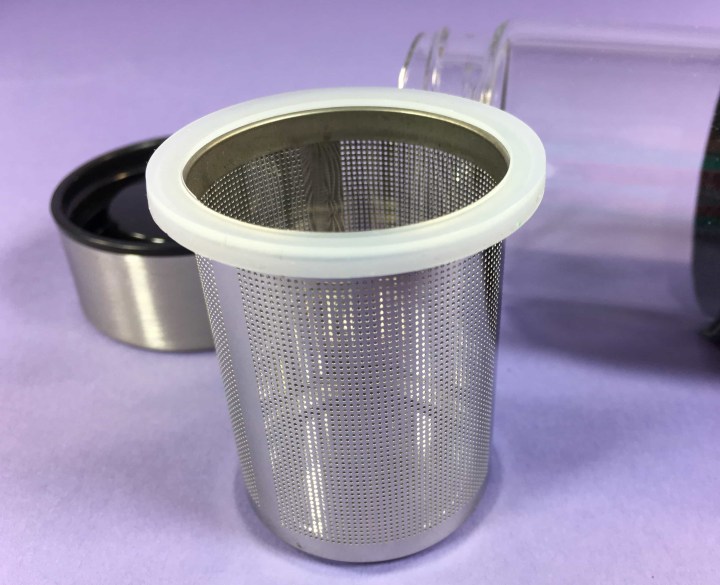 I stuffed the removable filter with raspberries and added cold water and I had a very nicely flavored water with no seeds floating around. I measured the holding capacity and it only held 12 ounces of liquid.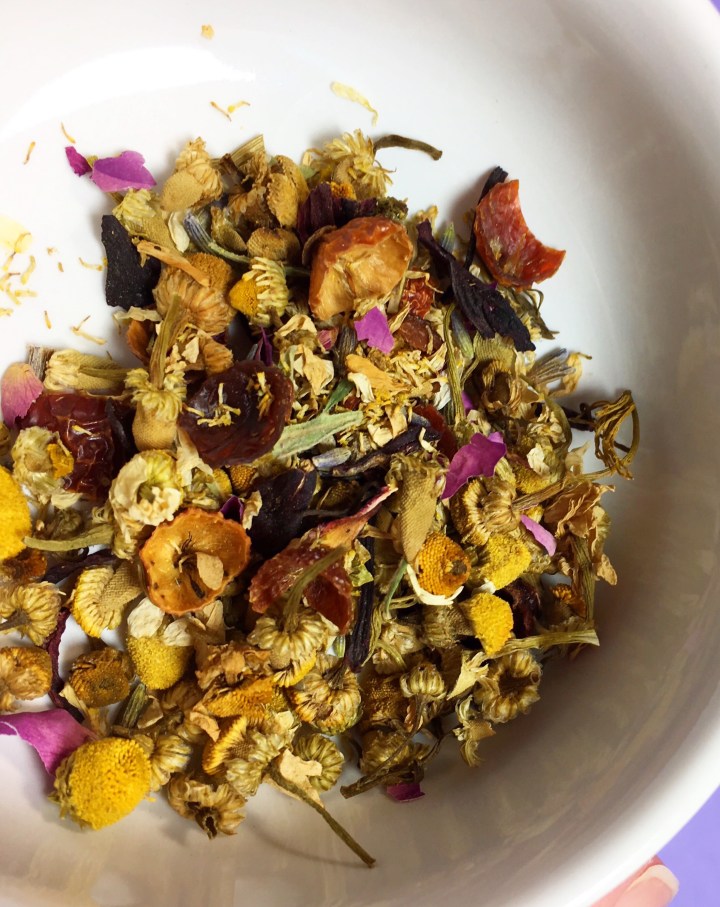 Urban Flowers is a delightful herbal tea mixture of organic chamomile, rose hips, rose petals, lavender, and hibiscus. Isn't it pretty? It also smells pretty, like lavender, and had a fragrant scent, almost perfume-like, once steeped. I tasted a slight grassy note. Alternatively, this would make a wonderful facial steam!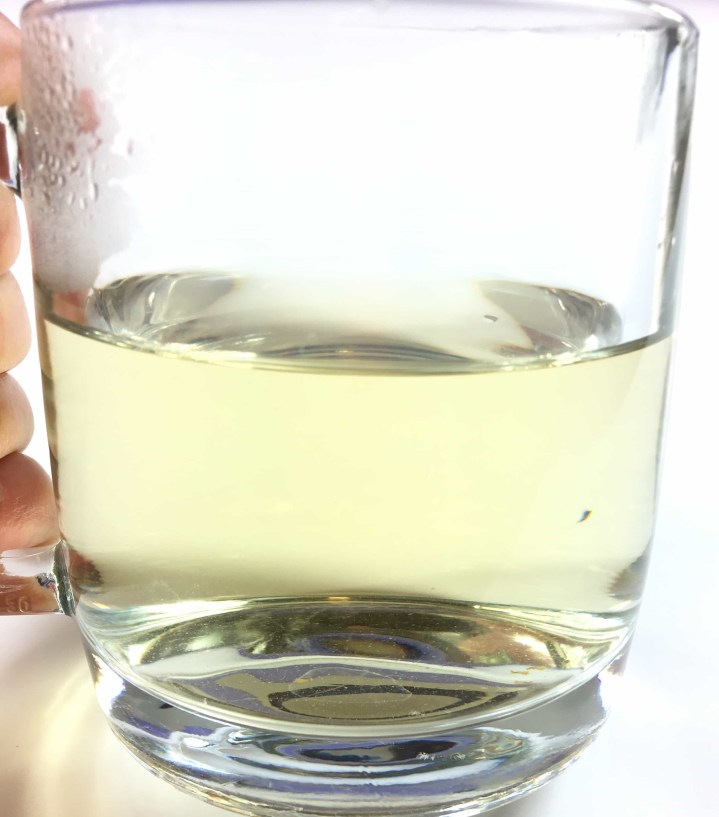 So light in color and relaxing.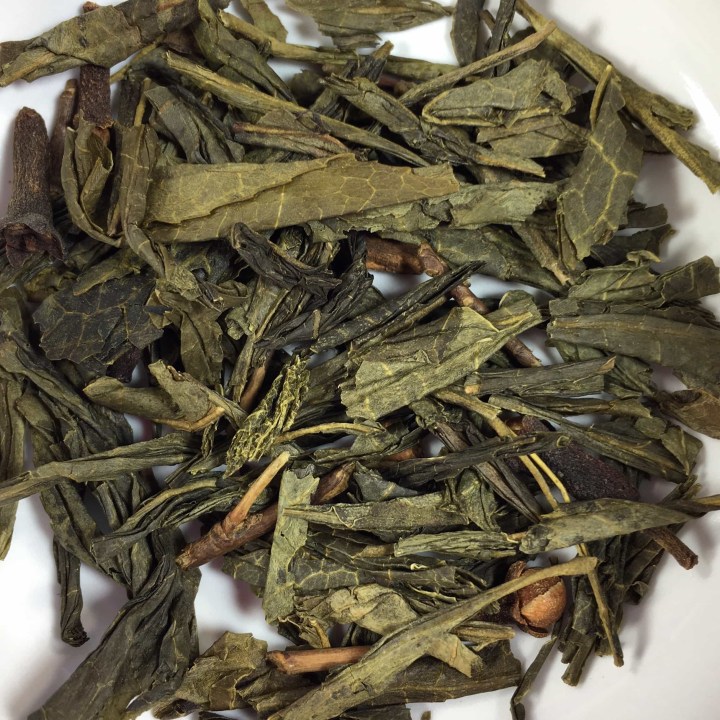 Poached Pear Green Tea also had a delightful aroma in the package that smelled like pureed baby food! This blend includes organic green & white tea, spices, rooibos, and pear flavor and had a light color once steeped along with a fruity bouquet. It was smooth and not bitter with the barest hint of spice.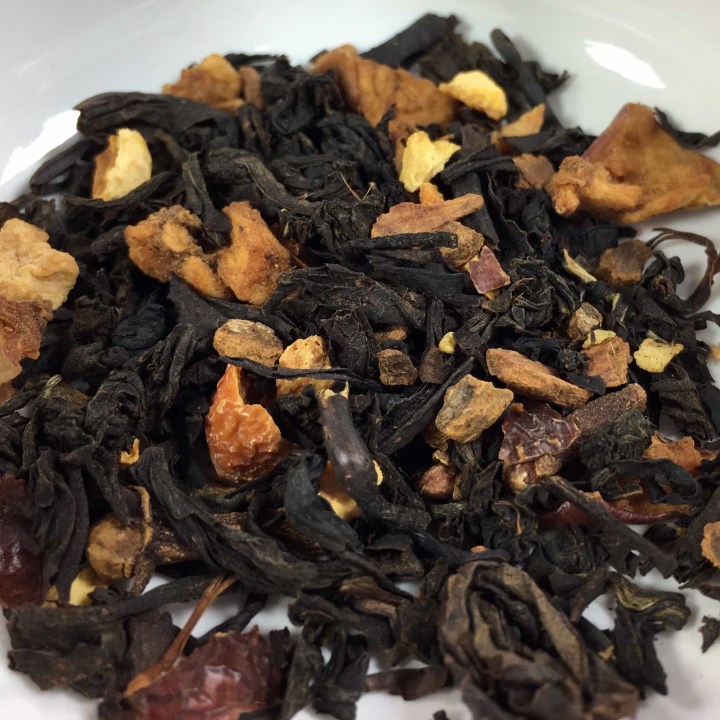 Toasted Coconut Apple Black Tea included organic black and amber oolong teas, apple, rosehips, elderberries, and spices. It became an amber shade once steeped and featured notes of coconut and apple with a toasty taste. It wasn't bitter and had a slight chai note.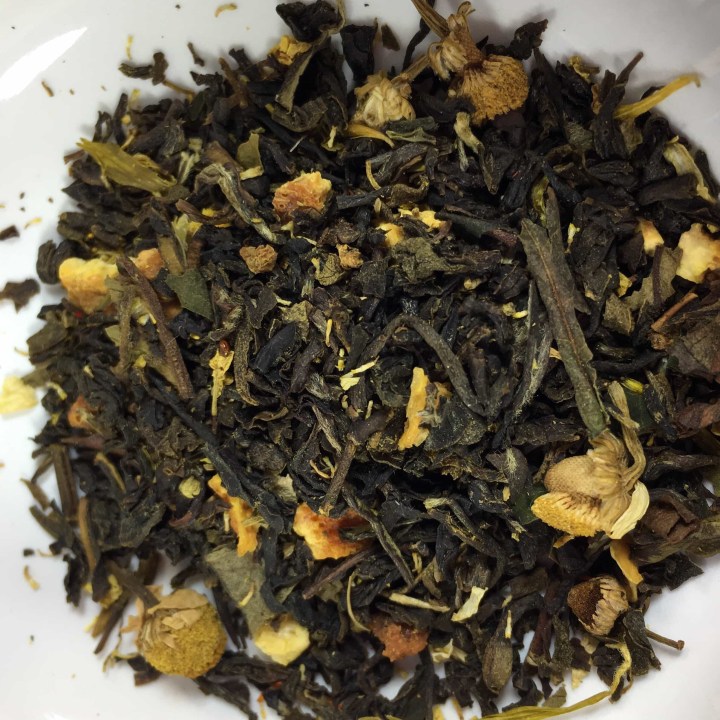 Tropical Bergamot Green Tea is a blend of organic green & white tea, chamomile, orange peel, elderflower, and calendula, with bergamot and pomegranate flavor. It smelled like orange juice and had a light citrus flavor and was only slightly bitter.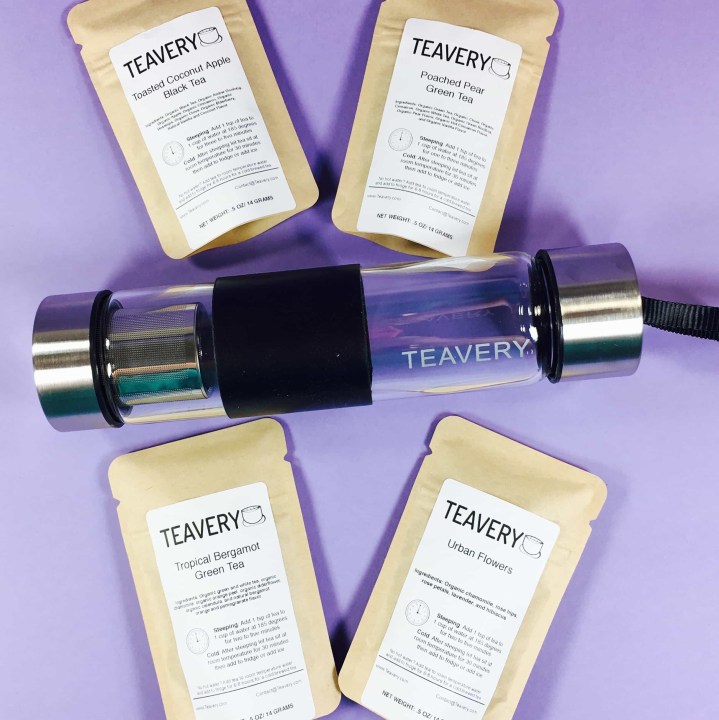 I was delighted with my first Teavery box! The teas were wonderful and I loved the combinations of flavors. The packages clearly listed the ingredients, amount of tea to use per cup, recommended water temperature, and brewing times. I was happy to see suggestions for how to serve the tea cold and they listed cold brew instructions, too! The quality was high and you can see the ingredients in the pictures, no tea dust to be seen. I have a steeper and it was neat to see the tea leaves fully unfurl, and the bonus tea bottle was a nice touch!
What do you think of Teavery? Do you prefer to brew your tea with hot water or will cold brewing do it for you? Let me know in the comments!