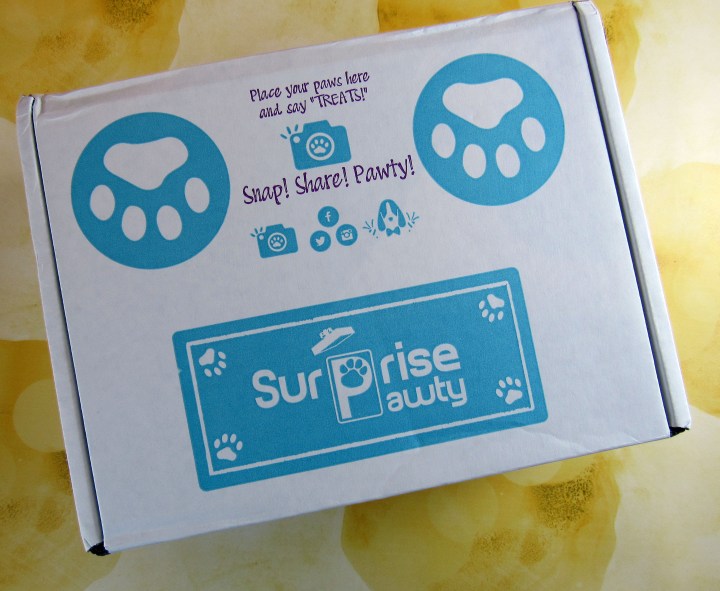 Are you ready to Pawty with your doggy? Surprise Pawty is a customized dog box that sends five to six premium items with a promised value of $50.00 each month. Organic USA treats, natural chews, durable and interactive toys, and even a surprise for the human are among the items that may be included in the box. Customize your box by selecting one of four dog sizes and add the important details in the notes section such as heavy chewer, dog allergies, etc. Then, it is time to pawty! A portion of the proceeds will be donated to shelters, rescues, and other non-profit organizations.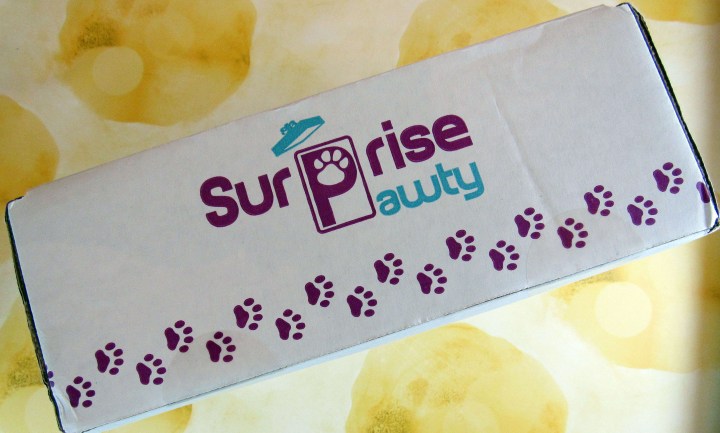 DEAL:  Save 10% off the total order for your first subscription. Use coupon code HELLOSUB.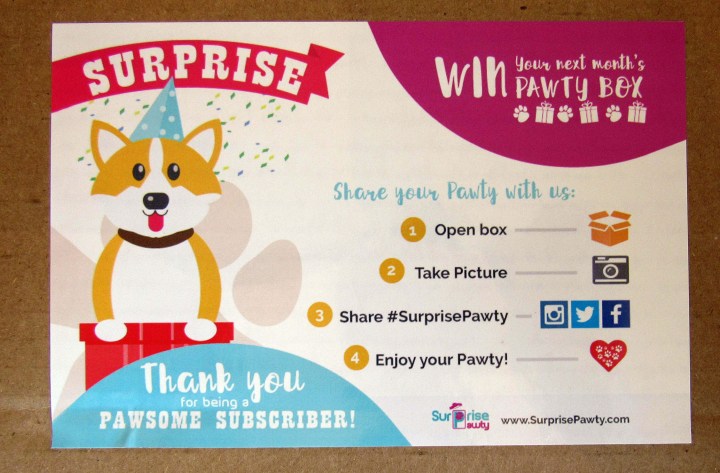 Win a Pawty Box by sharing pictures using social media!
The dogs were ready to review! They waited close by while I was taking pictures.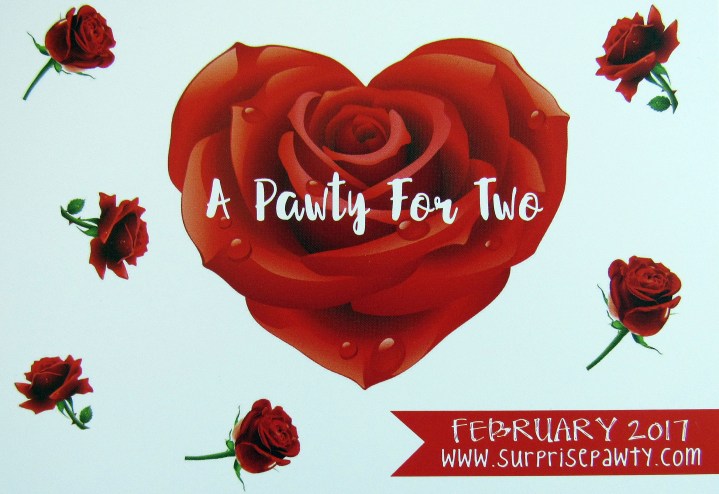 How romantic! The February theme is 'A Pawty For Two.'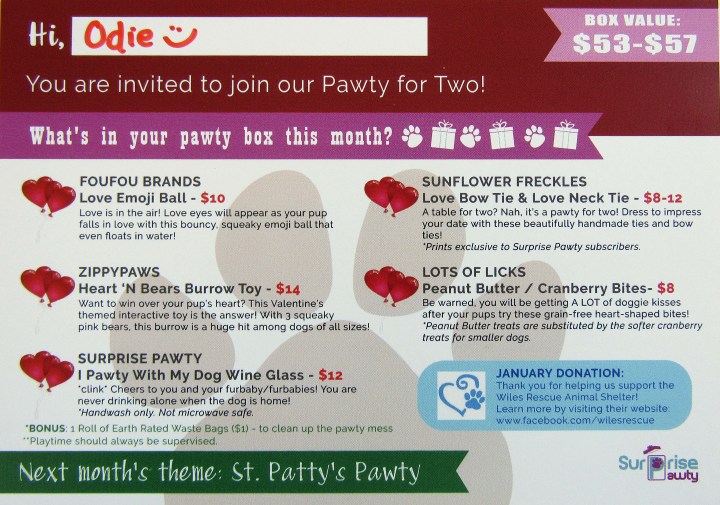 The information card has the pet's name, the value of the box, items and prices, donation, and next month's theme. March's theme is 'St Patty's Pawty!'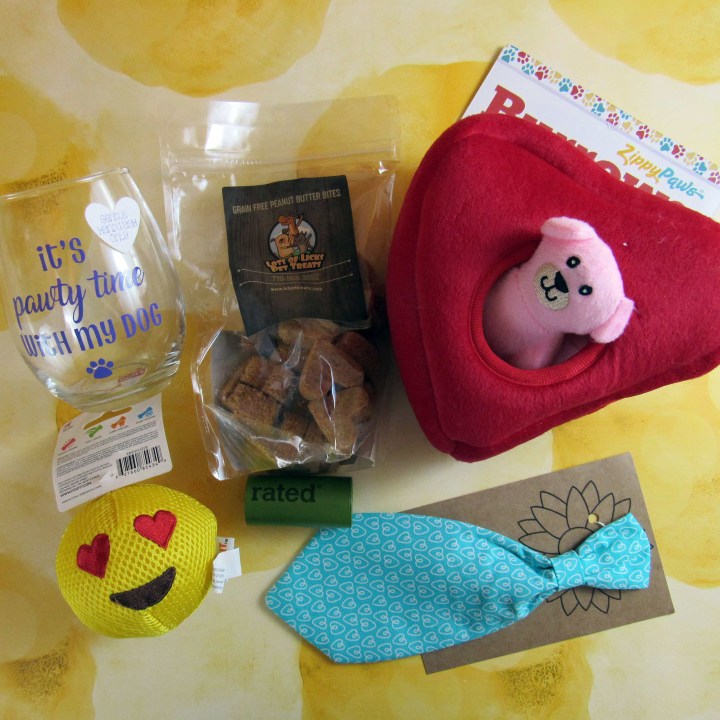 The doggies are ready to pawty with the February Surprise Pawty items!
I can't wait to see Odie in his handsome Love Neck Tie by Sunflower Freckles ($12.00). The collar slides through the top part of the tie. The handmade tie features an exclusive print and is made in Maine, USA.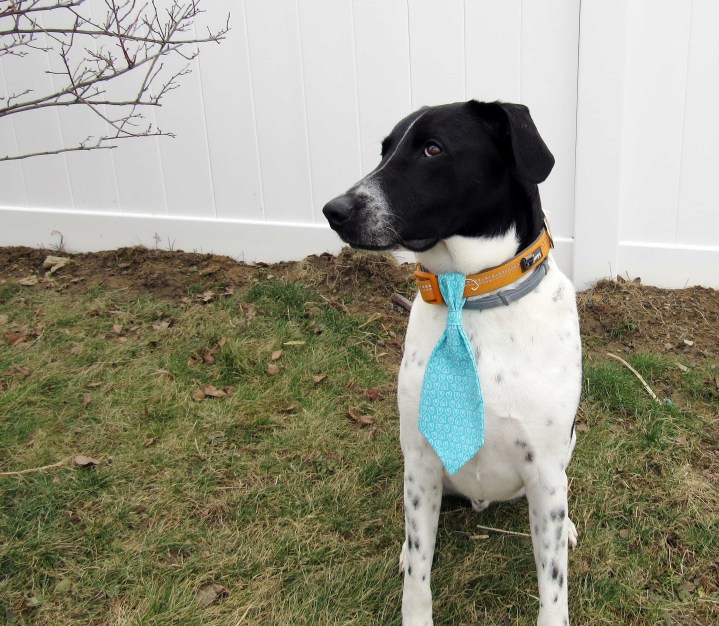 Odie is looking debonair in his tie.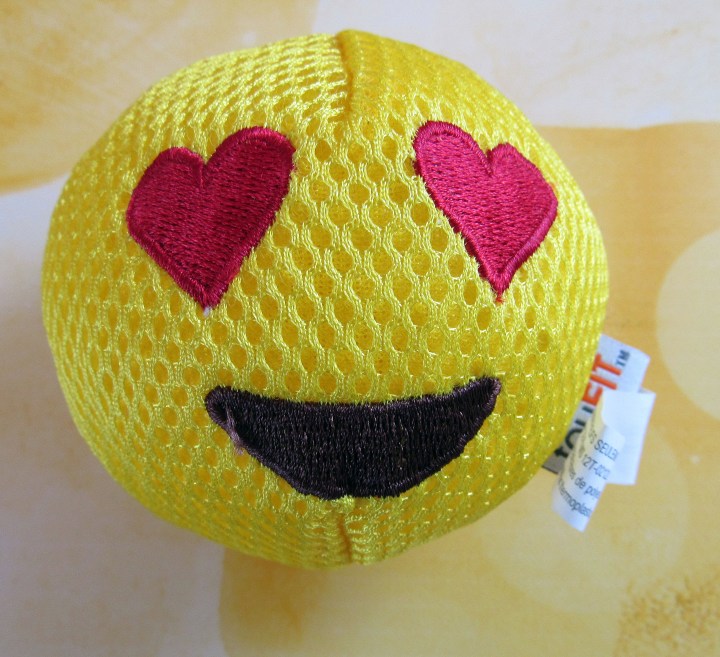 Our teenager wanted to keep the Foufou Brands Love Emoji Ball ($9.99) for himself. Then he told me that I needed to watch the Emoji Movie Trailer which I thought was absolutely terrible. I can't tell if the movie is cancelled or not, but I will be watching it with my teenager if it is released on August 4th, 2017. On the plus side, Odie LOVED the Emoji Ball 🙂
My heart is melting over the ZippyPaws Hide and Seek Heart 'N Bears Burrow Toy ($10.27). All three dogs love Zippy Paws Burrow Toys. Each little bear has a squeaker in it.
The three adorable bears live in a heart shape home. Daisy checked them over after the review. She kept one bear in her doggy bed and placed the rest under my bed.

The 'I Pawty With My Dog" Stemless Wine Glass ($12.00) is a great way to celebrate with your furbaby. It is handwash only and not microwave safe. I love the lavender lettering.
The doggies went crazy over the Lots of Lick Pet Treats Grain Free Peanut Butter Bites (7 oz, $8.00). Smaller dogs received the softer cranberry treats. All three dogs loved the heart-shaped treats.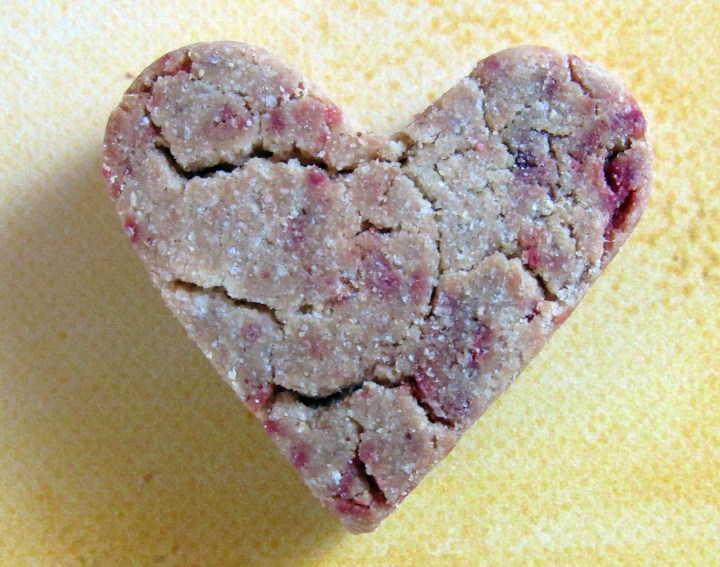 What a beautiful treat!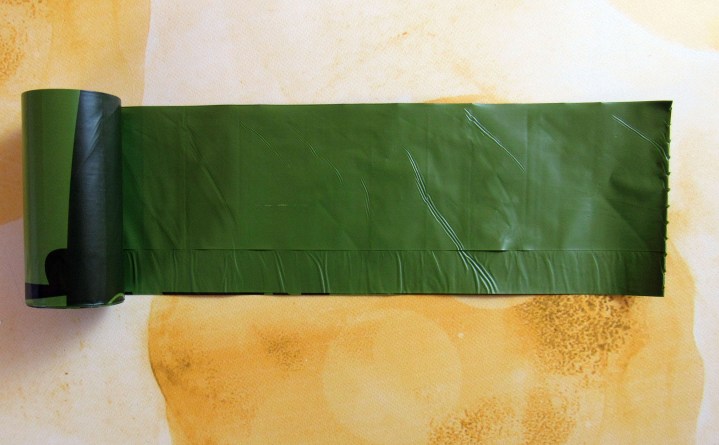 We love useful bonuses! The Earth Rated Waste Bags ($1.00) will be used by our household!
It also has a cute design.
Are the dogs ready to party? Let's find out.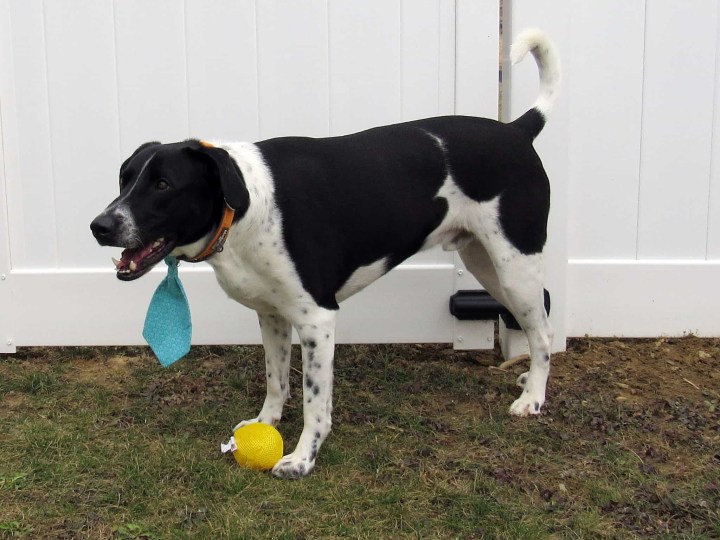 I have my pawty tie on and am ready to play!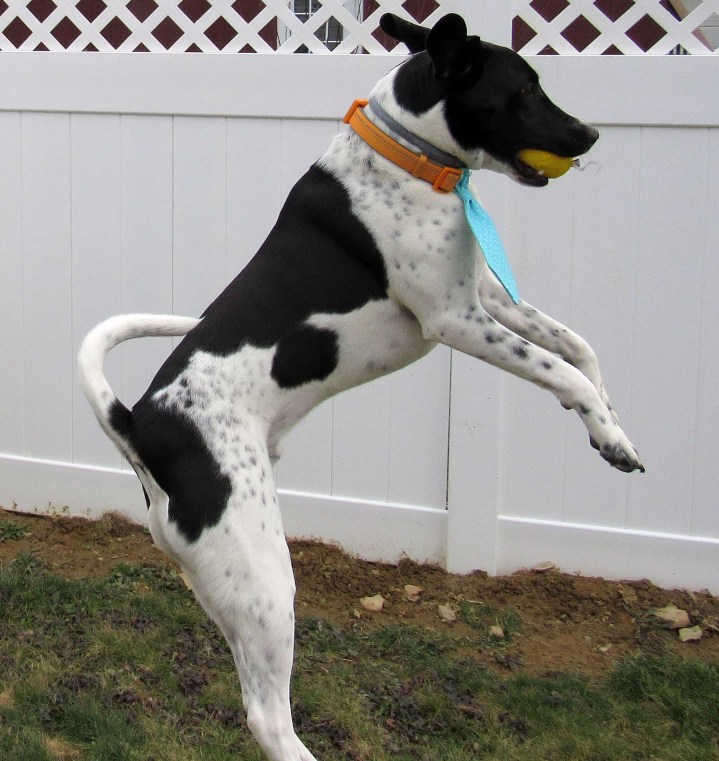 I love catching the ball!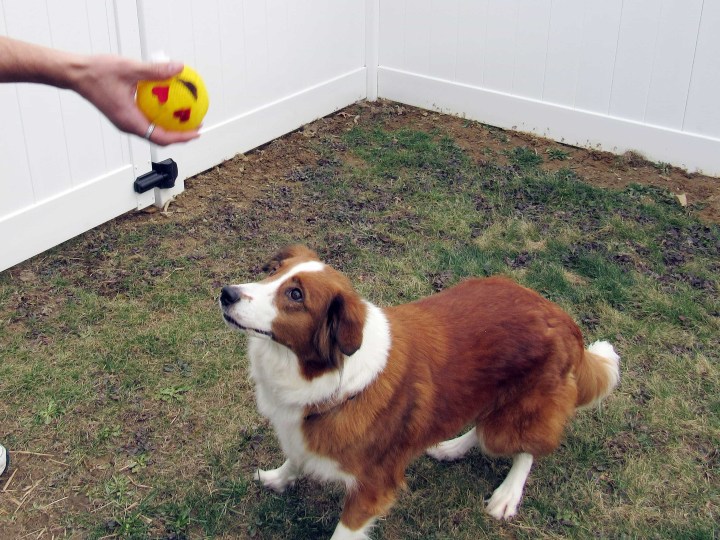 I am going to catch the ball this time. I know I can!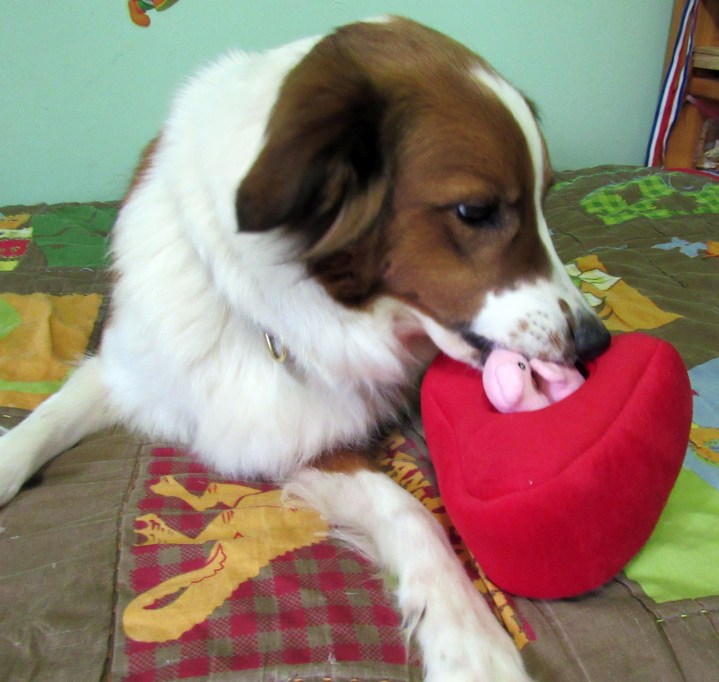 Babies! It is time to give them baths.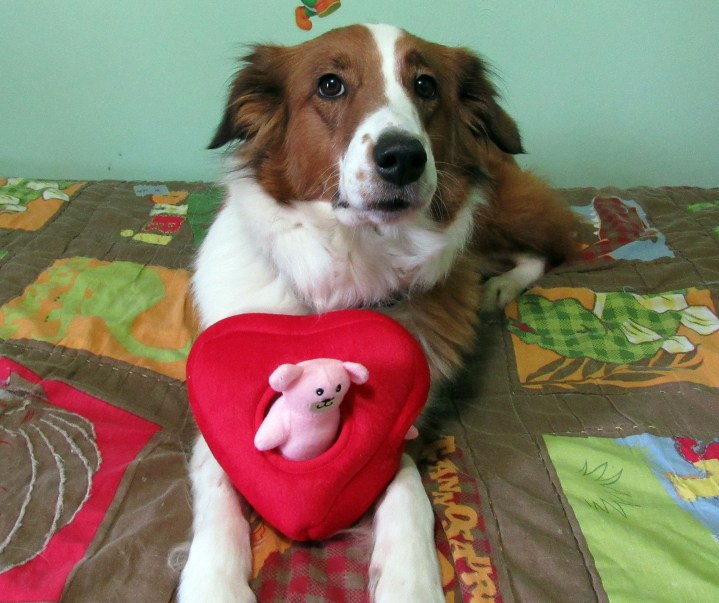 WHAT? You are going to let Odie and Bella play with my babies? I disagree.
Yay! Daisy is not in the room. Time to play destroy toys.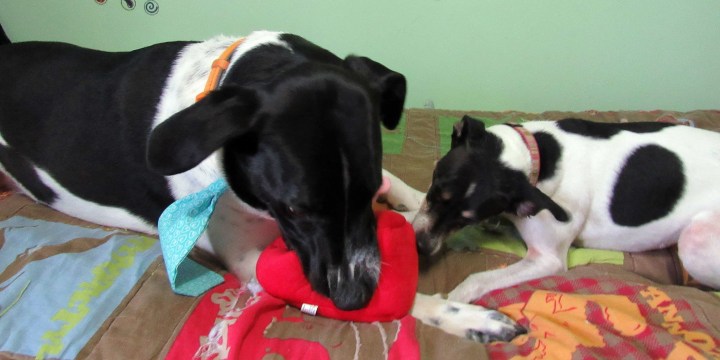 Hold the toy, Odie, while I grab the bears.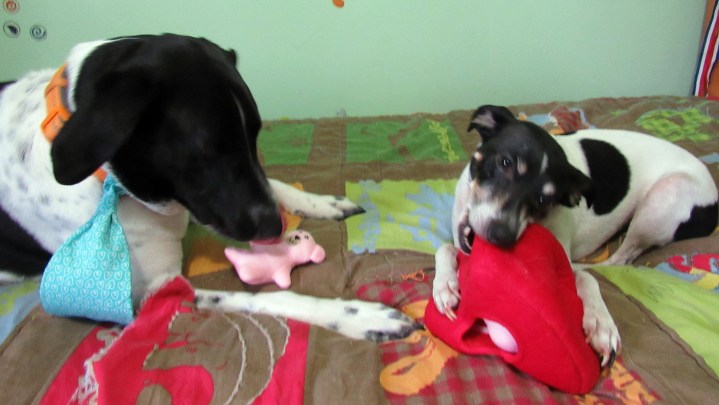 You are not holding the toy right! Go and squeak the bear.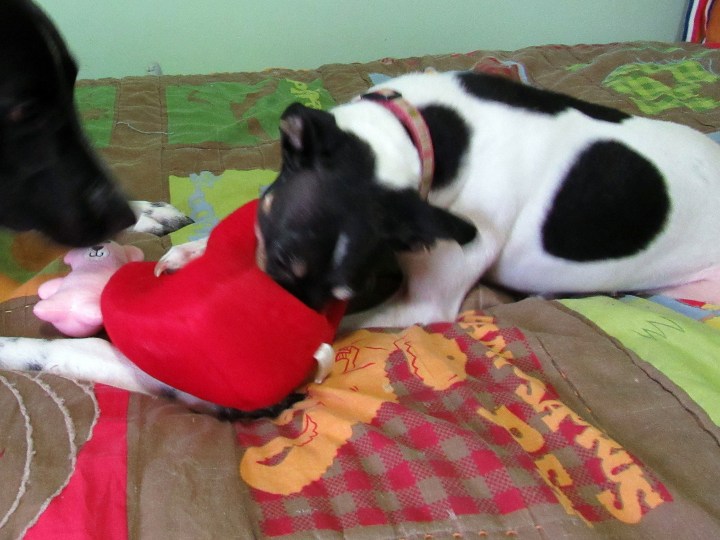 I'm a ratter and know how to remove animals from burrows.
Ball? Where's the ball? We want to play!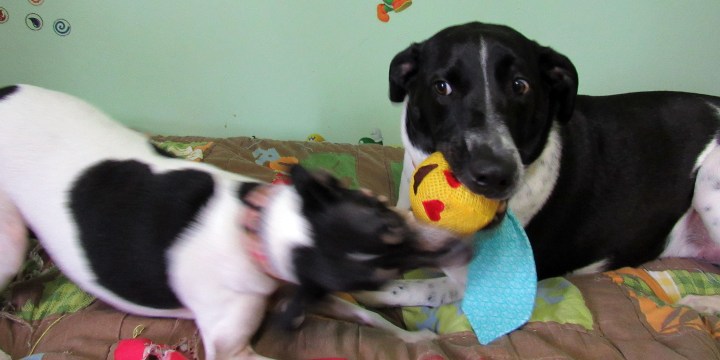 Mommy! I am afraid Bella will destroy my ball.
Are you sure it is safe to share?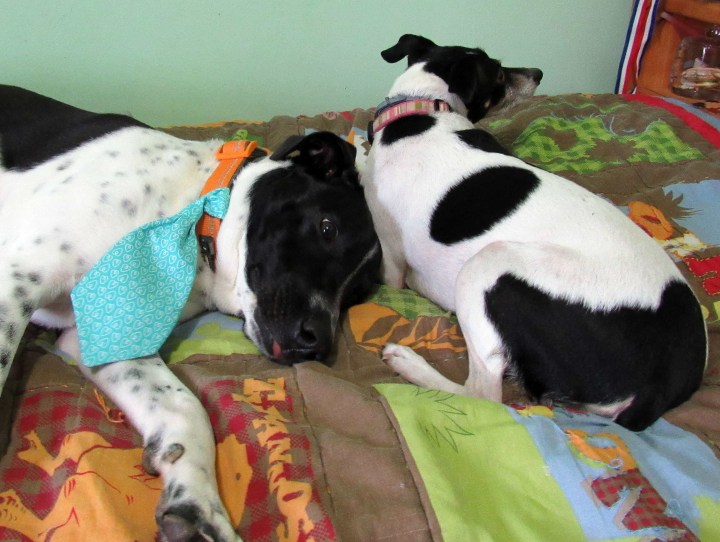 We are all Pawtied out. Nighty-Night.
All three dogs loved the February Surprise Pawty Box. They enjoyed their toys and treats.  The humans will be using the beautiful wine glass and waste bags. All toys safely made it through the review. Daisy has her babies with her while Odie has been keeping a close eye on his ball. The box value came to $53.26 using discounted prices. It's a fun box that gave the dogs the Ultimate Dog Pawty.