StitchyBox is a bi-monthly subscription box for counted thread embroiderers and cross-stitchers! There are two subscription options – the Big Picture Box and the Detail-Oriented Box. They also offer one-off Countdown Boxes for special occasions, like birthdays, Valentine's Day, Halloween, Christmas, and a lot more.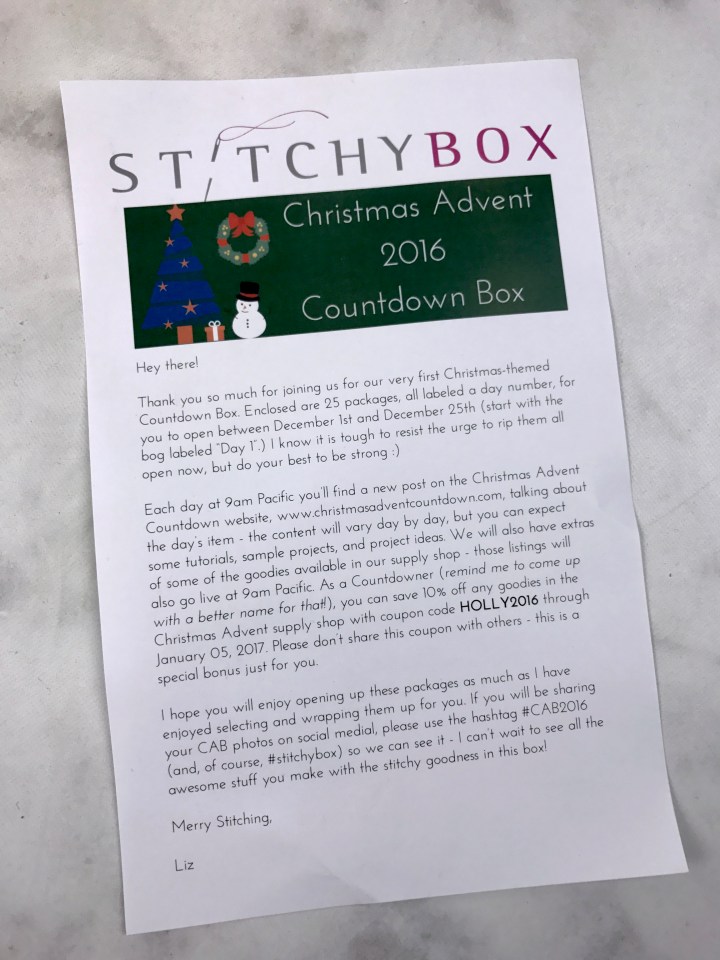 This is the review of the Christmas Advent box!
Our Christmas Advent box includes 25 hand-selected stitching goodies, individually wrapped so you can open one each day from December 1st through Christmas. Threads, fabrics, embellishments and charts – you'll find lots to inspire your holiday stitching in this box! We are planning several products that are exclusive to this shipment, so this is one you don't want to miss.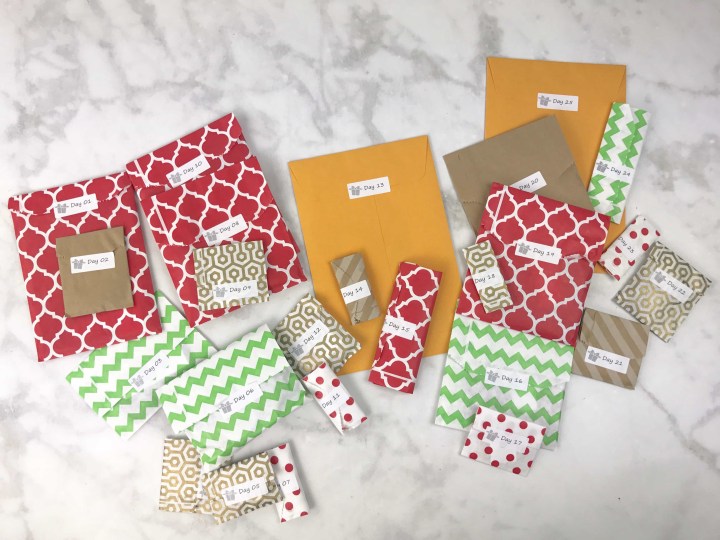 All the stitching goodies in this 25-day box!
StitchyBox actually posted all the items  in the box on the Christmas Advent Countdown website.  However, I thought it would be great to have an unboxing up to show you the experience of opening this fun countdown box. Our photos show the packaging for the item plus the little daily slip that was included. This isn't a full review – just an unboxing so you can see the types of items included in the box. Everything in the countdown box was the same great StitchyBox quality. My verdict after all the goodies, but I do have a few notes interspersed!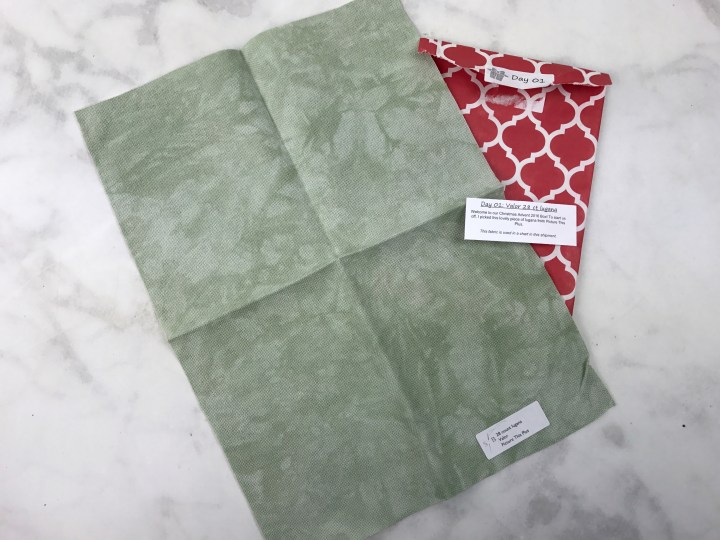 Day 1: Valor 28-Ct Lugana: Fabric was the first thing! So exciting! And also, I always love getting a cut from Picture This Plus – so good!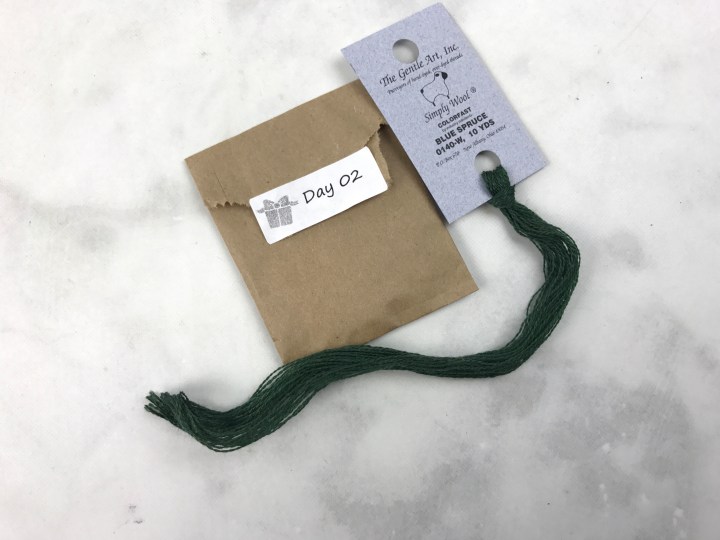 Day 2: Blue Spruce Cotton Wool: Usually The Gentle Art we get floss, but this time it was wool – perfect for a winter project. Alas, I forgot the little paper slip.
Their site says:
Gentle Art's wool thread doesn't get as much press as their cotton floss, but it is one of my favorite threads to stitch with! We'll be using Blue Spruce in a chart in this shipment, and you will need almost all of it (at least, I did!), so you might want to put this one to the side until you see the chart.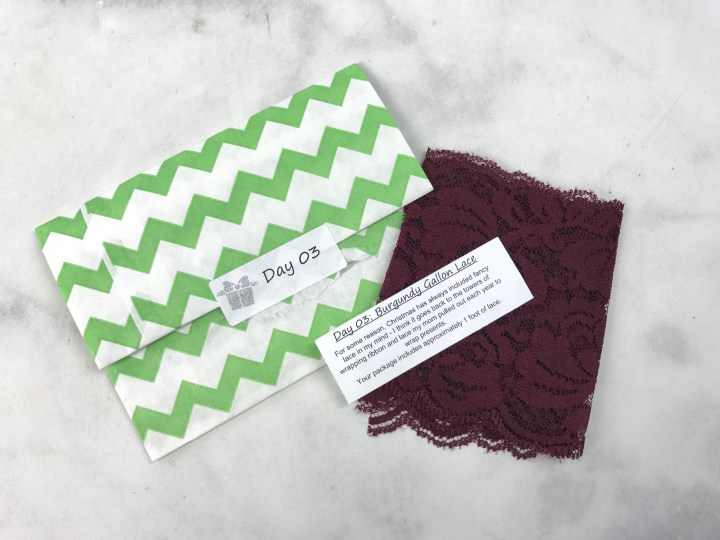 Day 3: Burgundy Gallon Lace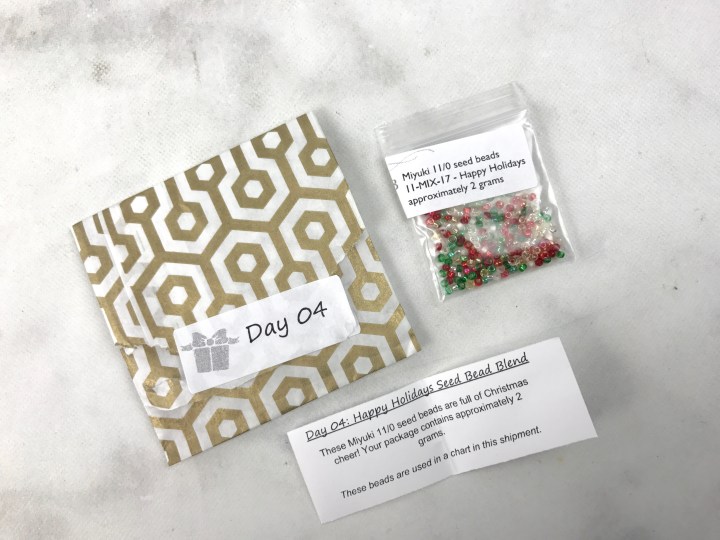 Day 4: Happy Holidays Seed Bead Blend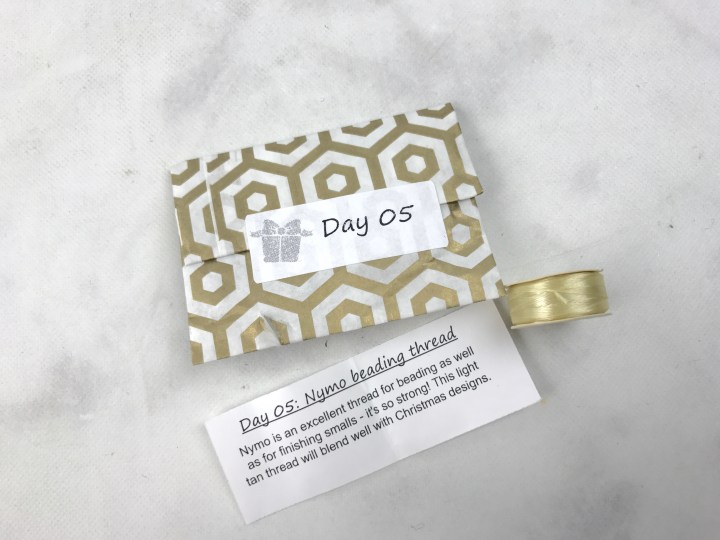 Day 5: Nymo Beading Thread
Nymo was in the Halloween box, but this is a different color. I love the idea of attaching my beads with Nymo instead of floss, seems easier if you're working with multiple bead colors.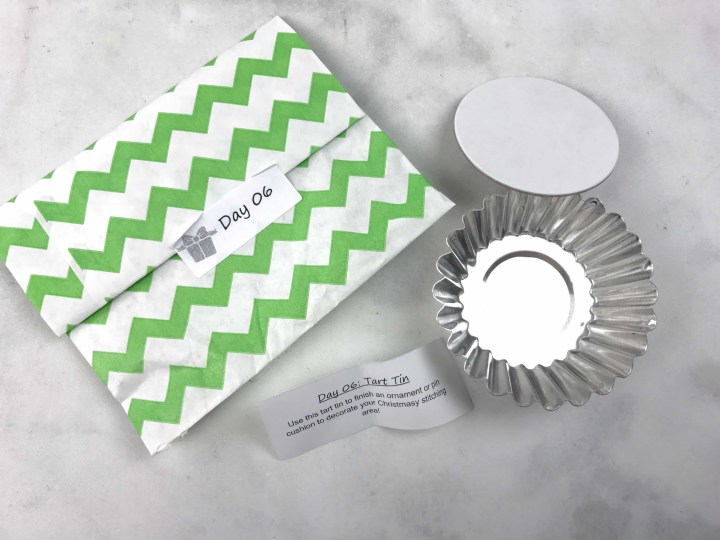 Day 6: Tart Tin: To make a pincushion!
Your package includes both the silver tart tin and the mat board circle you'll use to mount your stitching. Finishing a project into your tart tin is quite simple (very similar to the finishing on our Medallion kits).
Make sure your project is smaller than the mat board circle. I know this seems obvious, but it's better to double check first than be sorry later.
After you finish stitching, you'll need to cut out your project in a circle that's 1/2 inch larger than the mat board with your stitched project centered.
(Optional) Cut out one or two pieces of batting the same size as the mat board if you'd like a "plush" finished piece.
Place your stitching face down, then layer the batting (if you are using it) and the matboard on top. Using sewing thread, stitch a running thread around the border of the fabric 1/4 inch from the edge.
Cinch up the two ends of the sewing thread, and make any adjustments you need so your project is centered. Tie the sewing thread together, and add any additional lacing to the back you need to keep your stitching nice and taunt.
Using our favorite E6000 glue, run a thin line of glue around the bottom border of the circle, and place inside the tart tin. Allow the glue to dry (preferably overnight).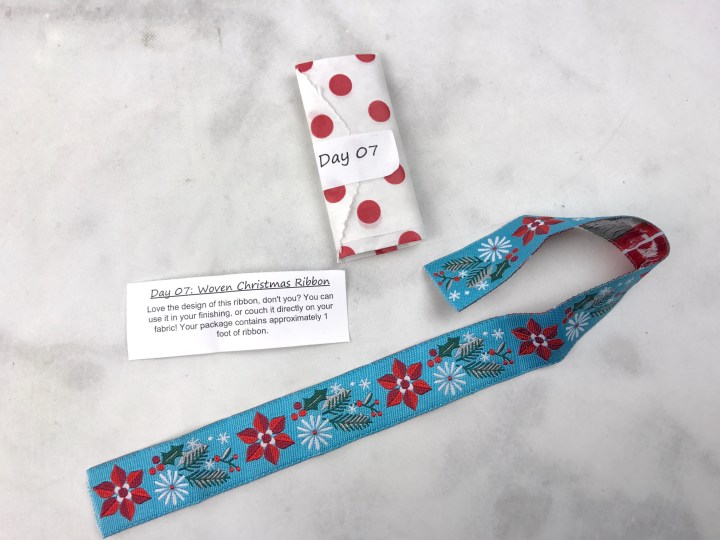 Day 7: Woven Christmas Ribbon
Yay, more pretty custom ribbon.
Day 8: Proud Turkey Cotton Floss
The name cracks me up.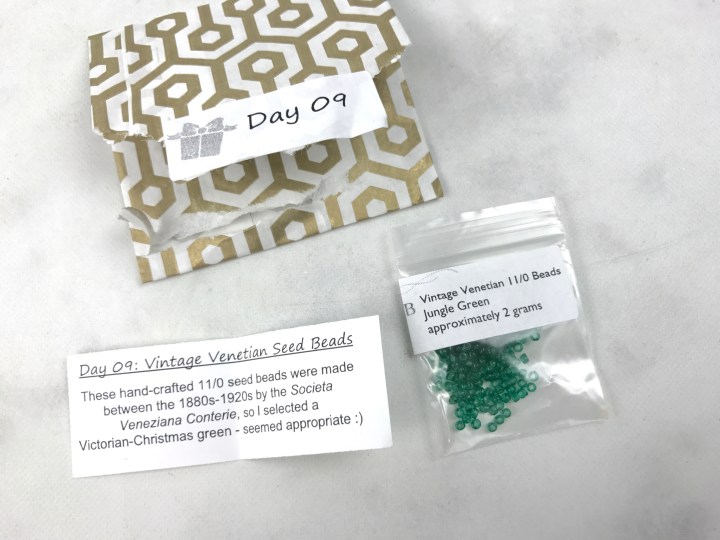 Day 9: Vintage Venetian Seed Beads
Day 10: Barnyard Red WoolFelt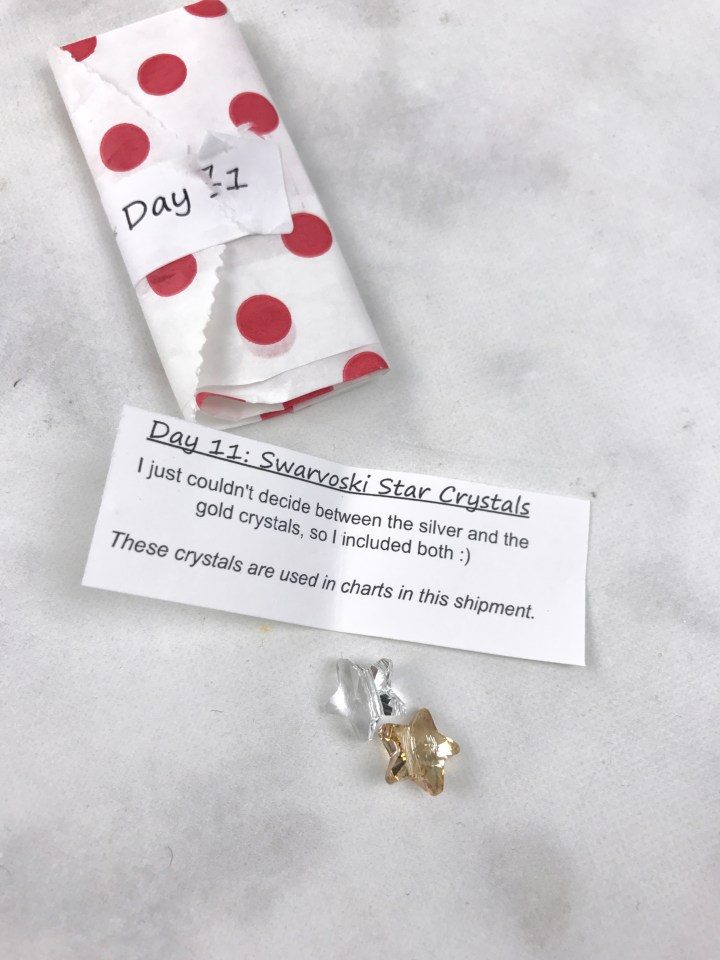 Day 11: Swarovski Star Crystals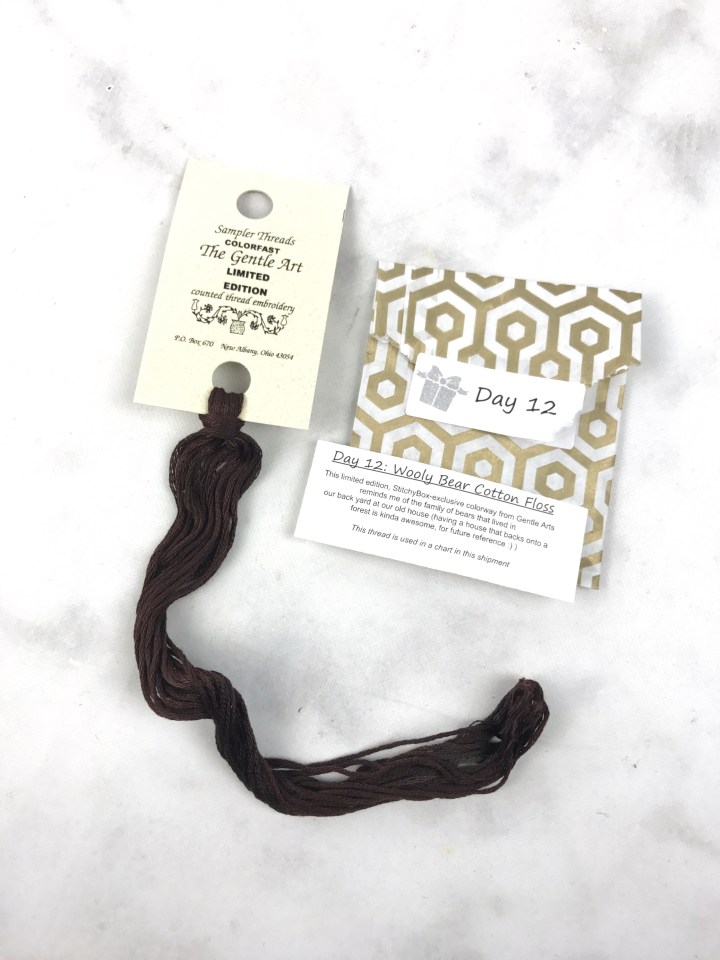 Day 12: Wooly Bear Cotton Floss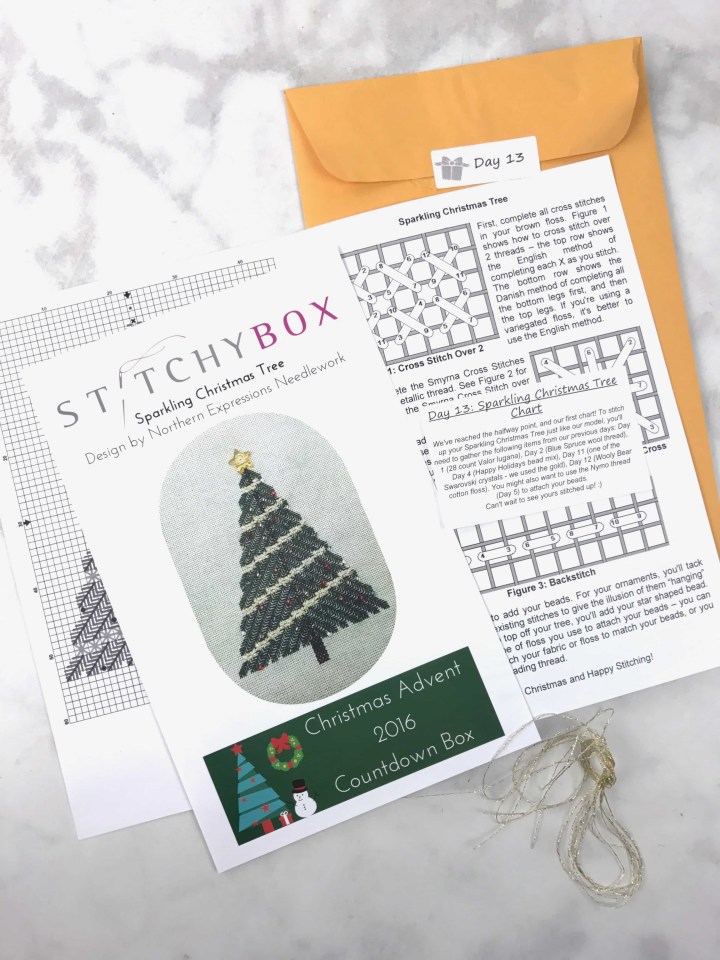 Day 13: Sparkling Christmas Tree Chart
Finally, the chart! I thought this was really quite well into the box but I'm pretty sure they do it after all the items they use in the chart have been revealed. Would you prefer to get the chart earlier so you can stitch it? Also I think I would lose my mind if I did that much backstitch.
Day 14: Lampwork Stocking Bead
Day 15: Christmas Buttons
Loved this!
Day 16: Quilting Fabric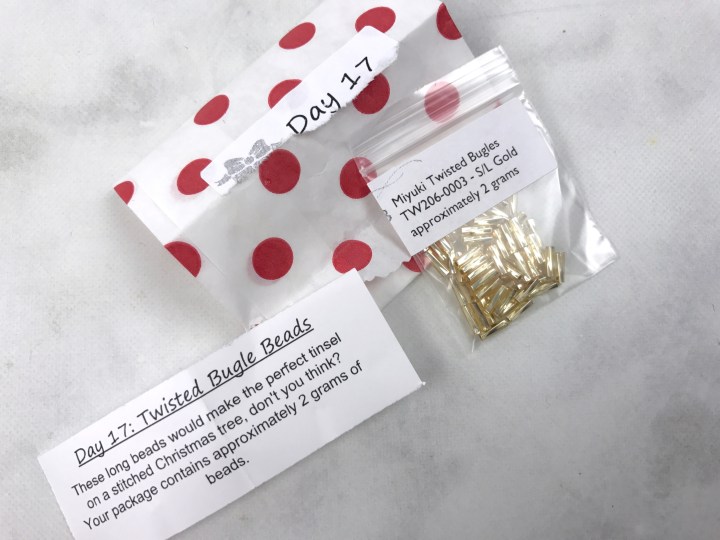 Day 17: Twisted Bugle Beads
Day 18: Snowflake Charm
Day 19: Storm 32-Ct Opal Linen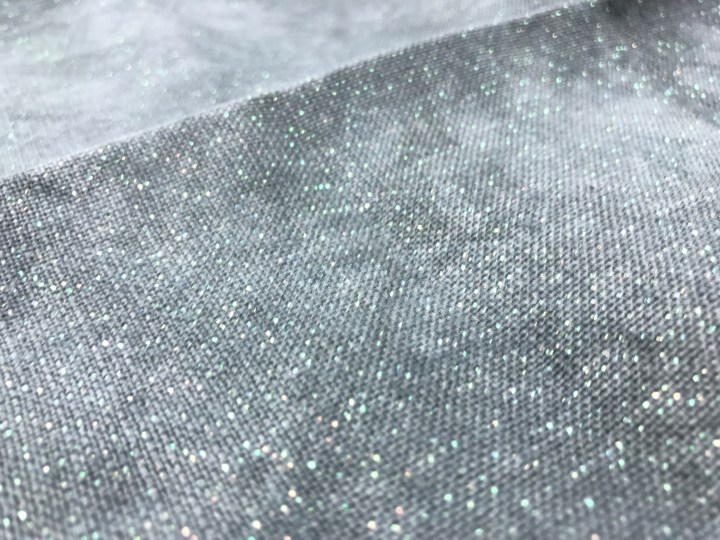 I love opal/crystal. Unless it's an old school antiquey sampler I try to use only opal, because it's sparkly and fun.
Day 20: Hand-Dyed Chenille Trim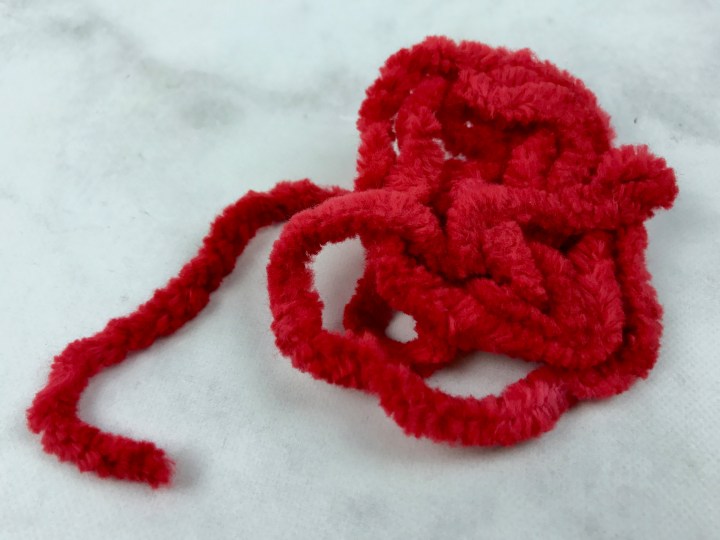 One of my favorite items, chenille is super fantastic.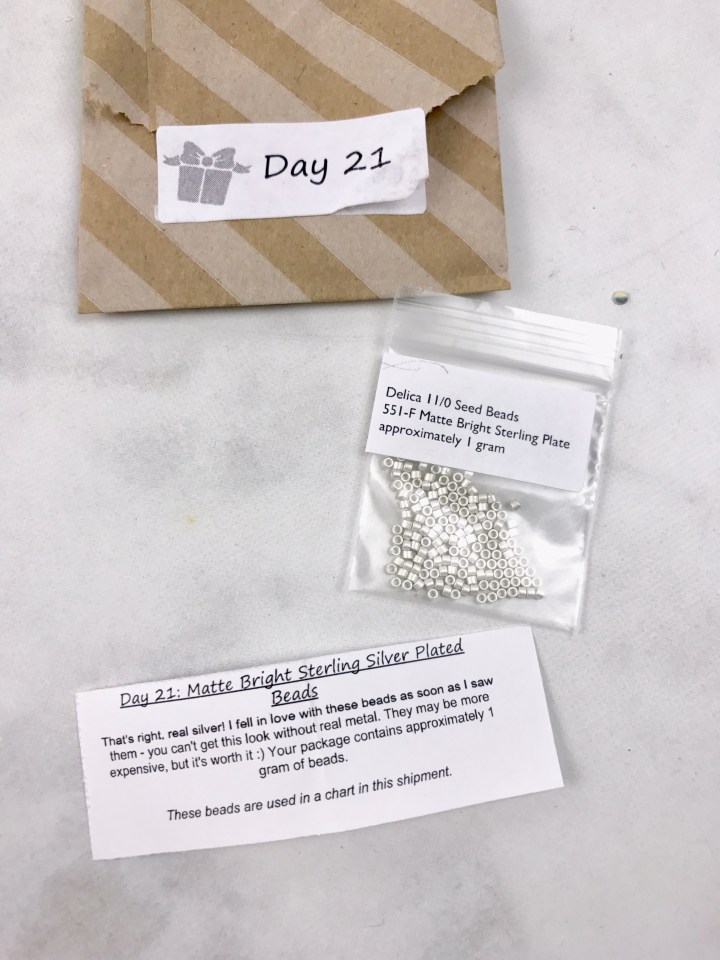 Day 21: Matte Bright Sterling Silver Plated Beads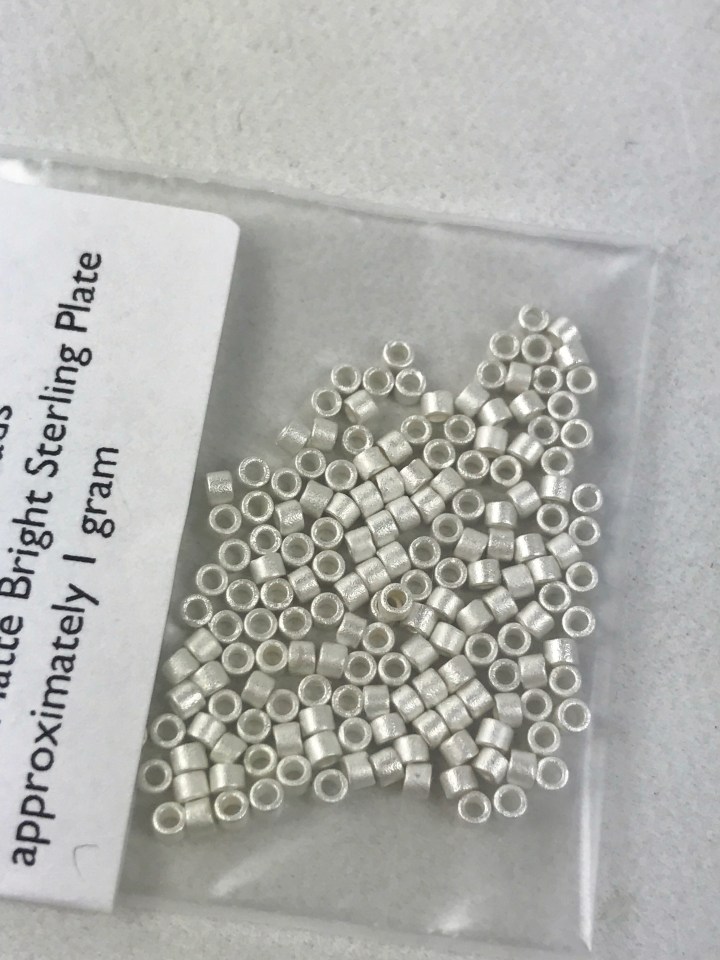 These are FANTASTIC! I don't think I've ever used metal beads but they're stunning!
Day 22: Soy Luster Thread
I am 100% with the blue & purple scheme for Christmas.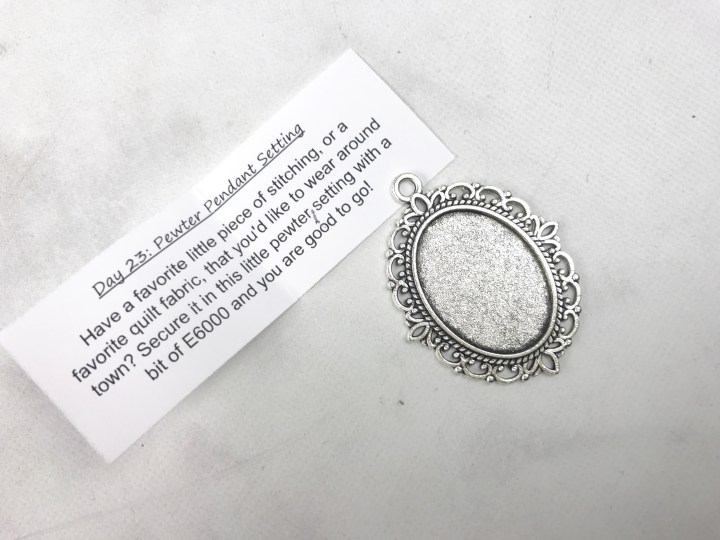 Day 23: Pewter Pendant Setting
The easiest way to make your backing board is to place the pendant face up on a hard surface, then place a piece of copy paper over it. Rub the upraised edge of the setting through the paper, so you are creating an indent in the paper. Turn the paper over, trace your indent and cut it out. Use this template to cut a backing board out of a sturdier material (some 110lb cover stock or very  very thin cardboard).

Once your stitching is mounted on your backing board, give the back a quick iron – you want it to lay as flat as possible against the pendant. Then just adhere with a bit of our favorite E6000 and let the glue set for a few hours and you are good to go!
Day 24: Silver-Lined Milky Pomegranate Beads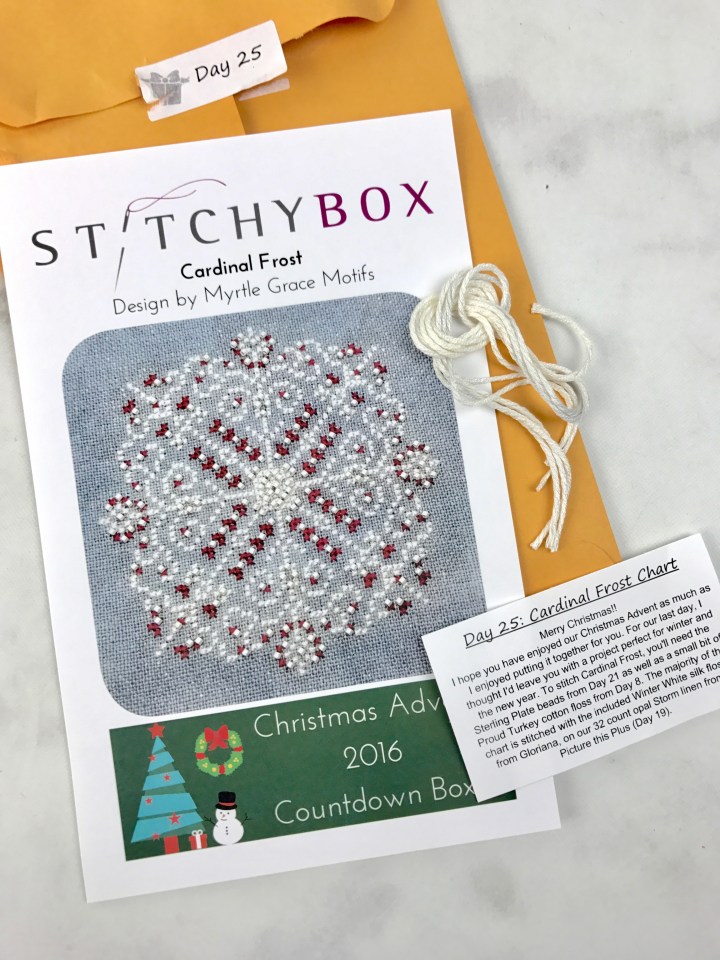 Day 25: Cardinal Frost Chart
I haven't stitched this, but seeing the beads and Gloriana silk, I will tell you it does NOT do it justice. This is going to be gorgeous stitched up!
Such a great countdown box! I like that the Countdowns are focused on projects and seasonally themed – and there's still plenty of stuff to play around with. If you have trouble with the regular StitchyBox concept, get a countdown box! This is SO fun to open day by day, and I loved guessing what was in each packet!
All the boxes except for the Patriotic/Summer box are sold out… but there's always going to be a few people that don't pay their deposits, so there may be a few available if you're patient.