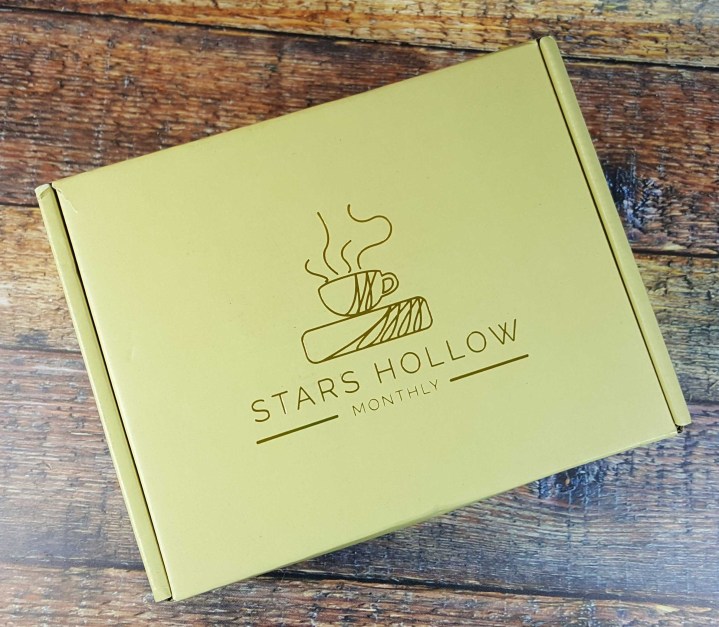 Stars Hollow Monthly will feature 3-5 products which are inspired by the Gilmore Girls and the fictional town of Stars Hollow. (Inspired by, meaning items that relate to, are inspired by, or are artistic renderings of the show and its inhabitants/characters.)  For $34.90, you can expect anything from tee shirts (on occasion), home decor, fashion accessories, bath & body items, and much much more.
The goal for the Stars Hollow Monthly Box is to send subscribers items they will adore as fellow Gilmore enthusiasts, but also items anyone would enjoy – high-quality items that won't gather dust in a drawer somewhere.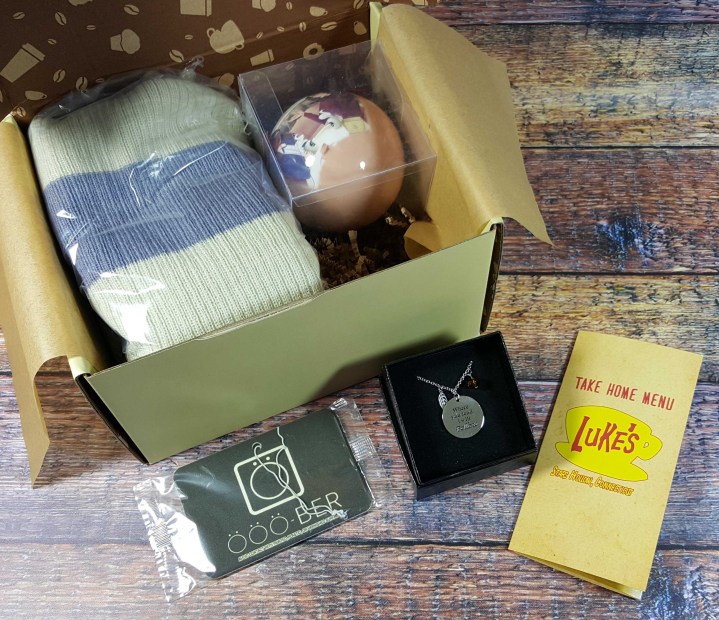 The December Stars Hollow Monthly Box. The ÖÖÖ – BER air freshener is too much!  I can't even.  ?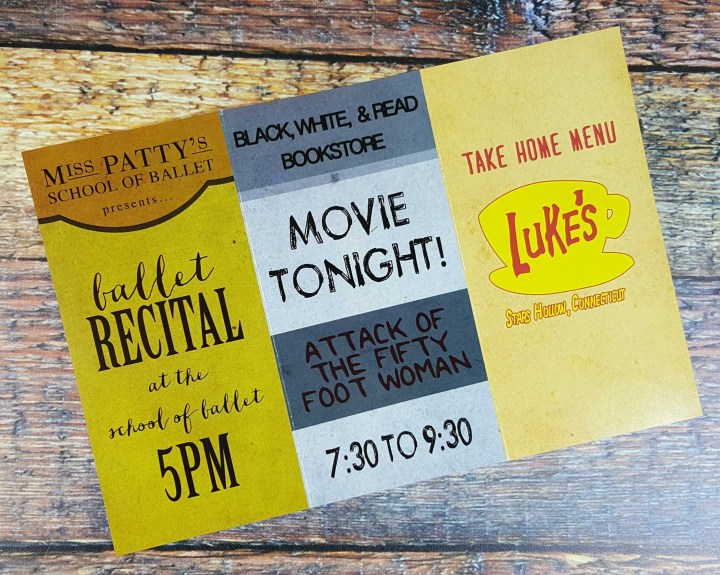 Luke's menu is actually a fold out information sheet for the box.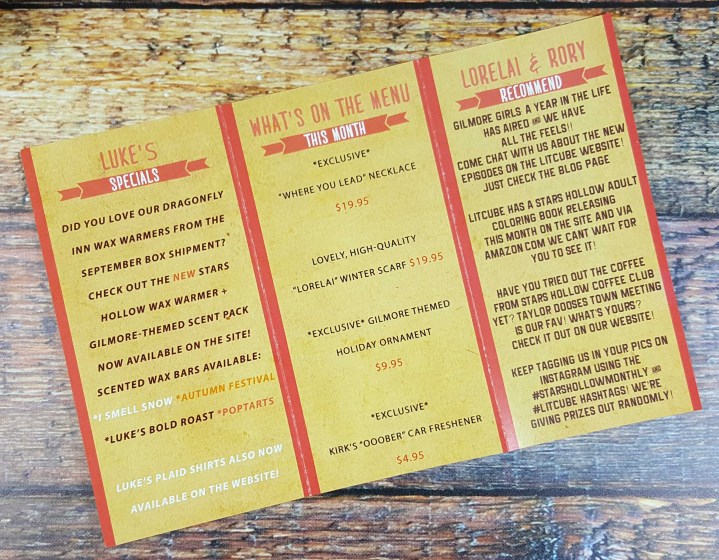 The inside of the menu contains a list of the box contents with pricing, as well as discount codes for some of the items.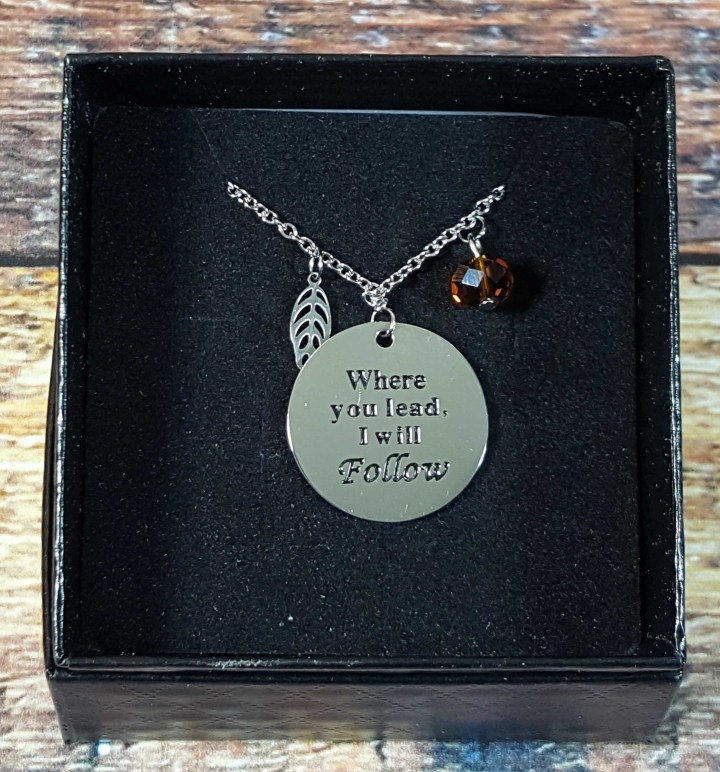 *EXCLUSIVE* "Where You Lead" Necklace ($19.95): Whether or not you know anything about the Gilmore Girls, the "Where you lead, I will follow" line holds a lot of meaning when used in relationships. This silver tone necklace features the phrase on a round pendant, surrounded by a feather and crystal bead. Since this is a Stars Hollow exclusive piece, I linked to a similar item.
The necklace has a fairly long drop and would work well as a laying piece. It is a simple, yet very pretty.
"Lorelei" Winter Scarf ($19.95): Looking back through episodes, you'll notice that Lorelei likes her scarves. Now, you can feel as if you've raided her closet for one. This is a long, acrylic knit scarf.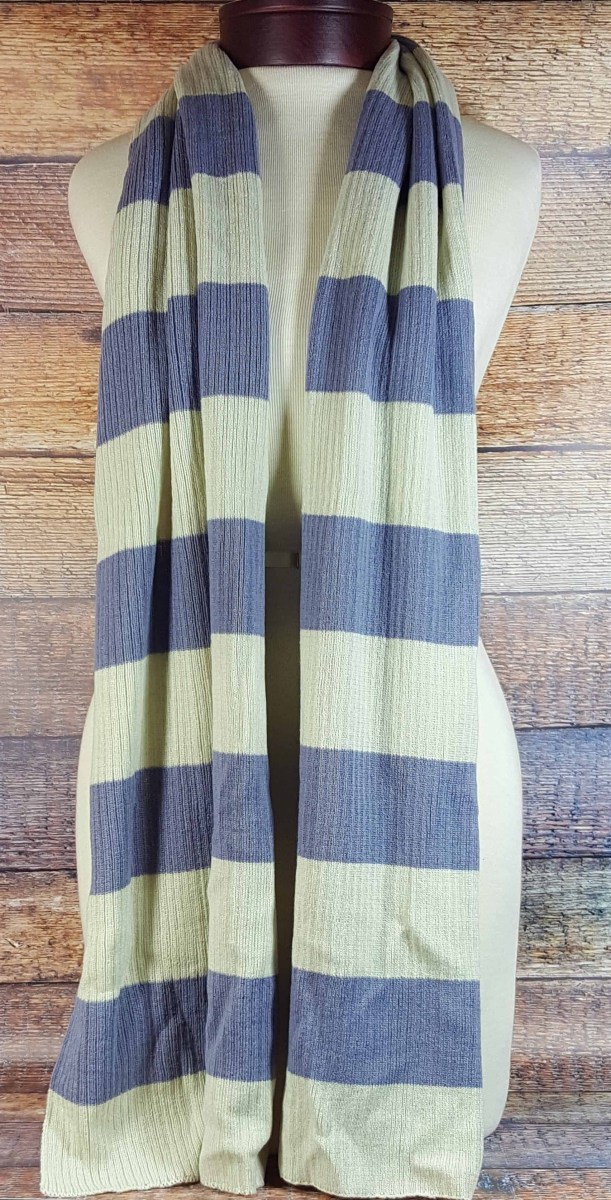 Here'a another look at the scarf to give you a better idea of the length. I love longer scarves because I can wear them in so many different ways.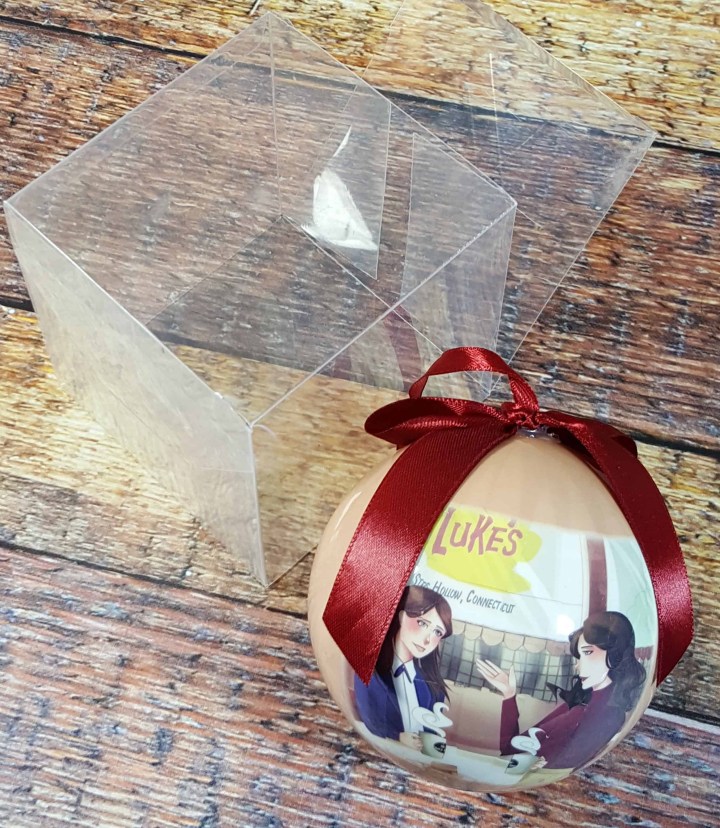 *EXCLUSIVE* Gilmore Themed Holiday Ornament ($9.95): This shatter-proof ball ornament features Lorelei and Rory enjoying coffee at Luke's Diner. Display it on your tree for the holidays or keep it on your desk as a decorative piece.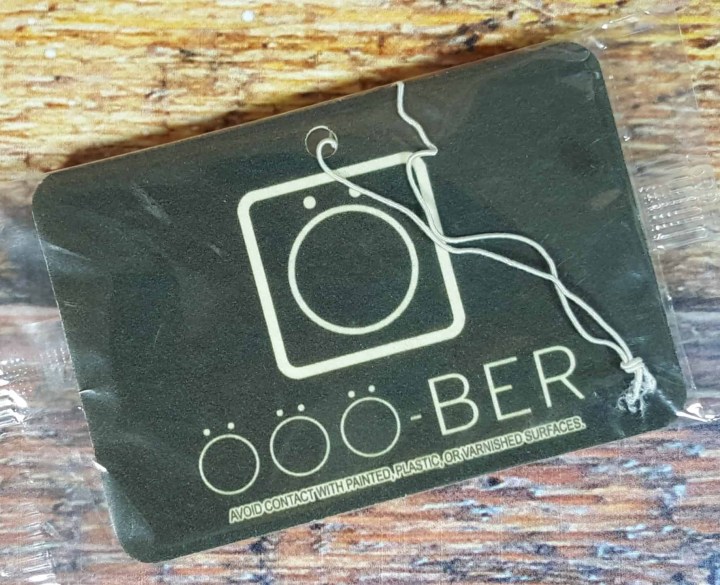 *EXCLUSIVE* Kirk's "OOOBer" Car Freshener ($4.95):  More fun than the classic cardboard tree freshener! This car freshener advertises Kirk's latest business venture (pronounced ooooooh-ber, not oohber). The slightly fruity scent will be nice in my car.
ICYMI, here's a little snippet to let you in on the joke.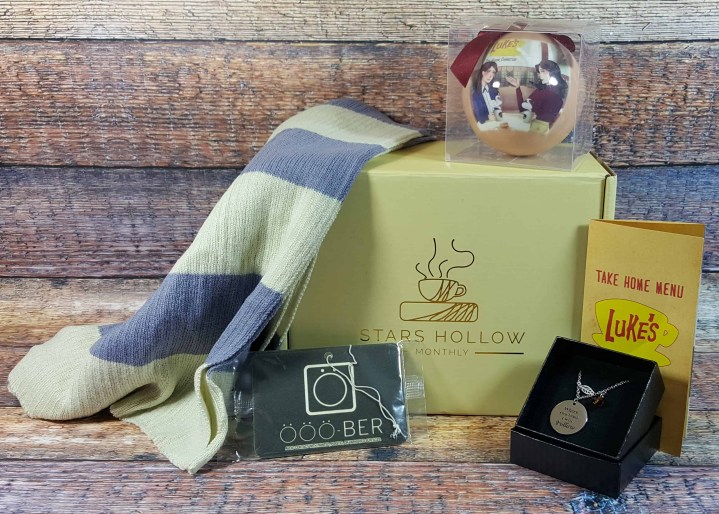 The December Stars Hollow Monthly Box was valued at $55. I want to take a minute and note that the price of the box has increased from $29.95 to $34.90. This subscription makes me happy with nostalgia, and there's always at least one or more items that I absolutely love and use. However, this is a little pricey, and I would love to see a few more items in the box or some higher value pieces. That said, this month I'm torn between the scarf and the necklace as my fave item. Which one is your pick? Leave a comment below and share your thoughts.