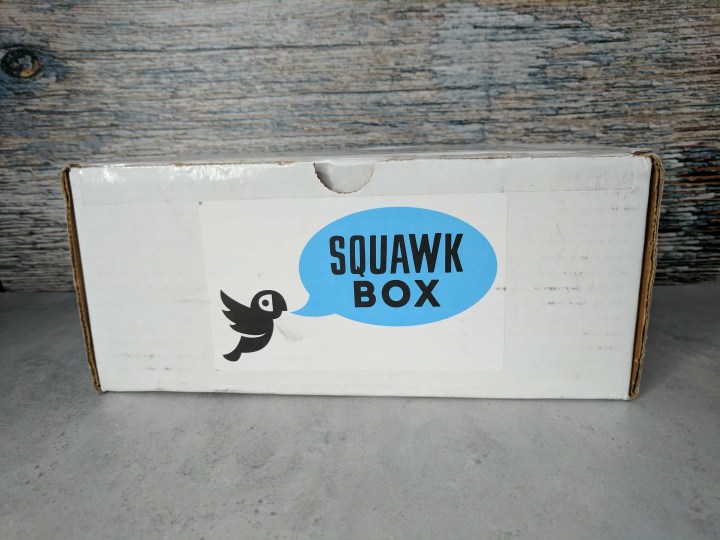 Squawk Box is a monthly birdie care package of 4-6 bird treats, toys, and more delivered straight to your door. Because parrots, big and small, need a great amount of stimulation to thrive, Squawk Box will deliver a new selection of toys every month. Every crate is carefully curated to keep our feather friends happy and healthy!
The box is available in three sizes: Little Birdie (great for Lovebirds, Parrotlets, Cockatiels, Parakeets, Green Cheek Conure sized), Middle Birdie (great for Quakers, Conures, Senegals, Pionus, Timneh Greys, Caiques, some Mini Macaws & some small cockatoos), and Big Birdie (Macaws, Amazons, Cockatoos, Eclectus, and Congo African Grey sizes). The monthly subscription starts at $24.95 for the Little Birdie to $34.95 for the Big Birdie, with significant discounts for longer subscriptions. Knowing that parrots have a long life ahead of them, and that they will destroy everything around them, the longer subscription is definitely a must!
Also, for each Squawk Box ordered, a percentage goes to parrot rescues. Not only do you provide fun new treats to your own bird, but you help other parrots as well!
This review is for the Little Birdie. Meet my assistant reviewer Kiwi! This month is a rough month for her. She's having a big molt and she wants to spend her days in my sweater. So sorry for any blurry and not so happy looking bird! This month, I also had some help from a different parrot, Kip the Quaker, to test the treats!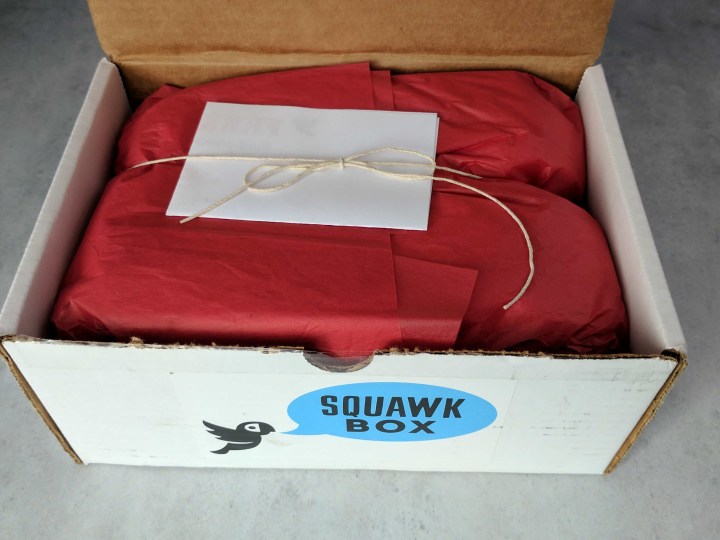 Everything is always so nicely wrapped up in tissue paper! I really enjoy the care they put into wrapping the toys! Sadly, the paper is red, Kiwi hates it. Silly Birb.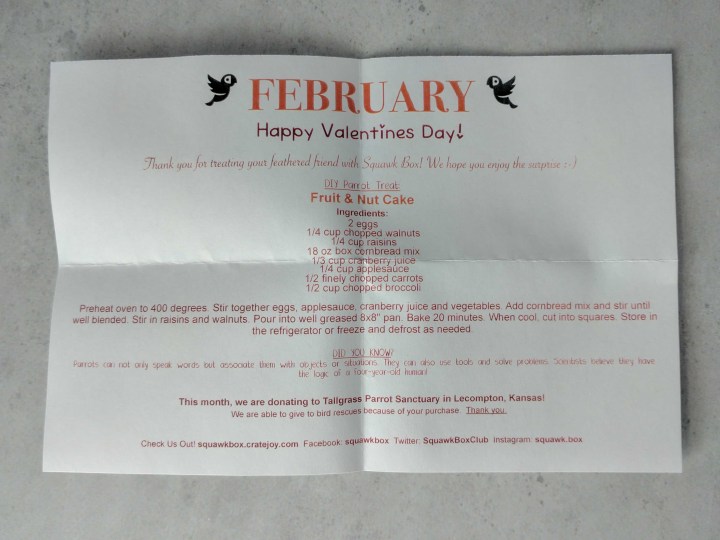 There is no information on the content of the box, but you get a nice DIY Parrot Treat (Fruit & Nut Cakes), a Did You Know about Speech and Parrots and the Rescue of the Month. For February, part of the money from the sale of each Squawk Box goes to Tallgrass Parrot Sanctuary in Lecompton, Kansas!
Under a layer of paper squiggles, here's everything in the box! This looks lovely and very Valentine's Day!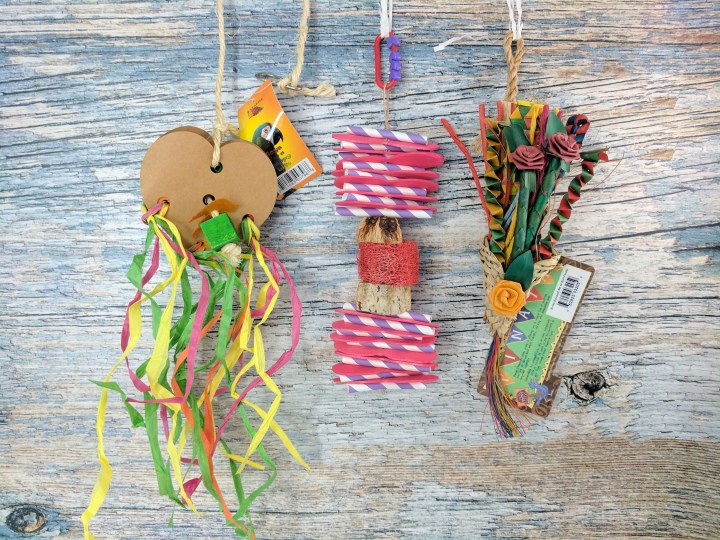 This month, Kiwi got three handing toys! All look "tasty" and ready to be destroyed!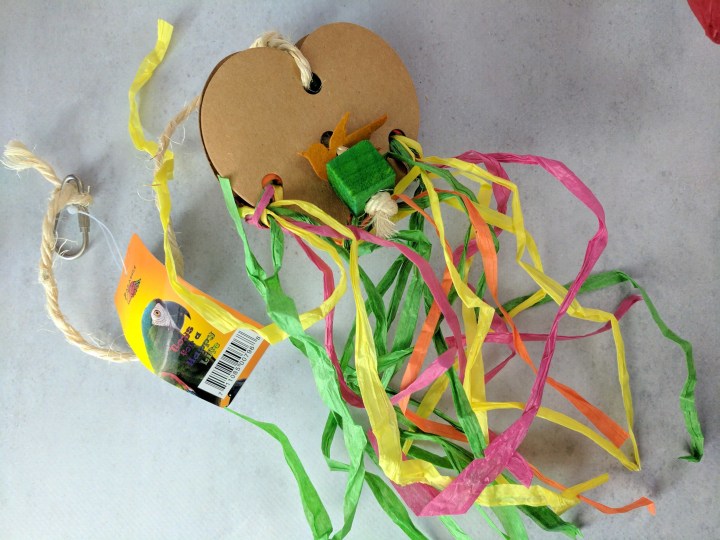 Paradise Chipboard Heart ($4.36 on amazon). This is a great toy for the cage! Kiwi loves the long paper tendrils! She tries to hide behind them!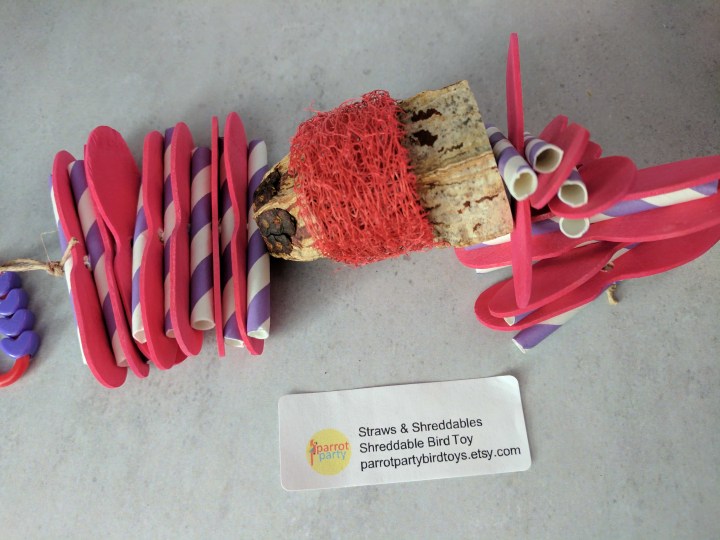 Straws & Shreddables by Parrot Party Bird Toy ($4.99). Even if it's mostly red, Kiwi loooooooves to destroy those popsicle little sticks! We went on a week-end trip, so she had to spend a lot of time in her cage (she travels with us, but she doesn't have the same amount of freedom than at home), and this toy didn't disappoint! She's still not quite sure what to do with the mahogany pods, but she is not afraid of them anymore!
This is MY favorite! Planet Pleasures Parrot Pinata – Birdie Bouquet small ($9). I've hung it on the door to my office as both a decoration and also a spot for her to land when the door is close to her favorite room in the house! This is full of palm leaves straw and other pieces fun to shred and destroy! This is fun both for birds and humans! Trick to get your bird to be interested in this toy : put a little bit of millet on the branch inside this bouquet and they'll go nuts for it!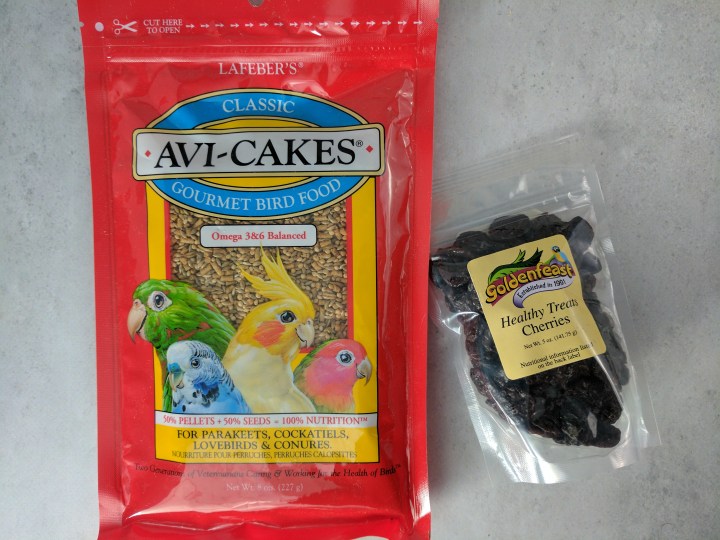 Two tasty treats were also in the box.
Avi-Cakes ($5.25). Packaged in a big cake easy to split in little treats, these are full of seeds and pellets bind together with molasses. There's no fruit or veggies in it to hide the "bird food" smell, but Kiwi didn't seem to mind it at all. There were enough millet in it to keep her interested! The avi cakes need to be kept sealed in the bag as they get very hard once out for a while. And once hard, Kiwi just threw them on the floor. Multiple time. Oh, my poor floor.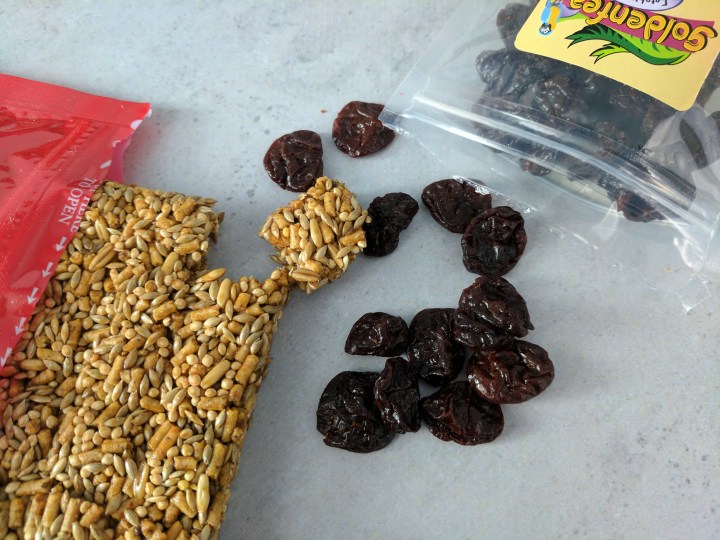 Goldenfeast Healthy Treat Cherries. Dried Sweet Cherries, they were a hit with her "cousin" Kip! They are not too sweet and very tasty (yes, I did taste them and almost kept them for myself). Kiwi didn't care for them though, picky picky little bird.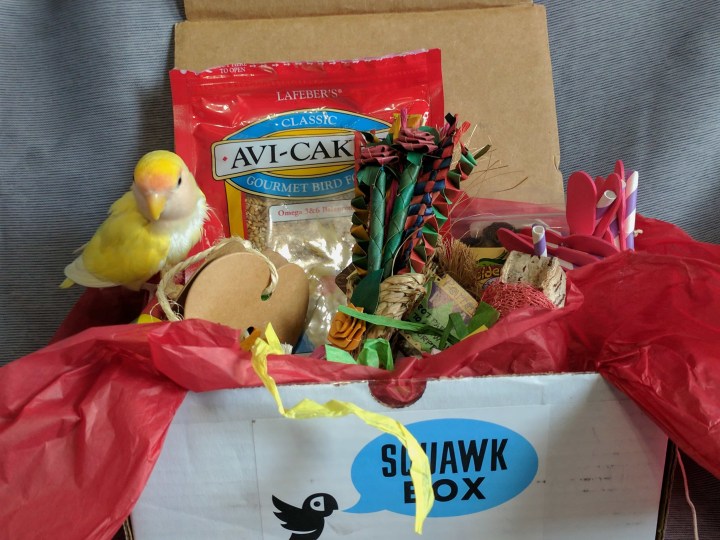 Kiwi's looking at all her toys. She isn't sure about the red tissue paper, but she went for the popsicle sticks after a while.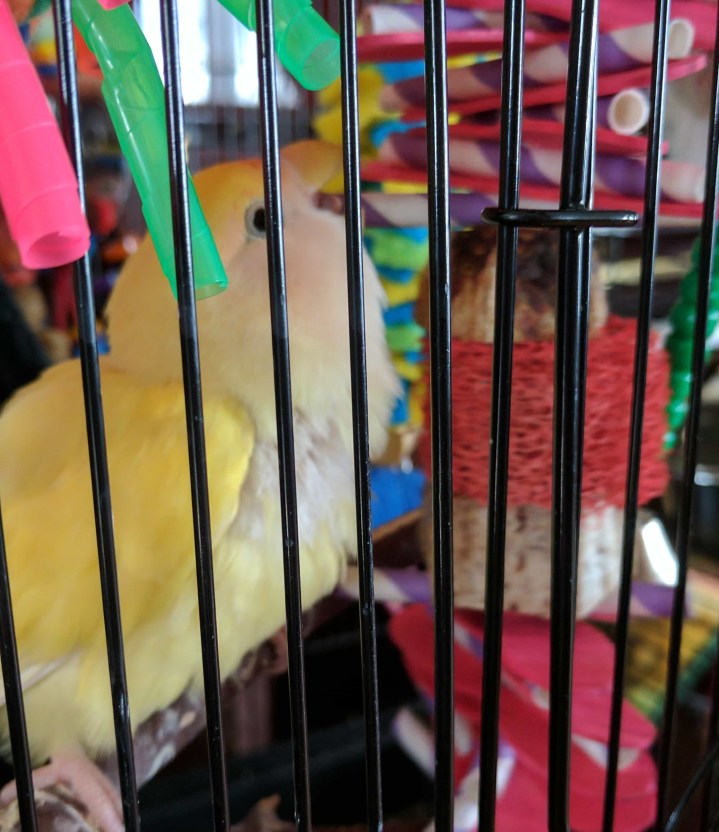 We had to spend a couple of days away from home, so she had to stay in her cage for a long time. Her favourite toy was the Straws and Shreddables one. Sorry for the blur, it's hard to get my camera to not focus on the cage bars. You can also see a bit of the plastic straw toy she received in January. She is still working on it!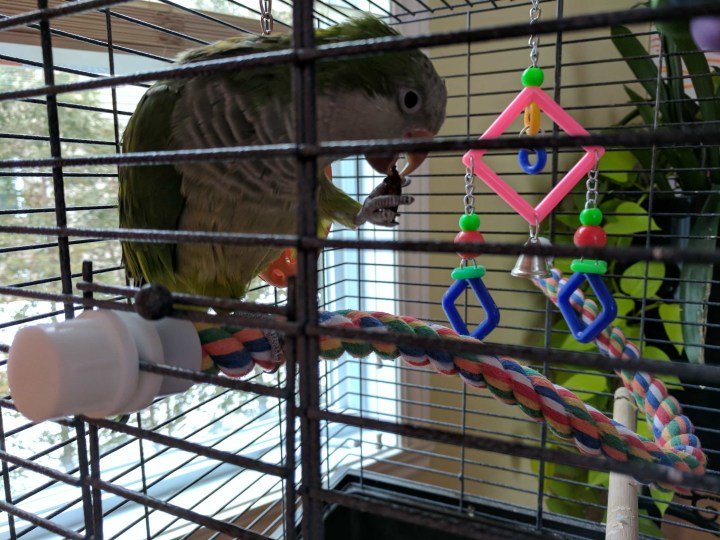 Meet Kiwi's "cousin", Kip the Quaker. He really liked the cherry treats and was ready to do a lot of tricks to get more! He is still not willing to come out of his cage, but someday he'll trust us enough to get the treats from our hand outside of his cage! Sorry for the poor look of his feathers, he's also going through a molt!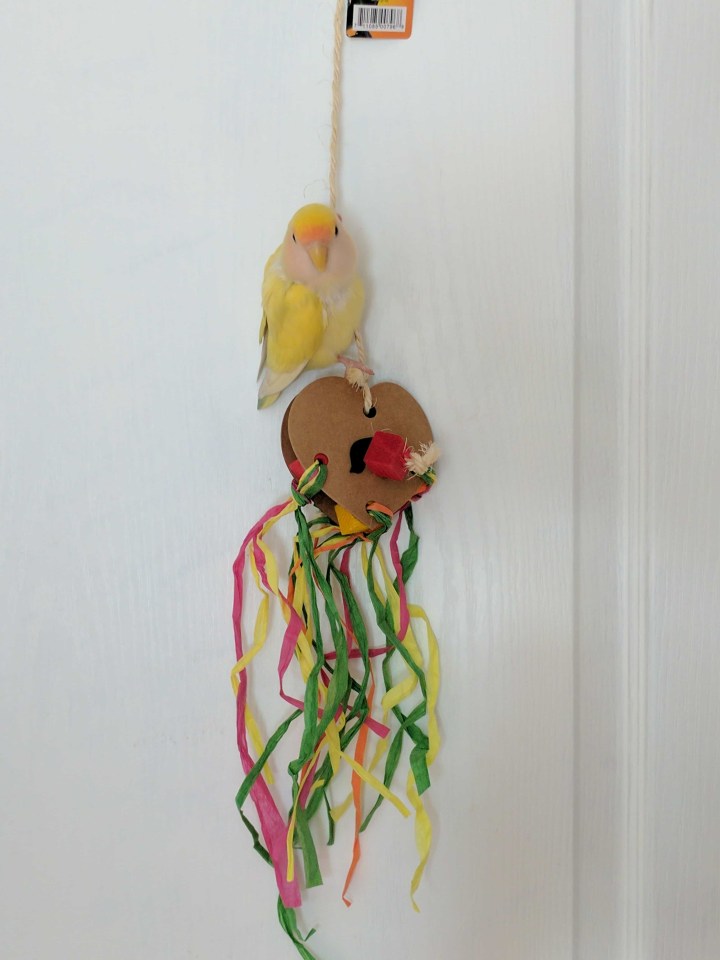 I found a better use for this toy than putting it inside of her cage. This is the door to my office, the room she's not allowed to go in by herself. By hanging it on my closed door, she at least has a fun place to land for when she thinks she has a chance to get in my office!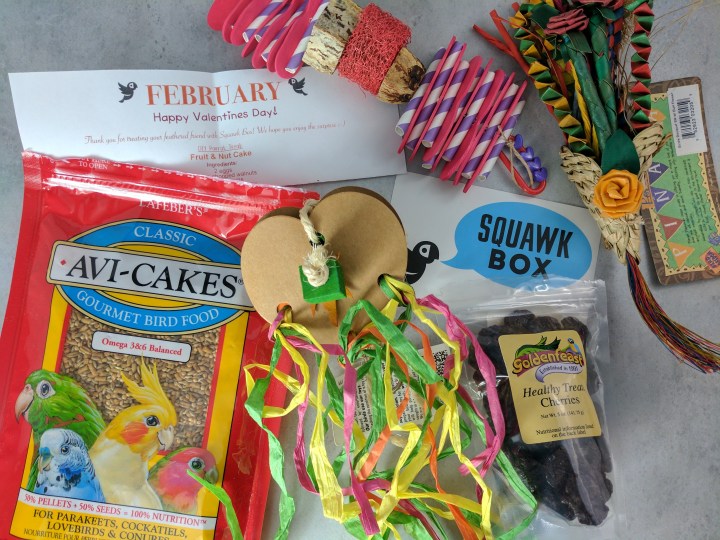 This was another great box from Squawk Box. All the toys were a big hit with Kiwi and kept her busy while locked up in her cage (she's always free in the house when someone's home). Sadly for Kiwi, there was not a single bell in this package! I really enjoy the variety of toys and treats included in the Squawk Box, and I feel that they really care about the birds, and their special needs. Even picky birds will find it fun and challenging!
Chirp!