Purr-Packs is a monthly cat subscription that is run by a team of dedicated kitty owners that specializes in finding new and innovative products for your cats. They realize that one size does not fit every cat family and offer four different plans with customization available. The Slim Pack contains 4-5 toys. The Teaser Pack contains 5-7 items and includes toys, treats, and surprises. The Fun and Love Pack contains 7-9 items and includes toys, treats, and surprises. The pack can be customized with flavors, colors and more. The Multi-Cat Mega-Pack includes at least nine items that are toys, treats, and surprised. It also can be customized by flavors, colors and more. All treats are made in the USA and each size pack is gift ready. Purr-Packs donates at least 10% of all retail subscription profits to local and national rescue and/or adoption programs.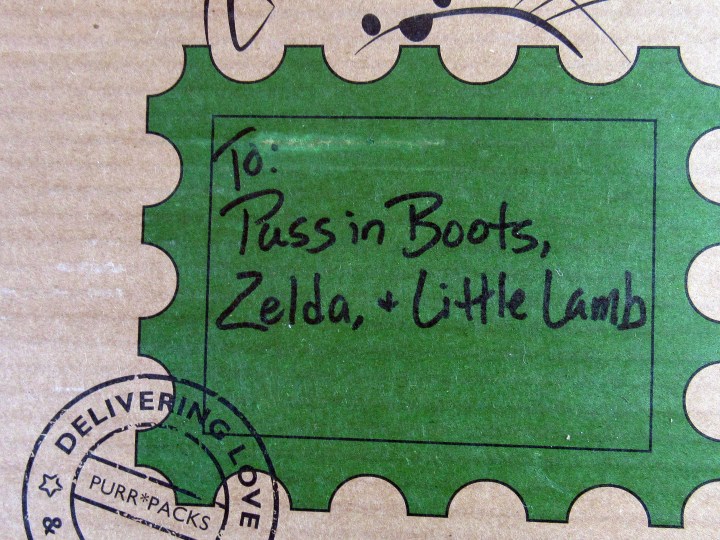 DEAL:  Use coupon code Hello20 to save 20% on your first box!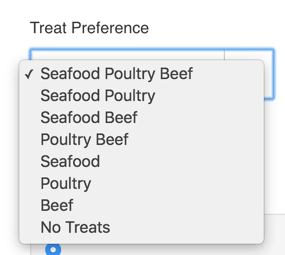 You'll be able to set up your treat preference when you check out. Personalize the box by listing your cats' names on the box along with filling out the flavor profile and coat profile.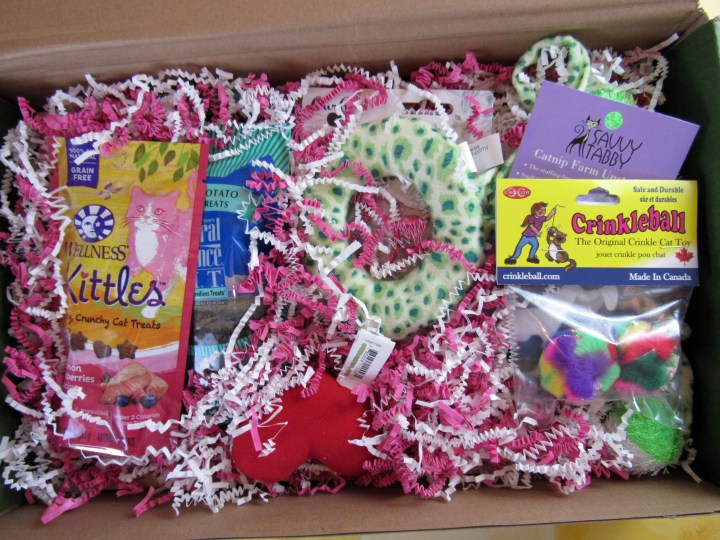 FYI –  Purr-Packs has made improvements to their website. You can now select how often you want your box shipped. Shipping charges are $4.95 to the United States. There are additional shipping charges to the UK and Canada. A fourth selection has been added for kitties that want toys only. The change that I find to be the most innovative is that you can now select your shipping date. Go to your account, click ship now, and that date will be your new shipping date going forward.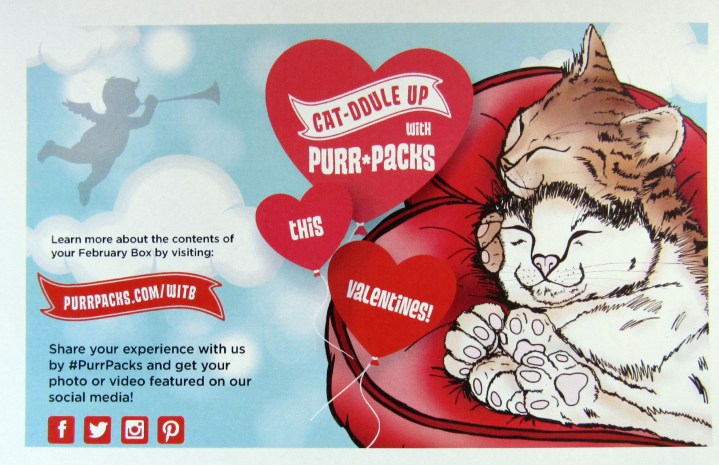 This month the contents of the box are listed
online
.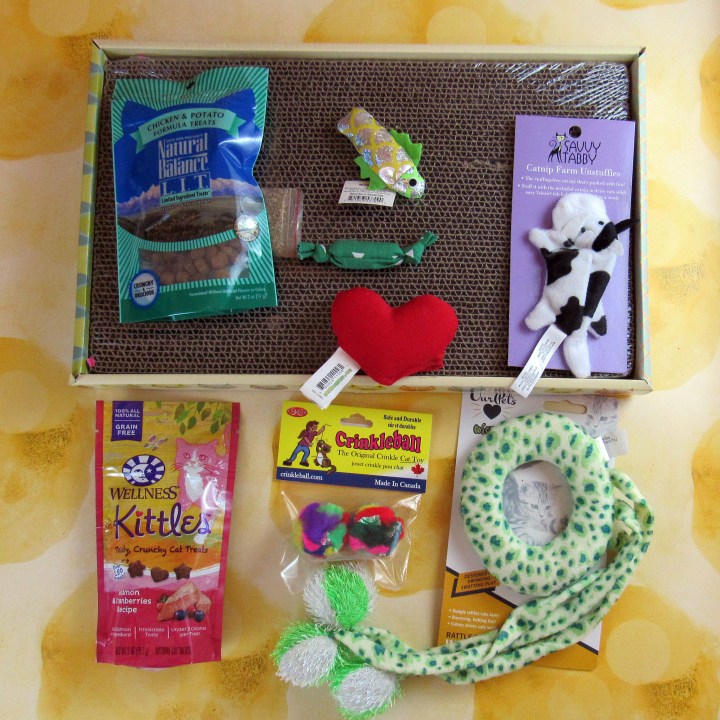 Here are the items for the medium-sized Fun and Love edition. The kitties could not wait to play!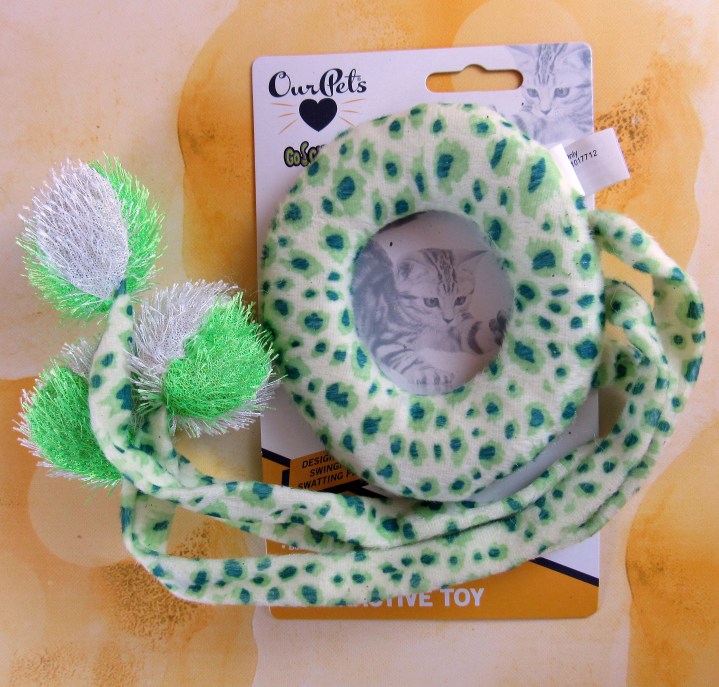 The Our Pets Rattle Ring ($13.82) is J's (age 8) favorite toy when playing with the kitties. He keeps it on his door knob when not in use. They go crazy over the legs.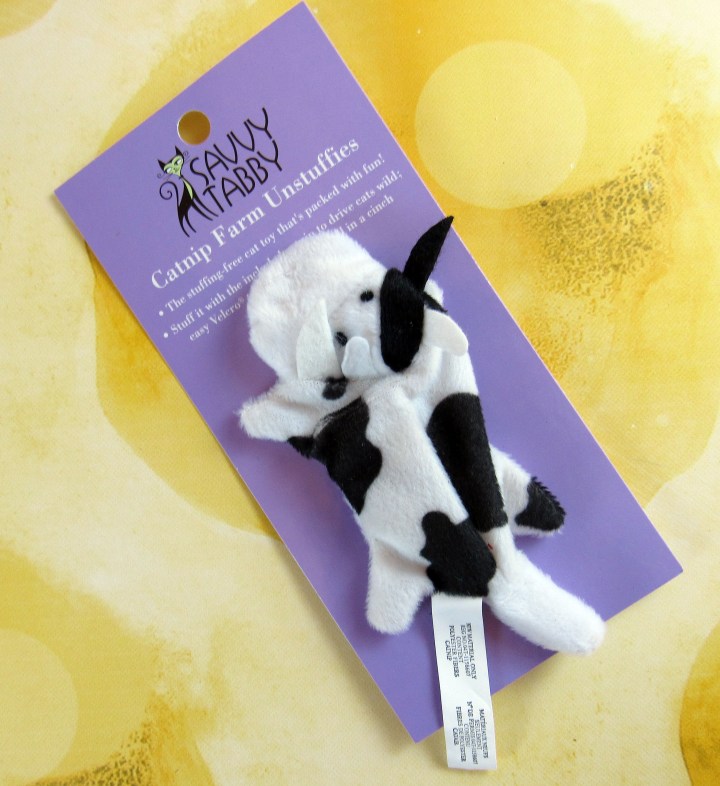 The cats rolled over the place while playing with the Savvy Tabby Catnip Farm Unstuffies ($3.99). They love tiny stuffed animals.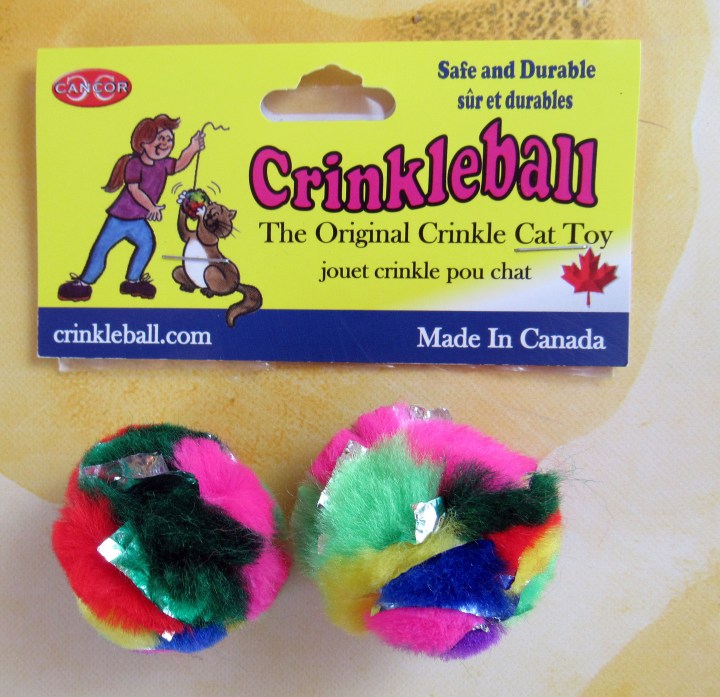 Little Lamb was upset that he kicked a Cancor CrinkleBall (2 balls, $1.99) behind the bed. The colors and textures captivated the cats.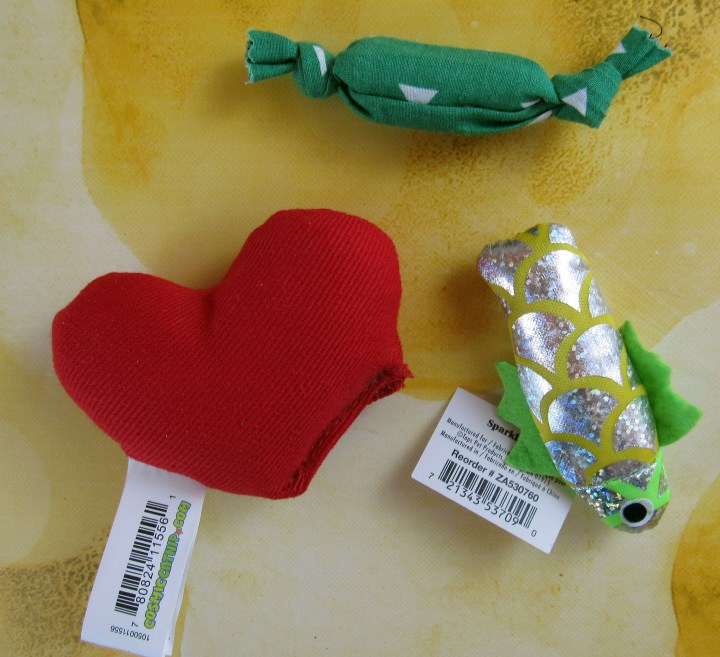 The Cosmic Catnip Heart ($2.99), the Zanie Catnip Fish ($1.49), and the PetCandy Penny Candy ($0.99) were full of catnip scents that the kitties found irresistible. They pounced, licked and kicked around the small toys.
Salmon is the first ingredient in the  Wellness Kittles Salmon & Cranberries Treat (2 oz, $2.99). The made in the USA treat made the kitties purr with delight.
The kitties ate the crunchy cat-shape Natural Balance L.I.T. Chicken and Potato Treats (2 oz, $2.99) with gusto. The made in the USA treats are free of corn, soy, wheat, artificial flavors and artificial colors.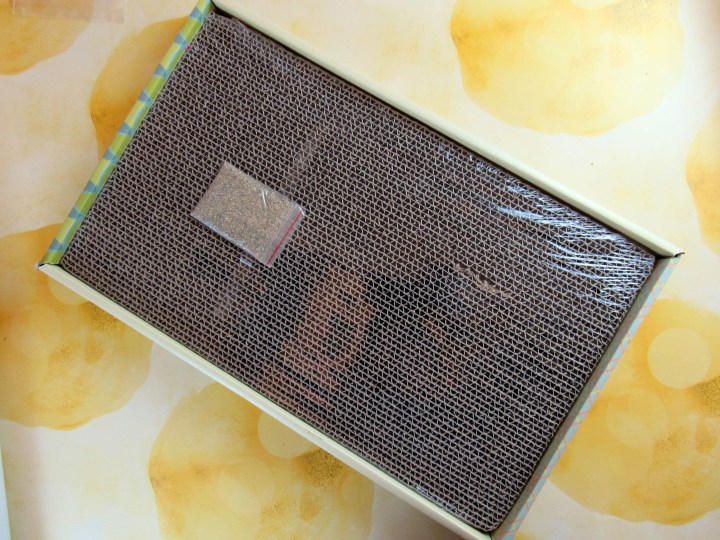 My husband assisted me with the photos. He insisted that there was no way Little Lamb could fit on the scratching pad (appx $10.00).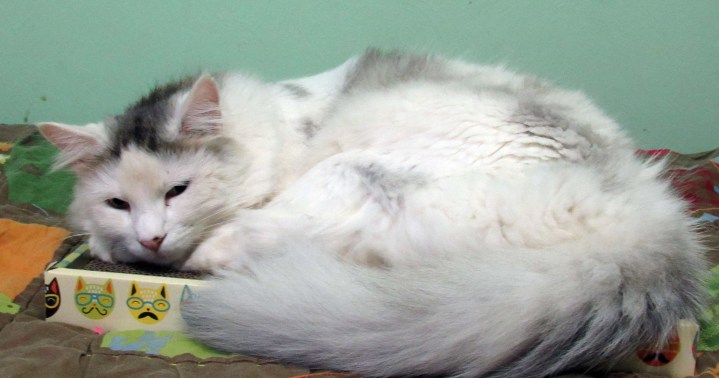 Little Lamb disagrees.
Time for kitty photos. It's been a bad month for natural light. Sylvester posed for a couple of photos because I needed to use the flash.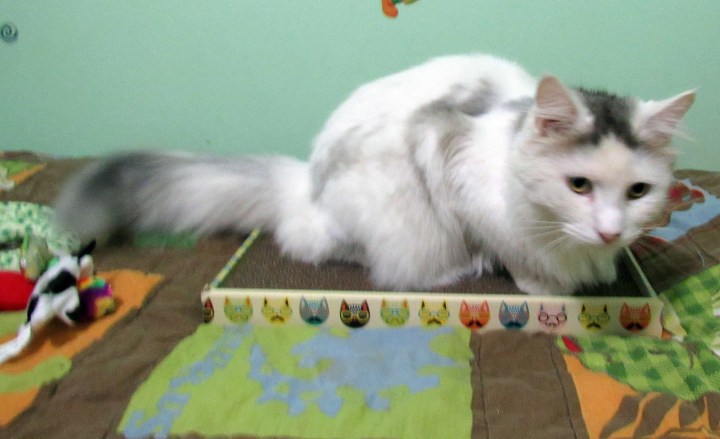 Little Lamb could not wait to start scratching on the scratching pad. The cats love sharpening their claws on a new scratching pad.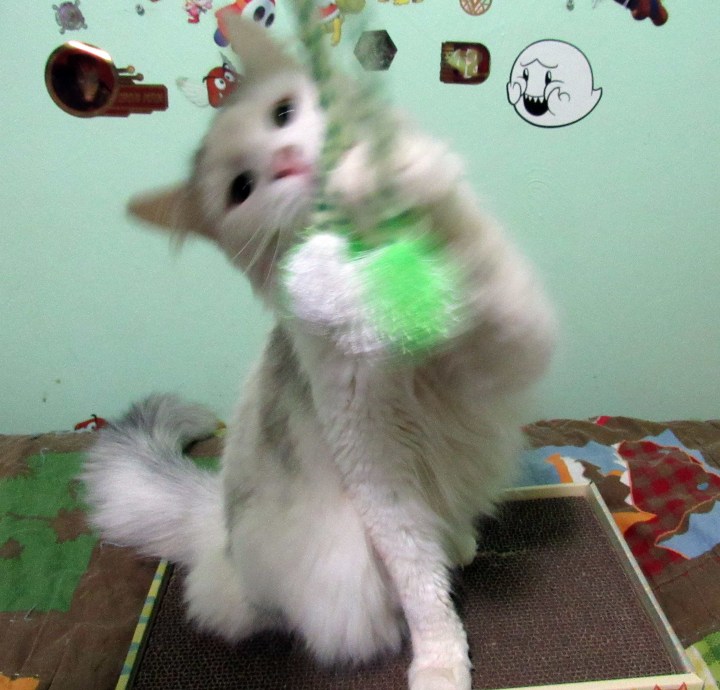 Little Lamb looks young in this picture. He did not want to give up his scratching pad.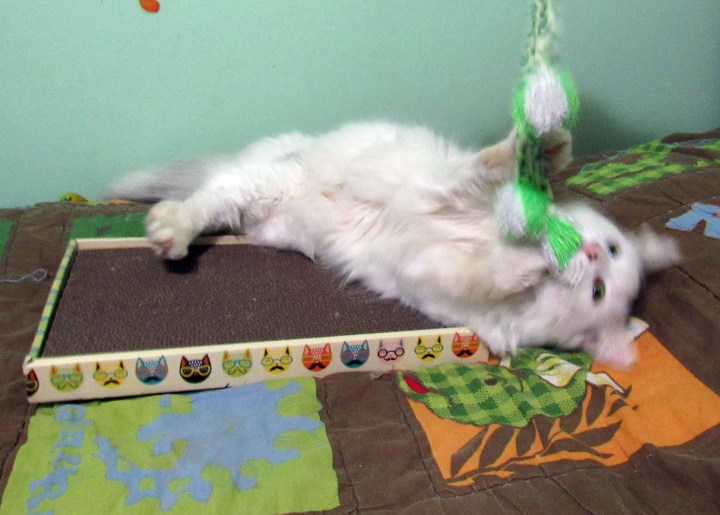 He rolled around with it. I was waiting for him to flip the scratching pad over.
Watch out for those freshly sharpened claws!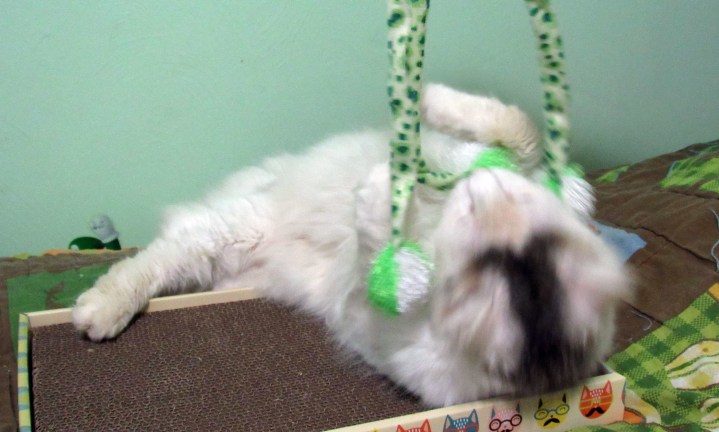 He would play for hours if we let him. He loves playing 'wild kitty' with his toys.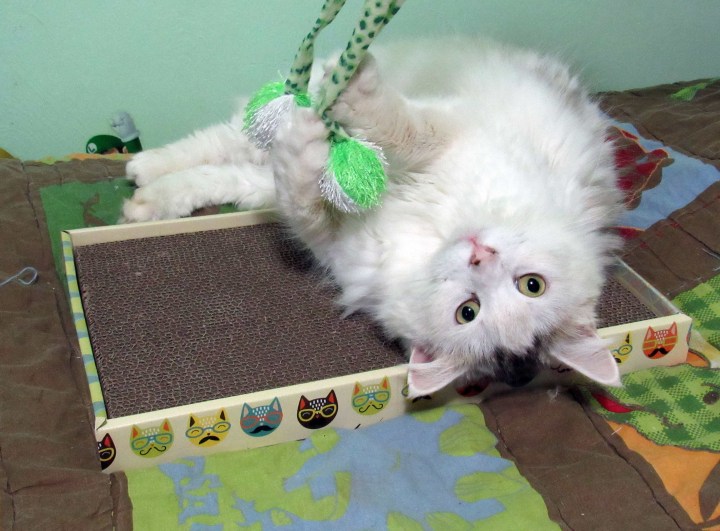 My husband was amazed that he stopped and looked at the camera and held his pose. He is a good kitty!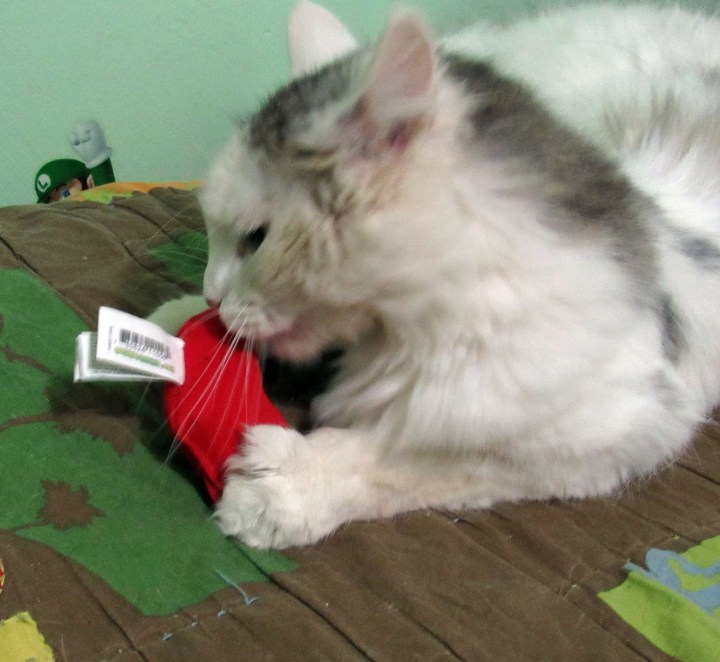 Stay away! That is a look of a cat high on catnip.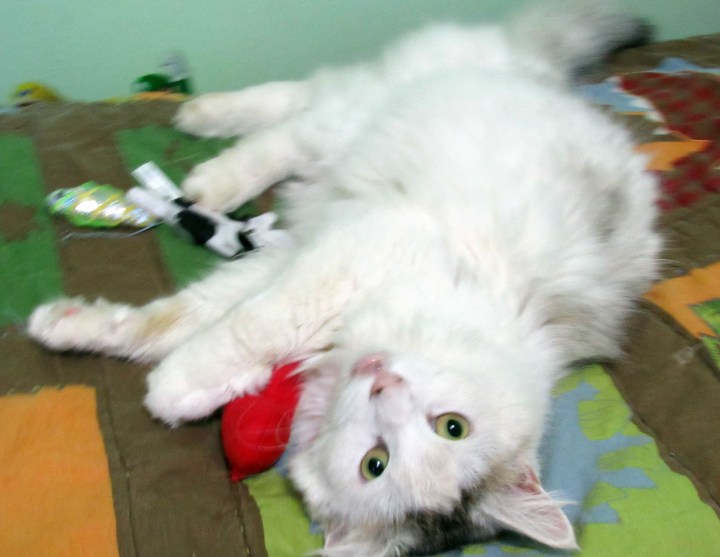 Who me? I would never scratch my mommy when playing with catnip!
Which is faster? Mommy's hand or my paw?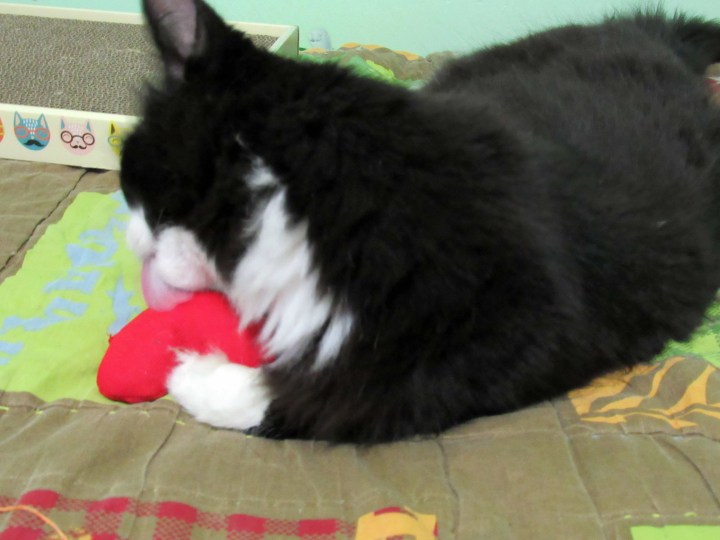 Sylvester rolled around with the cow toy for a bit before settling down with the heart.
Garfield came to visit once he realized that the crazy cat (Little Lamb) was out of the room. He tested out the cat scratching pad.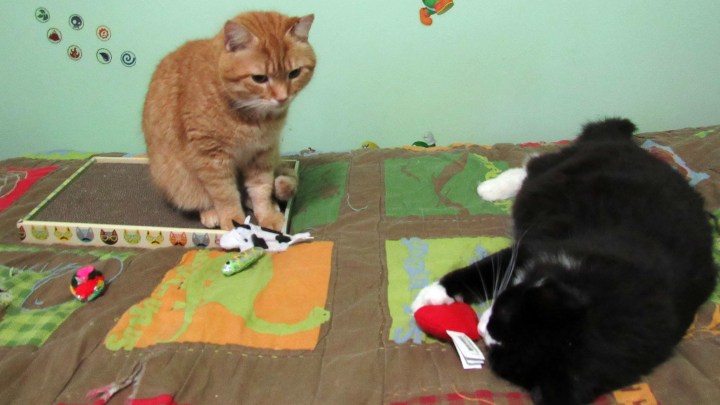 He also wanted the heart that Sylvester was not willing to give up. He decided to play with the fish for a bit.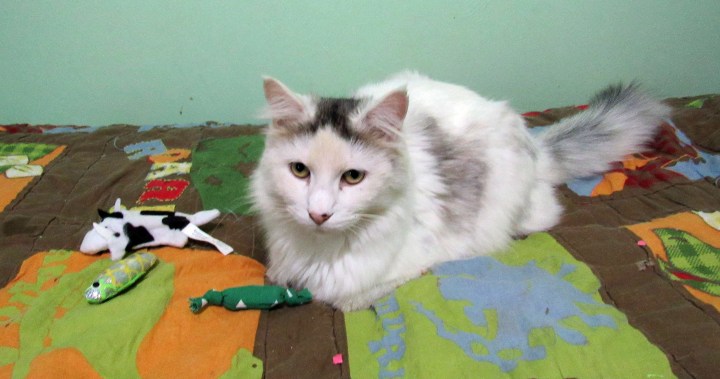 Little Lamb came back. He played with the toys and was a blur of white fur. Then he sweetly posed. He loves posing for the camera.

He's tuckered out from doing the review!
The cats adored their February Purr-Packs. They were mostly blurred of fur in the photos because they were busy doing bunny kicks, rolling around, and licking their toys. The medium-size box provided enough toys and treats for all the kitties to enjoy their Meowletine's throughout the whole month. The medium size box had an approximate value of $41.00 which is excellent for a $29.99 cat box. My cats wish your cats a Happy Meowleinte's Day!
What do you think of Purr-Packs?