Plated is a weekly dinner kit subscription box with high-quality ingredients and chef-created recipes. Each week you'll choose from a variety of quick gourmet meals that range from meats, chicken, seafood, and purely vegetarian options. You can swap out your recipes and skip any week you don't want.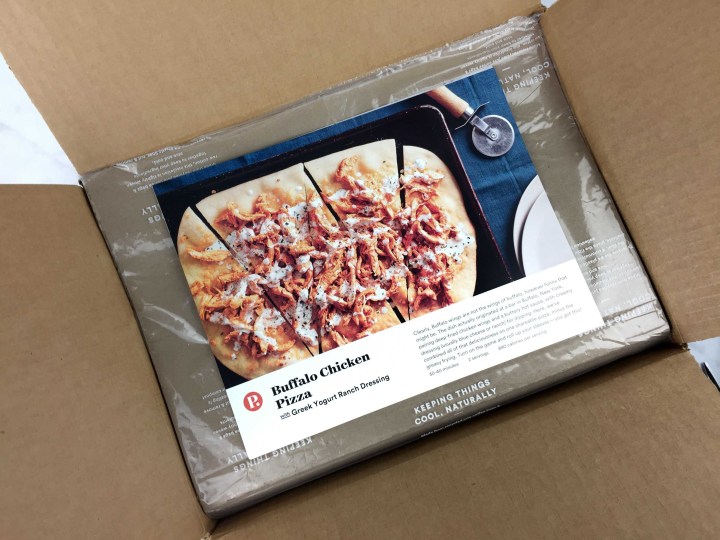 Plated insulates the food with padding filled with recycled thread material. Boxes are always packed with the meat on the bottom, underneath a few big ice packs – the rest of the food is set on top with more ice.
Plated sends a weekly email – it doesn't tell you much about your meals, other than what you need from home. They now offer three-serving meals! This is a great option for guaranteeing leftovers for a tasty and easy lunch!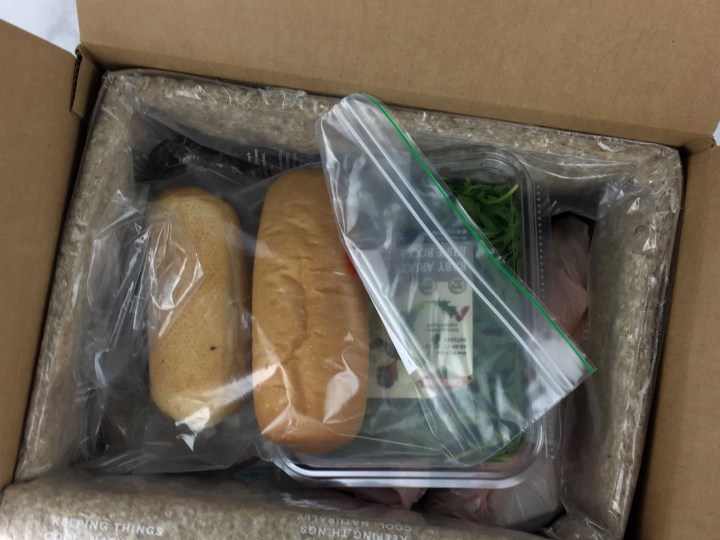 DEAL: Currently you can get 2 free plates when you buy 4 when you sign up with this link (no coupon code required).
On-card information is streamlined and includes only prep-time, number of servings and calorie count. Most of Plated's meals serve two people. Unless stated otherwise, the pics of finished dishes show a single serving.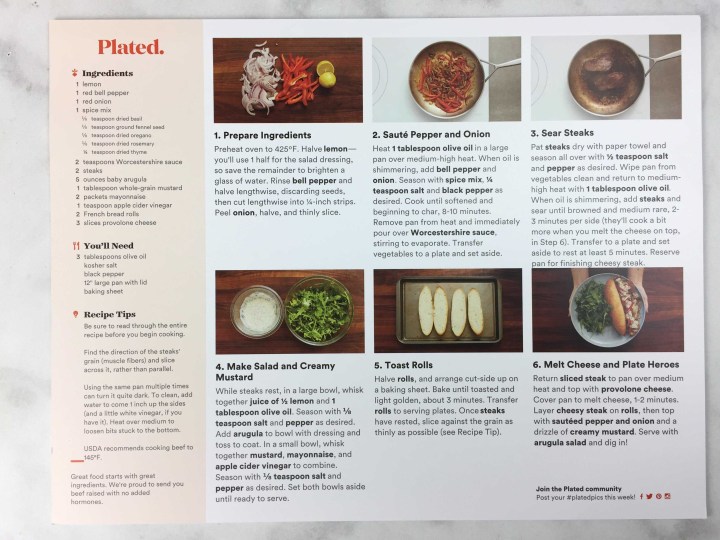 Plated's recipes rely on mise en place and then cook – we often mix up the steps from how the recipe is written, but we're both experienced cooks and know what can be accomplished while something else cooks. So, read your cards if you need the step by steps.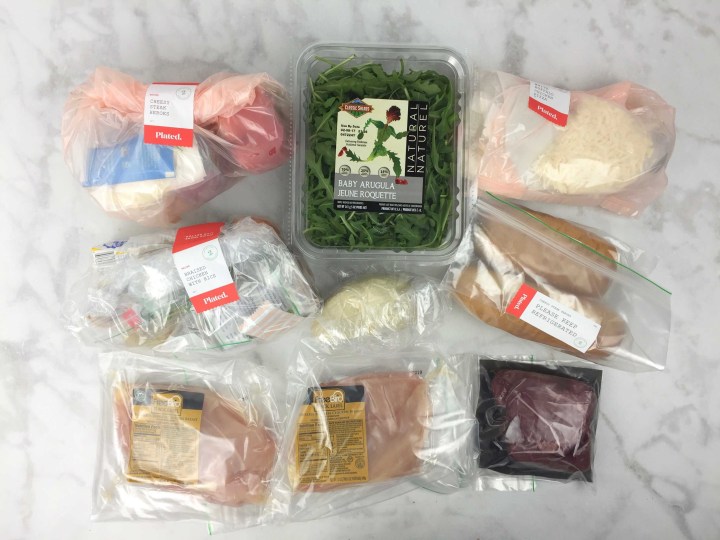 All the food comes bagged up and separated (mostly) into the recipes – meat and some large or delicate items are bagged separately.
Buffalo Chicken Pizza With Greek Yogurt Ranch Dressing. 30-40mins, medium, 840 calories per serving.
We loved this pizza! It was extremely simple to make – we made a simple cheese flatbread, cooked the chicken, and combined the two with a drizzle of the quickly-made ranch sauce. It made a huge, cookie-sheet sized pizza for splitting. The ranch used some buttermilk and had a very authentic flavor. The Buffalo sauce was tasty, but the fresh garlic and sriracha gave it a more garlicky taste than typical Frank's-based Buffalo sauce, but it was really good!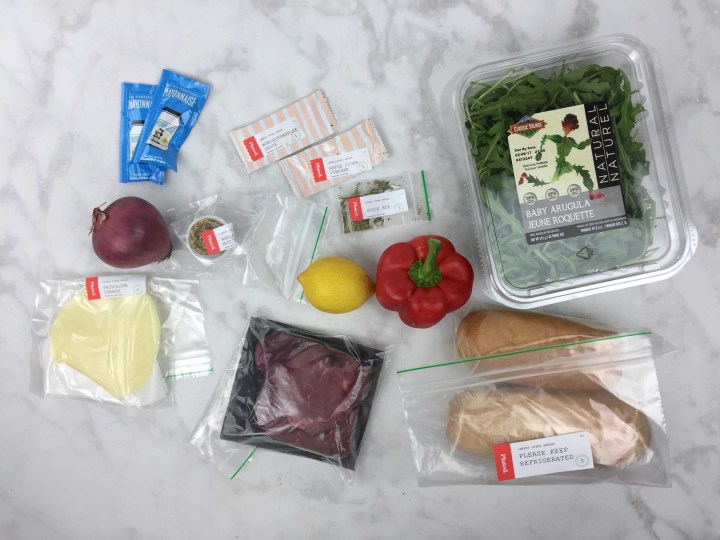 Cheesy Steak Heroes With Peppers, Onions, And Creamy Mustard.  30-40mins, medium, 650 calories per serving.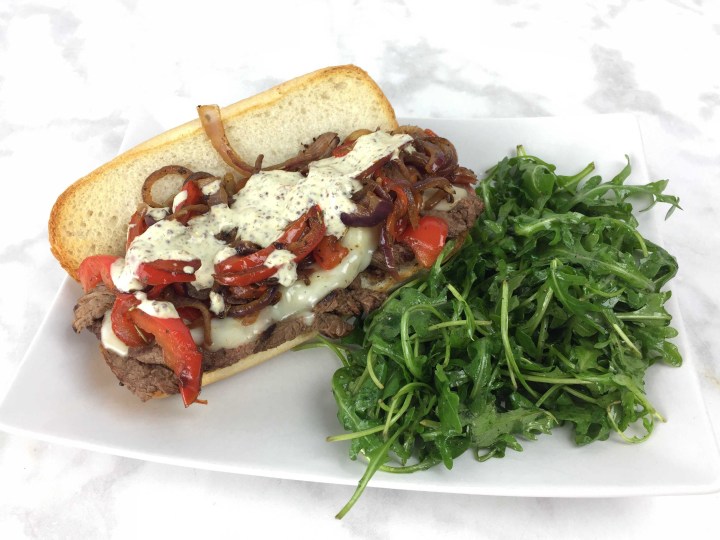 The hero was perfect – tons of onions, peppers, and cheese. The mustard sauce was the ideal condiment (I use a similar mixture whenever I make sandwiches), combining a flavorful mustard with mayo and a bit of vinegar.  The simply-dressed arugula added some balance to the rich and hefty portion of steak. Not at all complicated, and very enjoyable.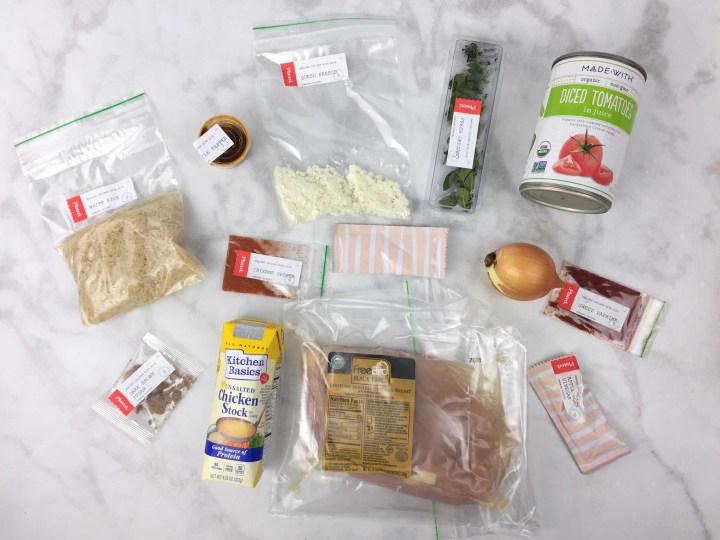 Beer-Braised Chicken With Rice And Queso Fresco. 40-50 minutes, easy, 590 calories per serving.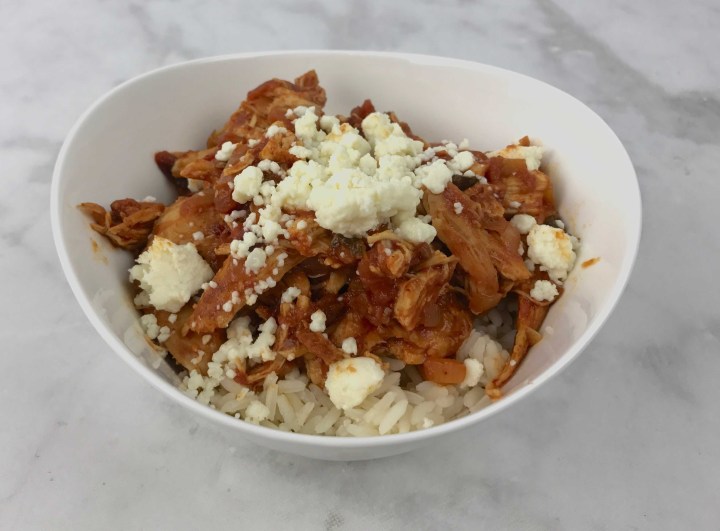 This dish had great flavor, featuring a rich and tangy tomato braising sauce. I was a little disappointed that I had to supply my own beer – I figured they would salt a tiny bottle of beer so they could include it in a similar fashion to cooking wine.  The chicken was firm, but not chewy, and the flavor was superb. Very easy to put together. A heaping scoop of rice and yummy fresh cheese tempered the bold sauce.
Plated offers some of our favorite meals, and we love to get dishes we know we love along with some new tries. This set of meals had a pub-food feel to it – great tasty fare with tons of flavor and no pretension. The steak hero and Buffalo pizza hit the right notes, reminding us why we love those dishes.  The last dish was a modern, elegant take on comfort food.

What do you think of Plated?