Oui Please is a French luxury subscription – every parcel contains an assortment of full-size jewelry, accessory, beauty, fashion, and other products from France.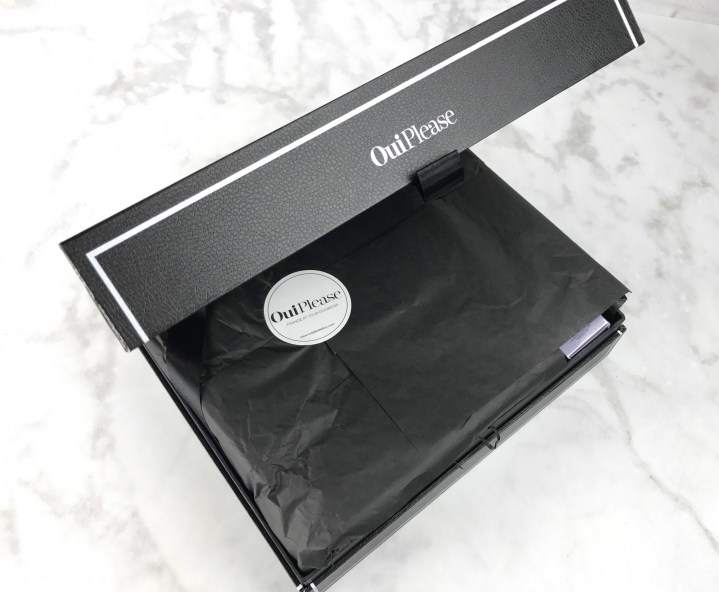 The Oui Please box is gorgeous and high quality. I took a break from this subscription, but I decided to start it back up with a good coupon. In my opinion, the values of the boxes have been much more even than in the past, which was my primary complaint (besides overvaluing the items).
Each box comes with a mini-mag. This mag is Vol 2.5, and the theme for this box is "Winter In France."
The mini-mag also details all the item variations (subscribers don't all receive the same box) and makers. Values vary accordingly.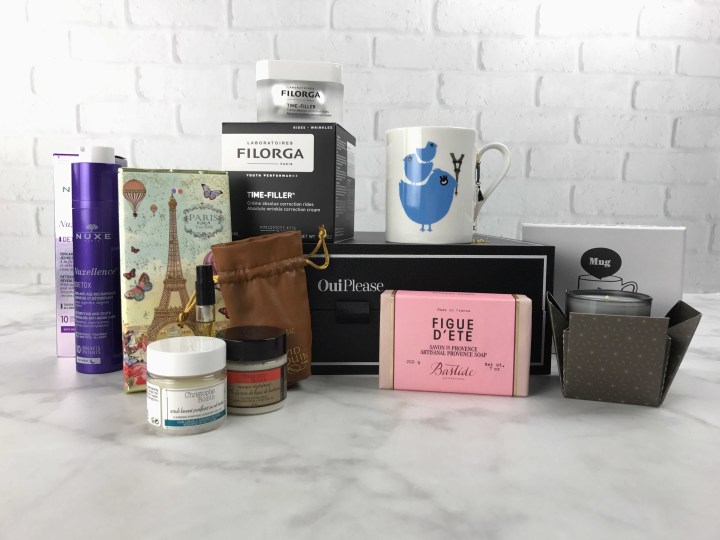 Everything in my vol 2.5 box.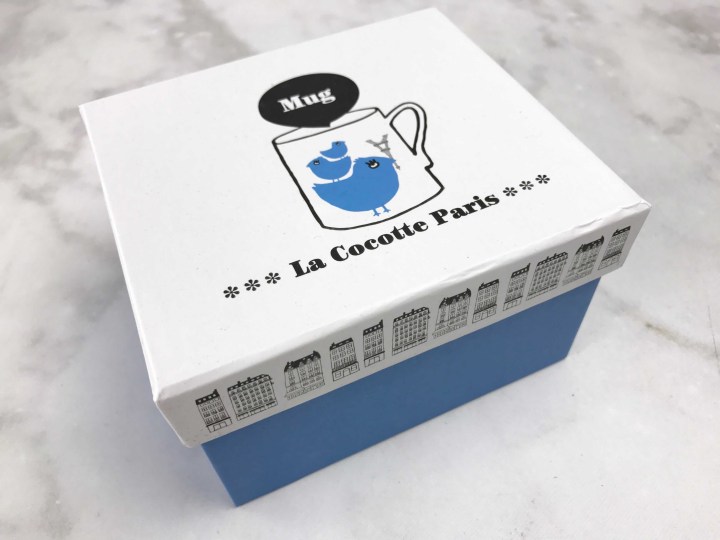 La Cocotte Paris French Mug ($15) The mug was packaged in its own box to prevent it from breaking.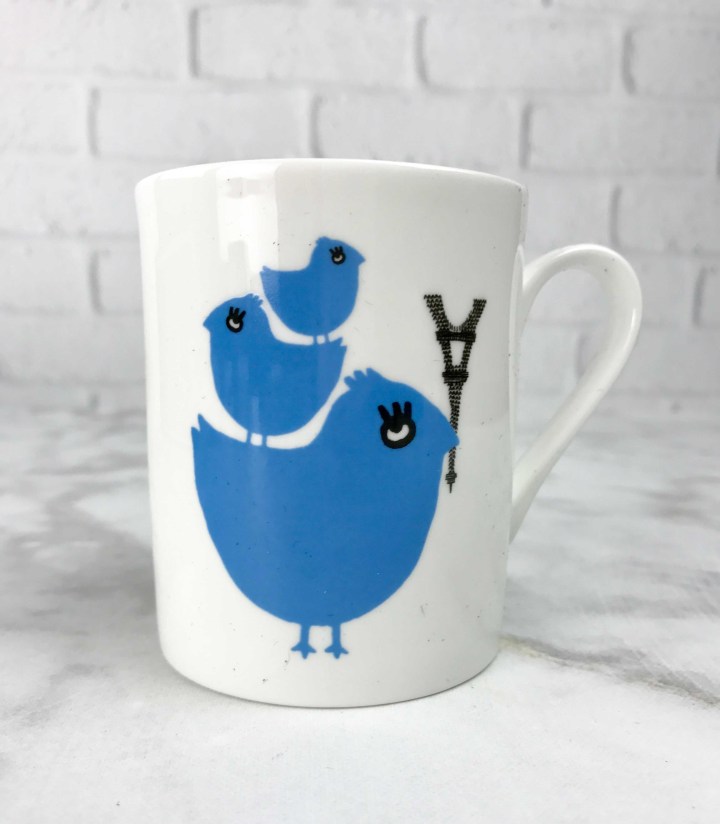 It features three blue birds and an upside down Eiffel Tower. How cute! It's bone china and you can nuke it and run it through the dishwasher. So darling and witty!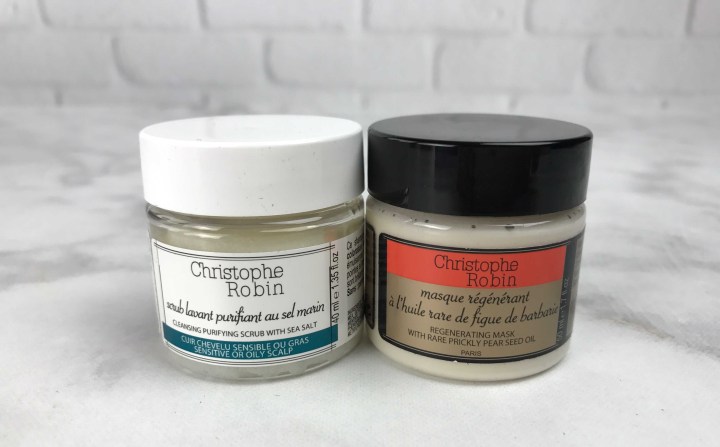 Christophe Robin Cleansing Purifying Scrub With Sea Salt ($8.50) A gentle scrub for soothing sensitive or oily scalps! Sea salt is a natural exfoliant that works wonders. It can also relieve irritating sensations caused by hair coloring treatments. Of course, no parabens and phthalates involved in making the scrub! This product was a revelation for me, I may have to splurge for the full-size sometime (I have an itchy, flaky scalp, so it worked well for me, but it might be drying for someone else).
Christophe Robin Regenerating Mask ($14.50) Recommended for those with damaged hair. This creamy formula has pure prickly pear seed oil, which is an antioxidant and a natural hair repair agent. Works best if you massage it from the scalp to the ends. It leaves the hair smooth and soft too.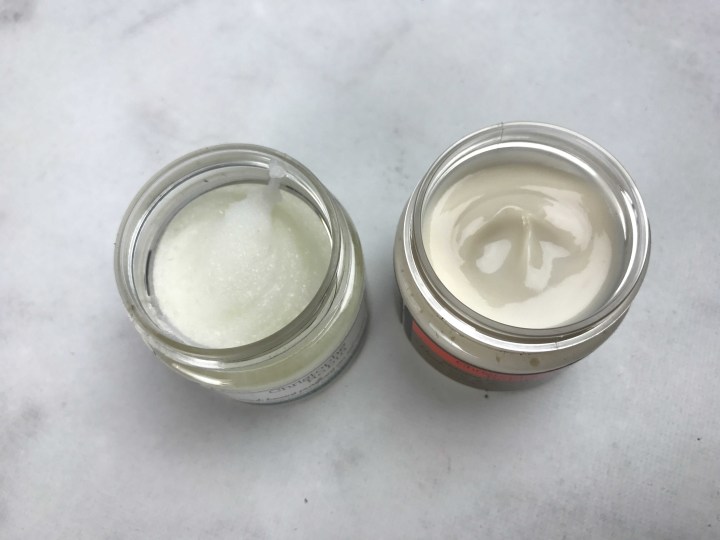 I tried the mask in Play! earlier this year and love it. I think this is the perfect combo to make hair and scalp healthier!
Nuxe Paris Nuxellence Detox ($75) Nuxe is luxe Parisian brand. The makers of this product believe that "the Parisian woman is always busy, which is why she loves multi-tasking products." Parisian or not, we all could definitely benefit from this Detoxifying & Youth Revealing Anti-Aging Night Care.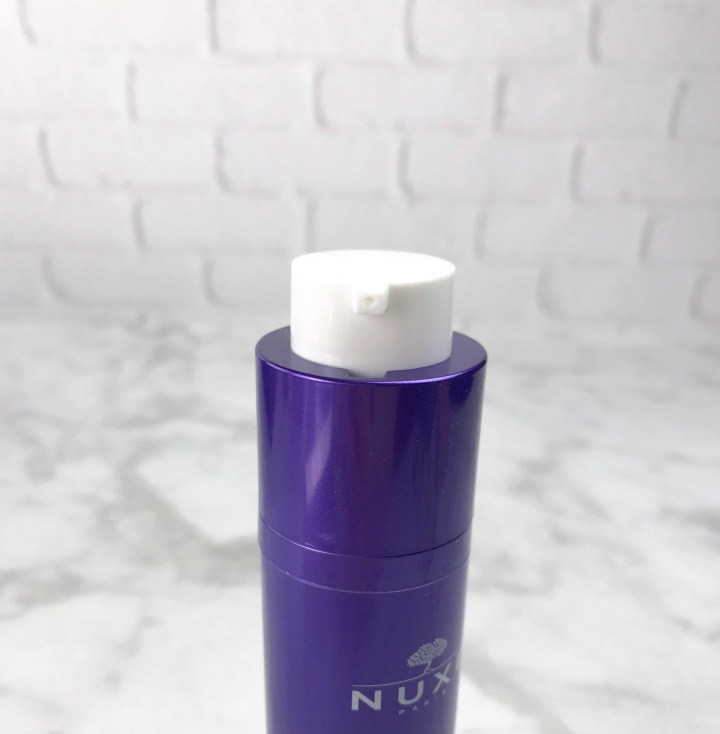 It purifies the skin and promotes cell renewal, making the skin feel refreshed overnight. This was a nice little serum, and I'm excited to track any changes in my skin using this every night.
Stella Mai Exclusive OuiPlease Bracelet ($40) Stella Mai is a French fine jewelry brand. Excited to see what's in the brown pouch?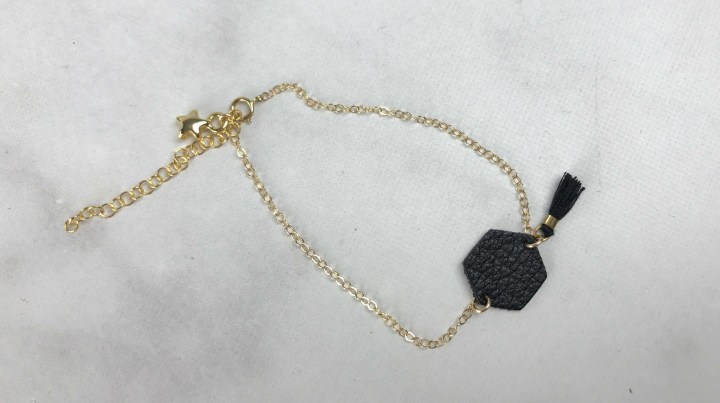 It's a gold bracelet with black leather and tassel!
It fits well. C'est joli!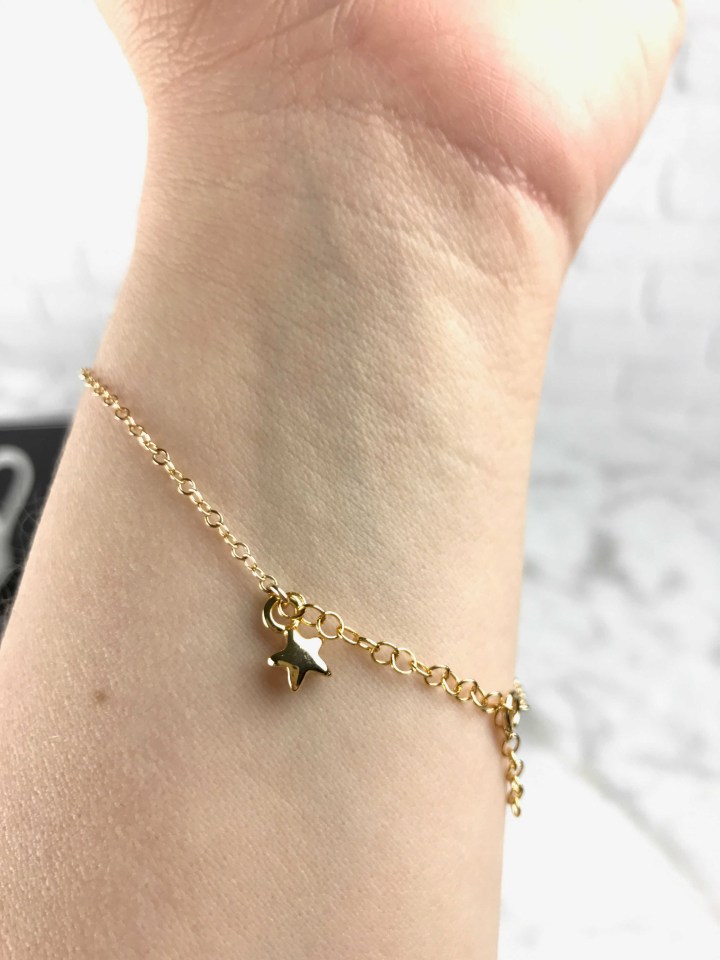 There's even a small star on the bracelet clasp, adding a cute touch.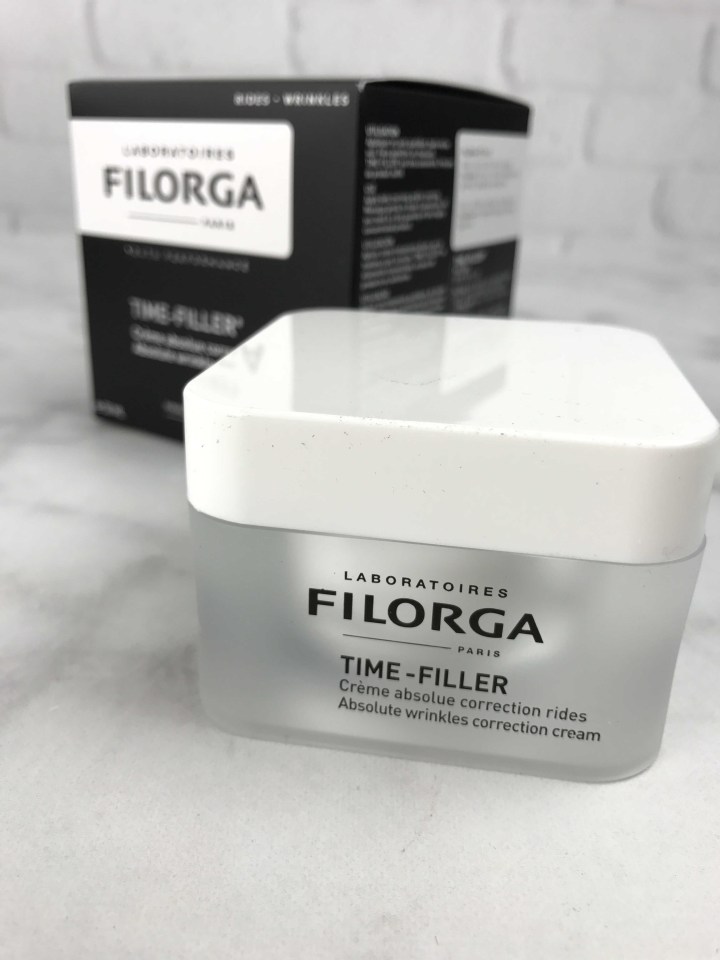 Laboratoires Filorga Paris Time-Filler Absolute Wrinkles Correction Cream ($89) This anti-wrinkle treatment that reduces the appearance of all types of wrinkles. The product is from Medi-Cosmetique, a French dermo-cosmetic brand.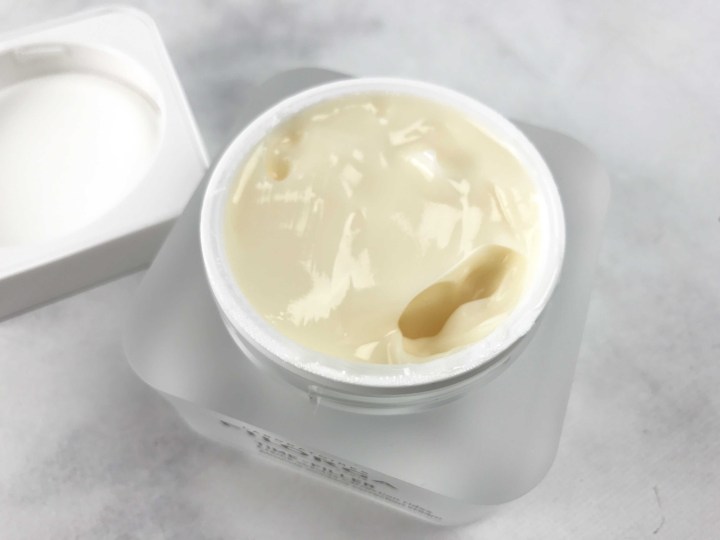 The formula contains hyaluronic acid, which is known to secure moisture in the skin. It also made it nice and soft – it was a really nice high-end wrinkle filler!
Pop Up Paris Forest Lump Candle ($35) It's a French artisanal candle which is enclosed in an eco-friendly packaging.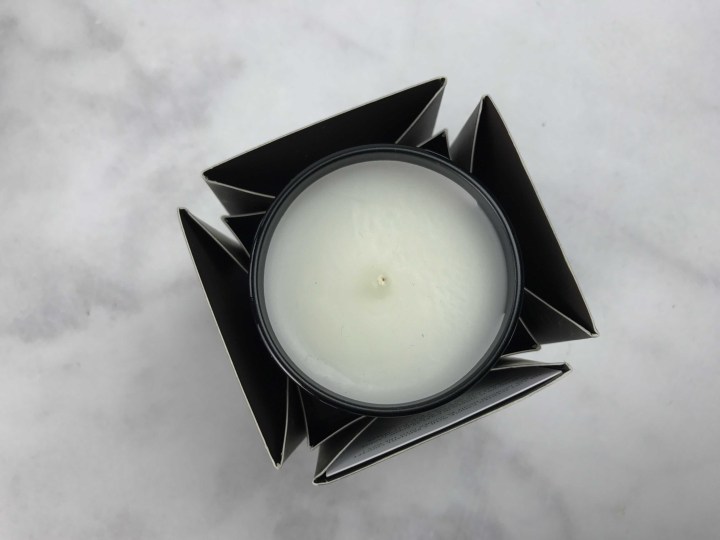 The candle with a forest-y scent is developed in Grasse, France. (Although the name "Forest Lump" leaves something to be desired!)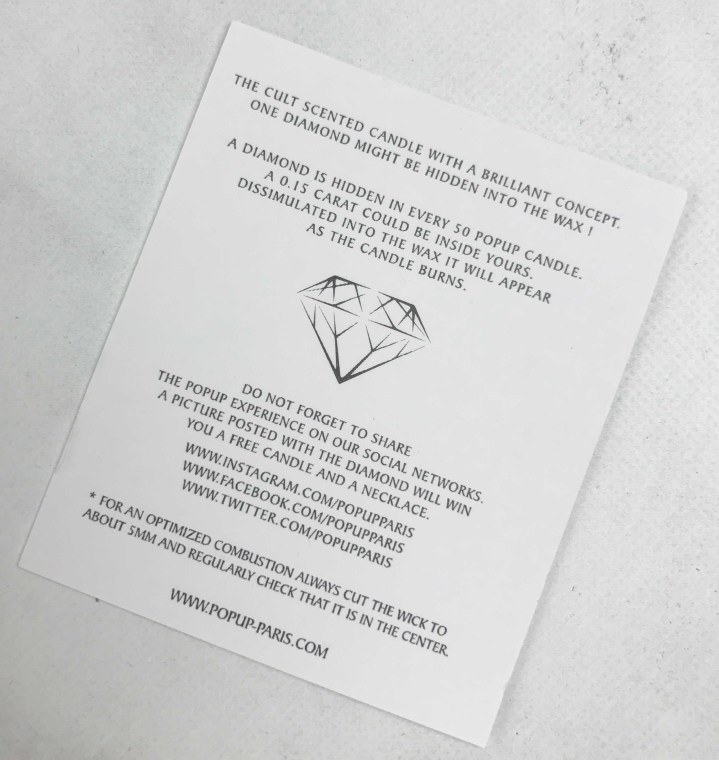 Inside every 50th candle is a hidden diamond –  authentic 0.15 carat diamond!
If you happen to get a diamond in your candle, you can upload a photo online to win a free candle and a necklace.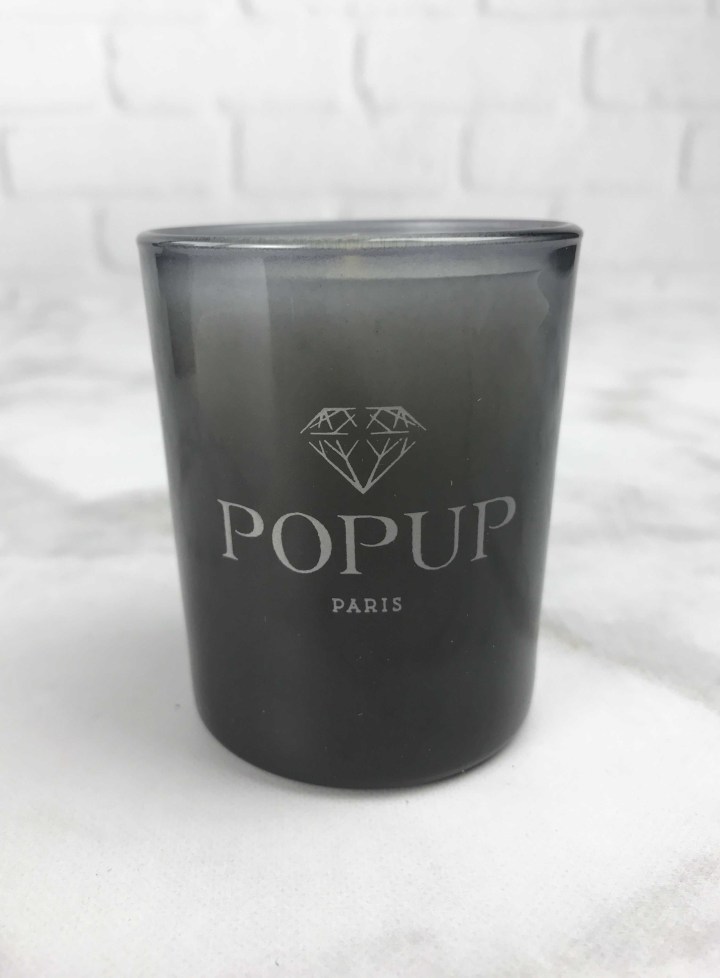 We have yet to find out if our candle contains one! I was surprised over this, but it's a fun concept, no matter what country you're in!
David Jourquin Paris Cuir Tabac Opera Collection ($15) The luxe sample-sized scent is packaged in a brown leather pouch.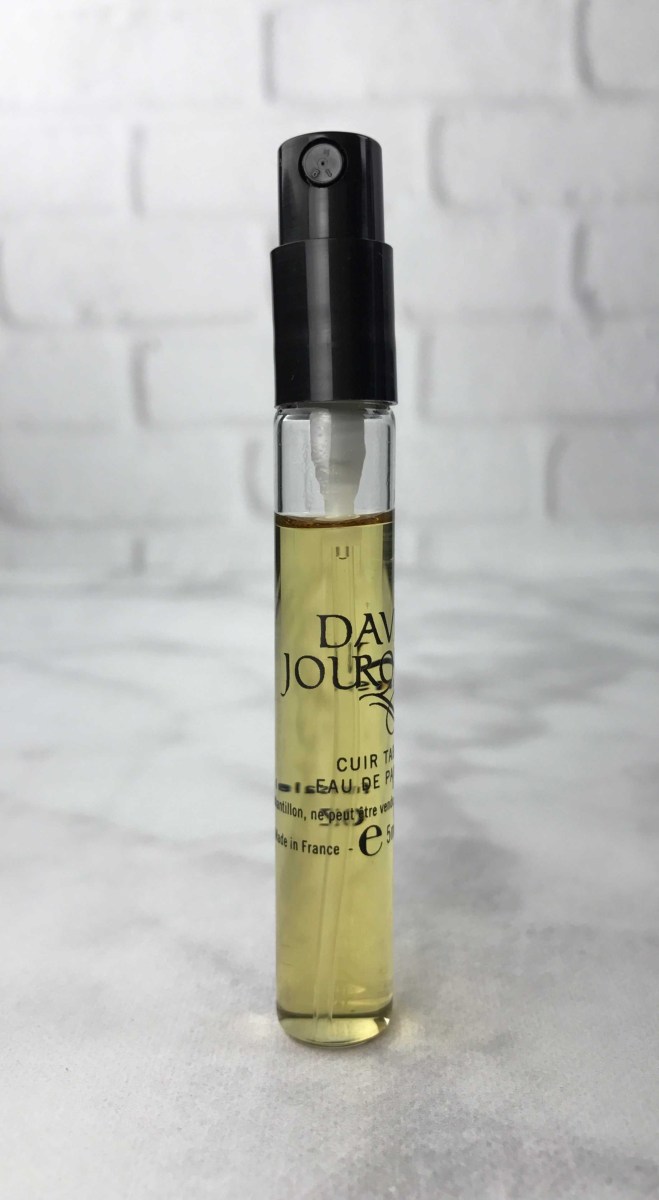 According to David Jourquin's website, this contains patchouli that "heightens the deep and profound tobacco, cigar and musk notes." I thought it was magnificent! I love the French attitude to perfumery, but I don't always love all the scents, because I'm fairly sensitive to florals and roses. But this was tobacco-like without being smokey, and I can't tell you how fast I will use this up (especially if my husband steals a few spritzes, which I think he will).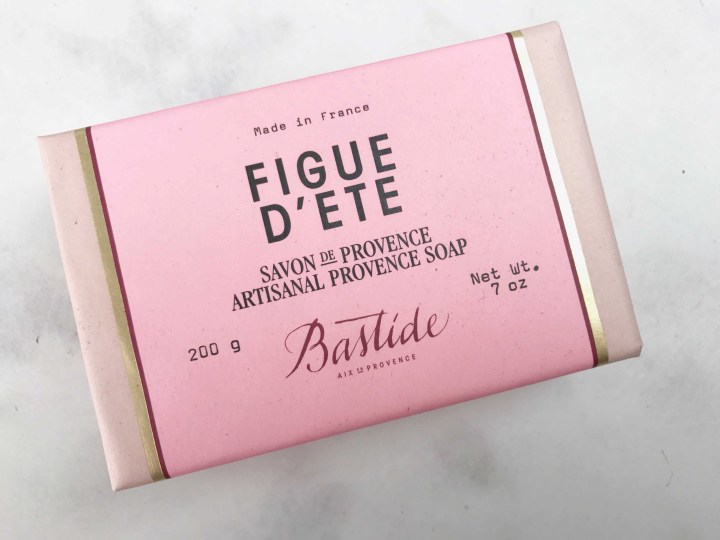 Bastide Aix-en-Provence Artisanal Provence Soap in Figue d'Ete ($20) This soap from Provence, France softly lathers without causing dryness to the skin.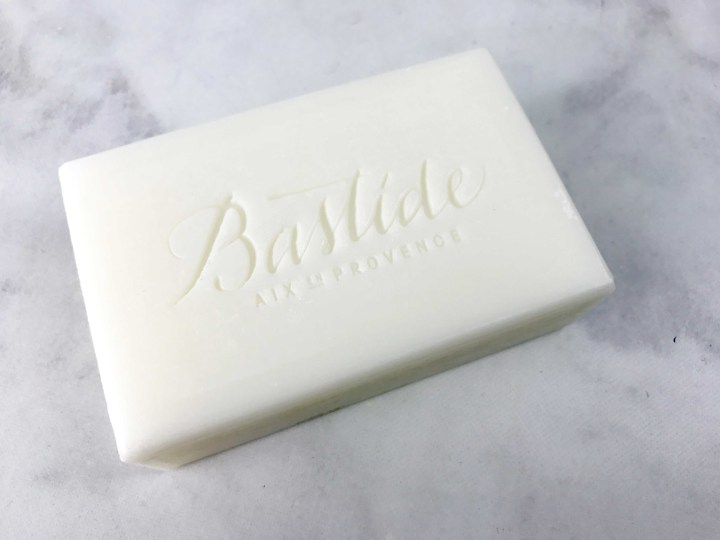 It has natural ingredients like Provence olive oil. Smells great too!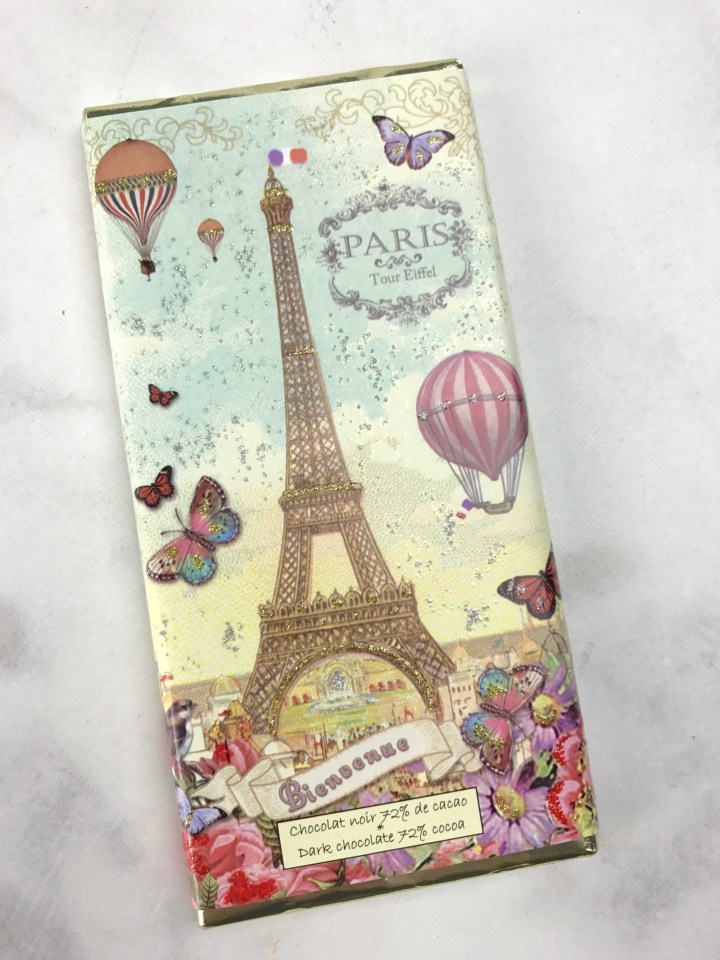 Marie Bouvero L'amour Du Chocolat Paris Ballon Dark Chocolate Bar ($10) Yay, chocolates from Paris!!!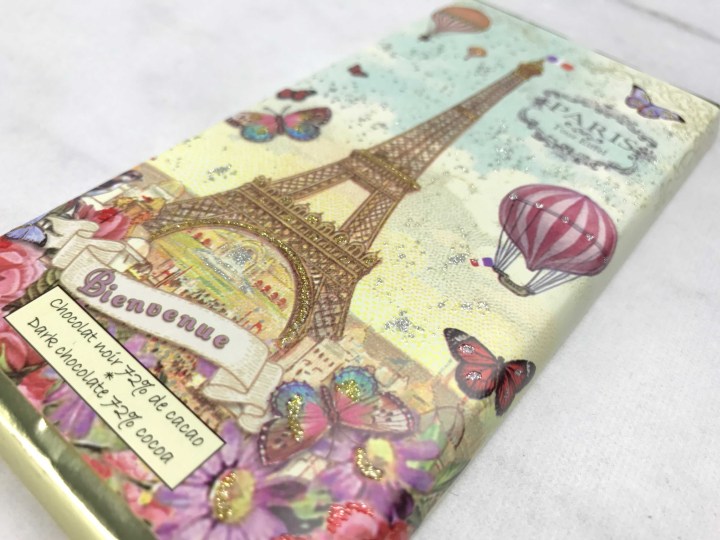 The packaging for this bar is stunning (I slipped out the chocolate from the wrapper, I couldn't bear to disturb the glittery perfection!).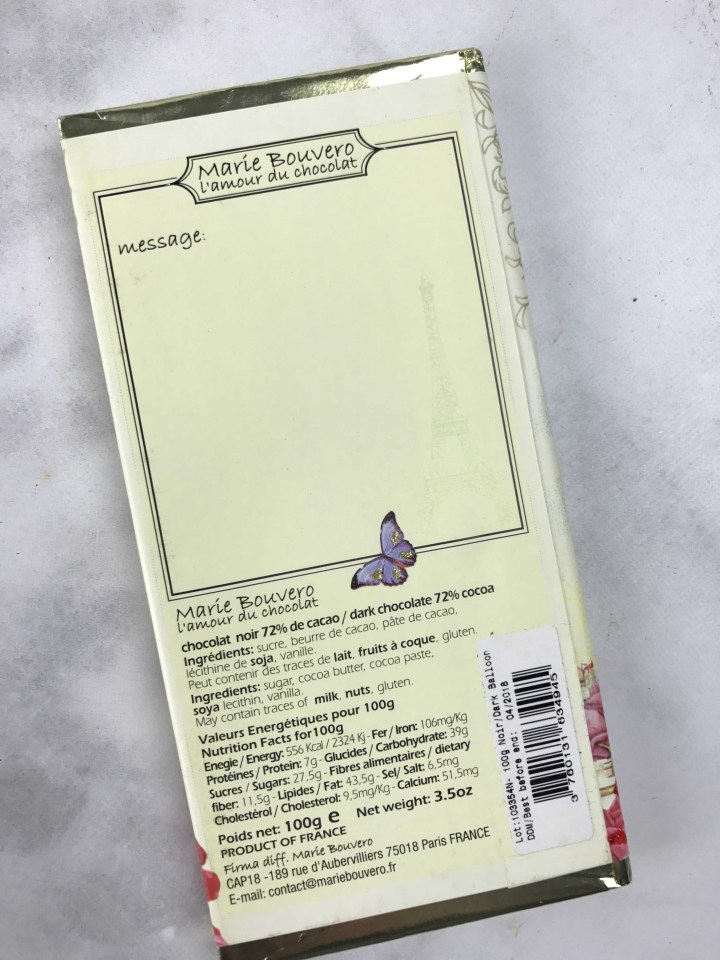 There's a blank space on the back of the packaging where you can write a personal message. Perfect for gifting, but…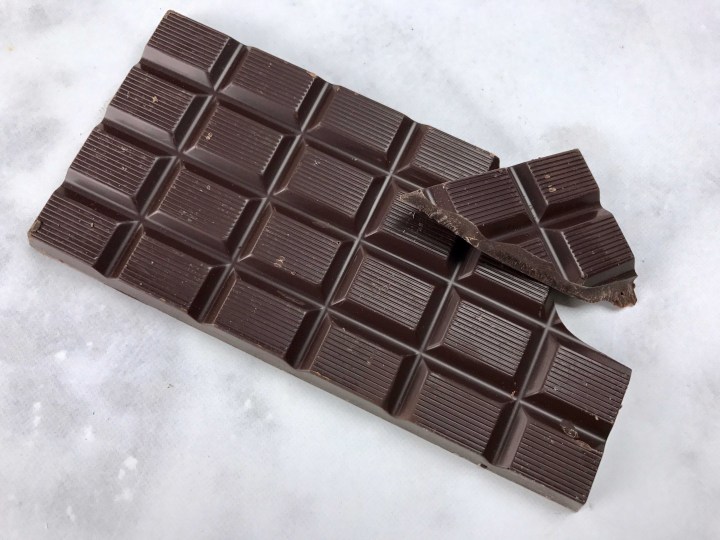 …it is totally understandable if you wouldn't want to share. I mean, look at that luscious bar! It is begging to be eaten without sharing! ? The bar was fruity without any bitterness, and perfectly processed. Délicieuse!
Unlike past boxes, I was in love! I didn't get the jewelry variation I wanted (which was the little flower bracelet), but the box had a retail value of $322, there was minimal value and item variation from other boxes, and I just really liked the items. I thought the two full-size skincare products were pretty fantastic scores and I would have been happy with just those for the price I paid, which is an annual subscription with a coupon, so about $76 per box. I'm really happy I gave this subscription another chance!