The Vanishing Cabinet by Notoriously Morbid Cosmetics is a monthly themed beauty subscription for $13.25 per month. Subscribers receive 4 to 5 themed items, ranging from eyeshadow, blush, lipstick, and more. There is a terribly long waitlist – months and months and months. If you're interested in this subscription, we suggest signing up for the waitlist.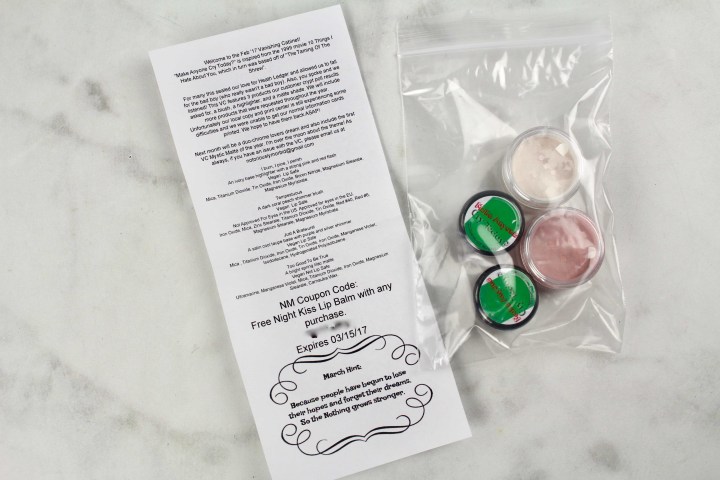 Notoriously Morbid creates unique cosmetics for those slightly morbid at heart. Their products are mostly mineral based with really fun names, colors, and lots of glitter and holos.
TIP: Check the drop-down under subscriptions on their site (it's not a permanent link) for the current Vanishing Cabinet if you want to buy this exact month.
The theme of the month is "Make Anyone Cry Today." This month is inspired by the 1999 movie, "10 Things I Hate About You," which in turn was based off of "The Taming Of The Shrew."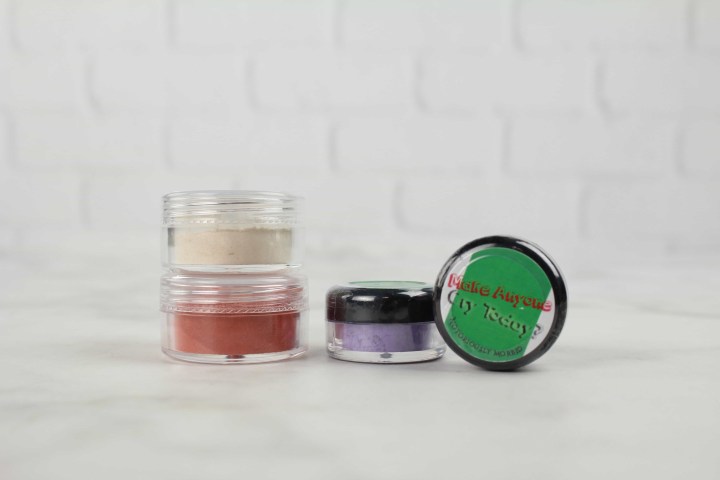 Everything in my February Vanishing Cabinet!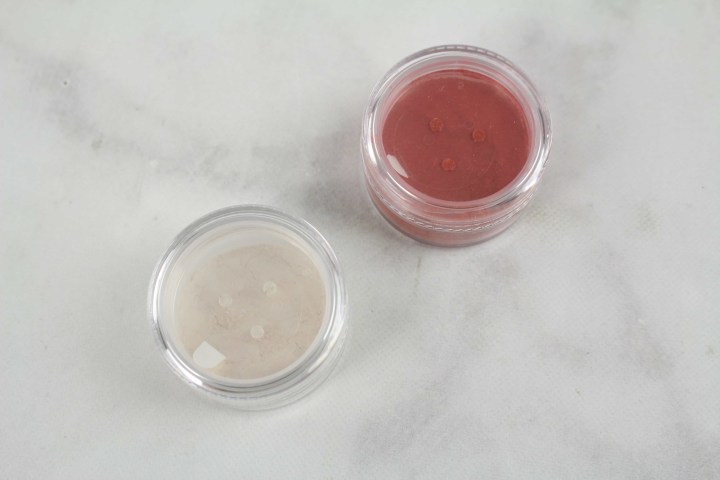 Tempestuous (says lip safe on the paper, not lip safe on container)
I burn, I pine, I perish highlighter (lip safe)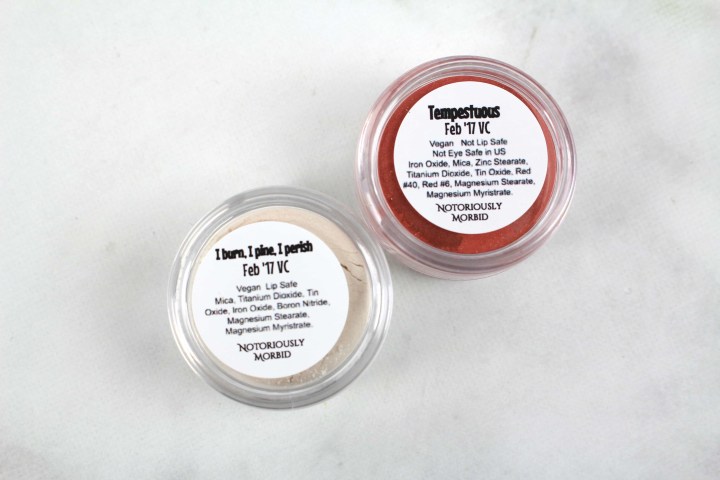 Unfortunately the info card and container conflict as to whether the blush is lip safe – I would avoid!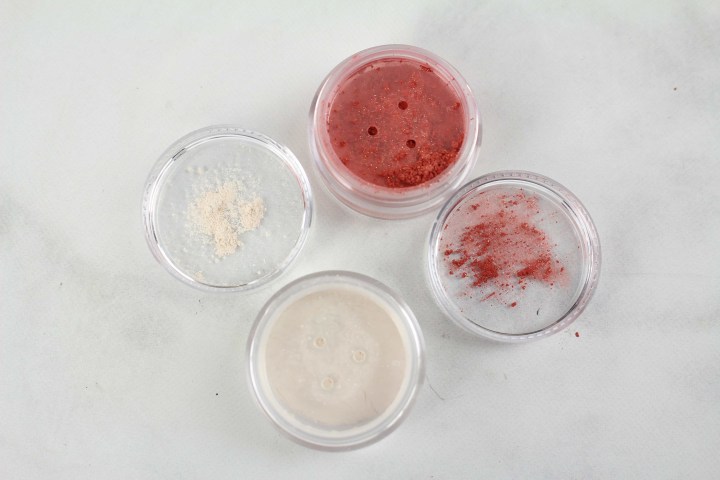 This highlighter is an ivory base with a surprising pink and red flash! It's very neat and swatched below! If there is any question I used two different brushes for the swatches – don't be tricked into thinking I swatched the highlighter with the blush brush!
The blush is a dark coral peach shimmer that realistically I could only use a tiny tad for an every day look, but it seems like I could go full Bowie with it, which is cool.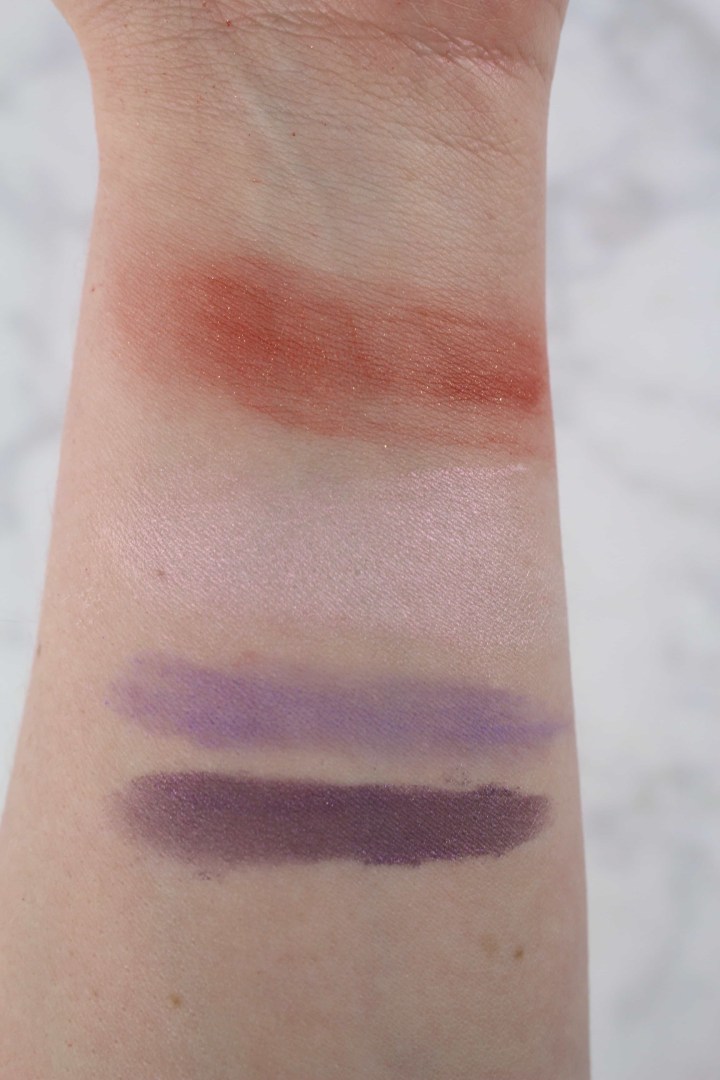 And swatches! Blush on the top, then highlighter, and those pretty shadows down below!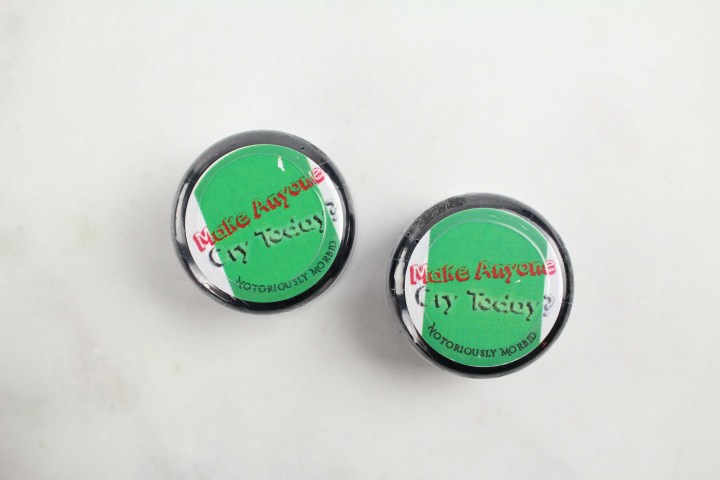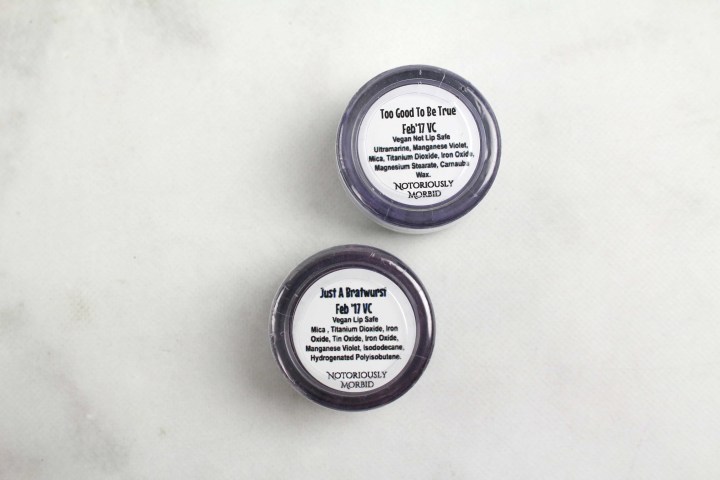 Too Good To Be True (not lip safe)
Just A Bratwurst (lip safe)
Two totally different purples! The top is a lilac matte that I might otherwise term electric purple. The bottom is a satin taupe base with purple and silver shimmer.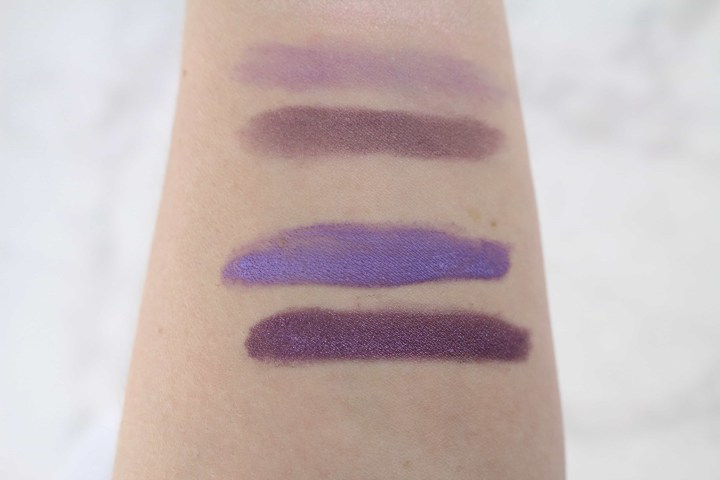 I swatched the shadows and then swatched them again with water. Both are great both ways! How do you use your loose mineral shadows?
Another fun month, and a great value with 2 shadows, a highlighter, and a blush! They have a new subscription, Mystic Monthly with their matte lippies to check out too.
What do you think of Notoriously Morbid's Vanishing Cabinet?