Love with Food is a popular snack subscription that also carries a gluten-free option! It is a fun snack discovery subscription available in three versions: classic tasting box, deluxe/family size, and gluten-free. This version is the gluten-free box, but you can see our reviews of the other versions too. You might not know it from all of the more adventurous Japanese snack boxes I review, but I actually do have a sensitivity for gluten (along with a laundry list of other ingredients) so I have to be careful how much of it I consume. When Love With Food started shipping internationally, this was great news for me!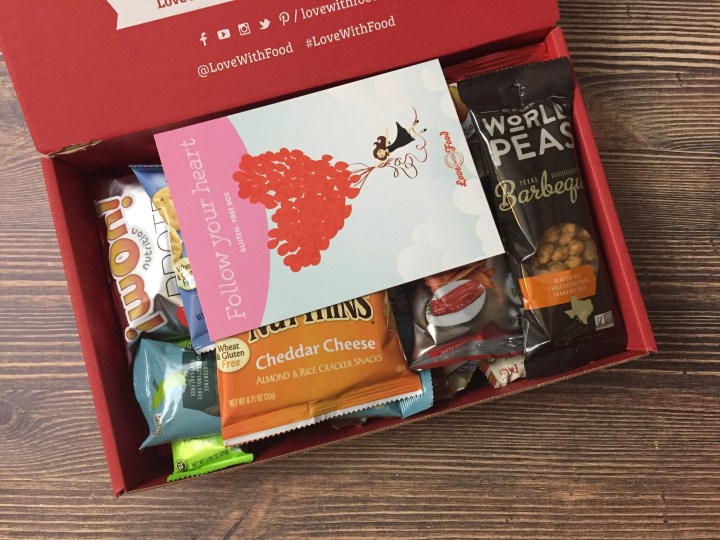 DEAL: You can save 25% on your first Gluten-Free box by using this link, no coupon code required!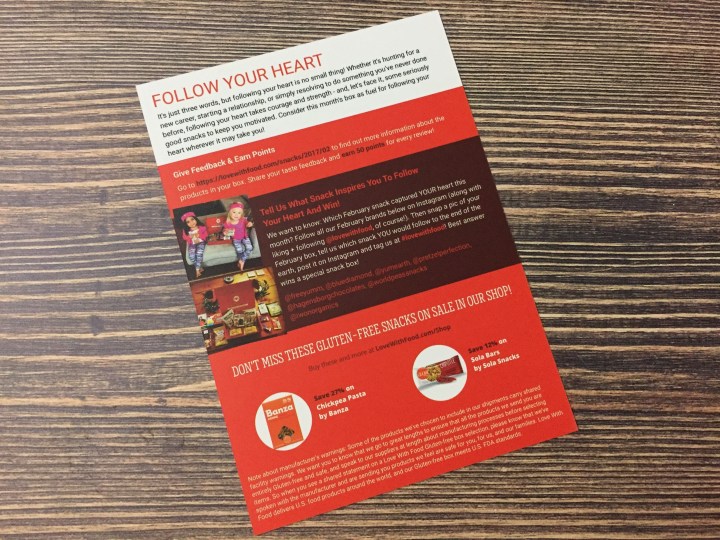 My box always arrives mid-month. They don't include details on the product card, but the info is available on their website.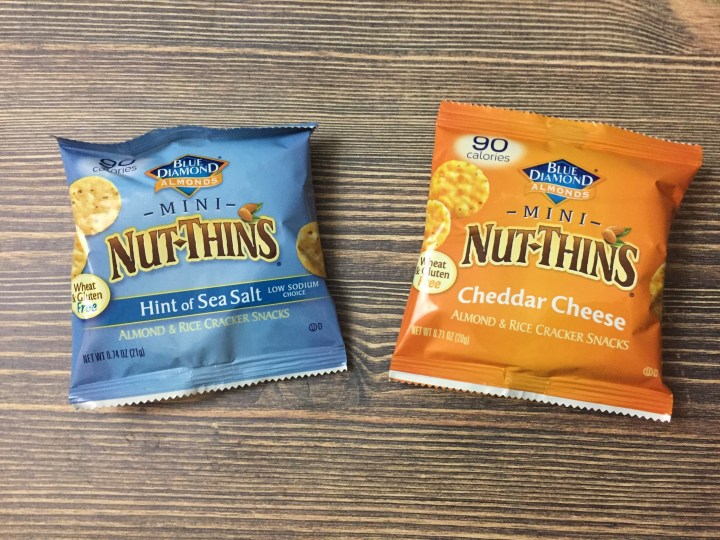 Blue Diamond Nut Thins These are small rice and almond flour crackers. They have a nice crunch to them. The sea salt ones would be great to have with hummus, and the cheese ones were a light flavour, not too heavy.
World of Peas Snacks I have had wasabi peas before but these are a whole other world! They are crunchy and easy to snack on. I preferred the BBQ flavour but the ranch was nice too. World of Peas promotes world peas (get it?) by donating a portion of their profits to educational outreach programs as well as healthy eating programs.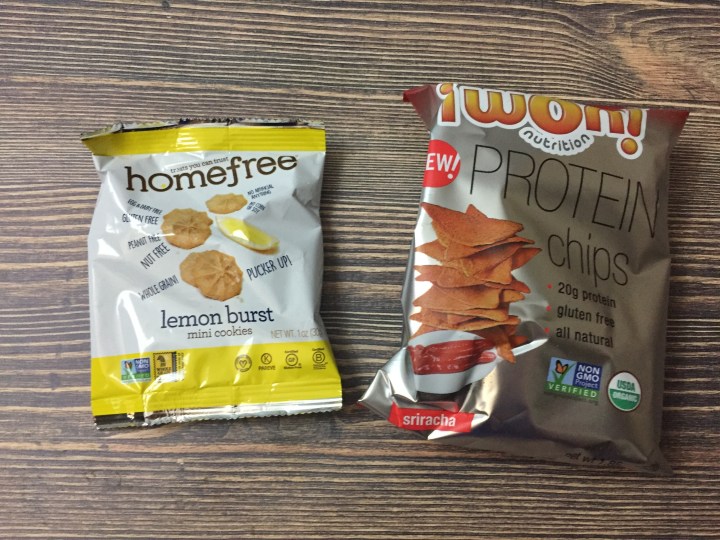 Homefree Lemon Burst Mini Cookies The trick with GF baking is that most cookies end up crunchy versus chewy and moist. These mini cookies are crunchy and tart with lemon, and are addicting!
Sriracha Protein Chips We were sent two bags of these chips. They are made with pea protein and have a similar texture and feel to bean chips. I loved these and brought one bag in to share with my sriracha-loving coworker. She approved and I scored major points.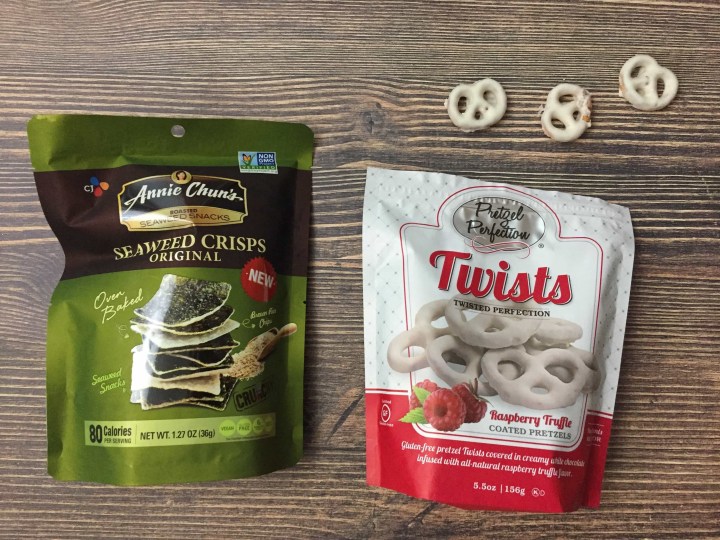 Seaweed Crisps I have never liked seaweed snacks – I like my seaweed wrapped around sushi only. I brought these into work to share with my more adventurous colleagues. They polished off the bag by the time I came back to the lunch room at the end of the day! I took a nibble; they are very salty from the seaweed but the rice cracker on the bottom adds a heartier taste to it.
Raspberry Truffle Twists I need someone to send me a case of these. GF pretzels are awesome because they are SO crunchy, and the raspberry yogurt coating is so decadent… it is like dessert.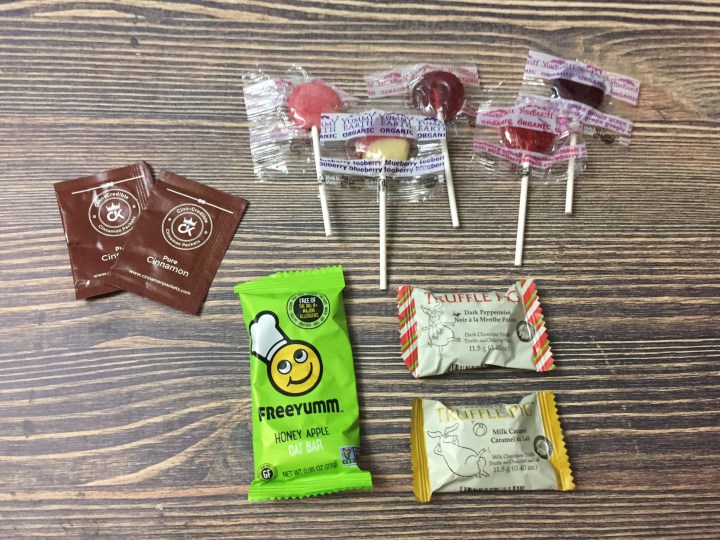 Cinn-Credible Cinnamon Packets I like putting cinnamon in my smoothies and on my cereal, so these are great to have handy.
YumEarth Lollipop Assortment YumEarth lollies are made with organic fruit and vegetable juices and are really addicting.
FreeYumm Honey Apple Oat Bar This little bar was delicious and reminded me of apple crumble — it was full of juicy apple, soft oats, and a hint of honey.
Truffle Pigs Eeeee these are so cute! I liked the Dark Peppermint one especially.
This is probably my favorite box so far – aside from the seaweed snacks, I loved everything and I'm always so excited to try new GF brands and treats. I feel better about my snacking decisions when I reach for something from my Love With Food box!
What is your favorite Love with Food item from this month's box? Share below and let us know!