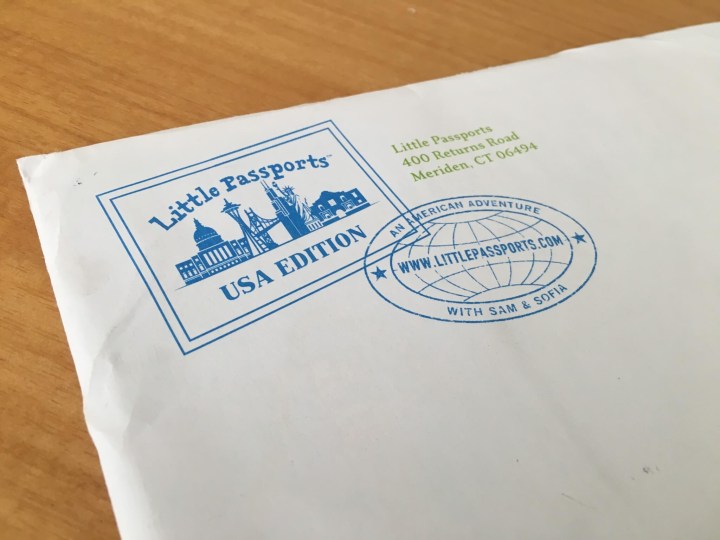 Little Passports (USA Edition) is a kids' educational subscription with crafts and fun activities about the fifty states.  This box is designed for children 7-10, but any bright kid 5+ would like it. Your kids will learn about the geography and culture of the United States with the USA Edition.
This month, Sofia and Sam visit Texas and New York, a juxtaposition which was surely intentional. The box contains a cute double-sided activity book, postcards from each state, stickers for your field guide, and two stand-up models.
The postcards, stickers, and models are brightly colored and fun.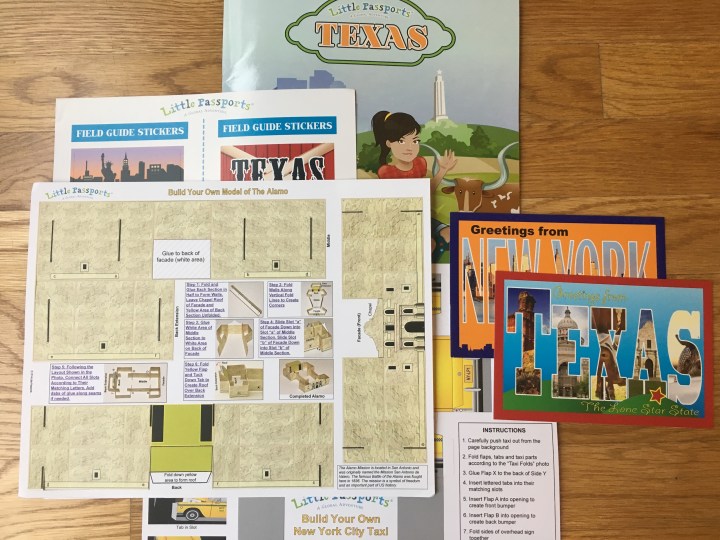 DEAL: Save $15 on annual subscriptions! Use coupon code WELCOME15.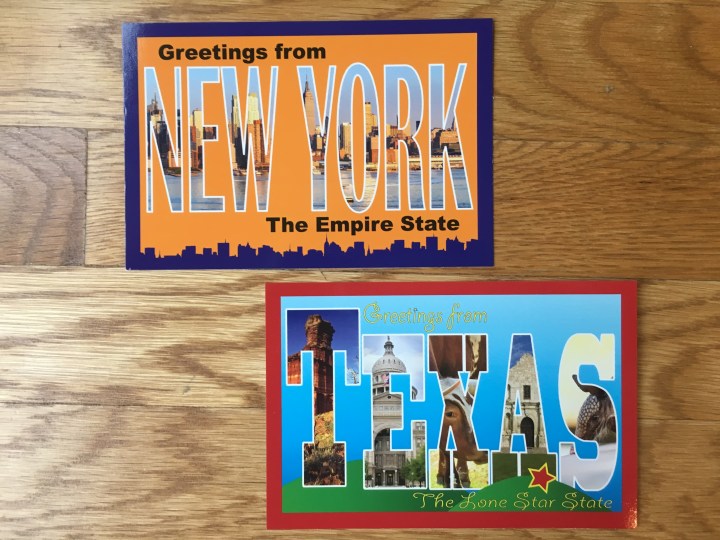 The stickers are for the Field Guide (you DID save the Field Guide, right?). They also cover the state bird and flower and so on. There are even "pushpin" stickers to mark the map poster (which you also saved?). Nice, quality stickers. The state animal of Texas is the armadillo, an animal which can actually give you leprosy. Keep away from those little guys.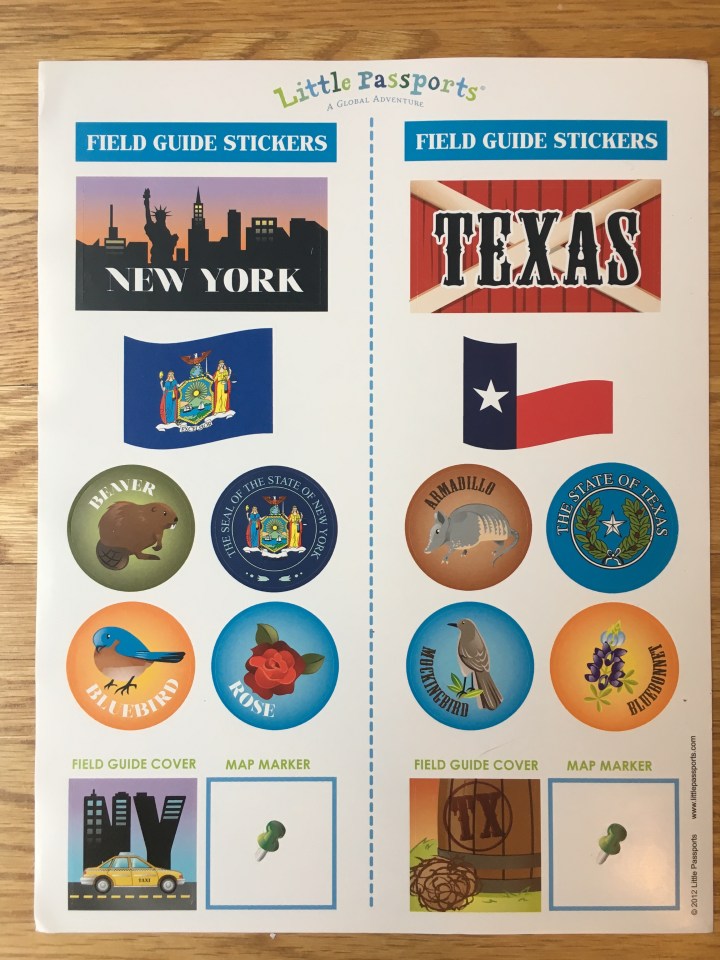 The models are punch-out coated paper and this month features a yellow cab and the Alamo. Remember… well, you know what I mean. Hand out to hail a cab.
Up first, Texas, which features Sofia blissfully unaware that Sam is about to be impaled by that long horned bull.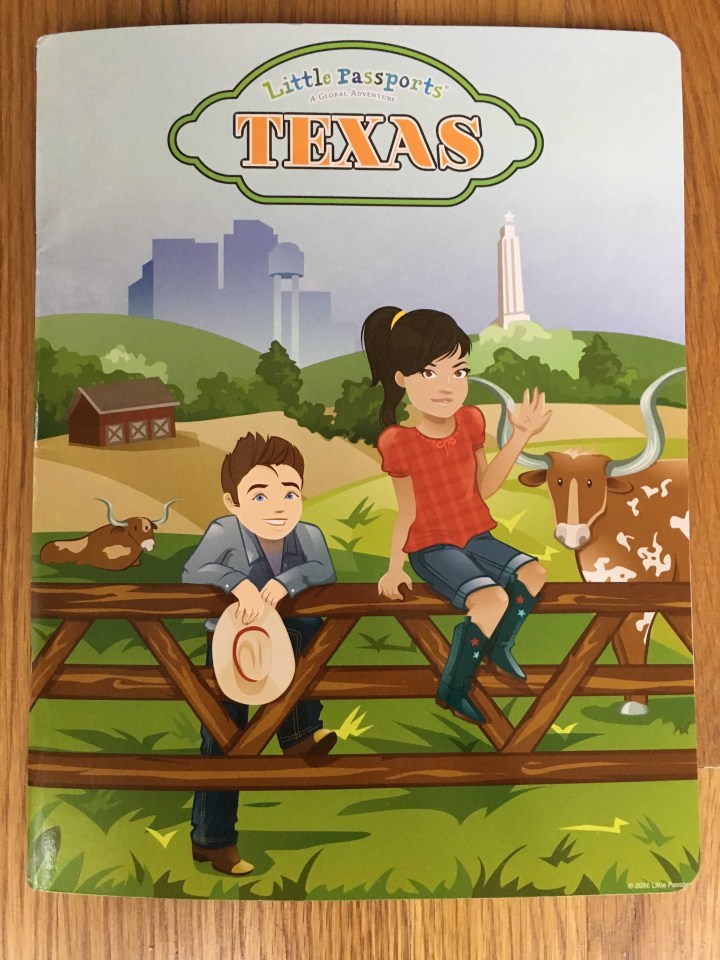 The activity book flips over and upside down to cover both Texas and New York. It's a glossy, colorful, 32-page activity book with fun facts and games about the states.
Some of the highlights of Texas include Sam and Sofia's note and map, a billion cows, an appropriate focus on college football, and a game about the creepy bat bridge in Austin.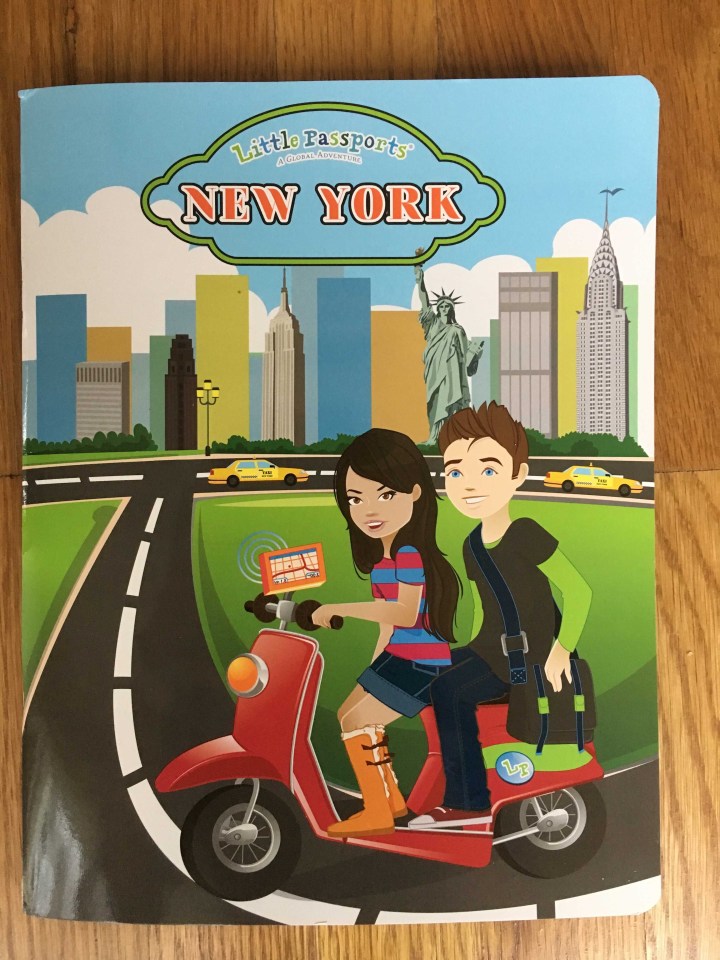 On to New York, where Sofia and Sam should definitely be wearing scooter helmets. The New York highlights are very city-focused, and include the letter and map, a map puzzle involving transit, and fun with static electricity.
Another quality box! The activities are fun and age-appropriate, and they do a good job highlighting some interesting aspects of the states. Non-readers will need help, but older kids can do everything on their own. We can't wait to see where they go next month!
This would be a great-grandparent or aunt/uncle gift, or a supplement to a homeschool curriculum, especially ahead of a road trip or visit another part of the country.
This subscription also has an add-on option. From your account, you'll be able to order a selected add-on for some themes. For the Little Passports World Edition Intro Box package, you can order the New York Activity Booklet & Texas Activity Booklet.
What do you think of this month's box?