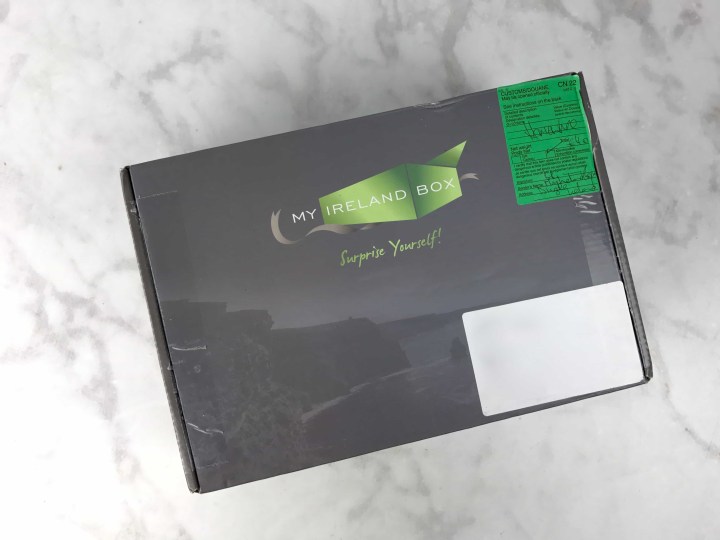 My Ireland Box is a monthly subscription box from Ireland filled with the best of Irish-made craft (artisan) goods. You can expect to receive Irish made jewelry, housewares, and craft and beauty products. They ship to the US, Canada, EU & Australia (anywhere with a significant proportion of people with Irish last names live!). This box ships from Ireland!
This box is always so neatly put together, and of course, the green tissue is necessary!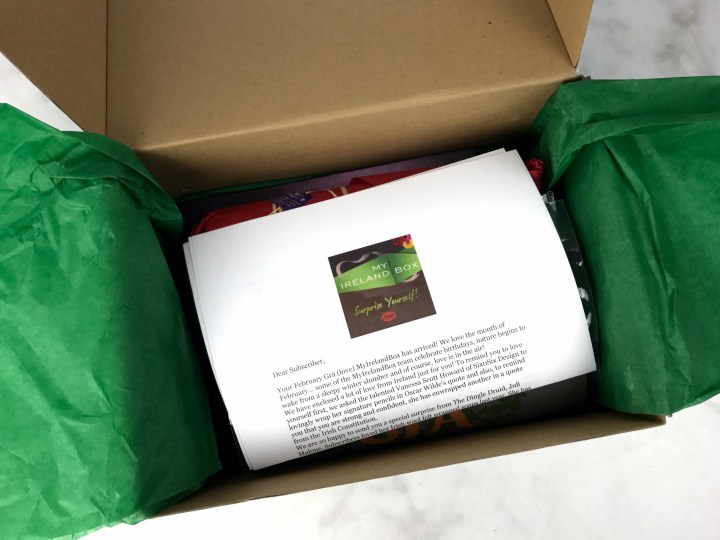 FYI: "Saturday 25th is the cut off for ordering the March St Patrick's Day MyIrelandBox and all will be shipped before Tuesday 28th to ensure everyone gets their MyIrelandBox on time for St Patrick's Day….and well before that date!"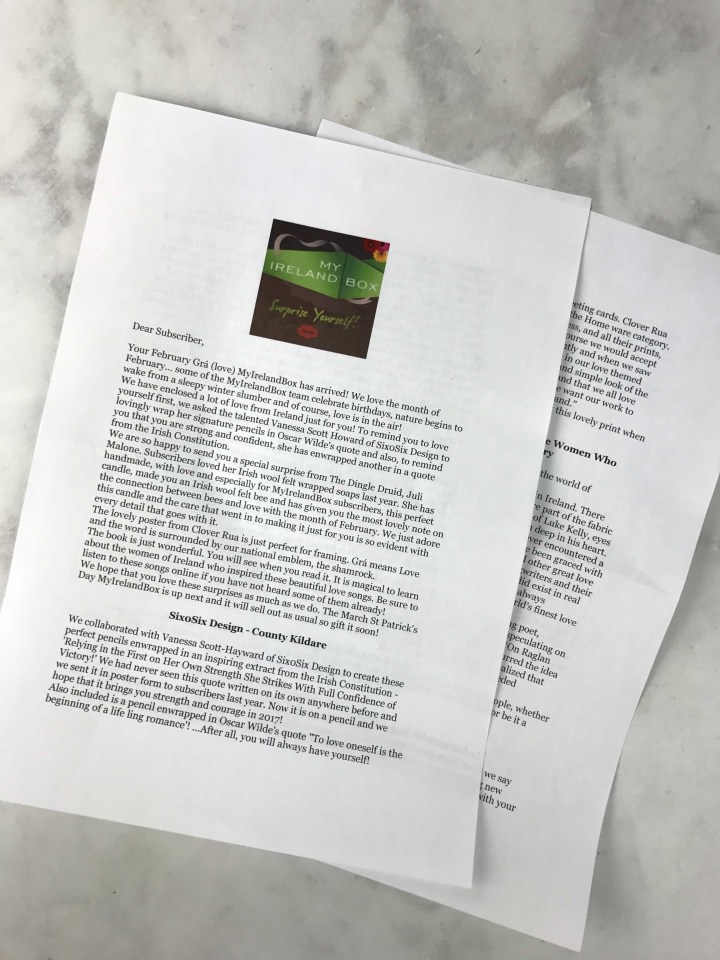 A letter containing extensive information about each product and its maker/designer comes with the box.
We really like their information sheet because it gives each item a real sense of place and we get to learn about the influences of each item, the inspirations of the designer, and more! It is really one of the most detailed information sheets you'll ever see in a box.
The last pages of the curator letter lists upcoming spoilers for the next months.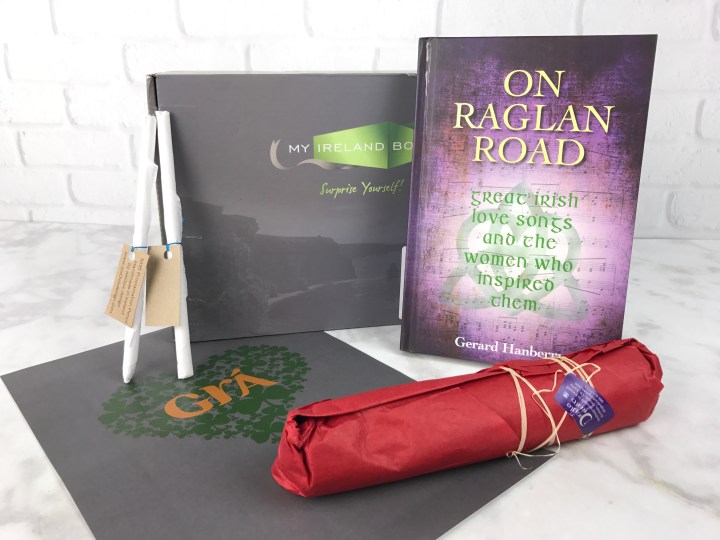 All the contents of the February box!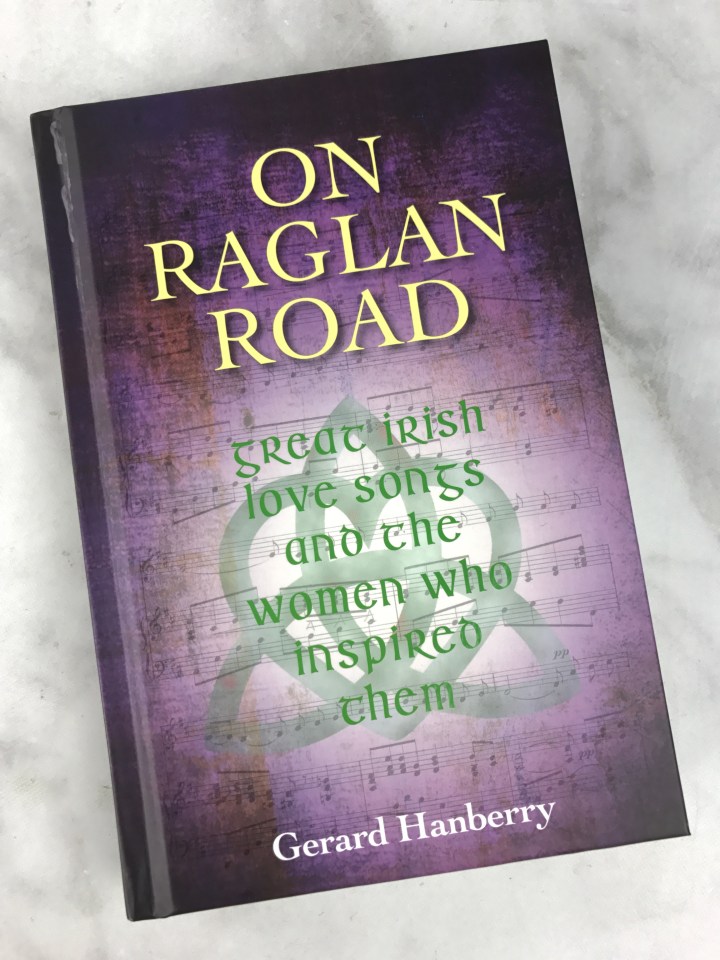 On Raglan Road: Great Irish Love Songs And The Women Who Inspired Them by Gerard Hanberry ($28)
This lively account uncovers how the great Irish love songs came to be, and includes engaging biographies of the songwriters and their muses. This is for anyone who ever wondered who the "Galway Girl" was, or if there was a real-life "Nancy Spain." Learn the often surprising, sometimes bittersweet, but always absorbing stories of the real women who inspired some of the world's finest love songs.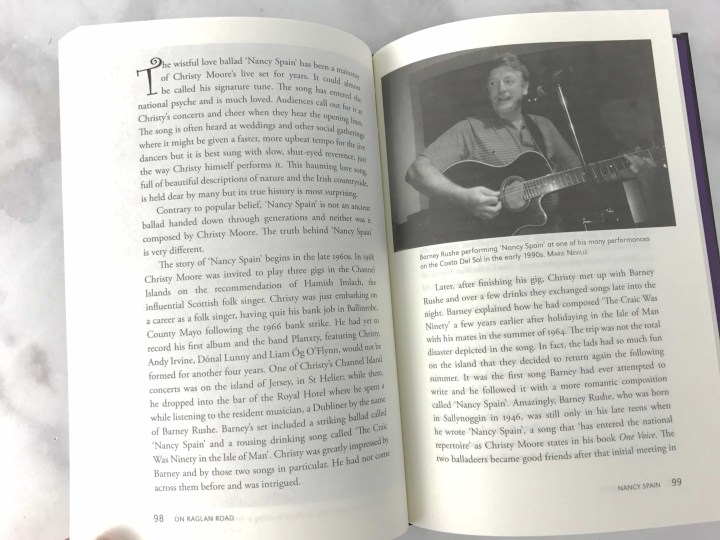 If you're a sucker for romantic stories, you will like this book. It is filled with heartwarming stories of love, particularly those of Irish musicians.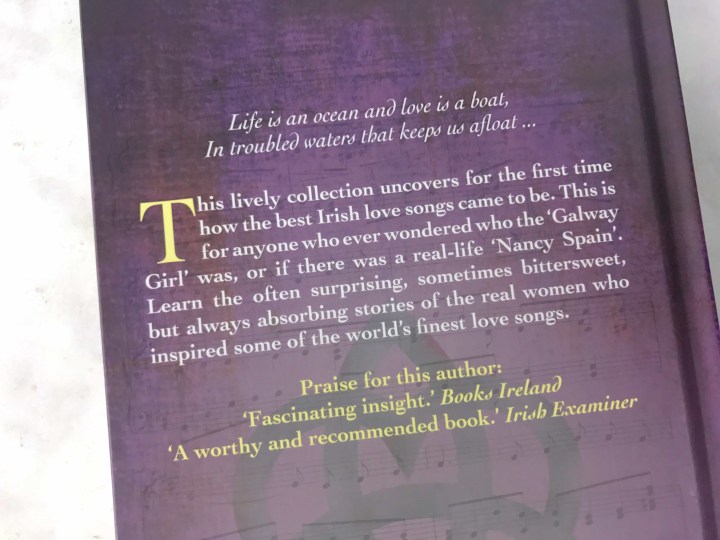 The newly-published book (released last December 2016) is written by Gerard Hanberry, a prizewinning poet, biographer, musician, and teacher.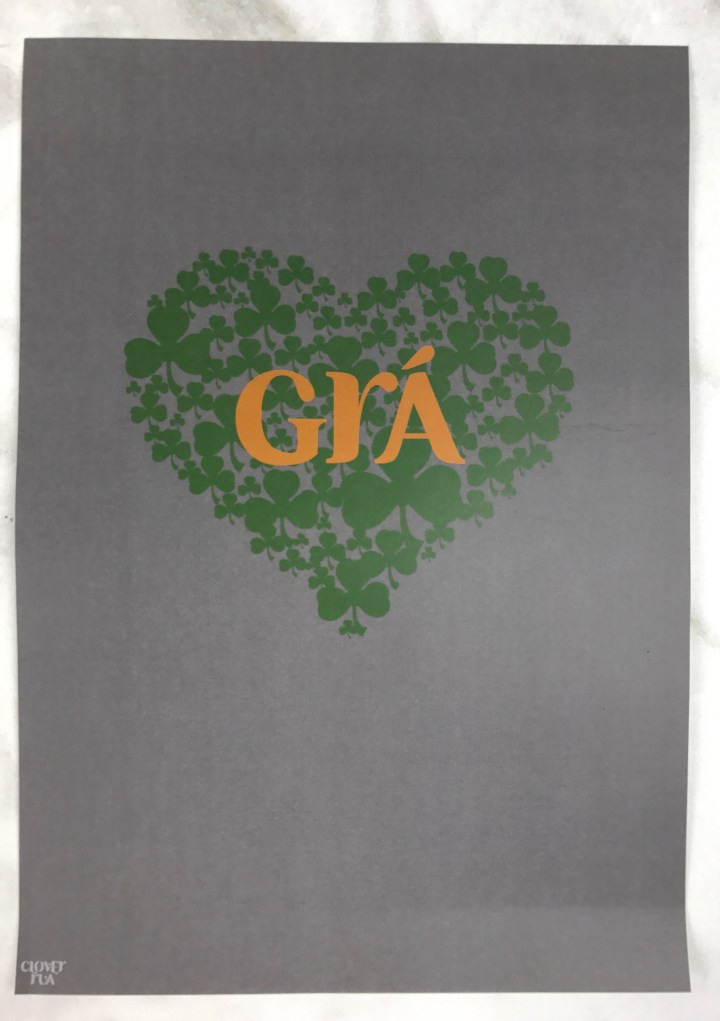 Shamrock Heart: Gra Art Print by Clover Rua ($13.14)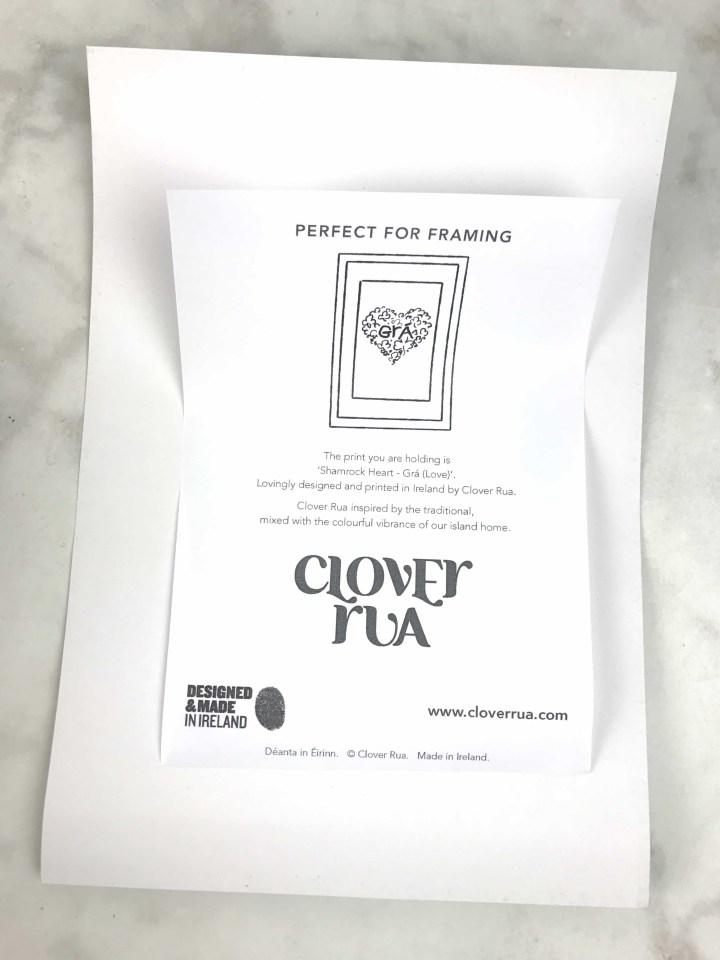 "Gra" is the Irish word for love. Combined with an Irish shamrock heart pattern, this print fits exactly into the love-themed My Ireland Box.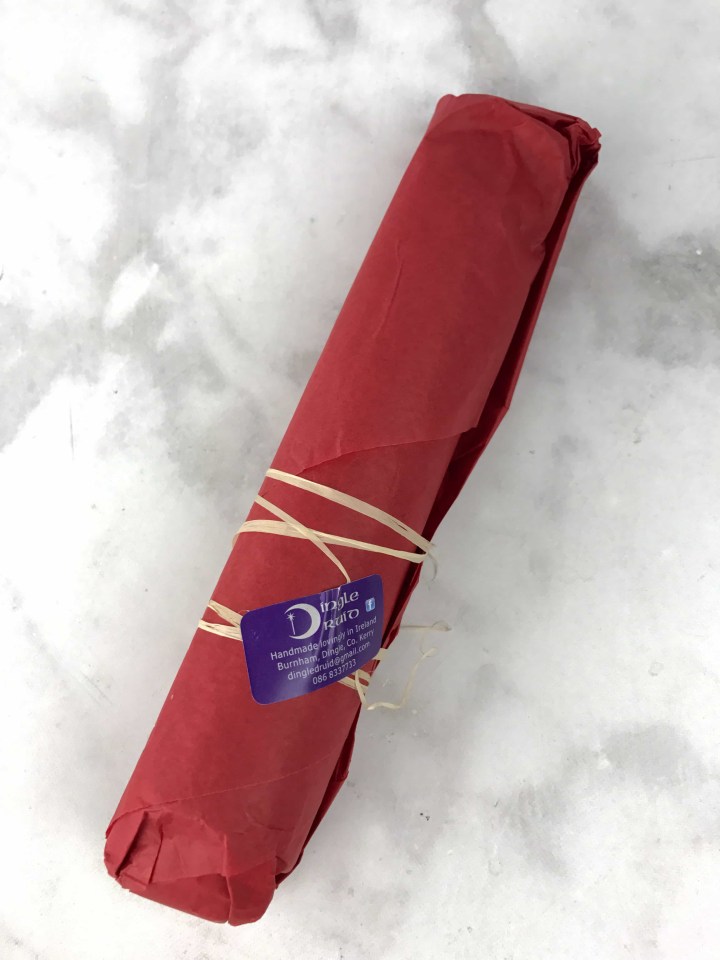 The Dingle Druid by Juli Malone Handmade Candle
This beeswax candle is a homemade product by Julie Malone. Her home is located in Dingle, a town in Ireland.
It was carefully wrapped when it arrived!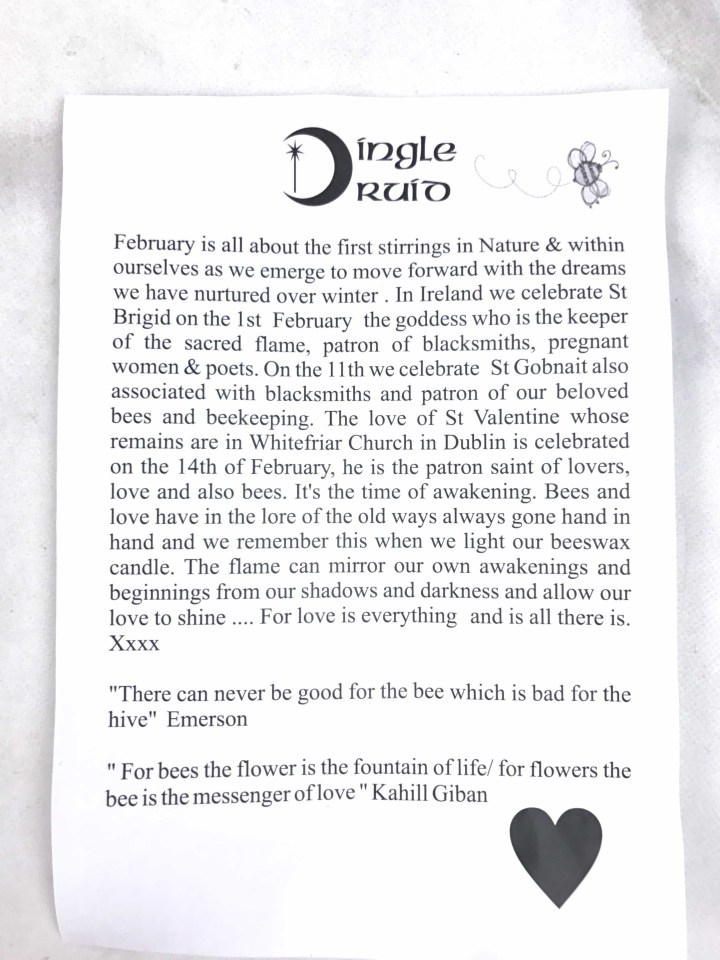 There's also a card with a meaningful message from Julie, plus interesting trivia and quotes.
Reasons to love beeswax candles: environment-friendly, safe for your family (no carcinogens), and longer burn time!
Can we please take time to appreciate how intricate this candle is?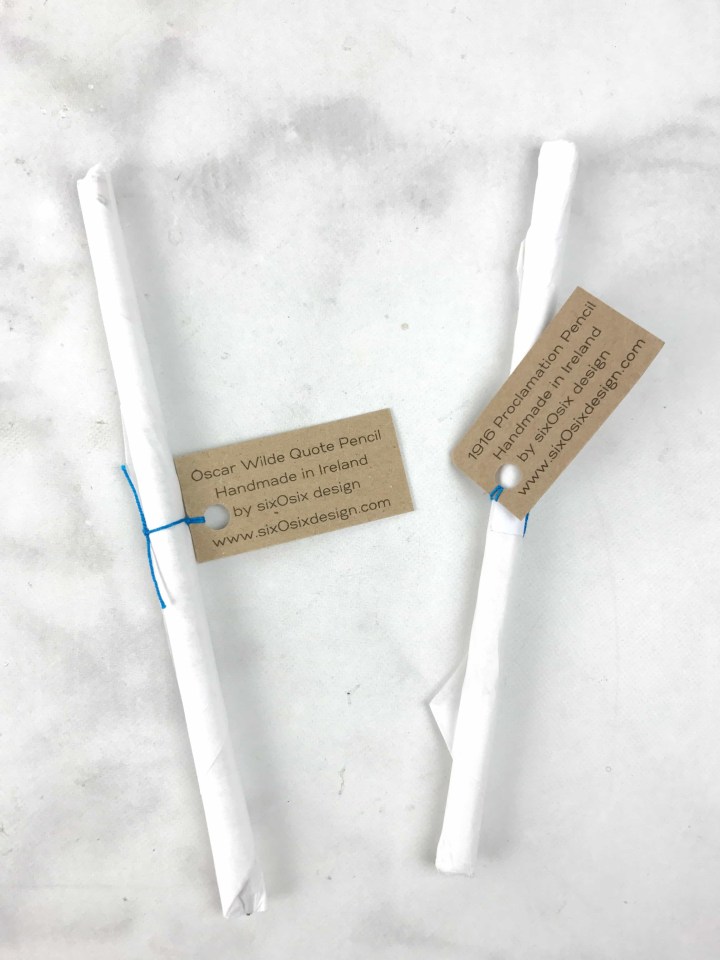 SixOSix Design Oscar Wilde Quote Pencil & 1916 Proclamation Pencil

Love the script font, too beautiful: To love oneself is the beginning of a lifelong romance – Oscar Wilde, An Ideal Husband. So true!

I love how meaningful the Irish Proclamation is!

It's about Ireland, but also meaningful for any woman. I loved these pencils and I can't wait to share them with my daughter (an 8 year old O'Grady who is in the throes of delight of having an Irish last name this time of year!).
Another great month for this box! I really love the shamrock heart print especially and the pencils. The candle is stunning and the book is full of rich history. This subscription box is great for Ireland fans!
What did you think of this month's My Ireland Box selections?