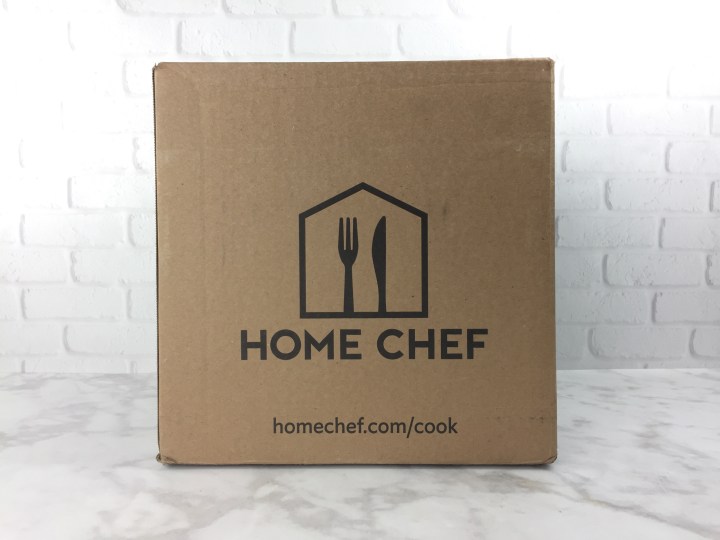 Home Chef is a meal in a box subscription – every week, you choose from a variety of recipes and have all the ingredients and preparation instructions delivered to your door. The basic concept is the same as other weekly meal delivery services, but it has its own unique features and recipes.
Home Chef has a huge selection of meal options to choose from each week, including some Asian, Indian, African, and South American inspired dishes among their more traditional American home-style and steakhouse fare, and the portions are the most generous among the meal kit subscriptions we review regularly!
In addition to the many great dinner options (available in 2, 4, 0r 6 servings), they also offer breakfast selections, smoothies, and a fruit basket (which we have been very happy with whenever we've gotten it).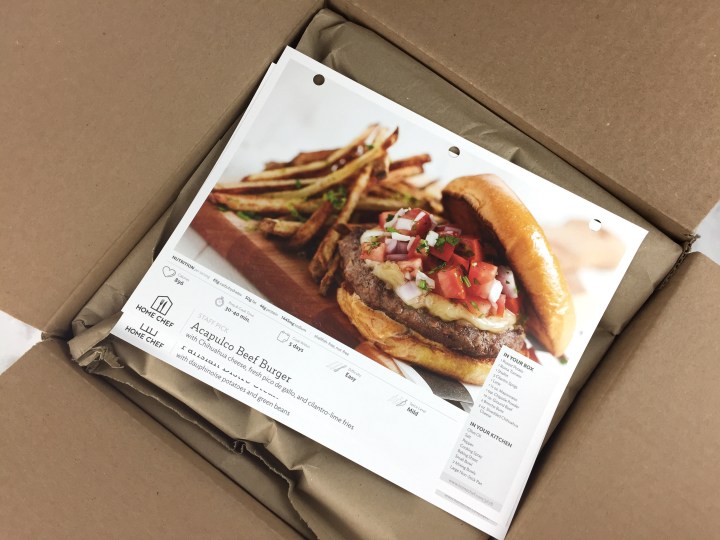 Meal selections are suggested automatically according to a profile you fill out noting your family's preferences, but you can change your selections any time. Home Chef offers an incredible 10 selections available for 2, 4, or 6 people, a breakfast choice, a smoothie choice, and a fruit basket selection. The portions are huge, and this is currently the least expensive and has the most choice out of any similar major subscriptions (for 2 people) – $9.95 per person per selection (they typically have one meal a week that's a premium meal).
DEAL: Get $30 of free food when you sign up – just use this link to get the deal!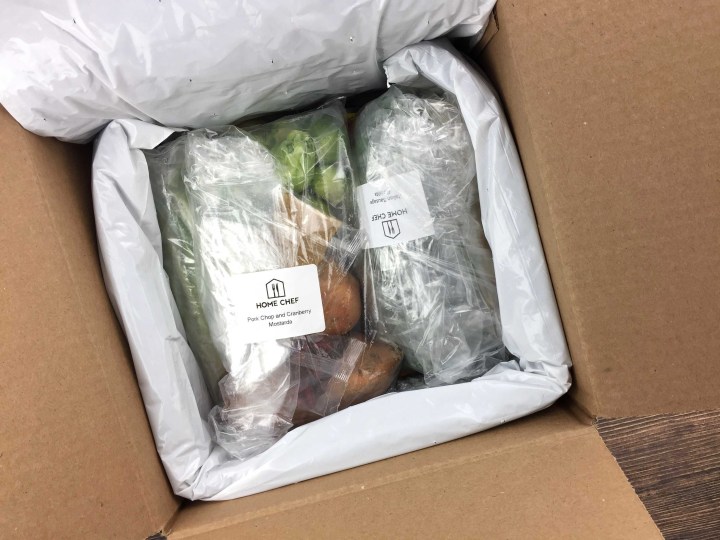 The food is packed in puffy, padded cooler pads, with each meal packed in a separate bag containing nearly everything needed to make a complete meal. The box is always packed with several ice packs.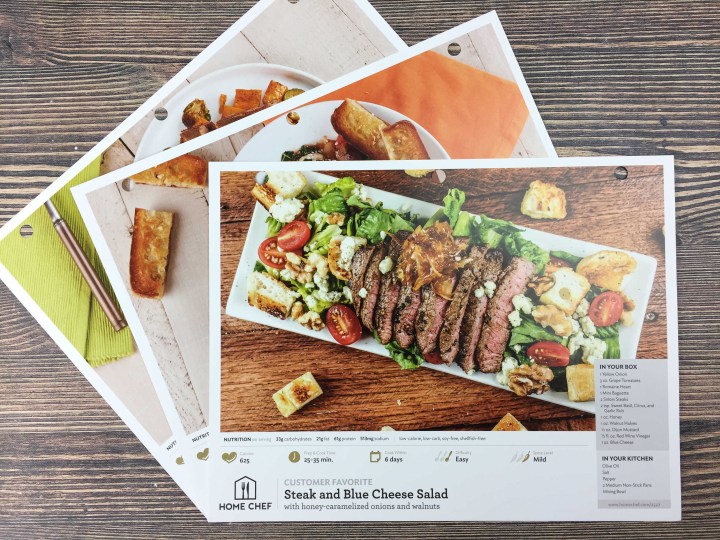 The recipe cards display prep time, difficulty, a "best cooked by" time frame, and even a spice level. There is also a list of stuff you may need from your own kitchen such as cookware and salt and pepper. You have to have a basic kitchen set-up (stove/oven, cookware, etc.), but a couple tablespoons of cooking oil and salt and pepper are usually the only ingredients you have to have at home – they even include liquid egg (instead of expecting you to have eggs on hand), and oil for shallow-frying when a recipe calls for more than a few tablespoons worth.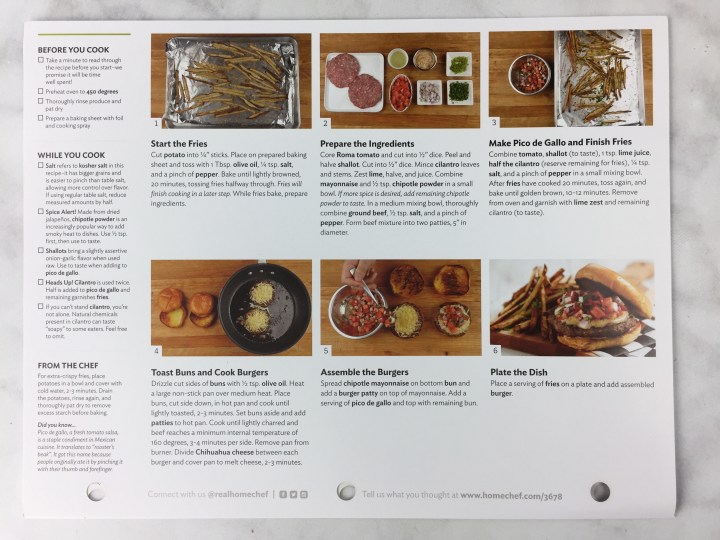 The back of the card has the actual recipe guidance, complete with pictures and bold-facing of ingredients. The recipes are accompanied by pro-tips and explanations of cooking terminology and techniques. The tips appear in a sidebar so they don't clutter the actual recipe. I love that they include a heads-up for when ingredients are divided and used in different parts of the dish.
The prep is done is a sensible order, with long lead time items first. This helps everything finish cooking close to the same time. The recipe cards have pre-punched holes so you can store them in a recipe binder, but we usually prefer to just wait till the recipe is offered again instead of attempting to gather the ingredients to recreate it ourselves.
Each recipe was packed separately, and neatly, in its own bag, except for a few larger items. Unless otherwise noted, each of the pictures of prepared food below shows one of two servings made by each recipe.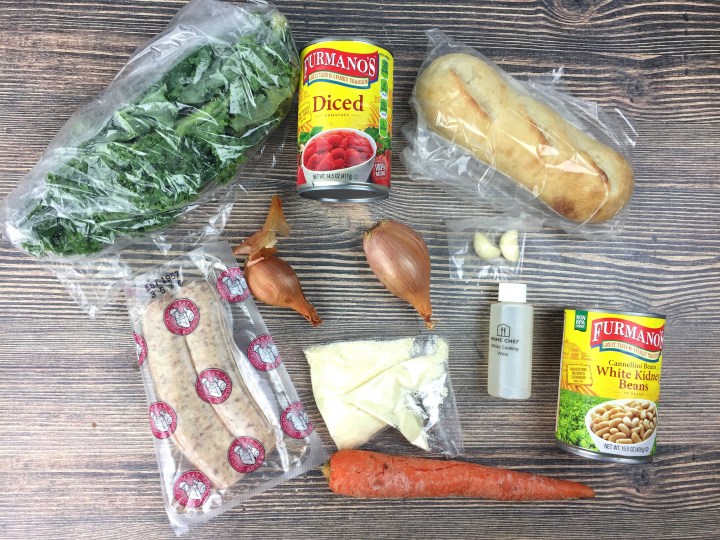 Winter Medley Fruit Basket With Blood Orange, Kiwi, Apples, And A Navel Orange. 184 calories per serving. The selection changes throughout the year, with apples, pears, and citrus appearing frequently. It is always firm and superb in quality.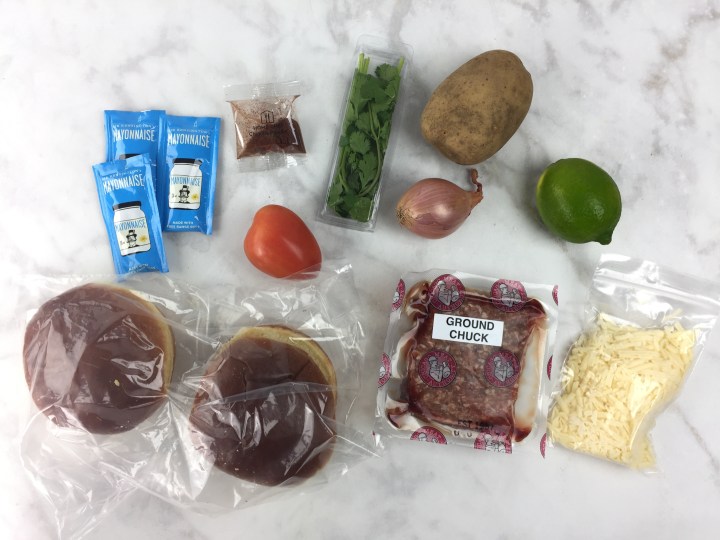 Acapulco Beef Burger With Chihuahua Cheese, Fresh Pico De Gallo, And Cilantro-Lime Fries. 30-40 minutes, easy, 896 calories per serving.
You can't really go wrong with burgers and fries! What I loved most about this version of the classic American meal is the harmonious incorporation of the fresh Acapulco flavor accents. Lime zest and cilantro livened up the fries without overpowering, the cheese was mild and melty, and the pico comprised toppings that go great on a burger, just with a little bit of extra flavor. Brioche makes a superb bun, too! Very easy to make, so long as you are comfortable chopping and slicing vegetables.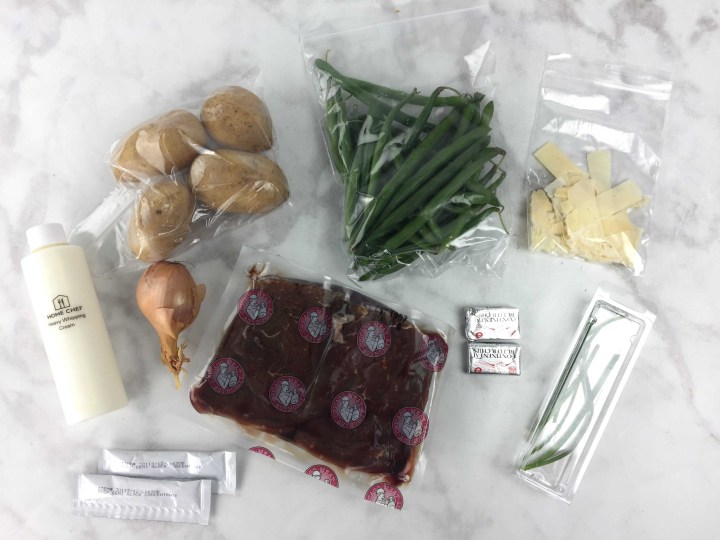 Parisian Bistro Steak With Dauphinoise Potatoes And Green Beans. 45-55 minutes, intermediate, 901 calories per serving.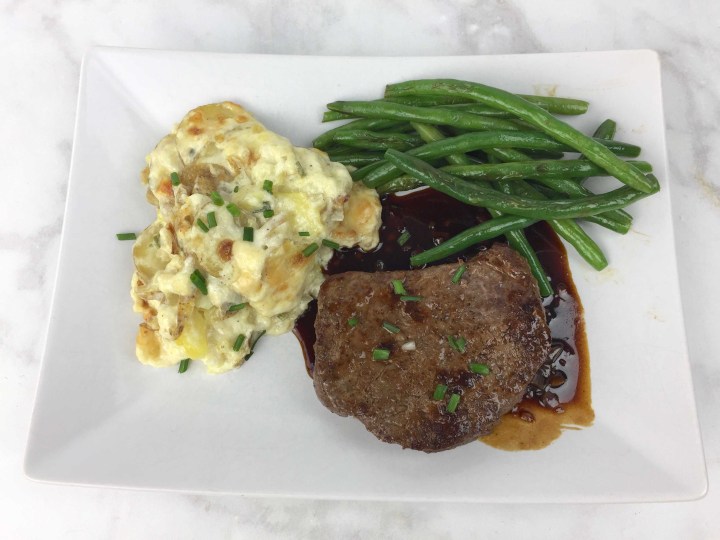 Steak is almost always on the menu at Home Chef! We grab a steak dish every time we order. This comforting combo combined hearty steak, crisp green beans, and creamy potatoes. The Dauphinoise preparation is exceedingly simple, with the finished dish resembling potatoes au gratin. The sirloin was very dark and flavorful, reminding me a bit of venison. The shallot demi-glace was delicious and really amped up the steak, thought the potatoes alone would have provided ample decadence to the plate. Aside from the time involved in having to boil the sliced potato prior to assembling the Dauphinoise, there was nothing difficult about making this elegant dish.
Have you tried Home Chef? What did you think of your meals?