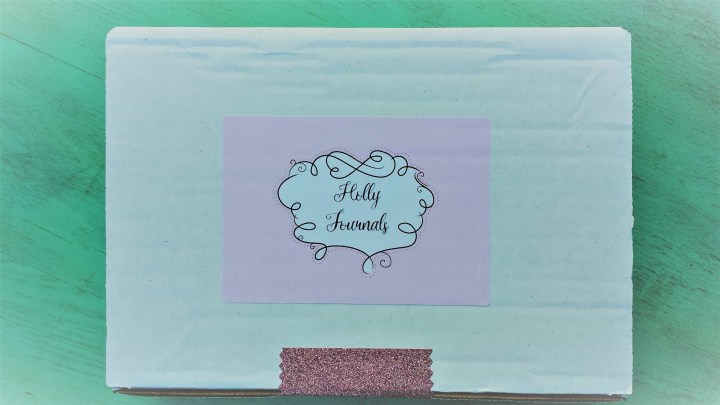 Holly Journals is a subscription for the journal lover. It comes with a handmade journal and every journaling thing you will need each month. These journals are completely handmade, and everything is coordinated to a specific theme like summer, etc. Holly Rose, who owns Holly Journals personally curates every box and she and her family assemble every journal. Boxes are sent out the last week of the previous month so they will arrive in time to start off a new month with a new journal.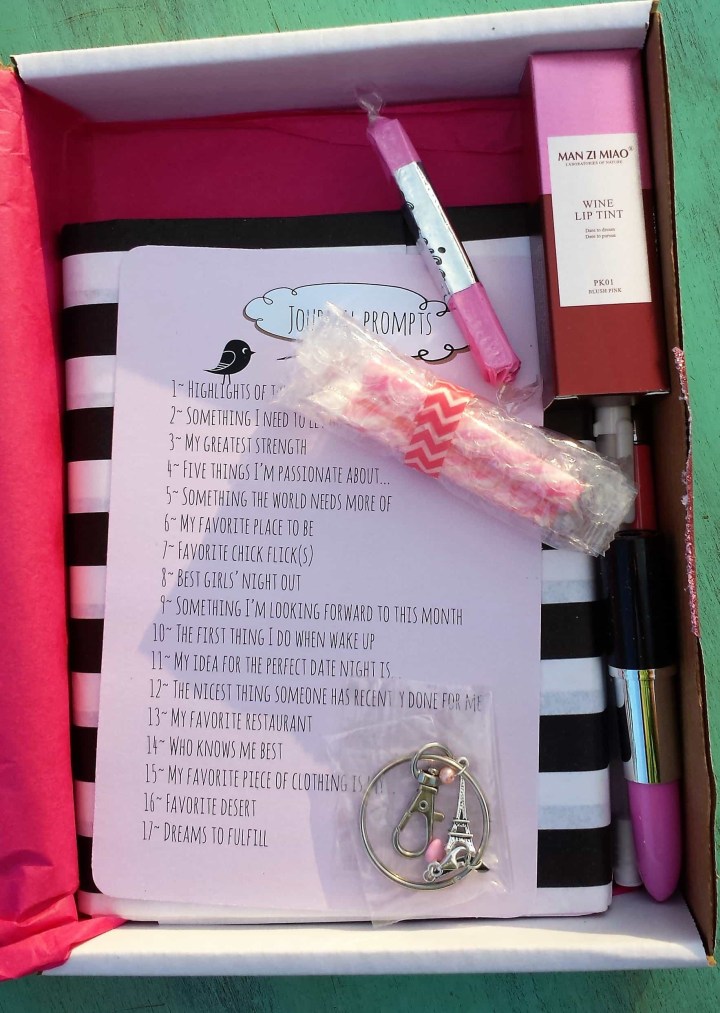 DEAL: Get 10% off for life! Use coupon code HS10.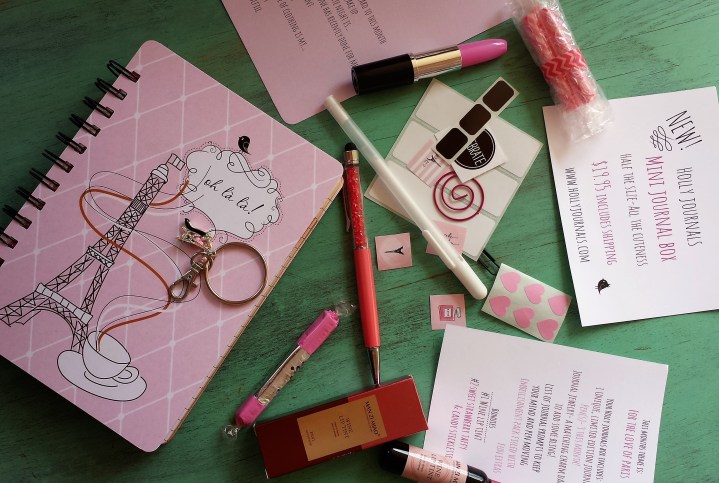 They have an awesome guarantee! If you are not thrilled with your new journal, you can simply return your box (unwritten and undamaged) for a full refund (minus shipping). Their motto is, "Don't love it. Don't keep it. It's that simple." But, you're gonna love it…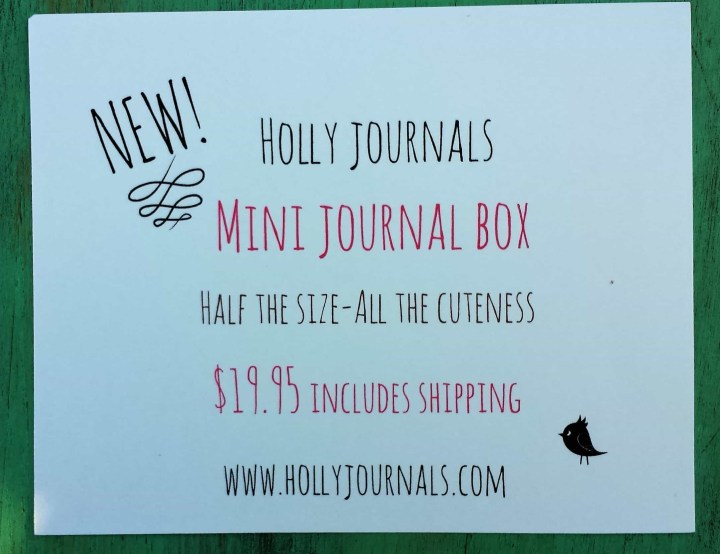 They are now offering a Mini Journal Box. It's half the size for only $19.95 a month. (Includes shipping!)
These are too stinkin' cute!!!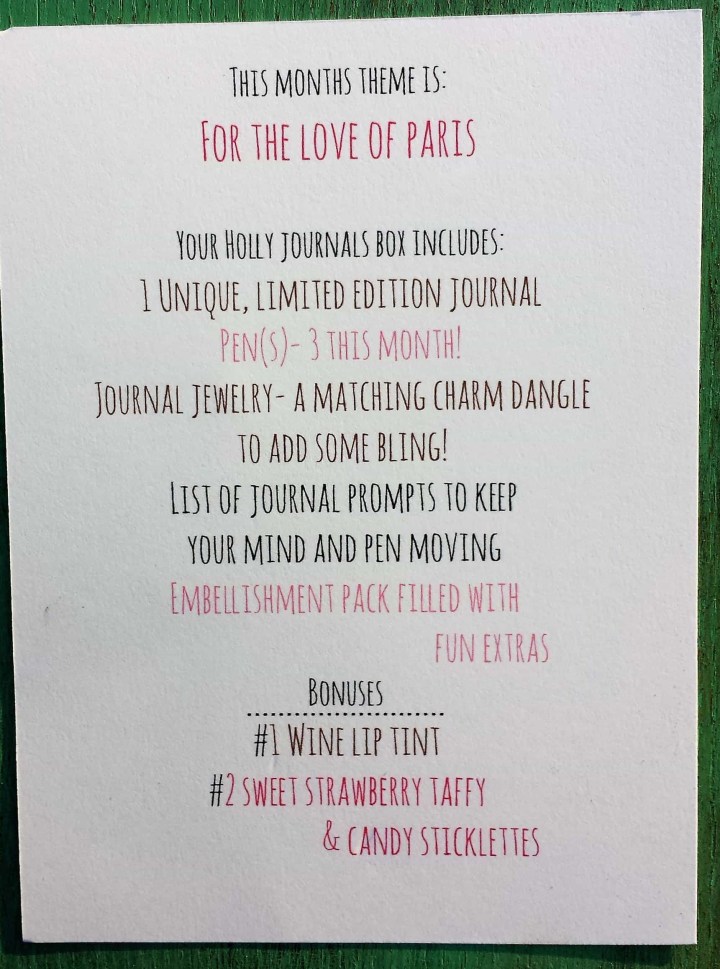 The theme for this month's box was "For the Love of Paris." This card gave a neatly printed list of every item in the box.
The subscription is $39.95 for month to month with shipping included. If you commit to a 3, 6 or 12-month subscription the price drops a little. The 12-month subscription (the best price) comes out to $34 per month (before any coupons).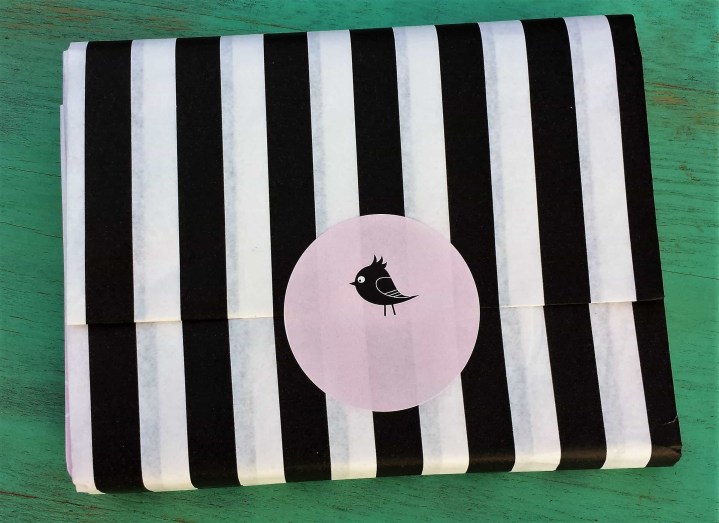 The journal was wrapped neatly in black and whited striped tissue and a little birdie sticker. (See what was inside a little further down.)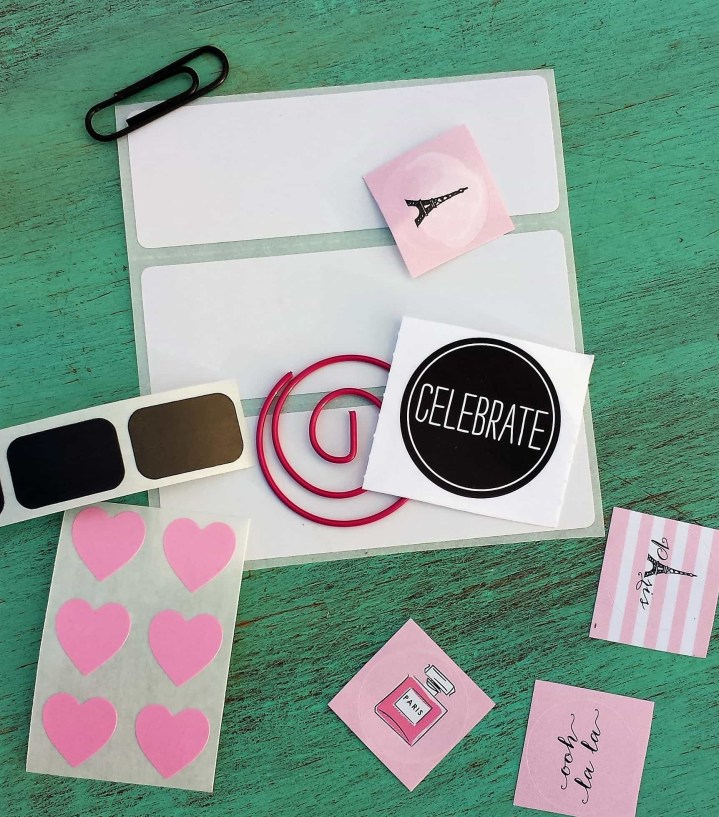 All of these journaling aides were in an envelope in the box.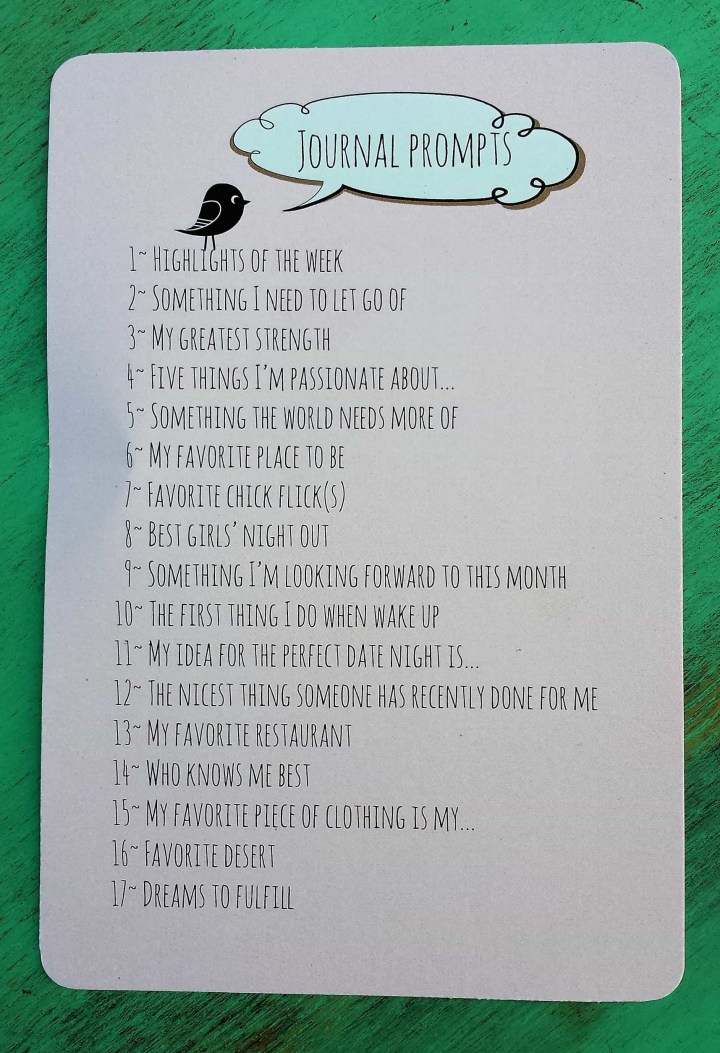 This helpful list of journaling prompts was in the box.
5~SOMETHING THE WORLD NEEDS MORE OF 
"It was the early 90's. Big hair and tight rolled jeans were in. I had flat hair and cotton yoke front yoga pants. The acme of popularity I was not. P.E. was not my favorite subject  I was (and am) about as coordinated as a drunk monkey. So, in what must have been a violation of some human rights act somewhere, the coach blew her whistle, announced that it was time to choose softball teams and pointed her bony finger at me. "Dear God!? Why  Not me?!" were the thoughts that flew through my mind. So, at this pivotal moment in my life I was faced with a choice. I could choose my friends of fellow nerdy status and form a loosing team mainly of people as laughably uncoordinated as myself, mingled with a few resentful obligated others. Or, I could choose people who knew how to play the game. I chose the latter and pointed my preteen finger at the best ball player at our school. He turned his gaze from my finger, looked at the ground and stood there, unmoving. I called the next good player. She looked at the ground. The next did the same. And the next. I called 10 or 12 names. They all stared at the ground as if it were profoundly interesting. The tears started silently at first, after the 7th or 8th name, but somewhere after that, I couldn't hold it in any longer. I screamed out in frustration and despair and blubbered something incomprehensible about hating this stupid game anyway and ran a safe distance away to cry and feel sorry for myself. My nerd friends were mad at me for not choosing them to go down in a blaze of loosing glory with me. The athletic popular kids that I had forced to look at the ground with my choosing of them were aggravated at me for calling them out Red Rover style to cross the nerd line and join my team. Five minutes or so of snot and tears passed interrupted when I felt a tap on my shoulder.  The best ball player at school, the first boy I had tried to choose for my team, stood staring down at me. "I'm sorry Amy." "I'm sorry I wouldn't be on your team." He dipped his hat, shrugged his shoulders and walked away. I followed his steps as he went back across the field. No one had made him apologize. No one was watching to make sure that he did it. He chose to apologize of his own volition. And it meant so much.
That's what the world needs more of.  The world needs more people who apologize when the world is not watching.  We don't need perfection. We just need more people who are willing to acknowledge that they did wrong, they made a mistake, and say so."  –Journal Entry

This totally had me fooled. Looks like lipstick doesn't it?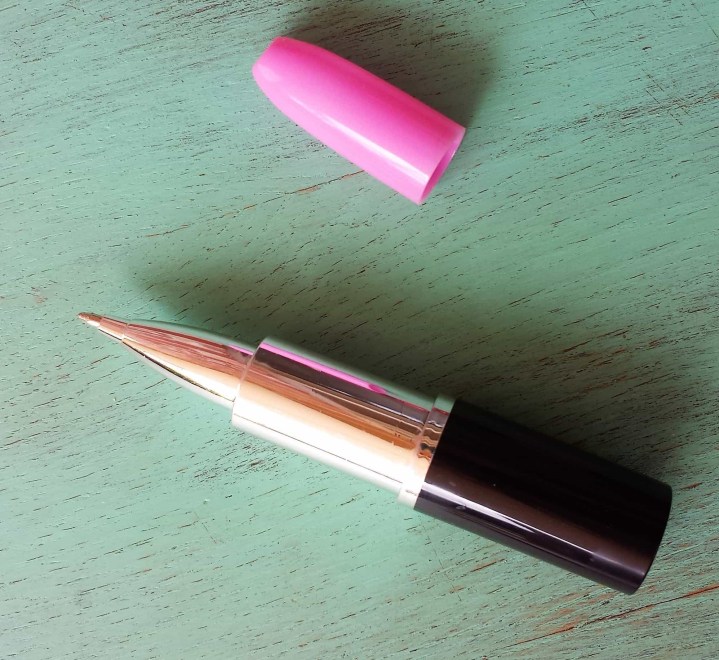 But, then this lipstick goes all 007 on you and it's a pen!!!  How cool is that? And it fits the Paris theme beautifully.  Very cute.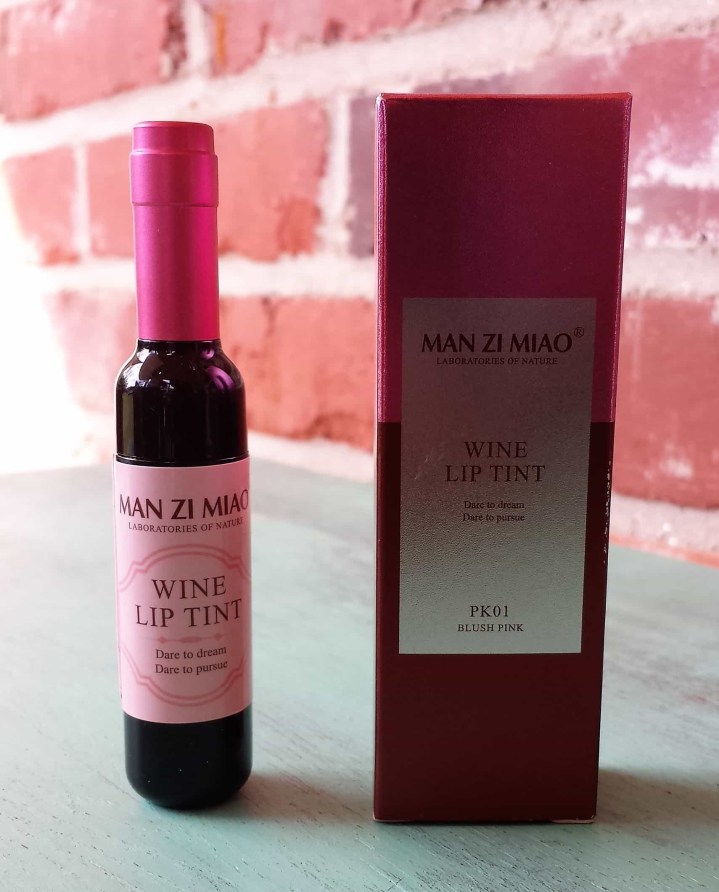 And, speaking of looking like one thing but being another. Check out this lip tint that looks like a tiny little wine bottle. Ha! You unscrew it just above where the label starts and it is a corally pink lip tint. I am going into cuteness overload! Love it!
This is this month's journal jewelry. I don't know where they got this idea, but I like it. It is so very cute. The little Eiffel Tower is my favorite.
There were two more pens in the box.  And, they are awesome.  If you, like me, have a pen addiction, these will feed it!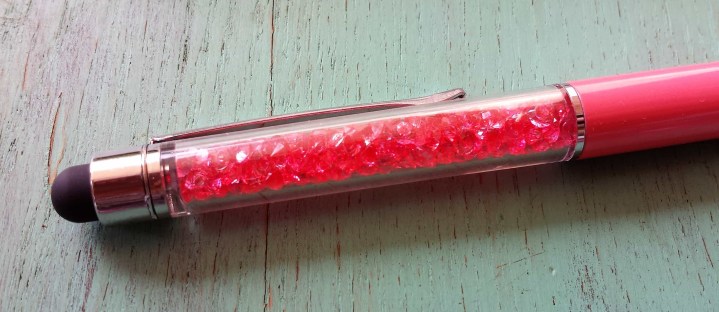 Check that out. It's little sparkly jewels in the top half of the pen. Absolutely lovely.
And guess what?! The other pen, the white one, writes in white! There are black and darker colored pages throughout the journal to use it on.
Because you must have something to munch whilst you journal, these candies were in the box. A Sweet Strawberry Taffy and three sticks of pink candy.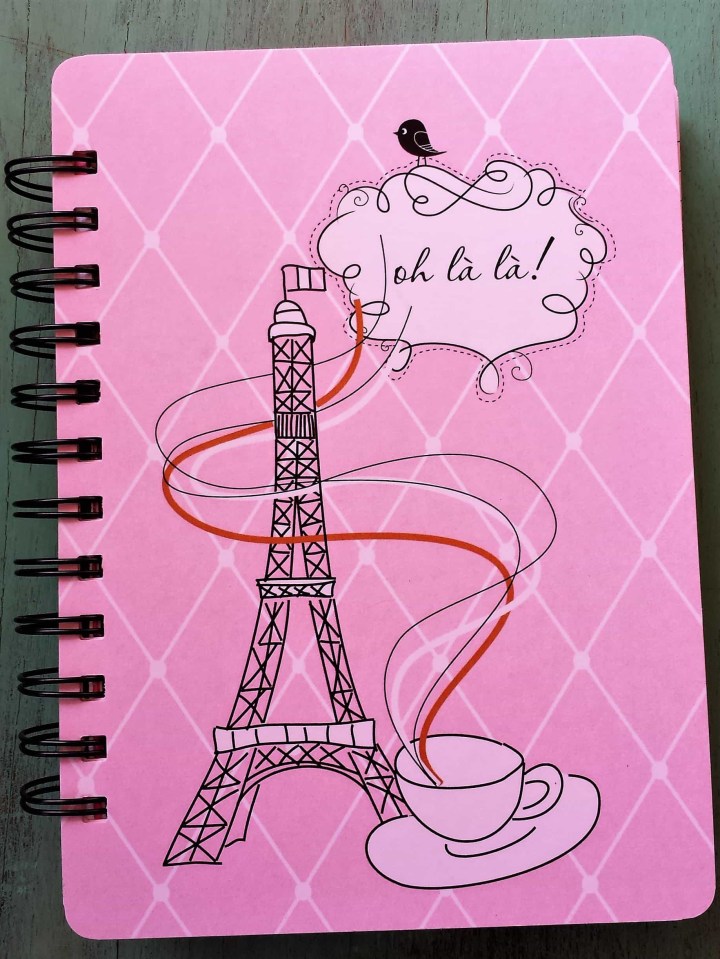 And, here it is! The journal itself is 7.5 inches by 5.5 inches with a hard front and back cover.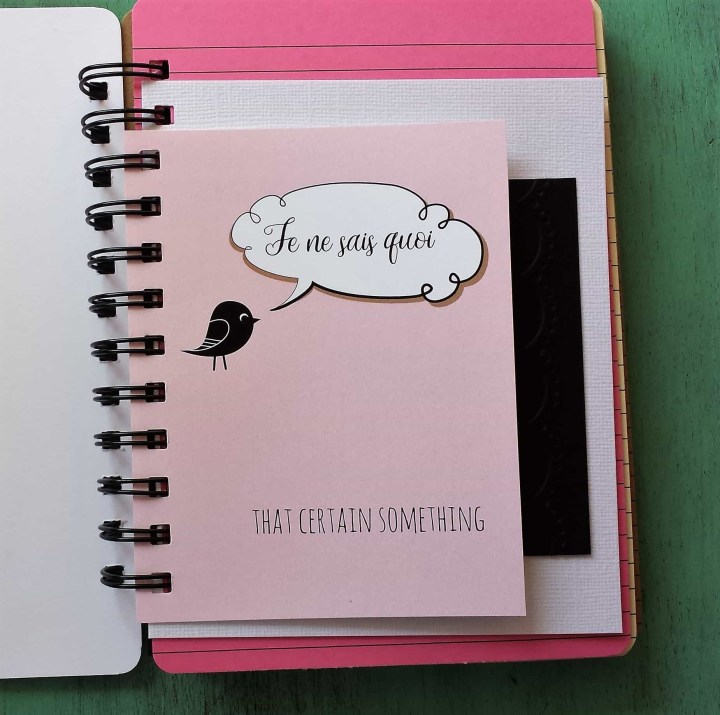 There are at least 100 pages in every journal.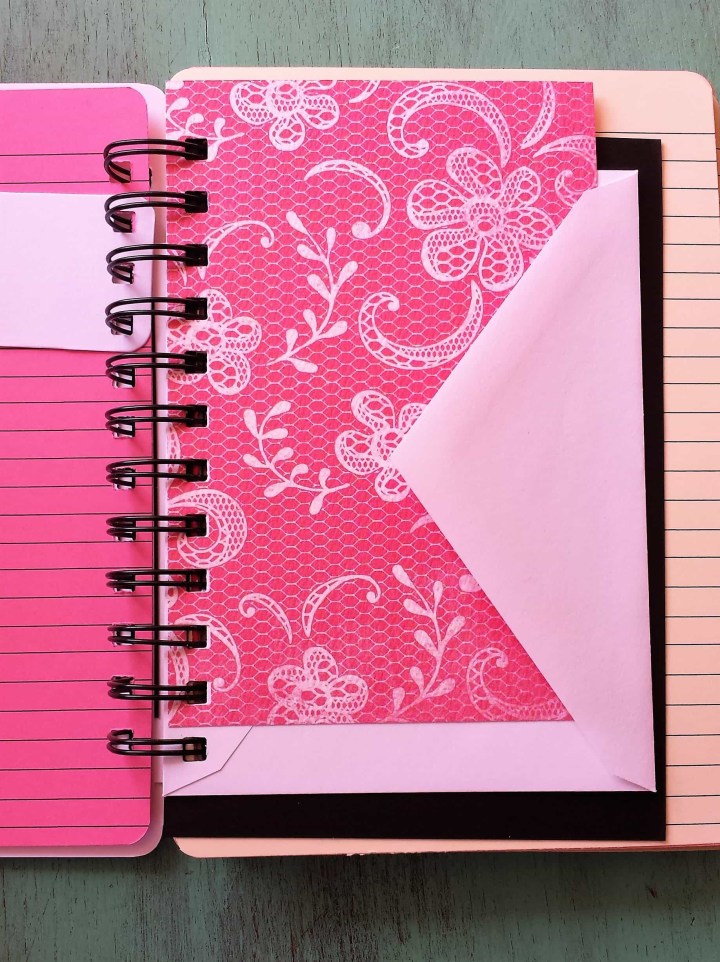 There are papers and pages in all manners of sizes and textures.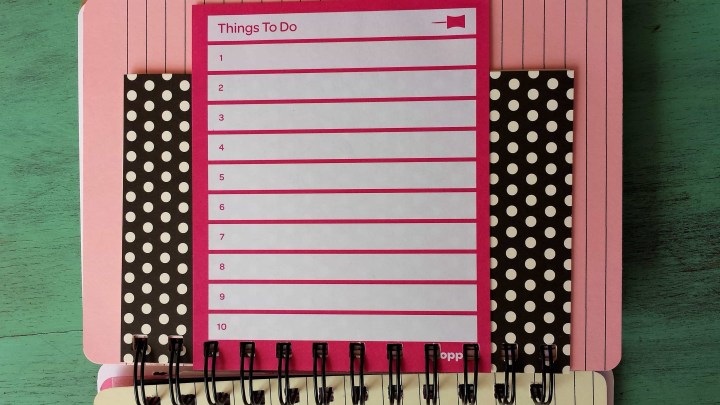 This set of pages started with a handy "to do" list.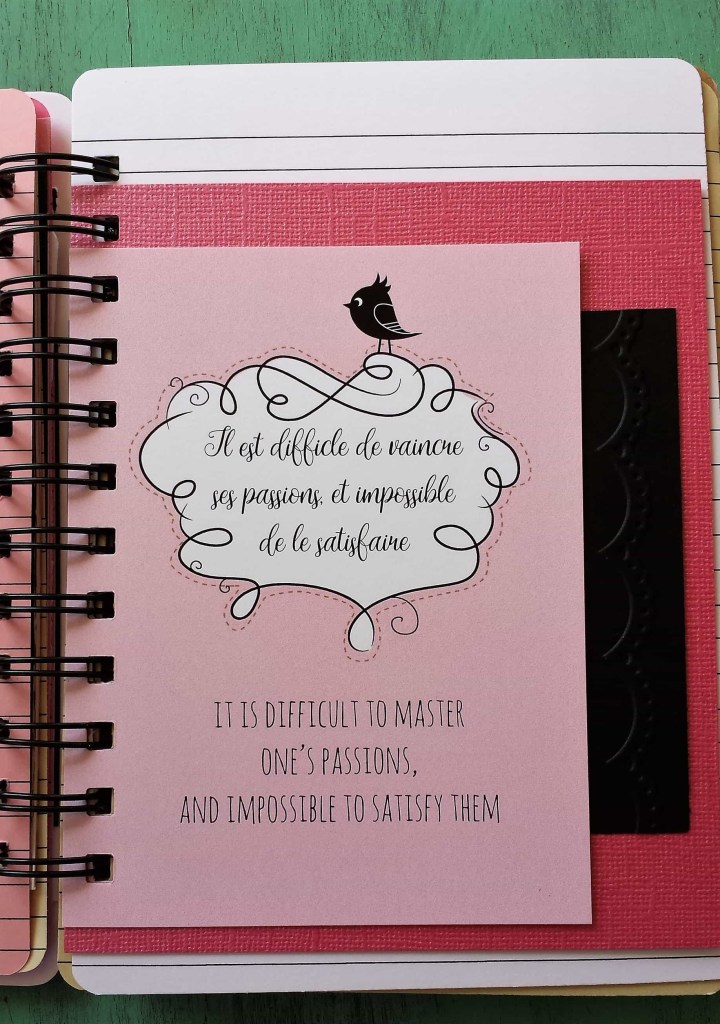 Many pages had elegant French sayings, translated for the non-French speakers as myself.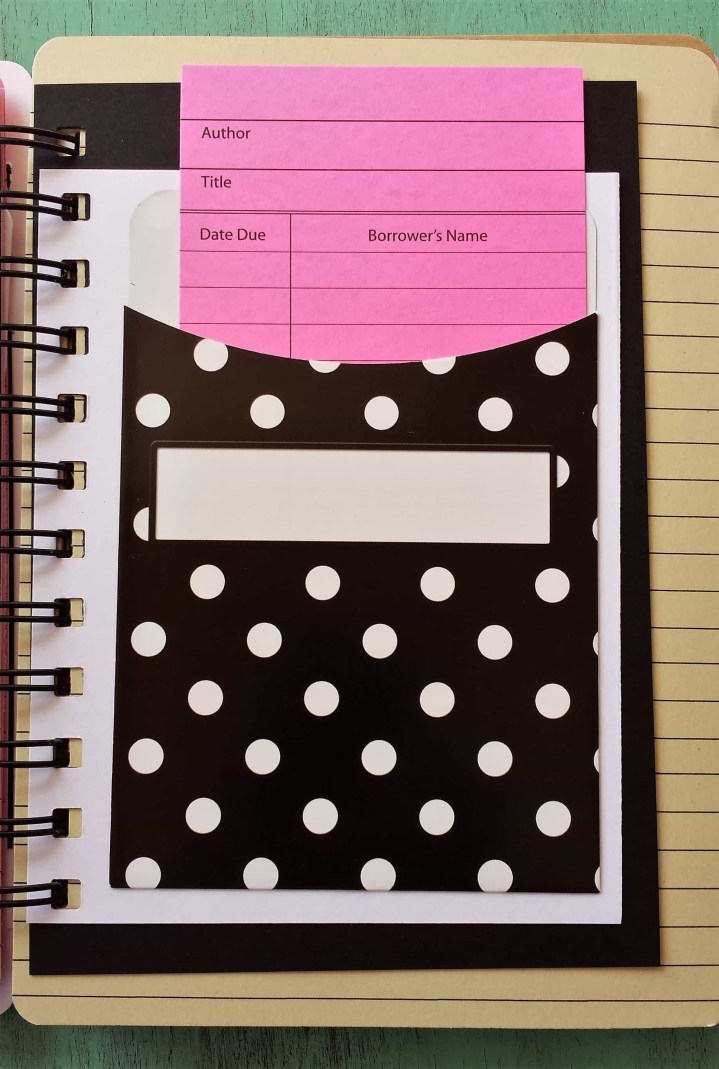 Look! It's a library card!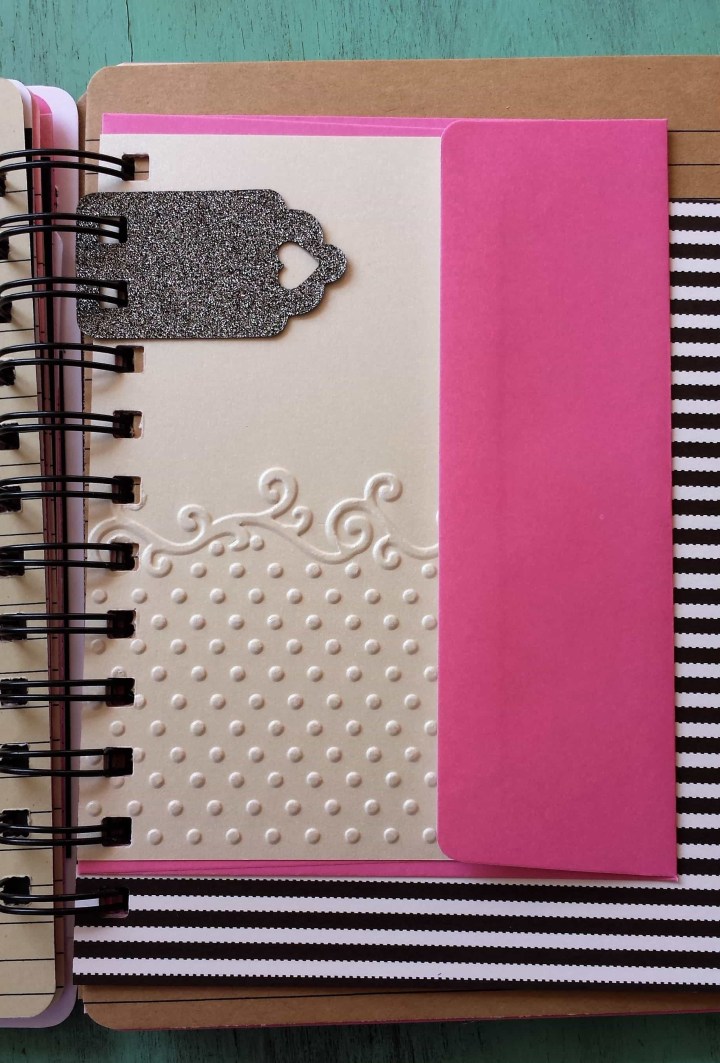 I love this set of pages. The embossing is so pretty.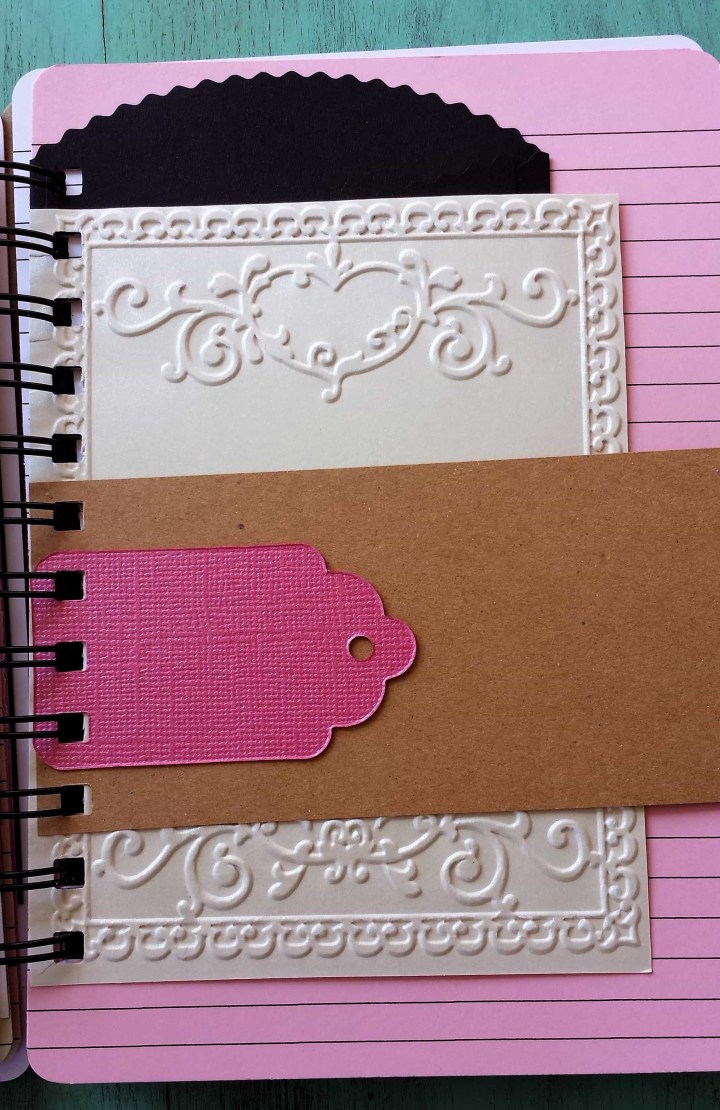 And again with the lovely embossing.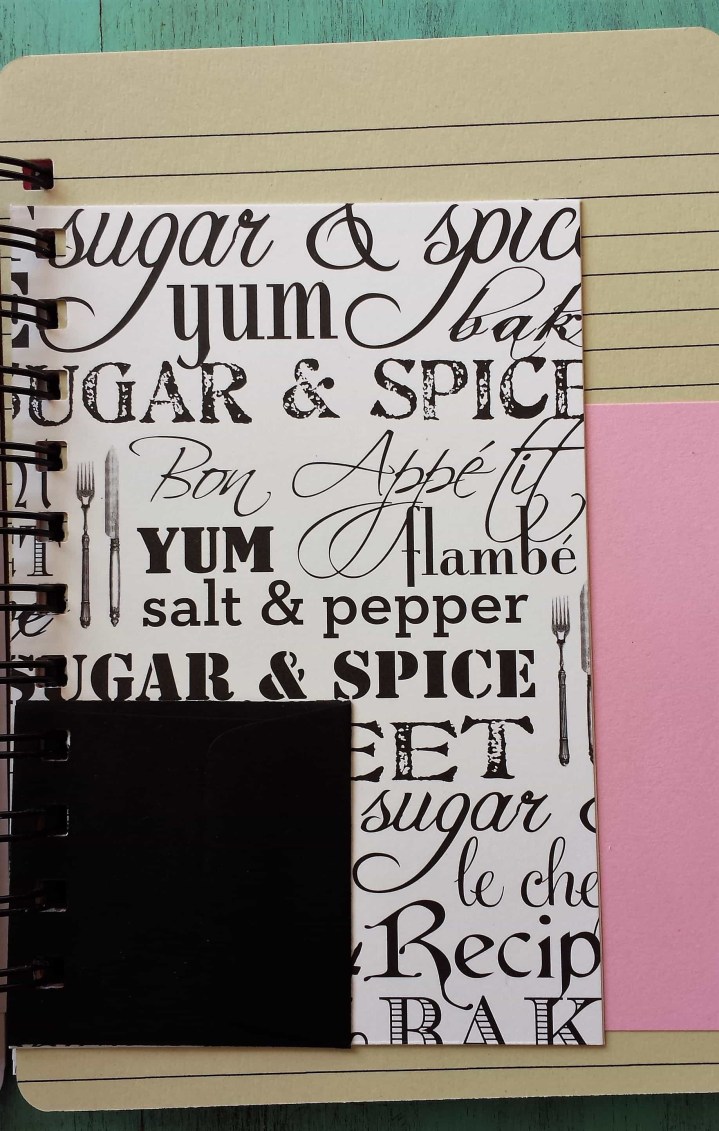 The pages just keep coming.
This one has a little bag to stow important mementos in.
Beautiful! And, there are dozens more pages that I didn't take pictures of.
I am again impressed with the detail and creativity behind the Holly Journal box. The journaling supplies are impeccably curated according to the theme and the journal itself it absolutely amazing. I love that I can enjoy all the scrapbooky cuteness of the journal without all of the intense effort that such beautiful scrapbook work requires. I think this is a lovely box!!
What did you think of January's Holly Journals?