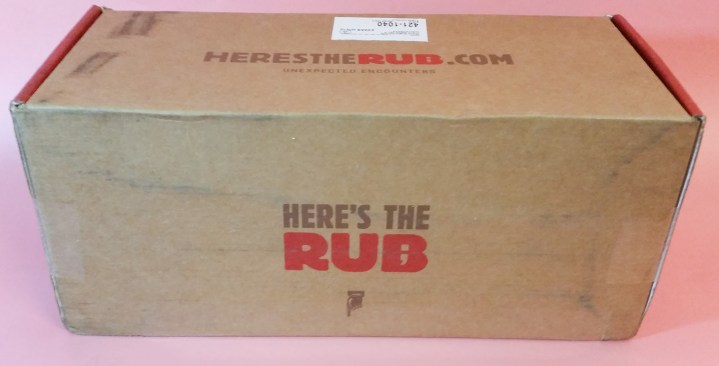 Do you love BBQ? If so, Here's The Rub is the subscription box for you. Each month, Here's the Rub will select a state known for barbecue and send three local rubs or sauces that showcase the distinctive flavors of that state. Subscriptions start at $25/month, with discounts for purchasing multiple month packages. I tried one of the first boxes from Here's the Rub last summer… it was amazing! So obviously I was psyched to see another Here's the Rub box show up at my door. Just wait until you see this month's offerings – also amazing.
Here's a look at everything in the box. Instead of your normal packing materials, the box is filled with wood chips! As the inside of the box notes – this month's chips are nutty pecan. Also, each month includes a plank – this month's is cedar. MMMMMMM. I can't even tell you how good the box smells.
DEAL: Use coupon code HELLOSUB to save 25% on your first box!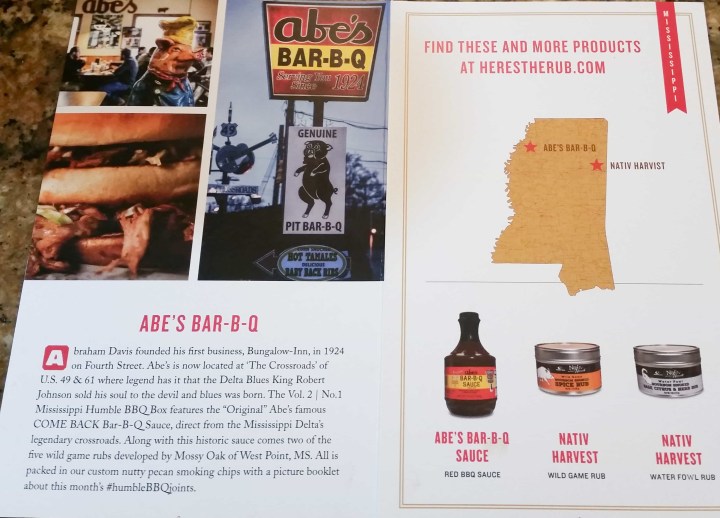 Booklet: The box included an information booklet highlighting the state of the month (Mississippi) and the included products. There's some details about Abe's Bar-B-Q, maker of the sauce included in the box.  I love reading about food and restaurants. Plus the booklet's description about Abe's being located at a legendary crossroads of the Mississippi Delta, "where Delta Blues King Robert Johnson sold his soul to the devil" really gets you in the spirit for some delicious southern BBQ. I also love the map showing where the products originate from. Almost like taking a foodie road trip, but without leaving your kitchen!
Abe's Bar-B-Q Sauce ($9.50 – I am using the prices that Here's the Rub charges on its shopping site to purchase the individual product, as these are local/small producer items) – This sauce is delicious.  It is not too sweet and has a nice Worcestershire and vinegar kick to it.  I'm definitely going to make some pulled pork barbecue. I'm also intrigued by the bottle's comment that it's a treat on chips…mmmm.  Chips.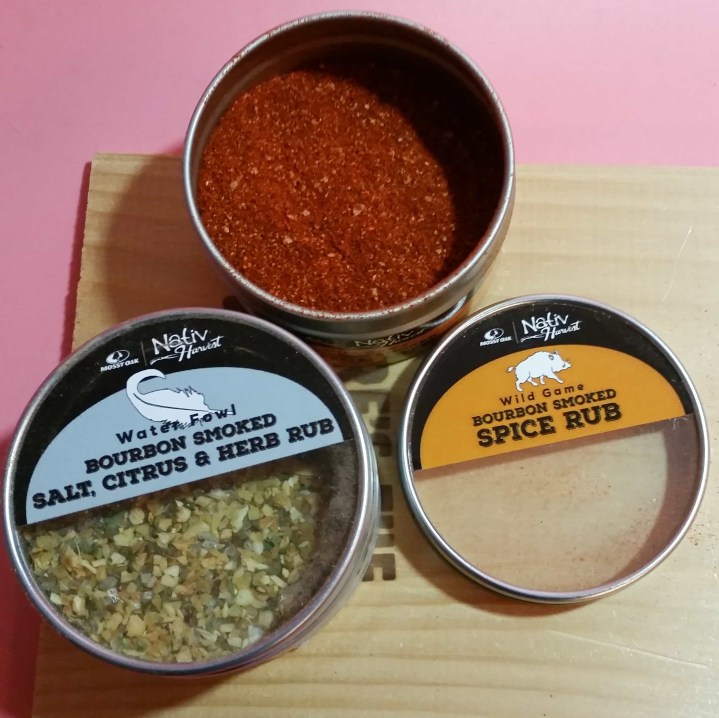 Nativ Harvest Rubs ($9.00 each): Nativ Harvest makes five different rubs; Here's the Rub send two of these rubs in this month's box. First up, the Wild Game Bourbon Smoked Spice Rub – I opened this one up so you could see the gorgeous paprika based rub in more detail. In addition to the paprika, there's coriander, black pepper, onion, juniper, Tasmania pepper, pink peppercorns, cardamom, and thyme. This rub has a great smoky flavor, and the peppers give it a bit of a bite. Mmmm. I'm not a big wild game eater, but I imagine this rub will be amazing on any strong meat.
Next up is the Bourbon Smoked Salt, Citrus & Herb Rub. This rub is based with a nice smoky sea salt, and has orange peel, dehydrated onion and garlic, spices, fennel seed. This rub is designed for roasted or grilled waterfowl, but I think it will also be delicious on fish.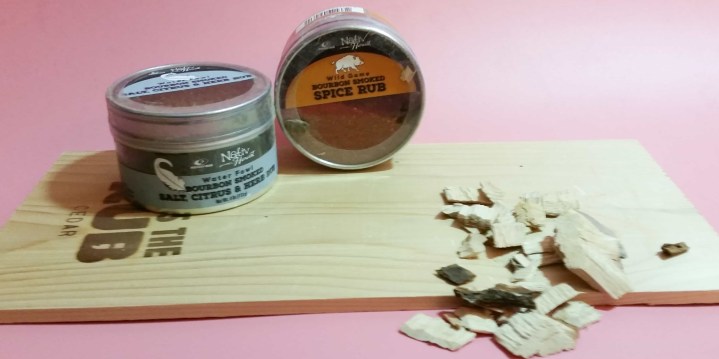 Here's one last look at the plank and a few of the wood chips from the box.  I love smoked meat and I'm a huge fan of cedar planked salmon…these items are going to be put to good use in my house!
I loved this box from Here's the Rub.  I'm excited about using all of the products, as well as the wood chips and plank.  I really like how Here's the Rub is highlighting regions and flavors…and providing a bit about the place where the products originate.  I think anyone who loves BBQ or even just meat in general will love Here's the Rub!