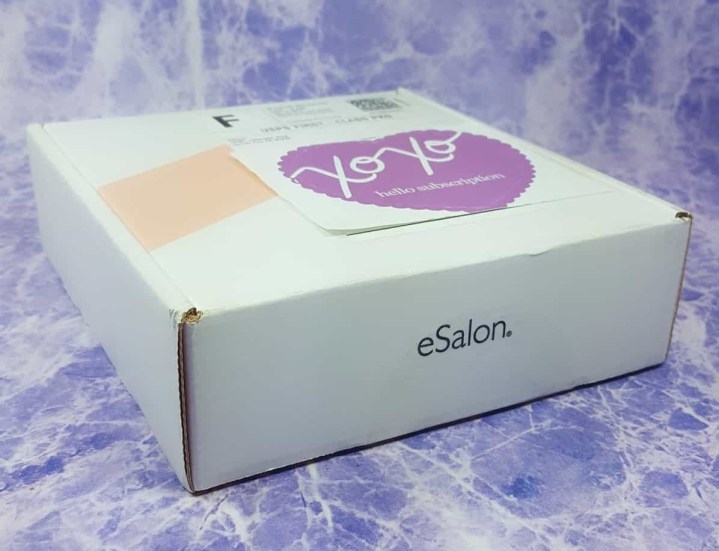 eSalon Custom Hair Color is an at home custom color subscription. When you first log in and sign up you fill out a survey and answer questions about what you are looking for in a color and what color you currently are etc. eSalon then has a chart showing where you are and what would work for you. From this, they will send a custom blended color right to your door. I've been using this for awhile now and I've changed my color a couple times and I've always had great results and I'm in love with it.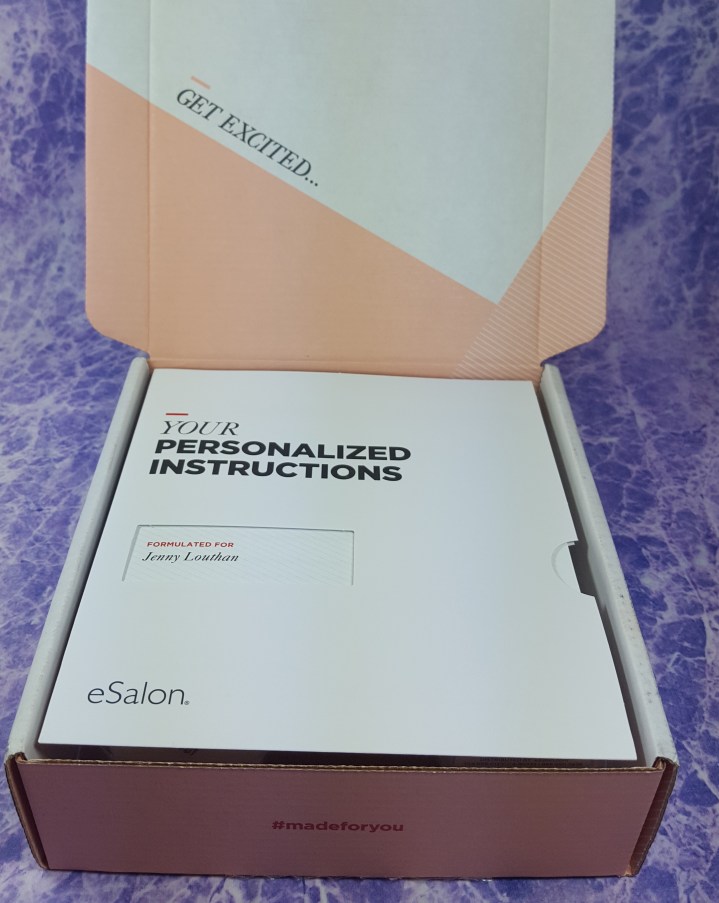 First look in the box and you will see your customized information and instruction card on top of your coloring supplies.  I'm always excited when I get this box.
DEAL: eSalon's color is $24.95 per box, $19.99 on subscription – try your first month for $10 with this link!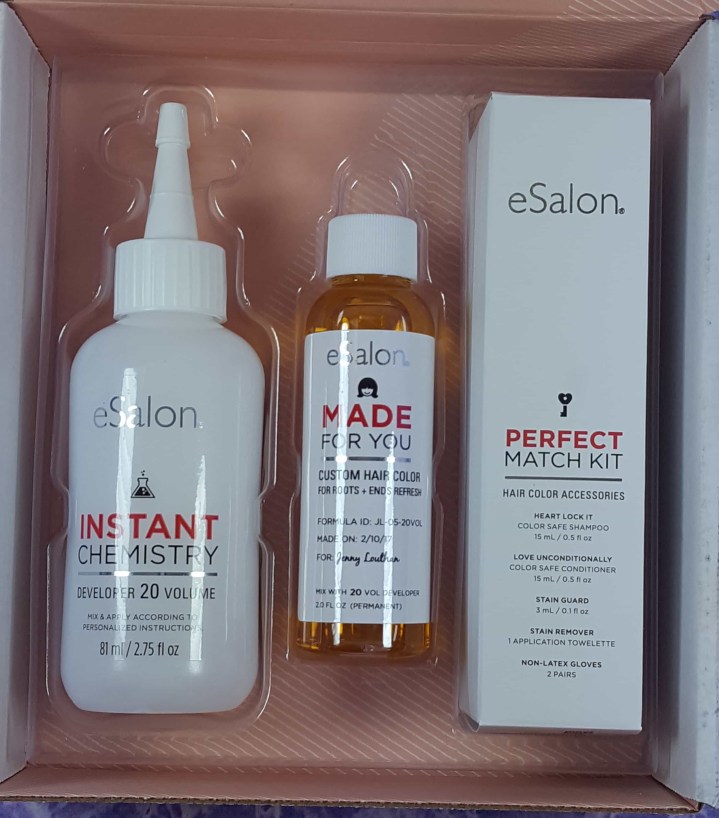 Everything included in my box this month. I love that everything comes in its own little slot in the box. Nothing will float around or fall out or get messed up and it's all nice and neat.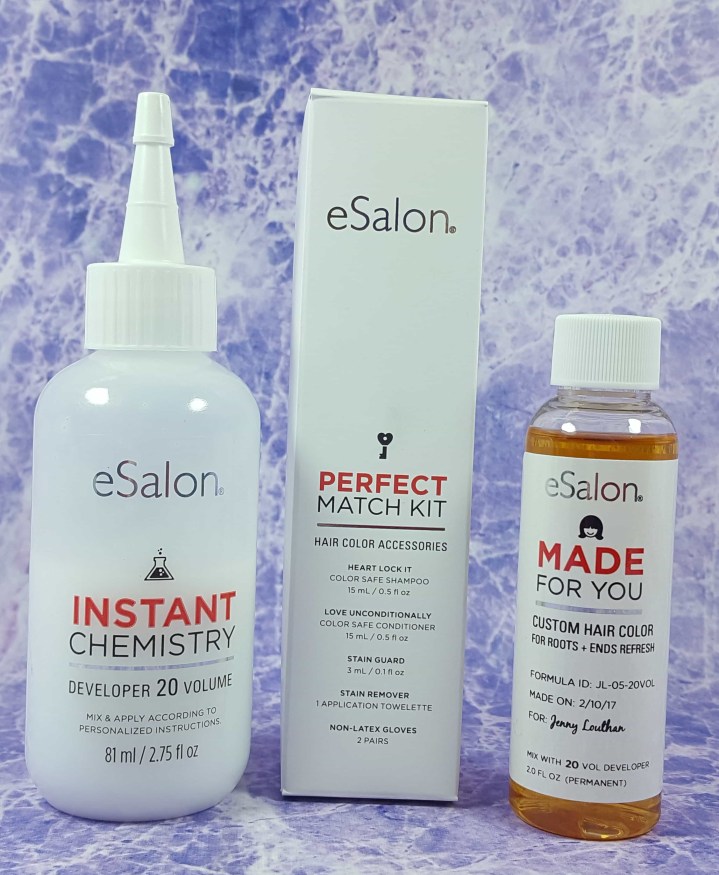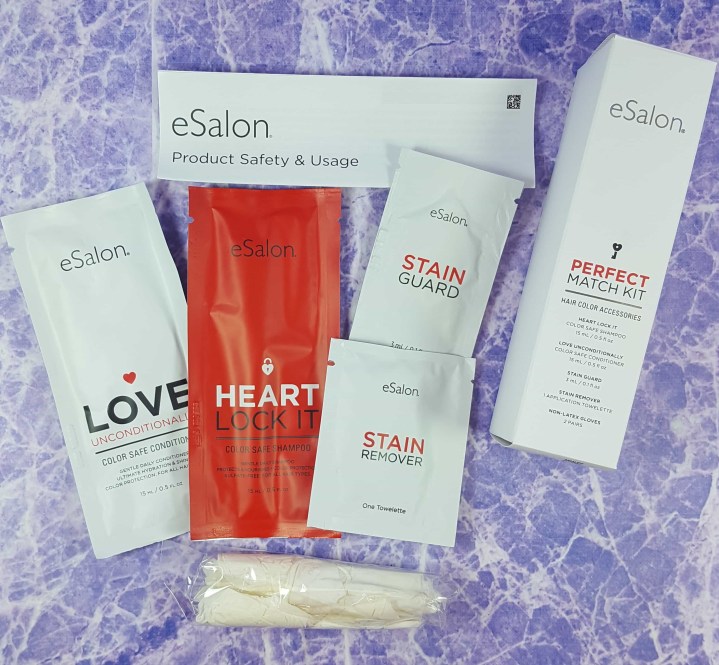 This is the perfect match kit and is all included in the little box. It is all the extras you will need to color your hair: shampoo, conditioner, stain guard, stain remover, sticker, and gloves.
The subscription comes with easy to follow instructions.
I changed up my color this month a little bit and it is really easy to do. You just go into your account and add any notes that you might want them to do. I normally try and modify my notes right after I do my hair so I don't forget but they will also send an email before your box is scheduled to come to let you know and remind you. This was in the email they sent right before they made my coloring and let me know that they got my changes and gave me a couple of days to update again or make any other changes.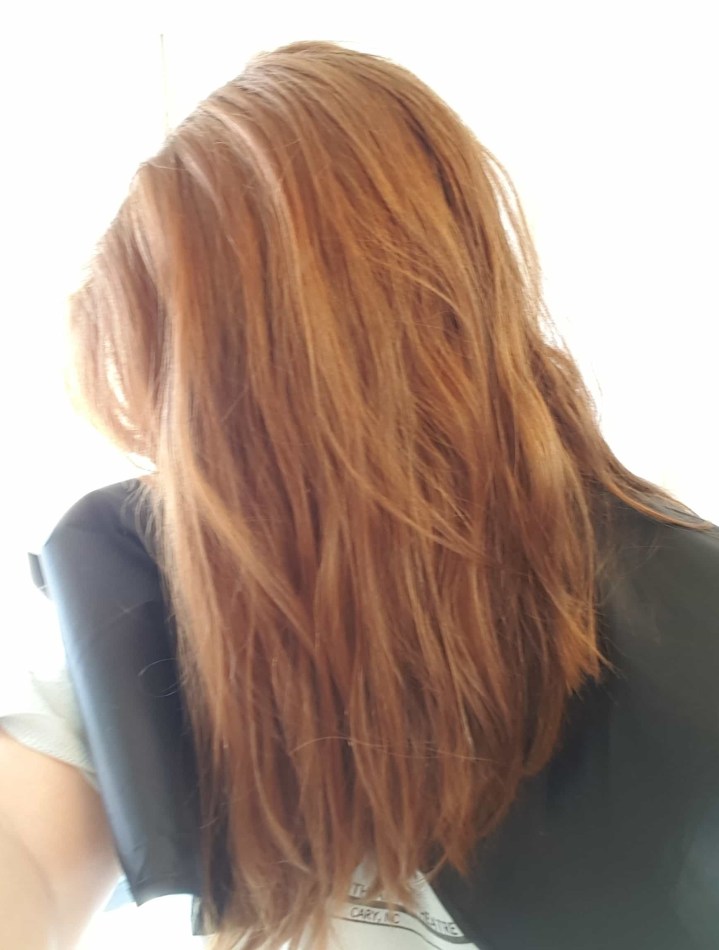 Here is my hair before I started. I'm not sure what happened this time but my hair was really dull and just blah before I colored it. I knew my color was coming and I couldn't wait.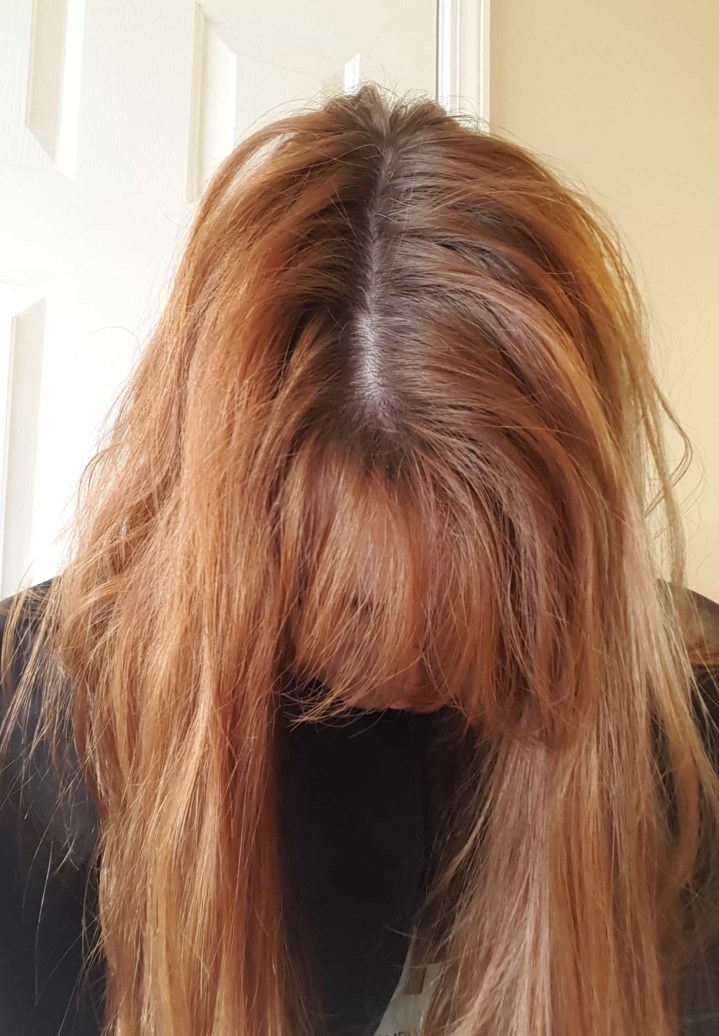 Eeek this picture gets me every time. As I said above I knew for whatever reason my hair grew a lot over the last month or so and it really shows in my roots and my sparkly pieces. I've got my box set at coming every 8 weeks and I think that is perfect timing for me.
eSalon thinks of everything and in my perfect match, they even include a sticker so you can put up your instructions. My side of the mirror is next to the door so it makes sense for me to put up the instructions rights there so I can reference them as needed.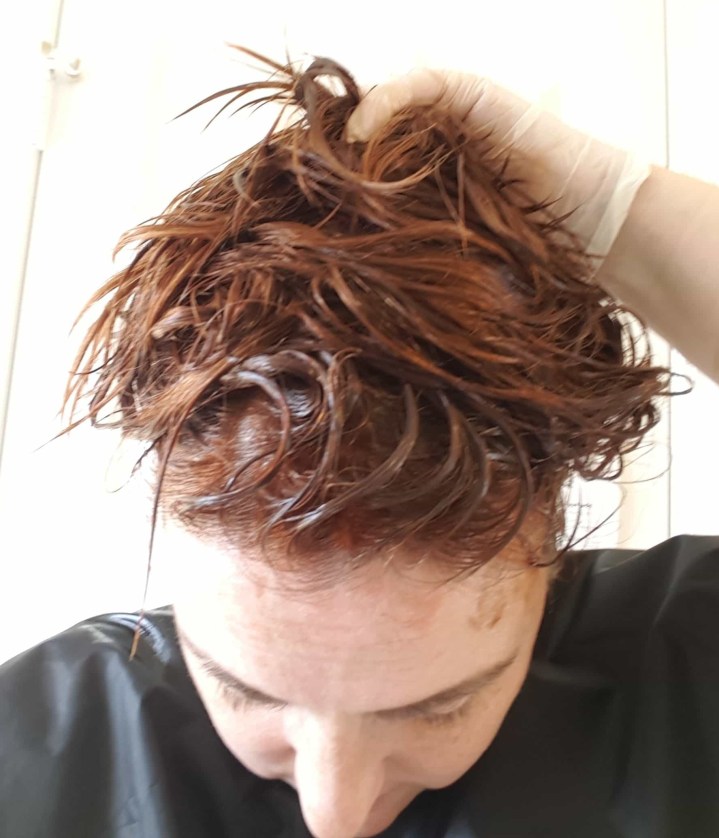 Here is my hair with the coloring all in right before I was going to jump in the shower to wash it out. This picture makes me smile and I wish I could get my hair to pile up like this with some sort of clip or something. I think it looks great but of course, it only does this when I use my hand and hold it that way.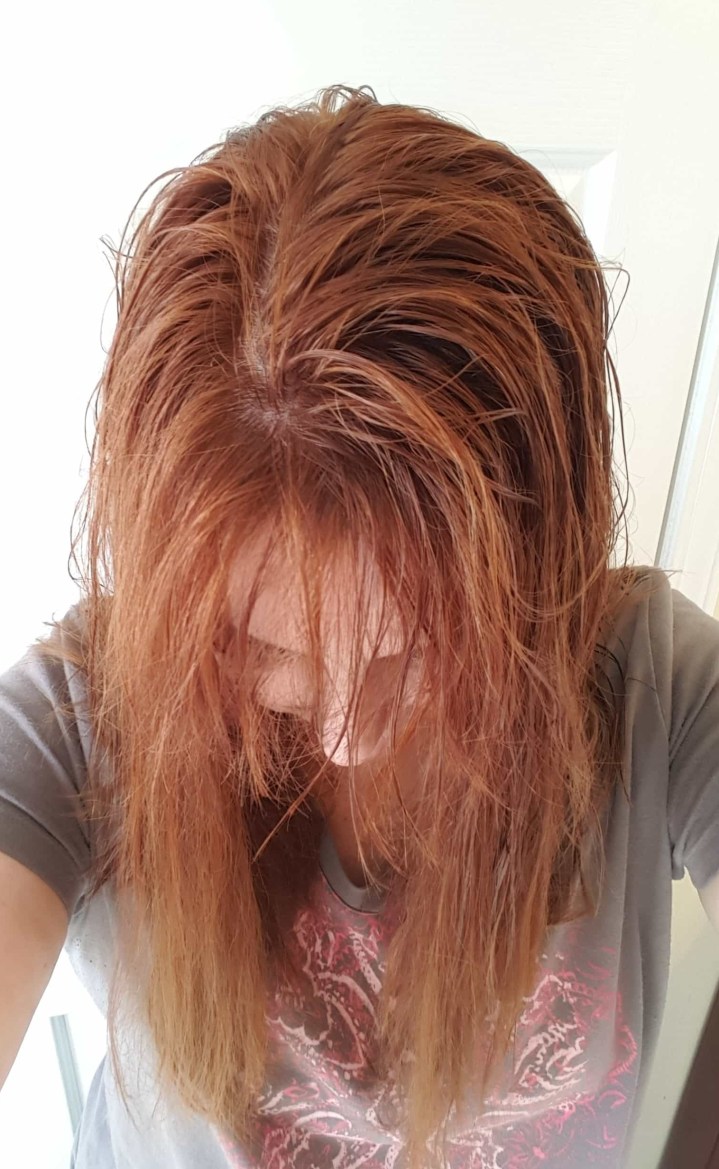 Fresh out of the shower and combed out. I could see the new color right away and knew I would love it when it was dried.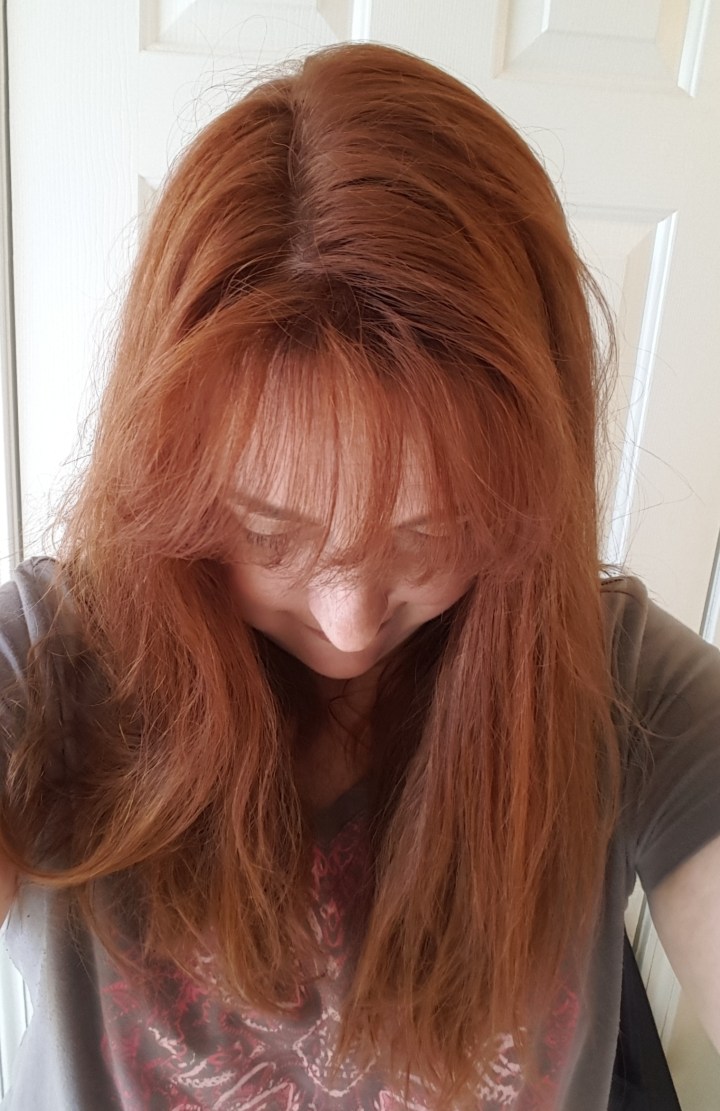 All dried and ready to go.  You can really see the extra red in there and I was so excited.
Since it always looks different in the sun light here I am outside and you can really see how red it is. I'm so excited for it and I'm ready to go into spring. With the weather around here lately we have pretty much skipped winter and most of spring it's been so hot but I'm hoping it will come back soon and my hair is ready to represent.
I love getting my eSalon box and the ease in which they make coloring my hair. I was so hesitant when I first started it but they make the whole process so easy and I have no worries anymore when coloring my hair. I truly get the biggest smile on my face when I get out of the shower and see my new color. While I don't venture far from my natural hair color seeing the gray go away is just the icing on the cake and allows me to look as young as I feel.
Do you color your own hair? Have you tried eSalon? You can try your first at-home color for $10 with this link – no coupon code required!