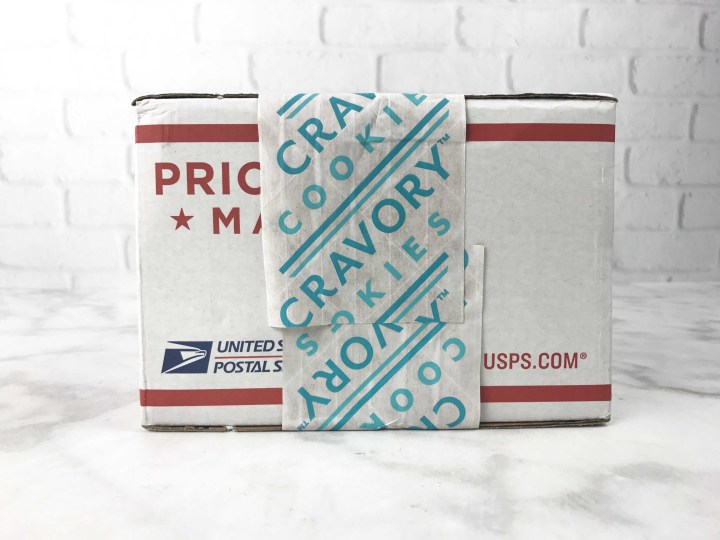 The Cravory is a monthly subscription for gourmet cookie lovers! The Cravory only sends cookies made from the finest ingredients for only $23.95 per month.
The box is a perfect gift!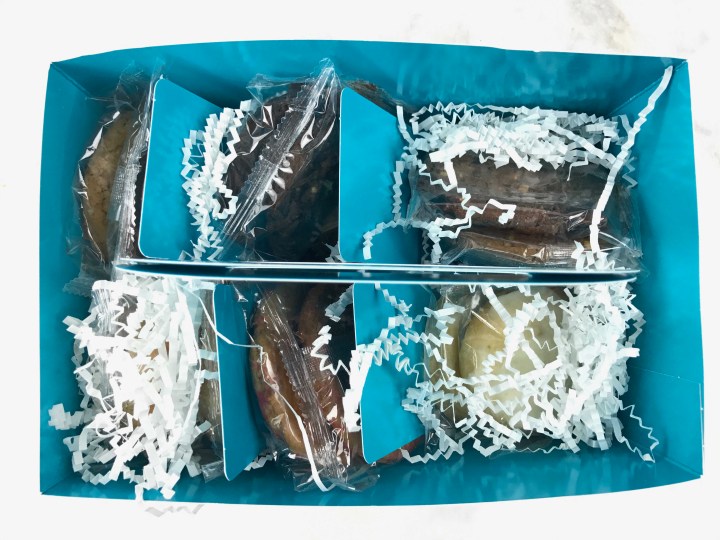 We opted for the 12-cookie box. You can get the "teaser box" with 1 of each monthly flavor, or 2 dozen, to have 4 of each. Every month The Cravory creates 6 unique cookies.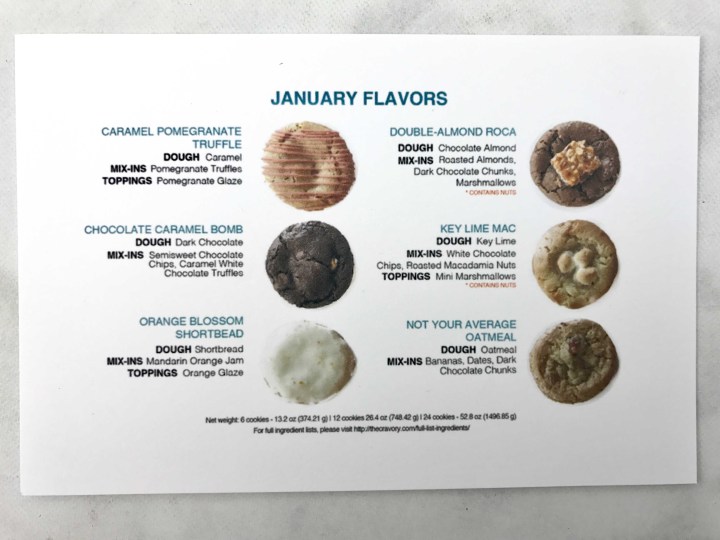 The information card gives you a list of all the flavors of the month. FYI, the URL on the card for the Cravory's full ingredients list is broken. The one linked on their site doesn't list these cookies, nor does it list the upcoming flavors' ingredients.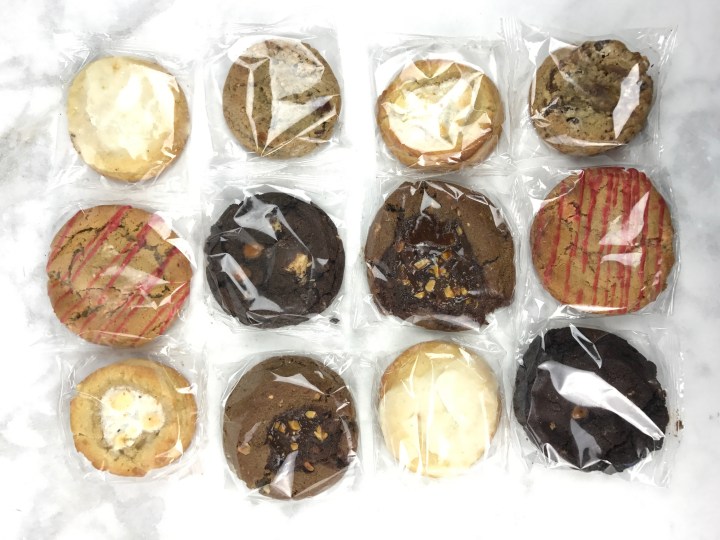 All the cookie goodness this month!
Caramel Pomegranate Truffle Cookie: I can't say that I got a strong pomegranate flavor for this cookie, which is a caramel cookie with a tad of pom glaze + pom truffles mixed in.
Chocolate Caramel Bomb Cookie: Wow this is dark! I actually wasn't a huge fan of this warm, but chilled I love the chocolate flavor of the cookie. It combines dark chocolate dough, semisweet chips, and caramel white chocolate truffles.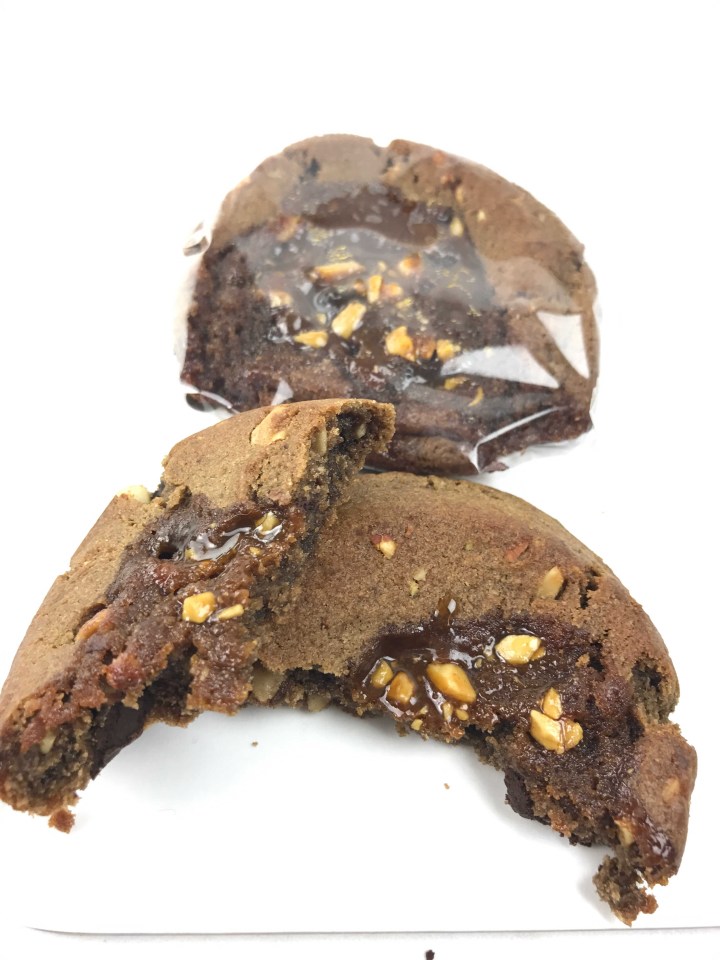 Double Almond Roca Cookie: Yummy & gooey! This chocolate almond cookie has almonds and dark chocolate chunks mixed in with ooey gooeyness on the top. It says it's marshmallow but it's just squidgy and sweet! Goodbye New Year's resolutions!
Orange Blossom Shortbread Cookie
The flavor of this glazed shortbread cookie is lightly citrusy – mandarin orange jam is mixed in! Love the texture, it's dense and quite cakey instead of crumbly.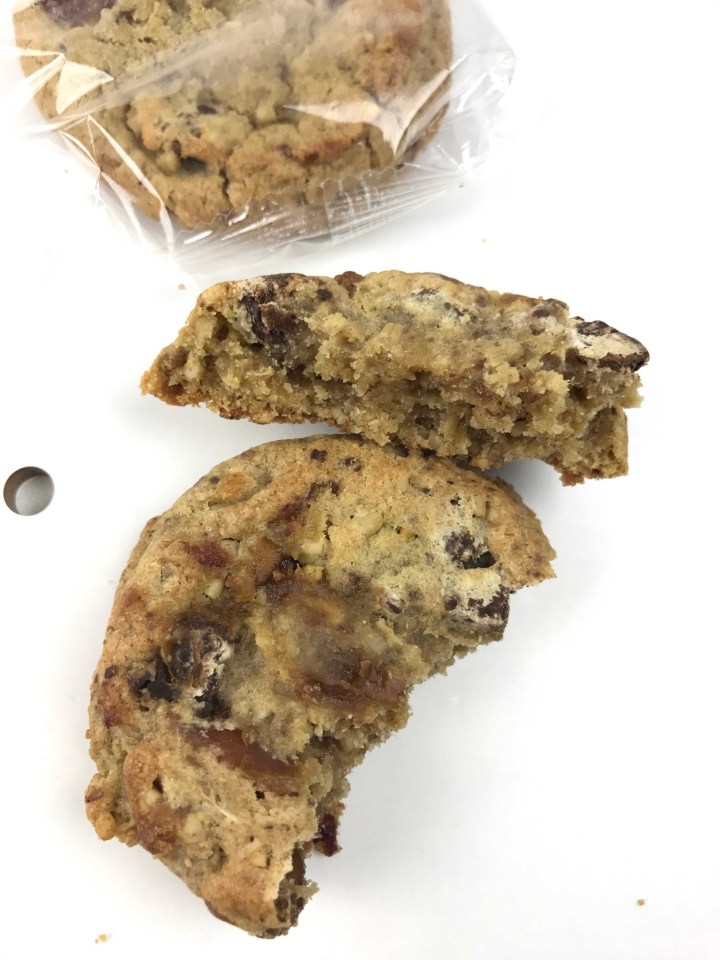 Not Your Average Oatmeal Cookie: We love this cookie, and like the rest of them, we think the flavor & texture is best while cold. It's seriously moist, almost underbaked, but that gives a fantastic banana bread flavor. This cookie has an oatmeal dough, with bananas, dates, and dark chocolate chunks.
Key Lime Mac Cookie: This cookie has a key lime dough with white chocolate chips and roasted macadamia nuts, all topped with toasted mini marshmallows!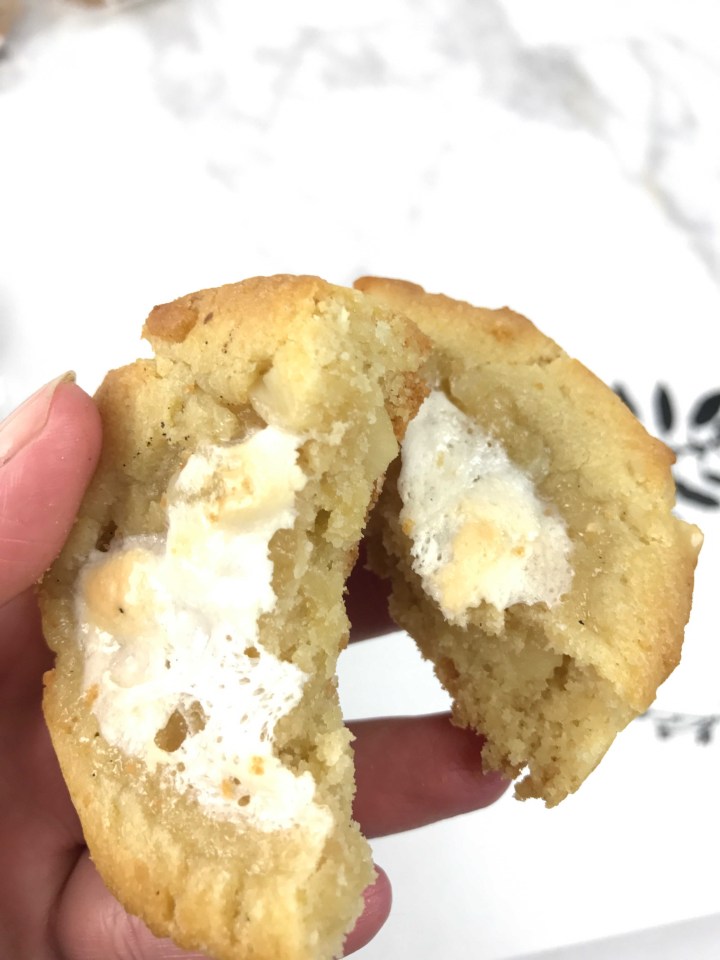 I'm not a huge fan of "white" goodies and I couldn't taste any discernible lime flavor at all. My husband has an exceptionally great nose and taster and he says he can taste it, but it's really light, like the proper waft of vermouth. I was a little bummed but my husband was happy because he likes white food.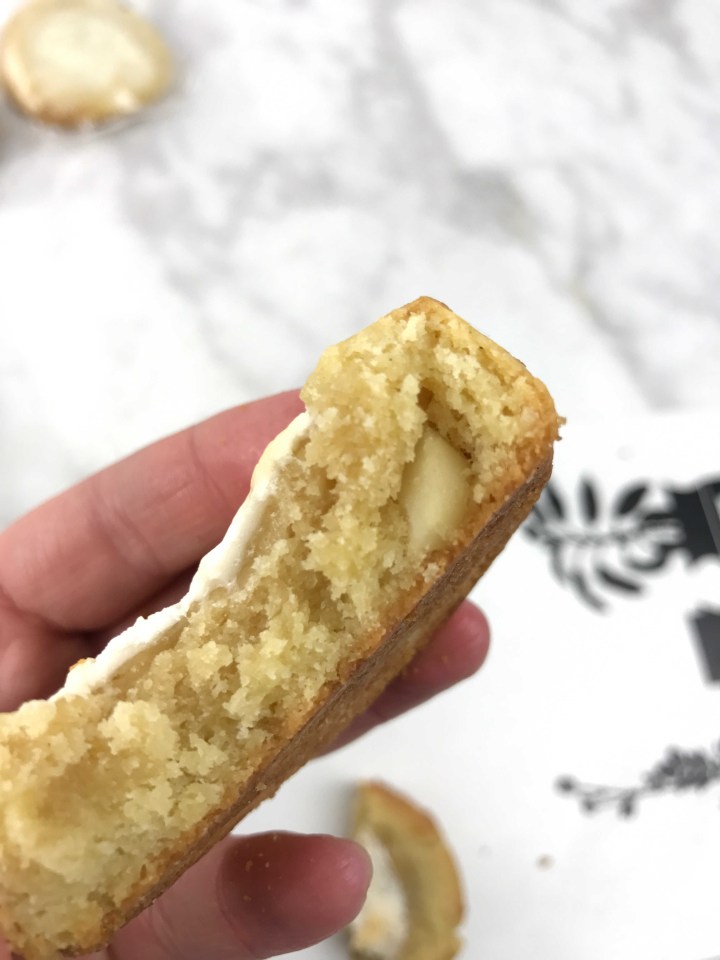 My husband thought it was delicious! I wanted it to be really lime-y.
We think this is a great, tasty subscription. We have one huge word of warning though – don't order at the end of the month, because you'll receive your cookies at the end of the month. In our case, we ordered late on the last day of the month, so our January cookies were baked & sent in February, which also means we'll receive our V-Day cookies in March :/
FYI – you can make your cookies last all month by putting them in the fridge! I've been using the large container with the handle from this snapware set as my cookie container, and it fits 12 cookies.
What do you think of Cravory?