Crate Chef is a bi-monthly subscription box that brings your favorite chefs' top picks to you. Each month costs $45, and you'll get a specially curated box filled with a well-known chef favorite kitchen items, food products, as well as selected recipes.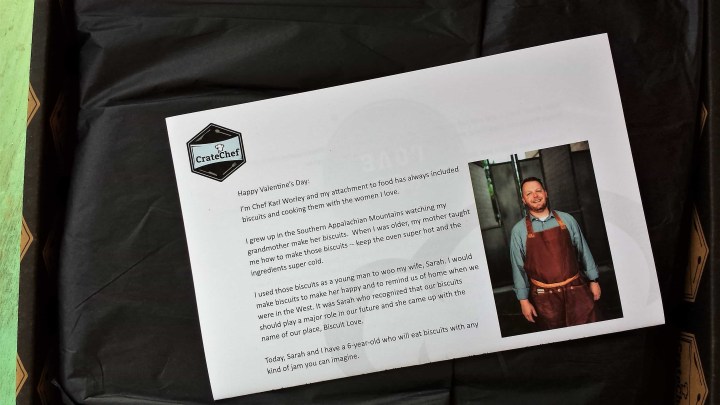 This month's box comes to us from Chef Karl Worley. Chef Worley wooed his now wife, Sarah, with his cooking, more specifically his biscuits. The Nashville pair now operates restaurants that are dedicated to bringing their version of southern comfort foods to their patrons. And, Chef Worley has filled this month's Crate Chef box with his favorite items from Tennessee purveyors and several exclusive recipes.
DEAL: Save 10% off your first order with coupon code HELLO10.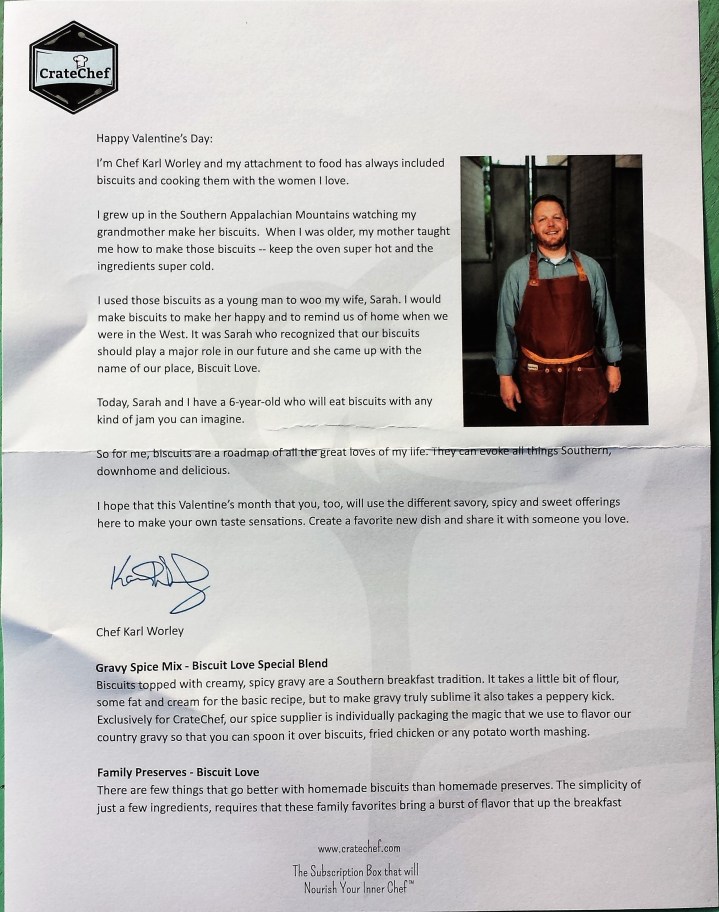 Apparently, the biscuit love is strong stuff, because Chef Worley and Sarah now have a mini six-year-old chef!
After an introduction letter from Chef Worley, each item in the box is listed and elaborated on.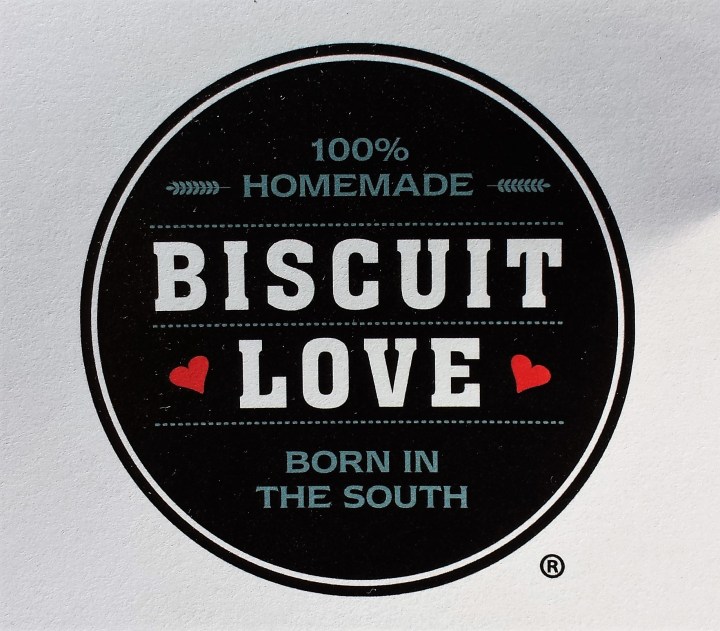 I like their logo. I wonder if they have it in a bumper sticker?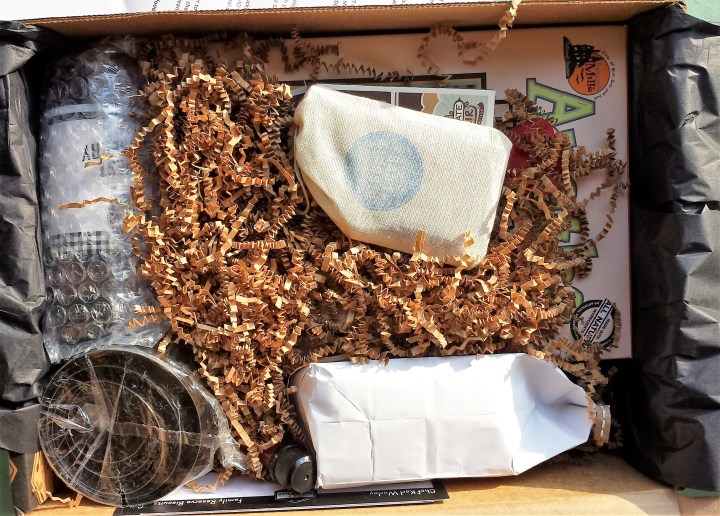 The box was packed tight with goodies. I really couldn't get everything to fit back in there once I took it out. They must be some kind of Tetris geniuses at Crate Chef.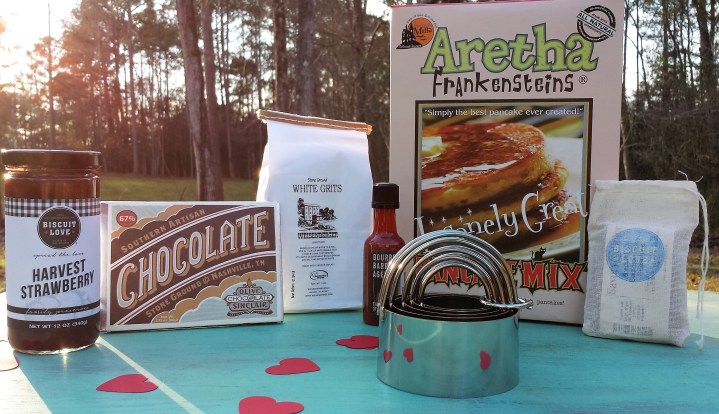 The breakfast theme of this box speaks my language. Breakfast for dinner is my second favorite dinner, just behind nearly anything in a taco shell.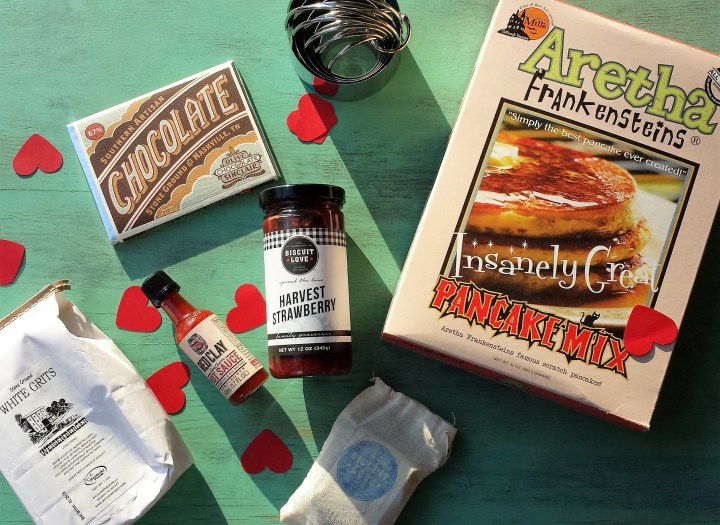 The cute cut out red hearts were in the box too.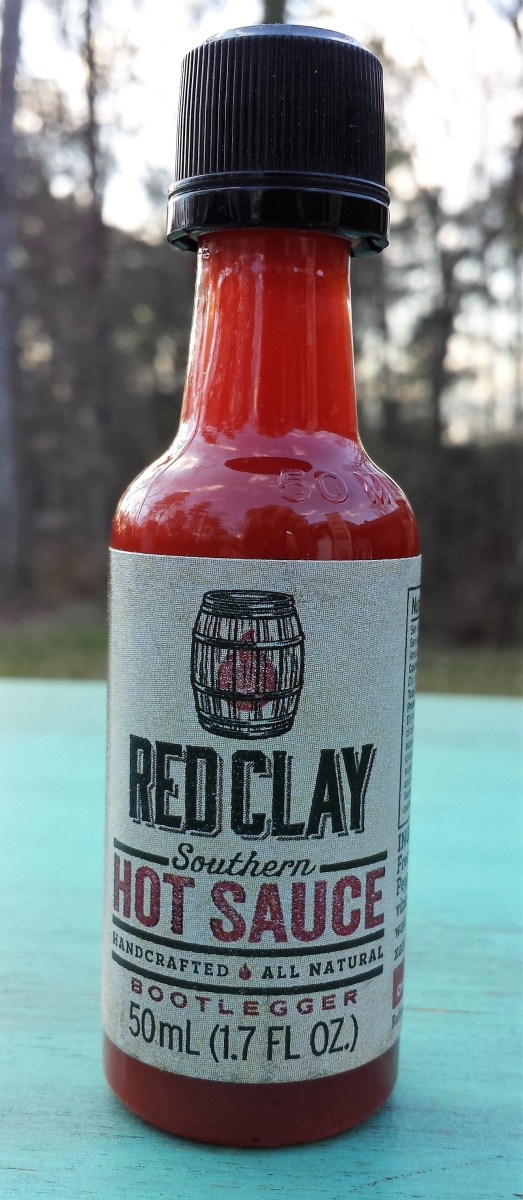 The first item in the box was Red Clay Southern Hot Sauce by Chef Geoff Rhyne ($2.50). "Red Clay is the only hot sauce born in southern bourbon barrels. Never cooked or heated, the bottles are cold-filled to retain the subtle and firm flavors of heat, vanilla, and oak. Each bottle is handcrafted, offering up a sauce the color of the red-clay soil of Georgia with a taste of the South."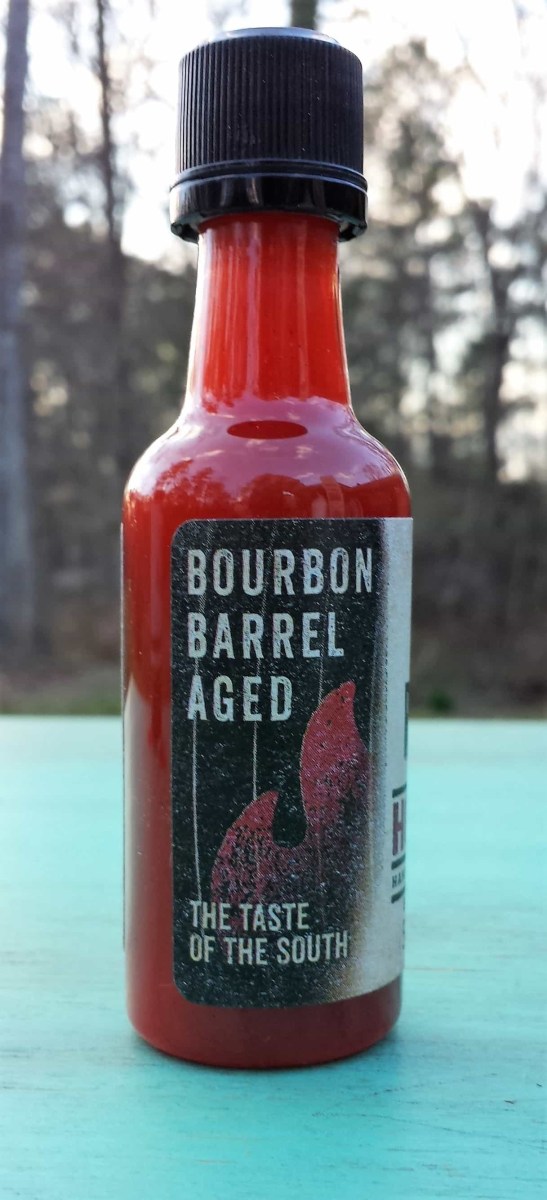 I don't do anything with heat. It probably has something to do with a traumatic childhood experience involving my grandmother's ornamental pepper plant (one of those really pretty ones with purple and red peppers on it) that I wasn't supposed to touch. But, I digress. The beautiful color of this hot sauce is as pretty as that forbidden pepper plant of good and evil of my childhood.  So, needless to say, I haven't tried it yet.  But, it is calling to me.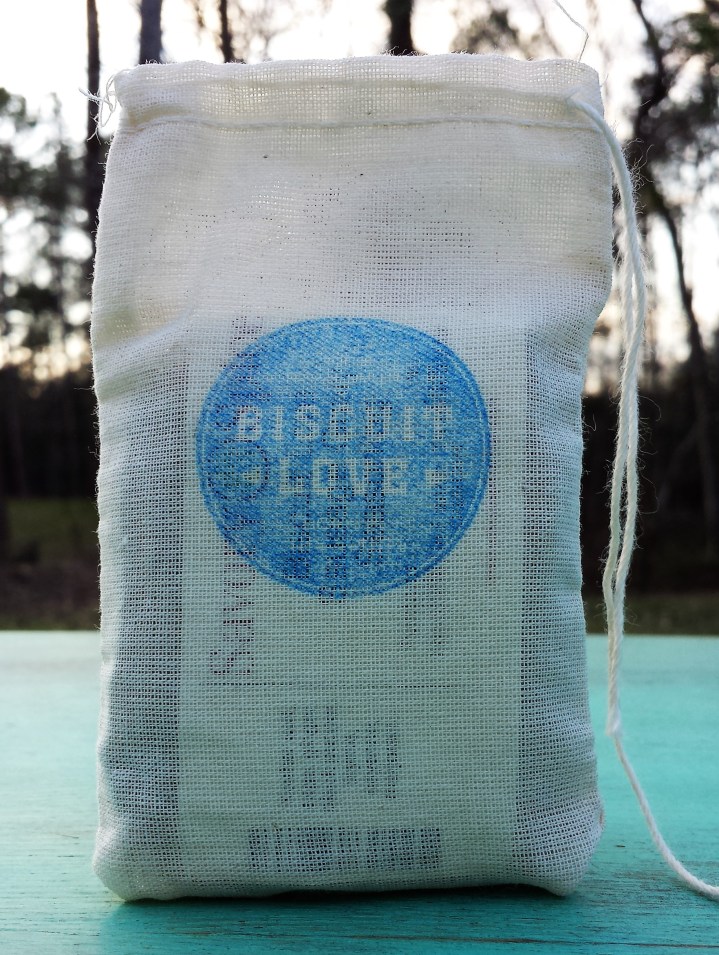 Gravy Spice Mix – Biscuit Love Special Blend was our next prize in the box. "Biscuits topped with creamy, spicy gravy are a Southern breakfast tradition. It takes a little bit of flou, some fat and cream for the basic recipe, but to make gravy truly sublime it also takes a peppery kick. Exclusively for Crate Chef, our spice supplier is individually packaging the magic that we use to flavor our Exclusively for Crate Chef, our spice supplier is individually packaging the magic that we use to flavor our country gravy so that you can spoon it over your biscuits, fried chicken or any potato worth mashing."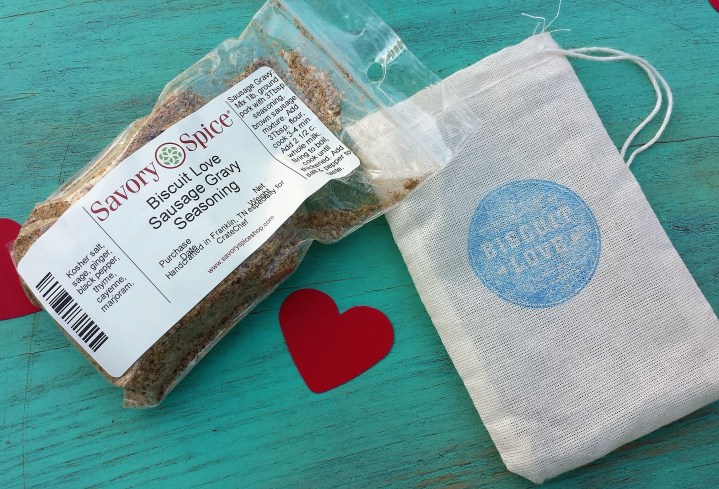 I haven't made up the gravy yet, but the spices smell divine! The sage in it shines through the most of the spices. I can't wait. I love sage.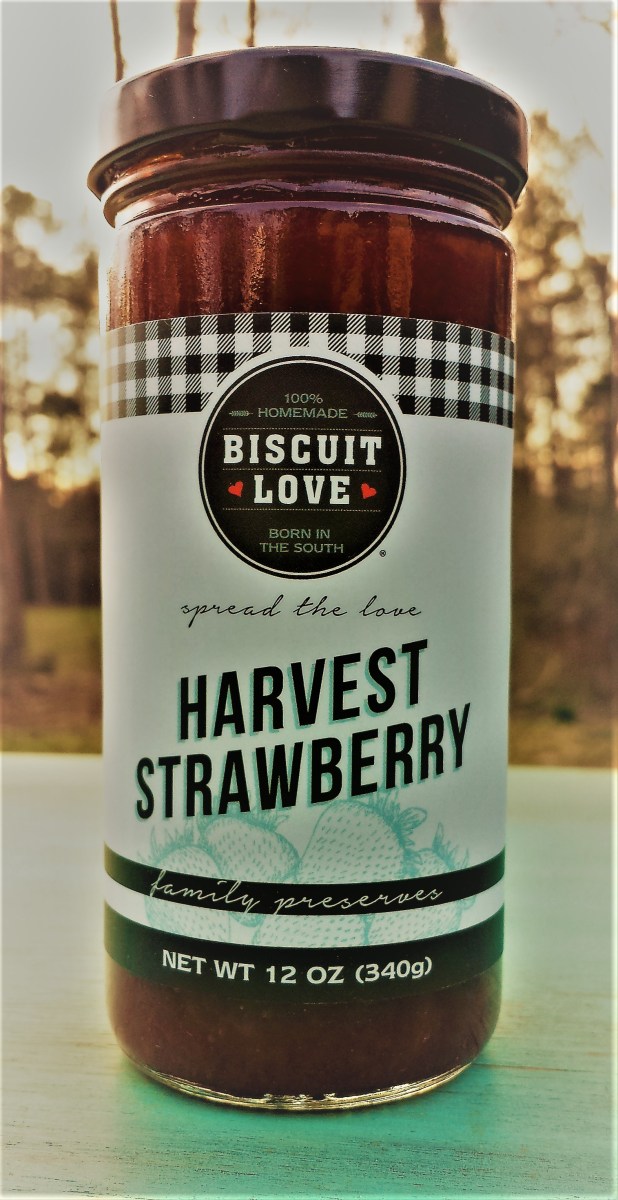 This Family Preserves from Biscuit Love were up next. "There are few things that go better with homemade biscuits than homemade preserves. The simplicity of just a few ingredients, requires that these family favorites bring a burst of flavor that up the breakfast ante. Fresh fruit, sugar, and salt combine for our Harvest Strawberry, Blackberry Lemon, and Summer Peach preserves. Each flavor evokes a memory of summer and a taste sensation."
This was lovely stuff. I haven't made biscuits yet. But, I made Valentine pancakes and had some preserves with them. Yummy!
This set of 5 biscuit cutters was in the box and made my heart skip a beat. I have a small biscuit cutter addiction.  And the way these nest together so nicely and then have a ring to keep them all together.
"A perfectly round and perfectly sized biscuit in turn makes a perfect culinary treat. This set of five biscuit cutters offers varying sizes based on your appetite or dish. Each has sharp edges that will cut decisively through the soft dough, readying the biscuit for the oven and your table. Chef Worley's tip: Make sure you don't twist the cutter, twisting prevents the rise."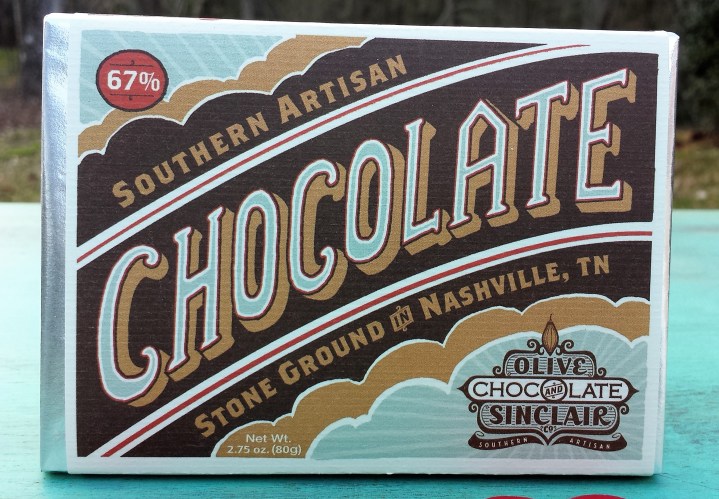 This bar of Olive and Sinclair chocolate was in the box. "Bold, brown, and fudgy, this 67 percent cacao chocolate bar is made with single-origin beans from Ghana and pure flavor. A Nashville-based chocolatier, this Southern artisan chocolate is based on intoxicating cocoa beans and brown sugar."
The bar is included in Chef Worley's recipe for Chocolate Gravy. I have heard of this magnificent concoction, but I have never partook. It's happening very soon.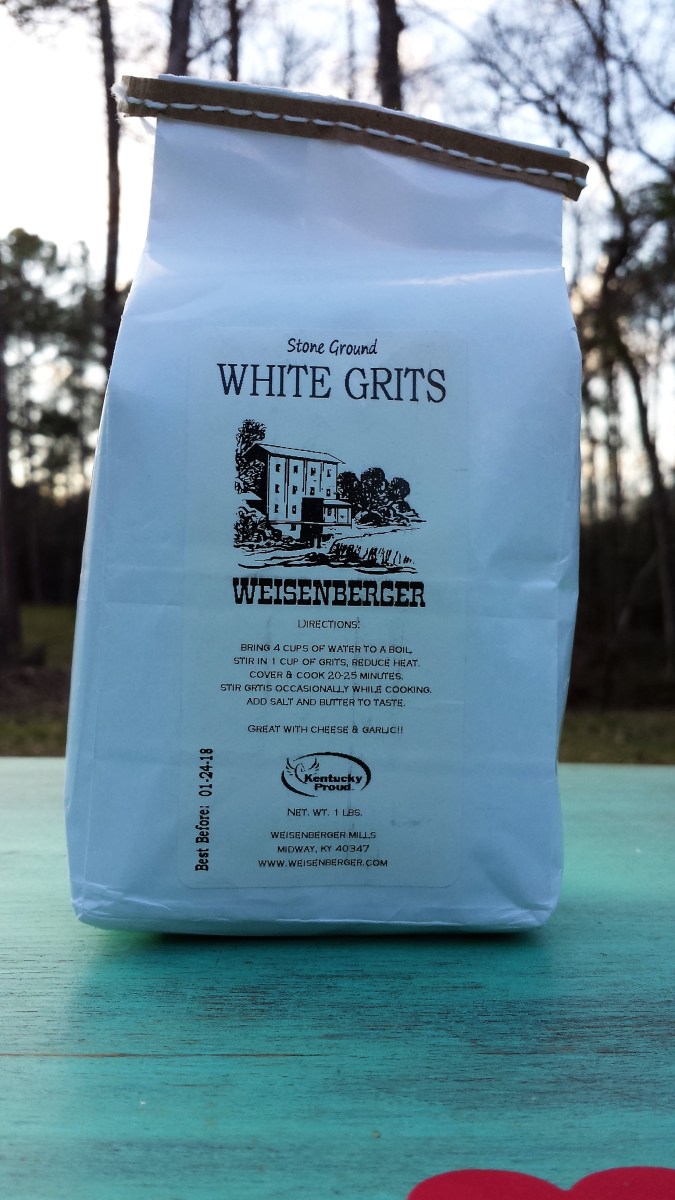 These magnificent Stone Ground White Grits from Weisenberger Mill ($3.50) were in the box. "In operation since the 1800's Weisenberger Mill of southern Scott County, Kentucky, offers an old-fashioned and hearty Southern grit.  Stone-ground from locally grown non-GMO corn, these grits bring forth a nutty, fresh corn taste that will make you a true believer in this regional dish."
So, grits, it's a Southern thing so, for all of you not blessed to be born in the South let me explain the basics. No instant grits. They aren't grits. They are gross. You must have real, stone-ground, not instant, grits. Or, you don't have grits. And secondly, no sugar. Ever. You can put your sugar on instant grits if you want (because they aren't real grits anyway). But, real grits should always be a savory dish with butter and salt or cheese, etc.
How should you prepare real grits then? You boil water and salt in a pot with a tight-fitting lid, add the grits, stir, put the lid on them and turn them off. That's right, just leave them sitting on the warm burner for about 20 minutes.  They will finish cooking and you don't have to worry about them burning. Win-win. When the 20 minutes is up you can add dairy to make them creamier. My favorite is to add cream cheese for a rich cheese grit. You can also use heavy whipping cream for a non-cheese option or plain milk for a lighter option. I love grits.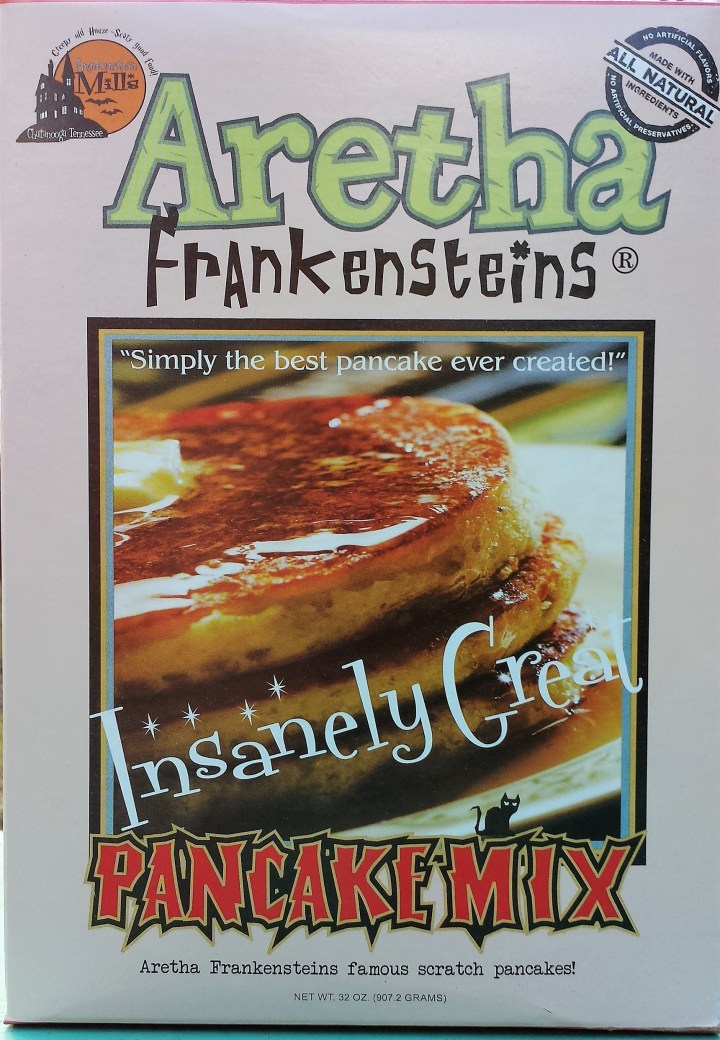 And lastly, in our box of breakfast goodies, was this Aretha Frankenstein Insanely Great Pancake Mix by Frankenstein Mills. ($10) "Rich, delicious and simply the best pancake mix available. The creators ask that in order to preserve the integrity of this breakfast manna to only use it with buttermilk, eggs, and canola oil. "No cheatin' with regular milk or fake eggs as the Pancake gods will strike down upon thee with great vengeance they warn."
So, I mixed these up.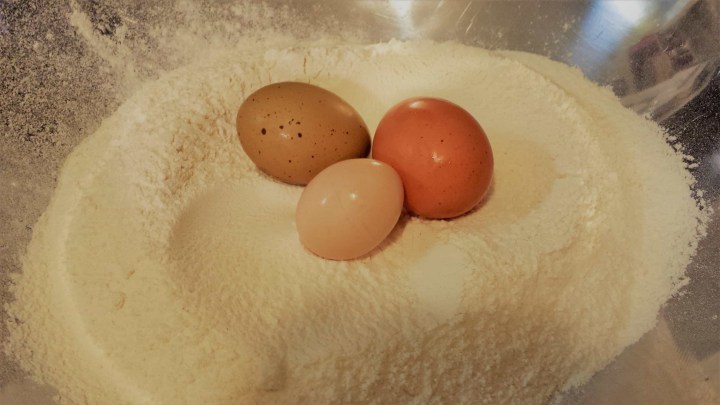 And, I strictly obeyed the rules so as to avoid the wrath of the afore said pancake gods. These eggs are from our hens. Check out the little one!  It's from a banty hen. They stay tiny and lay these darling little eggs.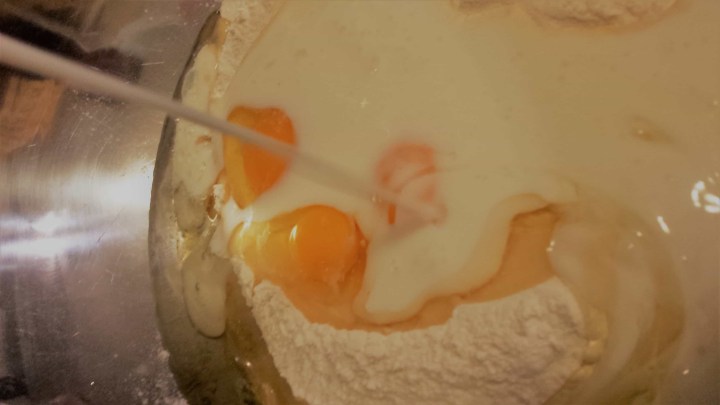 And, that's a lot of buttermilk. I made up the whole box. ( I have five kids, okay!?)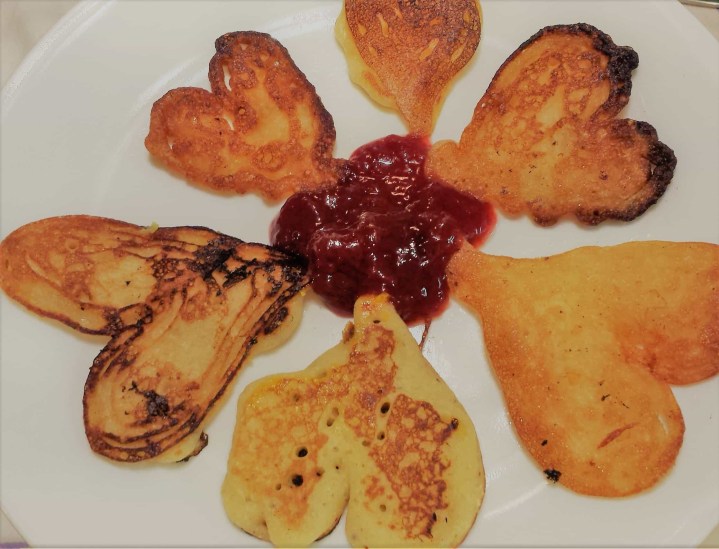 Here's by cute as a bug's ear pancakes with the strawberry preserves from the box. Delicious.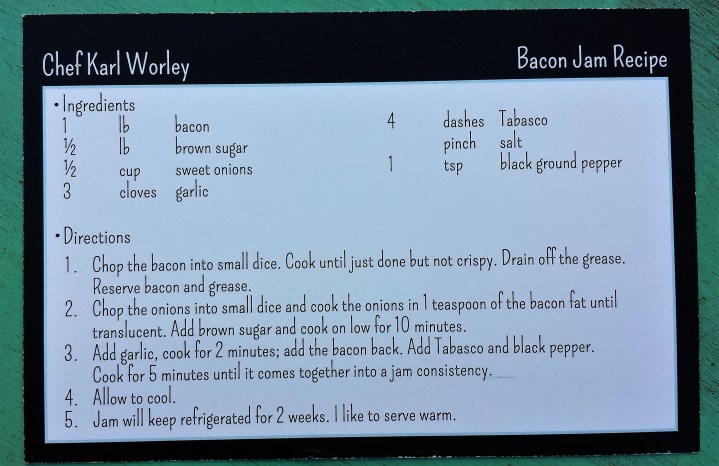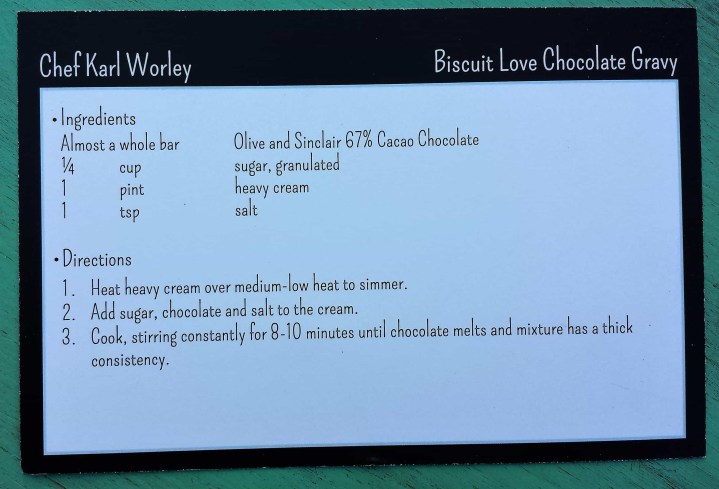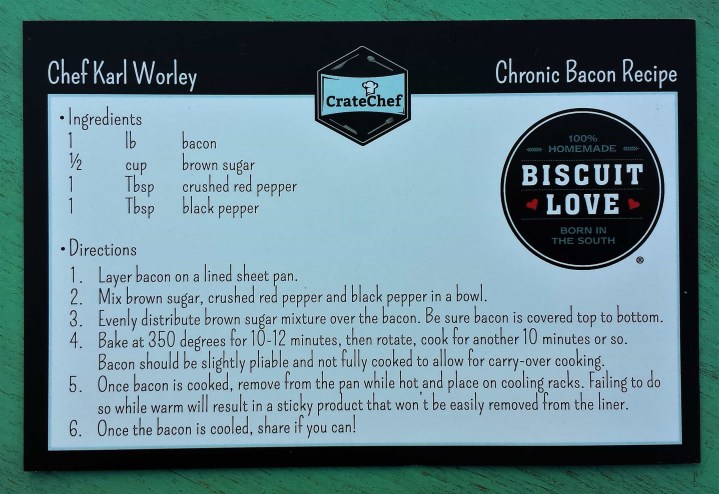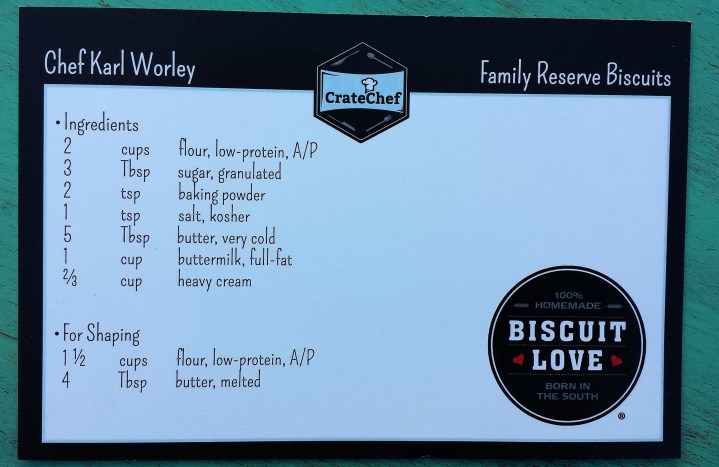 The box also included several tempting recipes that used ingredients from the box. I haven't tried them yet, but the chocolate gravy… I mean chocolate and gravy, how could that go wrong?!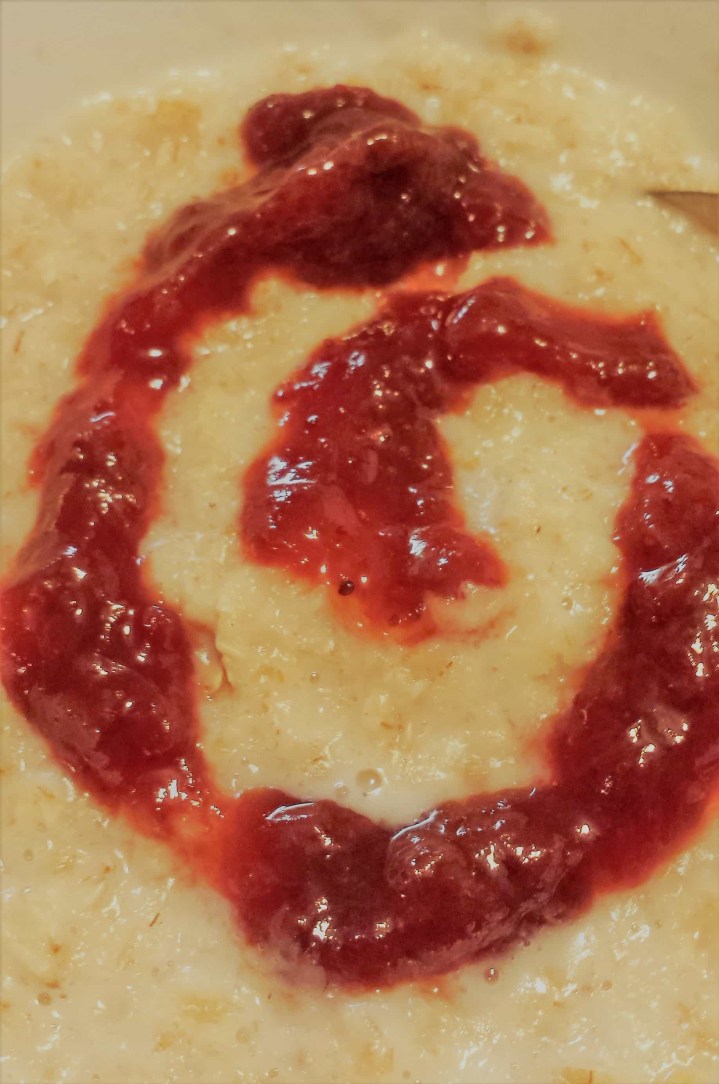 I swirled the strawberry preserves over oatmeal and it was wonderful. (Not grits! They are only for savory dishes remember?)
I loved everything in this box… Well, maybe not the hot sauce, but it is pretty! I just don't like hot stuff. I'll be passing it on to someone who does. And, the breakfast theme was a lovely idea.
What did you think about this box from CrateChef?