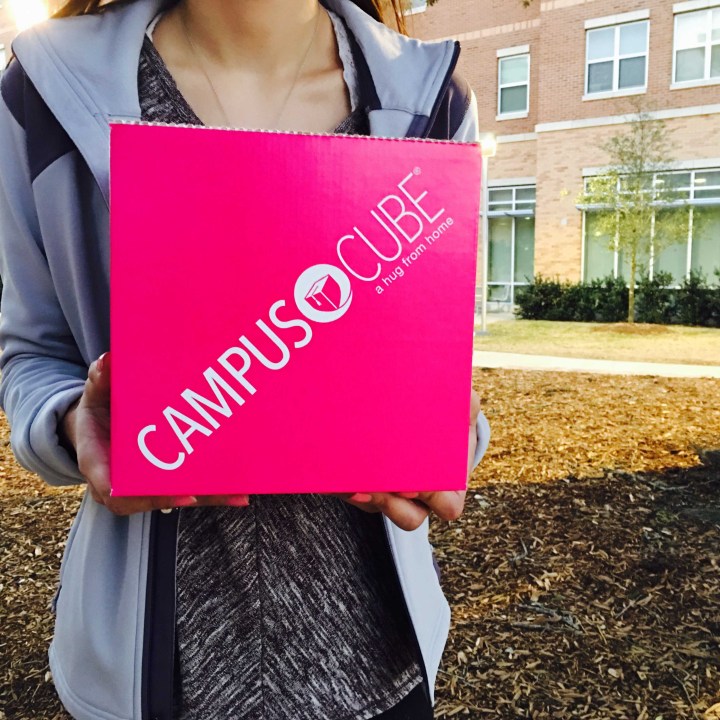 CampusCube College Care Package is a subscription box that delivers treats to your babies who have left home to start a new chapter in their lives at college. As a slacker busy working mom, I don't have time to run around gathering care package items for my daughter but now I have someone to do the picking and packing for me, at least until I get a day off so I can do it myself. CampusCube offers a version for boys or girls and I, or rather, my freshman daughter, will be reviewing the items from the Girl's Fresh Start Cube (available until the end of February.)
CampusCube is $44.99 for a one-time box and includes FedEx Ground Shipping. They ship six times a year: September, October, November, February, March, and April. If you want the next 3 boxes the price drops to $34.99 per box.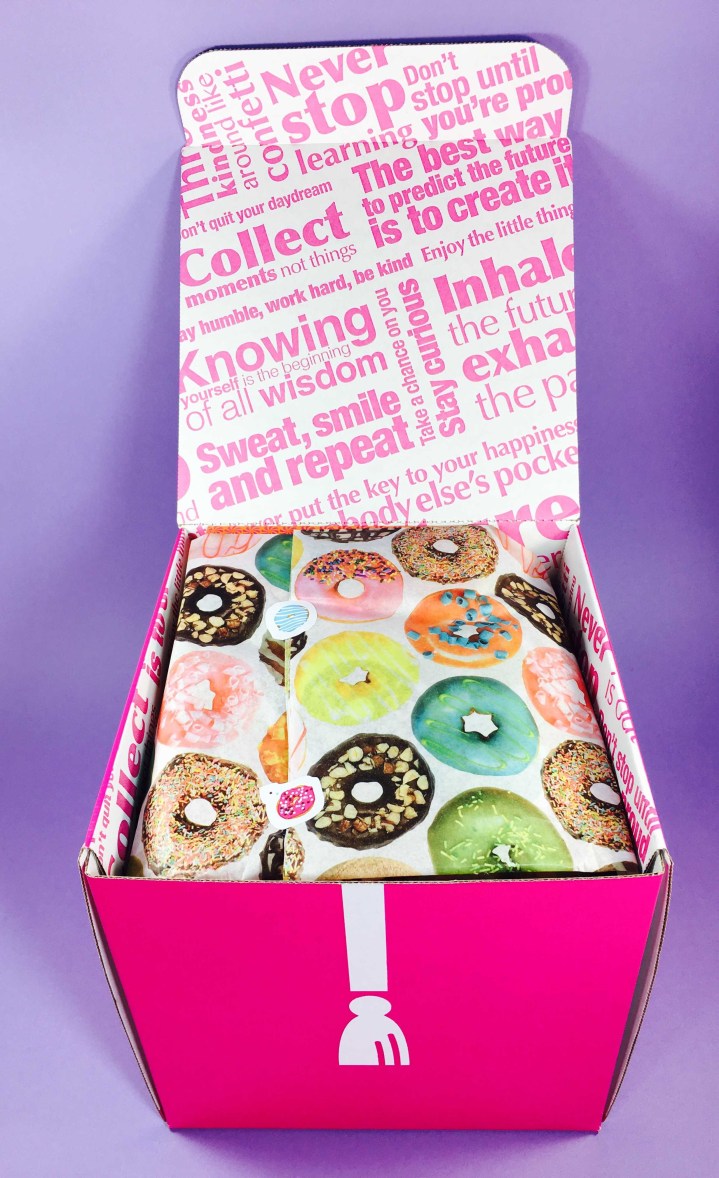 DEAL: Take $5 off your box! Use coupon code Hello5.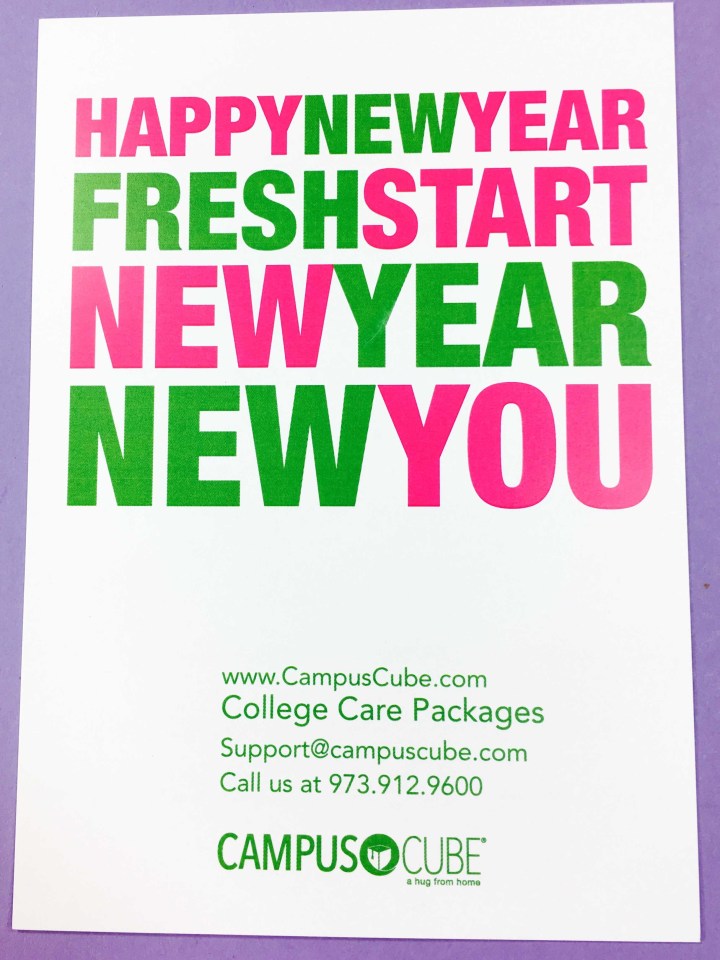 There was a card on top that gave a support number that your student can call if there is a problem with their box. CampusCube offers a gluten-free box and there's a Birthday Box option as well.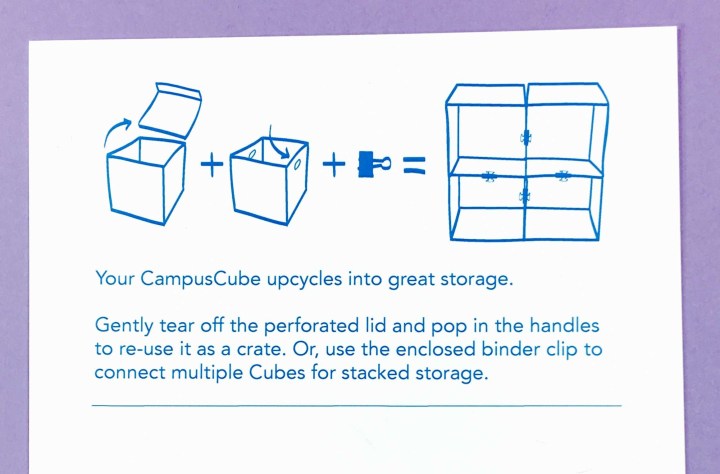 The flip side of the card gave instructions for upcycling the cube into colorful storage boxes!
CampusCube does a wonderful job on presentation and I thought everything looked great. There was an air bubble pack to keep the items from moving during shipping. I hauled myself over to the university to deliver this package (like I needed a reason to visit) but luckily you can have it sent directly to your baby at school.
Everything in the box! The first box includes a razor and smartphone wallet. CampusCube does a great job of telling you exactly what will be included in the current shipment and only shows you the boxes that are available for the rest of the current school year.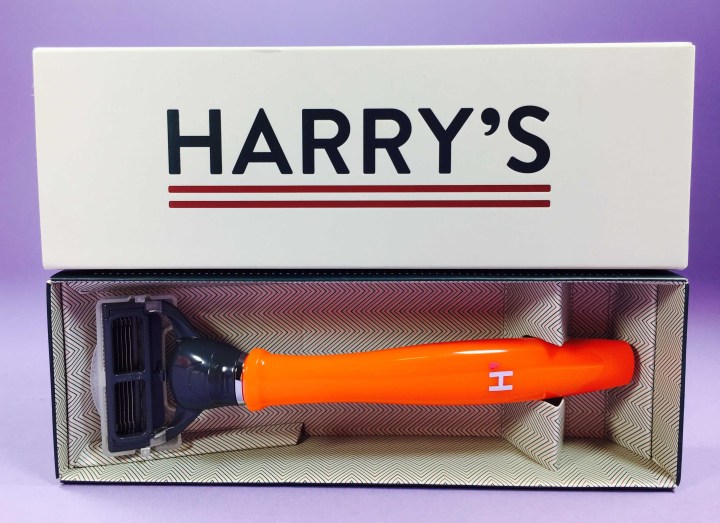 Harry's Truman Razor Handle with 5-Blade Cartridge ($9) was in this first shipment and there was a card with a code redeemable for four more Harry's Blades ($8) included. Five-blades gives a close shave and my daughter likes these razors.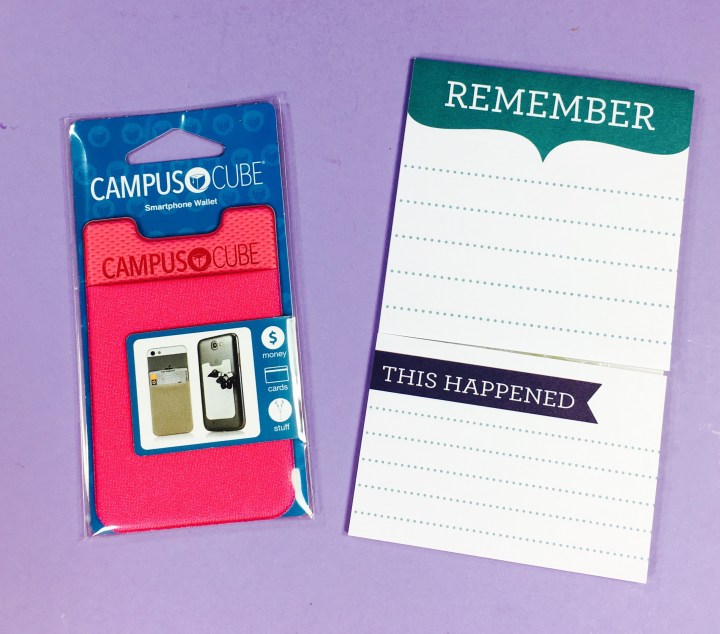 Also in each initial box is a Sinji Pouch Smart Phone Card Holder ($9.99), an adhesive-baked wallet that attaches to your cell phone and lets you take your cards or money along without having to carry a wallet. Gemma thought that the Sticky Note Set ($1.50?) was cute, too.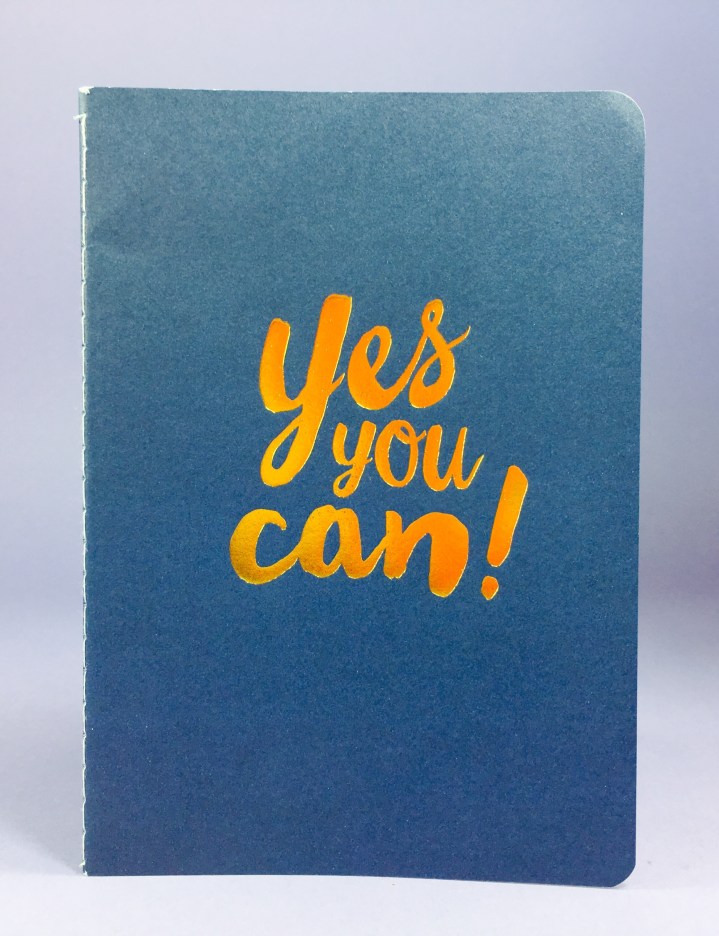 The Yes, You Can! Journal ($1.50) had pretty gold foil on the front…
…and lined pages on the inside and is handy for writing down thoughts, to-do lists, or homework assignments.
Andalou Naturals Instant Hydration Soothing Face Mask ($4.99) is soothing and nourishing, which makes it sound sort of mom-like. Aloe, rose water, pomegranate seed oil, and several plant extracts provide skin with a much-needed hydration boost.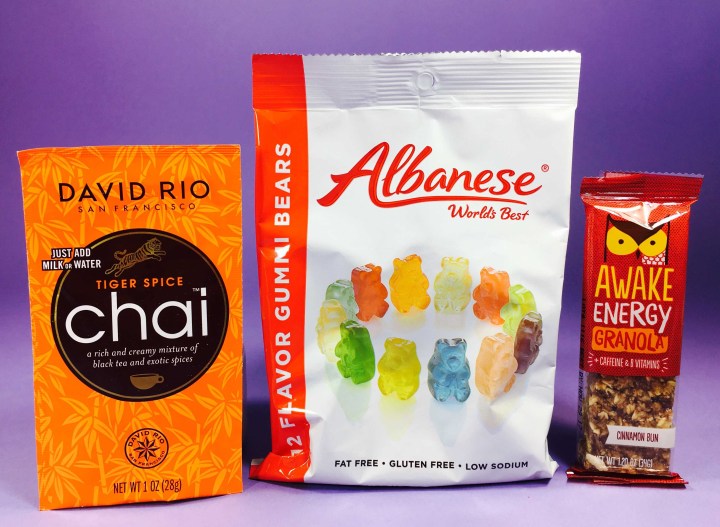 David Rio Tiger Spice Chai ($1.25) was "good and cinnamon-y" but also features cardamom and cloves. Simply mix with water or milk of your choice. Albanese 12-Flavor Gummi Bears ($2.49) were good and eaten by her roommate. Awake Energy Granola Bar in Cinnamon Bun ($1.56) "tasted like a cinnamon bun but healthier" and has the same amount of caffeine as a cup of coffee.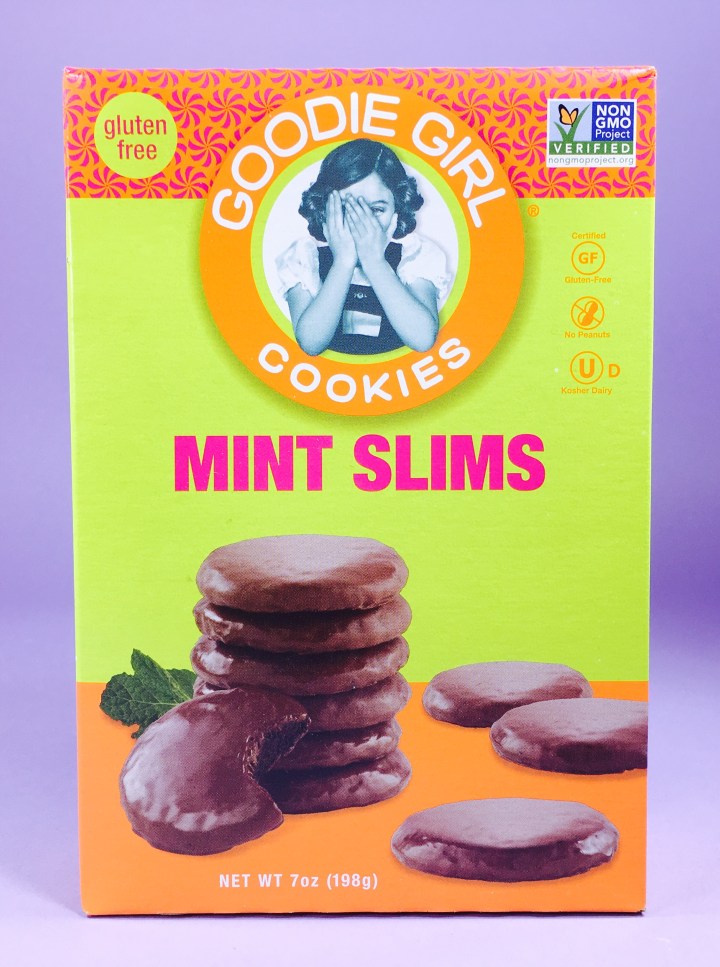 Goodie Girl Cookies Mint Slims ($5.99) "tasted like thin mints but chewier." I might need to look for a box of these for myself!
Gemma loved the Modern Oats Vermont Maple Premium Oatmeal ($3.50) that was in her last box and was happy to get another one! She said it's still her fave but since she couldn't microwave it she ate it cold, like overnight oats. I'm going to let her know that she can heat the milk or water in the microwave and pour it in the cup. She said that Forto Mocha Coffee Energy Drink ($1.66) was "great because I love caffeine and it's worth 2 cups of coffee in that little cup!" Fair-trade and organic, plus you can mix with milk for a latte.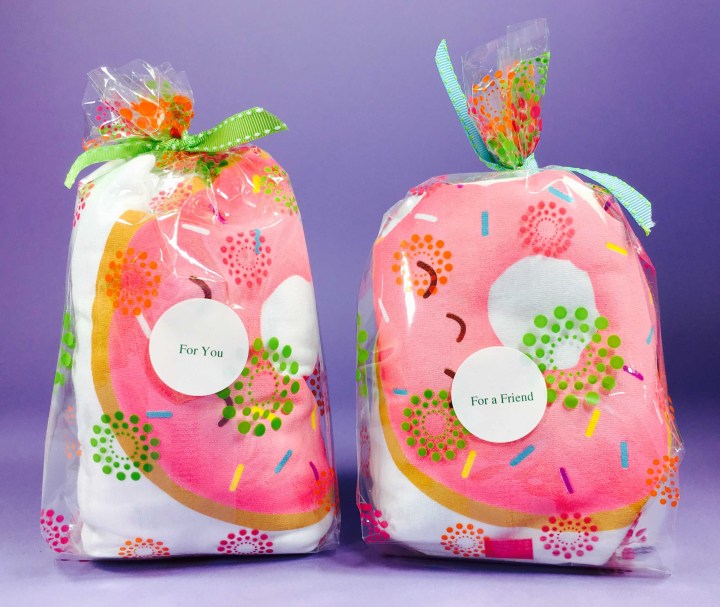 There were two t-shirts in the box, one for Gemma, and one for a friend. They are made of preshrunk, 100% cotton and were size large. One was loose-fit and the other was slim fit – it's nice to have options! ($12 each)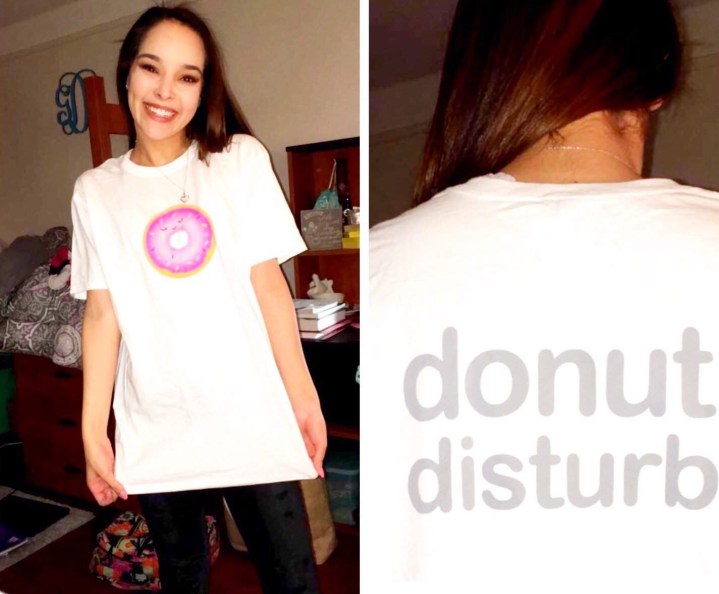 Here's Gemma modeling the loose-fit shirt, which is comfortable for sleepwear. There was a cute saying on the back, so punny!
My daughter LOVED her CampusCube! What a wonderful care package of helpful items, delicious snacks, and pampering self-care treats. Gemma texted me as soon as I left to say that "there's so many good things" in it! This box had a value of $75.43 so I feel it's worth the price, plus I didn't have to knock myself out trying to run around curating a box on my own. It had a cute theme and the presentation is one of the best!
What do you think of CampusCube? Let me know what types of items your student likes to receive in the comments!
Visit CampusCube College Care Package to subscribe or find out more!