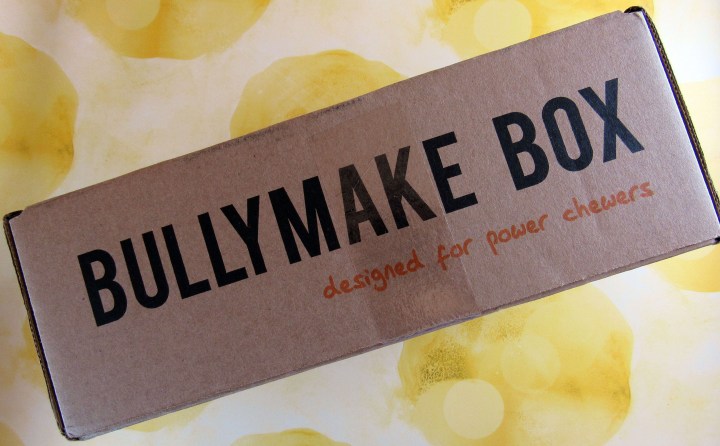 BullyMake Box is the monthly box for power chewers! No plush toys in this subscription! Each box comes with 5-6 toys and teats for your dog. Have more than one dog? Add an extra toy for an additional $9.00 a month. Be sure to fill out the additional information section when checking out. There are four options for allergies including a toy only box. Also, select the weight of your dog which starts at 10 pounds and continues with 10-pound increments to 200 pounds.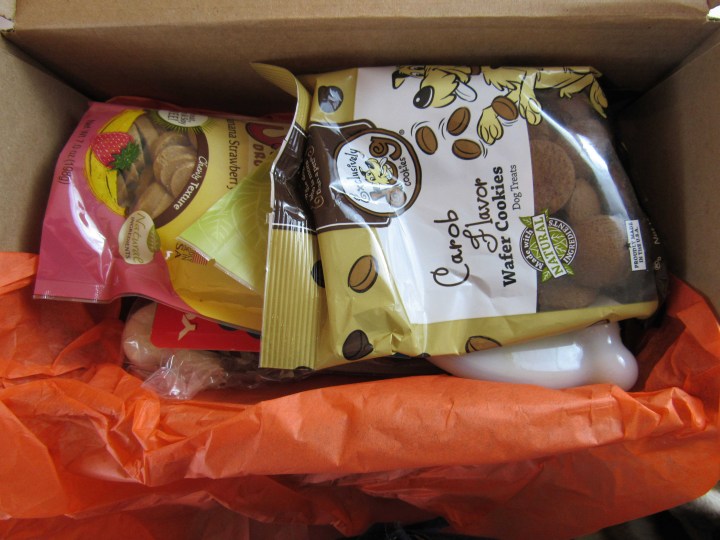 DEAL: Get $10.00 off on our 3, 6, or 12-month Bullymake Box Plan! Use coupon code FB2016.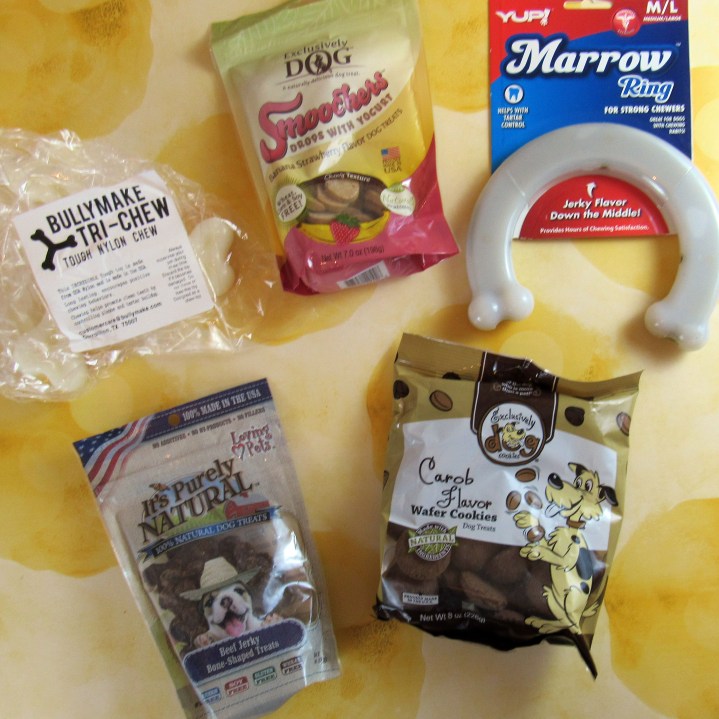 Here are the items for the January Bullymake Box. The items are selected for Odie, our Borader. I did not receive an information card this month. Daisy, our English Shepherd, would not leave me alone until I opened the box. I can see why because it has her favorite brand in it.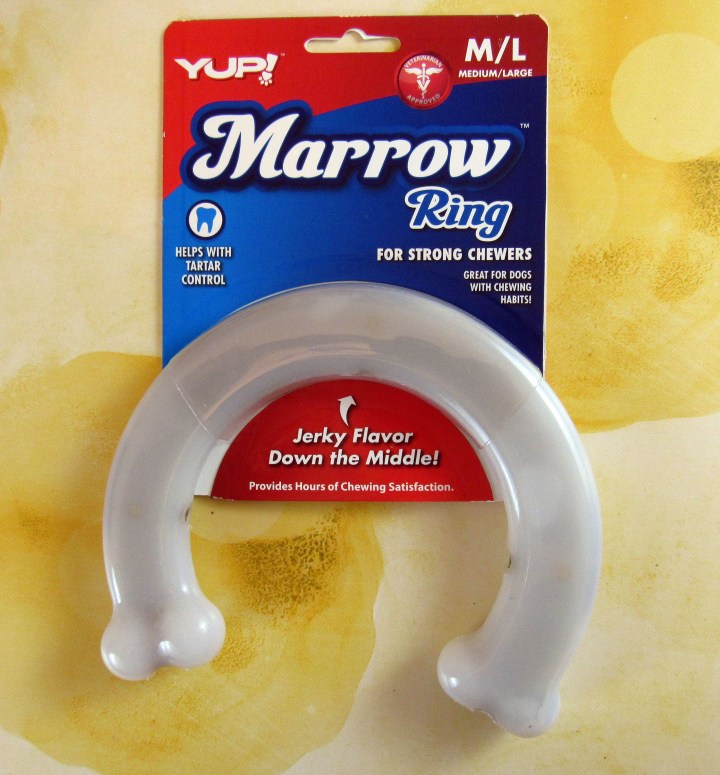 Odie loved chewing on the Yup! Marrow Ring ($12.95), The interactive toy has jerky flavor down the middle and is designed for strong chewers. It has ridges that help clean his teeth.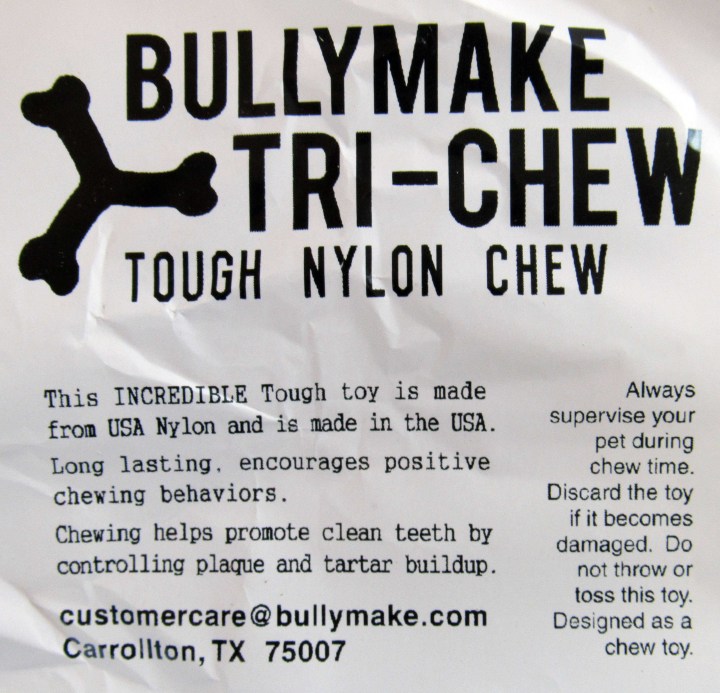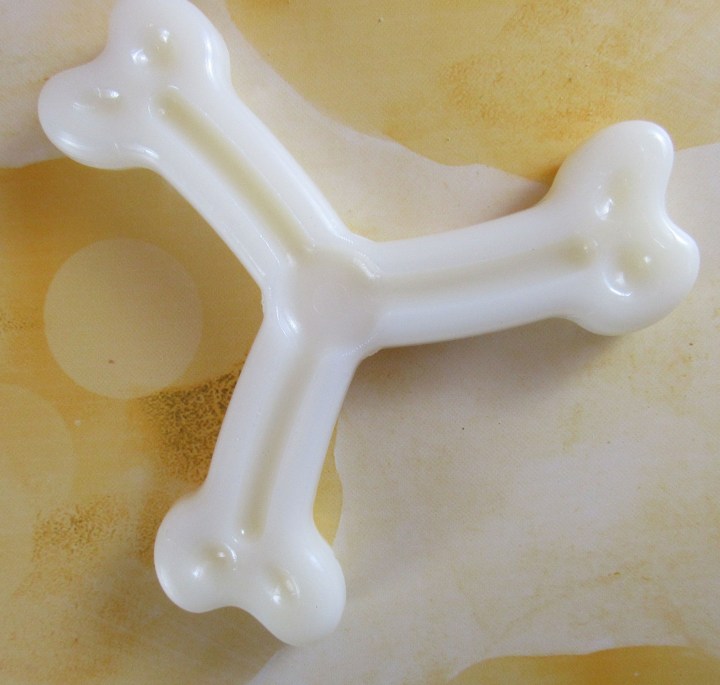 Odie loved chewing on the Bullymake Tri-Chew Tough Nylon Chew ($19.00). The nylon and the toy are both made in the USA. The design helps clean teeth by controlling plaque and tartar buildup. Daisy was feeling left out because she wanted to be part of the pictures. She looked at me as though I lost my mind when I showed her the toys. Bella is going to love both toys when she comes back later this week.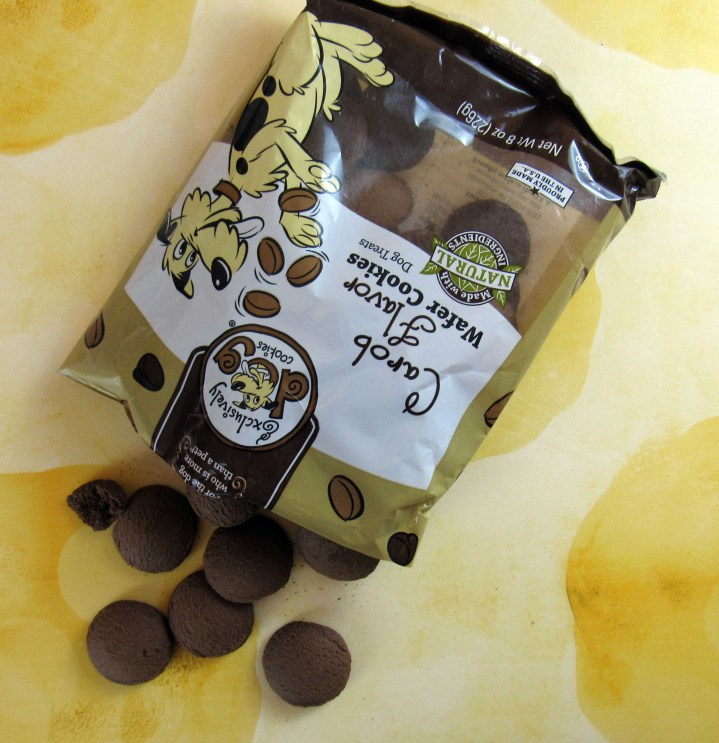 The doggies and I are gleeful that we received another bag of  Exclusively Pets Carob Flavor Wafer Cookies (8oz, $8.62). I buy these treats when I see them at Homegoods because all three dogs love them. They are also Daisy's favorite treats. The Made in the USA cookies even smell like chocolate.
Bella loves treats with fruit in it including the Exclusively Dog Smoothers Drops with Yogurt Banana Strawberry Flavor (7 oz, $3.90). The Made in the USA treat is free of common allergens.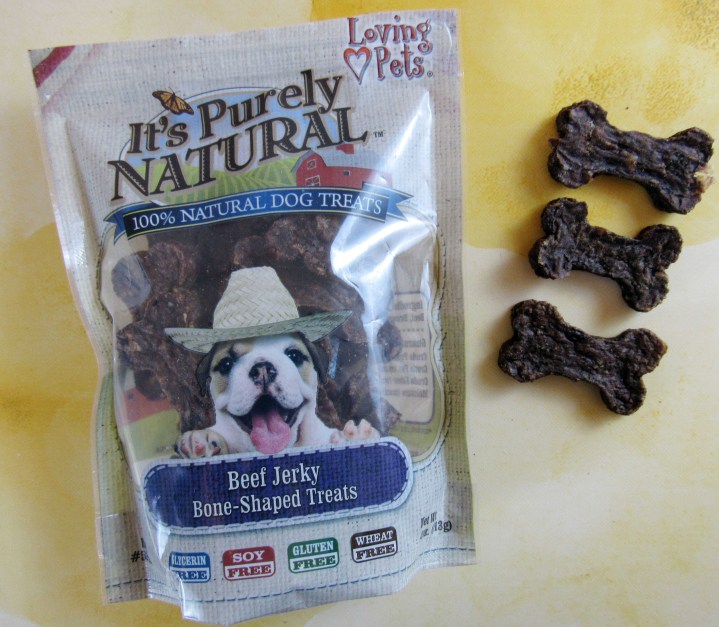 The dogs went crazy over the Loving Pets Beef Jerky Bone-Shaped Treats (4 oz, $6.01). Even Little Lamb, our fluffy white cat, got into the action and ate a bone. The Made in the USA treat is made from beef and brown rice flour. Daisy is not treat-motivated, but she kept looking at me with those big brown eyes begging for more. Odie tried to sneak off with the package when I had my back turned. I plan to order more on Amazon.
Time to see doggy pictures. Odie is our only reviewer because Bella is busy being a cuddle bug at the farm.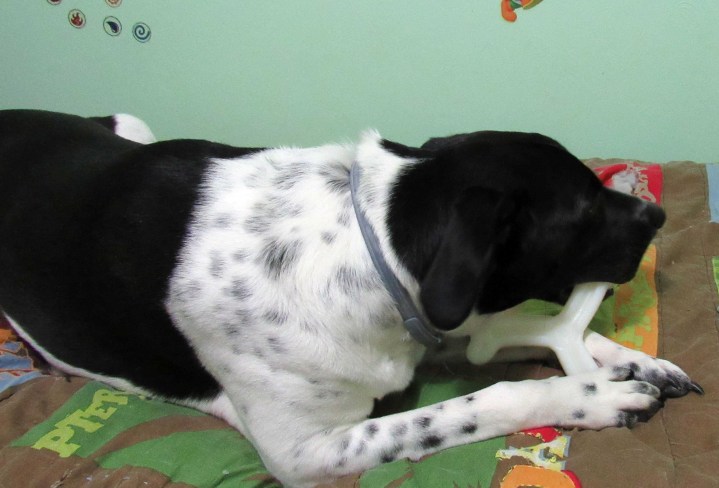 Odie wasted no time chewing on the Bullymake Tri Chew.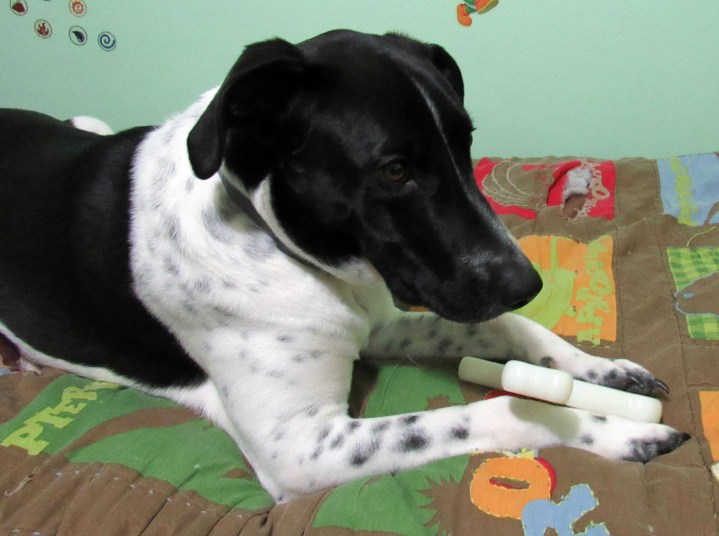 He hears Daisy at the door and is worried that she will steal his toy. No need to worry, Odie. She gave me a confused look when I gave her the toy later in the day. It's not a baby.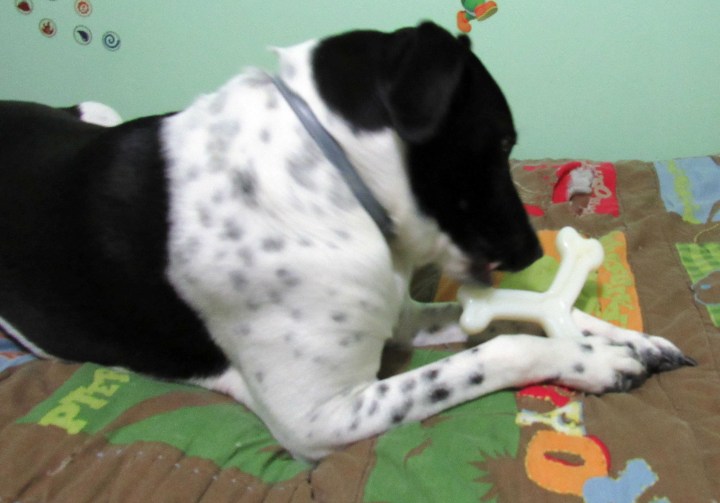 Back to chewing! He loved this toy and chewed on it most of the night while the kids watched a movie.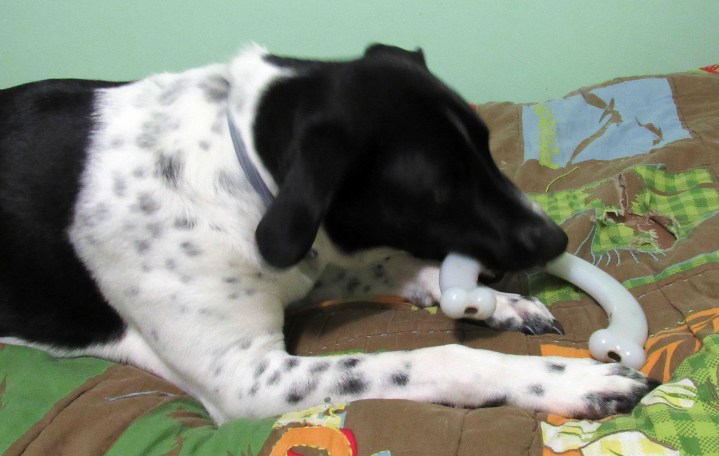 His snout went up when I came in the room with the Yup! Marrow Ring. The jerky must smell yummy to him.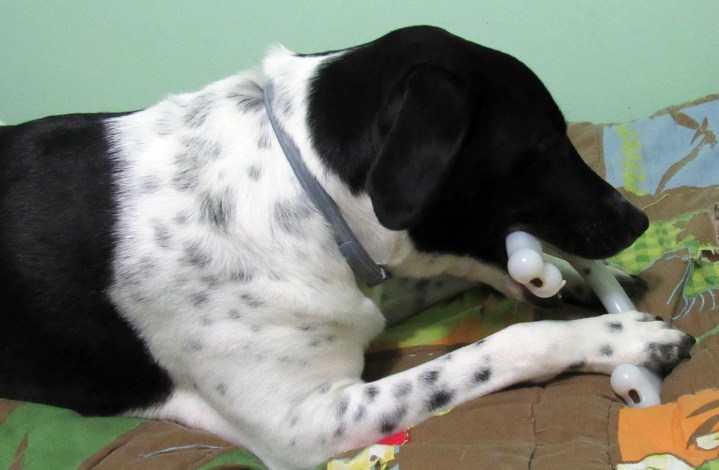 You can see the jerky in the bone. He chewed up this toy in a couple of hours.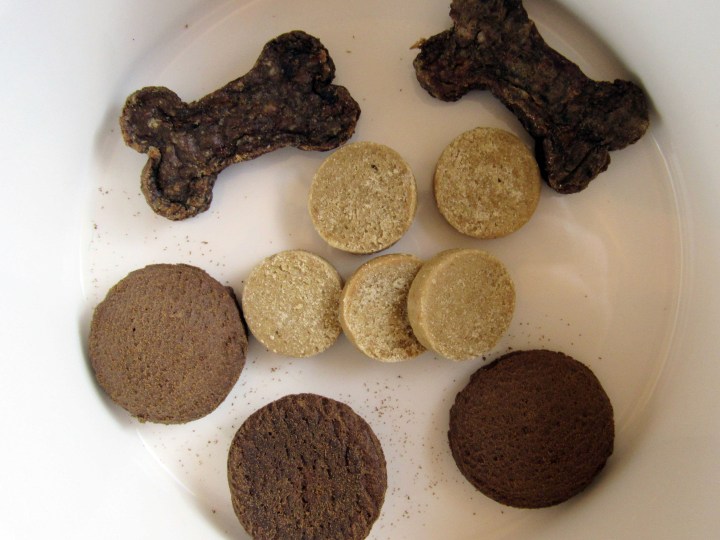 He doesn't receive this many treats at once unless it is Doggy Review Day.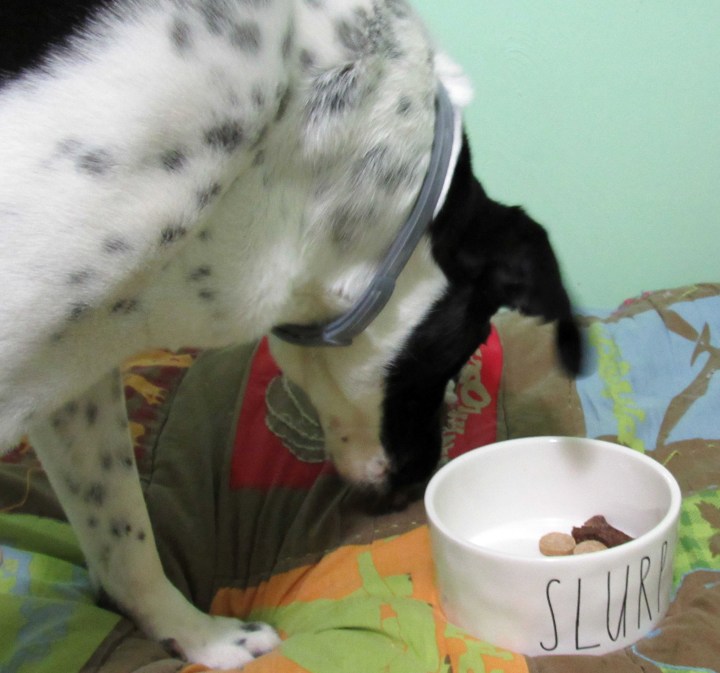 He ate the bones first, the wafers second, and ignored the smoothers. Bella will gladly eat the smoothers for him.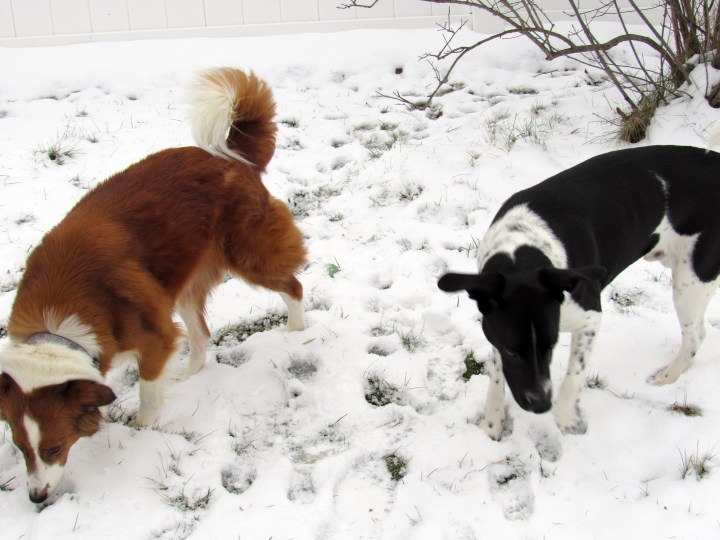 I don't have many pictures of Daisy and Odie together because of their chewing needs. Daisy loves babies and doesn't understand Odie's super chewer toys are toys. Odie wants to rip apart Daisy's babies. They do love playing together in the snow.
Odie was a very happy doggy as he enjoyed the January Bullymake box. He loved the toys and treats. Bullymake did an excellent in selecting toys that satisfy Odie's chewing needs.  The treats are perfect for all three dogs. Odie hasn't given up hope that another rope toy will show up in a future box. Bully Make is an excellent choice for dogs that love to chew. The toys are appropriately sized for the dog, and the treats are quality treats that dogs with allergens can enjoy.
What do you think about Bully Make?