BuddhiBox is a monthly box meant to enhance yoga practice and encourage healthy living. BuddhiBox is $34.95/month for a curated mix of 4-6 samples and full-size products. This is a great box for anyone that is new to yoga or even those who are dedicated yogis. Each month, a portion of their sales goes to supporting an amazing cause. January's cause is Shakti Rising. This organization works actively to promote community well-being by creating woman and child friendly societies that are safe, healthy, vibrant, diverse, sustainable, and culturally alive. Their mission is to empower women to uncover, rediscover, and reclaim their whole selves.
The Box is sooo pretty! I'm happy to say that both DHL and Canada Post were nice enough to put the shipping stickers on the side of the box, so no hiding the beautiful mandala!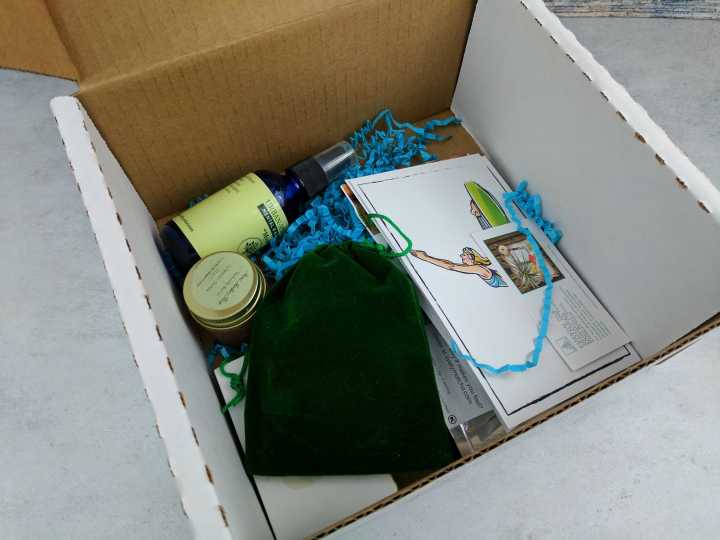 DEAL: Get $5 off your first box Use coupon code hellosub.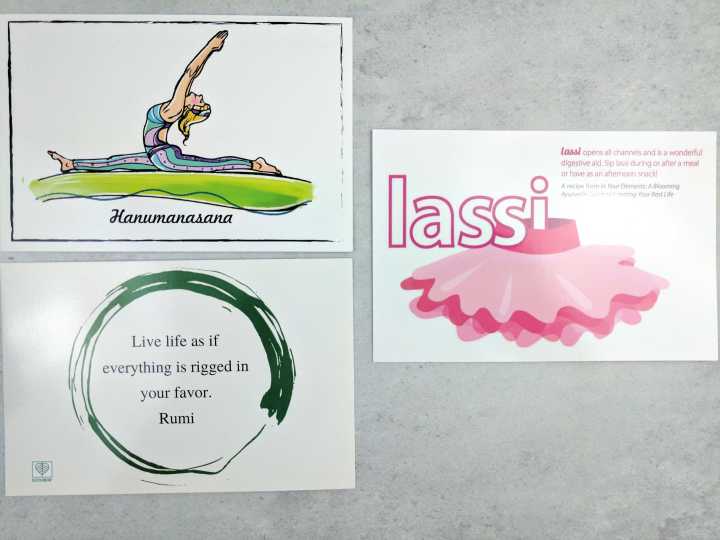 Every box comes with three cards: a quote card with a list of items on the backside, a Yoga Pose Card (Hanumanasana or the full split, something I'm still quite fare from being able to do, thanks to awful hips!) and a recipe card ( a cardamome and cinnamon lassi recipe, from In Your Elements : A Blooming Ayuvedic Guide to Creating Your Best Life).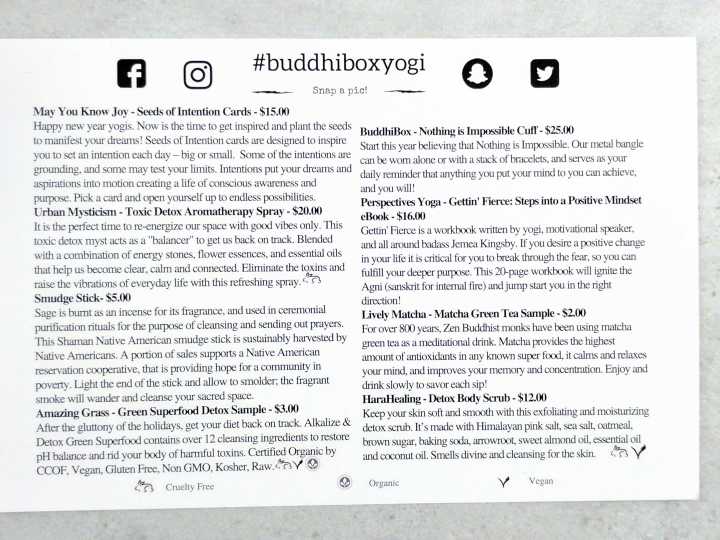 January is all about Renewal, Detox, and Empowerment. Great fact: on the info card, the items are marked when they are vegan, cruelty-free and/or organic. Also, every subscriber will have received by email a link to an exclusive Yoga Sequence created by Jennifer, the Soul Filled Yogi.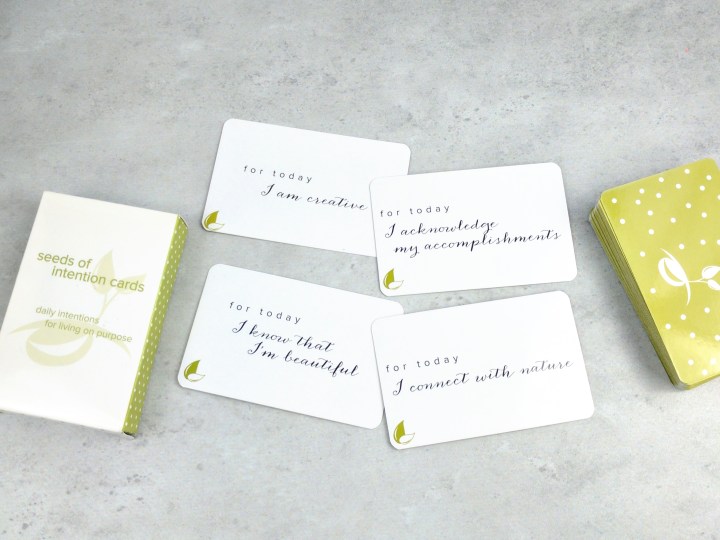 May You Know Joy – Seeds of Intention Cards ($15). Get inspired and plant the seeds to manifest your dreams! These are great cards, especially for journaling and to start the day with a personal mission. Some of the intentions are small, some are big, and some are simply fun!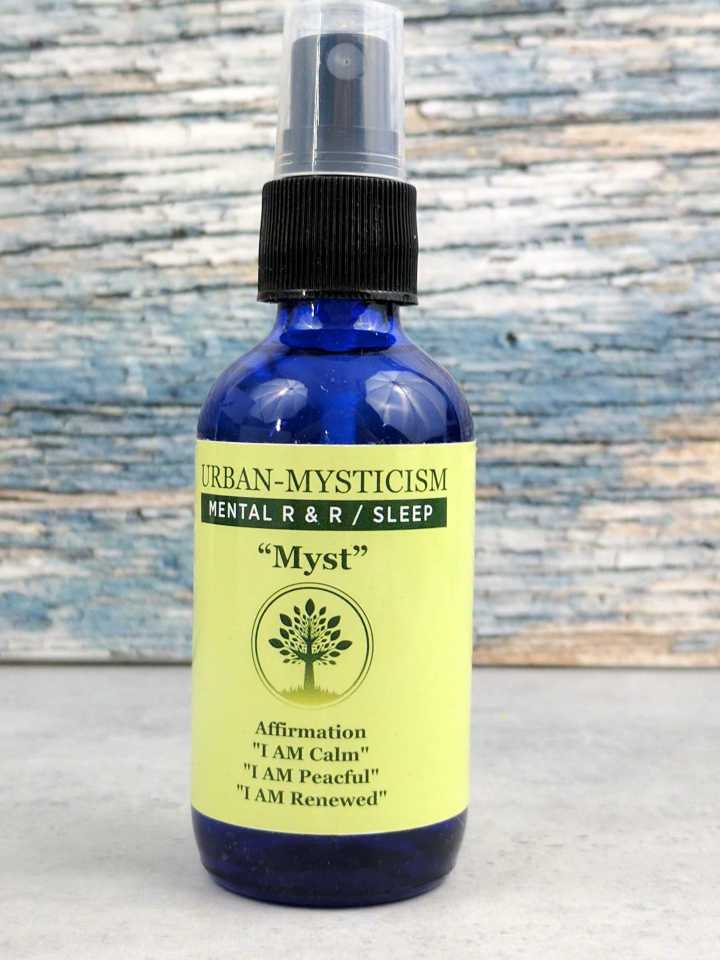 Urban Mysticism – Toxic Detox Aromatherapy Spray ($20). I didn't get the Toxic Detox Spray, but the Mental R & R / Sleep one. I don't mind the substitution as I really like the mix of vanilla, peppermint and the hint of lavender in this spray. There are moonstone crystal inside the bottle, a stone used to cure sleeplessness but also to provide protection at night. This is a blend to calm down after a stressful day to help us recharge. I really like it!
Smudge Stick ($5). This item was missing from the box so we have contacted the owner of the box. She said that it was missing from many January boxes by mistake, so they will add it to February Boxes.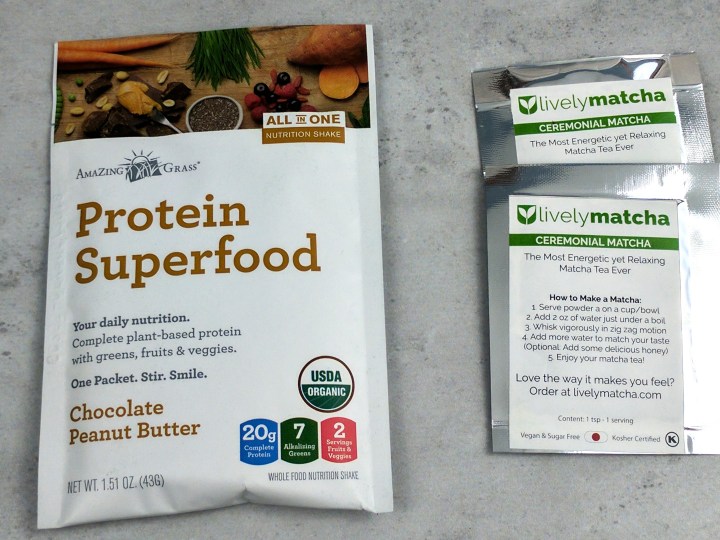 Amazing Grass – Green Superfood Detox Sample ($3). Instead of the Green Superfood, I've received a Protein Superfood. You just add it to a smoothie for a boost of protein from a blend of chia and hemp seeds, fresh greens, and fruits and vegetables such as acai, sweet potatoes, and pineapples. I love love love smoothies (it's the only thing I can eat before 11 AM, besides coffee), but the flavored I've received is Chocolate Peanut Butter. This is a peanut-free house, so I'll pass it along.
Lively Matcha – Matcha Green Tea Sample ($2). Matcha provides the highest amount of antioxidants in any known super food, calms and relaxes your mind, and improves your memory and concentration. I had never tasted matcha before, so I'm excited to try this sample and to share the second one with my husband!
BuddhiBox – Nothing is Impossible Cuff ($25). This is a lovely cuff bracelet in light gold tone. It can be worn alone or with a stack of bracelets, a quick reminder that anything you put your mind to you can achieve, and you will. This bracelet arrived at the perfect time, the same day as both my husband and I are taking a chance in our respective job. It's scary, but awesome at the same time, and we are not sure if it'll work out in the end. But we are taking the chance and when he saw the bracelet on my wrist, he said it was the perfect mantra for our 2017! I have very very small wrist, but I managed, with a bit of effort, to close it enough that it doesn't fall off my wrist as easily. I think it's my favorite item in this box. And it came in a lovely green suede pouch.
Perspective Yoga – Gettin' Fierce: Steps into a Positive Mindset eBook (16$ ?). There were no code or link provided to this item in the box. We contacted the owner and she sent us the link through email, so probably I've missed the link somehow when she send us emails about the January box. When I followed the link, it looked like this was a free downloadable eBook from Perspective Yoga website. So I would see this item more like a bonus than an actual email. I've checked the eBook and it's a mix of affirmation, goal settings, and motivational insight. I don't usually read ebooks, I find them awkward, especially for a workbook, so this one was a bit of a "meh" for me.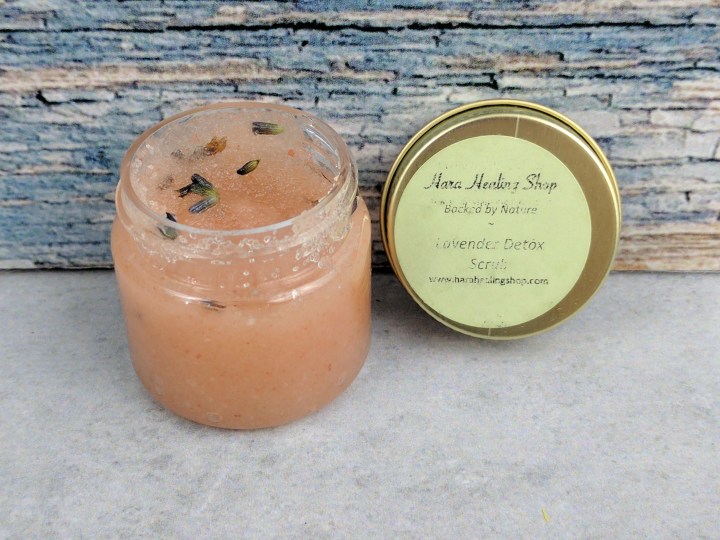 HaraHealing – Detox Body Scrub ($12). Made with Himalayan pink salt, sea salt, oatmeal, brown sugar, baking soda, arrowroot, sweet almond oil, essential oil and coconut oil. Mine was the lavender variety, with lavender flower inside the scrub. The jar is very small, I though it was a sample of a body scrub. For some reason, I didn't like the smell. It smelled old. I like the texture, though!
Although the theme of Renewal, Detox and Empowerment was clear across the box, even in the choice of the cause to support this month (Shakti Rising), January box wasn't my favorite from Buddhi Box. I love love love the bangle, and I'll enjoy the other items, but it wasn't a "Love at first sight" like December's one was. But I really like that the box takes you a bit further with a recipe (that you can make over and over again), with giving back to a charity and starting this month, with an exclusive Yoga Sequence created by Jennifer, the Soul Filled Yogi.
What did you think of January's Buddhi Box?
Namasté!