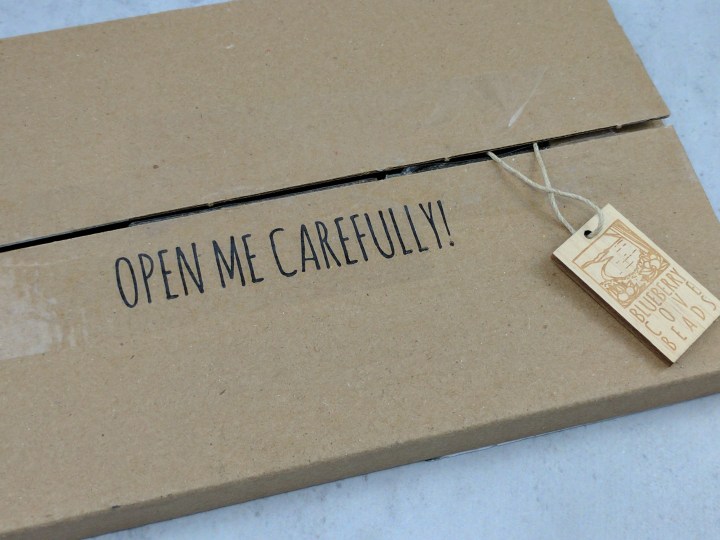 Blueberry Cove Beads is a monthly bead subscription box. Each month, you'll receive between 9 and 13 different items. It can be a mix of loose beads, bead strings, findings, and pendants. You can share your creation on their social media for the chance to win a free box. Boxes are $22 per month plus $5 shipping in the US & Canada and their website features projects you can create with your beads.
Inside the box, there's always a nice black satin pouch with a postcard showing the theme of the month. Inside the bag, everything is packed in self-sealing plastic bags, except the bead strands and some unique pieces.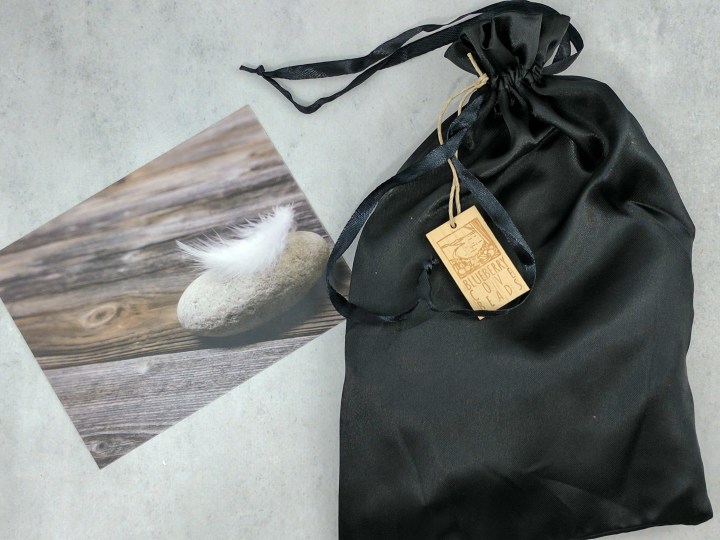 Each month has a different theme. This month's theme was Naturals. I love the picture used for the inspiration.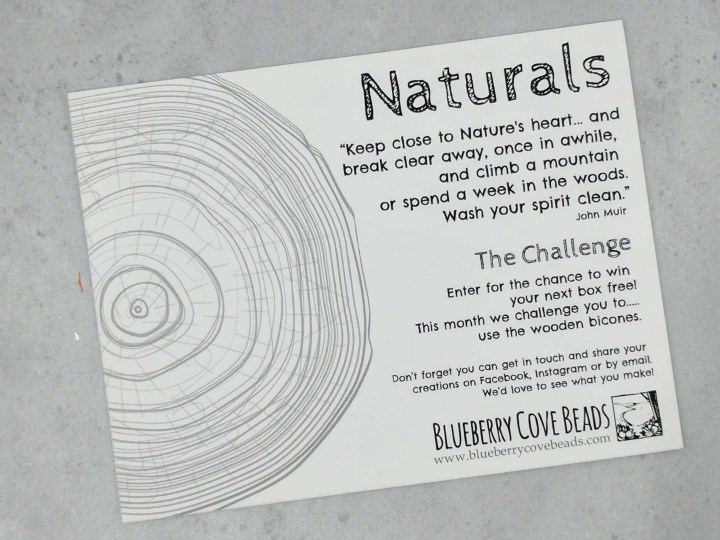 There is no info about the content of the box. Instead, we get a card explaining the challenge (optional) for the month. We can share our creation on their social media to enter a draw for a free box. Also, it's really neat to see what everyone else creates with the same set of beads! This month's challenge is to make something using the wooden bicones.
The colours are very neutral, very naturals. I see stones, shells, and wood. I like it!
Rutilated Quartz Chips and Coral Chips. With the quartz chips, you can make tons of fun and boho-inspired jewelry! Simple wrap bracelets, choker, earrings, bar necklace, anklet. I usually go for clear looking quartz or other types of chip stones, so it's nice to go back to the basic and see what natural quartz looks like! The coral would be nice with coconut or bamboo for that beach-ready look.
Wooden beads (8mm) and Bamboo Rings (37mm). The little beads are so light, and the colour is a deep brown with a redish tint. They would be lovely strung on a thread for a minimalistic look, or as a contrast to the shell beads. The ring could be used as a focal point on a necklace, on a leather or suede-like cord.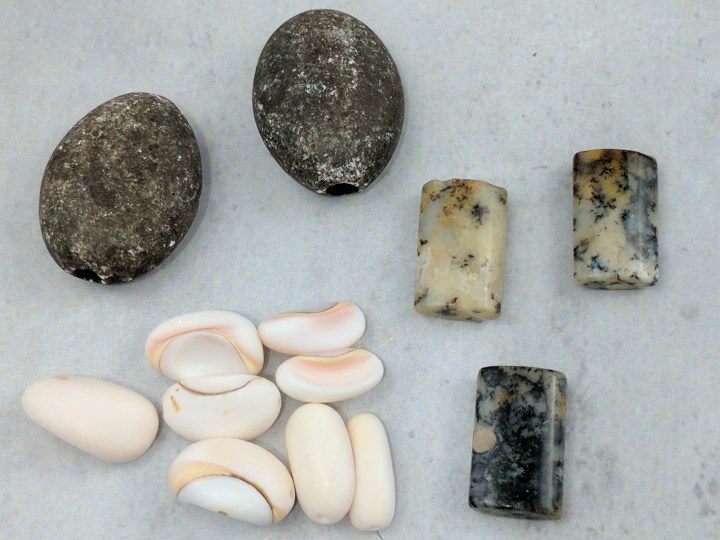 Oval Ceramic-Chinese Clay Beads (28mm). Fun focal piece on a necklace or bracelet, or as a simple pendant. It reminds me of river stones, but with a rougher polish.
Tumbled Shell Beads. Perfect with wooden beads or light blues and greens for that beach type design.
Stone rounded rectangle (20mm). They have a smoother finish than the oval ceramic beads. I would see them hanging at the end of two pieces of leather in a lariat type necklace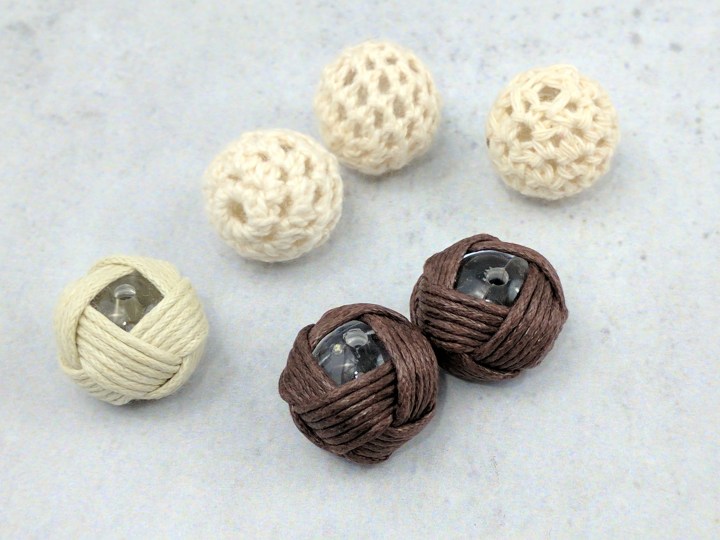 Wool Beads and Waxed Cotton Beads. I like them, but I'm not sure how to incorporate them on a design. Maybe with some waxed cotton thread? They are very light (the core is probably plastic) but very cute.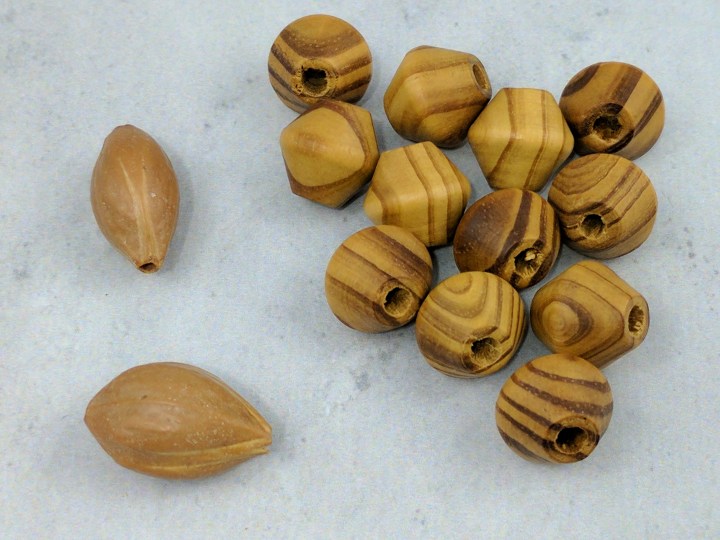 Pod Beads. I'm pretty sure those are real seeds, but I would not know what kind of seeds. They are smooth, and the hole is big enough for a thicker thread.
Wooden Bicones (14mm). The challenge this month is to use the wooden bicones somehow. They are big, but light and very pretty.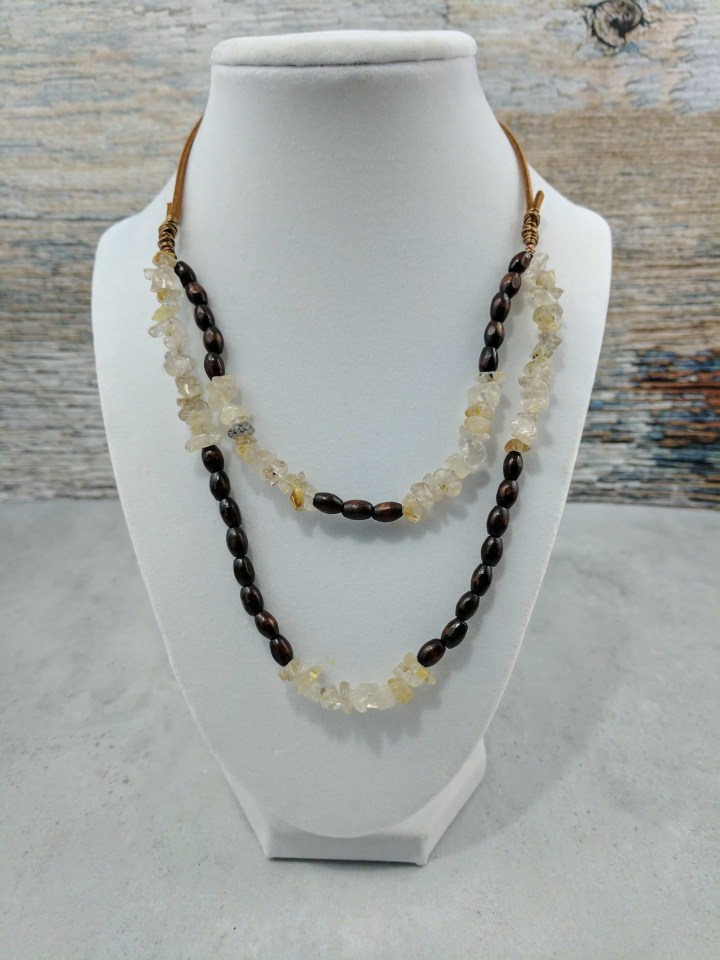 For this month's necklace, I decided to do something simple using the wood and the stone. I just love the contrast of the colours and of the weight!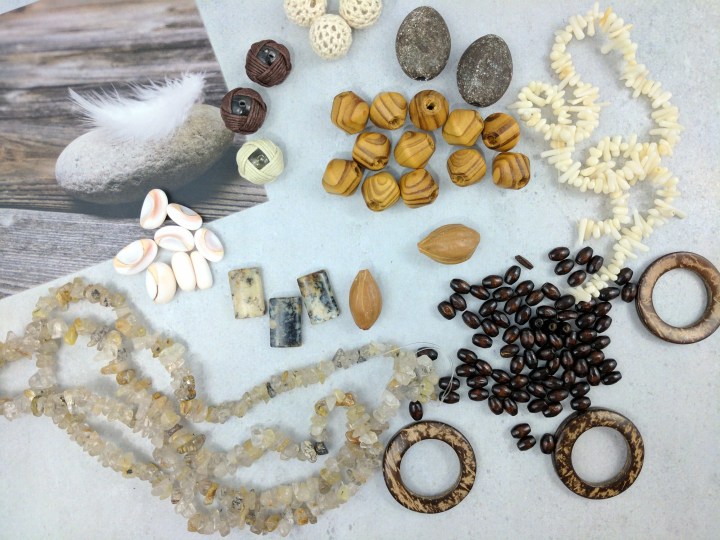 This month's NATURALS was a favourite of mine. There's not a lot of colour in this box, but everything is nice, soft, almost zen-like (ok, I might have been influenced by the picture used for this month's inspiration). I love walking in the wood and this box reminded me how much I like the woods, the natural stones, and a neutral palette.
What did you think of this month's Blueberry Cove Beads?