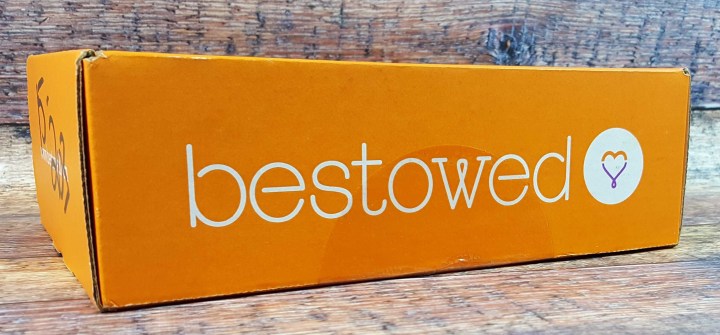 Bestowed Box is a subscription box full of healthy, nutritionist-curated items perfect for a healthy lifestyle. We like this subscription because we are able to discover new products and brands that we don't necessarily see all the time!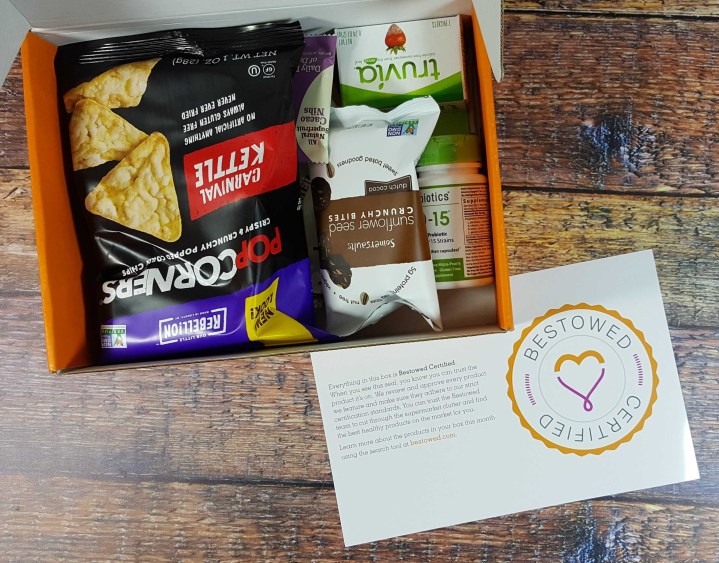 DEAL: Use code TRIAL92 to get your first box 50% off on a monthly plan, or free on 3+ month subscriptions.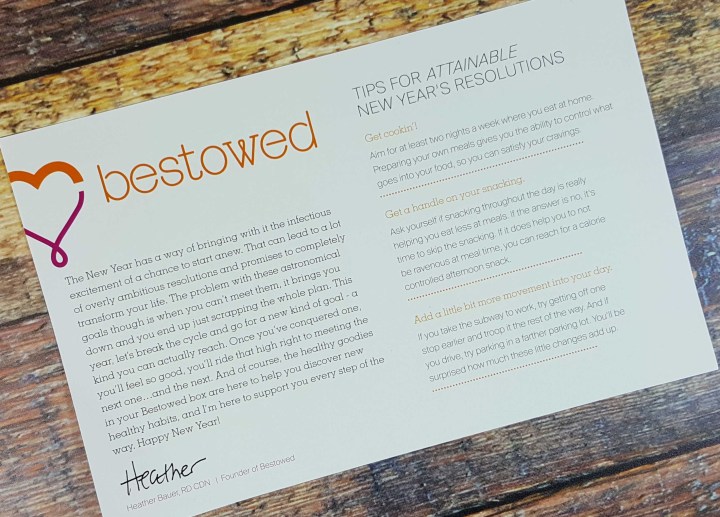 With the new year upon us, Bestowed knows that we tend to set some lofty resolutions. Here, they've outlined some more manageable health goals for us to work on.
My January Bestowed Box. You get a few healthy snacks, some low or zero calorie drinkables, a supplement or two, and some literature/coupons.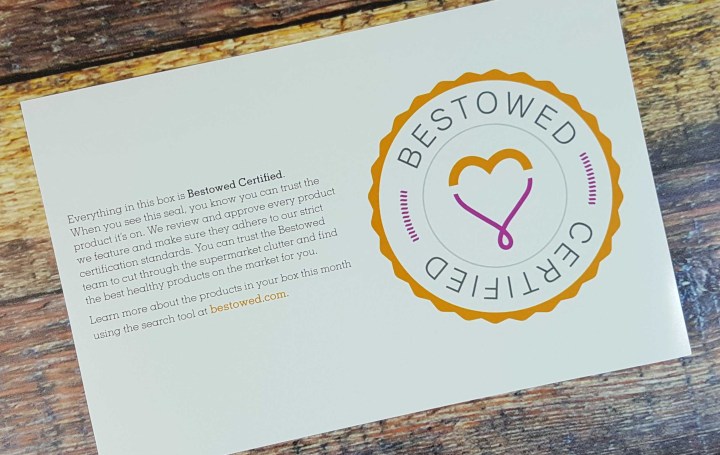 All box items receive the Bestowed Certified seal of approval, meaning they have been reviewed and approved to meet Bestowed's strict standards. You can learn about the products in your box by using the search tool at Bestowed.com.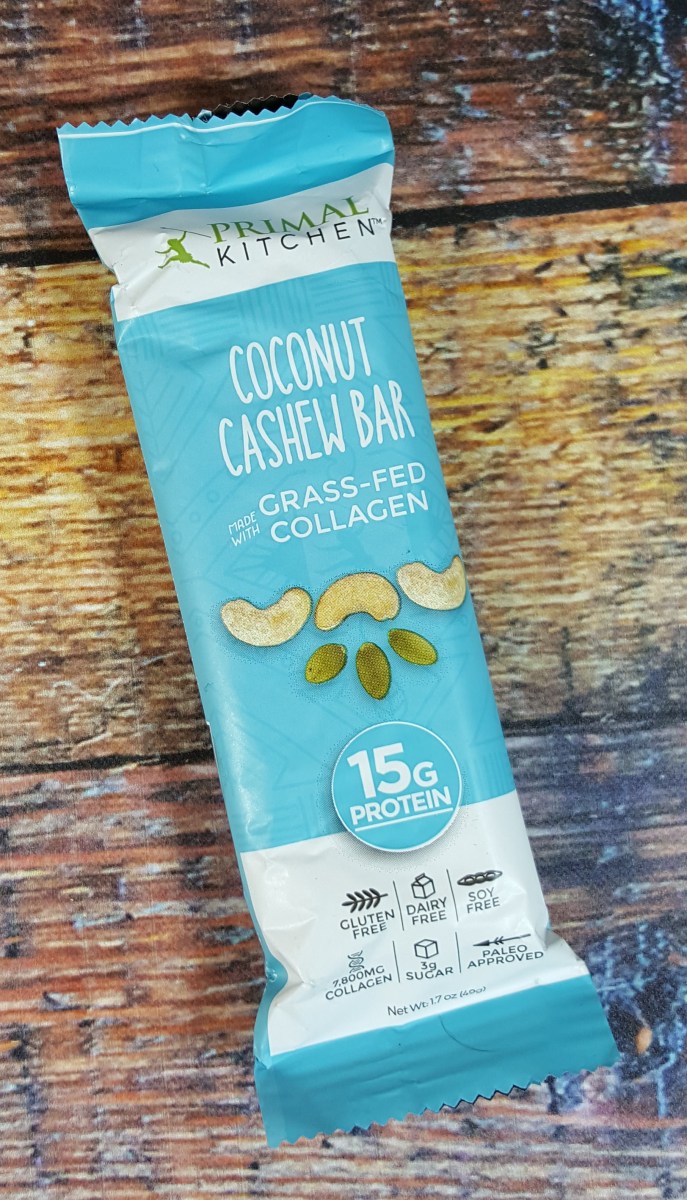 Primal Kitchen | Coconut Cashew Bars: This bar is a mix of cashews, pumpkin seeds, and a whole lot of coconut (flakes, flour, and oil). It is a good source of fiber and protein, and also has more collagen than a cup of bone broth! While the bar sounds totally tasty, I am not big on coconut and will pass this on.
NibMor | All Natural Daily Dose of Dark Chocolate: Cacao Nibs: I first tried these in a Love with Food box and fell in love. Each piece is just the right amount of chocolate to satisfy a craving. It also has bits of cacao nib mixed into it. I prefer dark chocolate, so I like the slightly bittersweet flavor and crunch from the nibs.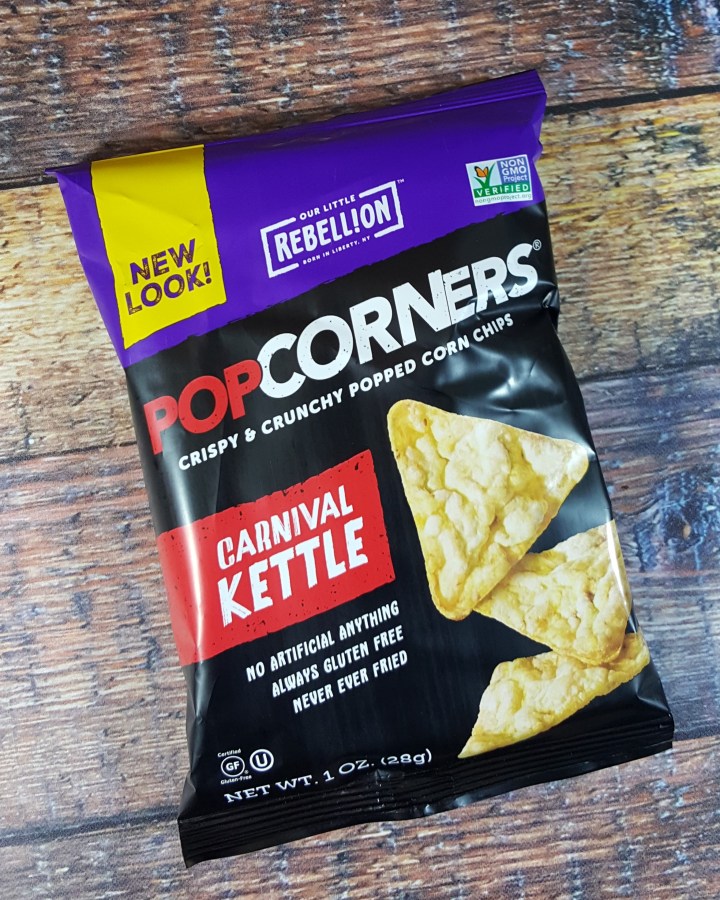 PopCorners | Popped Corn Chips – Carnival Kettle: If you're a fan of kettle corn, then you should be happy with this healthier alternative. It's the sweet/salty combination that you want on a popped corn chip. The texture is lighter than a regular corn chip.
Älais | Energy Drink Mix – Variety Pack: It is recommended to drink 2x daily for steady energy release. The mixes are formulated with Cognizin® citicoline for mental clarity, PURENERGY® for steady energy, and pTeroPure® for heart health. These come in 3 flavors – Dragonfruit, Pomegranate/Blueberry, and Three Citrus. I tried the Pomegranate/Blueberry mix. It reminded me of a Flintstones vitamin, but without the chalky taste. Unlike some energy drinks, this didn't give me an instant rush and crash. It was a gradual pick up to normal energy levels.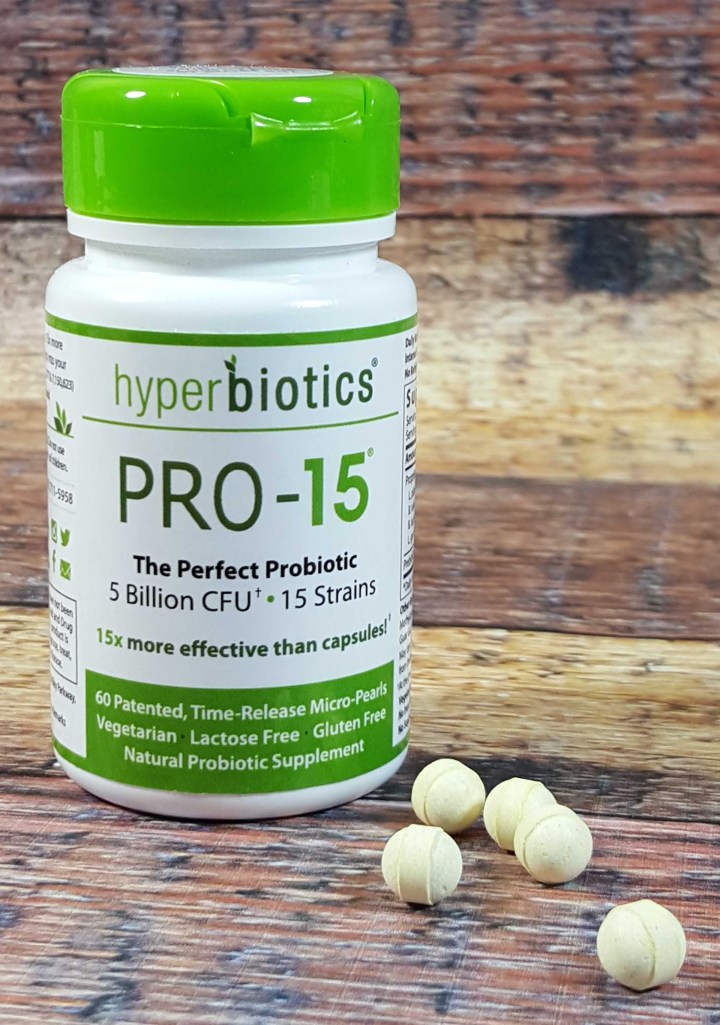 Hyperbiotics | PRO-15: This probiotic features time-released pearls to support your digestive system. I don't know about you, but I can only eat so much yogurt. These probiotics provide the good bacteria you need in your system in a lactose-free, gluten-free, and vegetarian way. I definitely notice a difference with my body when I don't take them – sluggish and bloated.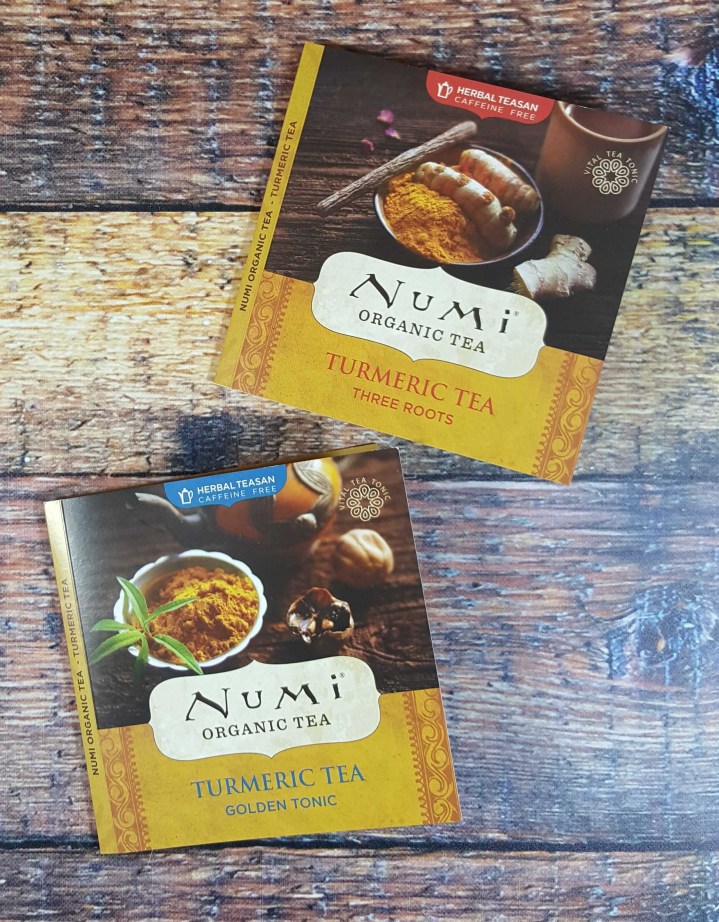 Numi | Turmeric Teas – Three Roots and Golden Tonic: These are considered teasans – herbs/spiced blended and steeped without any tea leaves. Lately, I've gotten quite a few items with turmeric (even a dog supplement!). Turmeric is supposed to be good for reducing inflammation and aiding digestion. These teasans have a mild flavor, and you notice the aroma more than the taste.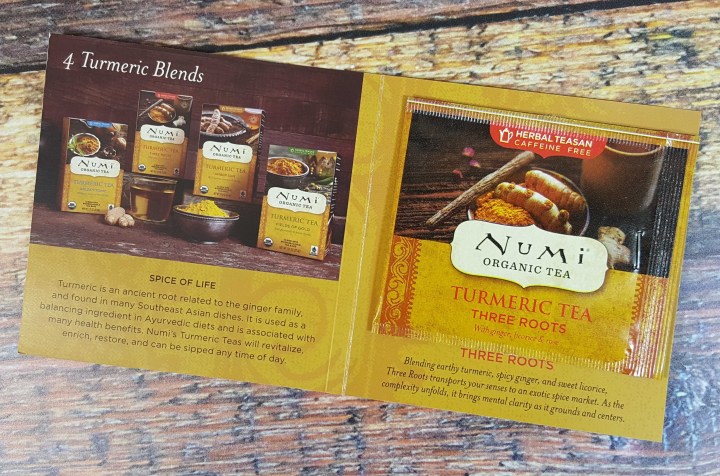 Each card contains one tea bag and a coupon for $1 off your purchase of Numi teas.
Truvia | Sweetener Packets and Nectar: Truvia is a sweetener extracted from the leaves of the stevia plant. It provides the same sweetness as sugar with less calories and no spike in blood sugar. IMO, it also has less of an aftertaste than most of the other artificial sweeteners. The new Truvia Nectar combines stevia and honey to give you the taste you want with 50% less calories than sugar.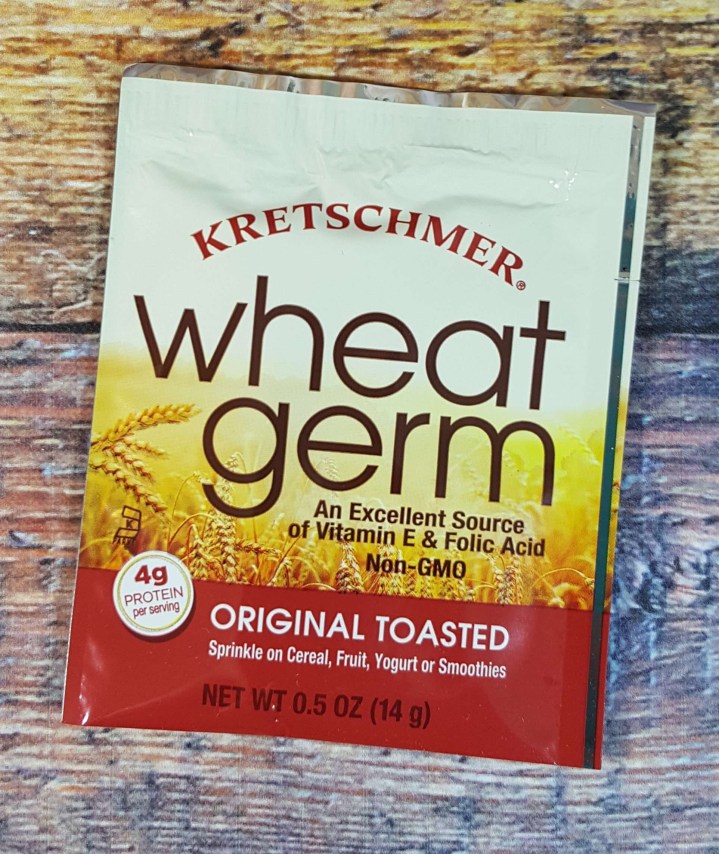 Kretschmer | Wheat Germ – Original Toasted: Wheat germ is a great source of Vitamin E and folic acid. Mix this packet in with your yogurt or breakfast cereal for added texture, nutrition, and a nutty taste.
Somersaults | Sunflower Seed Crunchy Bites – Dutch Cocoa: These little cookie bites may not look all that appetizing, but they are super delicious. Chocked full of crunchy sunflower seeds and chocolate flavor, they were one of the best afternoon snacks I've had in a while. They are a good (and tasty) source of fiber and protein.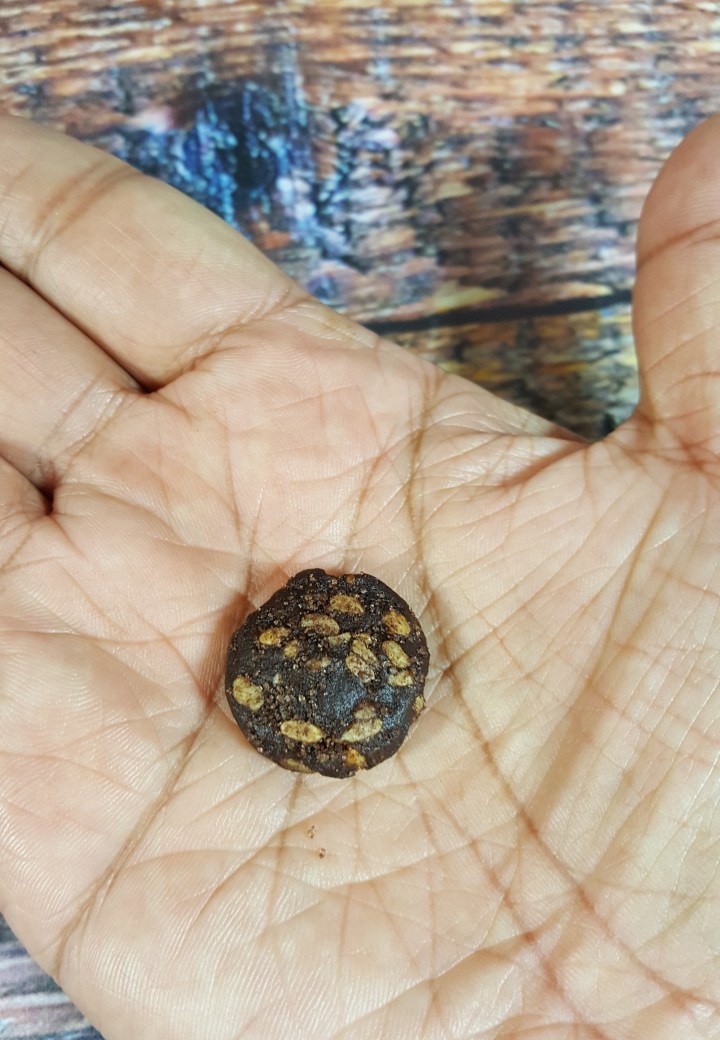 Here's a close up of the bite. You can see all of the sunflower seed goodness.
This was my first Bestowed Box, and I was impressed with the selection and value of the items I received. With the exception of the Primal Kitchen bar, I'm using or eating everything. The probiotic pearls, alone, covered the cost of the box. I feel that this subscription makes it easier for me to introduce some healthier food options to my diet, and I like that they provide supplements to support a healthier lifestyle (which also saves me some money).
Have you tried Bestowed Box yet? What did you think of the product I received – any favorites?
Visit Bestowed to subscribe or find out more!