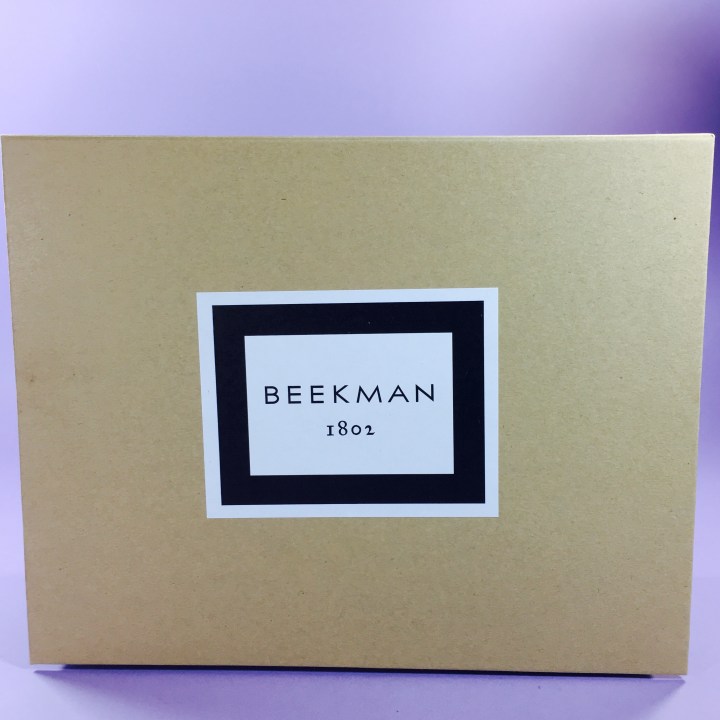 Beekman 1802 offers four different subscription boxes –  a monthly cheese subscription, a quarterly Beekman Beauty Box, a monthly specialty food club, and a scent of the month candle subscription box. Check each subscription here for more information.
I am reviewing the quarterly beauty box!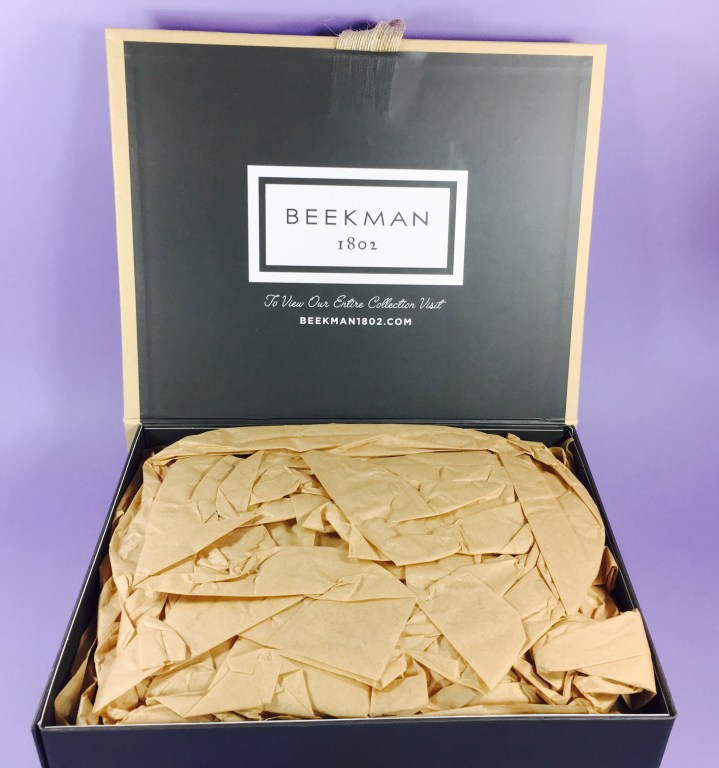 The box came packaged inside a larger box with brown paper to protect it in its shipping travels. I loved the presentation and the burlap tie closure. It looked and felt like a very special gift box. I kept oohing and aahing.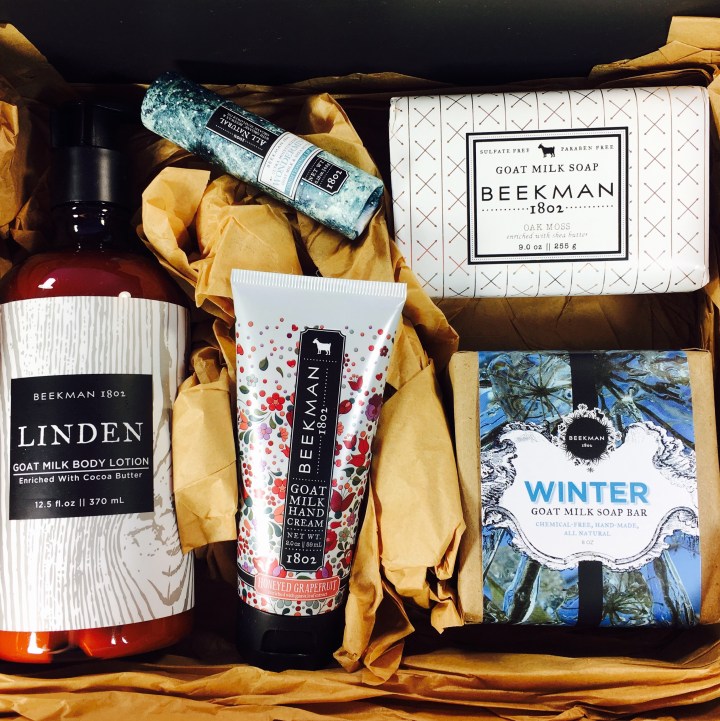 Oh my goodness, this is a beautiful looking box! Look at how pretty everything is! What can you expect in a Beekman 1802 Beauty Surprise Box?
The farm inspires us to create new natural soap and beauty products all through the year.  With the Beekman 1802 beauty box, you'll receive a surprise box of our newest and bestselling soaps and skin care products every 3 months.  It's a great way to try new Beekman products, or share with a friend.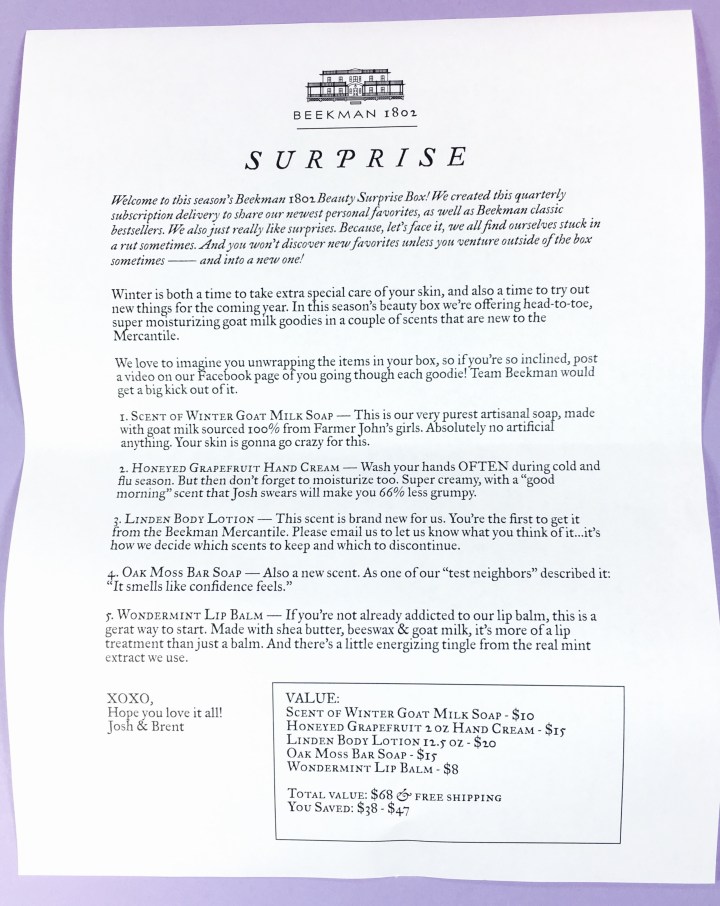 There was a letter listing the products included in the box and a little info about each item.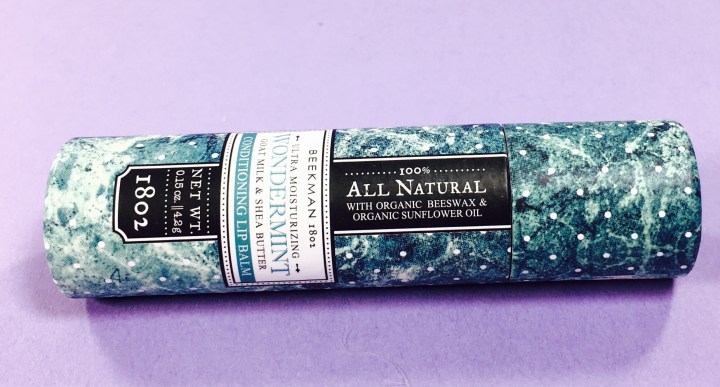 I think this cardboard holder is just adorable but I was even more impressed with the item inside. Wondermint Lip Balm Stick ($8) smells so good and I am a firm believer that you can never have too many mint lip balms.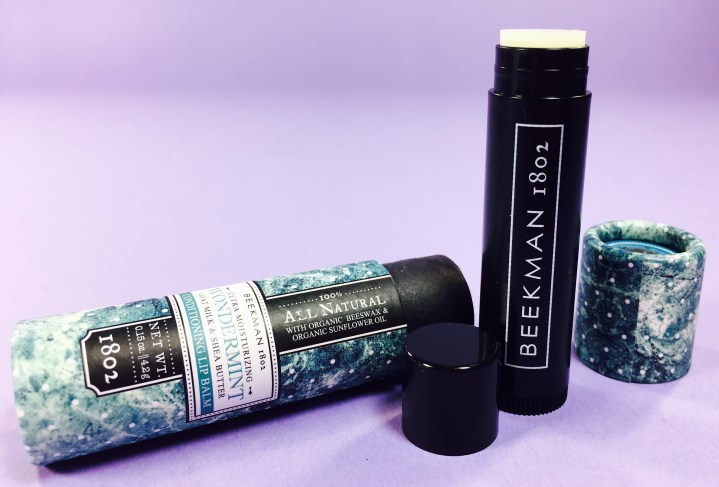 This balm is made with beeswax, coconut oil, shea butter, and goat milk; it set my lips to tingling and I will keep it handy for frequent touch ups.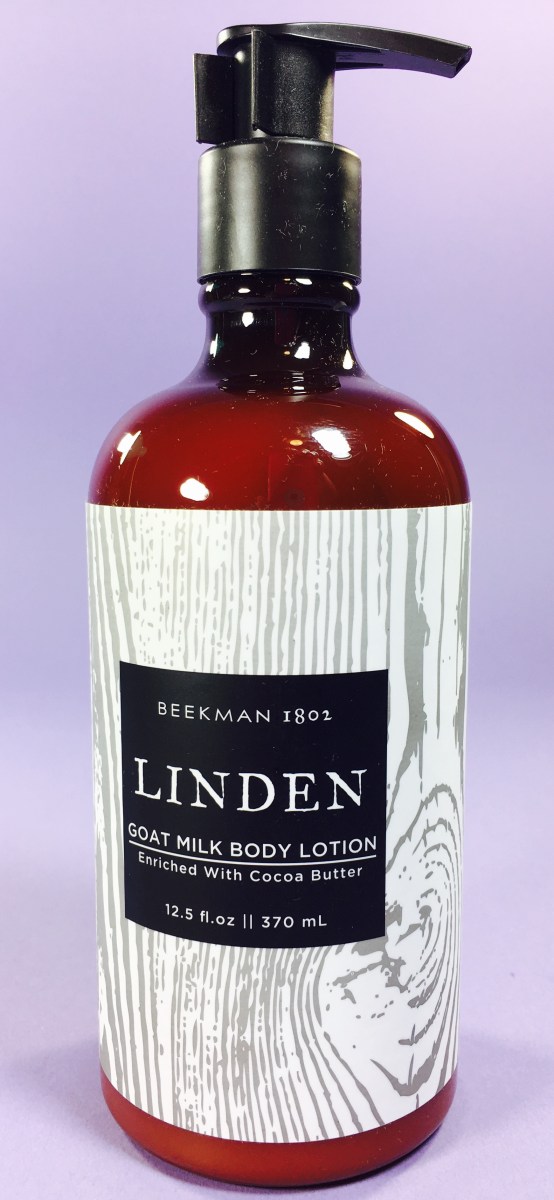 Linden Goat Milk Body Lotion ($20) is a new scent in the Beekman shop and it isn't listed there yet, although I found the whole collection here. It has a soft floral fragrance that includes notes of linden blossom, lotus, and water orchid and the lotion absorbed quickly but the fragrance was fleeting, which I prefer so it won't interfere with my perfume.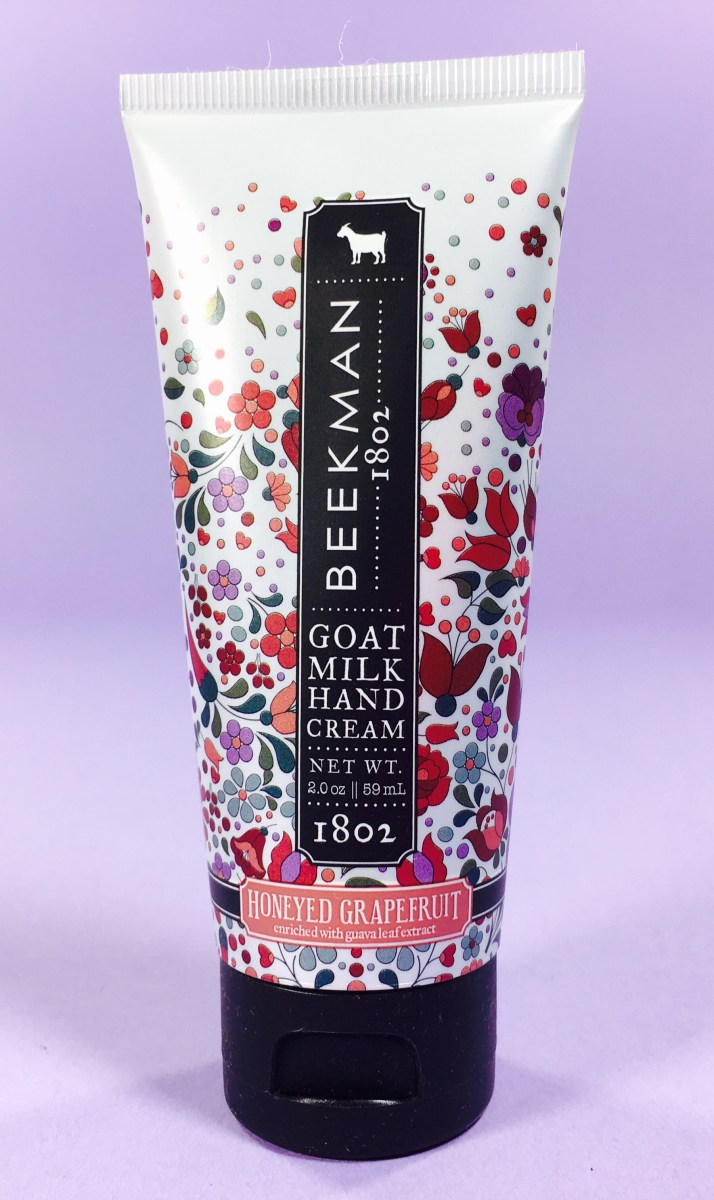 Goat Milk Hand Cream in Honeyed Grapefruit ($12.94) is just beautiful, look at that cute little goat on top! This lotion was non-greasy and fast absorbing but my co-workers and I thought the scent was too strong for our small classroom, which is where I spend most of my day and therefore apply lotion the most often. The lotion features goat milk and shea butter along with notes of guava, red grapefruit, and lemon blossom.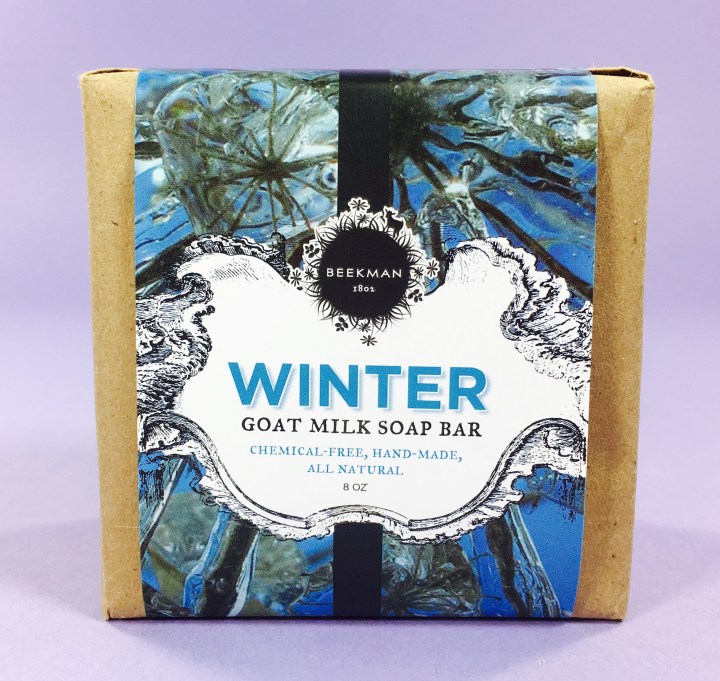 Look at how lovely the Scent of Winter Goat Milk Soap Bar ($10) looks! This is a huge chunky cube of soap and my senses were awakened just looking at it.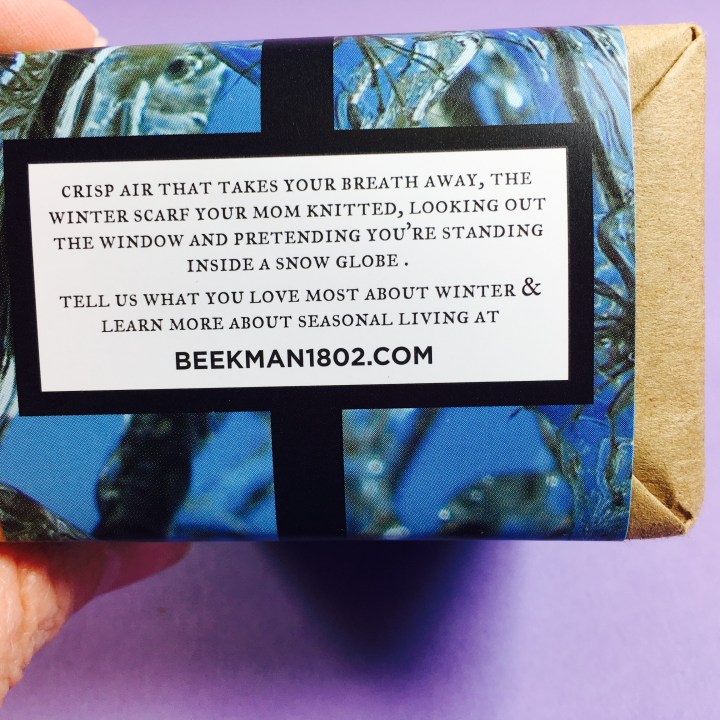 I read the description of the scent and wondered about living in some snowy place, since I've spent most of my life in warm places such as Southern California and Central Texas. Snow has been in short supply in my lifetime but I still think it looks pretty on those rare occasions when I have been lucky enough to experience it.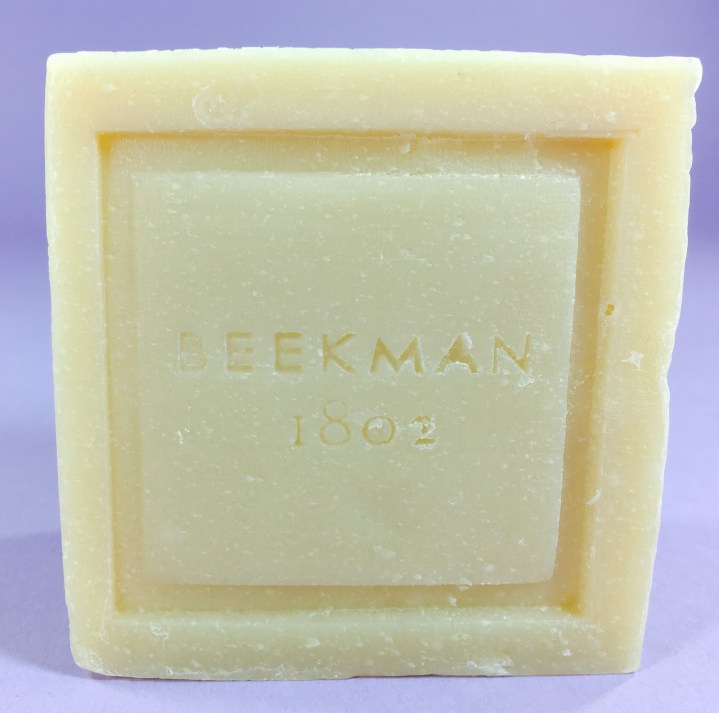 I closed my eyes while using my soap chunk and it smelled like a fresh evergreen forest, so I pretended I was taking a shower in a log cabin in a snowed mountain top. A girl can dream, can't she? It's going to be in the 70's this week so I will take all the winter I can get. This bar has just a few ingredients like goat milk, olive and coconut oils, and essential oils.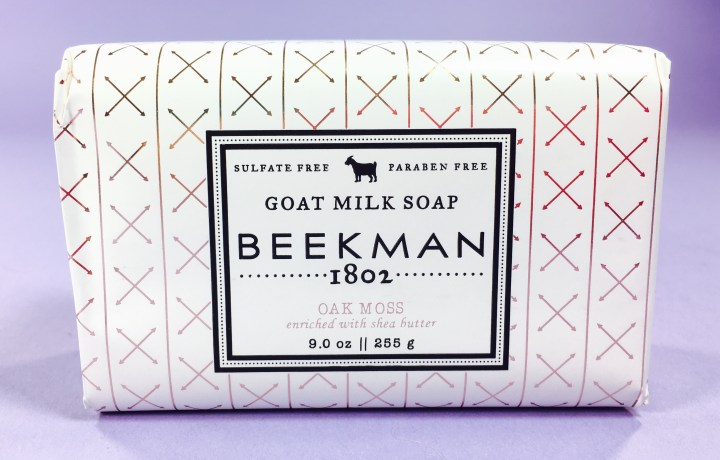 There was another bar soap, but this one has a longer list of ingredients than the other one. Goat Milk Soap in Oak Moss ($15) is another new scent that isn't in the shop yet. This scent is described as "a warm and woody blend" with notes of vetiver, oak moss, and amber.
Again, this bar is enormous. I am giving this one to my husband because it's more manly and I have the other, wintry bar to keep me going for a while.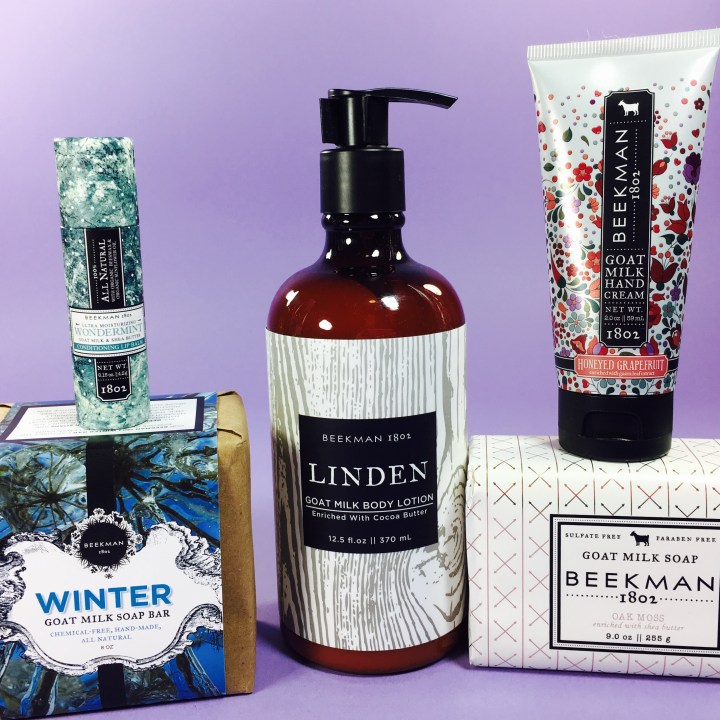 The Beekman 1802 Beauty Surprise Box was a feast for the eyes as well as the nose! I will gift the hand lotion but the rest of the items will be used down to the last nub and the box will be put to work holding my stash of beauty products. This box had a value of $65.94, which is over the subscription price plus shipping is included and that makes the value even higher.
What did you think of the Winter Beauty Box? Let me know in the comments and visit Beekman 1802 Beauty Box to subscribe or find out more!