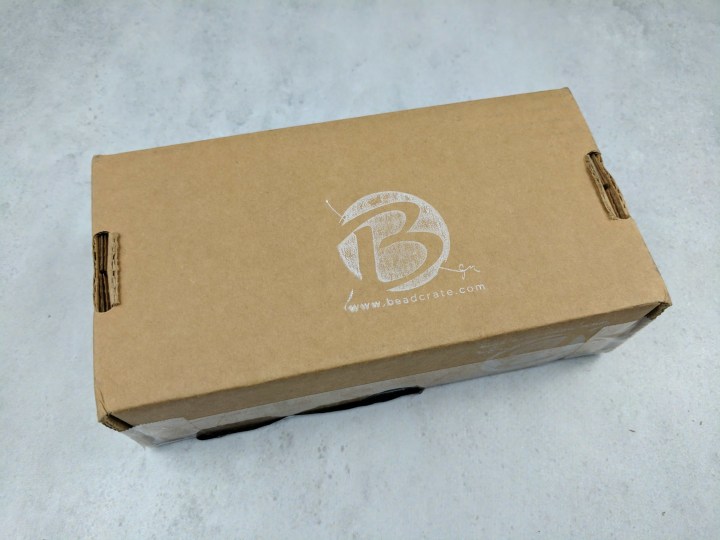 BeadCrate is a monthly subscription box for bead enthusiasts. Every month you'll receive a curated collection of beads, findings, and other goodies to enhance your beading creations! There are three box sizes – Hobbyist ($7.99), Enthusiast ($15.99), and Collector ($35) [prices don't include shipping] to choose from. This is the Enthusiast Crate!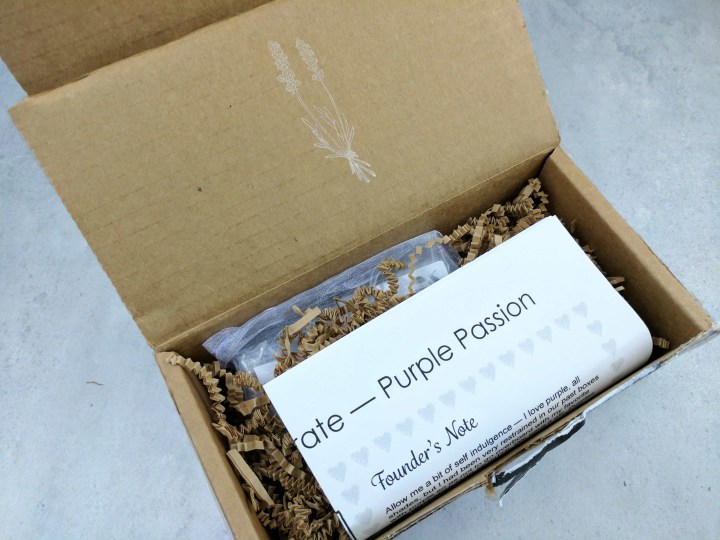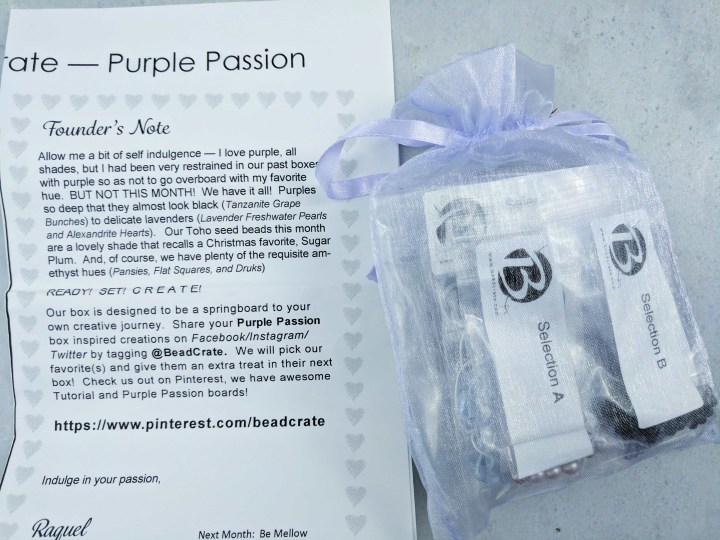 The beads always come neatly packaged inside individual well-labelled plastic bags inside a cute organza bag. We also have a curator's note explaining the theme. And this month, it's all about Purple Passion! This is perfect to go with the Amethyst, the February Birthstone! Also, you can share your creation on their social media for a chance to get a little surprise in next month's box.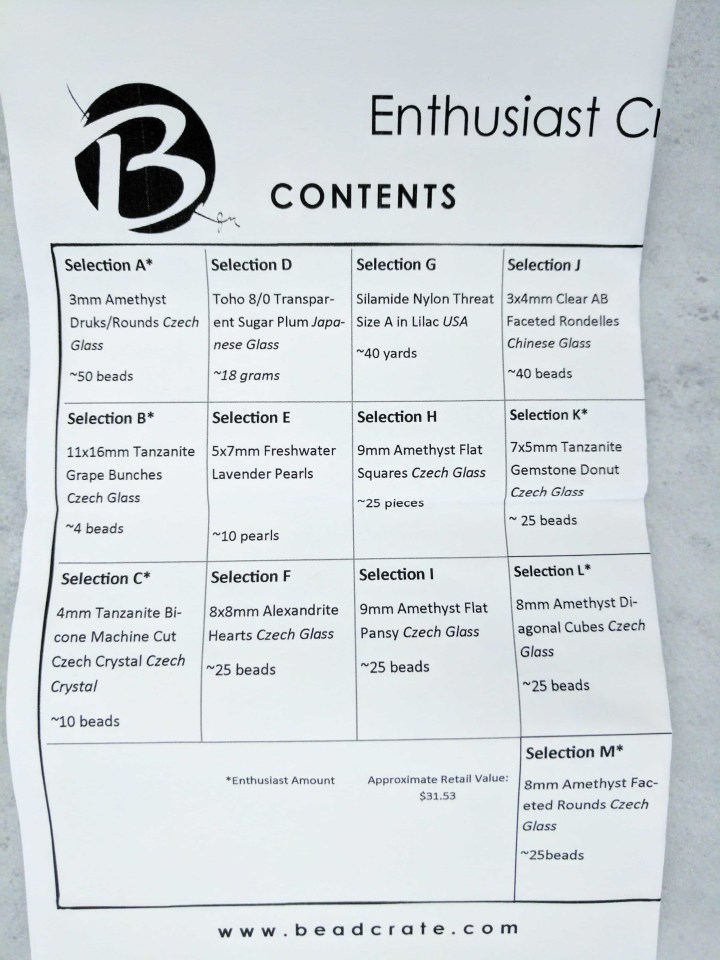 The crate comes with a chart that tells you exactly what you're getting.
Deep Purple!
9mm Amethyst Flat Squares. I have a lot of square flat beads now, thanks to subscription boxes and my craziness in a bead store, but I still have to find a way to incorporate them in a design! I love them, but I'm always afraid they will not stay flat the way I want on a bracelet or necklace.
8mm Amethyst Diagonal Cubes. I love some uncommonly shaped beads, and these guys are great! They would look awesome on a wrapped bracelet, and I love the color depth. They are also very soft to the touch, no sharp corners.
8mm Amethyst Faceted Rounds. You can never go wrong with good old faceted rounds! They have just the right amount of sparks, and they are lovely with bead caps and other metal components.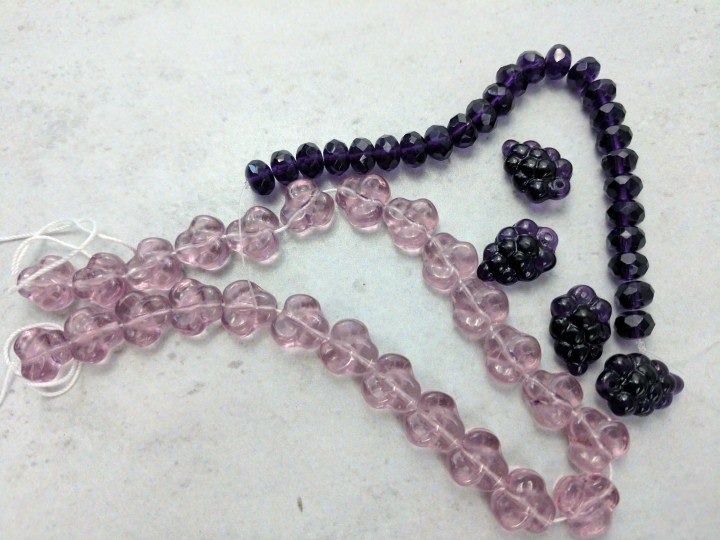 Grapes!
11x16mm Tanzanite Grape Bunches. They are so fun! Earrings or bracelet charms, they can add a bit of fun to a design without being too cheesy!
7x5mm Tanzanite Gemstone Donut. The deep color can look almost black under a different light. Donuts have a softer cut than rondelles, but they can be used the same way. I was thinking of making a simple elastic bracelet with the donuts and some smaller beads, topped with a silver charm!
9mm Amethyst Flat Pansy. Another fun bead shape, I run into the same problem that the square one. I like them, but I have not idea how to use them to their full potential. One day, I'll find out. One day.
Pearls!
5x7mm Freshwater lavender pearls. My lighting wasn't the greatest to show off the true color of the pearls, but to me, they were more peachy than lavender. Almost pink. I love pearls, and so does BeadCrate! I don't know yet what I'll do with them, but I want something delicate. Maybe a simple silver or antique brass chain with pearl links.
8x8mm Alexandrite Hearts. Once more, the picture isn't true to the color of the beads. They are a bluish light lavender color, so not as blue as on the picture. They are very cute and lovely, I will probably keep them to make something with my niece whose birthday is in February!
3x4mm Clear AB Faceted Rondelles. Simple, lovely, a neutral color that goes with everything! Placed between to bigger beads, or with small metal spacer beads, they have so much possibilities!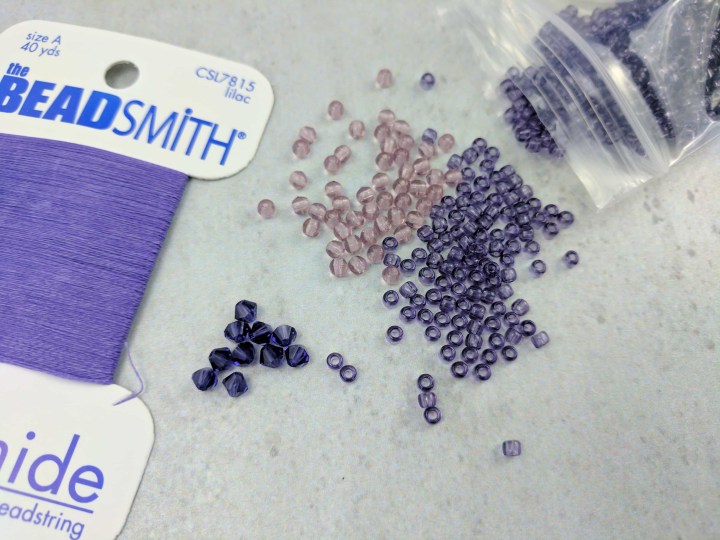 Small Beads!
Silamide Nylon Thread Size A in Lilac. Perfect to do some bead weaving or to be used to make a wrapped bracelet, the silamide thread is very versatile. I was going to use it to make a wrapped bracelet, but I change my mind for this box project.
Toho 8/0 Transparent Sugar Plum Japanese Glass. Every month, BeadCrate includes some seed beads. After many months of trying to do something with the seed beads, I finally manage to do something! And I didn't drop any seed beads during the making of the necklace, which is kind of a miracle!
3mm Amethyst Druks/Rounds. Super cute color, they are perfect to add color to a design without the sparks from the faceted beads. I like using druks to make chain links.
4mm Tanzanite Bicone Machine Cut Czech Crystal. I love love love bicones like them, and the color is gorgeous! They inspired me for this month's project.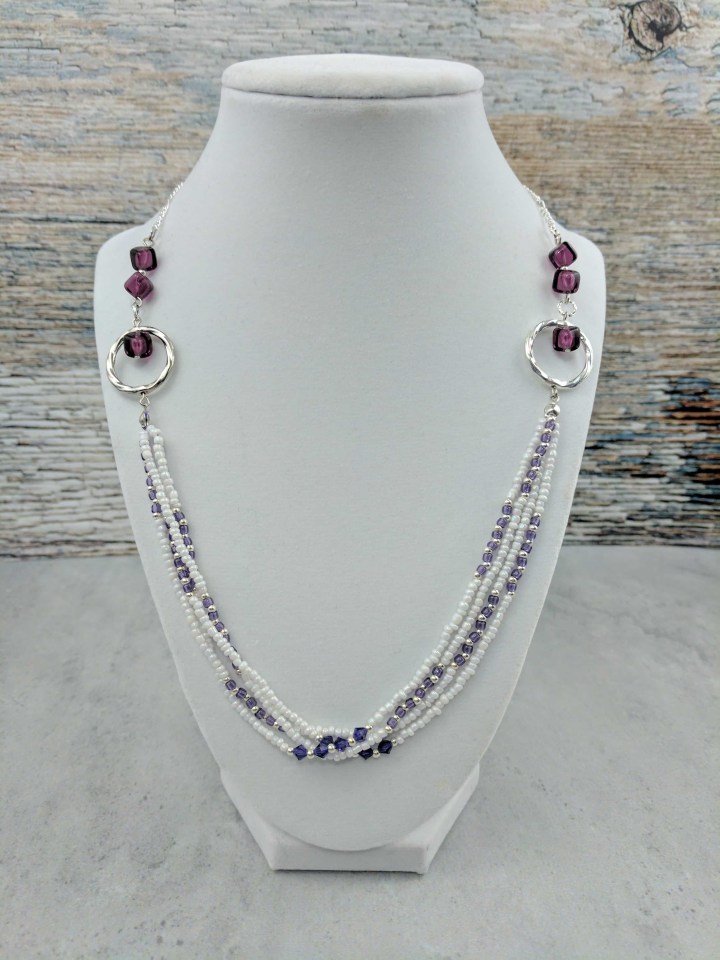 For this month's project, I've used seed beads. A lot of seed beads. I've used the Sugar Plum Toho seed beads mixed with some myuki pearly whites and silver spacer beads. Even though the box was full of purples, I didn't want to overdo it. I also used the bicones for the "focal" point of the necklace as well as some of the diagonal cubic beads. I've used the Silamide Nylon thread in lilac for the multi rows.
That was a lot of purple in this box (I'm not complaining, I love purples!) This was a fun month and it got me to think outside my comfort zone (wire-working). I really like that they add something other than beads (the thread this month), and that they provide us with some inspiration through their Pinterest Boards that they create for each box!
What do you think of this month's BeadCrate box?