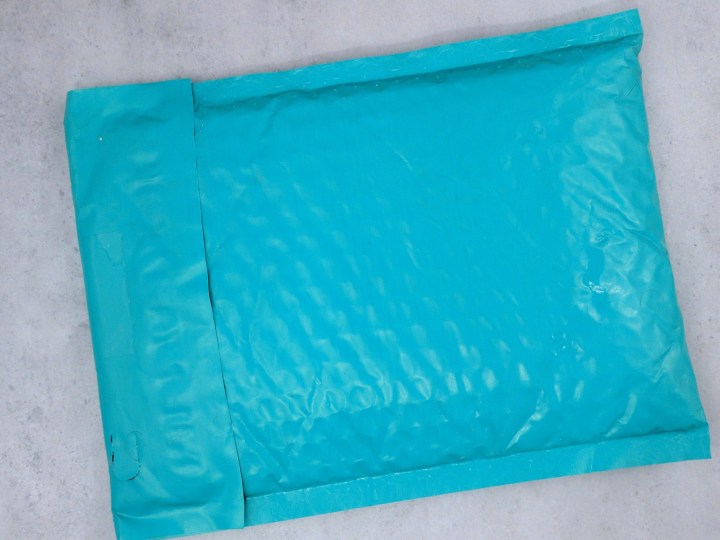 Bargain Bead Box is a monthly bead subscription service. Each month, you'll receive over $40 worth of top-quality jewelry supplies. It can be a mix of loose beads, bead strings, findings, and pendants. You can share your creation on their social media for a chance to win a $25 gift certificate for their sister store Bead Box Bargain. Boxes are $15.95 per month. Shipping is free in the US and $7.50 to Canada. Even if it's technically a subscription box, it comes in a teal bubble mailer, which is less expensive than a box so they can send more beads! And more beads is more fun!
Inside the bubble mailer, the beads come nicely packaged inside three bags and wrapped in tissue paper. Inside the bags, everything is in individual plastic bags.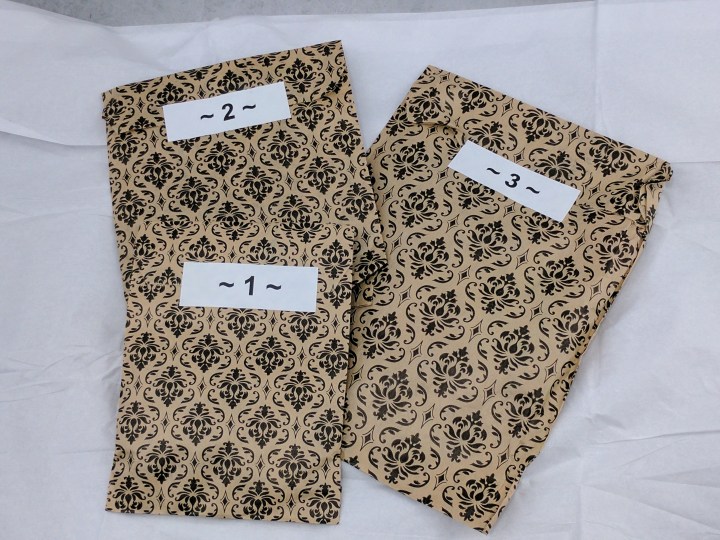 Each month is curated around a different theme and all the beads and findings are coordinated. This month's theme is "Myth" and promises depths of a dragon's cave and bright meadows of Fairyland with agates, pastel gemstones, and mushrooms! Antique Bronze is the metal this month.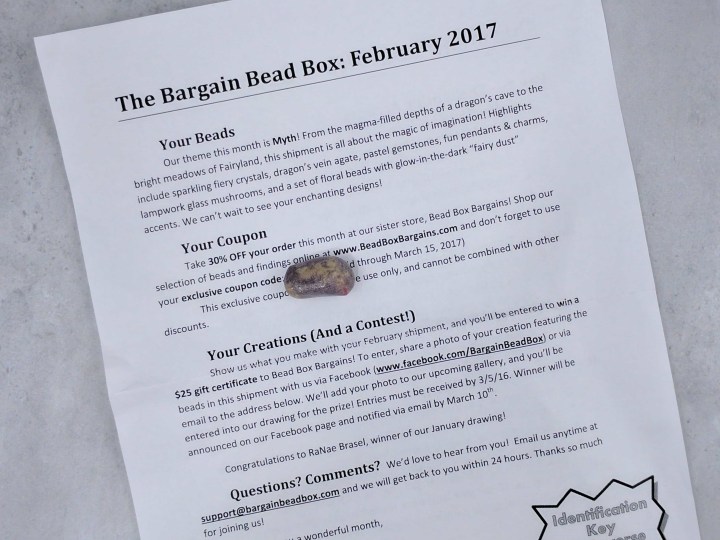 With the note, included in the package, you also get a discount for their sister store "Bead Box Bargains." You can share your creation on their social media or by email to have a chance to win a gift certificate to their sister store.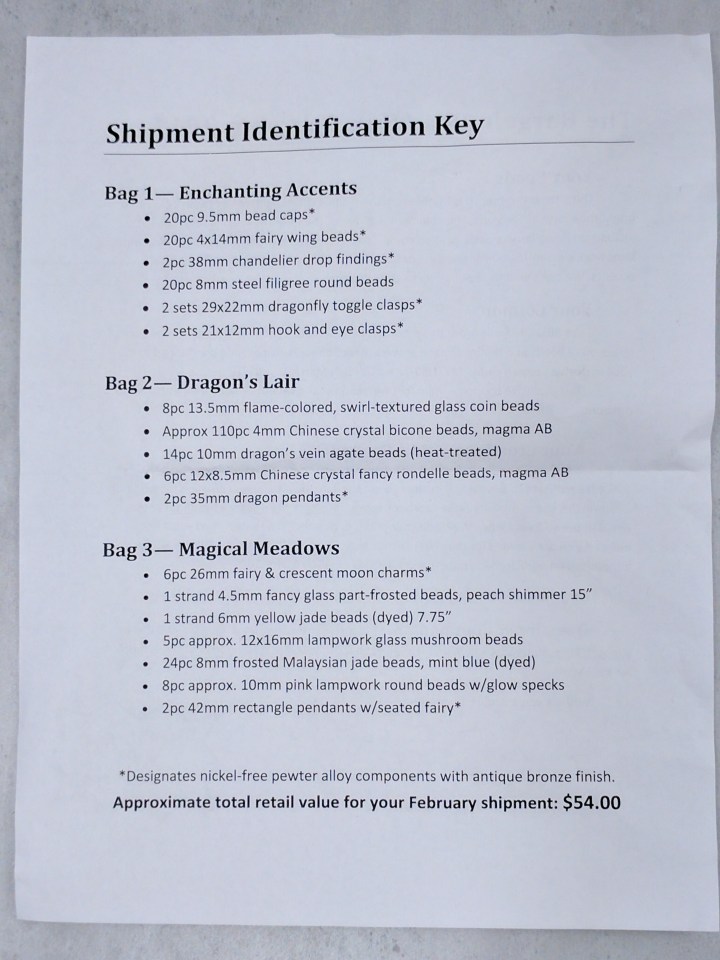 On the reverse of the letter, the content of the three bags are described.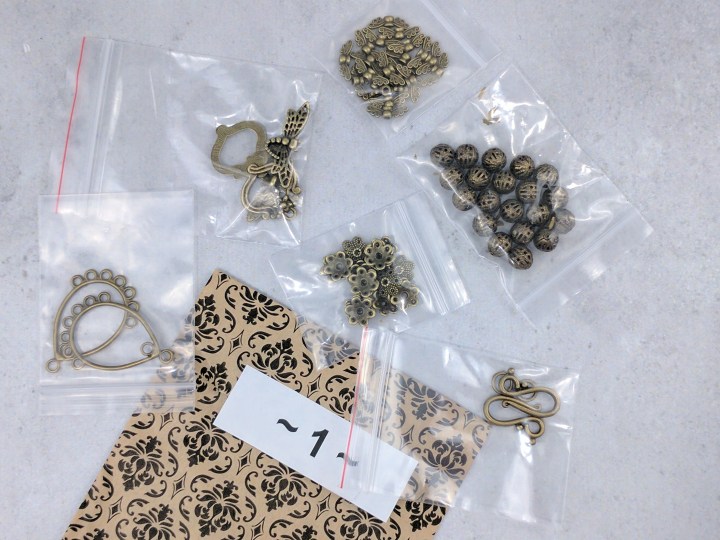 BAG 1: Enchanting Accents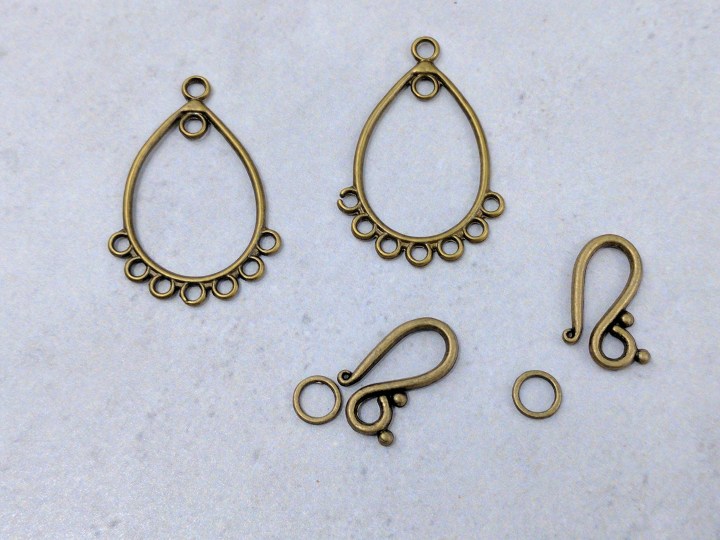 38 mm Chandelier Drop Earrings. I'm sad to see one of my chandelier link broken, but the second one can be used as a focal component. These are very lightweight and I would not use them for heavy design.
Hook and Eye Clasps. As usual, we get some sort of clasps for that final touch on our project. The rings are closed so they can easily be used with any kind of design (thread, wire, etc)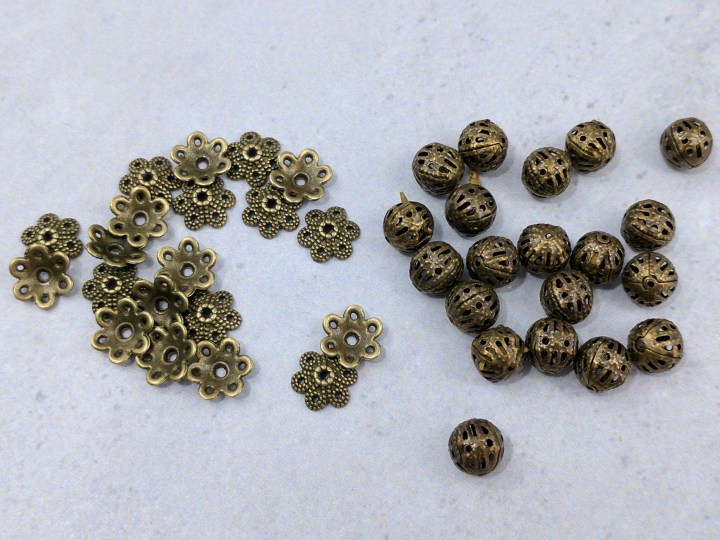 9.5mm Bead Caps. Always nice to see them in the box, they add a nice finishing touch to beads.
8mm Steel filigree round beads. It's fun to get some beads in the same color as the findings.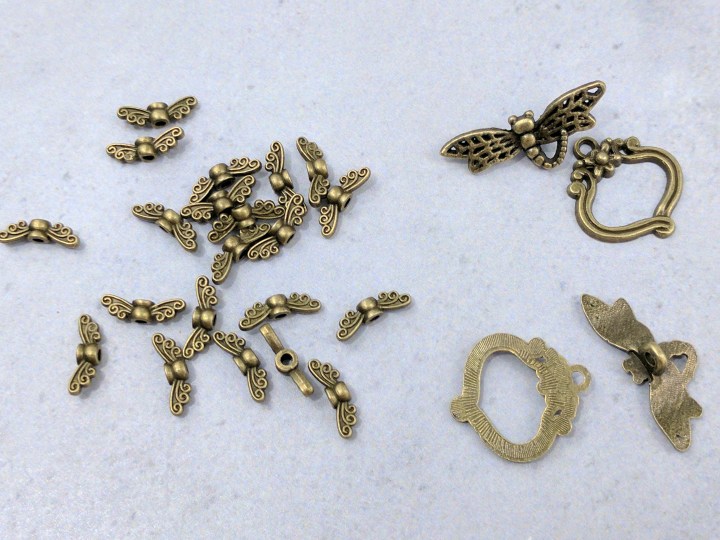 Dragonfly Toggle Clasps. After the simple toggle clasps, we have more elaborated clasps in the form of Dragonfly!!! I just want to add flower charms to a necklace using them!
4x14mm Fairy Wing Beads. These are so full of possibilities! Can be used in earrings, on a bracelet or on a necklace. They can be mixed up with a teardrop shaped bead for the body and a round or faceted bead for the head.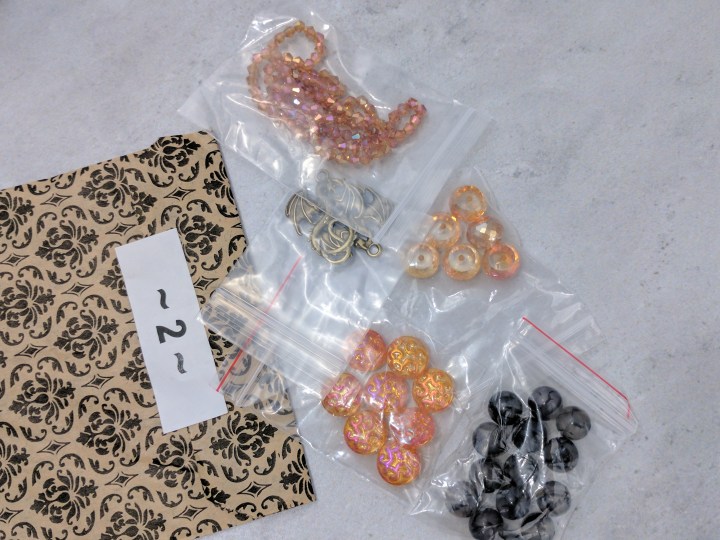 BAG 2: Dragon's Lair
13.5mm Flame-Colored, Swirl-texture glass coin beads. These are so fun and unique! I don't know what I'll do with them, but I'm in love with the color!
4mm Chinese Crystal Bicone Beads, magma AB. Cute little bicones, they can add a little of color or sparks to design. They could be used with the fairy wings for a small and cute fairy!
12x5mm Chinese Crystal Fancy Rondelles Beads. So much brightness, fire, color, and sparks in these rondelles! I want to use them as focals somehow, they are so lovely! Big bold earrings would be nice too.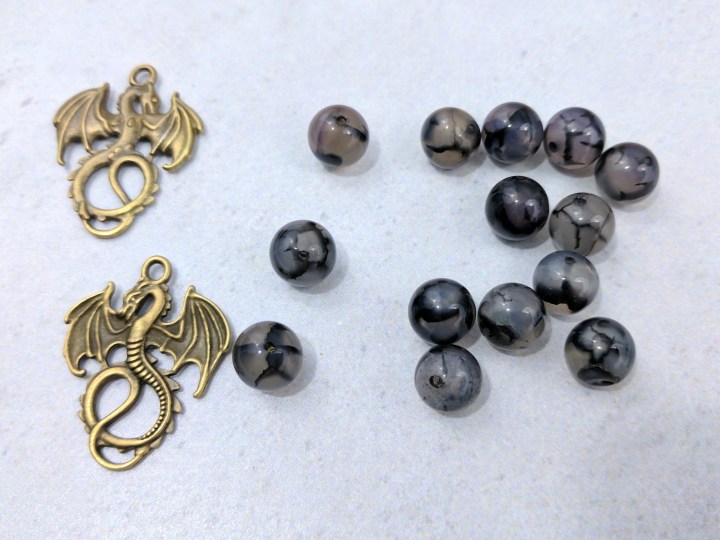 35mm Dragon Pendant. The dragons are very nice but too light for my liking. They are very thin and they would be nice in a small and light design.
10mm Dragon's Vein Agate Beads (heat-treated). I love black and white beads, and the dragon's vein are lovely.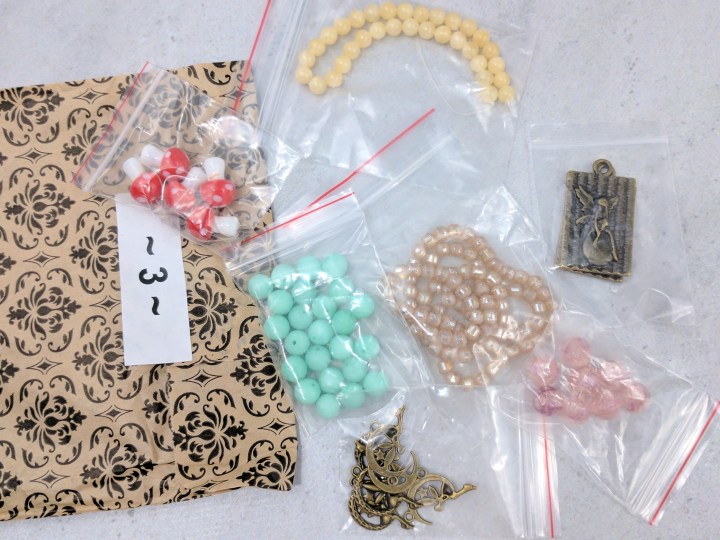 BAG 3: Magical Meadows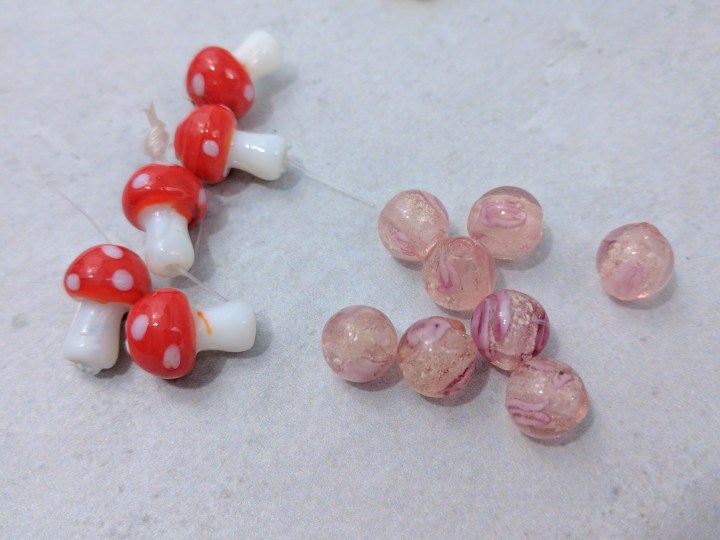 12x16mm Lampwork Mushroom Beads. They are pretty cute, but I find that kind of charms difficult to work with. I might make a charm bracelet for one of my young niece.
10mm Pink Lampwork round beads with glow specks. I love them! It's not the first time that Bargain Bead Box gives us glow in the dark type beads, and I've loved each and every single one of them. I use them like any kind of beads, and I really like the swirly pattern on these ones.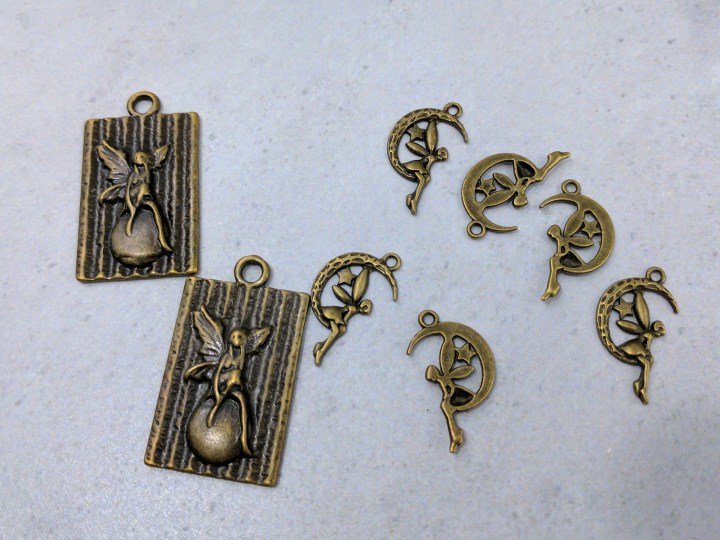 26mm Fairy & Crescent Moon Charms. Two of my nieces are big fans of fairies, so I'll hang them from a simple cord and give them to them.
42mm Rectangle Pendant with seated fairy. Fairies! They are very cute and would make great earrings!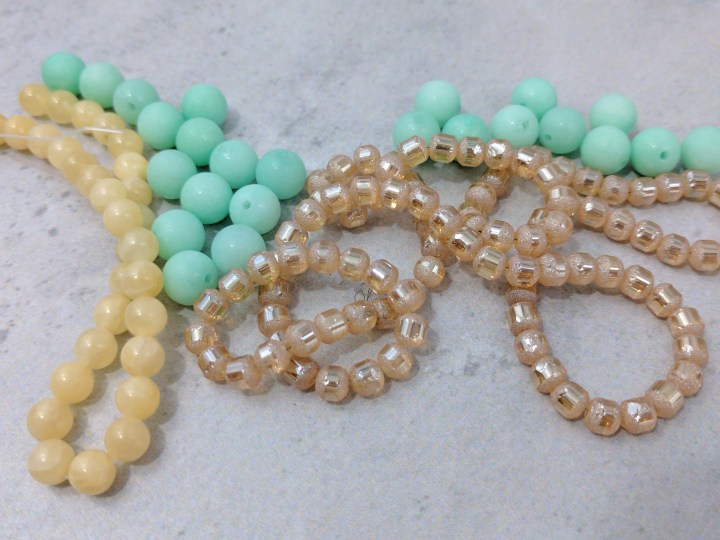 6mm Yellow Jade Beads (dyed). I love gemstones and I'm always excited to get some new ones in my boxes! The beads have a nice shadow in their pattern and the yellow is not an overly bright yellow, it's subtle enough to mix and match with different colors.
8mm Frosted Malaysian Jade Beads, mint blue (dyed). Once again, even if they are dyed, I enjoy gemstones for the weight they have and how they look great in any design. This is a very nice shade of mint and at first, I wasn't sure how I could use them. I'm more into deep and dark colors, so Springtime Boxes are kinda scary for me! The color is perfect for a beach inspired design! Side note: Malaysian Jade Beads are actually Quartz!
4.5mm fancy glass part-frosted beads, peach shimmer. I love how the top and the bottom of each bead is frosted, but the middle part is shiny! They are little puffed cylinder, very pretty!
For this month's project, I've decided to go a bit lighter to celebrate the coming (maybe) of Spring! I used a length of waxed cotton thread to have a rope-like necklace. Both ends have little "fairies" hanging from the rope.
That was such a fun theme for this month's Bargain Bead Box! I'm usually not into cutesy charms and vibe, but this one had a lot of colors, a bit of gemstones (even dyed, they have that weight to them that I really like) and the colors were light, bright, but not too cutesy! Once again, we had enough beads for many many projects, and everything was great to work with.
What did you think of this month's Bargain Bead Box?