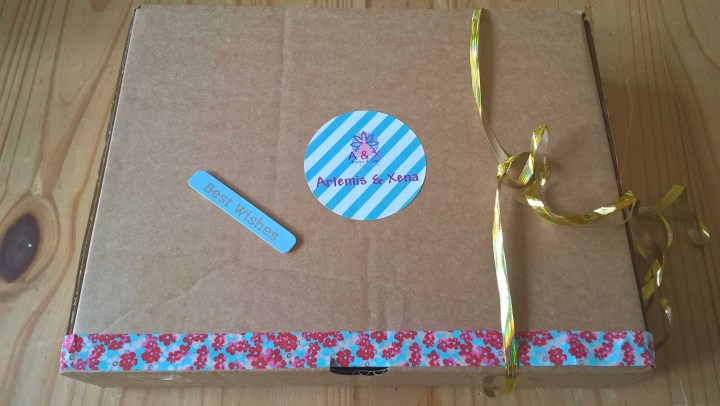 Artemis & Xena is a new subscription box just launched this month. It contains a mix of good-for-you items to inspire and empower young women.
My box arrived with a sweet little personalised note, and all goodies packed in pretty tissue paper. The theme this month is DREAMING.
DEAL: Receive 15% off on all plans and one-off box! Use coupon code HELLOSUBSCRIPTION.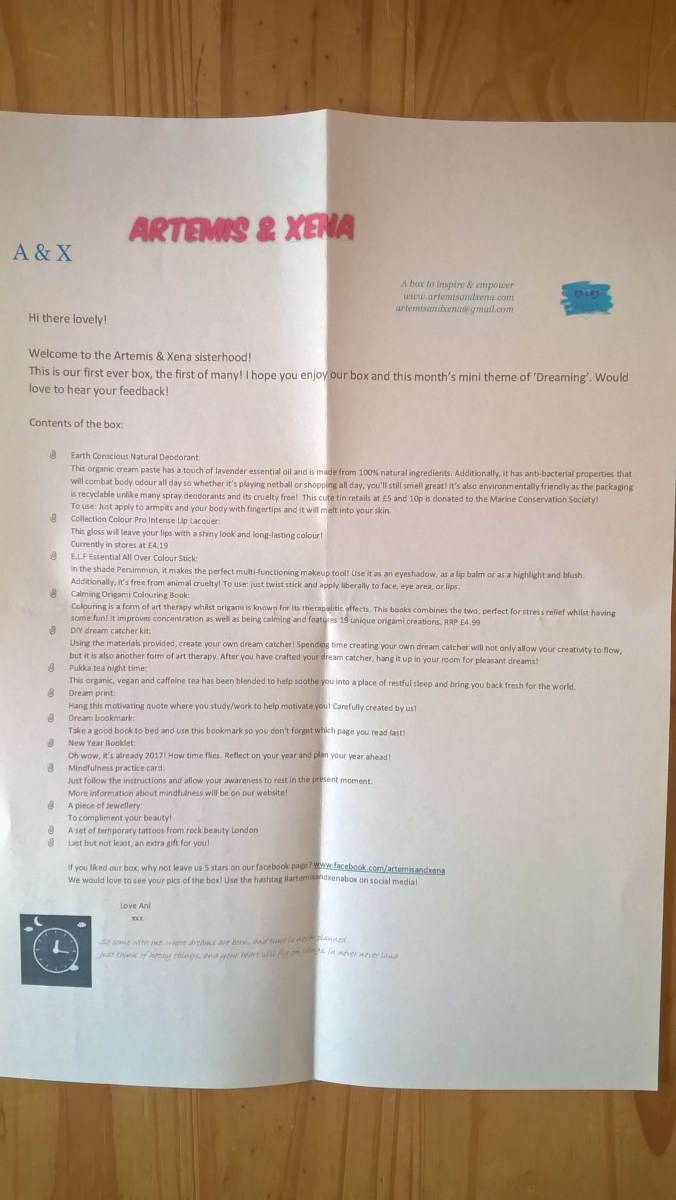 There's also a list that contains information about all the items included in the box.
Everything in the box!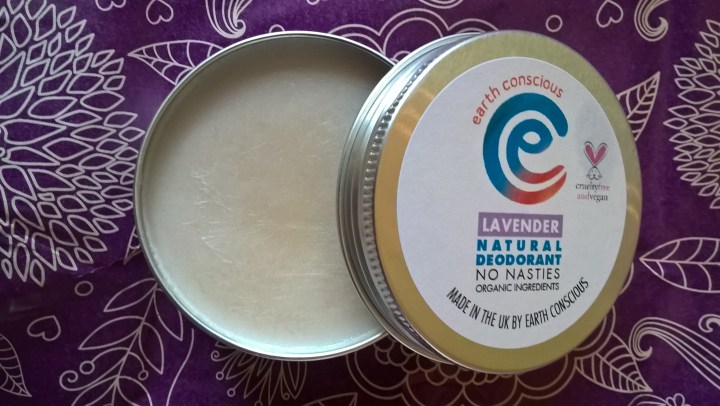 The Artemis & Xena box includes a number of beauty products. One of my favorite items this month is Earth Conscious Natural Deodorant (£5.00, about $6.25). This 100% natural product works by being antibacterial, so it allows you to perspire but prevents sweat from mixing with bacteria and producing odor. I admit it feels a bit odd to apply deodorant with your fingertips, but overall I really liked this product. It has a lovely, light lavender scent. It's also cool that 10p from the sale of each tin is donated to the Marine Conservation Society.
Collection Colour Pro Intense Lip Lacquer (£4.19, about $5.25) is seriously intense in color. I mean, wow is this pink! Do not apply without a mirror! This product felt very sticky when applied and it stayed that way, which was not pleasant. It does look good on and is very glossy. Probably best saved for a night out.
E.L.F. Essential All Over Colour Stick in Persimmon is a multi-functioning makeup for use on the eyes, lips, and face (hence the name ELF). I really liked this stick! It glides on very smooth and left just a hint of shimmer. A great stick for brightening up the whole face or using as a highlighter.
Nature's Ingredients Lemon Verbena Shower Gel by M&S Beauty was included as an extra gift, not individually listed on the box content sheet. It has a lovely lemony scent!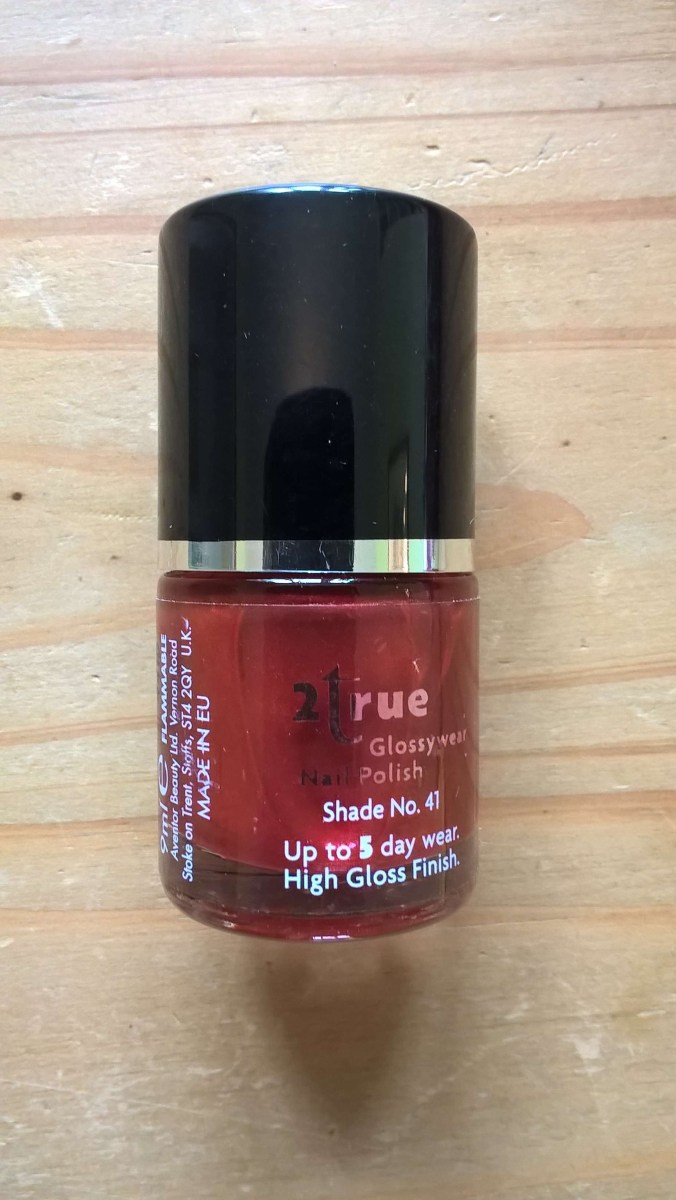 Also included as an extra gift not individually listed on the box contents sheet is 2true Glossywear Nail Polish in shade no. 41.  A pretty bold shade with a shiny finish.
Two sheets of temporary tattoos by Rock Beauty London and instructions for their application are also inside.
These were quick and easy to apply, and it came out looking great!
Each month's box comes also with a piece of jewelry. This month's piece is a cute Faux Silver and Turquoise Owl Pendant with adjustable chain.

The Artemis & Xena box also contains some creative activities. The Calming Origami Colouring Book (£4.99, about $6.25) combines the therapeutic benefits of coloring and origami as a form of stress relief. There are 19 sheets to help you improve concentration whilst in a calm state. It's a nice book with intricate designs. If only I had some colored pencils on hand so I could try it out!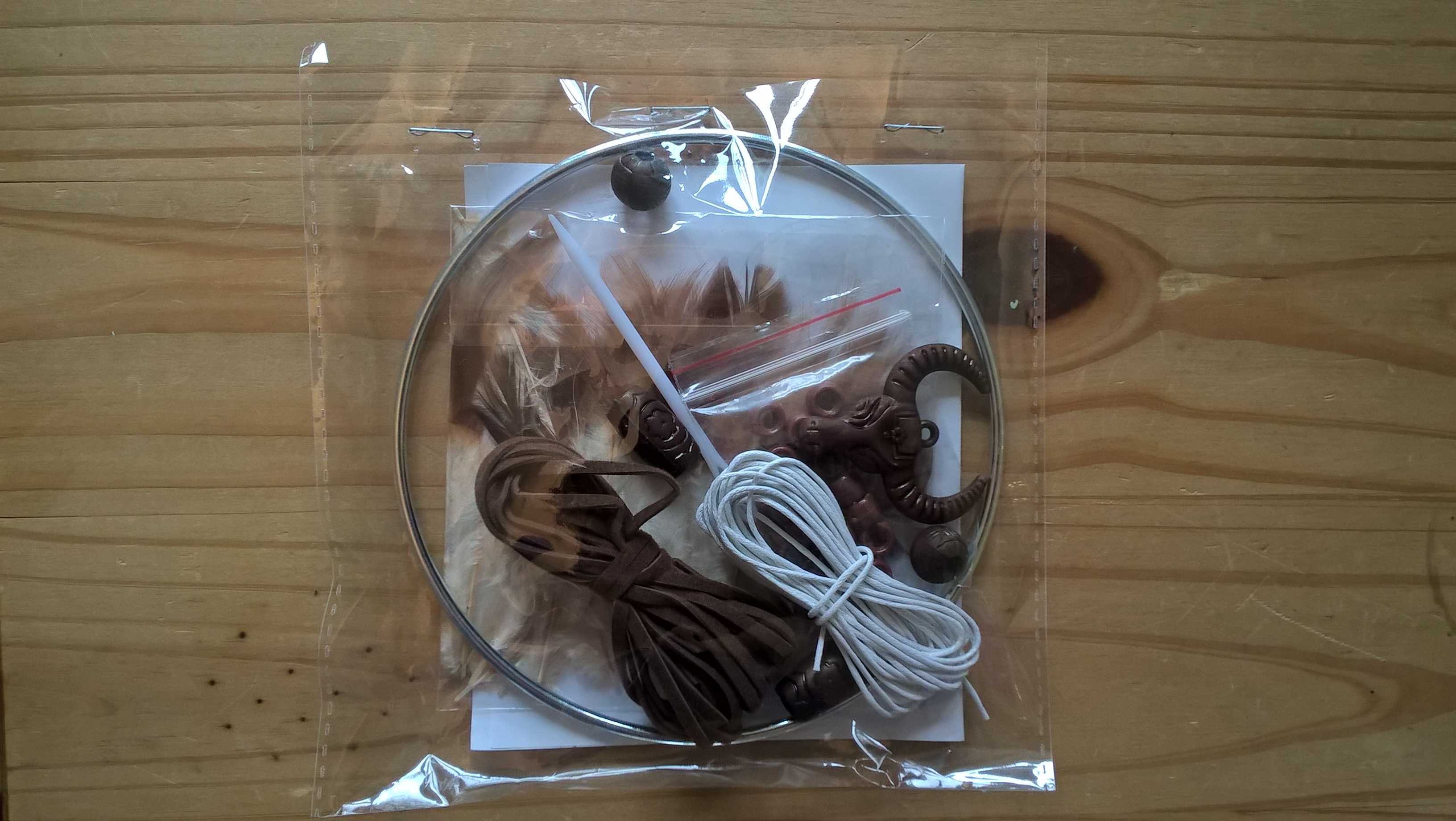 The cute little Diy Dream Catcher Kit includes all the materials you need to build your own dreamcatcher. The instructions are pretty basic, so crafting skills will definitely come in handy for the assembly.
To further relax you after the crafting, the box includes one bag of Pukka Night Time Tea. I buy a lot of Pukka tea, and the Night Time flavor just happens to be my current obsession. I love the soothing combination of oat flower, lavender and limeflower. It's the perfect thing to calm you down before bed.
Finally, the box includes a number of other items from which to draw inspiration and find peace of mind:
In fitting with this month's theme of dreaming, there is a motivational card with Walt Disney quote and a bookmark.
An instructional card which provides instructions for how to practice mindfulness.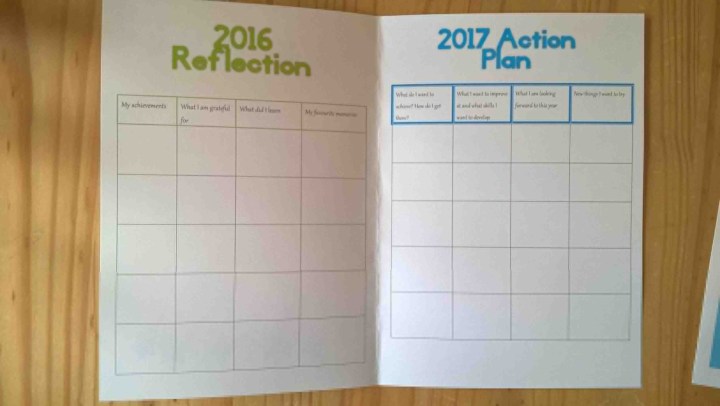 A booklet with a chart for you to use in reflecting on the year just passed and plan for 2017.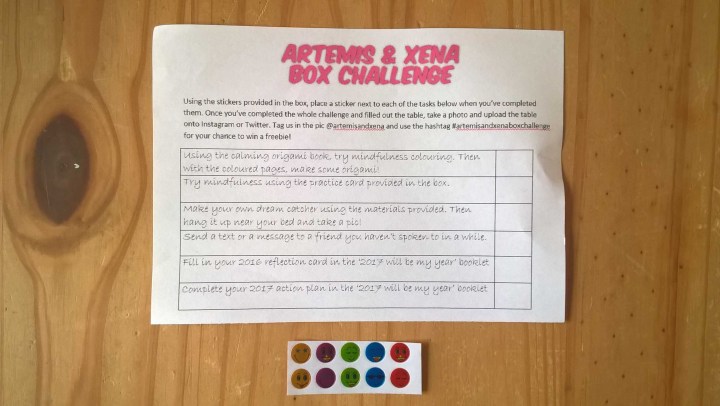 And finally, there is a card which sets out 6 tasks for you to complete using the box contents.  You are encouraged to share photos of your accomplishments with the rest of the Artemis & Xena sisterhood on Instagram or Twitter.
The Artemis & Xena box definitely has a hand-curated feel. The company was founded by a young woman, who previously struggled with mental illness, as a way of helping others to improve their emotional well-being and confidence. The story is inspiring, however as a woman in her early thirties, I feel that I am not personally quite the right audience for this box. The cosmetic products and activities are just targeted at a younger market. I do think the box would be a great fit for tweens or teens because it is all about positive messaging, believing in yourself and feeling supported by a sisterhood of like-minded individuals. What young woman wouldn't want that?!