Allure Beauty Box is a monthly beauty subscription service that sends deluxe sized product samples and is curated by the editors of Allure Magazine, who choose and test the products themselves. It's $15 a month and if you sign up for a year-long subscription, you will pay for 11 boxes and get the 12th free. The amount of items sent each month varies and you can earn a "referral bonus box" in each month that a friend subscribes using your personal link.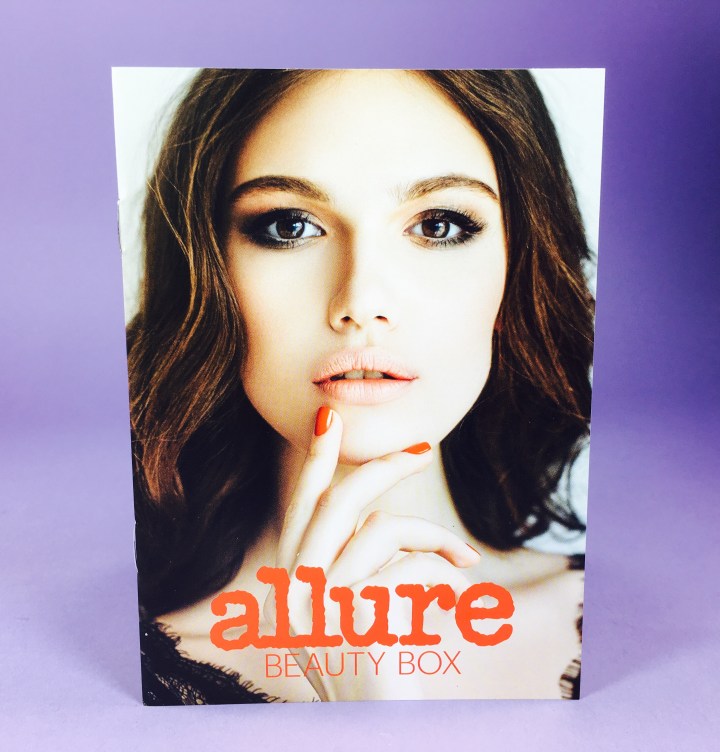 DEAL: Use this link to save $5 on your first box AND get a new member bonus item! Note that the landing page for https://hellosubscription.com/go/allure-beauty-box/ does not indicate anything about the bonus, only about the $5 off.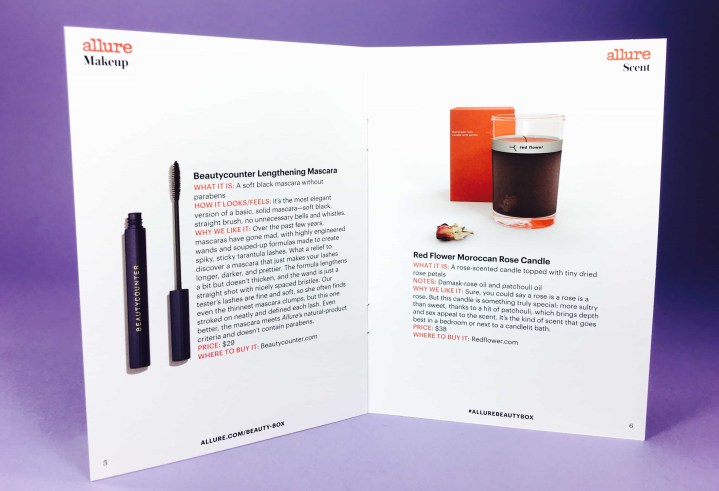 Each box comes with a mini magazine that gives tips on how to use the products, how much the full-sized product costs, and where to purchase. This month's theme is "Big Love" and featured products that you can use to treat yourself.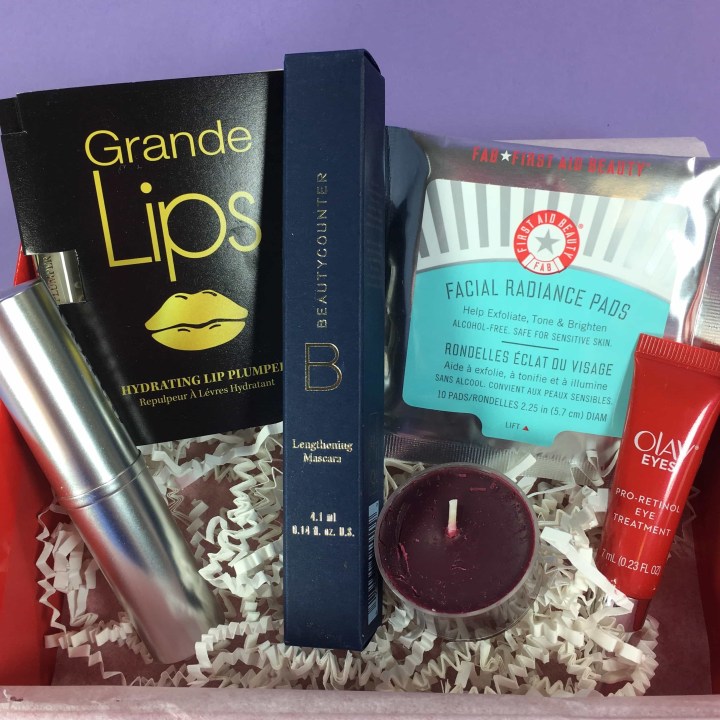 I received 6 products this month: 2 makeup items, 1 lip plumper, 1 candle, and 2 face products. The items were shipped in a plain brown box that contained a glossy red box inside and there were tissue paper and shredded squiggles for packing.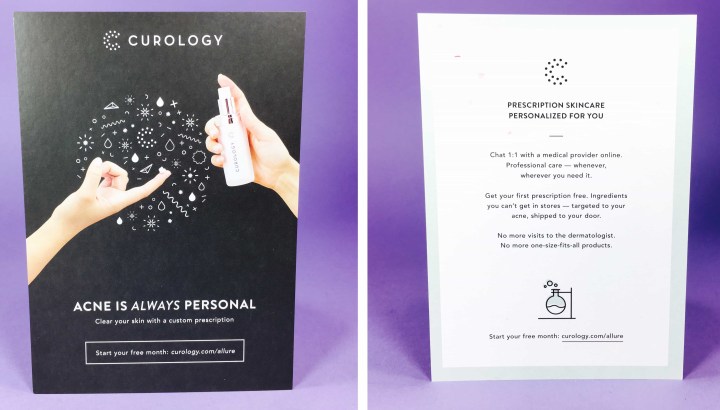 I found a card that offered a free trial for a "prescription skincare" item that fights acne from Curology.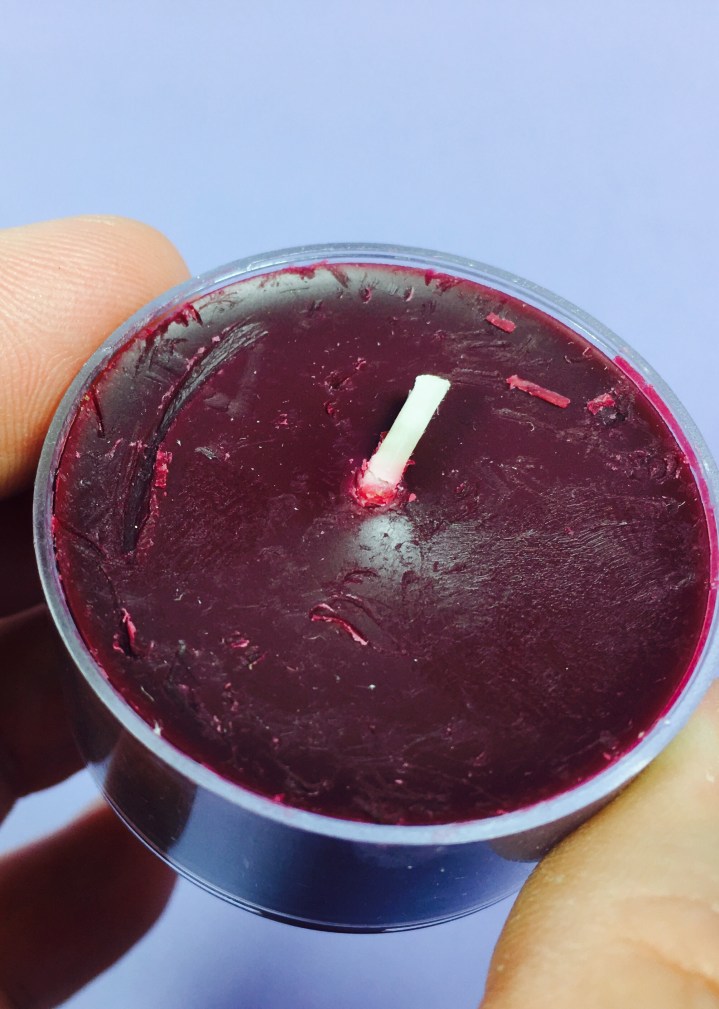 Allure wants you to treat yourself to a candlelit bath with this Red Flower Moroccan Rose Tealight Candle  (no size, $1.50?). The wax is vegetable based and the scent includes coriander, damask rose, and patchouli.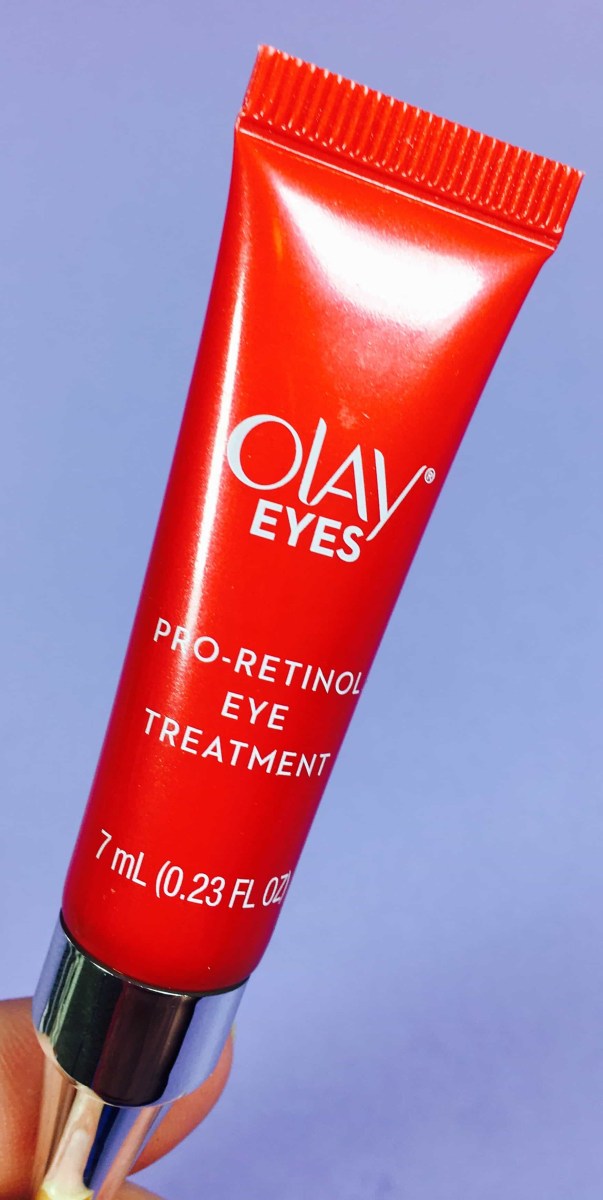 The Olay Eyes Pro-Retinol Eye Treatment ($8.40) wasn't included in the guide but was advertised on the back of the mini-magazine. Niacinamide and retinyl propionate are the anti-aging ingredients in this creamy, fast absorbing product that had no noticeable scent.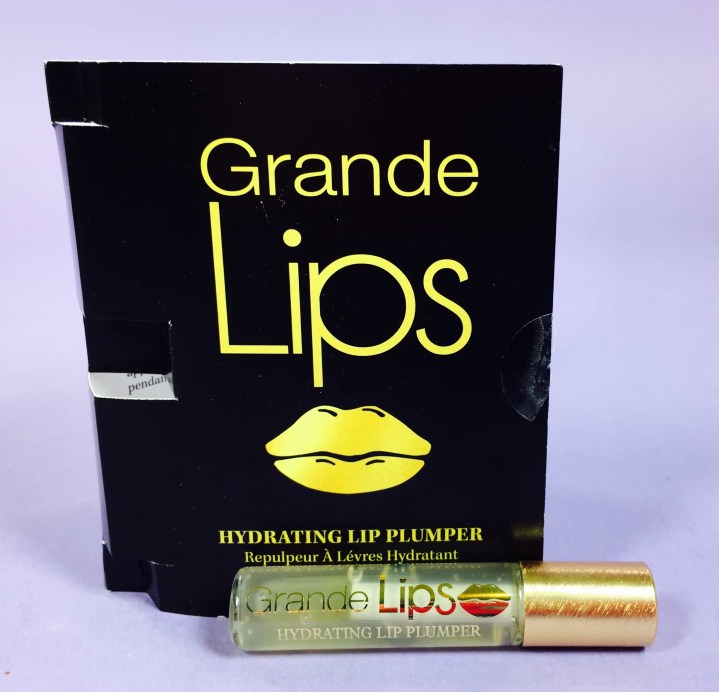 I have the world's smallest lips so you would think I would be ecstatic to find Grande Lips Hydrating Lip Plumper (no size, $7?) in my box. You apply the clear gloss twice a day for 30 days to see an increase in plumpness and firmness. I tried it and after a few moments, my lips were on fire like I had rubbed cayenne or jalapeno peppers all over. The vanilla flavor was nice but this won't find a place in my daily life.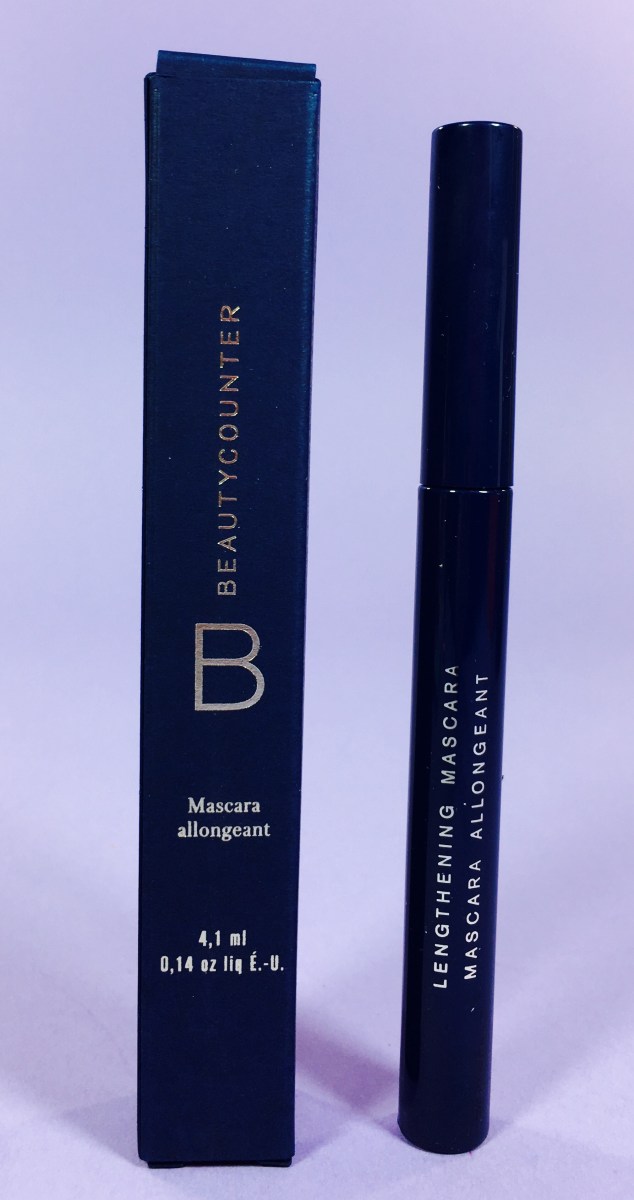 I don't know if it's my imagination or what but it seems like mascara brushes are getting bigger all the time and I have a hard time reaching the inner and outer corners of my lashes. Enter Beautycounter Lengthening Mascara ($29). The brush is compact and I have no problem getting it into the corners. The formula doesn't do much for me but I'm happy that it's free of parabens, plus it moisturizes my lashes.
Here's a closeup of the no-frills yet absolutely perfect for me brush.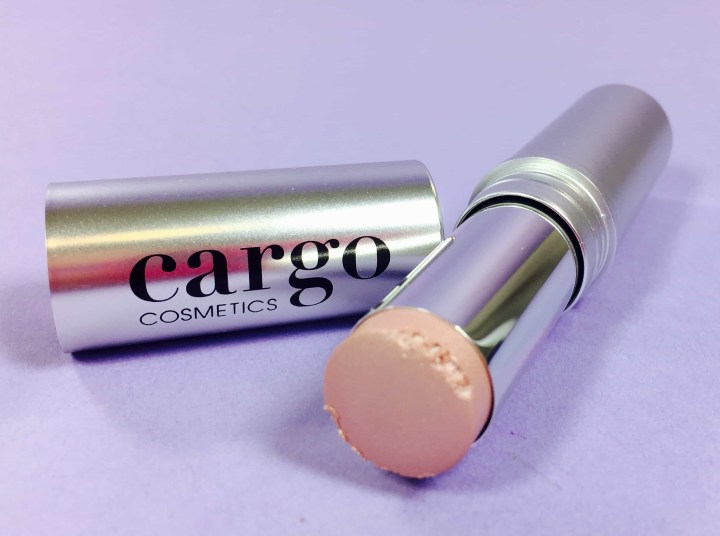 Cargo ColorStick in Champagne ($28) can be used as a highlighter, eyeshadow, or lipstick (darker shades would be used as blush, lipstick, or eyeshadow.)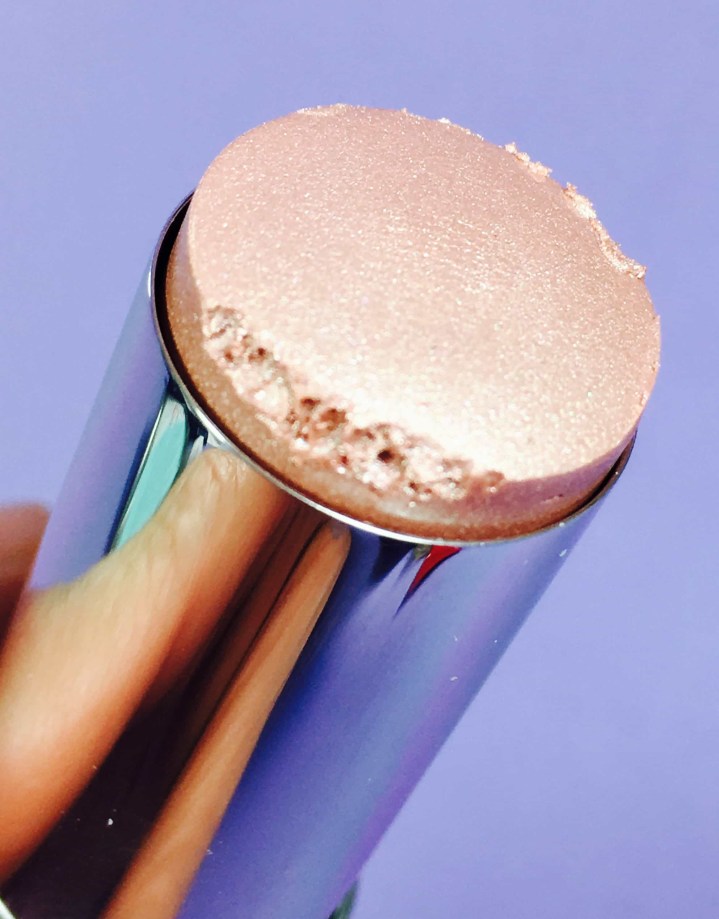 I liked the shade and formula as it helped me look radiant but not shiny. I applied to my cheeks, forehead, nose, and upper lip directly from the stick and then blended with a brush. If you want to use it as an eyeshadow then a shadow brush would make application easier.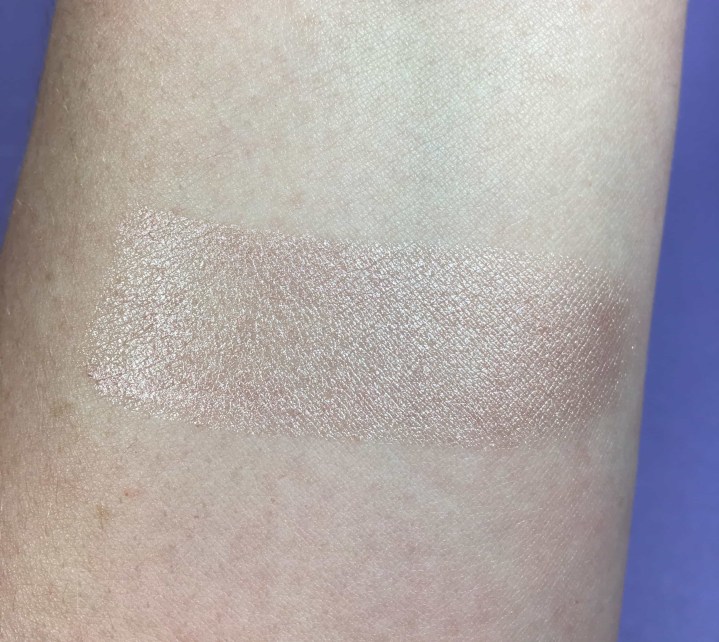 Here it is swatched on my arm. I'm not usually impressed by Cargo but this one is a winner!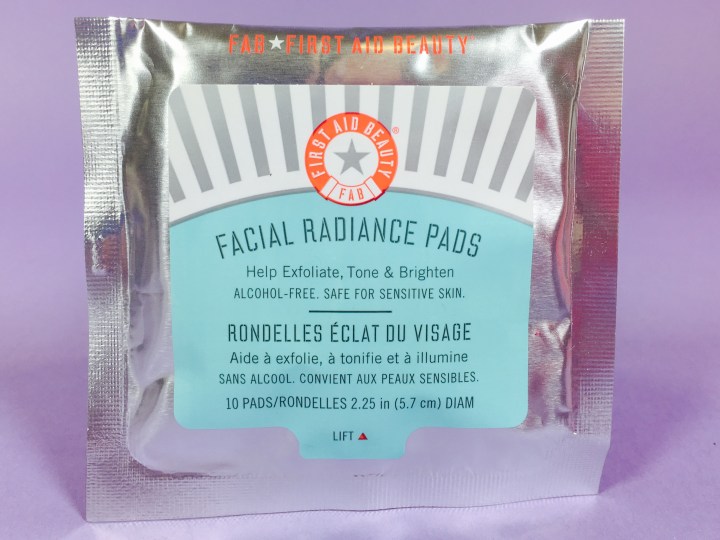 First Aid Beauty Facial Radiance Pads ($5.36) reminded me of those Oxy pads from my youth, round and textured. Lactic and glycolic acids exfoliate while aloe and cucumber soothe skin. I didn't notice any irritation with use. The package is resealable and travel-friendly.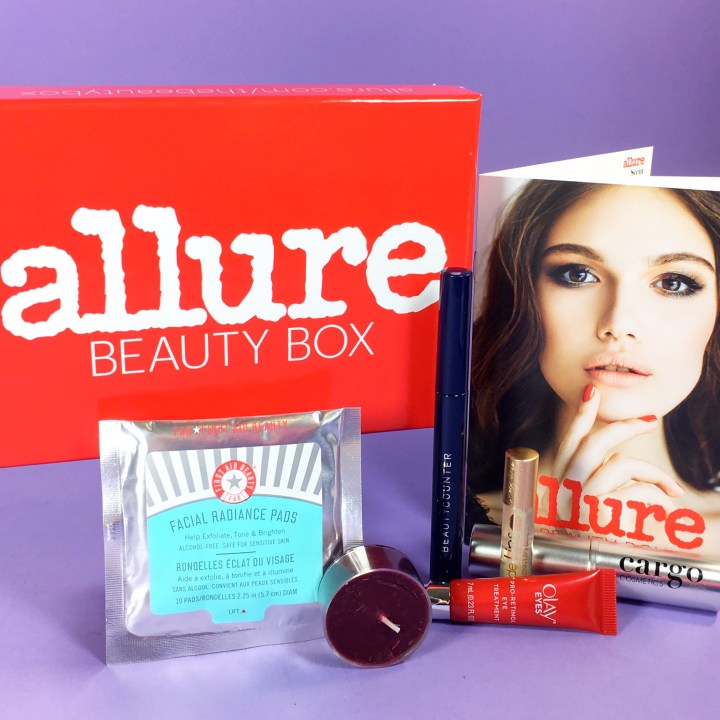 My February Allure Beauty Box had a value of $80, but I had to guess on the value of several items so it could be more or less. I'm happy with the variety of samples I received this month and feel like Allure does a good job of sending universal items that can be used by most subscribers. I liked the Olay eye cream and both the mascara and highlighter will get lots of use!
Have you tried Allure Beauty Box yet? What did you think of this month's box?