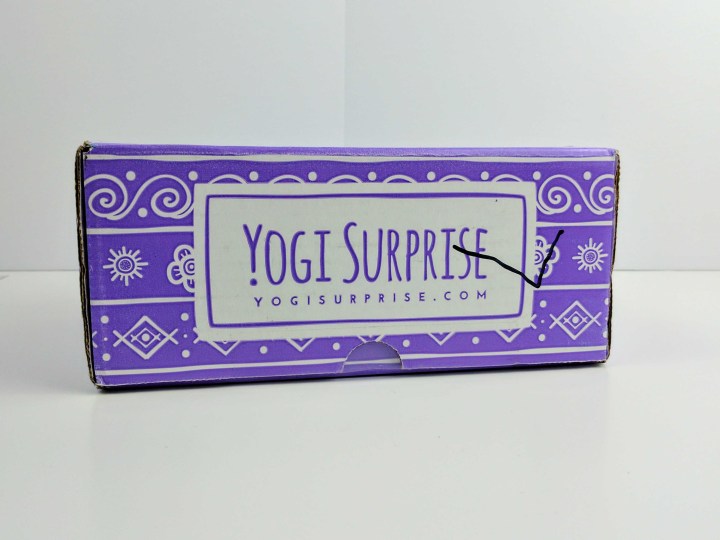 Yogi Surprise is a yoga-inspired monthly subscription box designed to complement your way of living. Each monthly box contains 6-8 products picked by experienced yogis to complement your yoga practice and your life!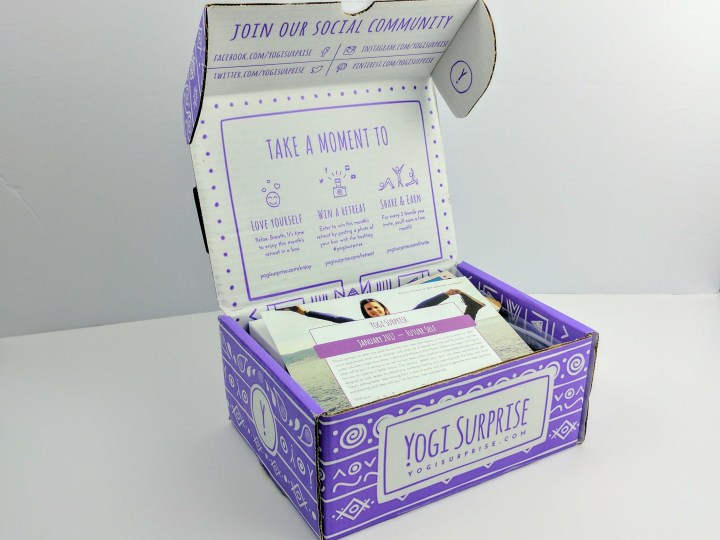 DEAL: Take 15% off your membership for life! Use coupon code HELLOYOGI.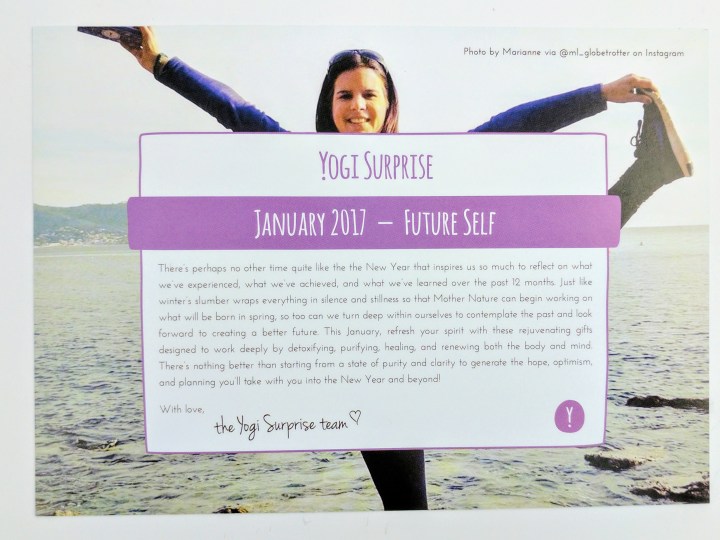 January's theme is "Future Self." The tools we are gifted with this month will refresh our spirit by detoxifying, purifying, healing, and renewing both the body and mind. Perfect to start the New Year!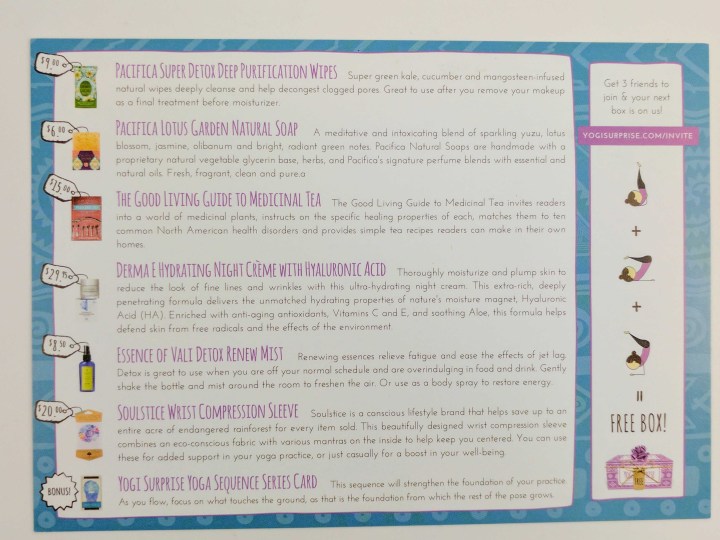 All the items are well labeled with some hints on how to use them.
Yogi Surprise Yoga Sequence Series Card. Every month, you receive a little card with a sequence of poses to celebrate the month's theme.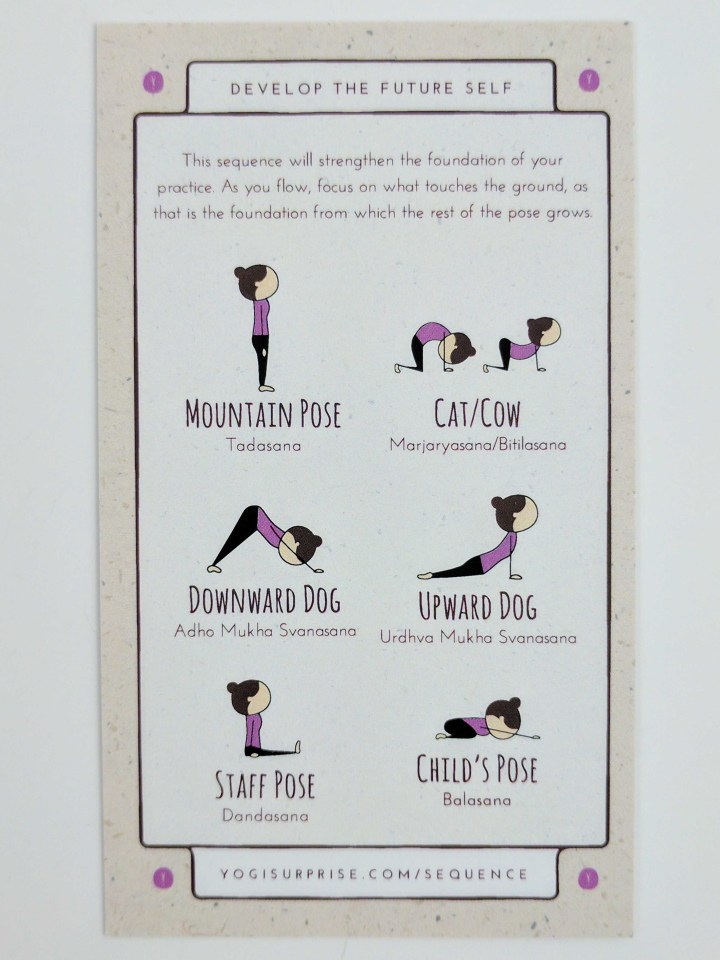 I really enjoy this sequence card. I actually try to do them all before going any further into the box, and this month's sequence is back to the basics! Love it!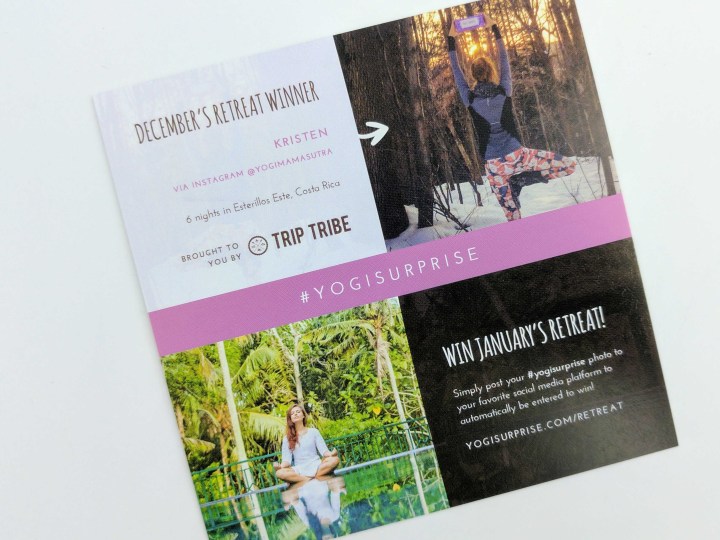 If you share your yogi surprise photo on social media, you are automatically entered to win a Yoga Retreat, in collaboration with Trip Tribe.
So much colors in this month's box! Right on top is the spoiler we had for January.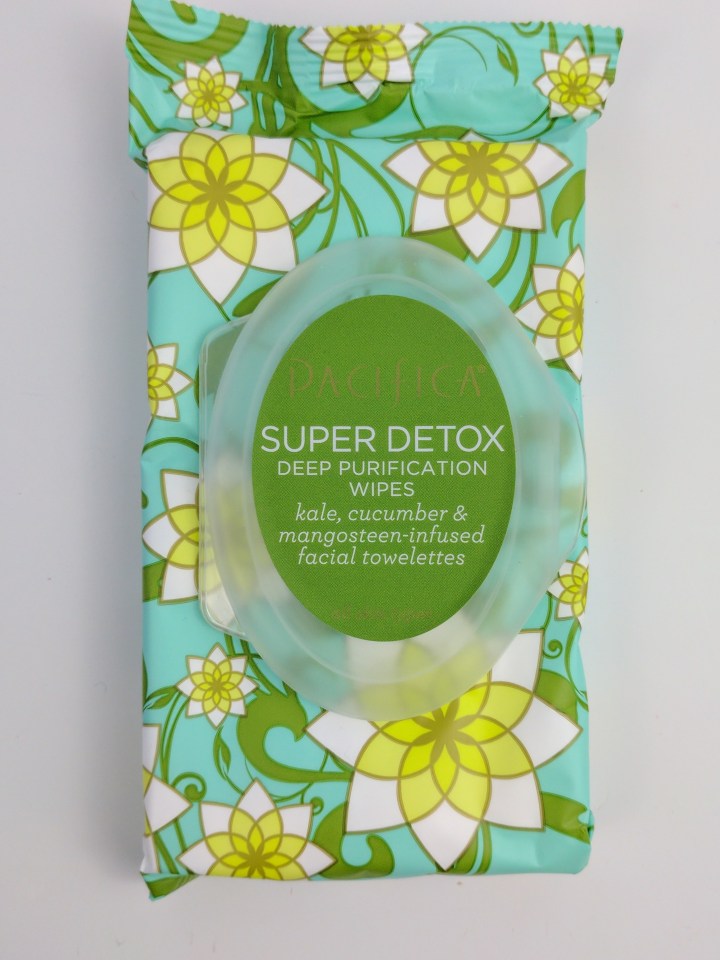 Pacifica Super Detox Deep Purification Wipes ($9). Infused with super green kale, cucumber and mangosteen I like these! I don't wear makeup, so they are a nice refresher during the day before reapplying some sunscreen. They leave the skin nice and soft. They have a funny scent, like sweet cucumber, but it's not a bad scent.
Pacifica Lotus Garden Natural Soap ($6). This soap bar is handmade with a natural vegetable glycerin base. It smells very fresh, thanks to the blend of citrus, lotus blossom, green violet leaf, olibanum, and pink pepper. It feels and smells luxurious, intoxicating!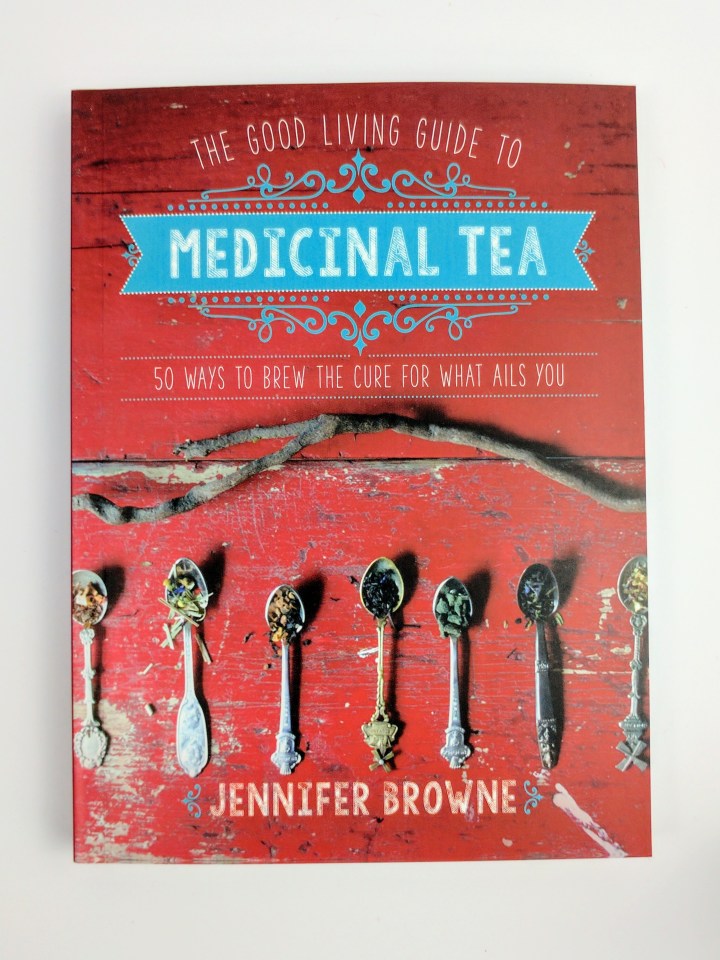 The Good Living Guide to Medicinal Tea ($15, $10.82 on amazon). This is a great book to know more about herbal tea and the properties of medicinal plants. I wouldn't say this is a book to cure your illness (you should consult a physician), but it can help your body to feel better.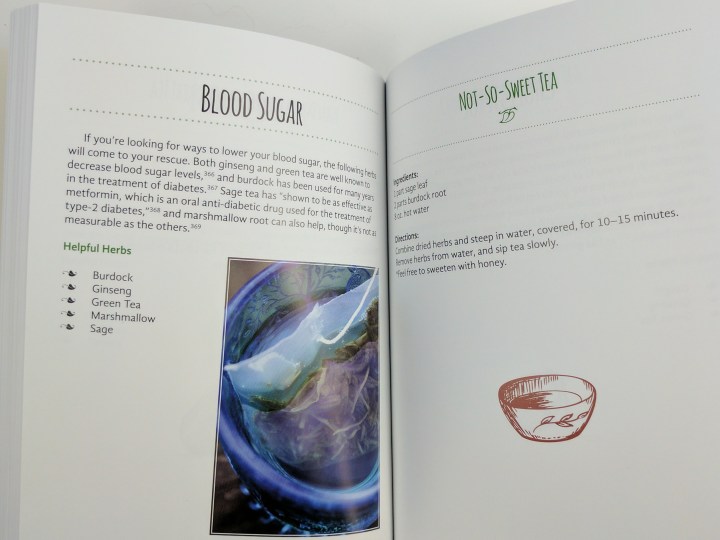 A nice book to learn about herbal tea in our own home!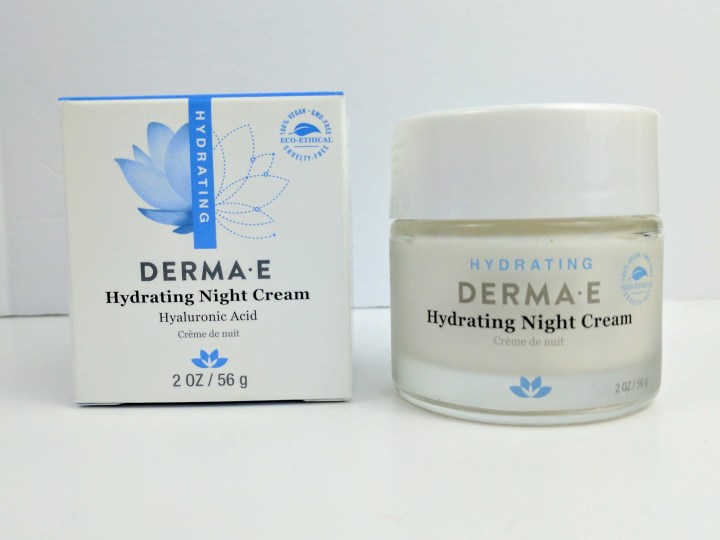 Derma E Hydrating Night Crème with Hyaluronic Acid ($29.95). This is not a heavy cream but feels quite rich, and the scent is quite subtle and pleasant. This cream will help reduce the look of fine lines and wrinkles. I haven't tried it for long, but my skin feels smooth and nice in the morning, not oily. Very nice!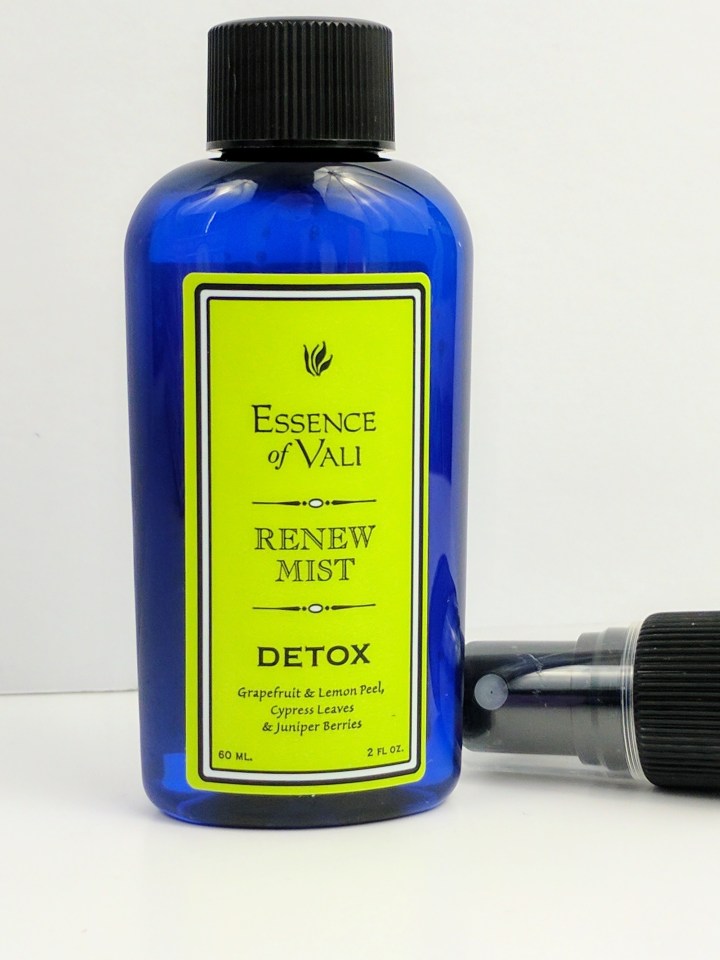 Essence of Vali Detox Renew Mist ($8.50). This is strongly grapefruit and citrus scented, but I looooove it. It's fresh and uplifting! I don't use mist to freshen the air, but I sprayed this mist on my curtain to give a mild fun scent to my office. I appreciate they have put the bottle in a plastic bag and provided us with a sprayer separately as to prevent any leaks.
Soulstice Wrist Compression Sleeve ($20). There were different designs you could get, and I received the "Release" one with a "Let it Go" mantra on the inside. For every purchase of a sleeve, an acre of endangered rainforest is protected.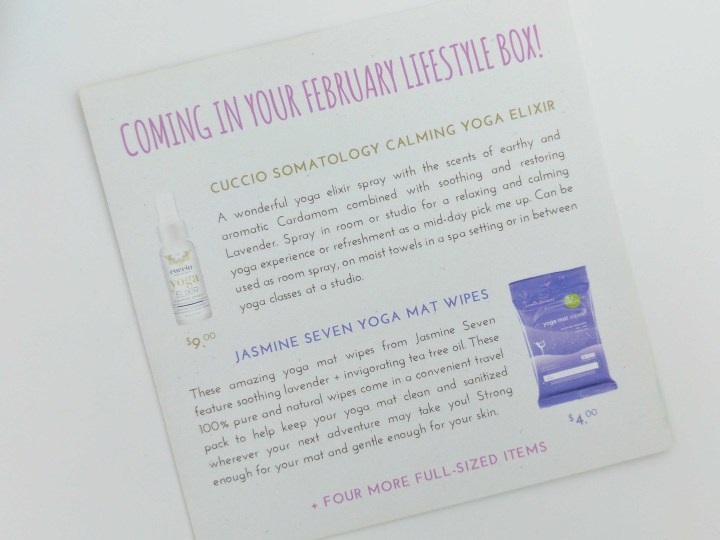 Included in the box, a spoiler for February Yogi Surprise Lifestyle Box!
I really like this month's box. I'm a big fan of herbal tea, so learning more about it is a plus! Everything fitted in the Future Self theme, with healthy ways to get there!
Are you a Yogi Surprise subscriber? What did you think of the box?