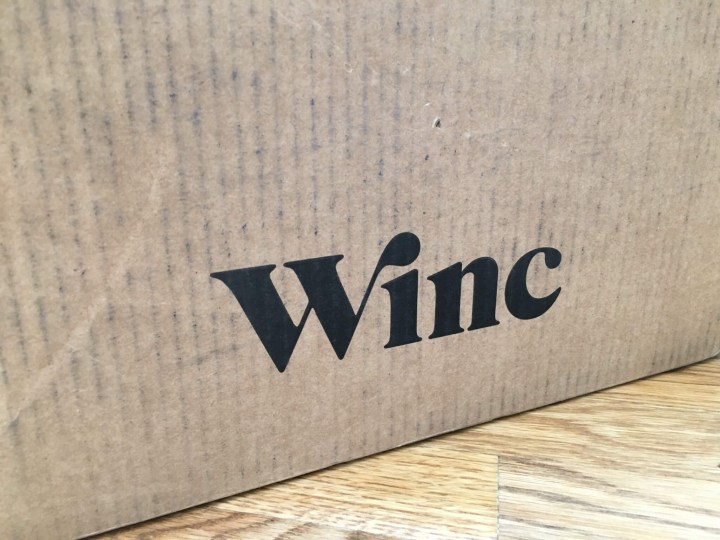 Winc (formerly Club W) is a wine subscription service that sends wine directly to you each month based on your personalized palate profile. A "global winery," Winc advertises that it has "direct relationships with vineyards and farmers to make exceptional small lot wines at prices impossible to achieve at retail."
If you're like me, you find yourself buying the same wines every time you go to the store – you've found those bottles you like, and it seems too risky and expensive to buy something else just to try it. Plus, those store employees are either clueless about wine or make YOU feel clueless about wine. Winc is the perfect solution! You fill out a quick survey about what tastes you like – black coffee, citrus, etc., and Winc makes a customized recommendation of 3 bottles that fits what you like. Then, for $6 flat shipping (or free if you pick a 4th bottle), it comes to your house!  What could be easier than that?
The packaging continues to be good protection for the bottles. Keep in mind that someone 21+ will have to sign for your box.
January! It might feel like April here in the South, but I've heard that it's a good month elsewhere for hibernating and drinking delicious wine. How convenient to have Winc to assist in that aim! As usual, I have 2 reds and 2 whites to try. I brought them with us to a friend's house for playoff football, which is another good thing to do in January. (And no, you don't have to drink beer with your football!).
Instead of the information/menu cards, Winc is now sending a little magazine, the Winc Journal.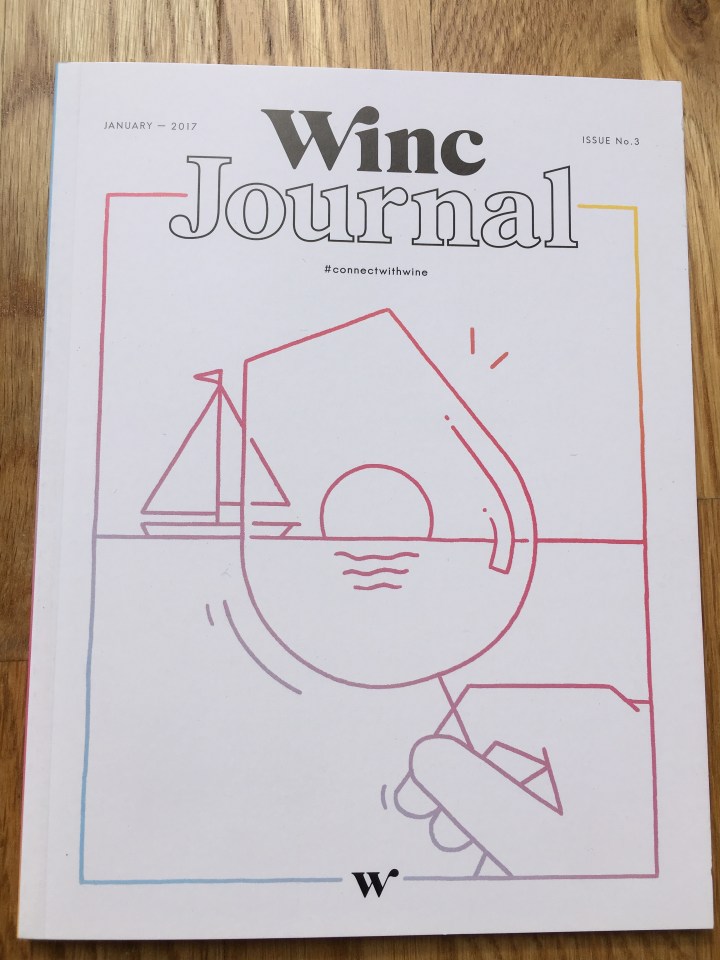 DEAL: You can use this link for $20 off your first order – no coupon code required! ($25 total for 3 bottles, but you can grab an extra bottle and get free shipping!)
It's printed on heavy paper for that "authentic/rustic/artisanal" feel and contains articles about wineries, grapes, and food. Oddly, only 3 of my wines this month were in the directory of current wines in the back. I miss the information cards that Winc used to send.
On to the wine. We started light with the 2016 Finke's Widow sparkling Chardonnay.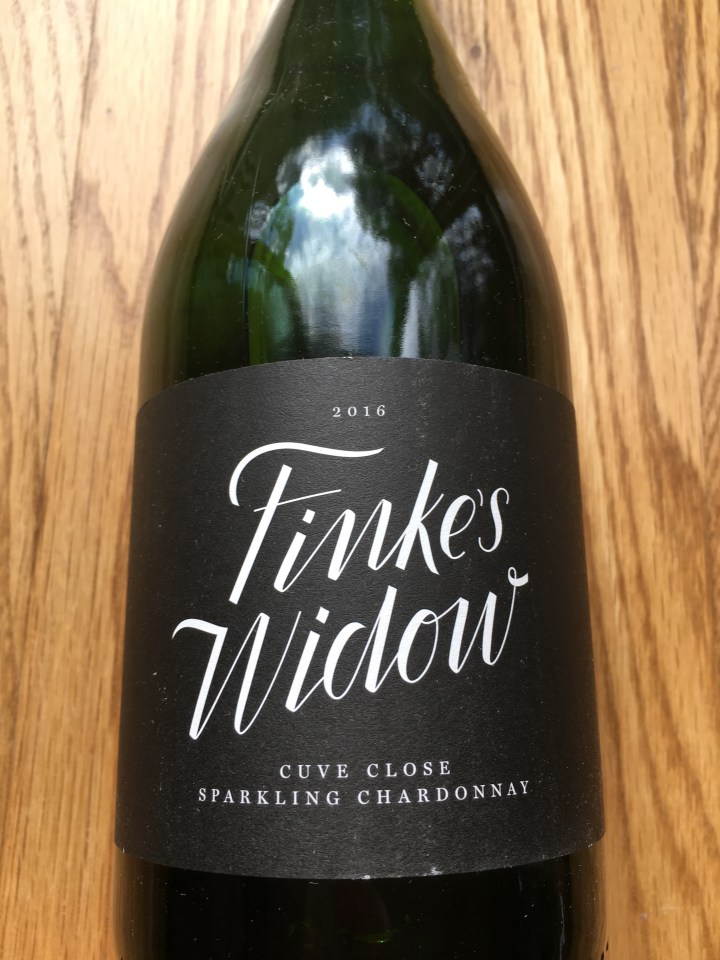 Loyal readers will recall that I had the Finke's Widow Sparkling Chenin Blanc in my box last month. I had been hoping to try the Chard, so that was a happy surprise this month. The Sparkling Chardonnay, as I expected, was golder, weightier, and dryer than the Chenin Blanc had been. The bubbles are still soft, more like a prosecco than a Champagne. The nose was pretty peachy, but there wasn't much fruitiness to this wine. It was moderately dry with an undercurrent of yeasty oak, a bit like an older Chardonnay. It was interesting, for sure, and it was fun to surprise people at the party with a "try this!" glass – they never expected it to be Chard. It probably would go pretty well with grilled chicken or white bean soup; its heaviness doesn't work quite right as an apertif. I don't know that I need another of these, but if you've resolved to try more things in 2017, you could do worse than trying this wine. Serve it very cold, of course.
The next wine was the 2016 (can you believe it!) Outer Sounds Sauvignon Blanc.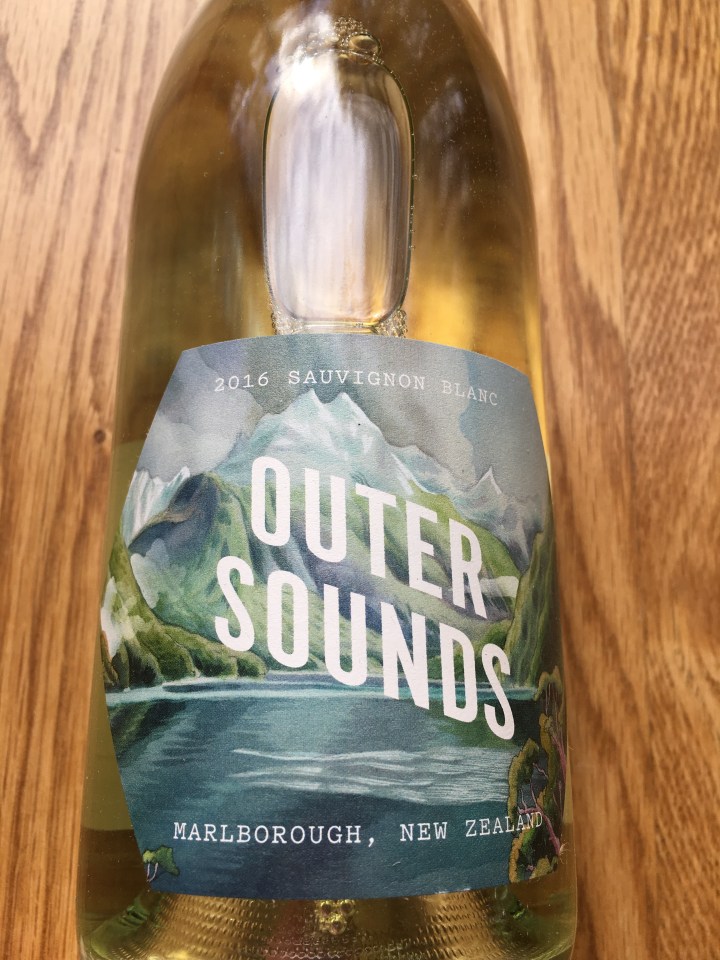 Well, here is the wine we should have started with. You probably know that New Zealand makes terrific sauvignon blancs, and this wine is a good example of the Kiwi style. The wine is a very pale wheat color and the body is water-light. It packs a punch with its bright citrus/grass aroma, and that tart greenness carries through into the wine.  There is just a hint of sweetness in the back of this wine, but it is balanced pretty well by the acidity, and the finish is quick and clean. We served this very cold. It is a lovely, refreshing wine. It would be a terrific apertif and it went really well with the wings/chips/guac spread that we had for football. It made me want to sit out on the back porch and grill like it was summer, which I suppose it is in New Zealand. Thumbs up.
Our first red was the 2015 Altre Mon.
This wine is a Carignane, a varietal we see a lot of in the Winc stock. Carignane, made well, is a fruity, earthy, balanced wine that pairs well with food. This version, not unlike the label, was a bit off-kilter. The wine is a bright ruby in the glass with a medium body and a soft mouthfeel. It smacks you in the face with dark cherry and berry smells, and the flavor is definitely fruit-heavy. There is an undercurrent of vanilla/oak that doesn't quite mesh with the fruit. The finish was a bit cloying. I could see where this was going, but it just didn't quite work out for us – it wasn't horrible, but it wasn't awesome, either. We served it cool room temperature.
Our last wine was the 2015 Restless Earth Grenache.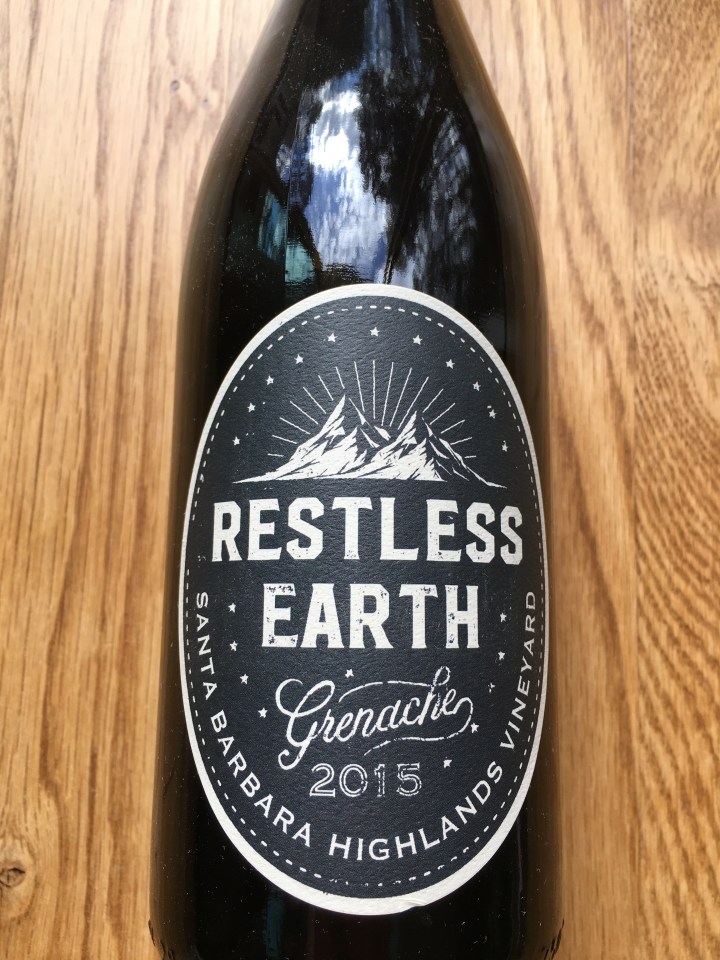 Grenache is huge right now, probably because it's friendly, like a slightly more assertive pinot noir. There's always a lot of fruit to a grenache, and the Restless Earth was no exception. This wine was a dark magenta with a fairly light body and a mouthfeel like velvet. Seriously, it was actively soft, which I found a touch off-putting. I'd probably serve it a little cooler than the cool room temperature we did to cut that softness a bit. The bouquet was full of red berries with a touch of baking spice underneath. The berries dominated the flavor, but there was a bit of backbone to keep this from falling into sweet territory. The finish caught the spiciness from the nose and lingered some. This wine was popular in our crowd, and "friendly" was definitely the right word. This got along well with everything we served, and it would do just fine with barbeque or tex-mex or pizza. Survey says thumbs up.
That's it for January! Our team, won, by the way. We can't wait to see what we get next month!
Do you subscribe to Winc? Which wines are your favorites? What do you like to drink with football? Tell us in the comments below!