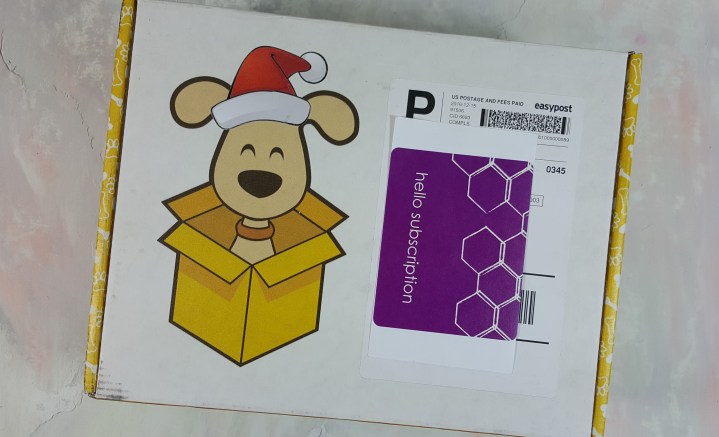 Wigglebutt Box is a subscription box of "yummy and fun surprises for you and your dog that are delivered right to your door every month." Each box contains a seasonal kerchief, a roll of poop bags, and a combination of 3-5 toys/treats/accessories. Boxes are tailored to your pet's size and toy treatment. Pet parents are not forgotten either; there's a gift included for you too! Plans start at $35/month, but you can increase your savings by choosing a longer subscription option (3-month, 6-month, and annual plans available). Plus, a portion of the proceeds from every box sold will go towards an animal charity.
I got the small dog/average play Wigglebutt box for my fur babies, Lily and Lexi.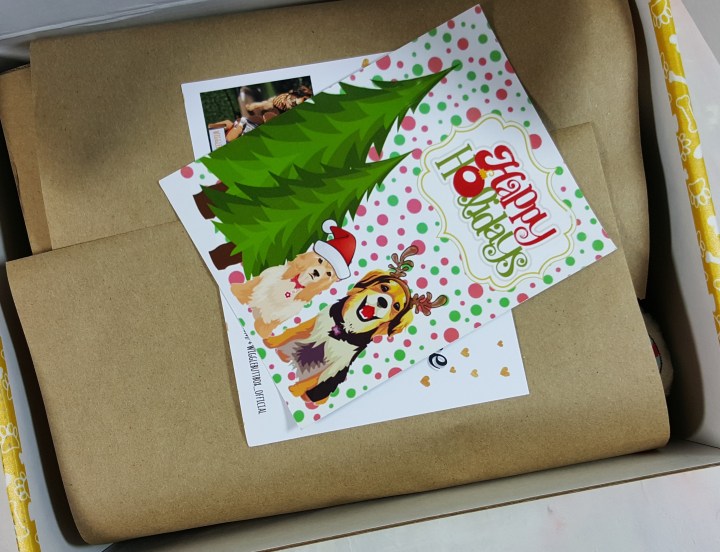 I love that these boxes are themed for the holidays. Check out Mia and April in their festive hats! You can keep up with the original Wigglebutts by following them on social media. 
I wish I had gotten a better shot of Lily sneaking into the box. Before I caught her, she had her entire muzzle under the paper. ?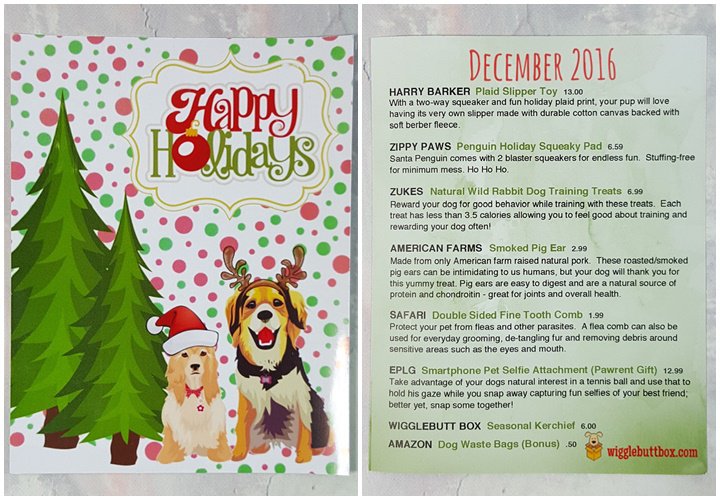 The information card has a list of box contents along with a brief description. Wigglebutt Box is now including pricing for box items. Unless noted otherwise, these are also the prices used below. 
Here's our December box reveal. I realize now that Lily was trying to get that pig ear.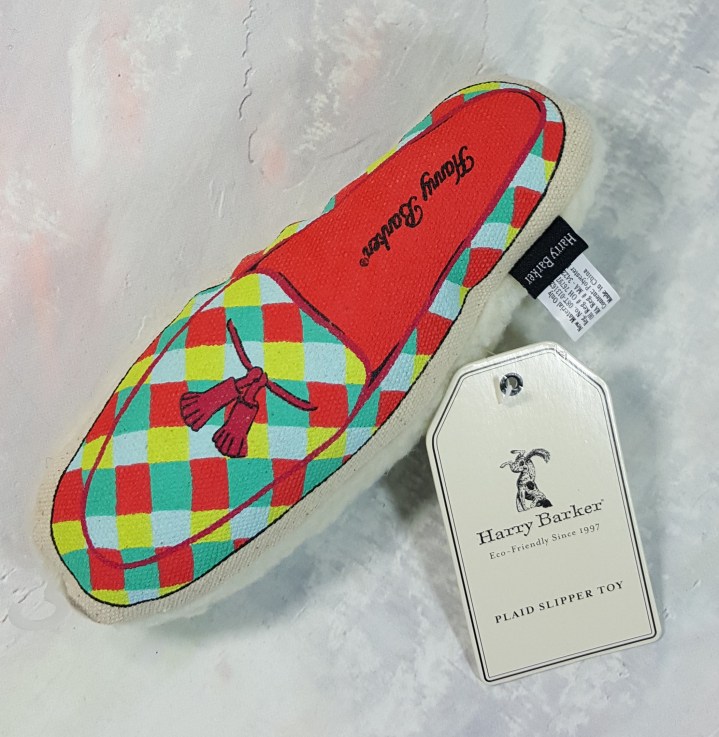 Plaid Slipper Toy | Harry Barker ($13.00): I had to laugh when I saw this. I have a slipper bandit in my house who this is perfect for. Lexi likes to steal my slippers and hide them in her bed or dog cave (under my bed). I'm hoping that by giving her her very own slipper, she'll leave mine alone. Apart from the fun colors and Berber fleece lining, this slipper features a two way squeaker. It is now on sale for $6 at HarryBarker.com.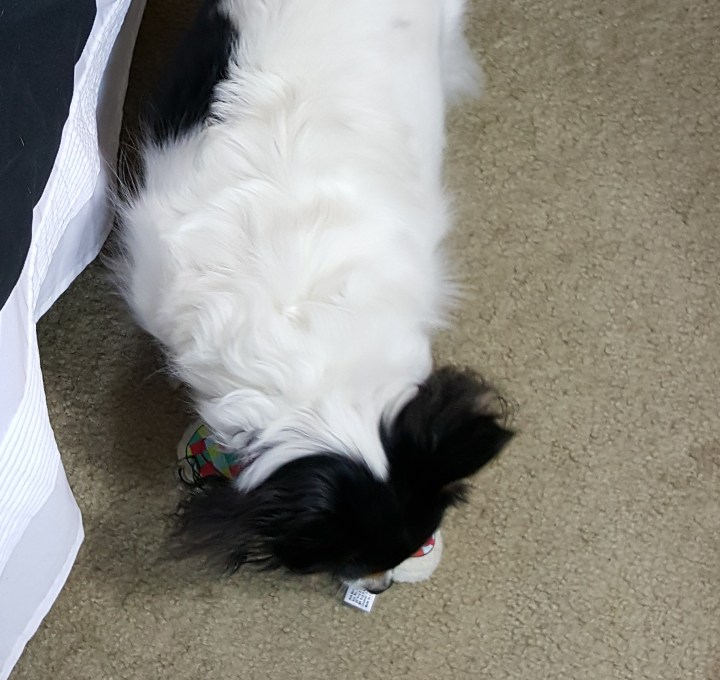 It's hard to see, but here's Lexi grabbing her new slipper toy.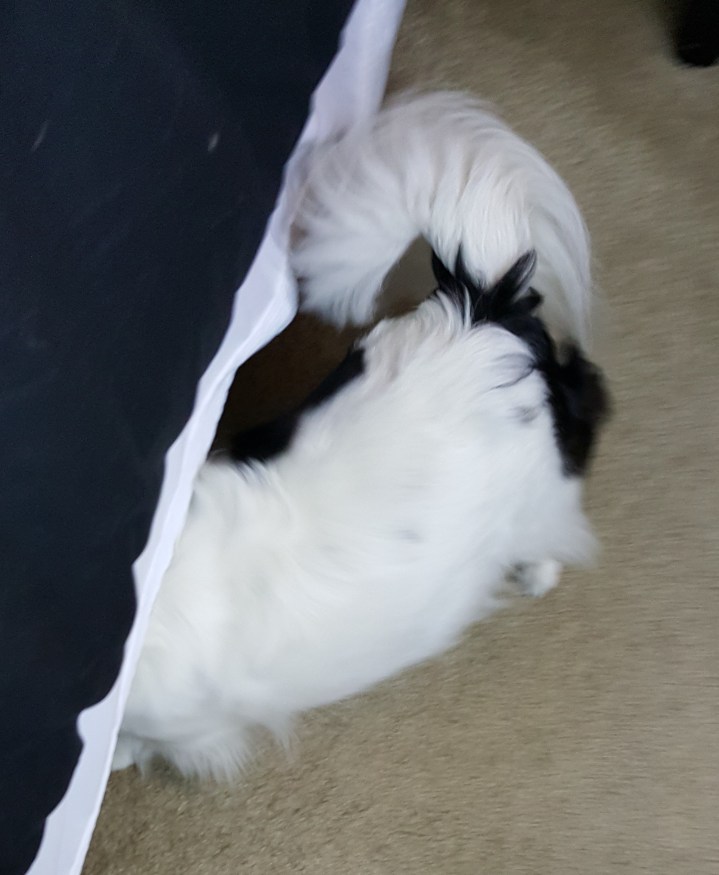 And there she goes to stash it away.
Penguin Holiday Squeaky Toy | Zippy Paws ($6.59): This cute holiday penguin features a flat square body with 2 blaster squeakers (filling free body). These squeakers are VERY loud in comparison to regular squeakers. Since Lexi claimed the slipper, Lily gets this guy. Although I may regret this decision since she likes activating the noise makers in her toys. This is currently out of stock from ZippyPaws.com.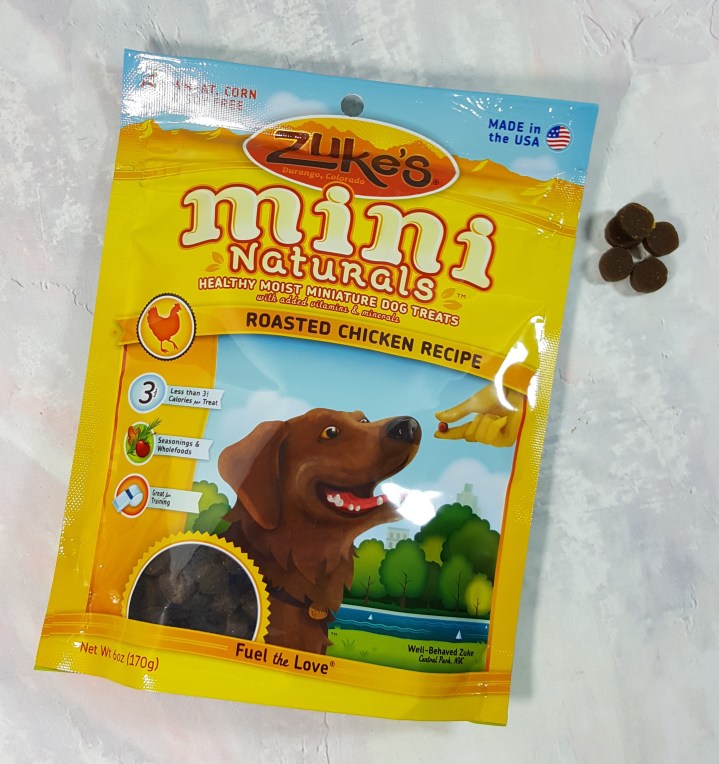 Mini Naturals Dog Treats – Roasted Chicken Flavor | Zukes ($6.99): The information card says that we were to get the wild rabbit flavor, but my girls were happy with chicken… and anyway, don't people say that they taste the same? These small treats are made with natural ingredients and contain less that 4 calories each.
Here's a closeup of the treats. My girls have gotten used to being treated after doing their business. I don't feel guilty about giving them 2 of these after a trip outside.
Here's Lexi taking her snack.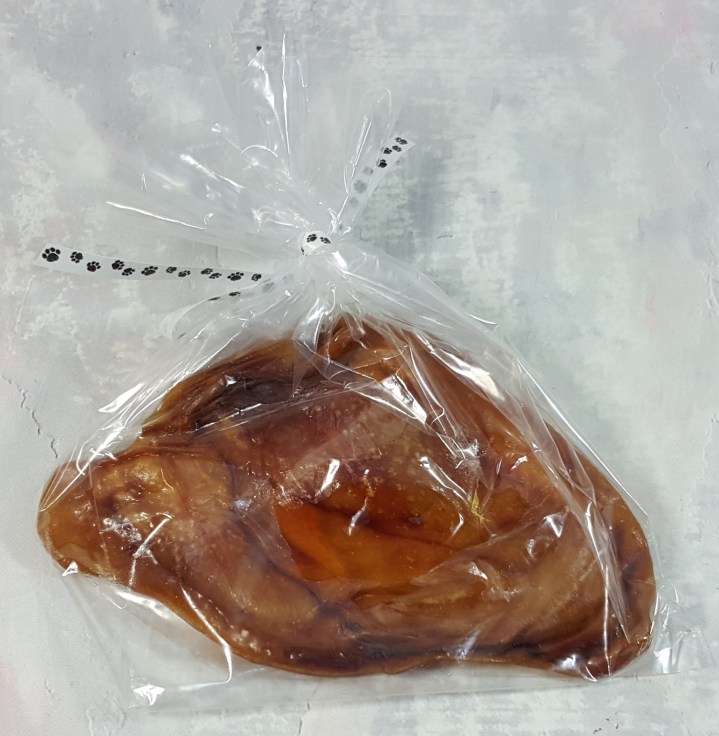 Smoked Pig Ear | American Farms ($2.99): These smoked pigs' ears are made without artificial ingredients, preservatives, or coloring. These are a great way to satisfy your dog's natural chewing instinct.
Double Sided Fine Tooth Comb | Safari ($1.99): Use this comb after normal grooming to help remove fleas and identify other skin issues on your pet. I wanted to test this out on the girls to see how it worked with their different coats. This glided through Lexi's short hair easily. This was able to get through Lily's thicker and longer coat but had to be worked a little more due to the fine spacing on the teeth. However, if you've got dogs that shed like mine, this did wonders as a de-shedding comb too. I just wish it was bigger or had a handle.
** Pawrent Gift ** Smartphone Pet Selfie Attachment | E-PLG ($12.99): This attachment clips to your cellphone and the tennis ball holds your dog's attention while you get a selfie together. The ball can be removed and used for play with your fur friend.
This is what it looks like on my old phone, just to give you an idea of the setup.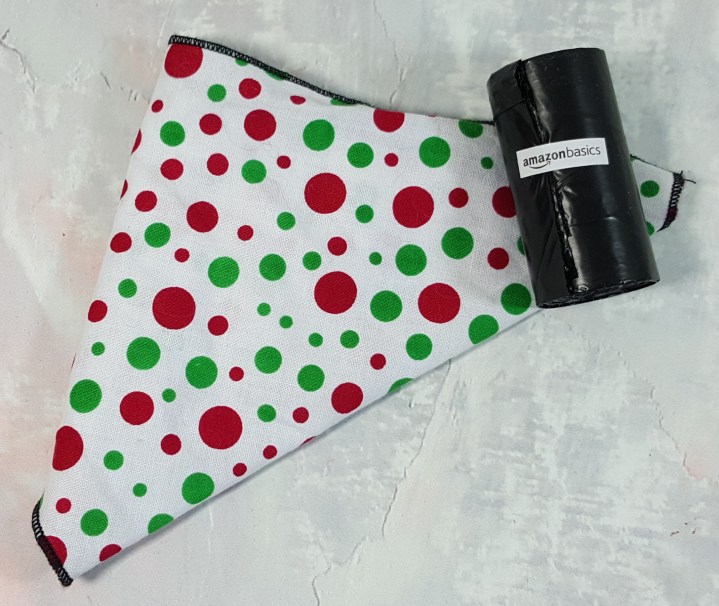 Seasonal Kerchief | Wigglebutt Box ($6.00): ? Happy holidays. Happy holiday. May the merry bells keep ringing, happy holidays to you! ? Sorry, the red and green dots remind me of lights or ornaments and I can't help singing. Lily and I like that there's a new kerchief each month that is themed to the season.
** Bonus ** Dog Waste Bags | Amazon ($0.50):  A nice staple for pet parents. These are always needed during our walks. 
Lily modeling her newest scarf.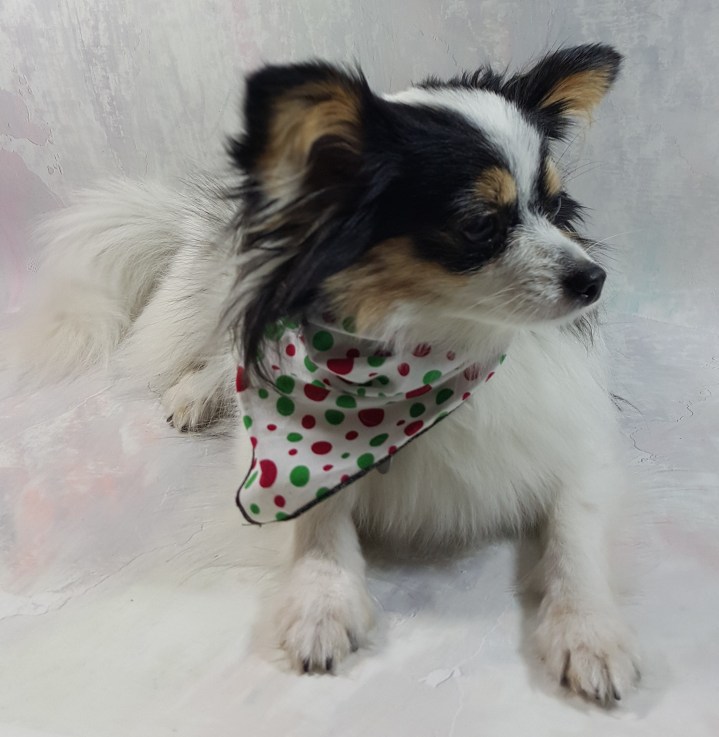 No more paparazzi, please.
This month's Wigglebutt Box is valued between $44-$50, depending on whether you use the sale price for the Harry Barker toy. Overall, I was happy with this box, since the girls liked all of the items and will get use from them. Based on the products offered, it seemed as if this curation was personally picked for us. I can't wait to see what next year's boxes will bring.