Walmart Beauty Box is a quarterly sample box – just $5 for the shipping and handling. If you want a sampling experience for items you can buy at Walmart, this is your box. Walmart now lets you select either the "classic" profile or the "trendsetter" profile. I got the Trendsetter box.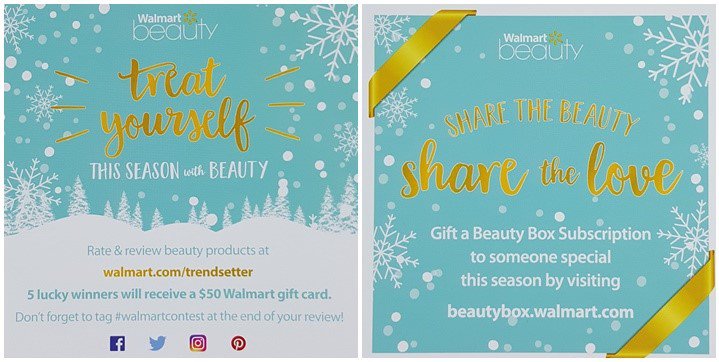 The theme for winter is Treat Yourself This Season with Beauty.
I love the winter color scheme and design. So pretty! (This may have been my inspiration when I hit the holiday sales. I bought 6 rolls of gift wrap in this color palette. Don't judge me. ?)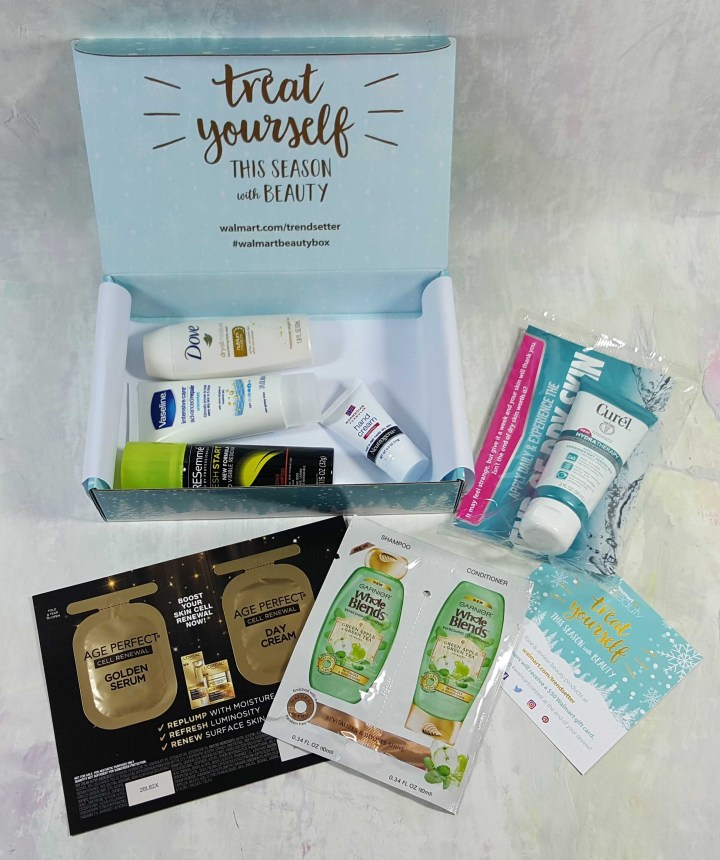 The Winter 2016 Trendsetter Box! Note that this box ships out over months and months, and items may vary. I get my box at the beginning of the shipping cycle.
Garnier Whole Blends Refreshing Shampoo – Green Apple & Green Tea ($0.10)
Garnier Whole Blends Refreshing Conditioner – Green Apple & Green Tea ($0.10)
This formula is designed to revitalize dull hair and boost shine. Formulated for normal hair, the green apple and green tea contain antioxidants to strengthen and nourish hair. The apple also contains natural acids to cleanse. I was interested in trying the smoothing and repair formulas in this line, but this will be a nice introduction.
TRESemmé Fresh Start Volumizing Dry Shampoo ($1.32): When my hair is straightened (only during low humidity weather), I appreciate dry shampoos. They allow me to keep my blowout looking fresh for several days. This formula is made to revitalize fine, limp hair and uses mineral clay to absorb excess oil. From past experience, use a light touch with this or you'll end up with a head of white powder.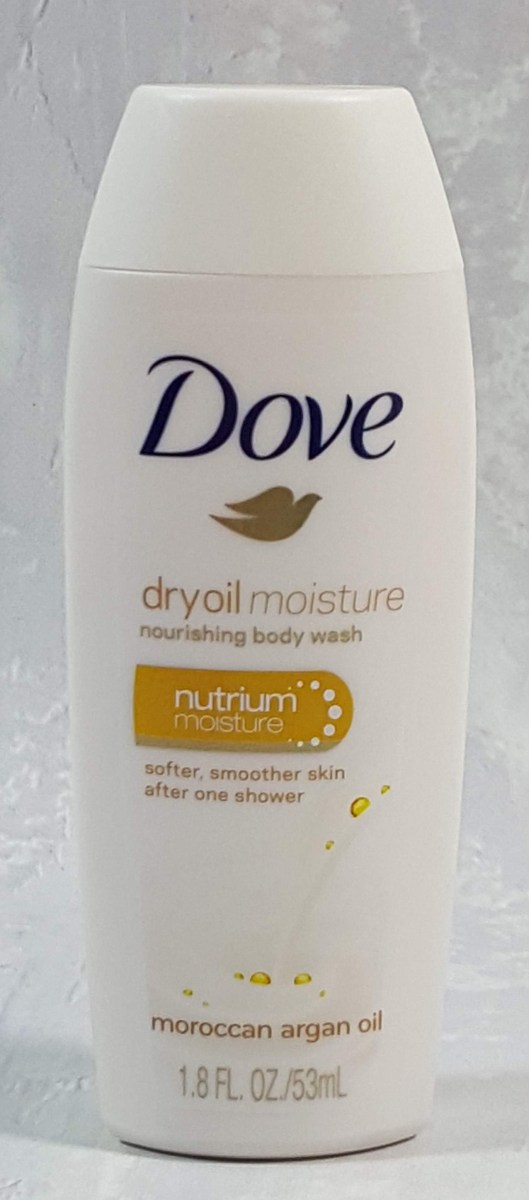 Dove Dry Oil Moisture Body Wash ($0.45): This body wash uses Moroccan argan oil to moisturize and nourish dry skin and promises improved softness after one shower. This sounds amazing, but I have normal to oily skin so this formula isn't for me. I think Brandy and I needed to swap body washes – I prefer the one in her Classic box.
[Note from Brandy: I totally agree, our boxes were just mixed up this month!]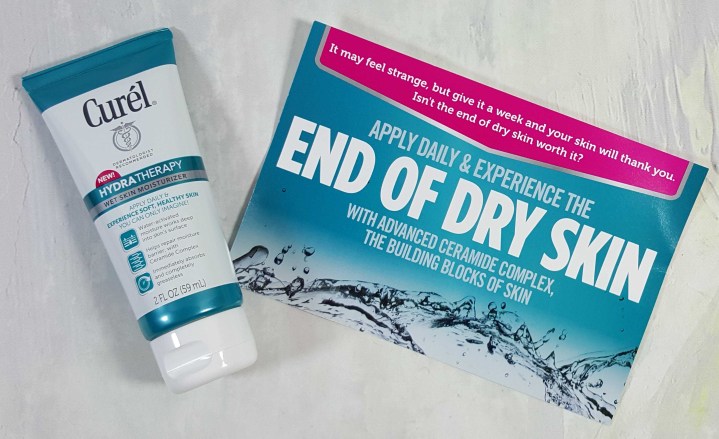 Curel Hydra Therapy Wet Skin Moisturizer ($1.65): This water-activated moisturizer uses a Ceramide complex to hydrate skin. There's something about the wet moisturizers that I don't care for, so this will be passed on. Thankfully, I have a family member who loves these and raves about how their skin looks and feels days after using.
L'Oreal Age Perfect Cell Renewal Golden Serum ($2.98?)
L'Oreal Age Perfect Cell Renewal Day Cream ($1.72?)
These products work together to promote increased surface cell turnover, revealing younger-looking skin over time. (BTW, you can use them separately in your beauty routine, but results may take longer to notice.) After cleansing, apply the golden serum and follow with the day cream. I have combination skin, and this did not feel heavy on me. My skin felt soft, but I can't say that I noticed a more youthful appearance in this short time. Also, I'm not sure how much product was in the sachets, so I assumed 5mL (probably over-estimated).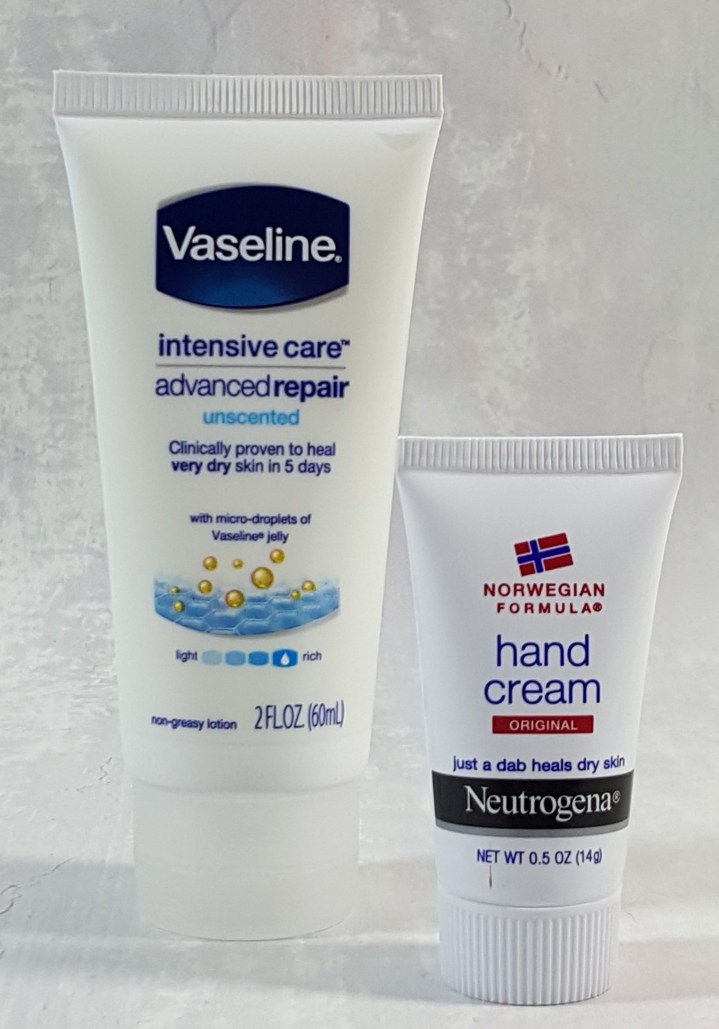 Vaseline Intensive Care Advanced Repair Lotion ($0.58): This lotion contains microdroplets of Vaseline jelly and the highest level of moisturizing glycerin. The advanced hydration formula works to heal very dry skin within 5 days! I bought this for my diabetic grandmother, and it made a huge difference in the condition of her skin. Personally, I use this as an overnight foot cream.
Neutrogena Norwegian Formula Hand Cream ($0.99): I have hand cream everywhere – in my purse, my car, my desk, and by the sinks in my house. I'm a little obsessive about not having rough hands, so this was a welcome box item. Like the Vaseline lotion, this also has a high concentration of glycerin. It takes a bit to fully absorb and works well as an overnight hand moisturizer.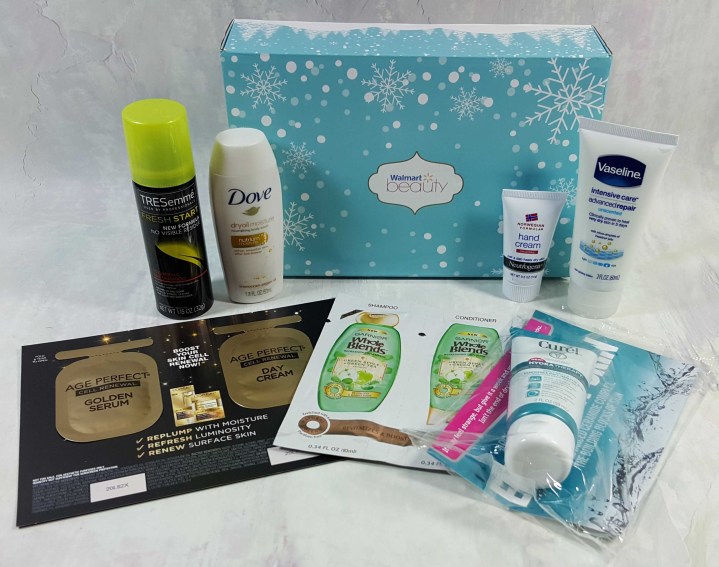 The Winter Trendsetter box is valued around $10. I liked that the items were themed to the season; skin care for drier, cold weather. However, as someone who uses lotion/body creams religiously, I don't suffer from extreme dry skin. Not to mention, I live in Florida where we don't have harsh winter conditions (average temperature has been about 76°). It would have been nice to have a little more variety in the products, maybe a lip item or other makeup/nail item.
What did you think of this quarter's Walmart Beauty Box?  Did you receive any different products?  Let me know by leaving a comment below.