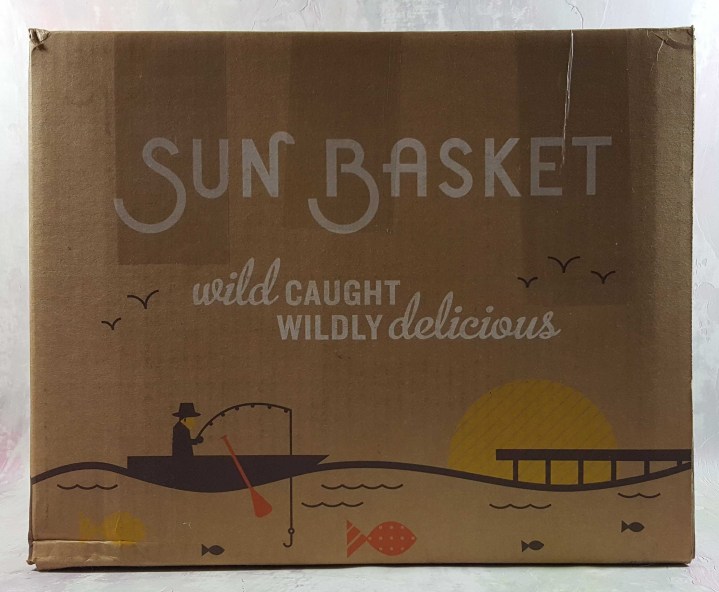 Sun Basket provides chef-developed and nutritionist-approved recipes focused on helping people create delicious, healthy meals using quality ingredients and globally-inspired flavors. Recipes are created by Chef Justine Kelly, formerly of The Slanted Door. Meals are between 500–800 calories per serving and use certified organic produce and responsibly sourced meats and seafood (free from antibiotics and added hormones). Pick and choose 3 recipes between the following meal plan menus for your weekly selections: Chef's choice, Paleo, Gluten-free, and Vegetarian. You can also opt for the Rise & Shine menu which consists of two dinner recipes and two 5-minute breakfast recipes. Sun Basket is now providing 20-minute meals as part of the weekly selection for those short on time, as well as a globetrotter meal that highlights an international destination!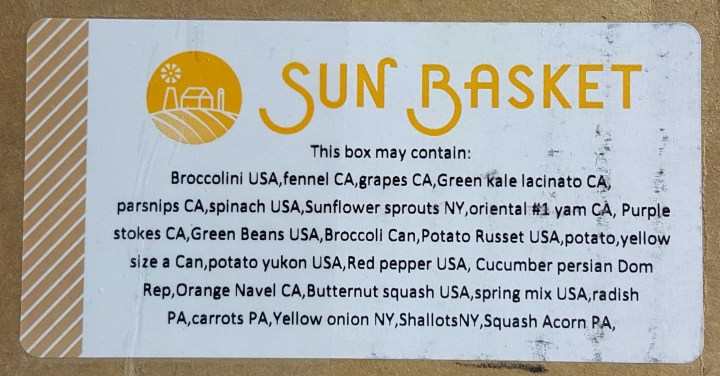 Sun Basket included this label on the outside of the box. It is color coordinated to match a meal in the box, making it easy to be specific on which recipe and ingredient is being targeted. This information is useful if you have concerns about where your food is sourced.
DEAL: Get 3 meals free! Deal applies automatically, just visit and subscribe.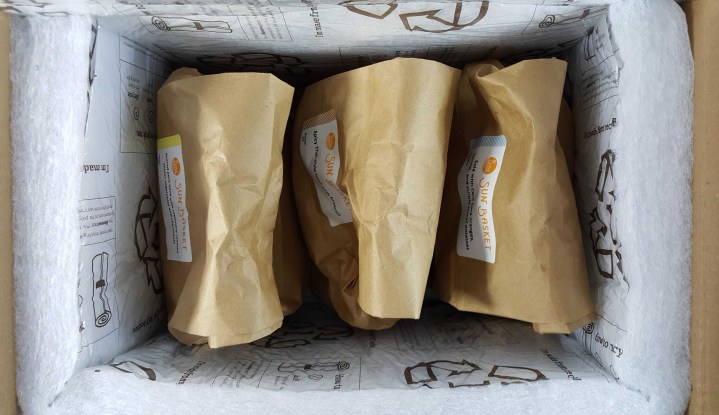 Food is well insulated, and recipes are separated into individual bags (with color coded labels). Meals are packaged to stay fresh in the box for up to 8 hours after delivery. Note from Sun Basket:  recipes with delicate greens and fresh mushrooms are best used within 4 days of delivery. Sun Basket provides most of the ingredients needed for your recipes, but there are a few pantry staples that you'll be asked to add such as olive oil, grapeseed or sunflower oil, plus salt and freshly-ground pepper. Occasionally, you'll be asked for wine or butter as an optional recipe item. All Sun Basket packing materials are either recyclable or compostable.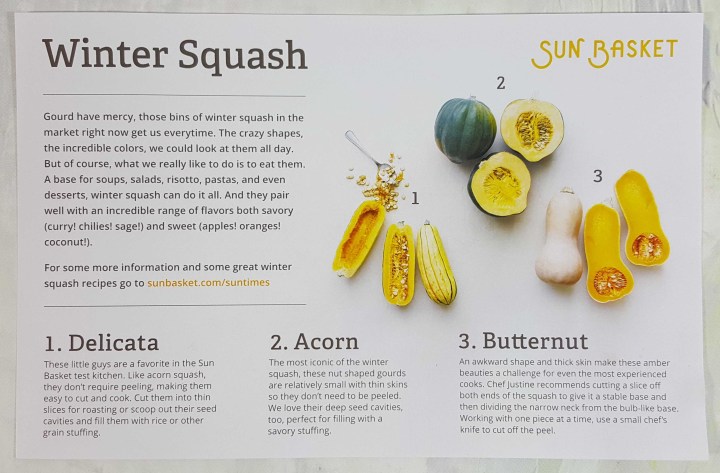 Each week Sun Basket provides information on a featured food item or preparation method. This week, winter squash was highlighted.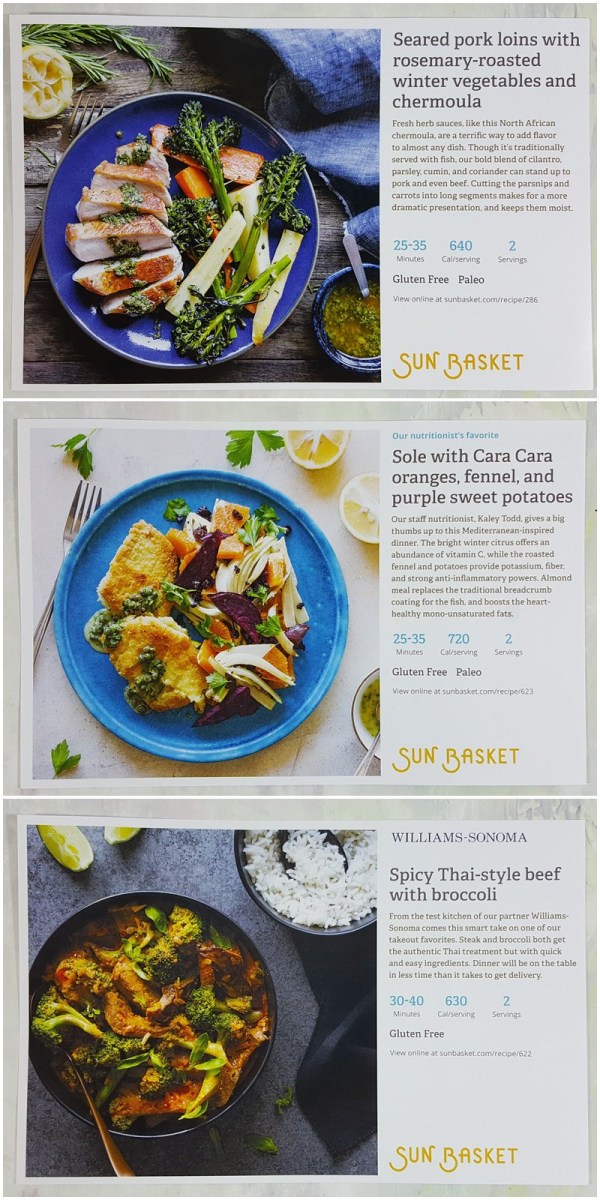 My recipes for the week. On the back (not pictured) are step-by-step directions, as well as ingredients/quantities so that recipes can be repeated if desired.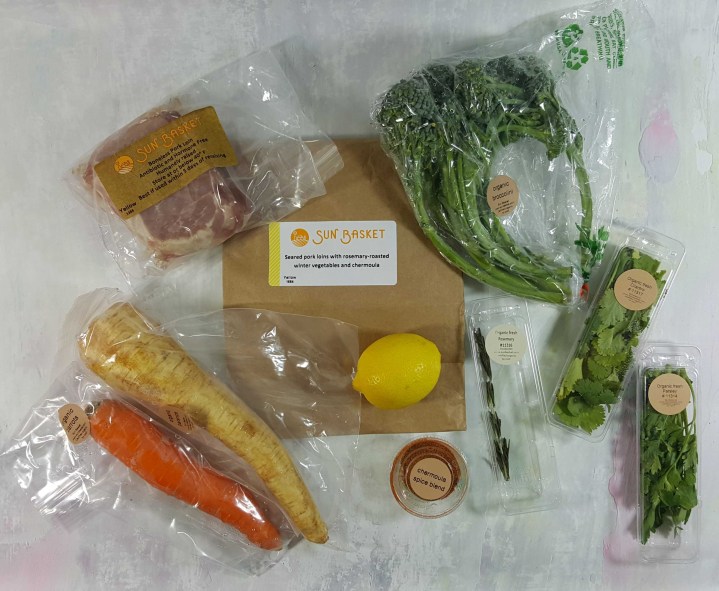 Seared Pork Loins with Rosemary-Roasted Winter Vegetables and Chermoula:  
A substitute was made with ingredients for this recipe. Instead of several small carrots, my basket contained one large carrot. This didn't make a huge difference in the meal.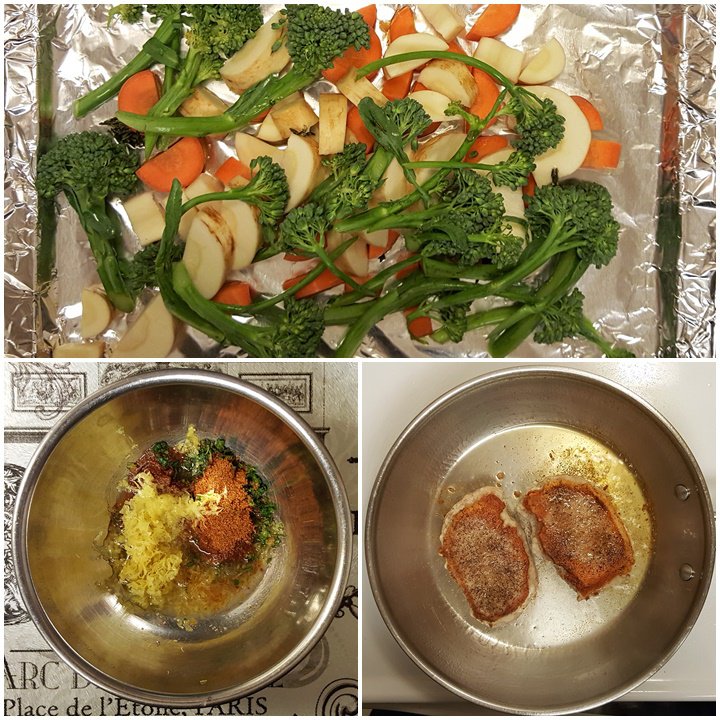 Making the meal: Prep and roast the vegetables, make the chermoula, and cook the pork.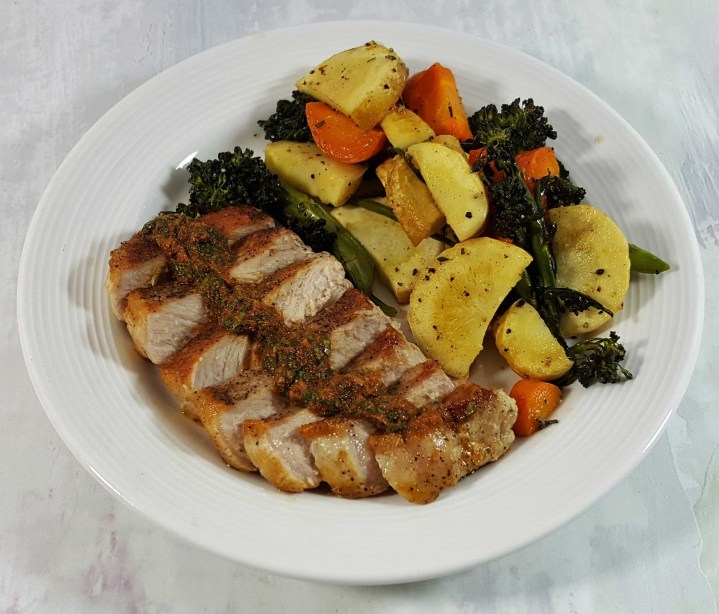 I really enjoyed this meal. The sweetness from the roasted parsnips and carrots was a perfect balance for the savory pork. I was worried that the pork wasn't going to be cooked through and cooked it a little longer than directed. Surprisingly, it didn't overcook and was tender and juicy.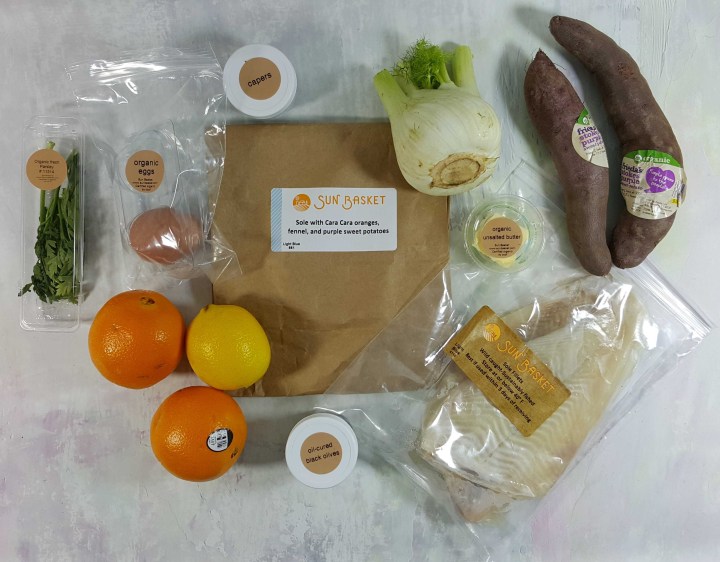 Sole with Cara Cara Oranges, Fennel, and Purple Sweet Potatoes: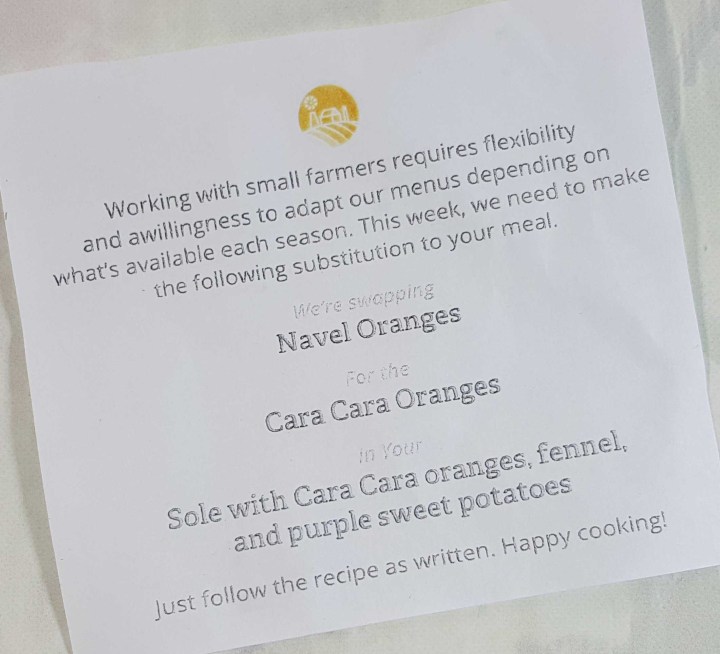 This recipe also had a substitution; navel oranges were in my basket instead of the cara caras. There is a slight difference in flavor with these two varieties of oranges. While cara cara oranges are navels, they have more of a reddish flesh and are sweeter/less acidic than regular navel oranges.
Making the meal: Roast the sweet potato and fennel, make the salad, prep and cook the fish, and make the pan sauce.
The fish came out so flaky, and the pan sauce added a ton of flavor. The capers in the sauce offset some of the sweetness from the vegetable/fruit salad. I feel the substitution of the oranges actually made the recipe better. The cara cara oranges may have been too sweet to pair with the roasted sweet potatoes.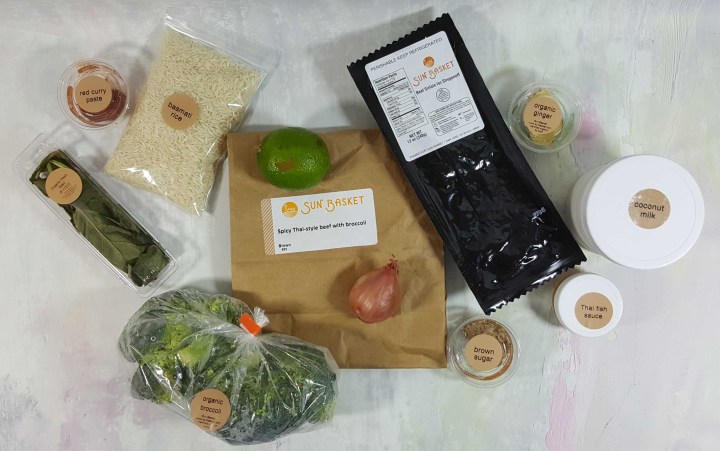 Spicy Thai-Style Beef with Broccoli: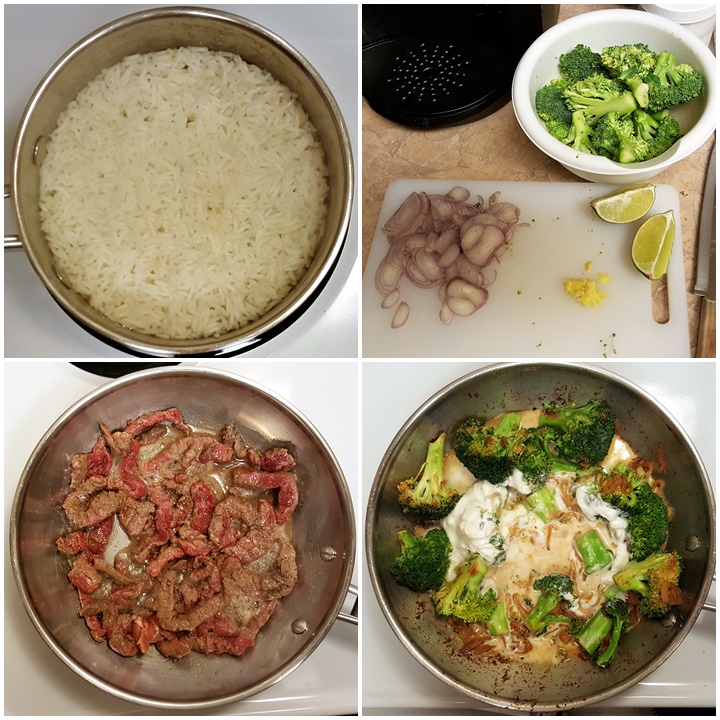 Making the meal: Cook the rice, prep the vegetables, cook the beef, and cook the curry.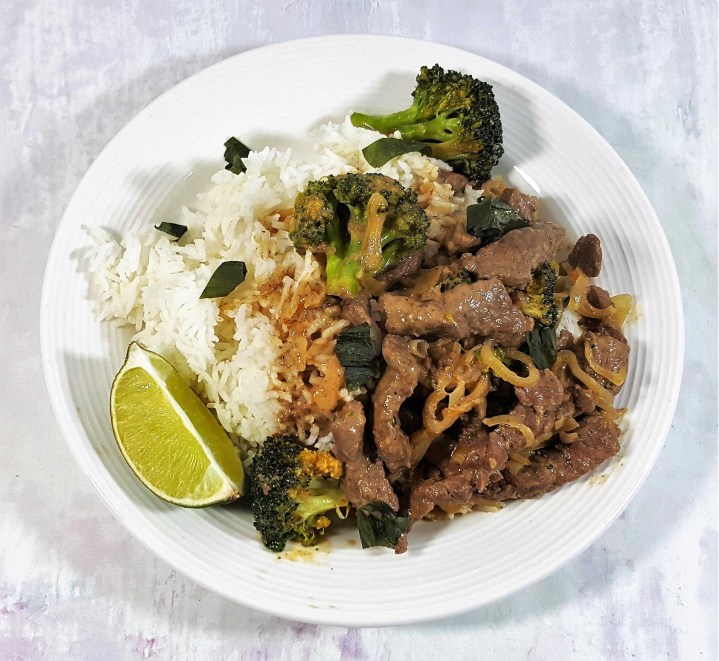 This was like a pumped up version of my favorite Chinese dish – beef and broccoli. This dish had a mild heat, and the curry sauce was like a nice gravy over the rice. I was happy that the flavor of the coconut milk was masked by the blend of spices in the dish. Absolutely something that will be made again!
This basket had a nice mix of cuisines Middle Eastern, Mediterranean, and Asian. I think the pork loin was my favorite dish (and the easiest to make). What dish looked the tastiest to you? Leave a comment below and let me know.
Sun Basket meals breakdown to $11.49 per person, which is similar to eating out at a casual restaurant. There is also a $5.99 weekly delivery fee. You can choose between the 2-person or 4-person plans (weekly $74.93 and $143.87, respectively). Skip or cancel at any time. Sun Basket has an expanded delivery area. However, they do not deliver to the following states: AK, HI, IA, KS, LA, MN, MO, MT, NE, NM, ND, OK, SD, TX, and WI. They only deliver to parts of AR.
Have you tried Sun Basket yet or any other meal service?