Stitch Fix is a personal styling service. Your stylist will send you 5 pieces based on your profile for you to try on at home and hopefully fall in love with. There are no coupons for Stitch Fix but if you hit the jackpot and keep everything, you save 25% on your whole fix (read below for details).
Don't forget – Stitch Fix now has boxes for men, and size exchanges! Guys can now sign up for Stitch Fix, and handy size exchanges are available right from the app or website. Checkout will indicate what other sizes are available, and this is fabulous!
Everything always comes wrapped so neatly! It makes it really fun to open!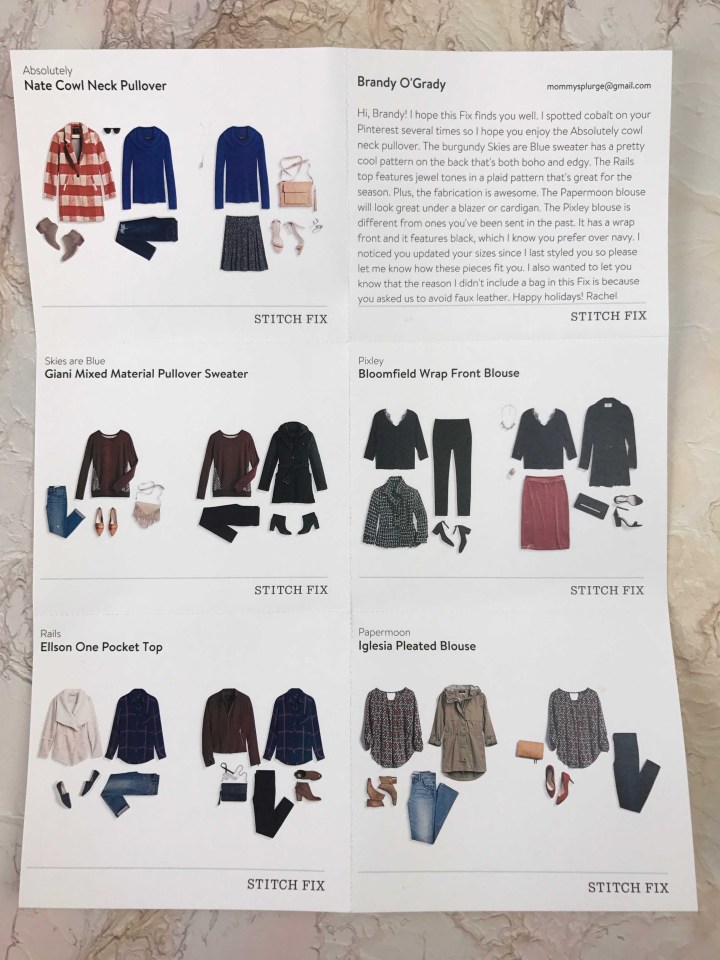 Every box includes a set of styling cards with suggestions on how to wear the particular item. There's usually a dressed up (right) and dressed down (left) version for each piece of clothing. I do wish these cards were accessible in your Stitch Fix profile. If you email them they'll send them via PDF.
I find the styling cards very helpful. I am not a naturally good-at-fashion person and these help a LOT. Even if I don't keep the pieces I use them as inspiration – like my own personal fashion editor!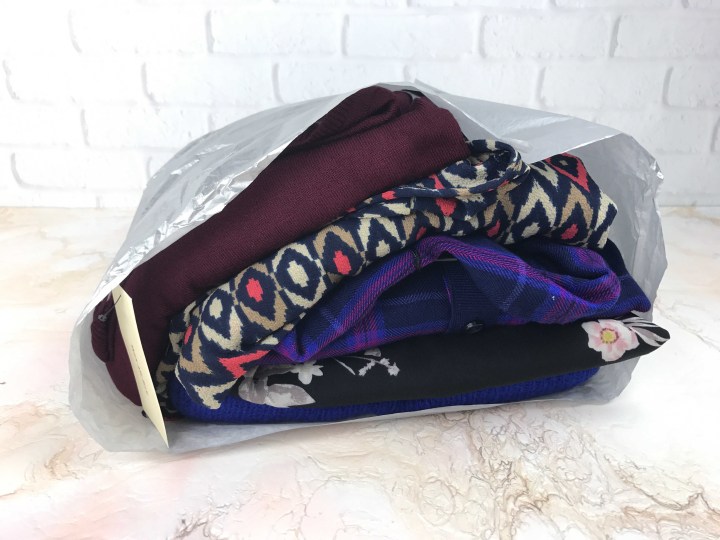 Here's how Stitch Fix works: fill out your style profile! This includes style, budget, what you're looking for, and you can get as detailed as you want with the notes to your stylist. It really really does help to provide notes to what you're seeking, and a Pinterest board if you have one!
You will also receive a separate paper with a list of your items. You'll be charged a $20 styling fee and shipped five items to try on at home. If you keep anything your styling fee will be applied to your order, but if you don't, you will pay the $20 fee.
The styling fee is so worth it – I never go clothes shopping anymore. I just wait for my fix! If you keep everything you get a 25% discount, so it pays off to be specific in your style profile . You will check out and get charged through your Stitch Fix account. Return the pieces you don't want in the prepaid mailer (free shipping!).
If I kept everything in the box, this fix would be $257.5 – about $51.5 per item (after the styling fee I already paid for).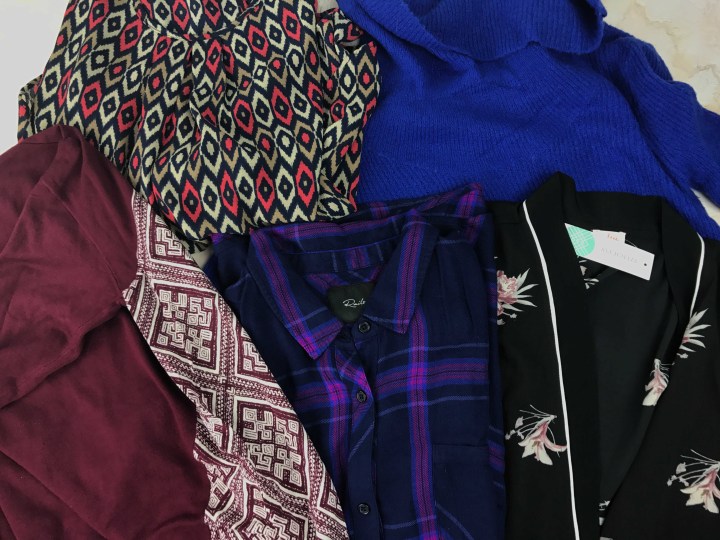 Everything in my January fix.
I updated my sizing from L to XL the past 2 boxes and after this fix, I'm bringing it back down. These clothes were mostly too big and frumpy.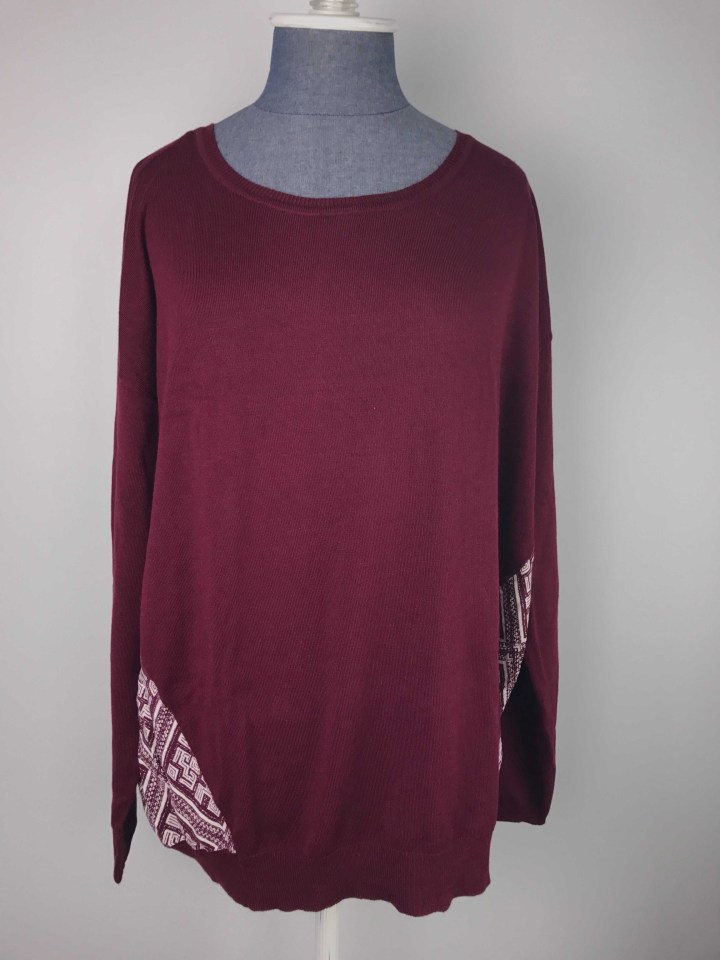 Skies Are Blue Giani Mixed Material Pullover Sweater ($58)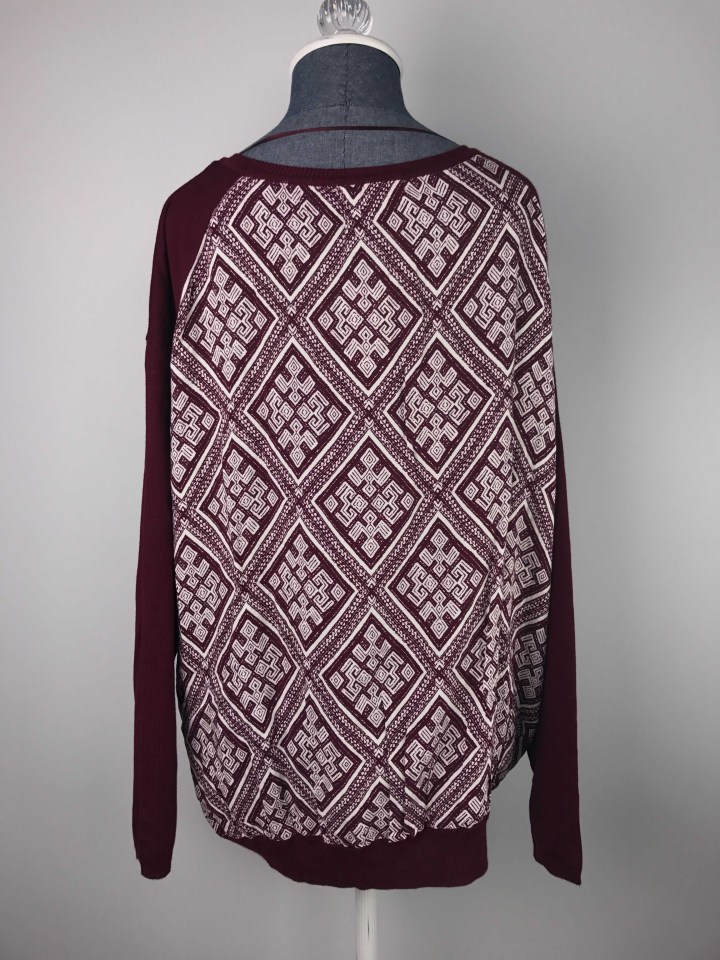 This is sort of a winter boho sweater? A little bit? I'm not really sure. It was an insta-pass for me.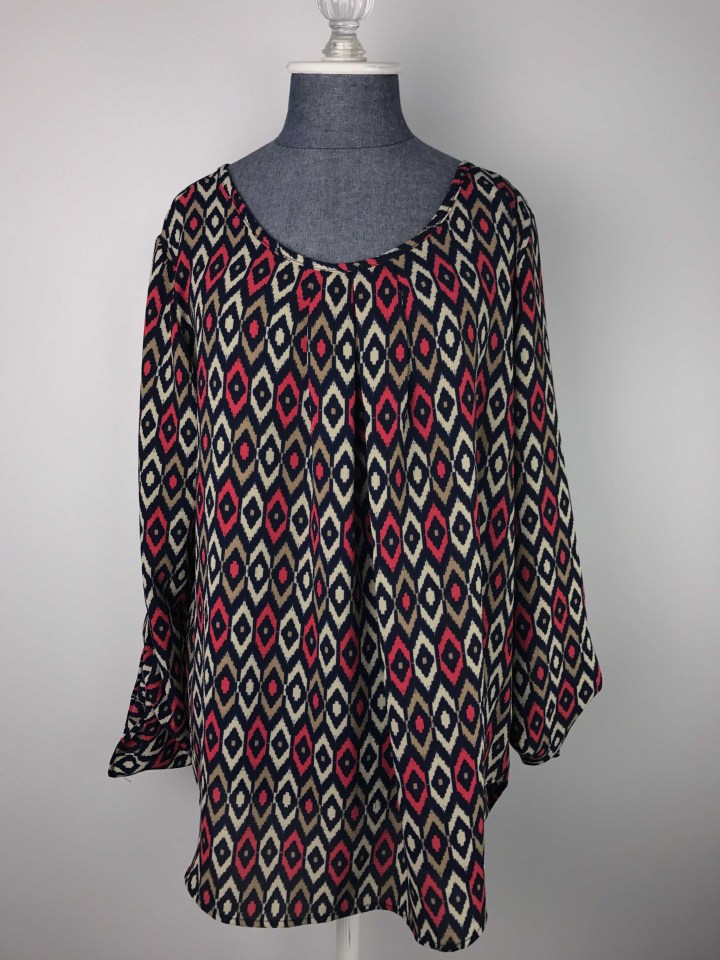 Papermoon Iglesia Pleated Blouse ($48)
This shirt doesn't go with my color palette or style at all. I liked the cut generally but I can't see how they sent it to me, unless they're just out of options for XL.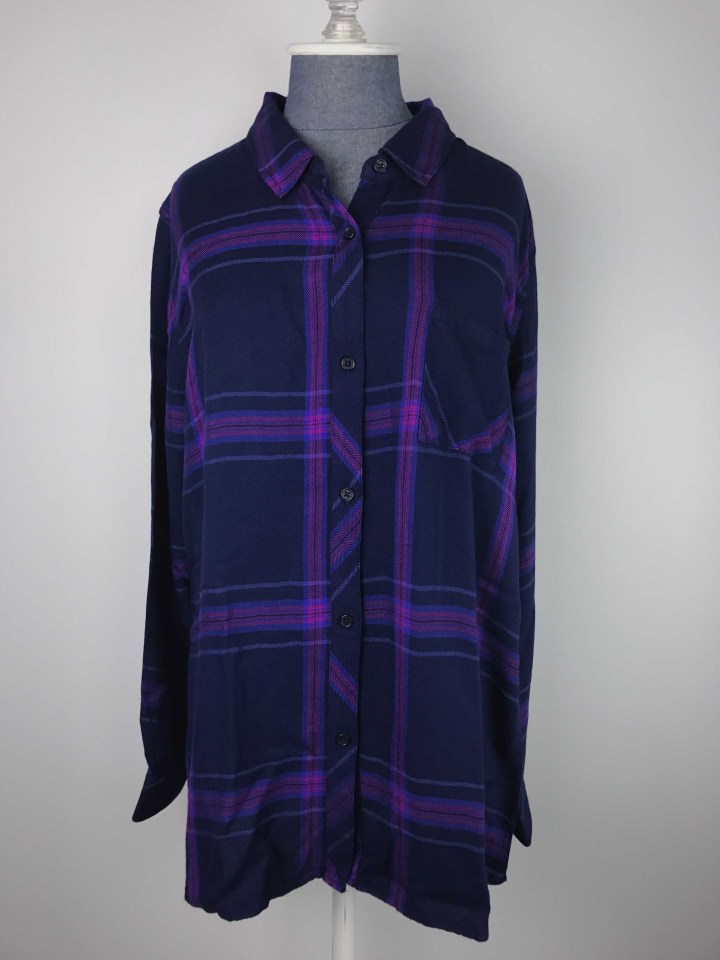 Rails Ellson One Pocket Top ($148) I love the color palette, but I'm never dropping $150 on a flannel. I'm not a style blogger, I'm just a normal mom, and normal moms don't keep $150 flannel shirts.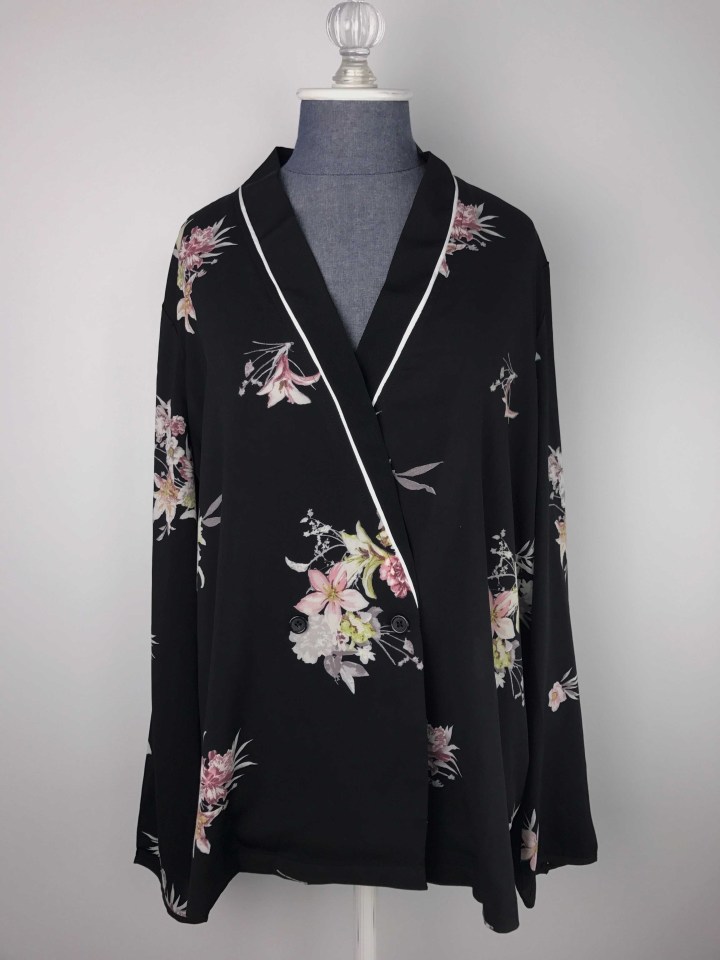 Pixley Bloomfield Wrap Front Blouse ($58) For some reason Stitch Fix thought it was rad to send me pajamas. I cannot mentally get over the fact that it looks like pajamas, even though I love everything else about this shirt.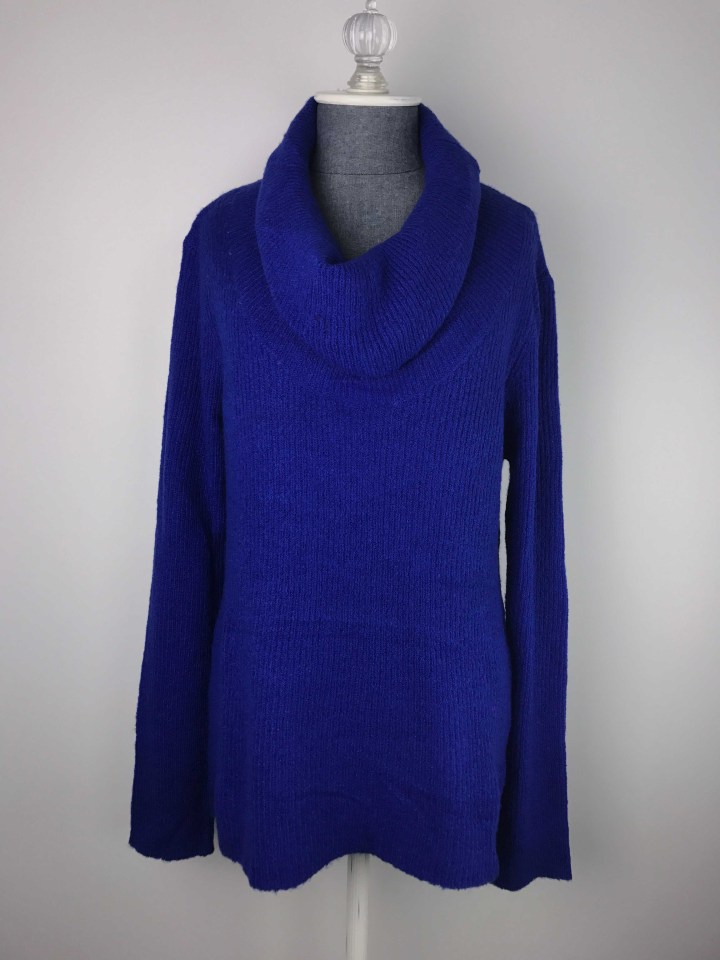 Absolutely Nate Cowl Neck Pullover ($58) This sweater is gorgeous, totally my style, and season-perfect!
The note from my stylist said they didn't send a bag to me this month because my profile notes say to avoid faux leather. :/ To me that should only apply to clothing. I really disliked the vinyl accents on the jacket last month and don't want to see it on my clothes, but on bags I'm a-ok with it!
This fix was mostly a miss for me, but my stylist saved it with the beautiful cobalt sweater. It was obvious by her note to me that she needed a little bit more guidance, so I'm going to follow up with a note to her (send hoodies, stat!). What did you get in your Stitch Fix this past month??