Sensory TheraPLAY Box is a monthly subscription that sends sensory toys for 4 to 9-year-old children to your home. Each box is curated by a pediatric occupational therapist. While the box is ideally suited for autistic children, those with sensory processing disorders, and those who suffer from ADHD, anxiety and temper tantrums, it's also just a really fun toy box for anyone interested in playing and exploring. Boxes cost $39.95 each. Discounts are available for longer prepaid subscriptions.
DEAL: Get 10% off your first box! Use coupon code WELCOME.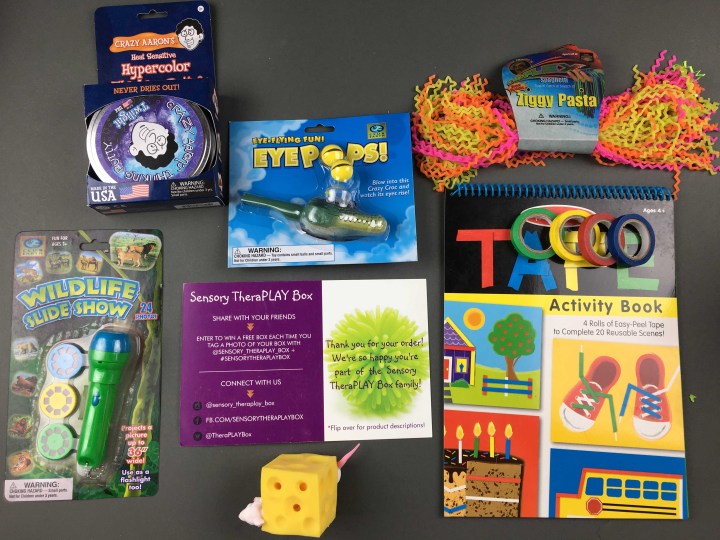 The October 2016 Sensory TheraPLAY box contained putty, a slide show, mice in cheese, a tape activity book, a blow toy and ziggy pasta.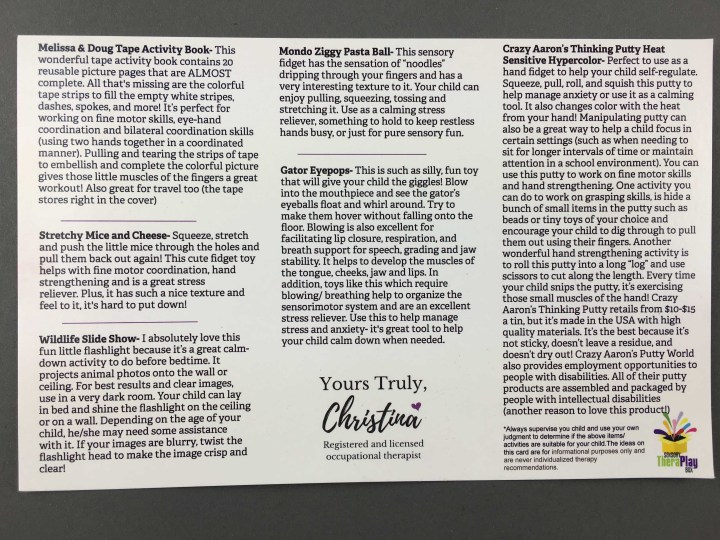 I thought that the curator's notes were fabulous! I loved the pointers and how they made me look at the toys in a new way – not only fun but developmentally useful too! For those interested in subscribing, each month you can expect a mix of toys: favorites of therapists, favorites of parents, everyday toys with developmental and sensory benefits as well as kids' favorite toys.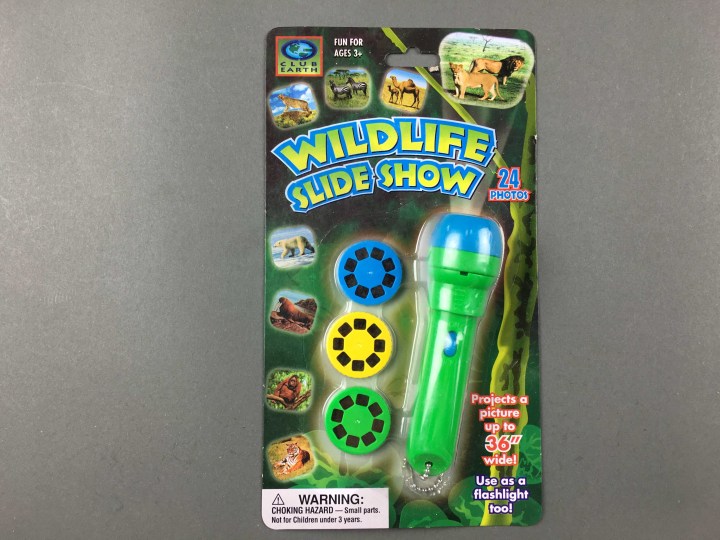 My son loved Club Earth's Wildlife Slide Show (price unknown)!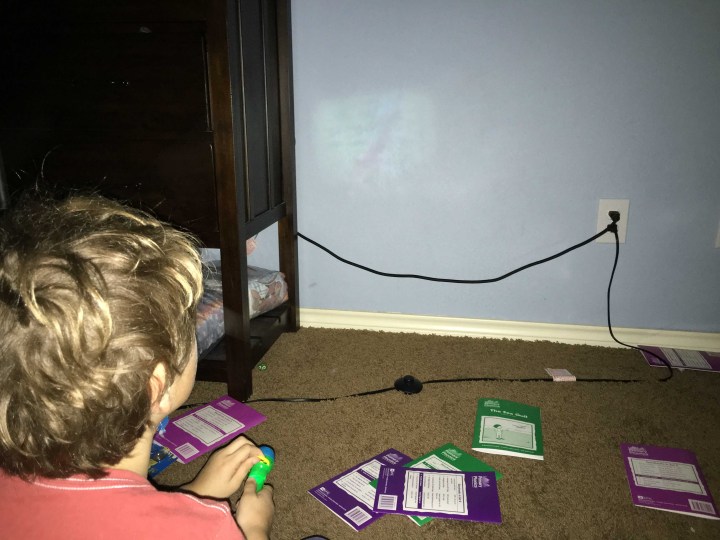 He had a lot of fun looking at all of the wildlife pictures in the dark (this picture was taken with the flash on).
This picture was taken with the flash off.
Crazy Aaron's Hypercolor Thinking Putty ($12) was pretty awesome. It changes color based on temperature. It never dries out, and it occasionally pops as you massage it with your hands. My daughter immediately claimed this as hers. After she had played with it for a while, she left it on the rug. I wish I had monitored her better. This stuff sticks to rugs and picks up lint really well. I tried to clean it up, but it never looked the same afterward.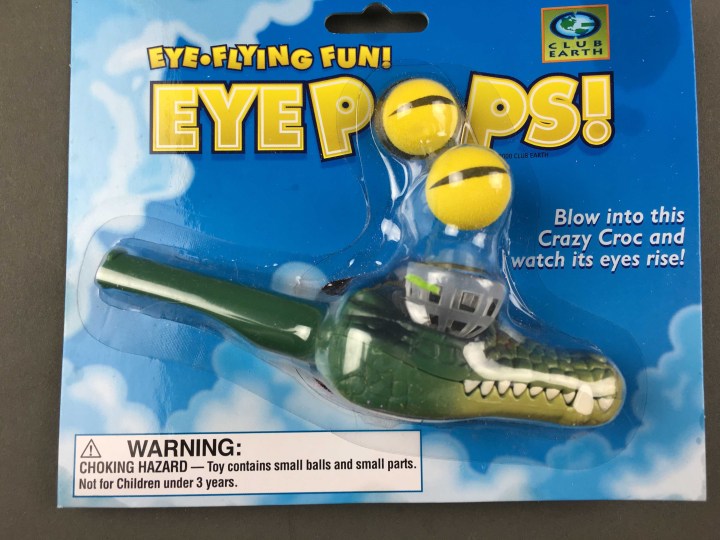 Club Earth's Eyepops ($4.95) was another big hit at our house!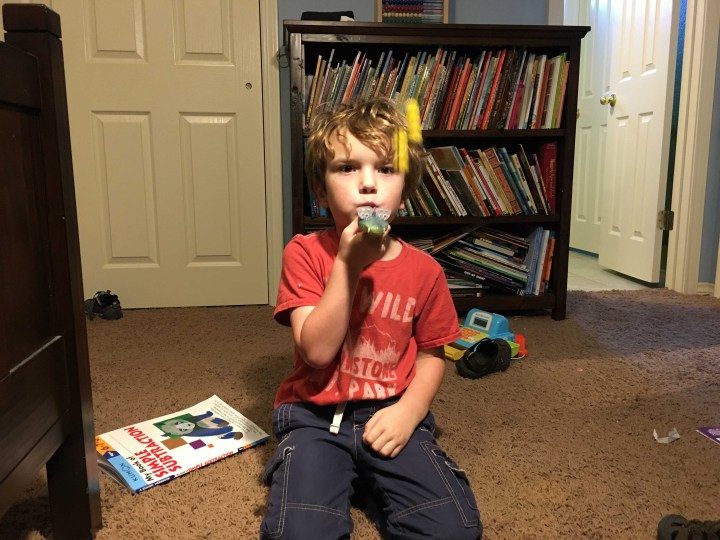 My son enjoyed having them hover overhead and land just as much as he enjoyed launching them as far as they would go. Fun!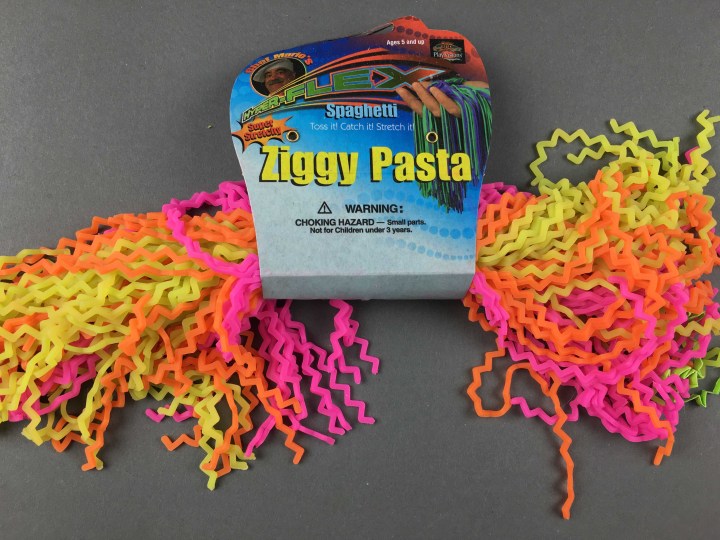 Both of my kids enjoyed playing with Chef Mario's Ziggy Pasta ($7.99).
It's soft and stretchy. My son pretended it was his hair.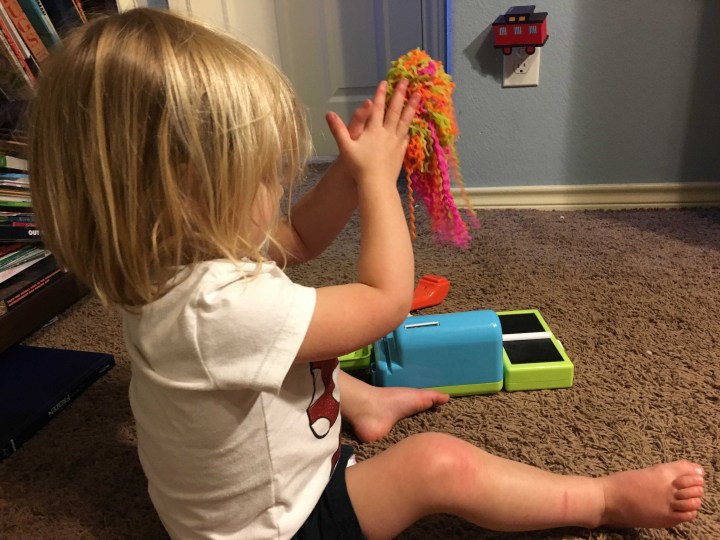 My daughter enjoyed throwing it, pulling it and treating it like a yo-yo (which caused some of the strings to snap).
My guess is that Stretchy Mice And Cheese ($3.49) are made from the same substance as the ziggy pasta. Both toys sweat and can stain boxes and paper. Both also feel great and are a lot of fun to manipulate.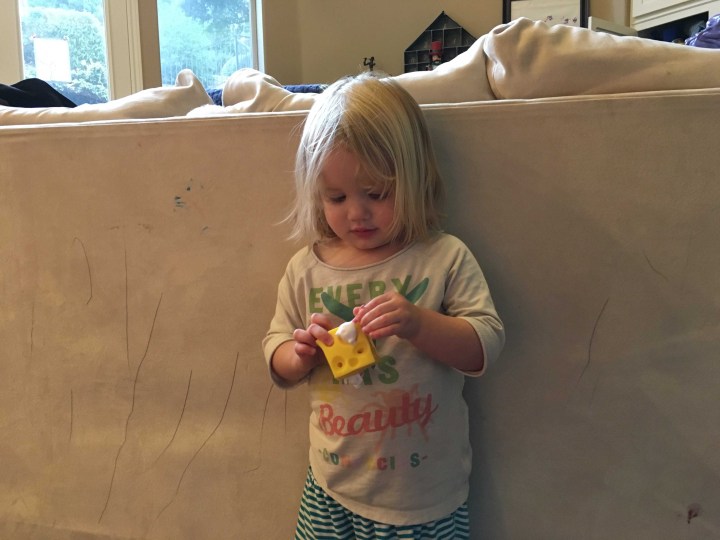 This toy is really 3-in-1. It's a block of cheese and two mice. You can pull the mice out of the cheese and push them back through the holes again. My kids both enjoyed pushing and pulling the mice through the cheese.
Melissa and Doug's Tape Activity Book ($4.99) is a great fine motor activity.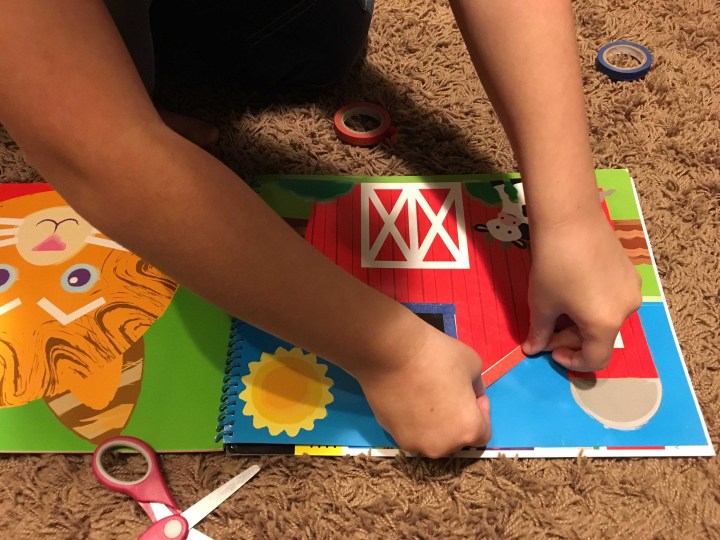 My son chose to complete the activity along with a pair of scissors. I hope to help him learn how to tear the tape himself as he continues to work through the book.
My entire family loved our first Sensory TheraPLAY Box! There was something in the box for everyone. Our babysitter even raved about it; she wanted to keep the thinking putty for herself. Although there is a therapeutic benefit to all of the toys and activities included in the box (which the curator describes in her enclosed descriptions), the Sensory TheraPlay Box really is a fun box for children of all abilities. We can't wait to see what they sound out next month!
Are you planning to subscribe the Sensory TheraPLAY Box? What excites you most about this subscription?