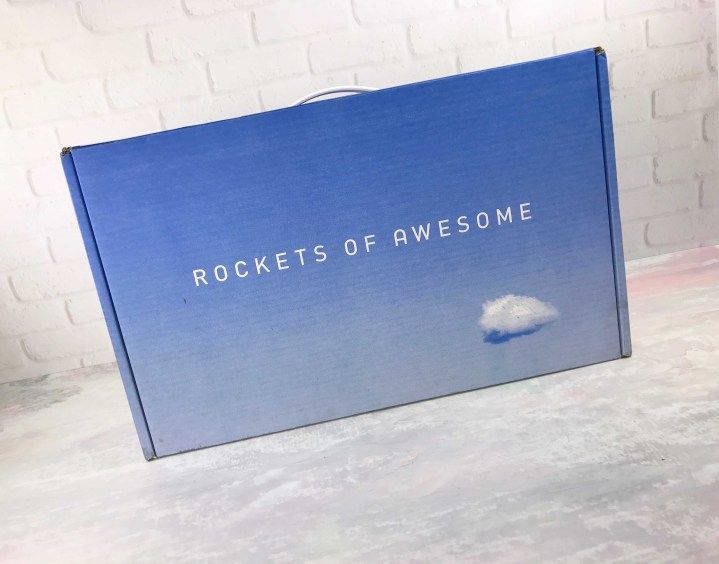 Rockets of Awesome is a quarterly clothing and accessories personal styling subscription box for kids. Each season, you'll get a box filled with high-quality, stylish and comfy clothes. There's no styling fee – just pay for what you'd like to keep and return the rest. Boxes are available for both boys and girls, I signed up for both!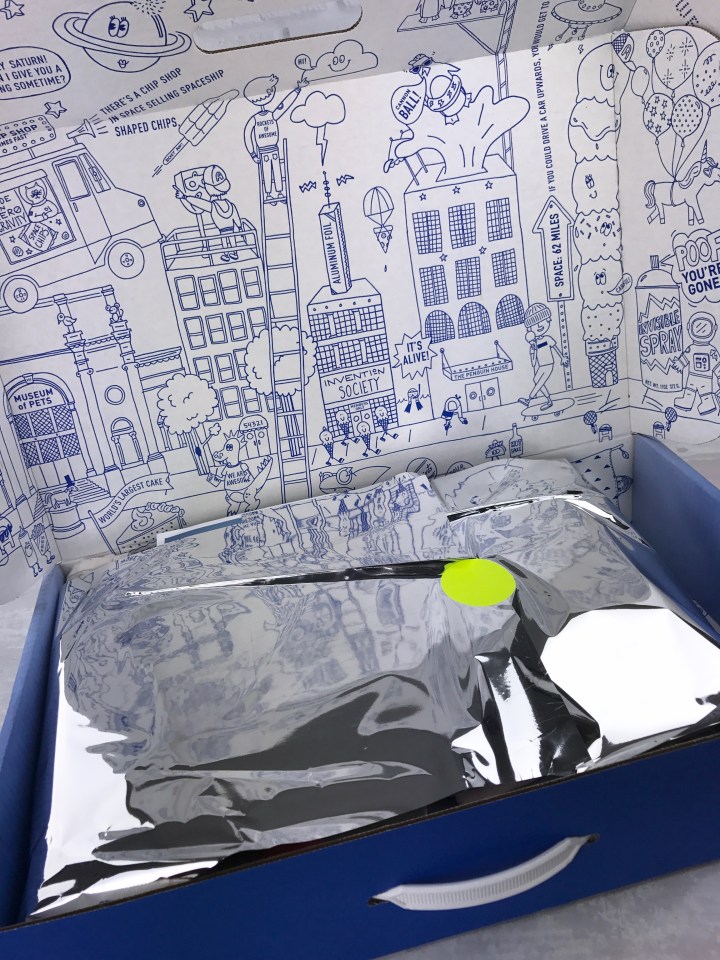 When you sign up you'll answer a quick and easy kid to help set your style preferences for your child. As for the box, you can break it apart and color the whole thing.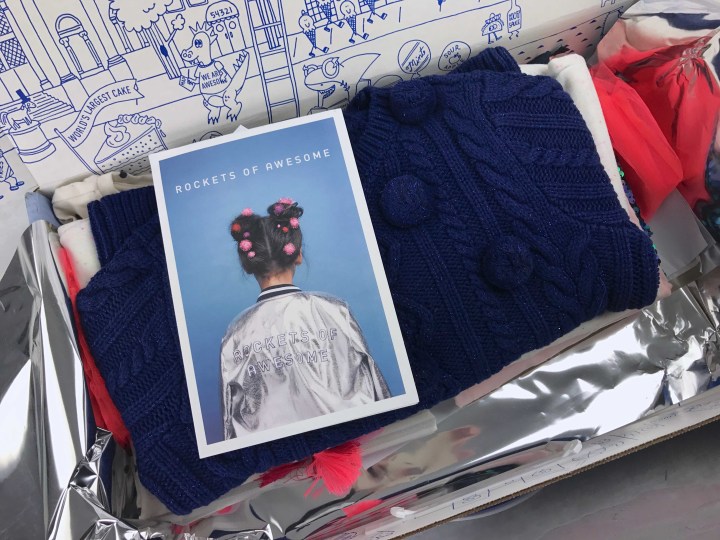 In every box you'll get 8-12 pieces, all from the Rockets of Awesome brand.
Return shipping is free – you have 5 days to try on everything, which isn't a lot, especially if it lands on a Monday.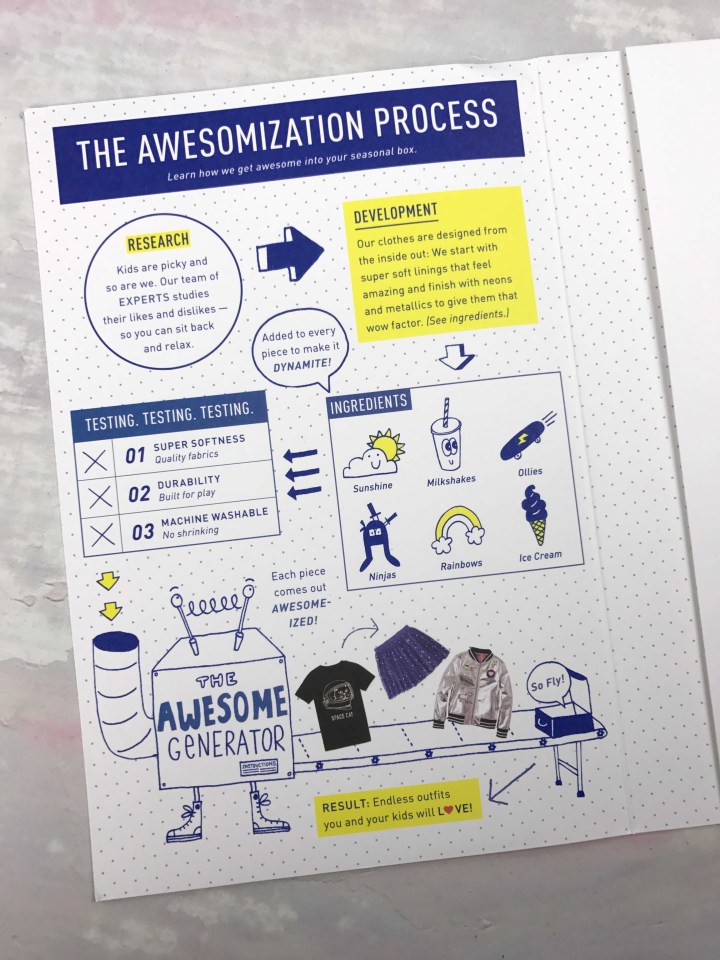 The clothes are durable, play-tested, and machine washable.
Everything in my Winter 2016 Rockets of Awesome box!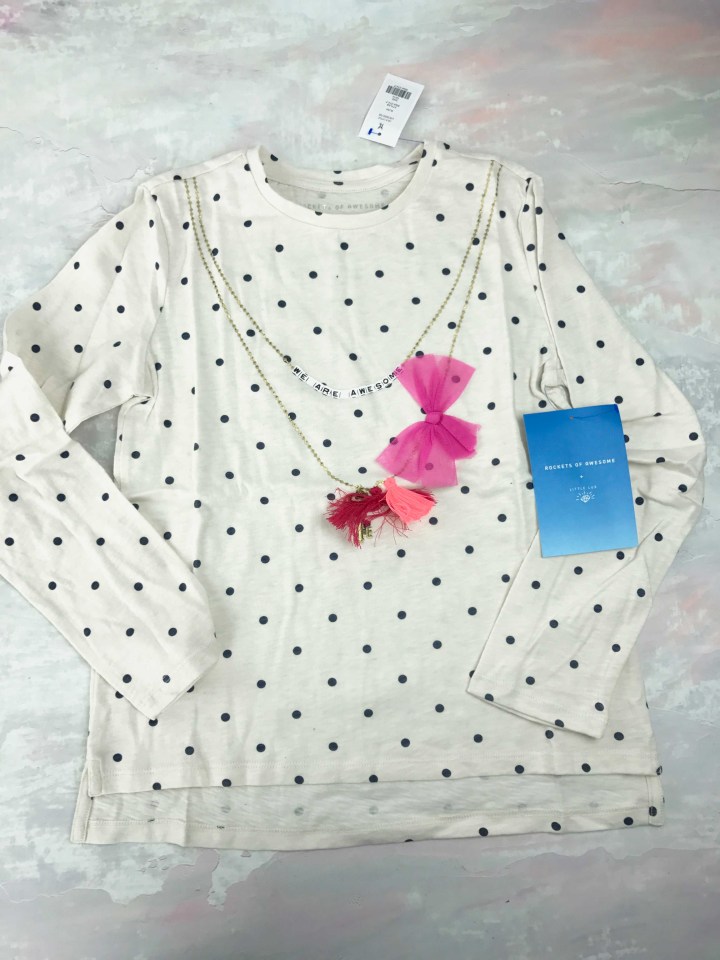 Little Lux Dot Tee ($28) I thought this was a fun idea – the shirt was designed by Little Lux. I admit, I would be much more psyched to get this My Dad Is A Feminist tee! (Pretty please?)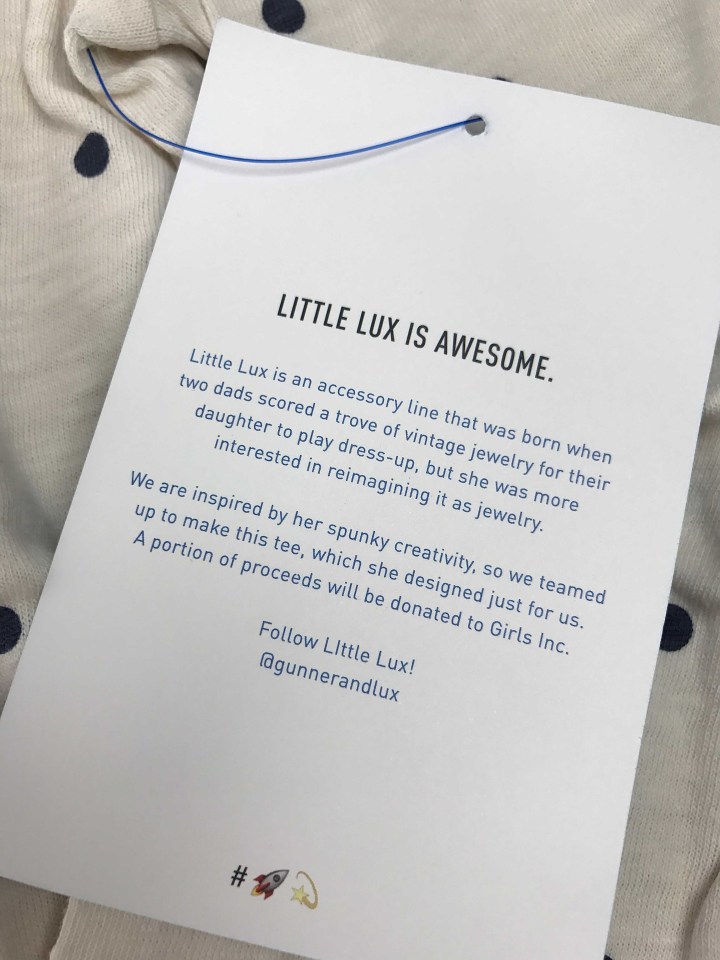 A portion of the proceeds from this tee will be donated to Girls Inc!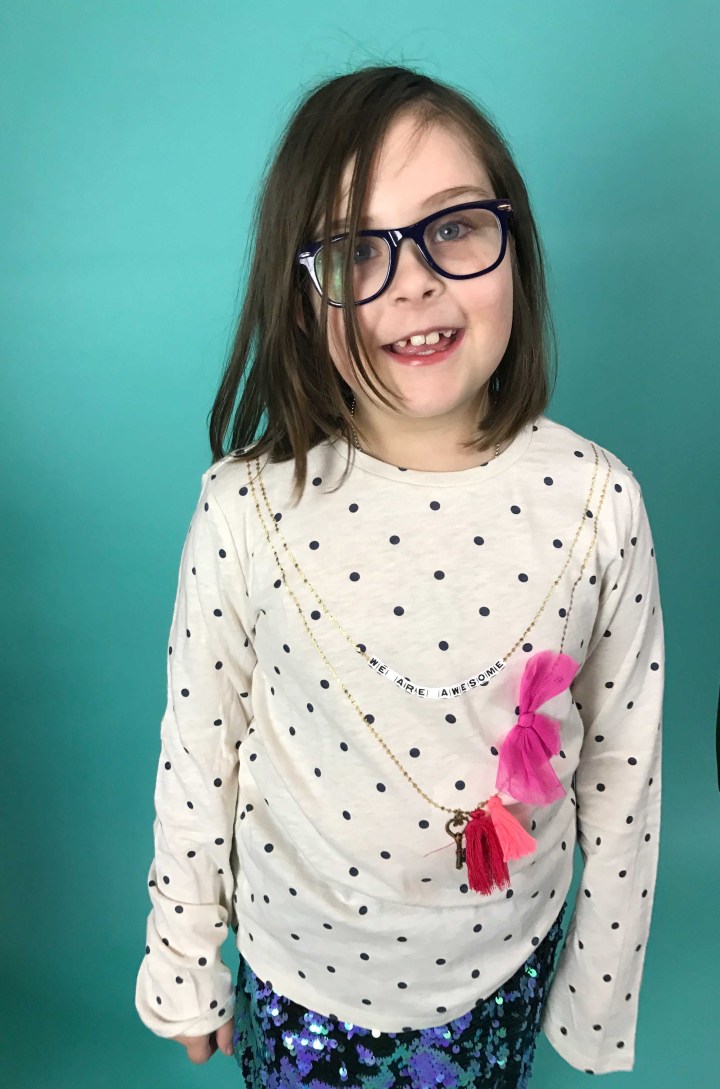 The embellishments were fun, sort of a more grown up Gymboree?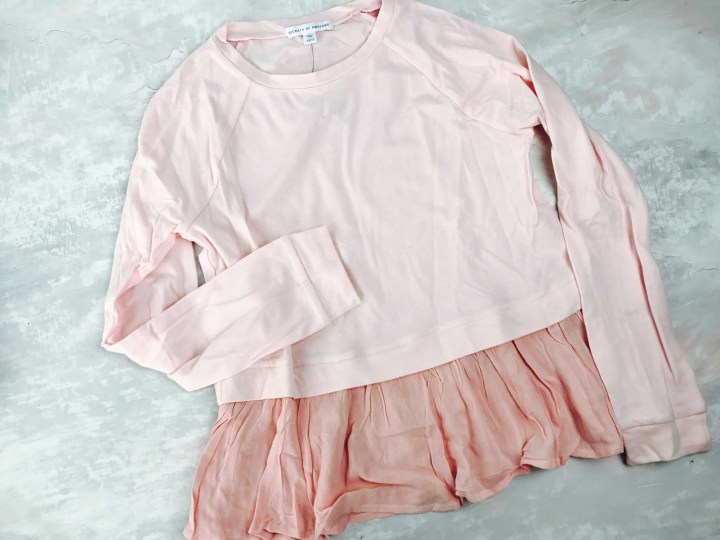 Flounce Tee ($28) This looked really small and a little odd because of the crop/flounce, but it's really soft (like really soft) and cute on!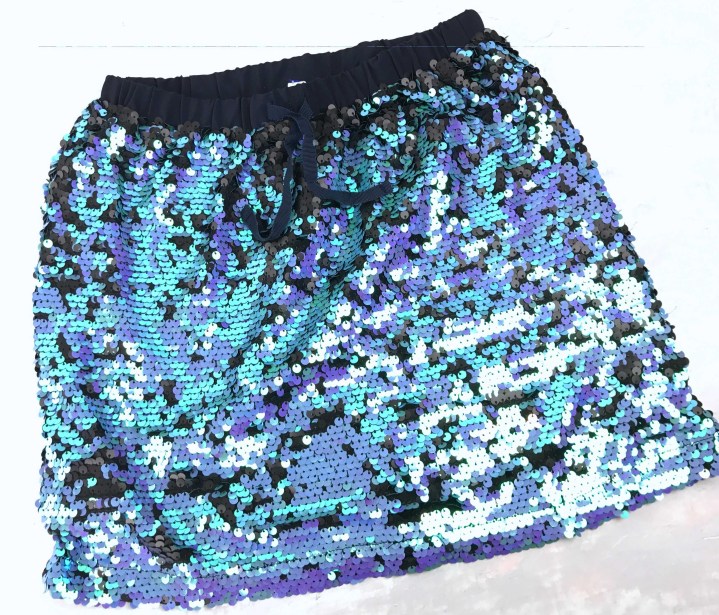 Sequin Skirt ($28) And this skirt! It has an elastic waistband (the ties are a faux drawstring, no safety issues here!) and is darling, sparkly, and mermaidy.  I love it and want to keep it, but have no idea if my daughter will have a single opportunity to wear it this winter. I haven't yet convinced her to wear tights, but she's a leggings kid anyways.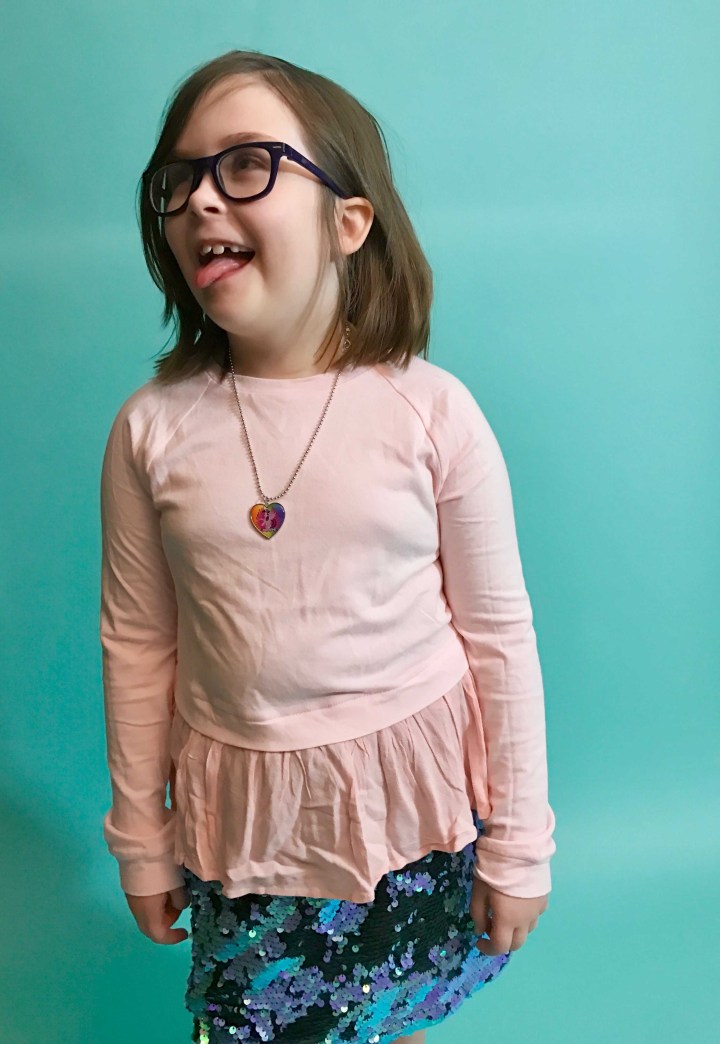 The top doesn't quite work for her, but it's cute! So similar to the one we got in the last box – except long-sleeved and cropped. Same color, fabric, etc.
Pom Pom Sweater ($32) This cable knit sweater was my favorite item besides the skirt because it's nice and warm, and it's also knit with metallic thread. But my daughter & I both thought the pom-poms were trying a bit too hard – we would have liked it just as a fun glittery sweater.
I loved how it matched her glasses!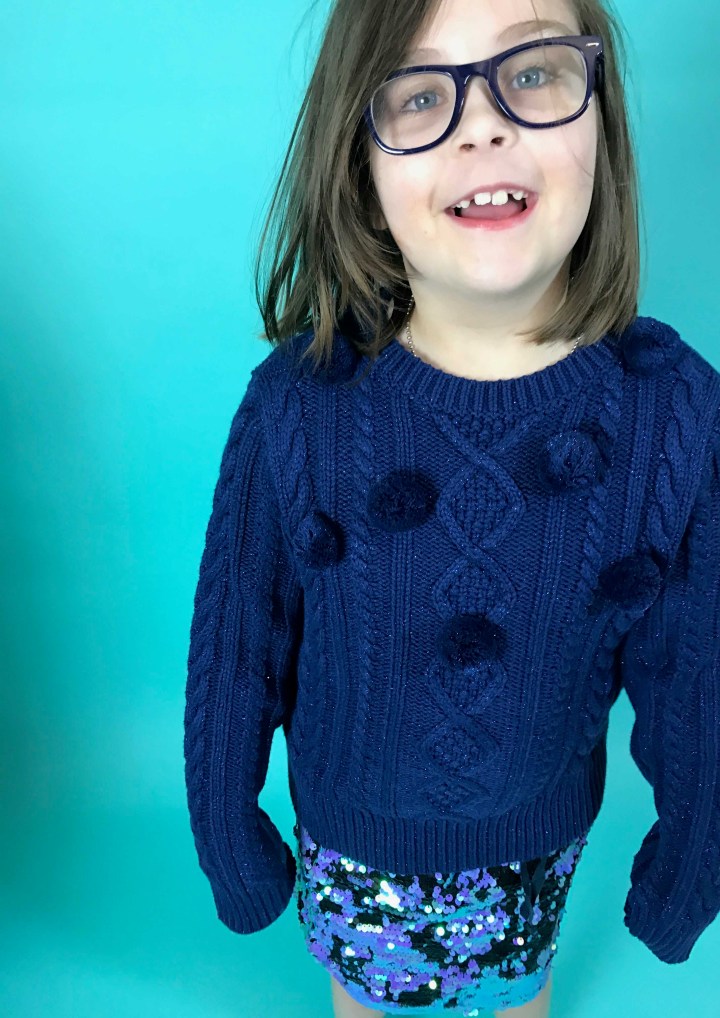 It was so cute with the skirt, too!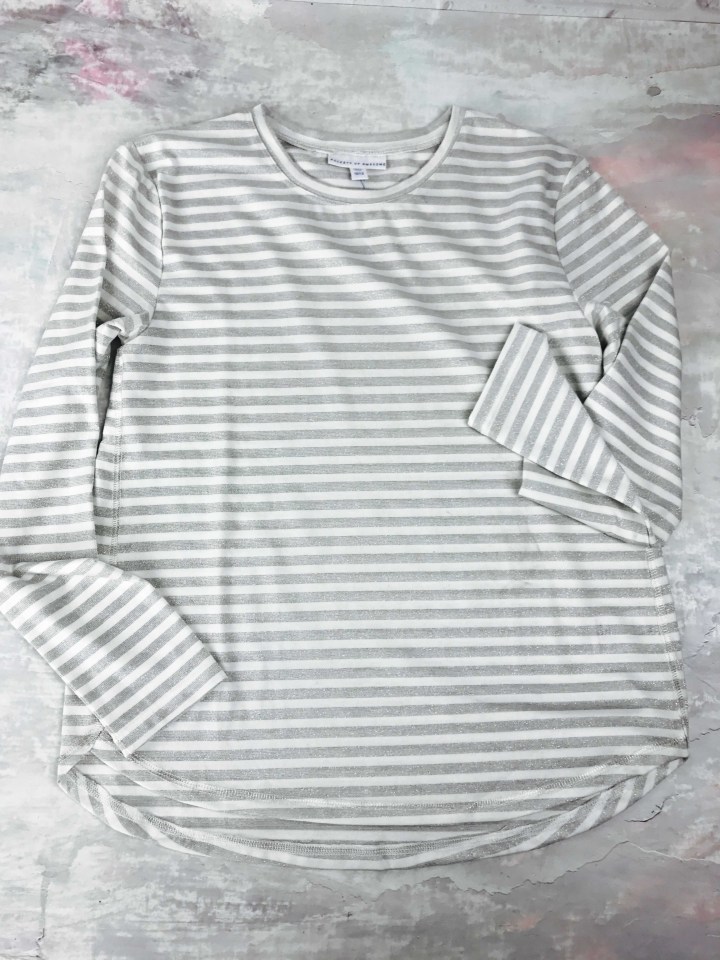 Relaxed Active Top ($22) This white and silver sparkle top was "relaxed" and it was just way too big for her.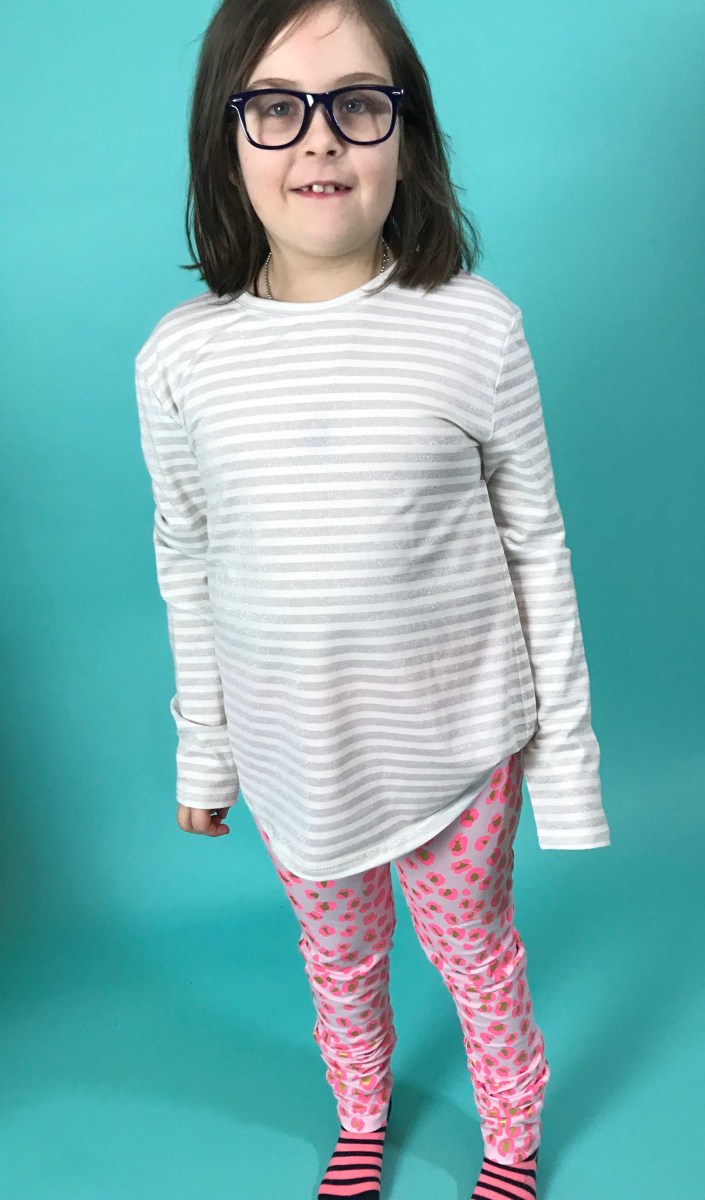 She liked the stripes a lot, though!
Leopard Legging ($16) For us, these are an obvious keep! She loves the leggings we kept from her first box, and these are pink leopard spots with gold metallic accents.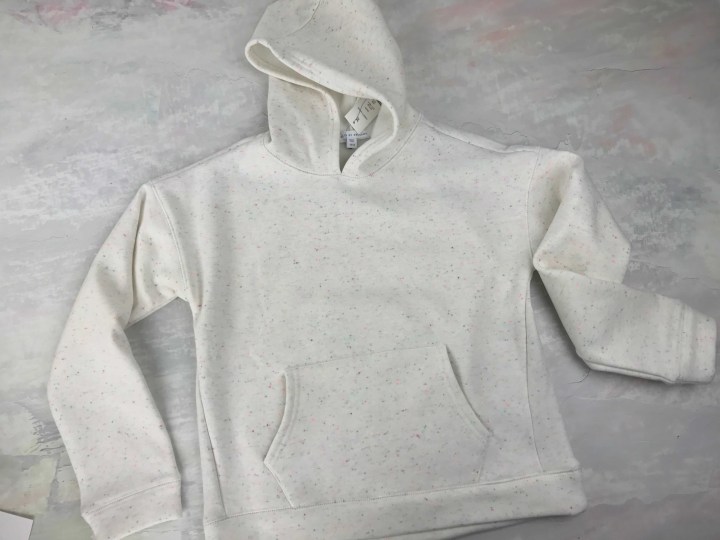 White Confetti Hoodie ($26)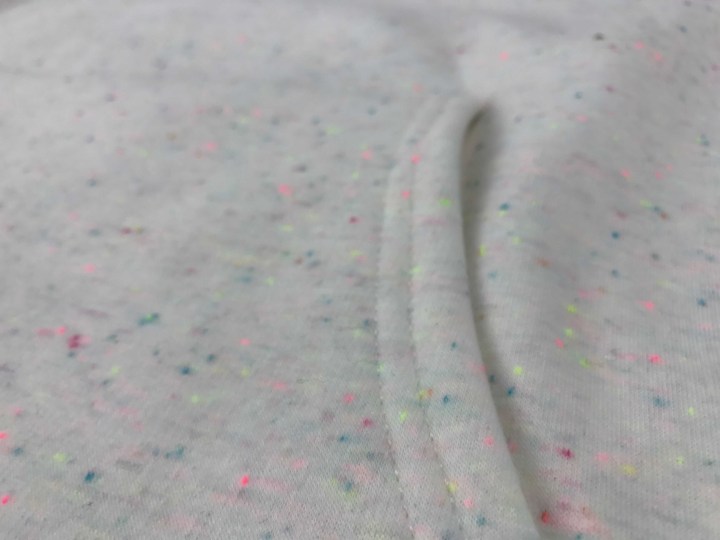 This hoodie was another favorite. It comes off as a great heathered neutral but up close you can see the neon confetti! The garment itself is well constructed too.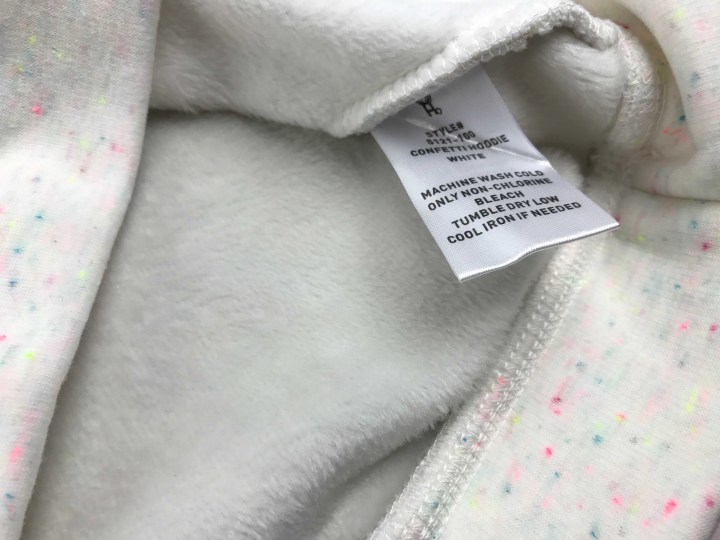 And the inside is super-duper soft!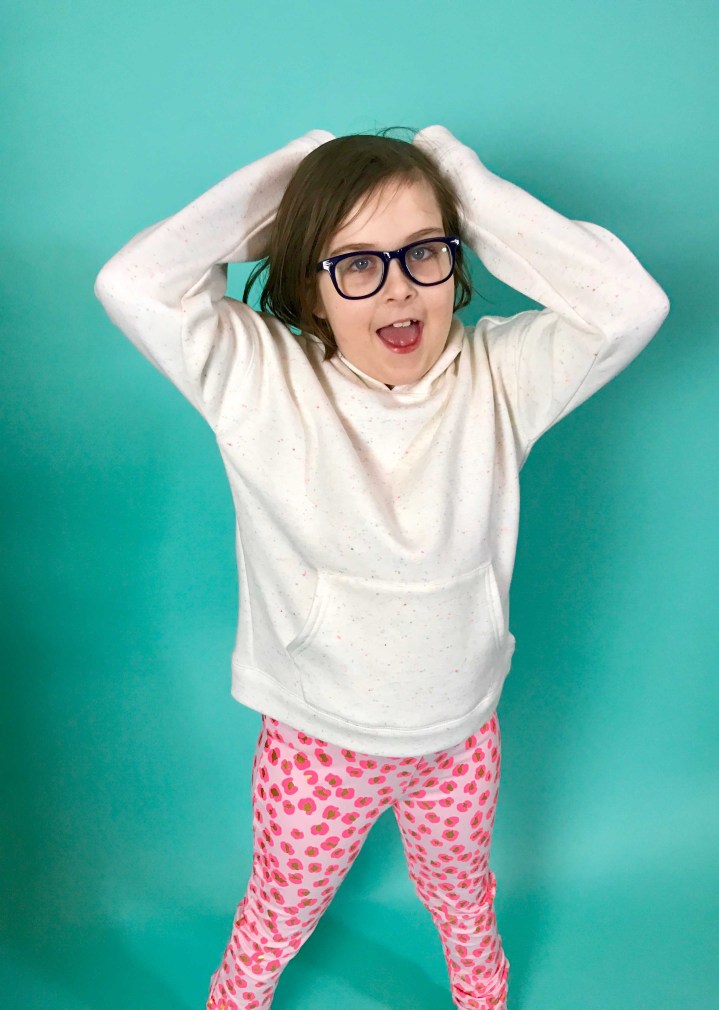 Definitely a fan of this outfit. I found myself wondering if they would make it in my size.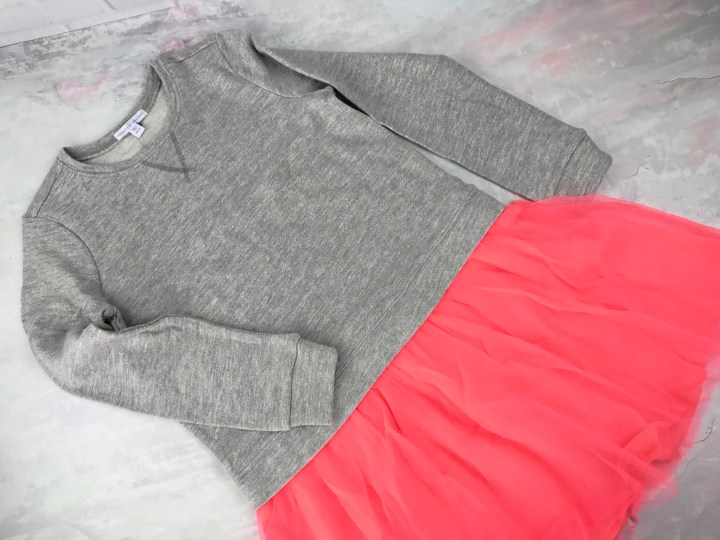 Neon Tulle Dress ($36)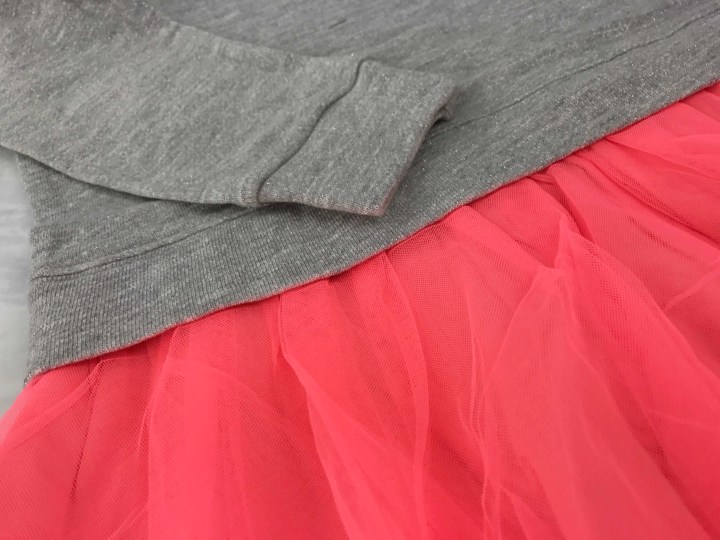 I have to say that I don't think I actually captured the neonicity (now a word) of the tulle part of this dress. It's really crazy bright!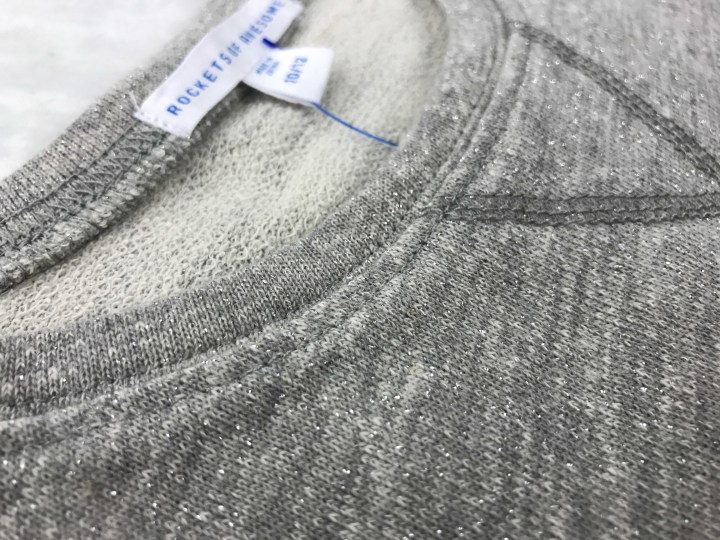 The neon is paired with a classic sweatshirt grey tunic top shot through with metallic silver.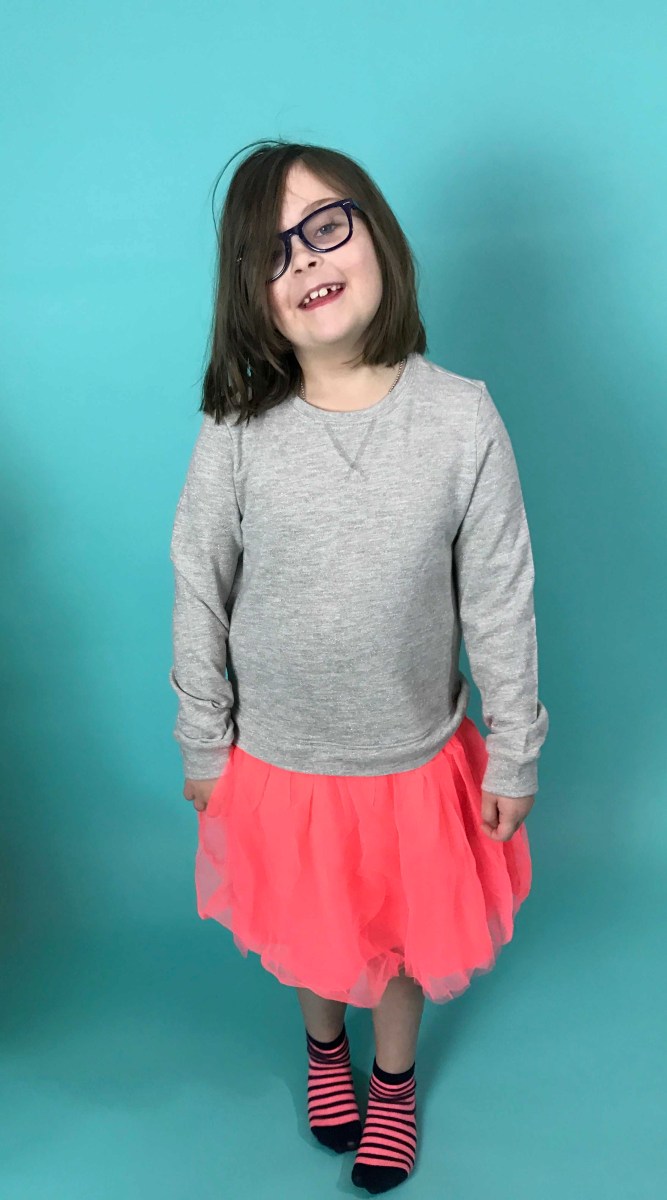 I thought this was a cute dress, and really fun, but not practical for our cold weather.
To keep everything would be $216 – there's no full-box or tiered discount (I would love to see a 15% if you keep 3+ items or something similar). The pricing is on the level of boutique pricing, or maybe about 2/3 of the price of higher end boutique-y items except of course you don't have to worry about picking it out. There's a lot to like about the clothes, but as you can see by this screenshot in particular, they are very light colored for girls – which we shy away from because they get stained and ruined easily. I would like to see bolder, brighter colors on all the clothing, but especially on the tops, as well as more graphic looks.  I just looked back at my first review of this box, and apparently had the same complaint a few months ago. I am pleased to report you can now change clothing sizes!
The clothing pieces we kept from the last box held up really well, so we think we're going to hang on to the fun confetti sweatshirt and the wild leopard leggings, which she's in love with!