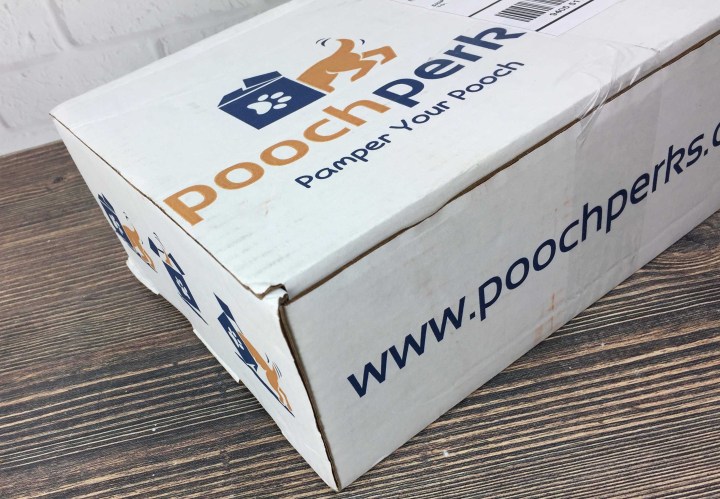 Pooch Perks ships a selection of gourmet dog treats and hand-selected toys to your favorite pup. You can select one of four box size options, ranging from the Pennypincher Pooch at $20 (2-3 items) to the Pampered Pooch at $50 (6 items). You can also get a customized version of the Pennypincher that has either all treats or all toys.
This is a review of the Pampered Pooch box.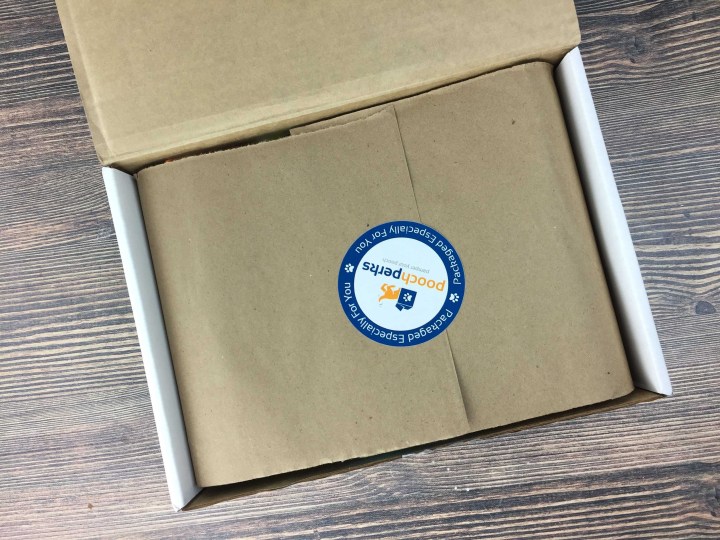 UPDATE: Pooch Perks has relaunched and discontinued PennyPincher, Popular and Pampered boxes. They now have the standard Popular Pooch box, plus the ability to completely customize their own box! Subscribers now have multiple available options like grain sensitive, durable toys only, Treats only, Toys only, etc., when choosing their monthly, bi-monthly, or quarterly boxes.
DEAL: Get 14% off your first month! Use coupon code RUFF14. You can use this code on a longer length subscription – just use the regular checkout – it will apply to the entire cost!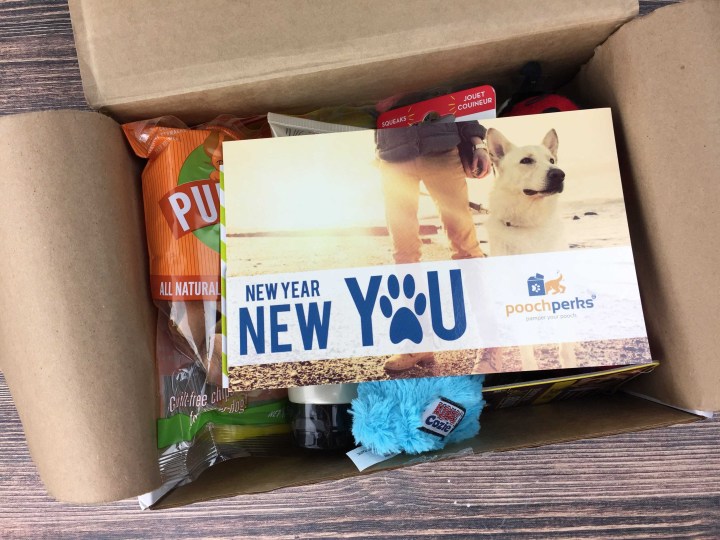 Though the contents are for your pooch, they still make an effort to make it presentable and enjoyable for you to open, too! The theme of the month is New Year, New You!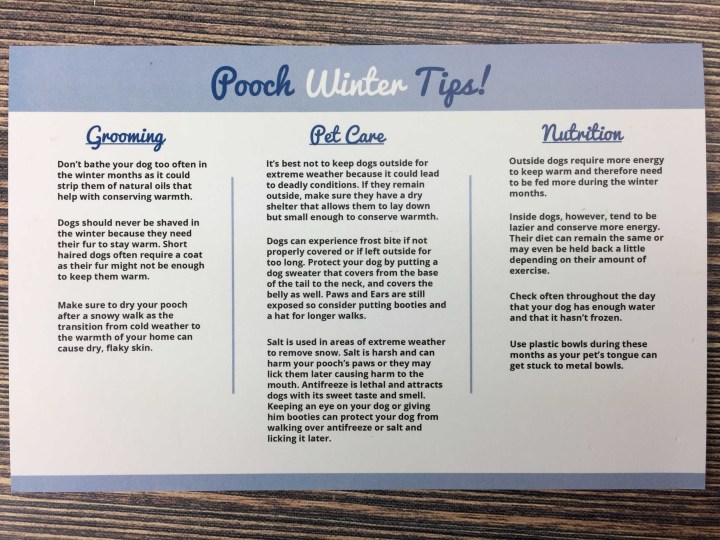 The opposite side of the card shared some health and care concerns peculiar to the Winter months.
A promo card was included for Pet Chatz HD, a videochat device that lets you talk with your pet remotely, even dispensing treats and calming scents!
Everything in the box.
Puptato Chips ($4.23): Sweet potatoes are one of our dog's favorites. These gluten-free chips are thin and crunchy, and they are dried, so they aren't loaded with fat like the chips we eat.
Dogs Love Kale Tropical Delight Coconut Banana Dog Treats ($9.28): Crunchy heart-shaped cookies made with flaxseed, kale, coconut, and banana. These are made in the U.S.A. and are a good size for treating.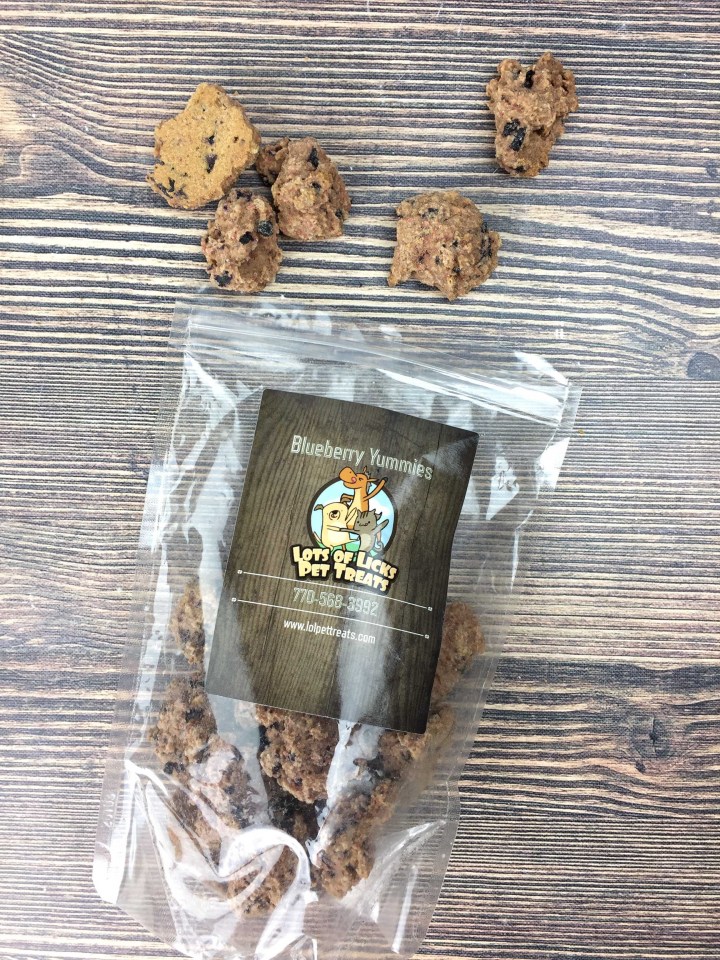 Lots of Licks Pet Treats in Blueberry Yummies ($6.99): These super crunchy treats look just like oatmeal cookies. They are made in the U.S.A. with a simple collection of dog-friendly ingredients – organic oats and blueberries, olive oil, egg, and water.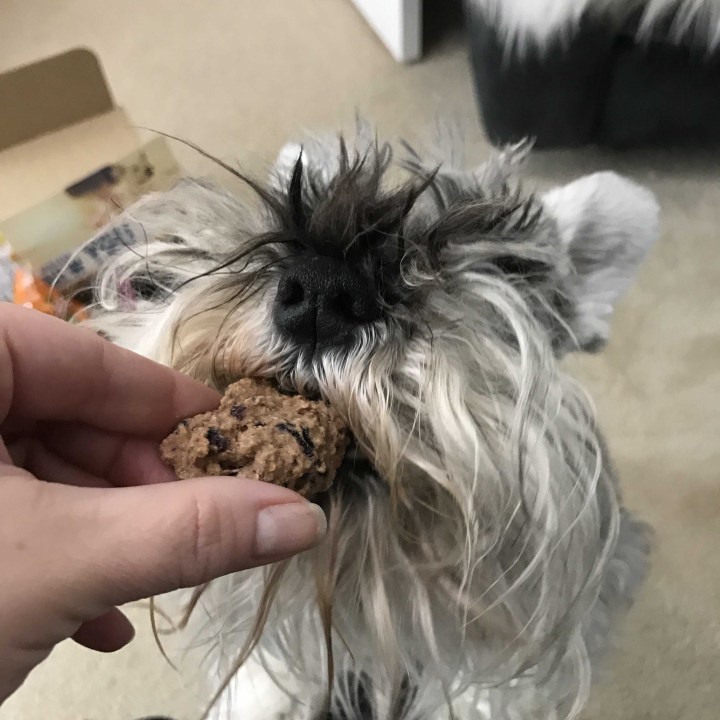 Lindy loved these! Because of their shape, they are also easy for her to pick up off the floor.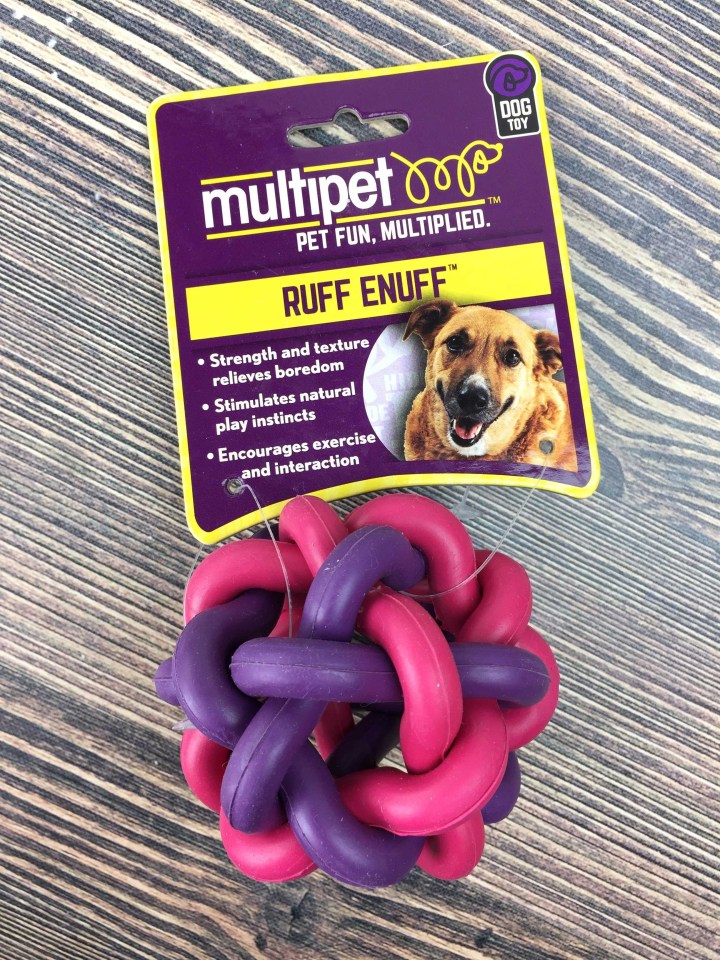 Multipet Ruff Enuff Nobbly Wobbly™ Dog Toy ($9.11): This tough toy is a chewer's dream. The tangle of rings is firm, but they squirm around a bit as they are chewed, creating lots of sensory joy for your dog.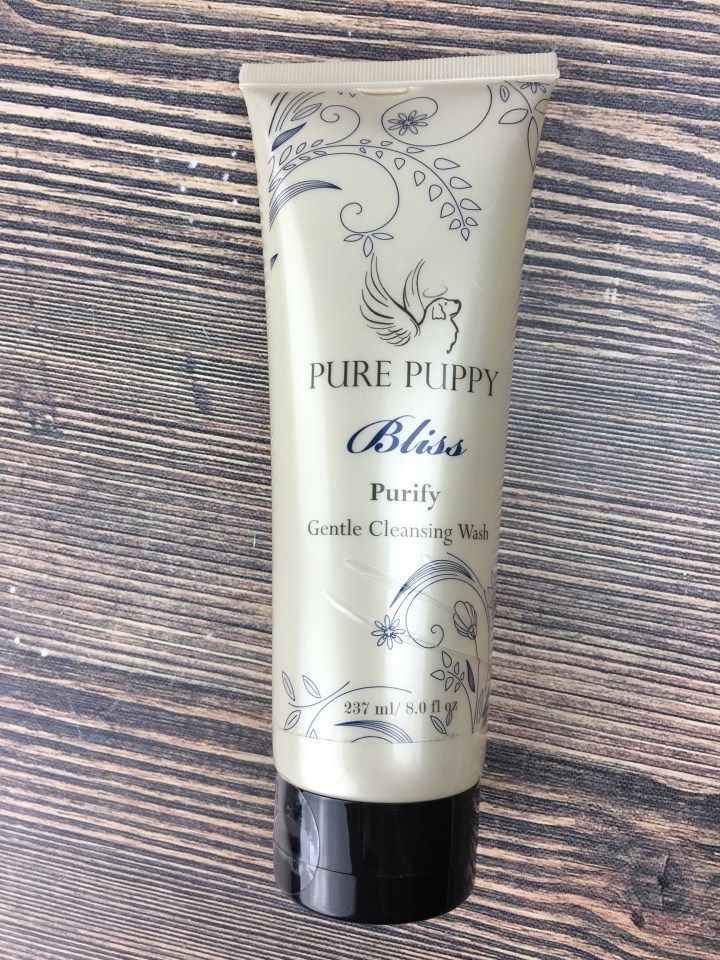 Pure Puppy Bliss Purify Gentle Cleansing Wash ($13.89): A big, ounce bottle of gentle cleansing creme to keep your dog looking and smelling nice. Pure Puppy is 100% natural, with no artificial fragrances, dyes, or chemicals.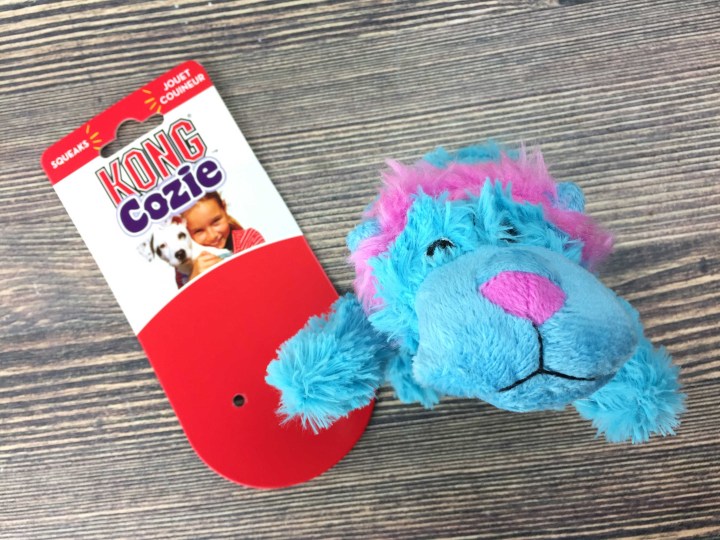 Kong Cozie King Dog Toy: This fuzzy guy looks like a lion, complete with a neon mane.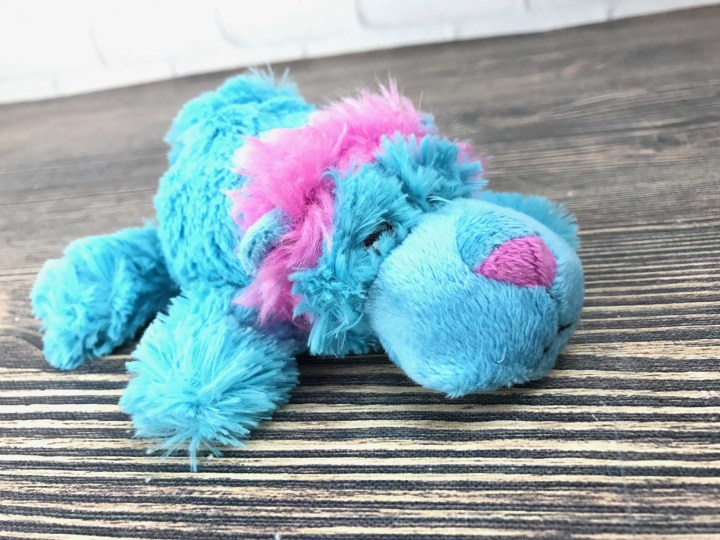 He has a squeaker inside to make things a little more interesting for your dog. I love the coloration – it's like a negative of the Pink Panther.
ZippyPaws Lady Bug Dog Toy ($8.28): This little guy is not your ordinary squeaker! When your pup bites in the right spot, the lady bug chirps out a series of loud chirps.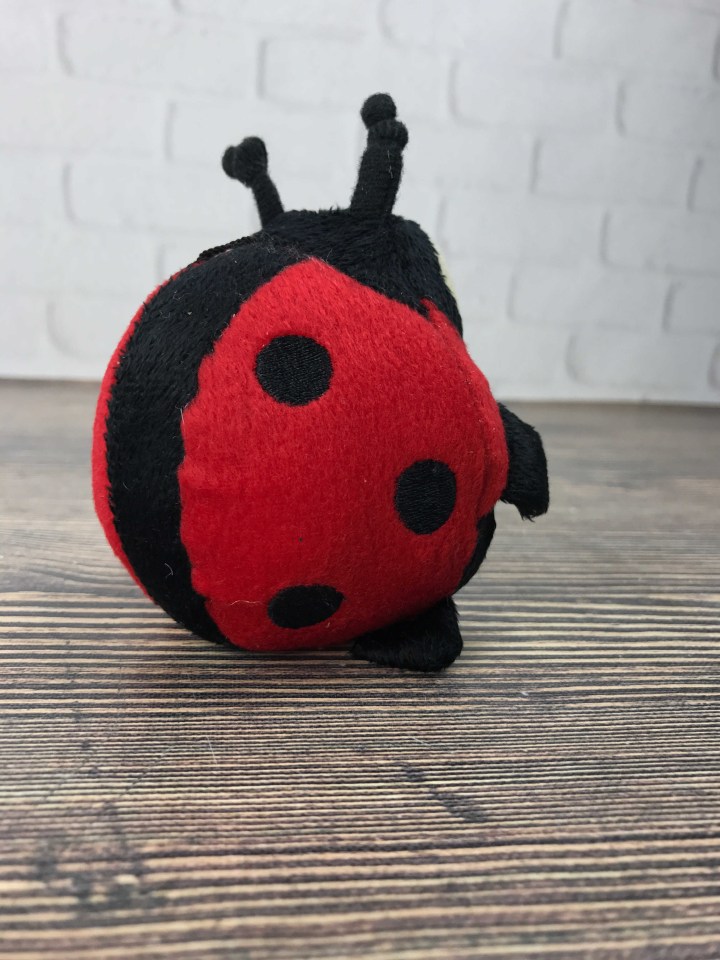 It's a very cute bug with a little electronic music maker inside – since there is obviously a small battery somewhere in there, you'll want to supervise your aggressive chewers.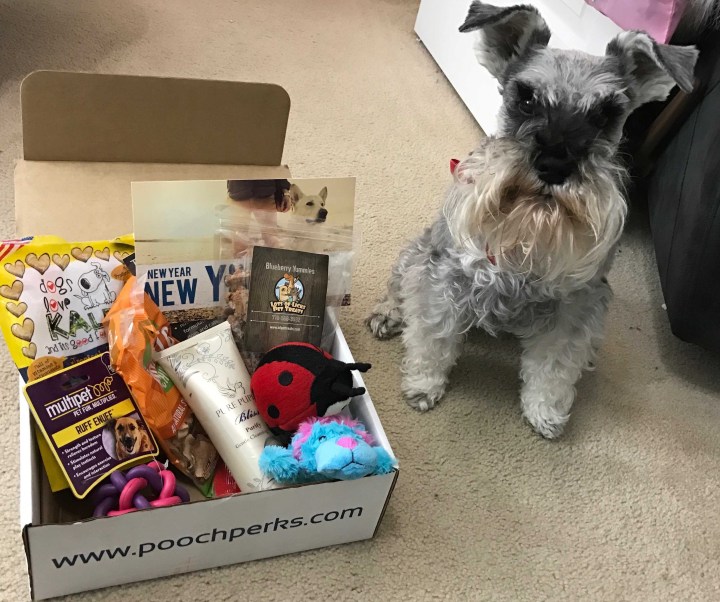 We like the selection of toys and treats we've been getting with Pooch Perks. You can specify what size dog you have — ours is relatively small, so our toys are more cutesy than you might get for a large, vigorous chewer. Lindy loves the snacks! They are all natural and made in the U.S.A. – most are not tiny-shop gourmet treats made solely of home pantry ingredients (though this month's selections were very efficient in ingredients use), but they do have a pleasantly short and simple ingredients list. It's a great box for giving your dog a monthly surprise!
What did you think of Pooch Perks?