The Vanishing Cabinet by Notoriously Morbid Cosmetics is a monthly themed beauty subscription for $13.25 per month. Subscribers receive 4 to 5 themed items, ranging from eyeshadow, blush, lipstick, and more. There is a terribly long waitlist – months and months and months. If you're interested in this subscription, we suggest signing up for the waitlist.
Notoriously Morbid creates unique cosmetics for those slightly morbid at heart. Their products are mostly mineral based with really fun names, colors, and lots of glitter and holos.
TIP: Check the drop-down under subscriptions on their site (it's not a permanent link) for the current Vanishing Cabinet if you want to buy this exact month.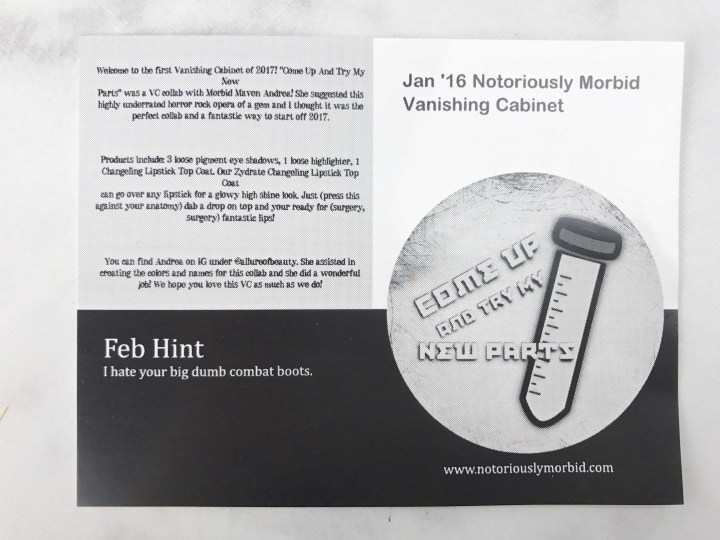 The theme of the month is "Come Up And Try My New Parts." This month is inspired by Repo! The Genetic Opera, "a 2008 American splatterpunk, rock opera, musical, comedy horror film based on the 2002 musical of the same name." This one wasn't in my fandom wheelhouse but from what I can tell, it's perfect for this subscription. How inventive!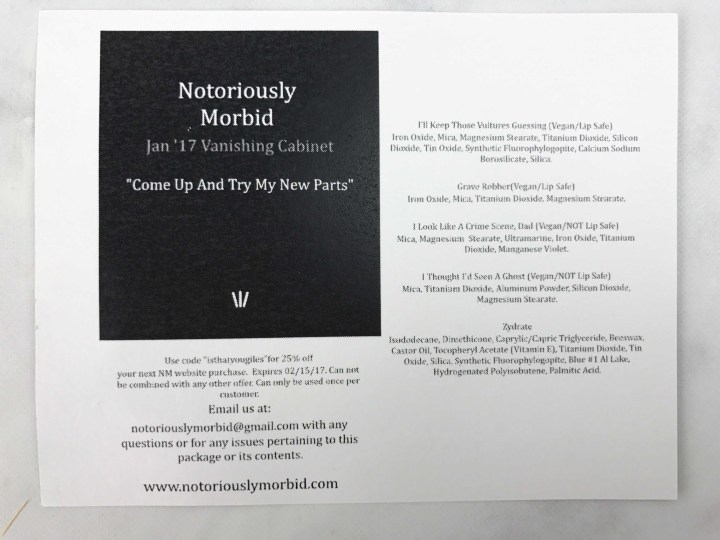 The back of the card gives you a list of all the items in the box, as well as the ingredients that make it up. I had a bit of a hard time reading the card, I'm not sure if they meant to print it this way or it just didn't turn out great.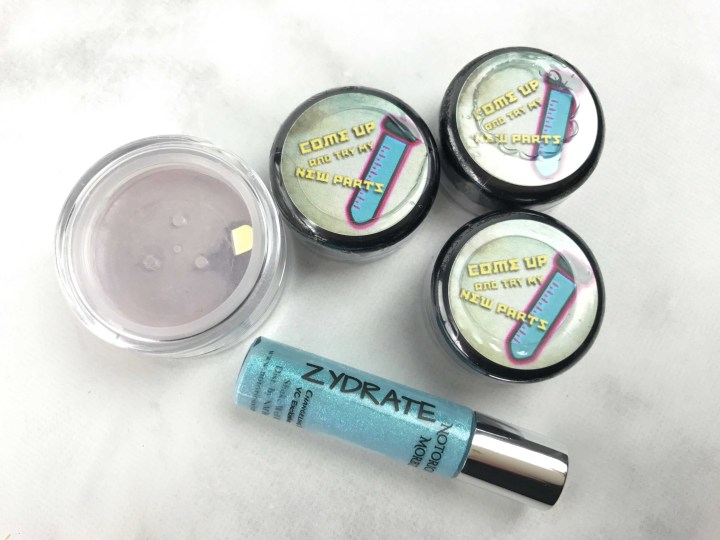 Everything in my January Vanishing Cabinet! I'm not really going to try to explain this movie. This wikipedia page has a great synopsis and you can definitely get the feel by checking out Youtube. If you're ok with some adult themes, you can start with this video (all of them have adult themes).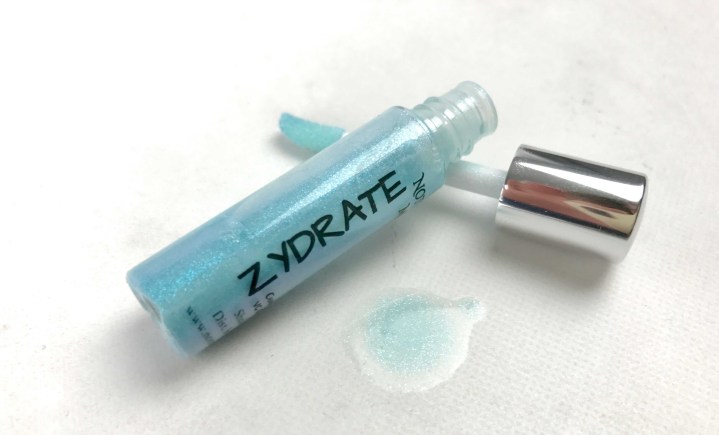 Zydrate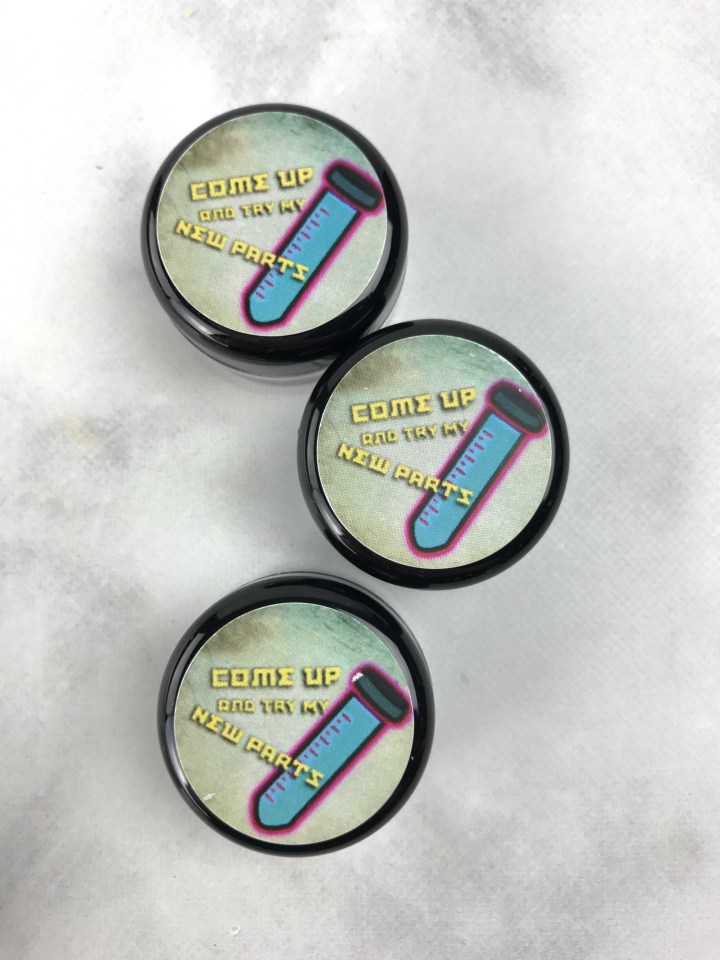 Grave Robber
I Look Like A Crime Scene, Dad
I'll Keep Those Vultures Guessing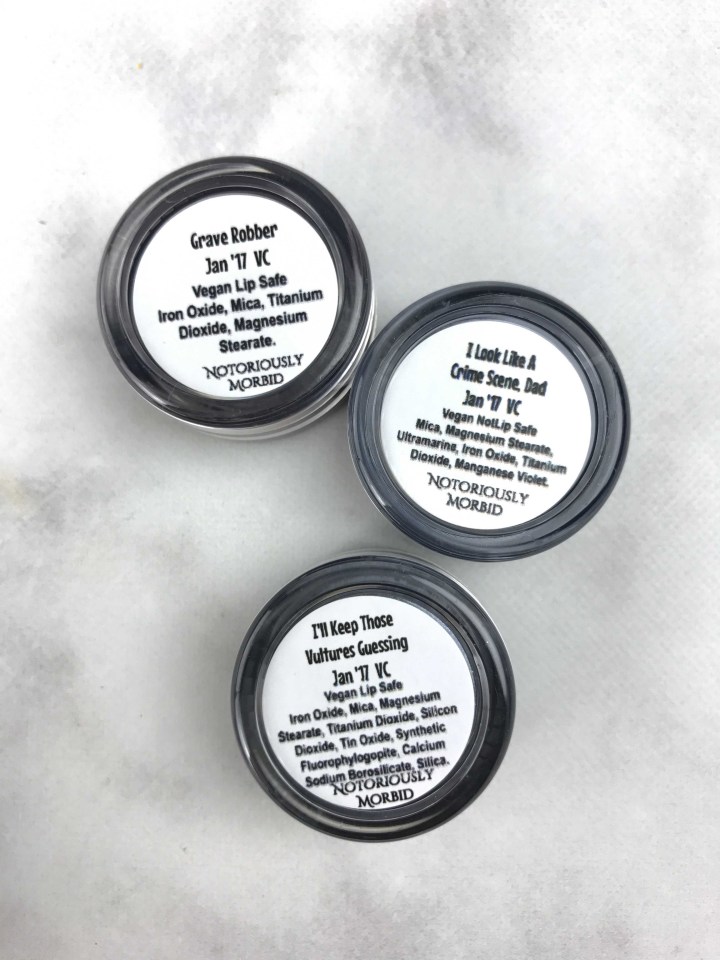 3 mineral shadows, all of which have the ingredients on the back, as well as a notation whether it's lip safe. I think this is super responsible.
And even if you don't get the movie, look at those shades! I've swatched them all below.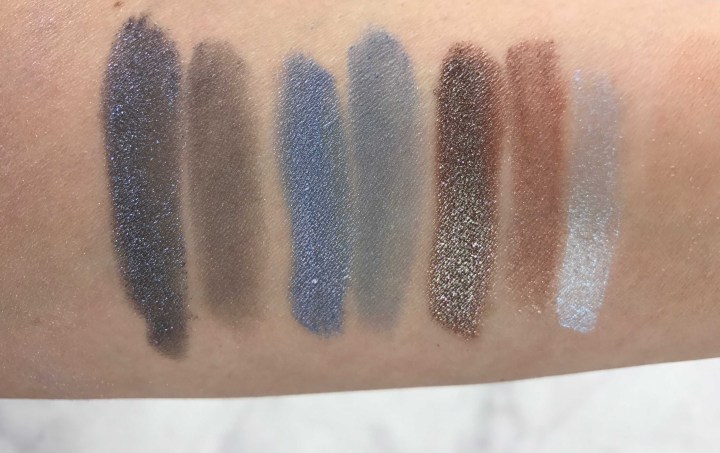 I tilted my arm this month so you can see a little more dimension. From left to right is Vulture, Crime Scene, Grave Robber. The left on each of these is with water, the right is just the plain shadow, and the very last item on the right is the Zydrate!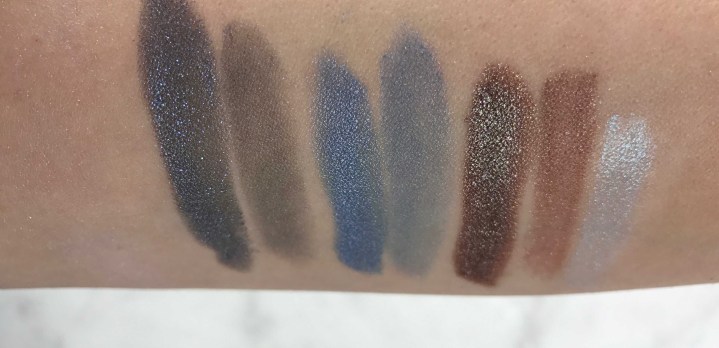 Zydrate: Comes in a little vial just like the movie (seriously if you can stand watching Paris Hilton gyrate you should watch the video) and it's a really excellent interpretation from the film! It's a Changeling lipstick top coat and sooo cool, it adds instant dimension and turns basically any lipstick into a look that you'd get with some serious mineral work.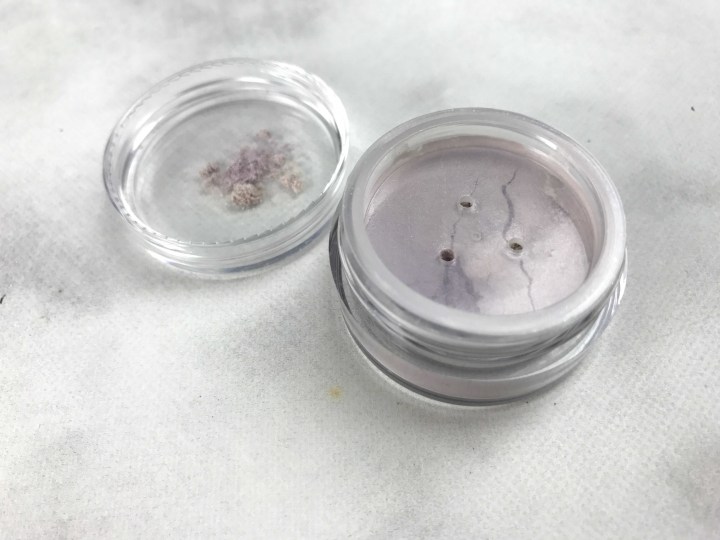 I Thought I'd Seen A Ghost: This loose highlighter powder is light and super pretty. I actually have it swatched on the very left of the swatches above, but that was hard to see!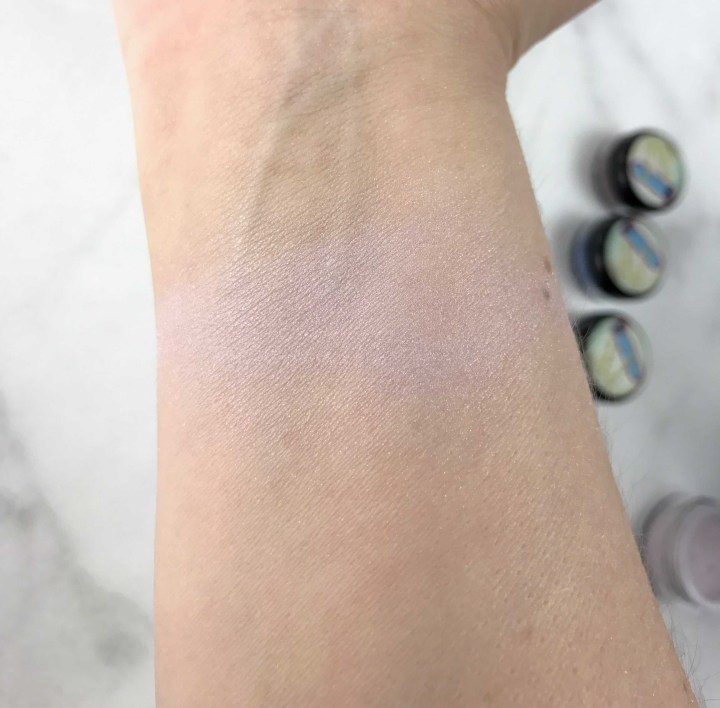 I redid it again with a lot of product – you just imagine it much lighter and you'll get a sense of how it will turn out.
What a fun month, and what a trip into a cult film that I hadn't even heard about! I think this has a great value and a fun mix of a fandom and makeup subscription that's perfect for geeky girls. They have a new subscription, Mystic Monthly with their matte lippies to check out too.
What do you think of Notoriously Morbid's Vanishing Cabinet?