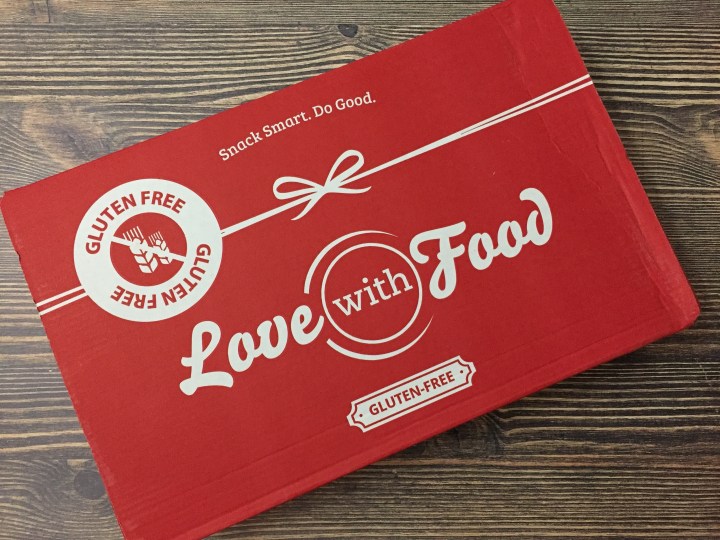 Love with Food is a popular snack subscription that now carries a gluten-free option! It is a fun snack discovery subscription available in three versions: classic tasting box, deluxe/family size, and gluten-free. This version is the gluten-free box, but you can see our reviews of the other versions too. You might not know it from all of the more adventurous Japanese snack boxes I review, but I actually do have a sensitivity for gluten (along with a laundry list of other ingredients) so I have to be careful how much of it I consume. When Love With Food started shipping internationally, this was great news for me!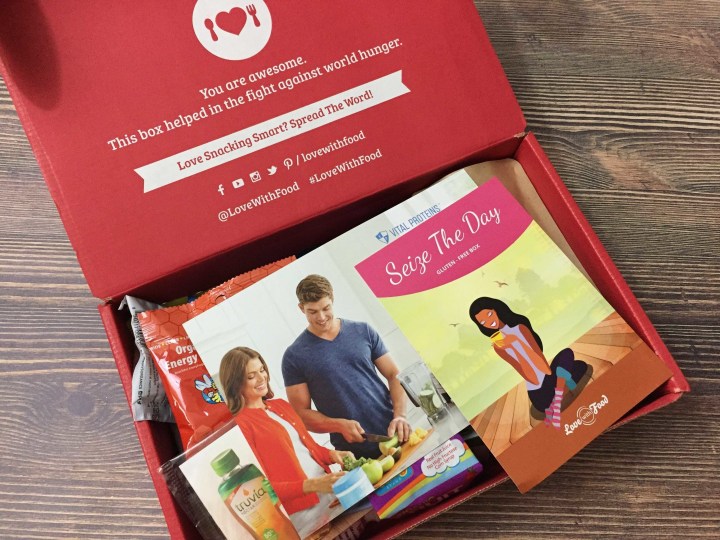 DEAL: You can save 25% on your first Gluten-Free box by using this link, no coupon code required!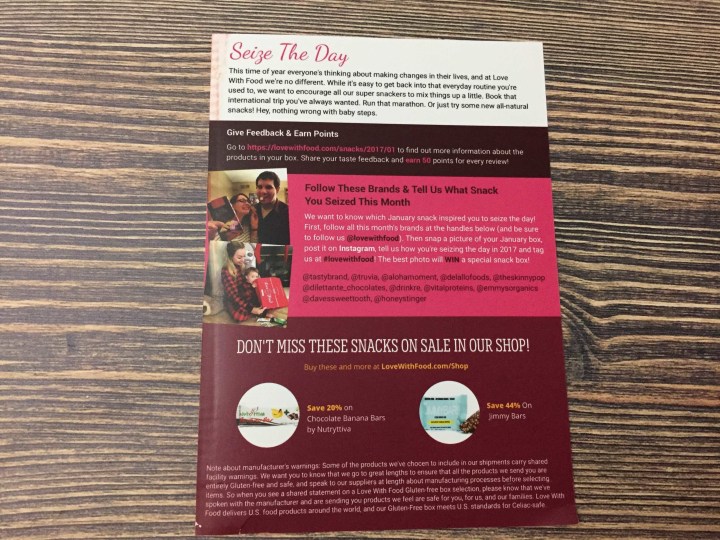 My box always arrives mid-month. They don't include details on the product card, but the info is available on their website.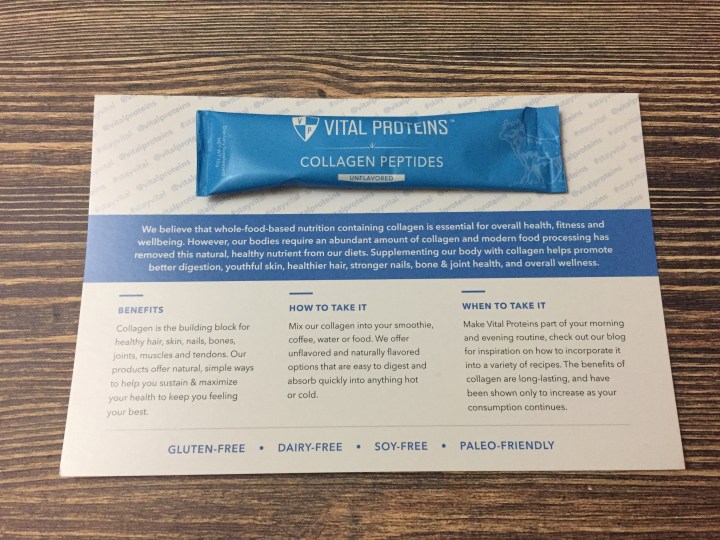 Collagen Peptides. Collagen helps strengthen skin, hair nails, bones, and just about everything else. I love collagen sheet masks to help firm up my skin, but collagen can be taken internally as well. This flavorless powder can be added to smoothies, water, juice, or anything really.
Dave's Sweet Tooth Toffees. We were sent two servings of homemade toffee made in Michigan. I tried the peanut butter crunch which tasted a lot like almond roca, only with crushed peanuts. It was the perfect size – not too big and not too small. These toffees do have soy in them, which I'm allergic to, but one piece isn't a problem.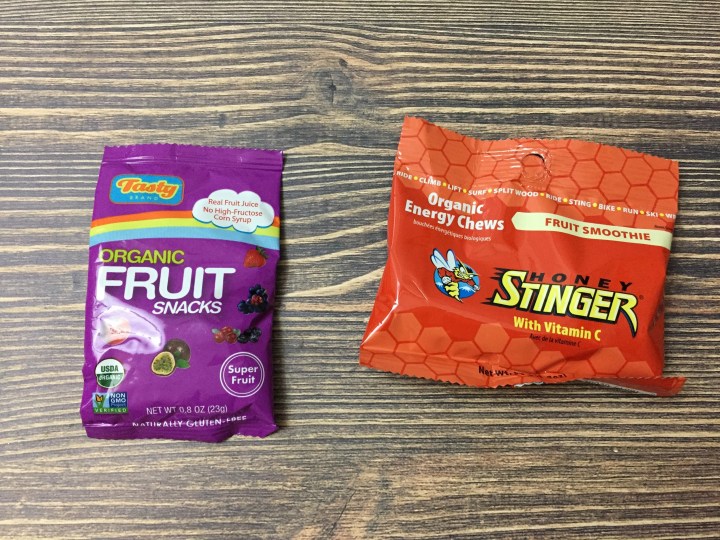 Tasty Organic Fruit Snacks. Fruit snacks make me feel like a kid again. These are made with real fruit juice.
Honey Stinger Organic Energy Chews. I've had these before and enjoyed them; I didn't notice any difference in my energy level.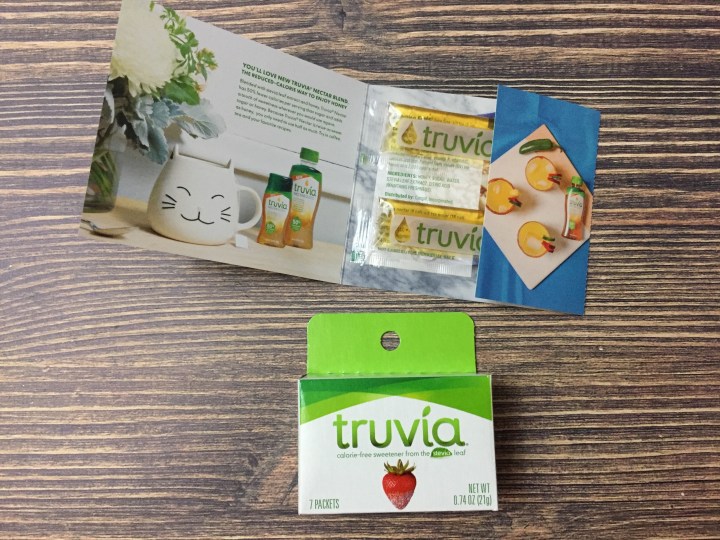 Truvia Nectar Blend and Powdered Stevia. Stevia is a natural sugar alternative. It has a low glycemic index — well, actually it has NO glycemic index. This means your blood sugar does not spike when you consume it, unlike white sugar (65) or even honey (50). I normally use cane sugar (43) because I prefer the taste of real sugar. Stevia is very sweet which means you only need a very small amount. I find that stevia packets are usually WAY too big and only use a half or even a third in my tea. Truvia also has a new honey alternative made of stevia nectar.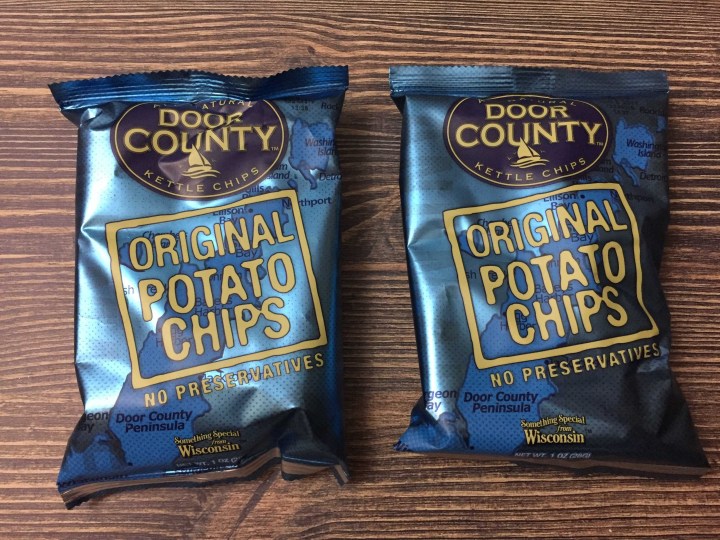 Door County Kettle Chips. I love a good kettle chip. My favorite brand is Canada's Ms Vickies, but these are just as good – they have the perfect crunch and light dusting of salt.
Emmy's Dark Cocoa Cookie. I'm excited to try this – it doesn't have anything weird in it (weird as in bizarre sweeteners or binders that I don't like, such as dates etc.) and is made with almond flour, coconut, coconut oil, and cocoa. They also sent out the Vanilla Coconut flavor as well.
Red Plate Foods Vegan Granola. Yes, soy-free! I am excited to try this. There is no flavor printed on the packaging but the website says this is cinnamon berry flavored. I can dig it. I put granola on top of yogurt.
Gluten Free Lasagna. Oh my gosh, I am actually super excited to see this! I love lasagna but I have never been able to find just the noodles to cook with on my own. I hit up my sister for a recipe but it turns out the lasagna she made a few months ago was store-bought. Busted! I'm going to try my hand at my own recipe and see how I do.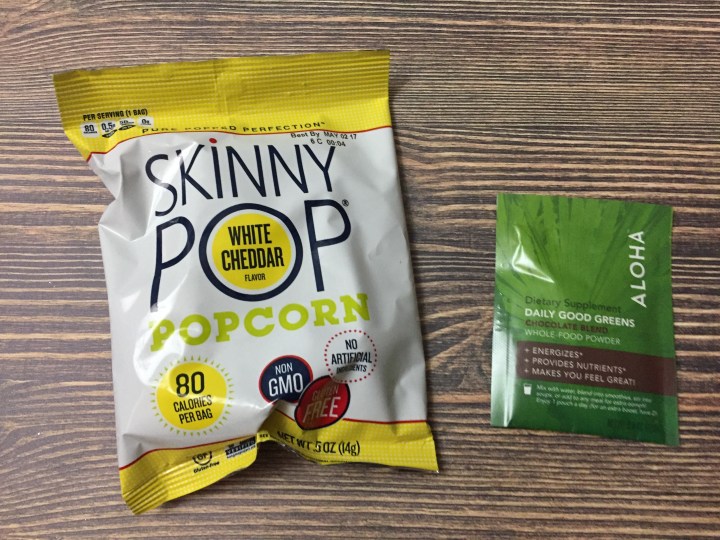 Skinny Pop White Cheddar Popcorn. I love Smartfood white cheddar popcorn and easily eat an entire bag (yep, the whole thing) in an hour. This smaller serving is tasty and is definitely a lesson in portion control.
Aloha Chocolate Daily Good Greens. An interesting combination of cocoa powder along with superfoods and plants to encourage healthy eating and living. I've heard of Aloha before and am interested to try it. This chocolate flavour would go great in a smoothie. Aloha has their own subscription for their products – check out our reviews here!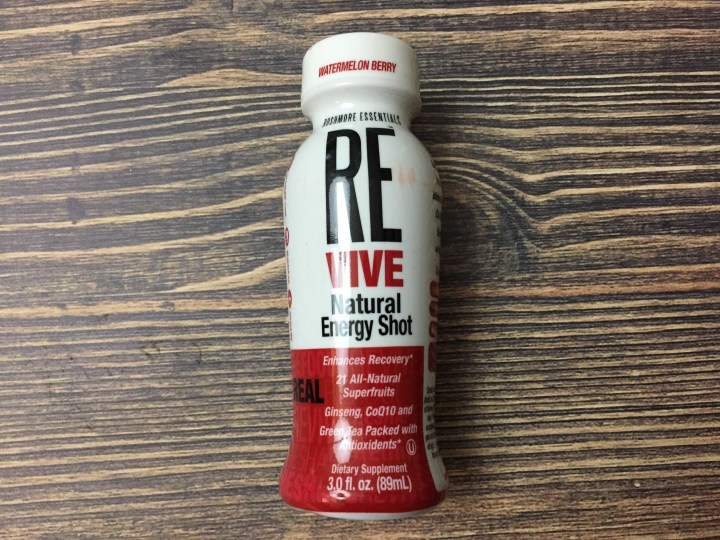 Revive Natural Energy Shot. 21 superfruits and green tea are combined for a boost of energy. I didn't mind the taste of this, though I detected no watermelon and mostly tasted sour berry.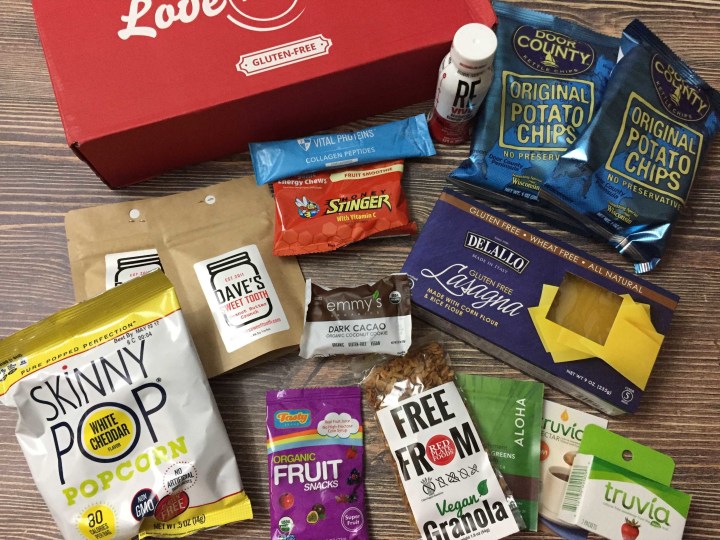 I always have a great time unboxing LWF. They send a varied mix of items to try. I am especially excited to receive a box of gluten free pasta again this month, as I have a lot of fun returning to old favorites but keeping things gluten free and healthy for myself.
What is your favorite Love with Food item from this month's box?
Visit Love with Food Gluten-Free to subscribe or find out more!