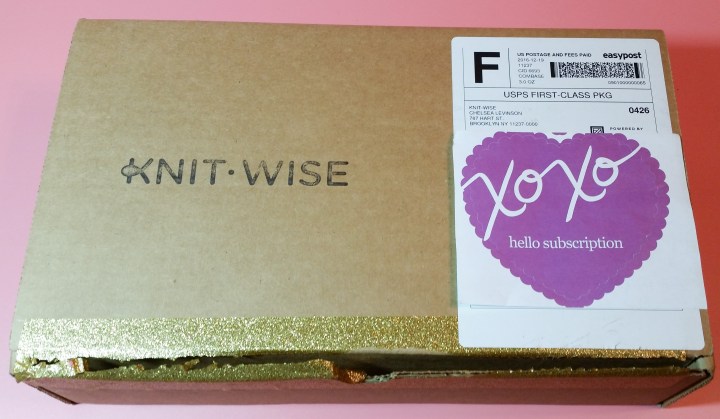 Knit-Wise is a monthly box that arrives with everything you need to create a hand knit project. According to the site, you will build new skills, save time and money, and learn at your leisure. You can choose your skill level – either beginner or intermediate/advanced. I'm a fairly proficient knitter, so I picked the "intermediate/advanced" level. Subscriptions start at $29/month.
I loved the festive sparkly tape sealing the box this month – perfect for this box that arrived around New Year's!
Knit-Wise provides nearly all the supplies you need for the project – basically everything but scissors. Super convenient!  Here's a look at this month's supplies – directions, yarn, knitting needles, and a tapestry needle. All I had to do was start knitting!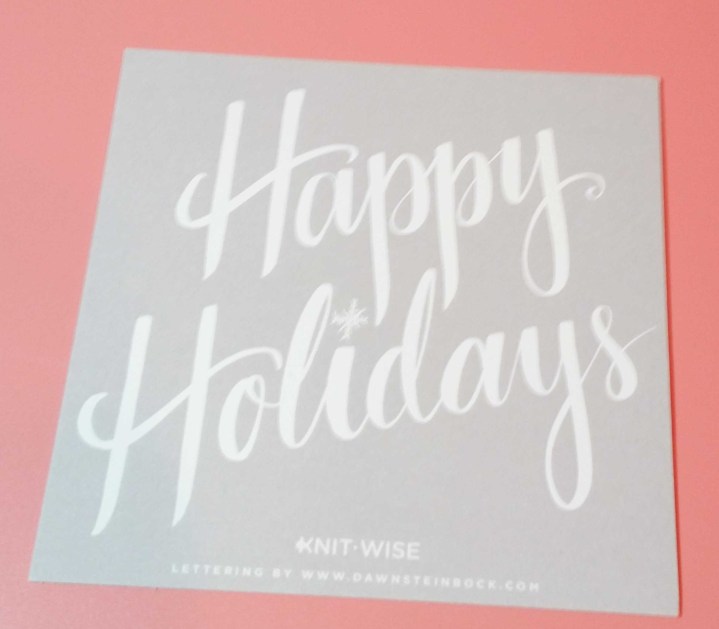 This holiday card was a sweet extra touch in this month's box. I feel like the folks at Knit-Wise are almost friends!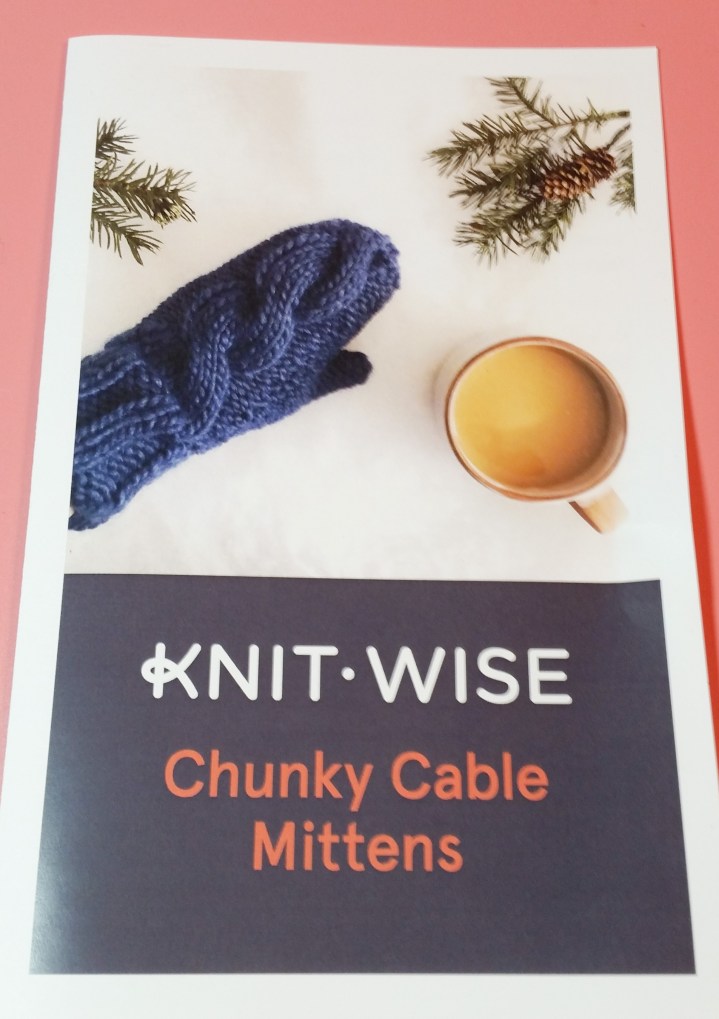 Instructions: Knit-Wise instructions generally come in a little booklet. The front of the booklet provides a full-color image of what the final project will look like. One thing I really like about Knit-Wise is the wide variety of projects.  In the past months, I've made home decor items, a hat, socks, and now mittens.  Perfect, warm, and cozy for winter!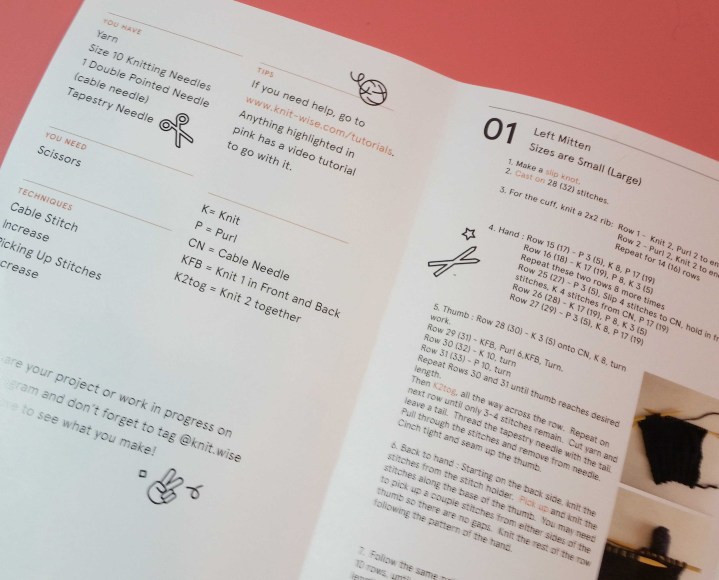 Here's a peek inside the instruction booklet. The step-by-step instructions are very clear – although I think there may have been a small error in the instructions this month. I've been knitting for a while, though – so when the instructions indicated a 2×2 rib, I just started knitting without following the instructions, which I believe would have not made a rib stitch as written. A newer knitter may have followed the written instructions more closely and ended up not making the rib stitch. But other than this misstep, the instructions have been very good. Simple, easy to follow, and correct.
The instructions also have some terms printed in pink ink, indicating that there is a video explaining that stitch available on the Knit-Wise website. Again, I'm a fairly proficient knitter, so I did not need the extra help for this project, but I have used some of the videos before and they are easy to follow as well.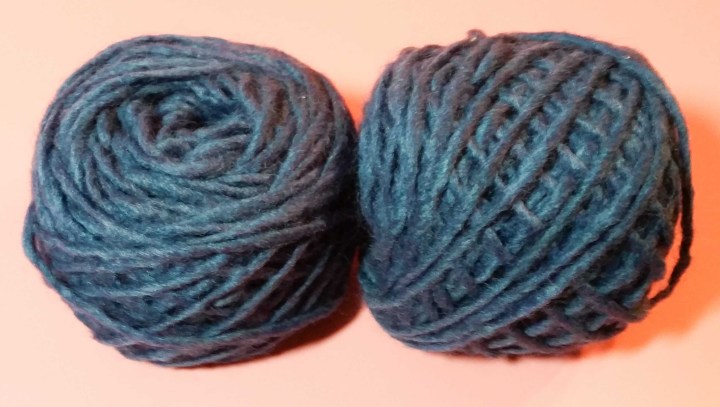 Yarn: This month's box included two balls of this pretty blue yarn. It's super soft and fairly chunky – making for a quick knit and a nice warm mitten!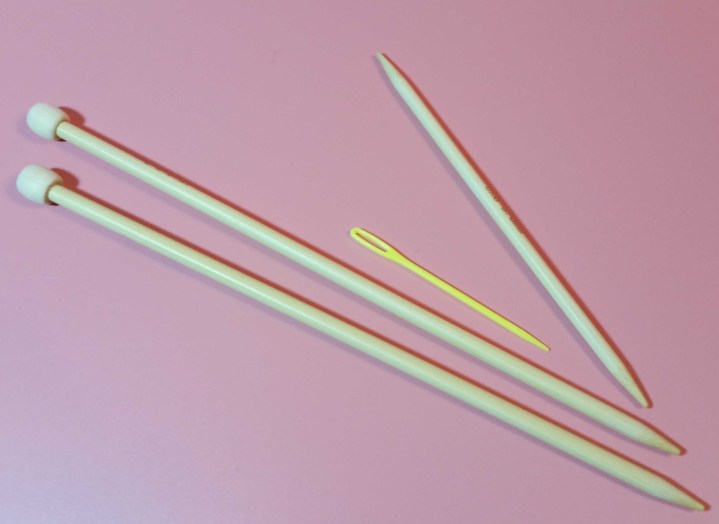 Needles & Notions: As I mentioned above, Knit-Wise sends everything needed except scissors. This month Knit-Wise sent knitting needles, a double-pointed needle (DPN) to knit the cable, and a tapestry needle for completing the mitten. I prefer to use an S-shaped needle when I cable, but the DPN needle is perfectly useful and maybe even easier for newer knitters. Last but not least, I can never find a tapestry needle when I need one, so I love that Knit-Wise sends one anytime a project requires.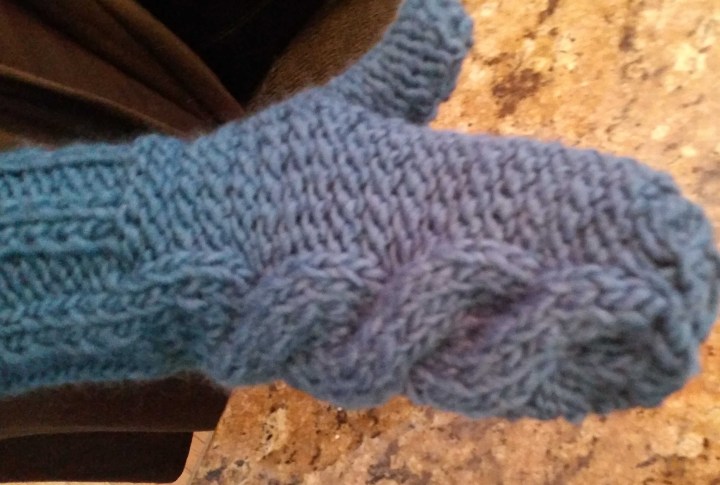 And here's a look at the finished project! I still have to knit the other hand, but I am happy with this mitten and wanted to share it with you. It fits perfectly, it's cute, and it's totally warm. Everything you could ever want from a mitten! I also like the pretty blue color.
I'm glad this project turned out so great. As I mentioned before, the Knit-Wise boxes I've reviewed thus far have provided a wide variety of projects. Not only is the completed project different each month, but the projects also are based on different techniques or knitting stitches. This month's "featured" technique was cabling – a technique that creates a very complicated-looking result but is fairly simple to do. This aspect makes Knit-Wise boxes perfect for newer knitters as well as more experienced knitters. There's always something new to learn or practice.
What do you think about this month's Knit-Wise project?