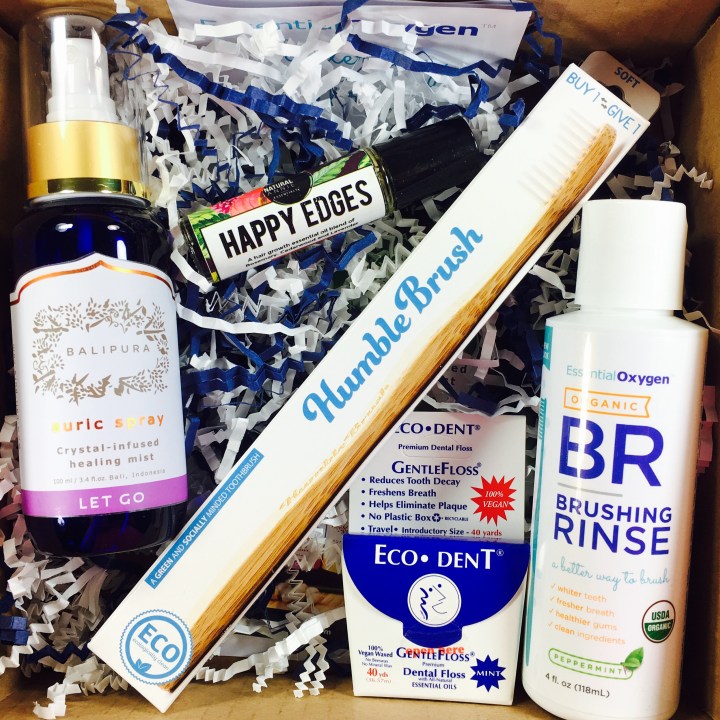 Kloverbox is a unique natural and cruelty-free beauty and lifestyle subscription box delivering the purest in beauty, nutrition, health, and home essentials. It is $25 a month and is available in 1, 3, or 6-month terms. The 1 and 3-month subs automatically renew until canceled.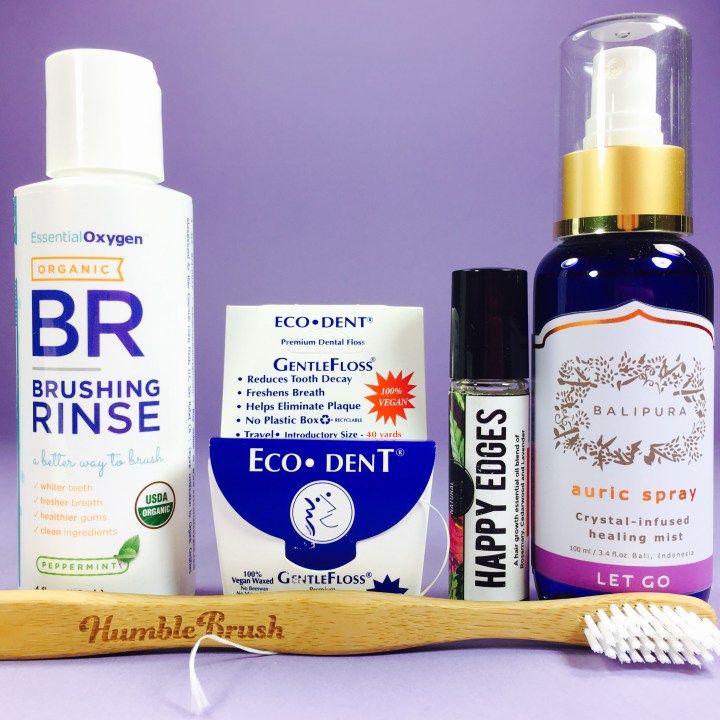 DEAL: Save 10% on your whole subscription with coupon code HS10!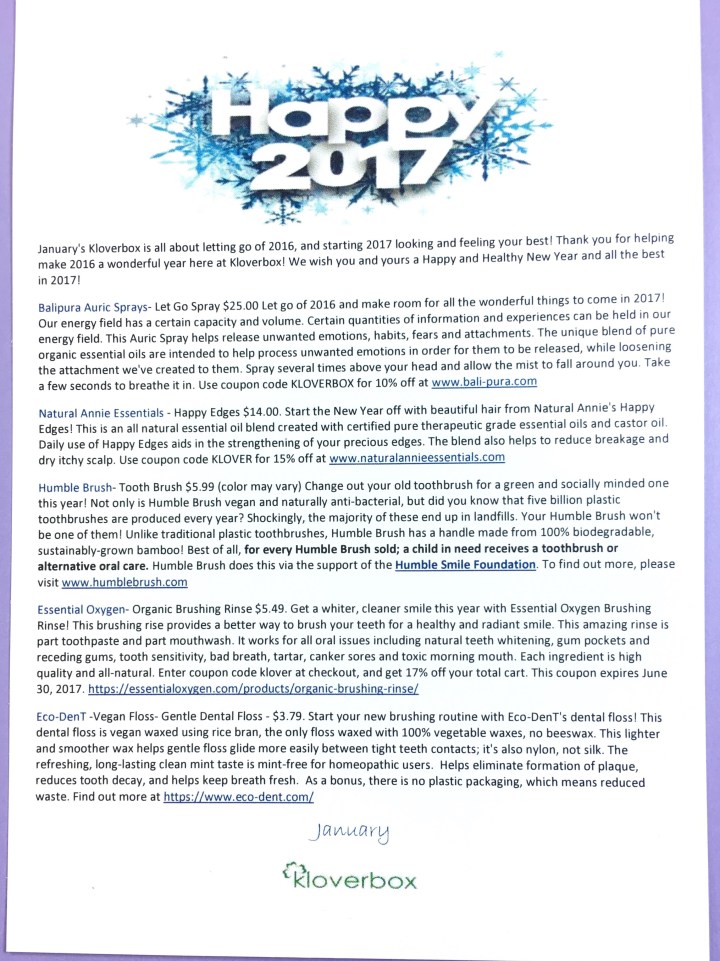 The information card contained a list of all the items in the box and everything was neatly tucked in between blue and white paper squiggles. Kloverbox provides coupon codes for some of the items so if you fall in love with a product or want to discover a new item from a particular brand you can save some dough!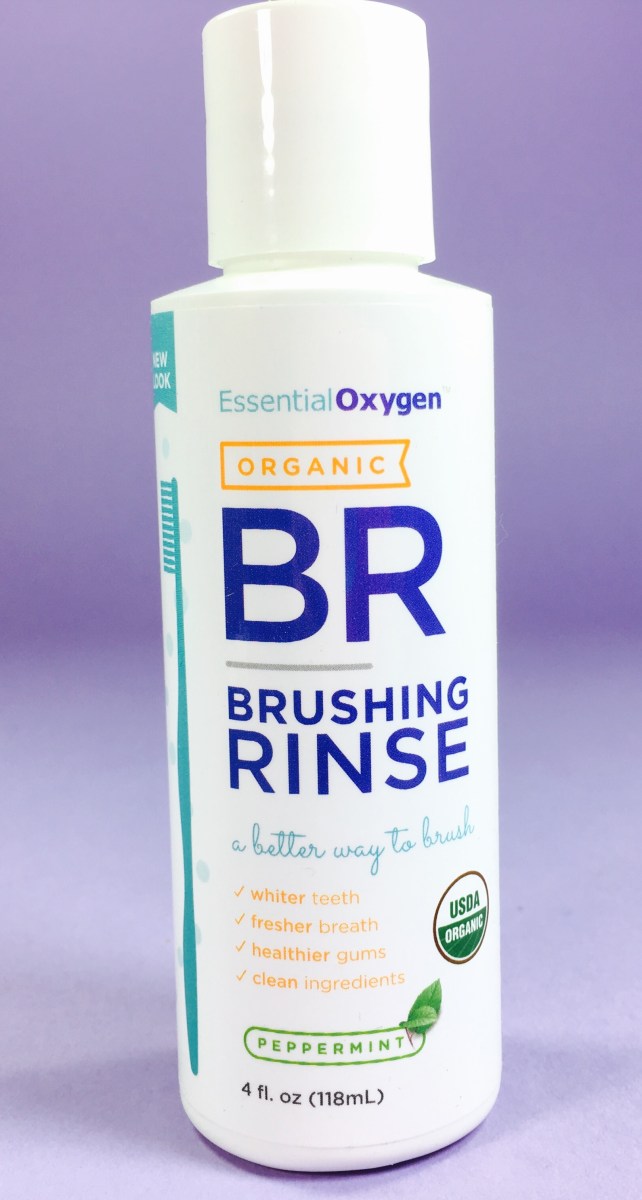 This month's box featured several oral care products and Essential Oxygen Brushing Rinse ($2.70) is a unique product that is meant to be used instead of conventional toothpaste. It contains food-grade hydrogen peroxide, aloe, and several essential oils. There was a flyer that talked about the miracle of this product but I'm not sure about all that. You squirt 1/3 ounce of this in your mouth, swish for 30 seconds, and then take a toothbrush and brush your pearlie whites. Then spit it out and rinse to stop the foaming action. I will use this in addition to my traditional toothpaste because my teeth still felt unclean after just brushing with the solution.

Next, we have a green toothbrush. It's the beginning of a new year so that's a great time to start with a new toothbrush and Humble Brush ($5.99) is an eco-friendly choice. This bamboo brush was designed in Sweden and is simple yet worked very well. The nylon bristles will eventually degrade in a landfill while bamboo is a renewable choice for the handle and is biodegradable.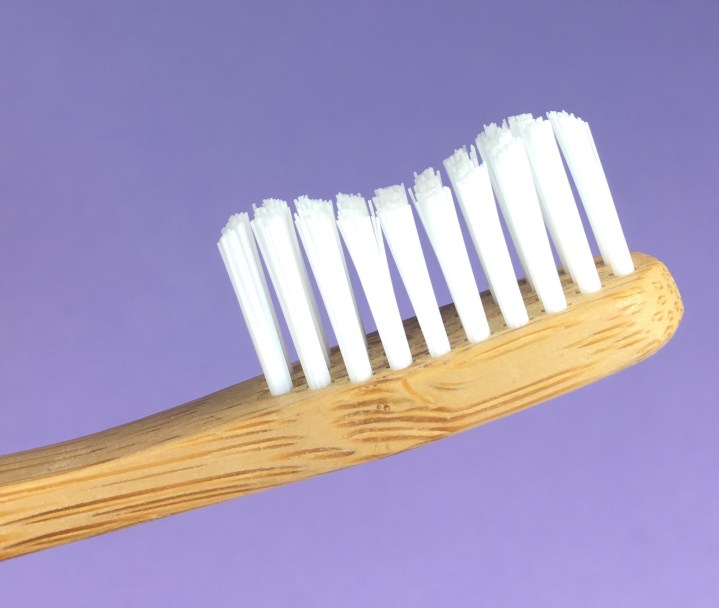 I received a basic white color but bristle color may vary. The bristles are soft plus Humble Brush gives one brush for every brush sold to a child in need!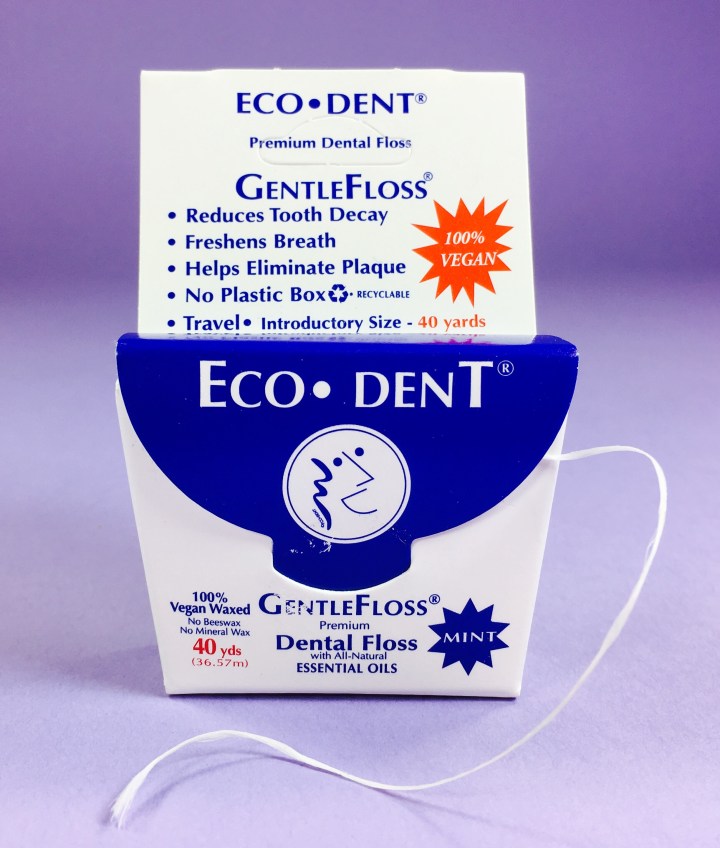 Now that our teeth are shiny and clean we can work on the unpleasant bits in between. Eco·DenT GentleFloss  ($3.79) is vegan and uses rice bran wax to coat the nylon floss and help it gently glide between tight teeth.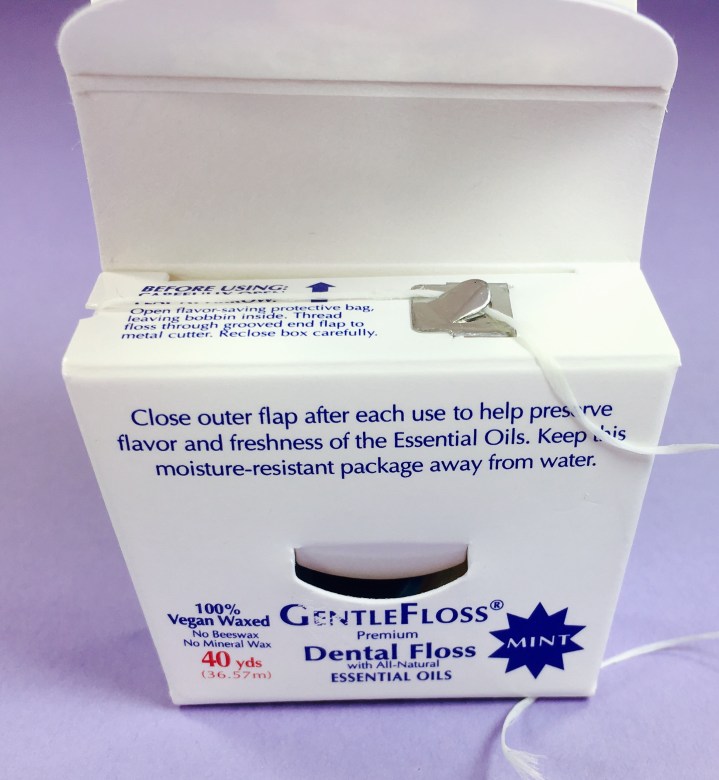 Even the container is environmentally friendly! This product is enclosed in a paper box rather than a hard plastic container so it won't sit unchanged for centuries in a landfill. This floss worked well and I didn't really notice much flavor.
Natural Annie Essentials Happy Edges ($14) is a roll-on hair and scalp treatment that encourages hair strengthening for those who may have thinning hair or an itchy scalp. This blend of castor oil, rosemary leaves, and therapeutic-grade essential oils is supposed to be applied once a day.
You can see the rosemary leaves in this product. Rosemary is said to encourage hair growth, increase blood circulation, and treat dandruff. This oil has a lovely herbal scent and I'm going to start applying it before bed to see if it can help make my hair fuller.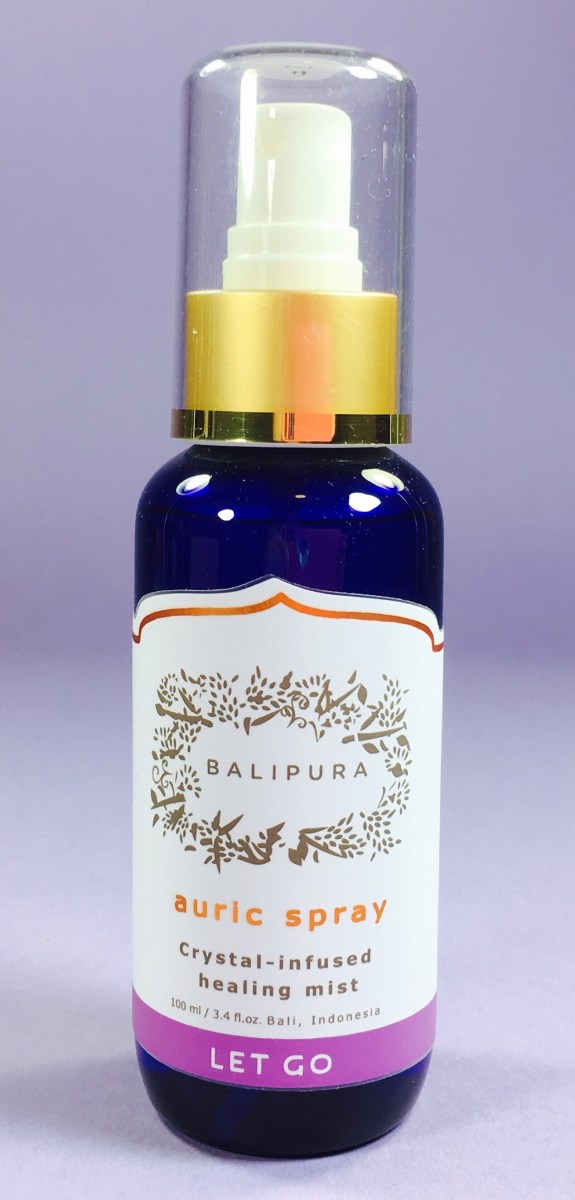 I received this box just as I was fighting a stomach bug and was happy to have something to clean my energy field. Balipura Auric Spray in Let Go ($25) "helps release unwanted emotions, habits, fears and attachments." Volcanic spring water is blended with oils such as cinnamon and grapefruit to result in a soft and warm scent. This is also infused with clear quartz (a healing stone), amethyst (for spiritual power and protection), and sodalite (to help with intuition and let you know when you should let something go). It may help enhance the power of positive thinking. If you are not into spiritual practices then know that it has a fleeting scent and will not work as a room spray or perfume.
There was an info card about the auric spray which was helpful and I used it in a mindful way, as opposed to just spraying and not giving it another thought.
I have been loving my Kloverboxes and this was no exception! I appreciated the variety of dental products as well as their green properties, plus the hair oil and auric spray are useful to help balance my body and spirit. This month's box had a value of $51.48, which is more than twice the price paid for the subscription!
What did you think of the January Kloverbox?
Visit Kloverbox to subscribe or find out more!